Alice in Wonderland is a story that really sets your imagination from a mere walk to a gallop. Due to this magical and wondrous quality of this story, it has given rise to many tattoo designs of good quality. There is magic, there is curiosity and a lot of adventure that makes this particular topic so great for tattoo designers.
The predominant thing that you will notice about Alice in Wonderland tattoos is that women simply seem to love them. Plus most of the Alice in Wonderland tattoos are almost always done in colors. Those with a preference for tattoos with dark ink in them may not find these that appealing. But in spite of your affinity towards darker ink tattoos, you will find that you are drawn to the sheer colorfulness and artistry of these Alice in Wonderland tattoos.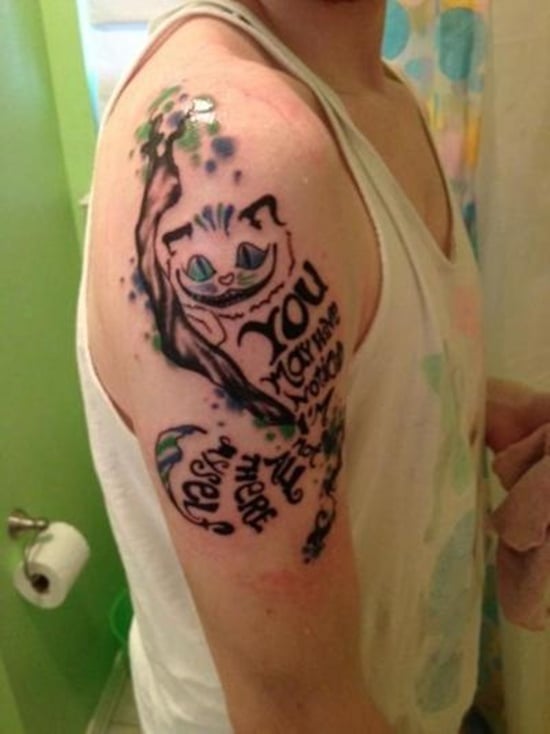 If an artist is truly gifted in the area of tattooing, then you will find that the story is unfold in front of your eyes just by looking at the tattoo. This theme lends itself to quality tattoos with amazingly detailed work. Some tattoos almost look as if they are in suspended animation which can be a really amazing quality for an Alice in Wonderland tattoo design.

Here are some truly astounding versions of the Alice in Wonderland tattoo:
Please, do not confuse the curious and adventurous Alice with the Dorothy from the Wizard of OZ. Though the themes of these stories can set the imagination of the artist in such a way that things from each are reflected in an Alice in Wonderland tattoo. Such a tattoo design would surely get people talking.

Alice in Wonderland along with cat Tattoo: This tattoo shows a vital part of the tale and the depiction of Alice who is peeking at the cat that is sitting in the tree is really wonderful. Also the way the cat is sitting is really well detailed and interesting.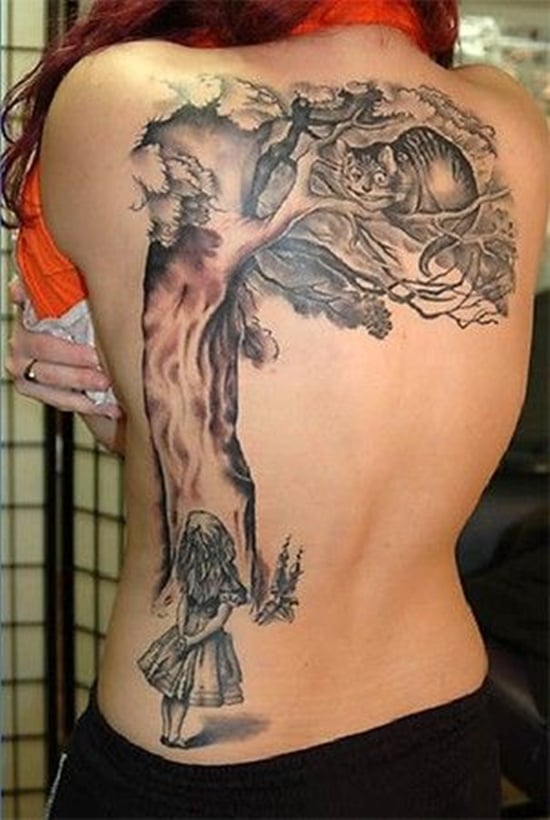 Alice along with rabbit foot tattoo: The rabbit is an integral part of the story and this tattoo brings back details of the story back to you in a really clear manner.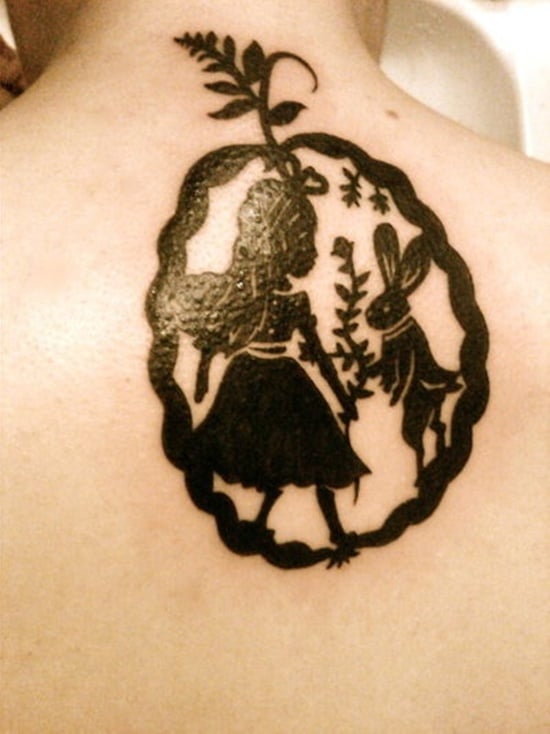 Alice with mushroom tattoo: This one is cute, intriguing and really colorful. It depicts Alice as a little girl as she peeks at things. Her expression as she peeks is really nice.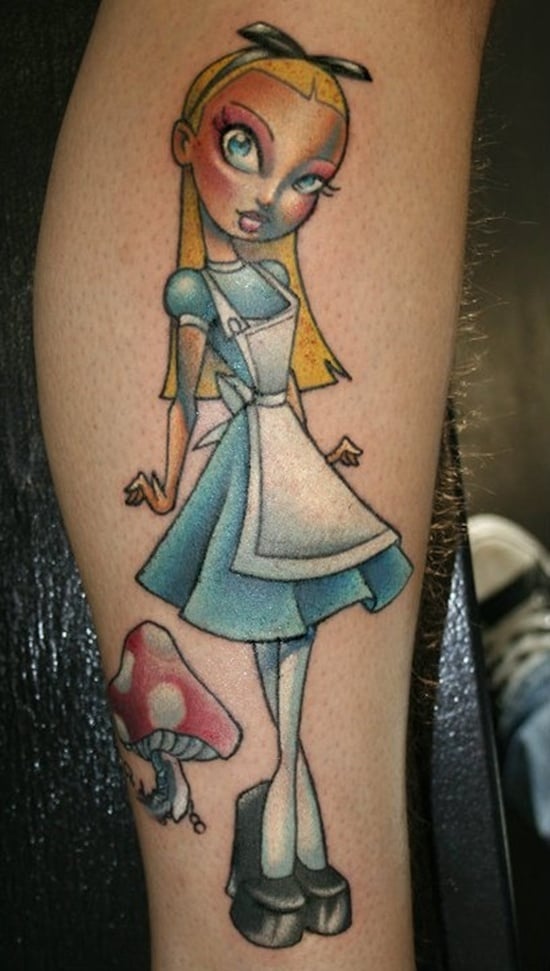 Alice in Wonderland along with Caterpillar Tattoo: With a great amount of details this tattoo looks amazing and we can see the story shaping up as we look at this Alice in Wonderland tattoos.


Alice and Wonderland Tattoo on the back: This one almost tells you the whole story with all the elements in the tattoo. The quality of the tattoo work makes it stand out.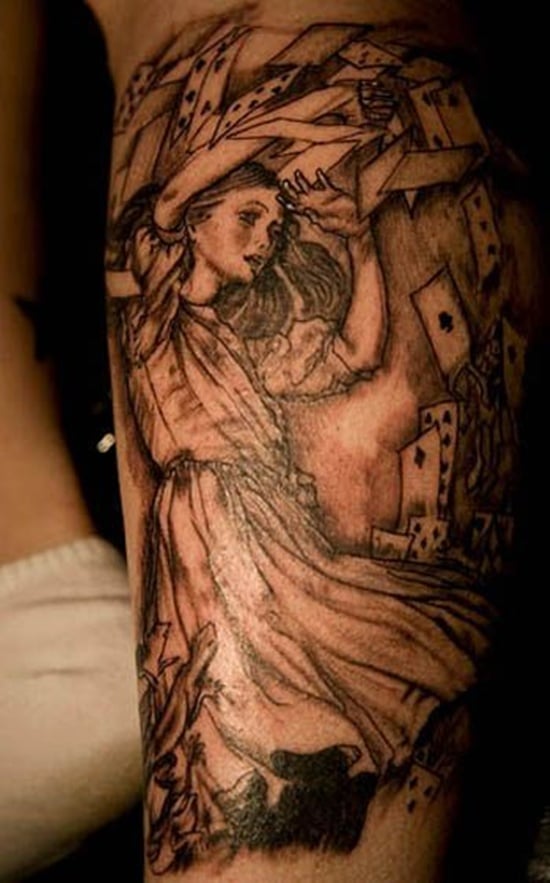 Alice in Wonderland Tattoo on the back: This one can really be seen when the whole back is bared and this may seem like too much skin for some. But look at all the details and the way they have shown Alice resting on the mushroom along with the rabbit. It really looks so good.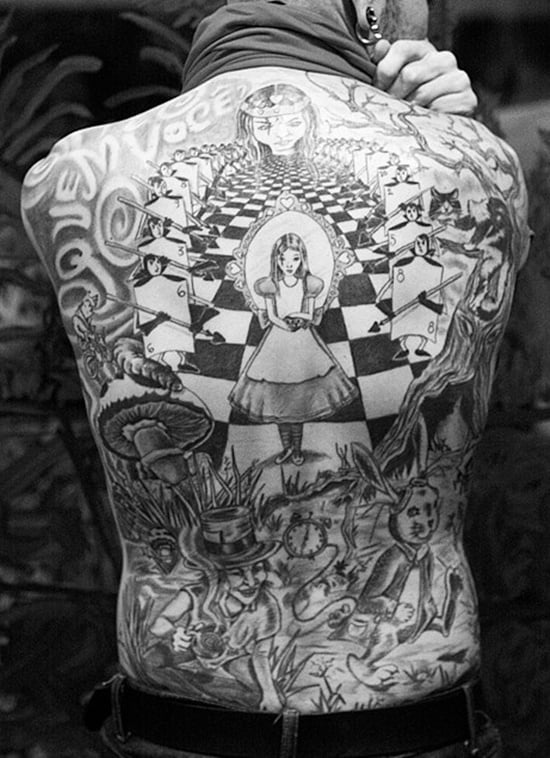 Sexy version Alice in Wonderland: This is a grownup version of the Alice in Wonderland tattoo. It may not be essentially true to our childhood memories of this wondrous story. But the way it has been done is something that will make you want to gaze at it for a long time.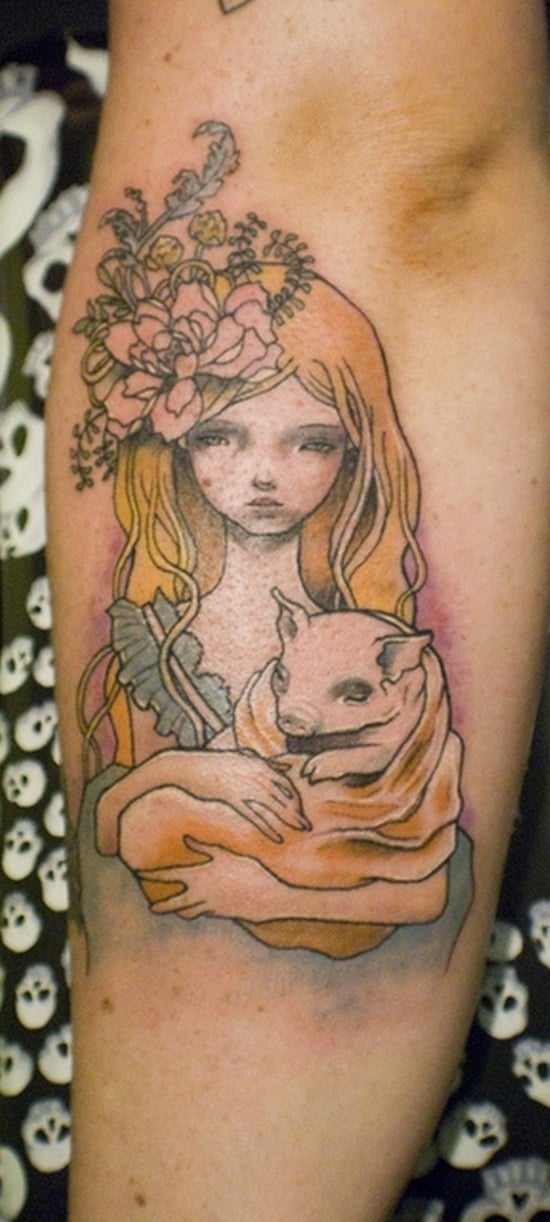 Alice in Wonderland along Cards Tattoo: These are pretty, detailed and interesting to look Akshaya Tritiya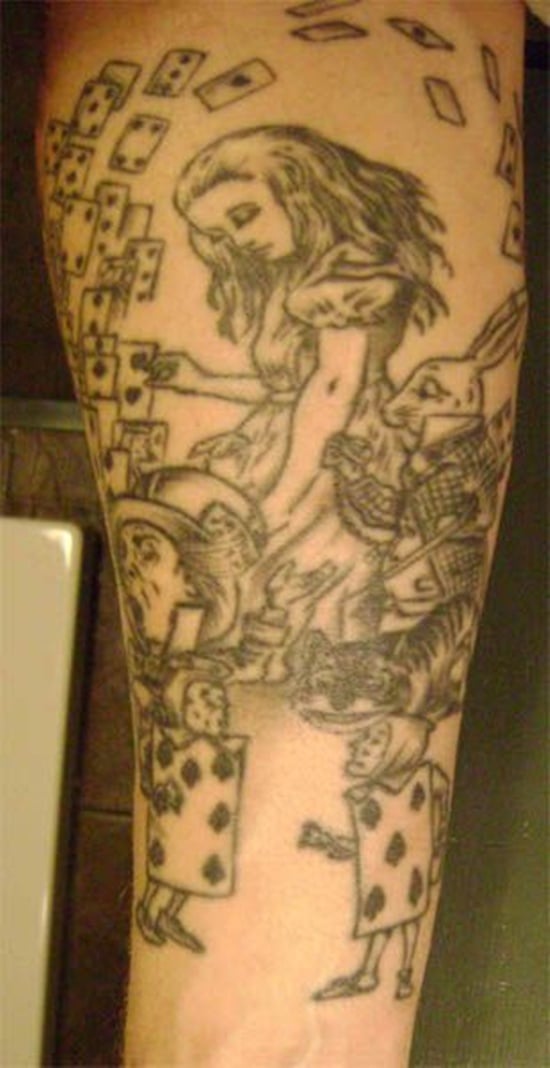 Alice in Wonderland tattoos have many more choices than the ones given here. Once you have looked at all the options given here, we are sure your imagination will take off and you will come up with some more ideas. Here are some more Examples of Alice In Wonderland Tattoo :