The scourge that is cancer leaves no one untouched. Along with the people who get the disease, the families of those afflicted also suffer from the terrible pain that cancer can inflict. That is why the ribbons that are worn to show their awareness of the disease or as a tribute to those who suffered cancer or as a mark of victory over the disease is an especially meaningful tattoo. People often have a cancer ribbon tattooed for many reasons. These come in different colors and each color has its own importance. Both men and women get these tattoos as their own personal badge for having faced this disease either directly or indirectly.
These ribbon tattoos that are worn by cancer patients and people who survived the disease as well as the any who are associated with this disease definitely looks good. But that is not at all the point of these ribbon tattoos. They are worn to show love, compassion, honor, encourage and strengthen the fight against this dreaded disease. People want others to be aware of the disease, be on the lookout for this disease, not to lose hope once they discover they are afflicted and are meant to give them courage to battle against it.
Most of the ribbon tattoos are connected with cancer and each of the color represents a particular type of cancer. Sometimes getting a cancer ribbon tattoo is just to make the person feel that they too have done something to help. It is a known fact that along with the people who suffer this disease the overwhelming helplessness that the near and dear ones feel can be crushing. Getting a tattoo can make them feel as if they have done something and keep reminding them that they need to support the person who is battling the disease.
Some wear this tattoo in memory of those who fought the disease but lost the battle and thereby their lives to this disease. It is a way of paying homage to the one who has passed away. People who have fought the battle and won are the ones who wear it as a badge of honor to remind them to live their lives to the fullest. Some people add sayings and inspirational quotations to these cancer ribbon tattoos to inspire themselves and others. Some even add other symbols and relics of faith and hope along with the ribbon design.
Lavender color is supposed to represent cancer in general, with yellow for cancer of the bladder, gray is for the brain, pink is for breast cancer,  cervical by white, childhood cancer by gold, dark blue for colon and so on
There is no dearth of design possibilities when it comes to ribbons for cancer type of tattoos. This is so because each experience is different and each person who gets this tattoo done is inspired by his or her own very personal story. The elements that are added to such tattoos are many depending on the stories and motivations behind getting the tattoo.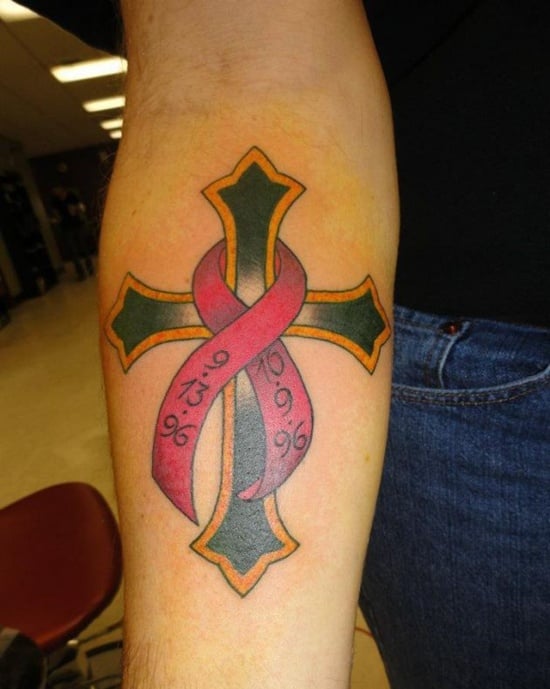 When you are getting a ribbon for cancer tattoo, it is obvious that you have given a lot of thought to the motivation behind the tattoo as well as what it means to you symbolically. If you are considering such a tattoo it means that you or someone close to you has been battling the disease that strikes so much terror. But do consider what are the design elements that you have included in your tattoo, as a tattoo is something permanent. So considering the placement and design is very vital when getting any tattoo.