Skull tattoos have stood the test of time. While many people who originally got skull tattoos are now hitting their 70s and 80s, the new era of skull tattoos in teenagers is coming through. Often combined with elements such as daggers and roses, they are sure to make an impact wherever they are on the body.
Tattoos speak a language that brings out your personality. Your thoughts come alive on your skin and your fearless attitude does have to be not worded, it can be visually represented. That's the beauty in tattoos.
At first glance, a skull tattoo might sound a bit morbid for some and then for others, it might sound really cool. The fun part about creating a skull tattoo is that you can get creative by incorporating other symbols, abstract designs plus experiment with colors to make it distinctive and personal. It's uniquely yours so as your designing it, choose what best defines you.
These days, skull tattoos are super popular. Skull tattoos are generally accepted as meaning good or bad. It's interesting because most people wouldn't initially think of a skull tattoo as a good thing but depending on the person, it could signify something really good in their life.
If you live life by your own rules, go for a skull tattoo and add more spunk to your daring personality.
Flowery Pirate Skull Tattoo
People who get skull tattoos are often daring and willing to break the rules and get an unconventional tattoo. This particular one of a flowery skull and crossbones is particularly rad. Contrasting characters, colorful designs and soft patterns are eye catching and unexpected. It is a fantastic way to fuse masculine and feminine images together.
The Love Pirate Tattoo
The skull and crossbones have always been synonymous with pirates and danger throughout the ages. This wrist tattoo with red hearts for eyes celebrates the exhilaration and uncertainty of love. It kind of reminds us of insignia that would be inscribed on a treasure chest.
Tattooed Remembrance
A tattoo is a good way to remember a loved one who has passed away. Memorializing it with a skull and roses is a cool and macho way of doing it! The flowing font, the various shades of black and grey make it a gnarly tattoo. Check out the shading and attention to detail too. This art took time and skill and looks really well done.

Funky Skull
Go topless in the summer and show off your ink with a colorful funky skull tattoo. Part of the fun of having back tattoos is getting to show them, just don't forget to apply some sunscreen so it the sun doesn't fade your work!
Tribal Skull Tattoo
A skull tattoo is always cool, but add a bit of tribal art to it and it becomes awesome. Experiment with tribal design the next time you get a skull tattoo. Add your own flair to make it original and yours. Go over some options with your artist so your both on the same page and get excited for some awesome results!
Deadly Skull
Celebrate the pirate in you with a deadly black skull and crossbones tattoo. Anybody have one already that means something important to them? Share away! We really like how he added the upper arm tattoo and the side tattoo. It looks fierce and almost menacing and really brings all of the art work together. Nice job!
Blaze of Glory Tattoo
Get creative with a blazing fire skull tattoo. Wildfire merged with a skull is sure to attract lot of attention. This is a perfect tattoo for the petrol heads out there! It's daring and cool and really allows you to get your creative juices flowing when your designing this image. Figuring out where to place this certain tattoo is worth considering. It's a bit frightening so decide whether you want it placed some place where everyone can view it or if you'd rather it be hidden and shown when you want to show it.
Grateful Dead Skull Tattoo
This tattoo takes skull tattoos to another level with inspiration from the Grateful Dead and comic books of yesteryear. The ink in this tattoo breathes life into the skin with a well-balanced creative design that is filled with gorgeous colors. This skull tattoo is sure to attract lot of attention so get ready to have lots of people ask you about it! And enjoy!
Morbid Skull Tattoo
This tattoo says a lot about you and makes a statement whenever people see your hand. The design is such that the skull on the hand looks three dimensional. It is a very cool way to display your strength with confidence. Just remember that with hand tattoos, some workplaces aren't comfortable with that type of art showing. Check with your work policies before getting a hand tattoo that could jeopardize your job. Some places are totally cool with it but it's always better to check just in case.
The Reaper Skull Tattoo
Celebrate death with attitude and style. This tattoo on your leg says you live on the edge and welcome danger. Perfect tattoo for the bikers that are out there pushing the boundaries!
Fearless Skull Tattoo
This tattoo is a perfect representation of your fearless nature. Celebrate this personality trait with this tattoo. This look on his chest is menacing and is definitely pushing the boundaries with his daring nature!
Bloody Joker Tattoo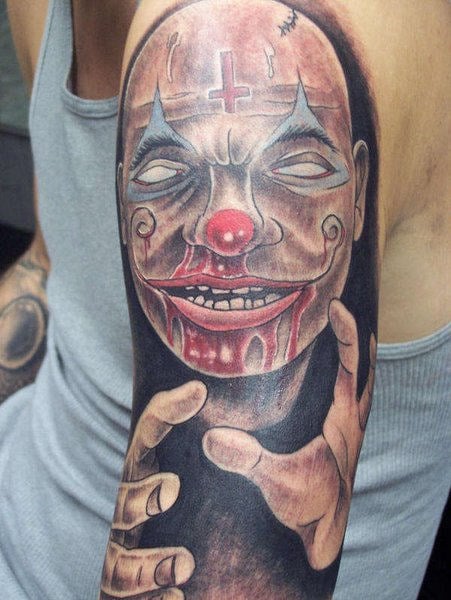 If you are a fan of the morbid arts, this bloody joker skull tattoo is a great design to get inked on your body. The bloody mouth and distant eyes leave a lot for the imagination.

Native American Chief Skull Tattoo
Celebrate Native American culture and make a statement about what is happening to these tribal people with this tattoo! It is a great way to draw attention to native and minority issues in America. This is just another awesome way to bring culture and stories into your art. Part of what makes tattoos so awesome are the stories that are associated with them.
Black Rose
There is beauty in darkness and this fact is celebrated in this tattoo. Although it is a symbol of death, it can also be a celebration of life! What does it mean to you? Excellent placement on the top shoulder, man!
Black Beauty Skull Tattoo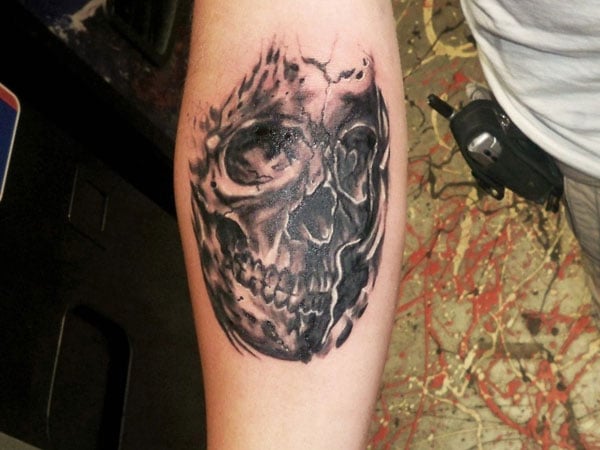 This inked black beauty symbolizes a change in lifestyle, giving up of a particular practice or outlook. This tattoo to is a wonderful symbol for breaking away from the past and starting anew. There's so much symbolism in a tattoo like this and a really cool way to share your experiences with other people. Who knows, maybe you'll be able to impact someone else's life through your art.
Live Free or Die Skull Tattoo
This beautifully detailed artistic skull tattoo is ideal for all the motorcycle enthusiasts out there! It's intense and a little bit scary but there's also something pretty alluring about its fierceness.
Gangster Skull Tattoo
Bring out the hustler in you with a Scarface skull tattoo! It's pretty cool to have this tattoo in a collage of other images or sayings. It's the central focus amidst a lot of really awesome ink designs. It's a great conversation starter and allows for you to tell the whole story about your arm.
Bite the Dragon Skull Tattoo
This tattoo is proof that skulls go with everything. Whether it is roses or dragons, skulls look cool with everything! What's the coolest skull tattoo you've ever seen?
Funeral Rose Skull Tattoo
The red eyes grab your attention and evoke your imagination. This cool tattoo incorporates roses and a skull in an interesting manner. It provokes deeper thoughts and is sure to be a pretty great conversation piece.
Deadly Love Skull Tattoo
If you are not a fan of color and tend to like simpler things, the tattoo outlining a skull and a rose is perfect for you. Get creative and artistic, this tattoo beautifully merges two starkly opposite emotions into one amazing tattoo.
Your Skull on Acid Tattoo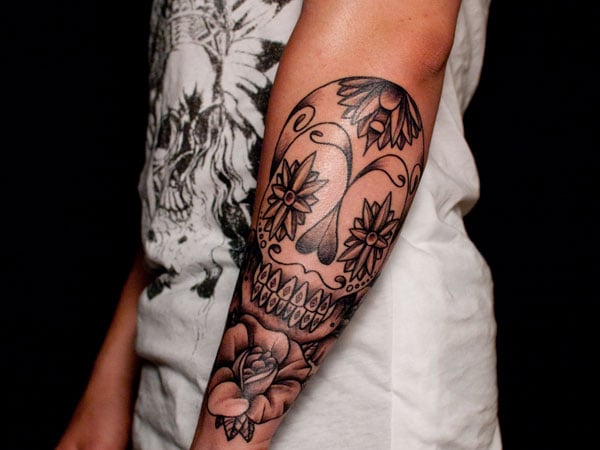 Have a black and white acid trip with this skull tattoo! It's almost elegant the way there isn't any color, don't you think?

Dead Rocker Skull Tattoo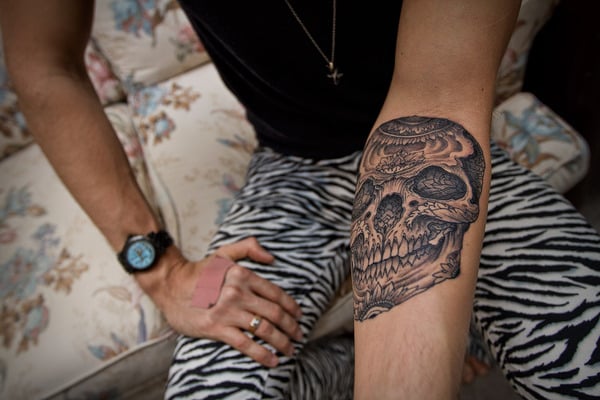 Celebrate the rock stars that have crossed over to the other side with this tattoo. This type of a design is a cool way to give a shout out to those who have inspired and impacted your life.
Smashing Skull Tattoo
This tattoo symbolizes new beginnings with an image of a skull breaking apart representing a dying emotion or the end of a decaying relationship.
Tattered Pirate Flag Tattoo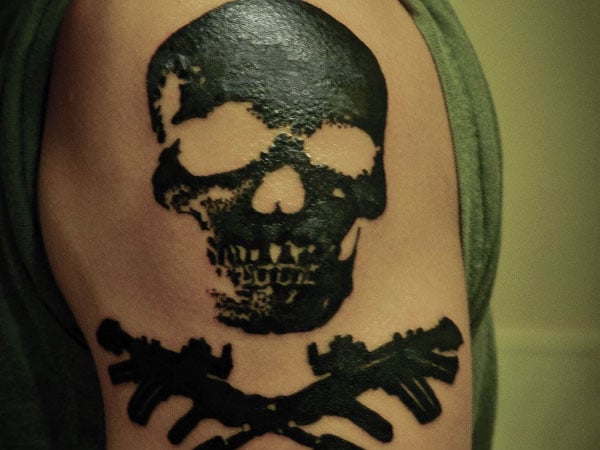 Bring out your dark side with this decaying flag of a skull and crossbones tattoo. The dark shades make it almost look like it was drawn with charcoal. It's a tough, intense look that isn't for everyone but some people can totally rock it!
Easy Rider Skull Tattoo
For fans of history and Harley Davidson's, this is a tattoo that celebrates the life of an outlaw. It's a pretty wild looking tattoo as the flames course through the skulls face!
Badass Skull Tattoo
If you are a badass, this is the tattoo for you. A burning skull represents both anger and power and will tell the world that you are not one to be messed with. It's fierce and intimidating and looks so realistic!