Chances are, even if you don't already have tattoos, that you will have considered getting a small tattoo at some point in time. They're discreet and will never cause offense or regret. If you're worried about a small tattoo lasting the test of time, then check out these designs which will stand strong across the years.
Getting small tattoos has become quite popular for girls who don't want to commit to a large piece of artwork. Girls who like small tattoos usually want to choose simple designs that will look good for decades to come. They also want to choose meaningful designs that will remind them of important ideas, people, or events throughout the years. When you have a tattoo that means a great deal to you every time you look at it you will be reminded of that meaning so it's important to choose something that will look effortlessly beautiful through the years. Here are 50+ ideas for simple and small tattoos for girls that will look great throughout the years: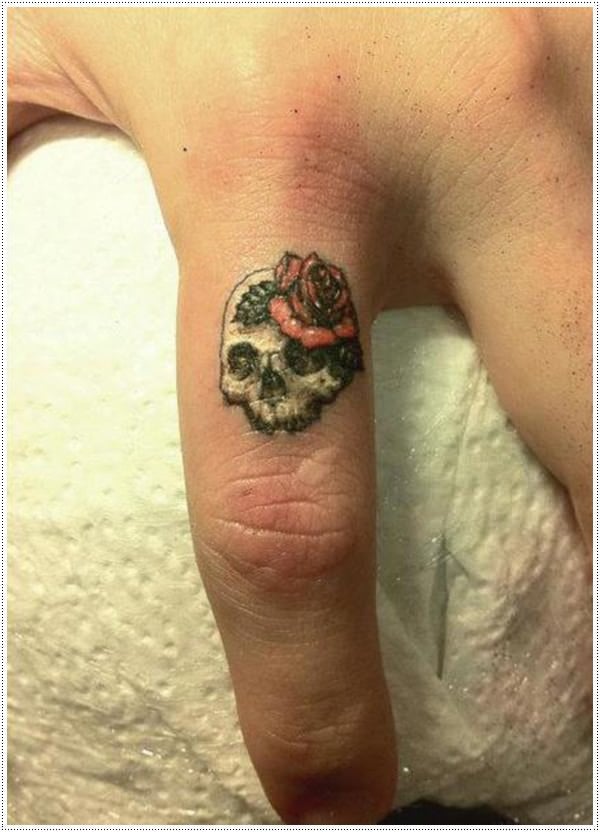 This skull design on the finger gives a tough, punky edge, yet is still small and feminine enough that it definitely works. Finger designs are great for girls who want to go for something attractive and unusual, yet not too in your face.
A simple word can have a deep meaning. If you have a font you really like and want to make a bold statement then getting a word tattooed on you can be very powerful. a delicate font keeps it pretty, and if you get the tattoo done in a place such as your hip, you only need to show it off when you feel like it.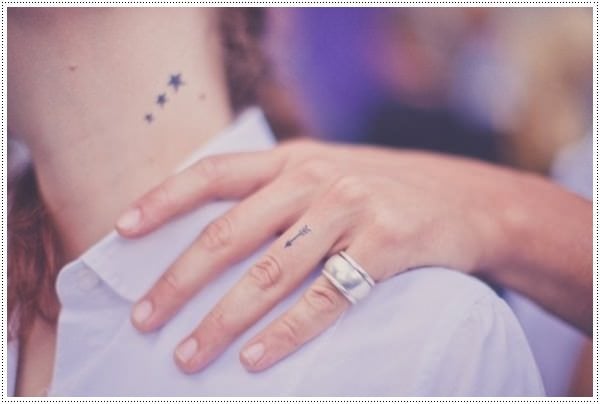 A scattering of stars on the neck is super cute. The simplicity of the design works really well when teamed with the unusual placement of the tattoo. We love the arrow on the finger as well, sometimes having clean, delicate lines works best.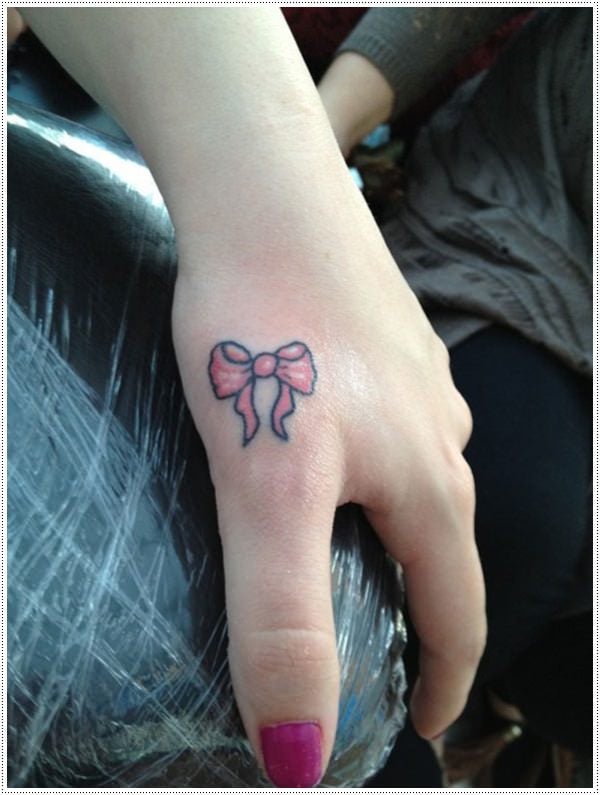 A colourful bow on the hand makes a super girls statement, yet it is still pretty subtle.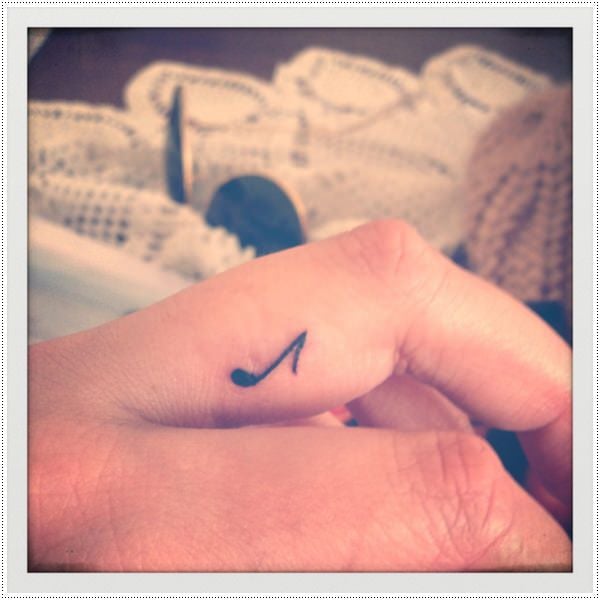 A perfect one for music lovers, a little note is dainty, classy and looks great pretty much anywhere on your body.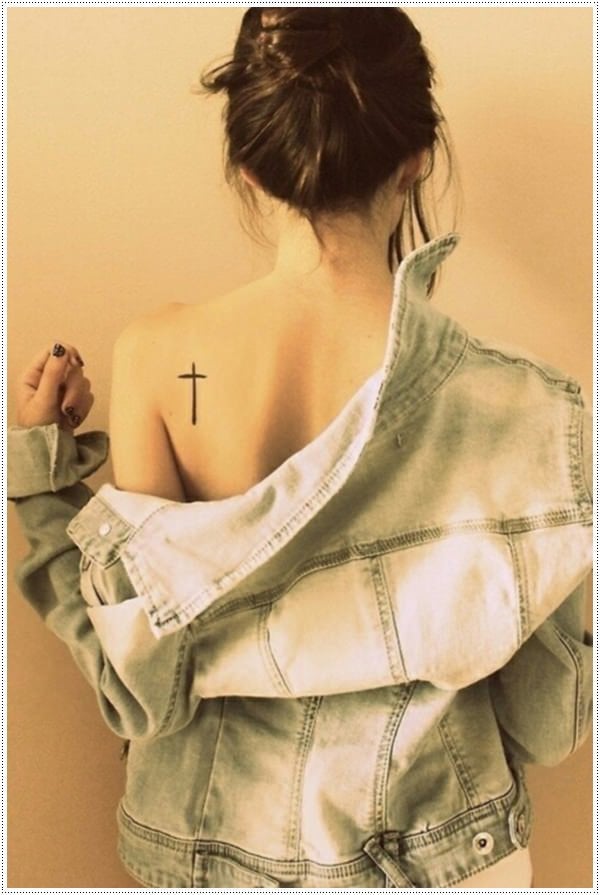 Could this tattoo be more beautiful? It is simple, understated and utterly tasteful. The slender lines make this tattoo oh so feminine and the placement on the delicate shoulder blade only adds to the cool and classy effect.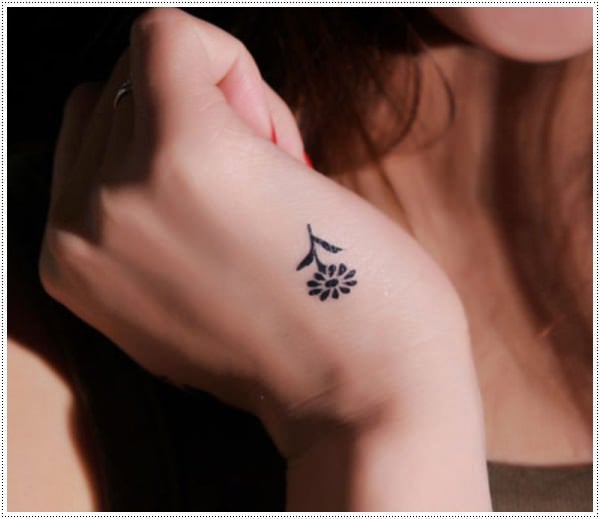 A pretty flower is girly and cute. Keep the design simple and, despite having a small tattoo, you make quite a statement. Sweet, feminine and fresh.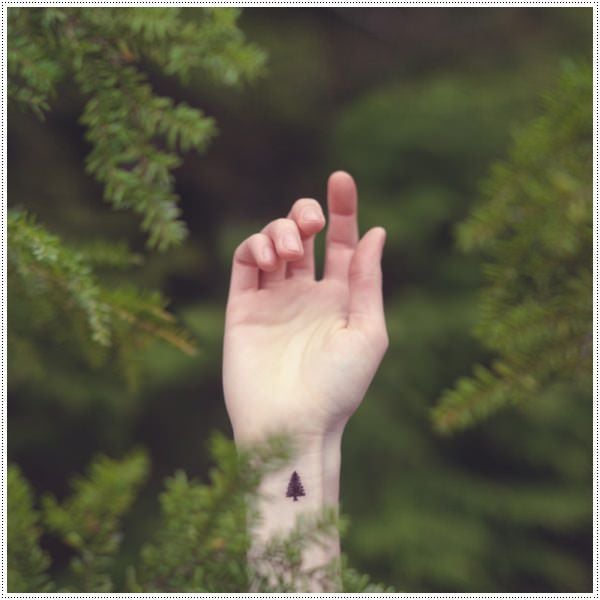 The delicate wrist area is a perfect place to get a girly tattoo and we just love this fur tree design. It's unique and adorable yet is still really small and subtle – what more could you ask for?
Flowers
Floral tattoo designs don't have to be huge elaborate blooms and winding vines. A simple rose, or an unusual flower like a dahlia or a gardenia can be unique but still small and cute. Some girls like to get a tattoo of the flower that represents the month they were born, or the state where they grew up. Other girls like to choose flowers that represent some aspect of their personality. For example, a daisy tattoo might symbolize a love of nature and simplicity while a tattoo of an orchid might symbolize elegance.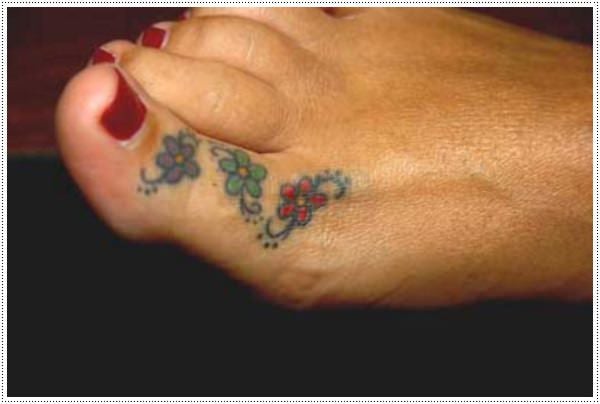 These cute, colourful little toe tattoos are just adorable, remember tattoos don't always have to be intricate and complicated to look great, as this fun trio of flowers proves.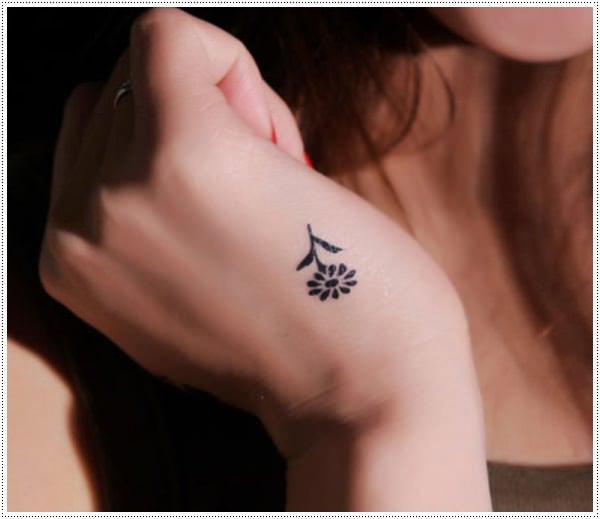 A simple black flower silhouette stands out and looks fantastic. It's elegant, perfectly formed and bang on trend, hooray!
A gorgeous flower on the hip design is a classic, and hugely popular with girls who want something pretty and fun.
We just adore this totally unique and trendy pint sized tat! A brilliant idea, and one that is sure to catch on quick!
Finger tattoos are so cute a delicate, feminine hands . A simple word, phrase or picture work well as the small area means too much detail is hard to capture. A hand tattoo also means you are sure to keep your nails looking great!
There is something sexy and seductive about a girl with a tattoo just behind her ear. This bright and beautiful floral design certainly makes a statement.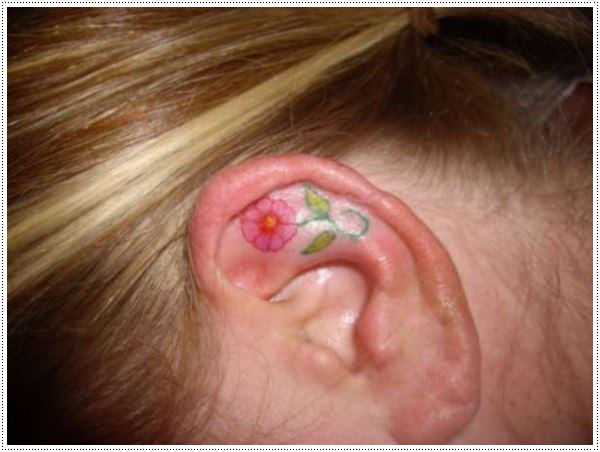 This inner ear tattoo is totally charming. This is stylish and fashionable and the basic, yet attractive design works really well. We love the pretty colours too.
A medium sized flower silhouette works magically on the shoulder blade. It creates a strong yet ladylike statement and looks wonderful with off the shoulder or strappy tops.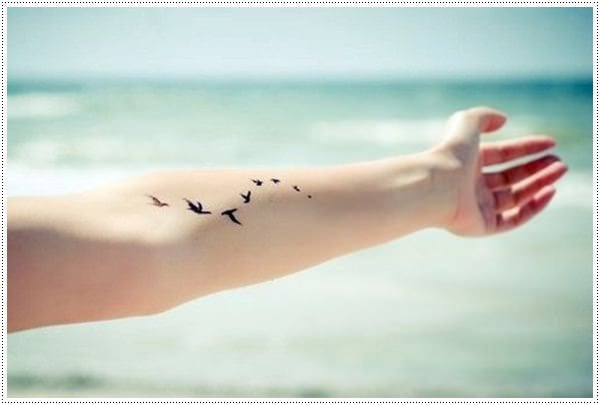 Birds have often been consider a symbol of elegance and grace, and silhouettes of birds in motion makes for a truly graceful and elegant tattoo. Get several in different stages of flying to create a beautiful sense of elegant movement which will make your tattoo really come to life.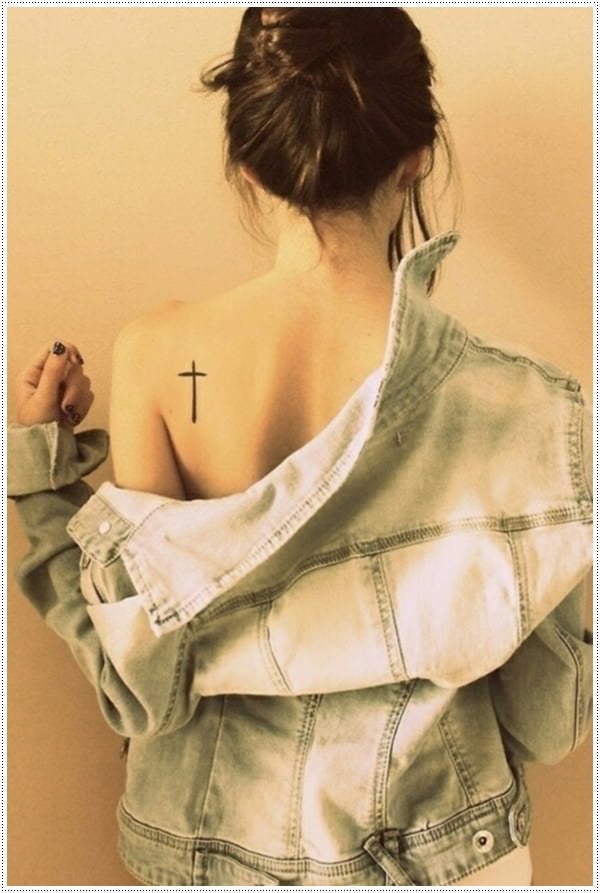 Sometimes simple is best and this super chic cross tattoo is one of the nicest examples we have seen.
Another gorgeous statement tattoo which exudes strength and grace, we love the detail in this gorgeous flower neck tattoo and the sketchy, artistic impression it creates.
How adorable is this fun flower tattoo? This cheeky little tattoo is becoming and increasingly popular design choice Something small and endearing works every time.
A floral back tattoo can look great. Especially with subtle edges of colour just like the one above. We love the simplicity of the design and the different shades that really bring this beautiful tattoo to life.
This is one of the smallest little tattoos we have seen and we just love it. If you are looking for something charming, girly and enchanting we might just have a winner here!
Cats
Cats are becoming an increasingly popular choice for girls as tattoos. From super life like to totally abstract these are perfect for cute, fun girls who want something to express their love for this adorable creature.
This fun cartoon cat is perfect to bring out your inner child! Colourful and playful we this it is just purrrrfect!
This tiny kitten silhouette is amazing. Classy and subtle we love that someone might not notice this tattoo for ages. Super cool.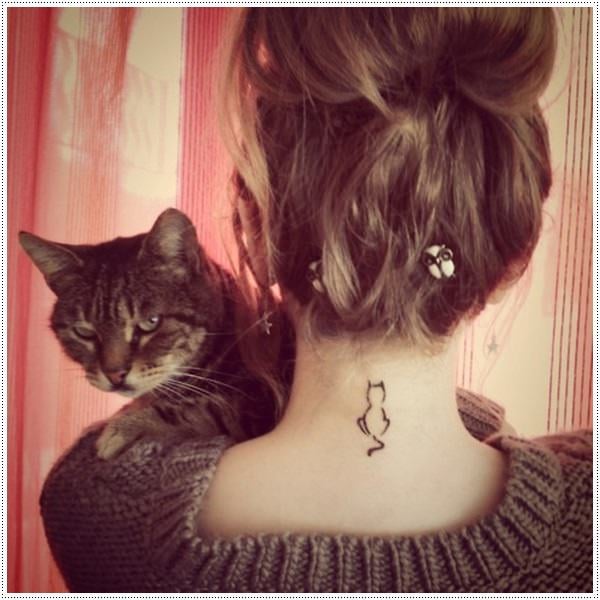 This outline tattoo is really understated making it hugely classy. Delicate, stylish and right on trend.
Could this tattoo be any cuter? If you are a cat lover and can't get a kitten this might be the next best thing! We love the detail and movement here and could just look at its tiny paws all day long!
Small cat tattoos that are cute and stylized have become wildly popular tattoos for girls. Tiny little paw prints leading to a tiny silhouette of a cat is an adorable tattoo for cat lovers. A shadowy cat filled in with black that is no bigger than a thumb placed over the heart, above the collarbone, behind the ear, or on the back of the neck is a cute tattoo that is easy to cover up with a scarf or with long hair. Cat silhouettes from different perspectives are also very cute and sweet tattoos appropriate for girls of all ages. Cat faces and cat whiskers are other types of cat tattoos that stay cute.
Bows
The black bow on the back of the neck is so trendy right now. It looks fantastic, is super chic and really makes a statement. We just love tattoos that you can show off and cover up as and when you like, and this one really ticks all the boxes.
A cute a colourful bow wrist tattoo looks stylish and cool, a touch of colour makes it even more pretty, and we love the cool placement of this tattoo as well.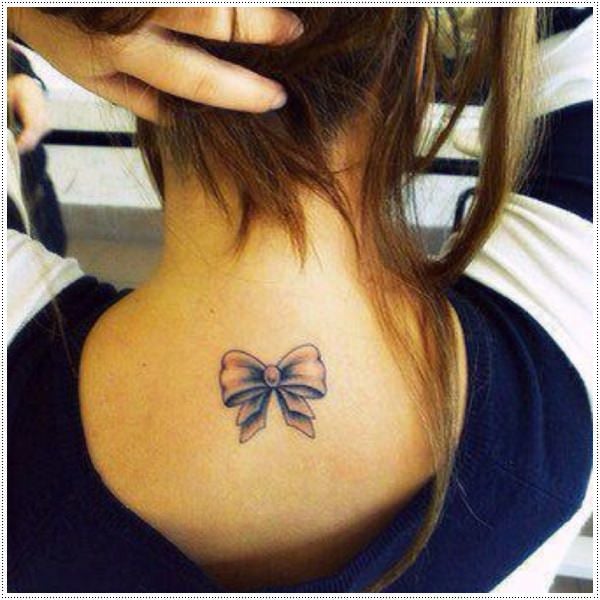 We love the shading and detail that has gone into this back bow tattoo, really girly and cute!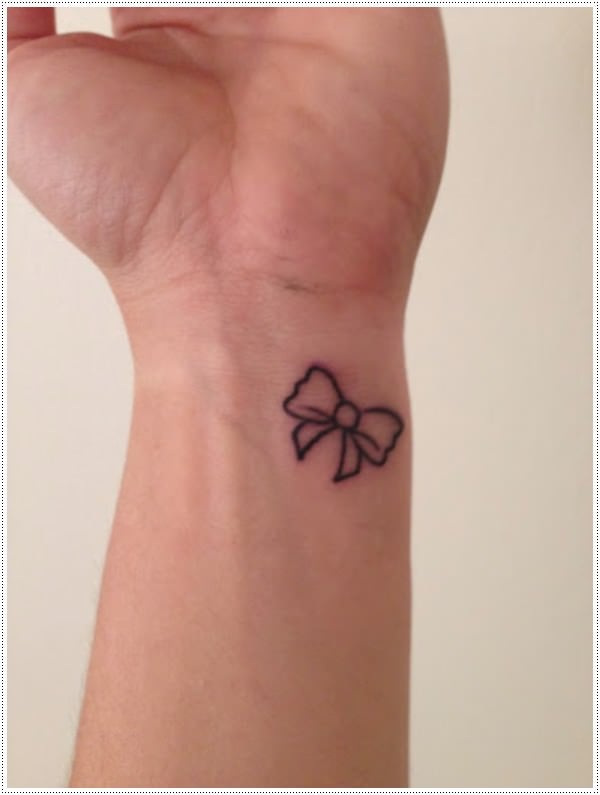 This simple black outline of a bow looks elegant and really cute too!
We love the combination of the tough anchor with the girly bow -top marks for originality, and the subtle colours work really well on this tattoo too.
This tiny bow behind the ear is just dreamy! We love how subtle and cute it is, so you only need show it to those special people who truly deserve it!
A cute finger bow is subtle and feminine. If you aren't into colour and want something little but that you can still show off, this is a fantastic idea.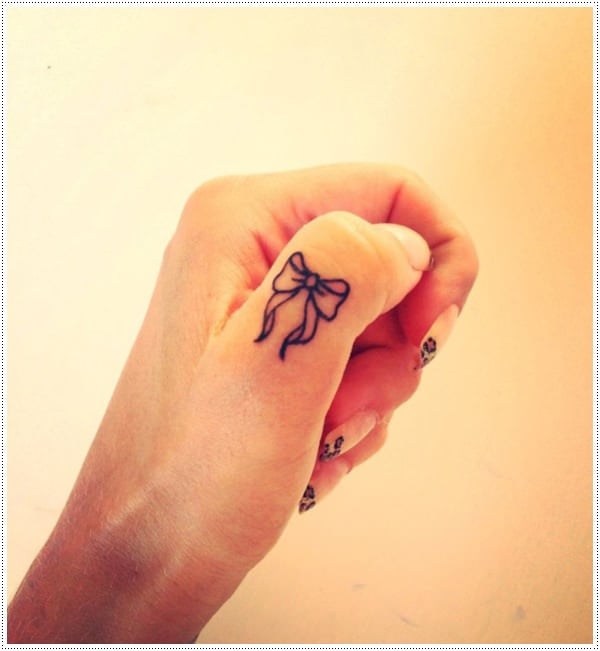 A little bow on the thumb looks elegant and classy. The bold black colouring keeps it sharp, this is definitely one very cute tattoo!
Bow tattoos are becoming very popular among women of all ages. Girlish bows represent a sweet and gentle femininity that many girls love. Ribbon style bows look cute in many places on the body like the wrists, legs, back, and arms. One of the most common bow tattoos is a tiny bow tattooed on the inside of the wrist or behind the ear. Pale colored bows evoke a childlike innocence while red or black bows imply a little more sexiness without being brash. Bow tattoos are becoming very popular choices for girls who want a tattoo but don't want to look tough or punk like.
Hearts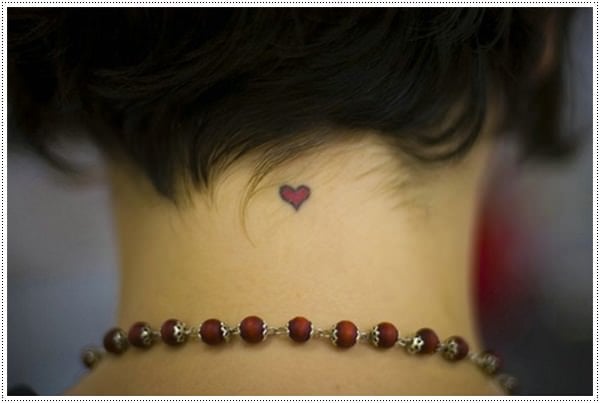 Hearts are a classic symbol of love, so why not show off your romantic side and have a simple heart tattoo done? We love this clean and delicate little heart, just at the base of the hairline. It is small and subtle and the red colouring makes it really stand out.
These two heart outlines are so sweet. We love the simplicity and the off centre placement of the hearts gives them a slightly kooky edge. Needless to say we are seriously enamoured with this awesome tattoo.
This delicate heart on the forefinger tattoo is the epitome of chic. A delicate and simple design in an unusual place like this one works so well.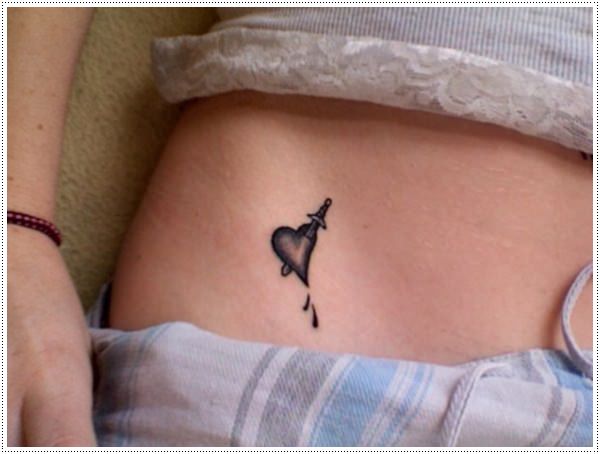 If you fancy making a bit more of a statement why not go to the classic dagger through the heart design? Whatever your motivation for getting it, you can't deny that it looks just fantastic.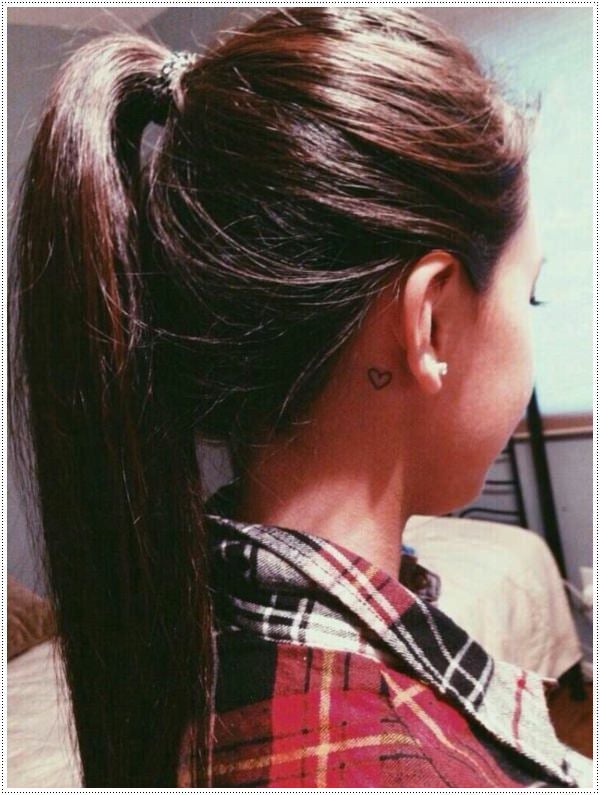 A delicate heart behind the ear design is another wildly popular one. Small, pretty and fun, you will always want to wear your hair up if you have this tattoo, and are sure to get loads of compliments about it.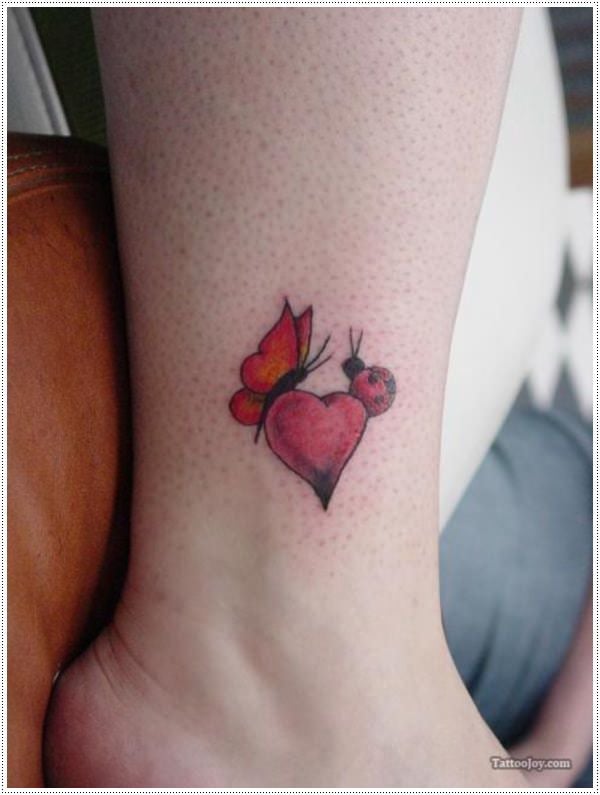 This bug and heart combo is so adorable! We just love the subtle colour variations, the shading and the fact that the design is truly original. This is a tattoo you will be proud of forever!
Hearts have always been a popular choice for tattoos among girls, but these days girls are choosing hearts that aren't quite so frilly or frothy as they have been in the past. Ornate heart tattoos like Celtic hearts are falling out of favor with girls. Tiny solid black hearts in pairs or alone are an artsy choice for girls who want heart tattoos. A tiny pair of hearts could represent a friend or a spouse. Sometimes friends will get matching tiny heart tattoos to cement a lifelong friendship. Small and simple heart tattoos are a great choice for anyone who wants a timeless tattoo that will still look fantastic many years from now.
Words
Getting a name tattoo might be considered brave but why not just go for it? If you have a name of a special person in your life, there is no greater dedication then getting it inked on your skin as a permanent reminder of them!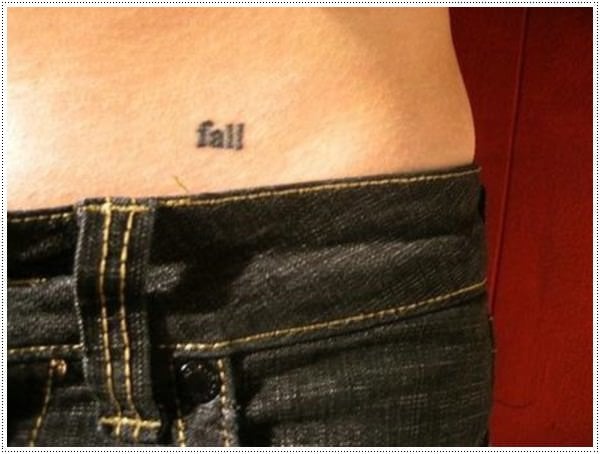 Words can look great if you choose the right font and something that means something to you. They can be a significant or random as you like, get it right and you will be so pleased with your new ink, we are sure of that!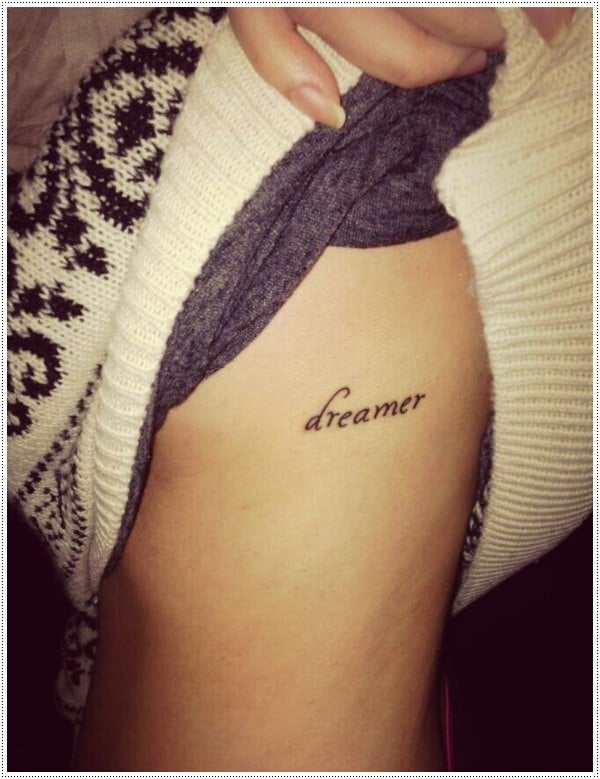 This tattoo is super cute, we love the spacing between the letters, and the dreamy font too! The flirty placement makes it extra cool, and one that you will love forever.
Getting just a word or a short phrase that is meaningful or inspirational as a tattoo has become very popular among girls. After seeing some heavy hitting Hollywood stars get tattoos with special words or phrases many other girls are doing it too. The words or phrases are smart tattoos to get because forever they will be reminders of a particular time, a particular choice, or a particular inspiration that affected that person's life. Small word and phrase tattoos are easy to hide when necessary and can be a secret reminder of strength, resiliency, and forgiveness.
Rings or Jewelry

An intricate or unusual ring design can look fantastic, we love the detailed pattern of this cool ring design, and the flash of colour makes it really special too.

These unusual designs look amazing, we love the shapes that the bold, black lines have created -very cool indeed.

You can't go wrong with a couples ring tattoo design, and this one has loads of detail, is really different and looks very stylish. What's not to love?!

This intricate and totally unusual ring tattoo is sure to be an interesting talking piece. We love the colour and the obvious amount of thought that has gone into designing it.
Ring tattoos, pendant tattoos and earring tattoos are unique tattoo choices for girls that can be simply decorative or can have a bigger meaning. Sometimes girls in professions where wearing a wedding ring isn't feasible like athletics, medicine, the military, or art and production may choose to get a wedding ring tattooed on their ring fingers. Women who have lost a spouse may also choose to get a permanent ring tattoo to commemorate the person they loved and lost. Other girls choose to celebrate their lifelong friends by getting matching friendship ring tattoos. Pendant tattoos over the heart or in the center of the chest make a statement but are easy to hide. Victorian cameo designs or small locket designs are popular tattoo pendant designs.
Makeup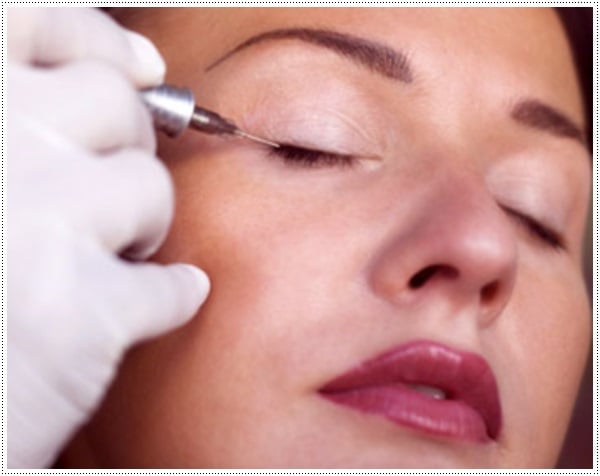 A subtle permanent eyeliner can really make your eyes pop, and you can wake up every morning look and fresh and ready to go, not matter hoe much sleep you have had!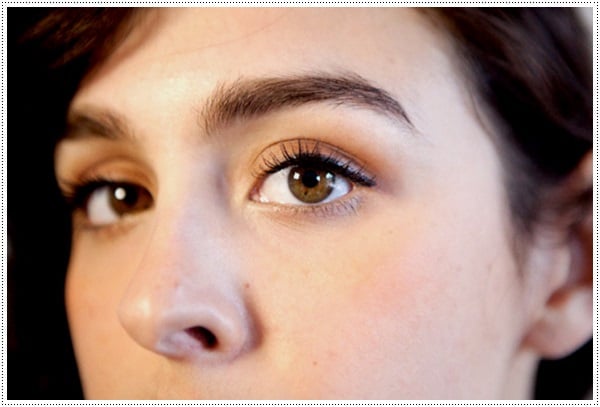 Girls who hate applying makeup or only wear simple makeup may choose to get eyeliner, lipliner or browliner tattooed on their face so that they never have to apply it again. Makeup tattoos have increased dramatically over the last twenty years because women want to look good throughout their lives. Women who have thin brows or eyelashes choose to get cosmetic tattoos so that they don't need to continue to apply makeup every day. While some people find it hard to imagine getting eyeliner tattooed on it's not as difficult as it might seem and the results can be stunning.
Celestial
Celestial tattoos like small suns, moons and stars are classic tattoos for girls that look great throughout the years. Usually crescent moons are chosen, with or without a few small stars. Some girls opt for just a few small stars inside the wrist or near the collarbone for a little drama without a huge statement. Some girls also get their astrological constellation of stars tattooed in miniature on an ankle or upper arm as a way of paying allegiance to their birth sign.
Feminine Butterfly Tattoo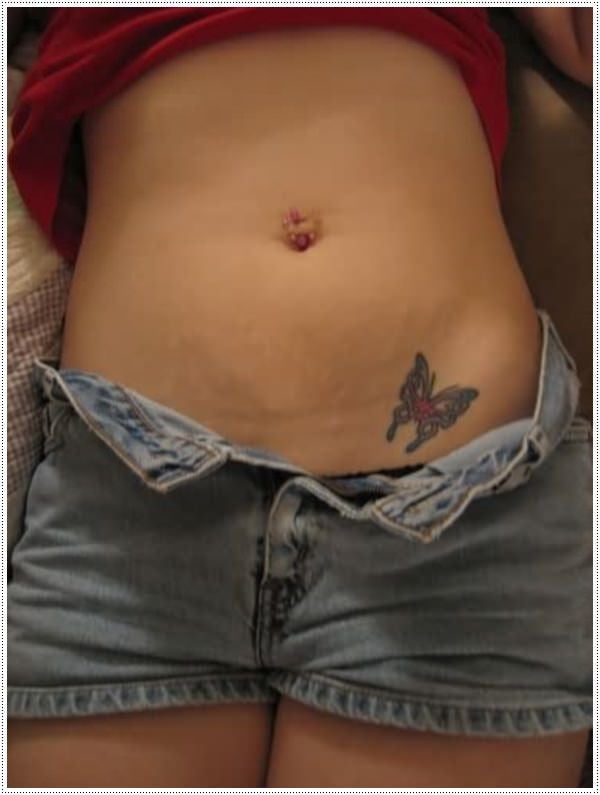 A colourful butterfly on the hip is a classic girls tattoo. Pretty and feminine, we  just love the style of the one above. It is almost celtic in design and the colouring makes it really stand out.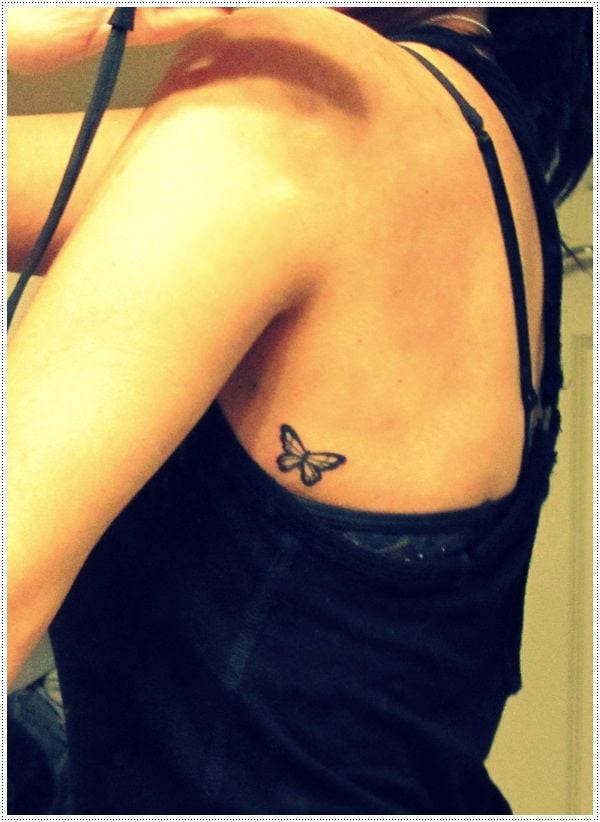 We love little, barely-there tattoos that just peek out of the tops of clothing. This butterfly tattoo is in a great place, and the bold black lines make it look chic and cool.
This abstract design is very unusual, and the bold yet delicate lines make it really stand out. If you don't want something that is too obviously 'pretty' then this style could really work for you.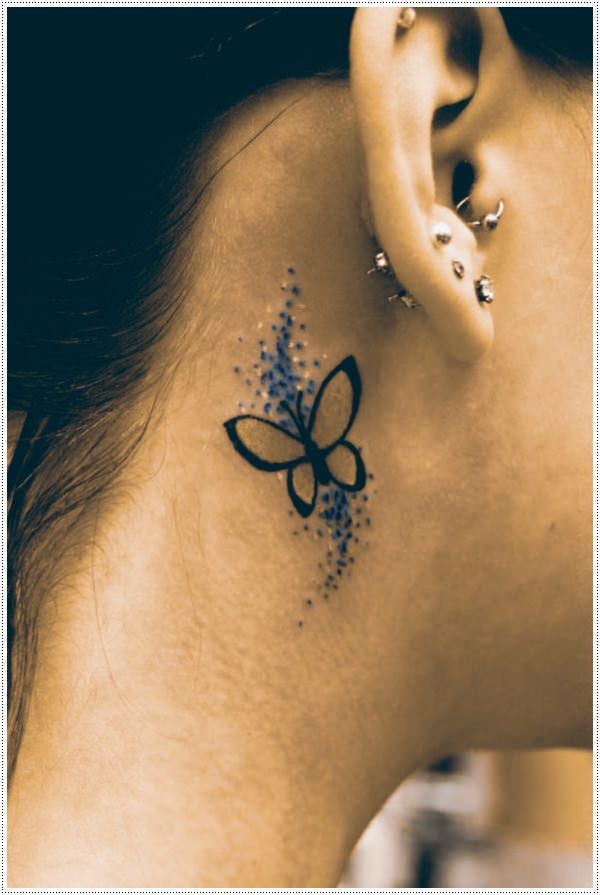 Could this tattoo be more girly? We adore how unusual this is, simple lines used for the butterfly itself with a bed of iridescent color behind it, what is not to love about that?
This butterfly wrist tattoo is super simple, super girly and super cool. A delicate creature works really well in the delicate wrist area and can easily be covered with a watch if you want it to.
We love this colourful and delicate design, and a chest tattoo always makes a statement. This is small and pretty with touches of colour that make it really pop.
This bold black butterfly tattoo looks amazing! We love the tough edge this butterfly has, while still being cute and girly of course!
We love a cool ankle tattoo like these ones. The butterfly is girly and simple, and the cross and chain adds a toughness and power. Teamed with killer hot pink heels as well – what more could you ask for?!
Beautiful butterflies are some of the most delicate tattoos that girls get. Sometimes the tattoo is just a simple outline of a butterfly with a splash of color. Other tattoos are lavishly colored to represent some of the stunning butterflies that exist in nature. Feminine butterfly tattoos always look good on women, no matter what age they are, so they are a great choice for a piece of art that will last forever.
Initials or Dates
Women who want to commemorate a parent, a friend, a child or a spouse often opt to get that person's initial or initials tattooed over their hearts, or inside their wrists, or on the ring finger. They also may add birth dates, death dates, or marriage dates with the initials. These simple tattoos will be elegant reminders of important life events and time periods.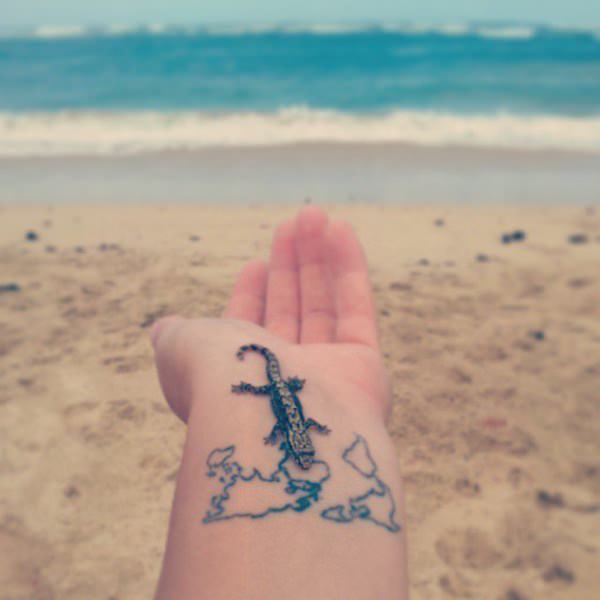 A cool map design is timeless and will always remind you of that special place, or that special someone. We just love this one with its delicate lines and cool details.
A cute and simple shell will always look good. This one is so simple but yet really stands out. The flirty placement and the pretty shape makes it even better!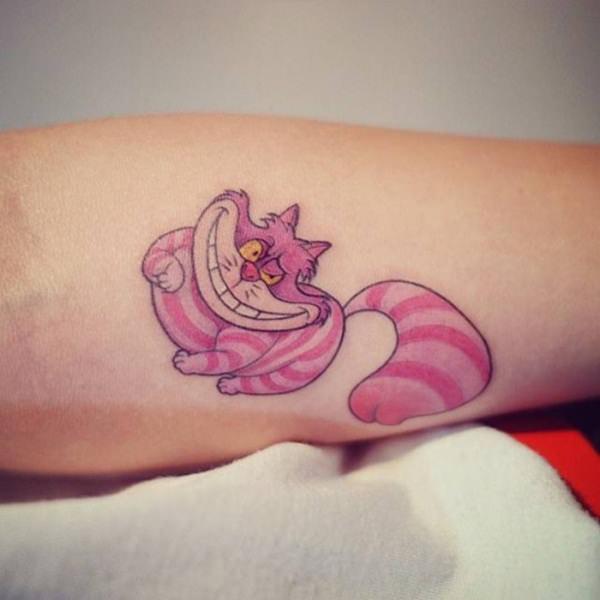 A cartoon that you love is bound to keep you smiling! Whether its a fairly tale classic or something totally unusual this is sweet and fun, and sure to be a great talking point too.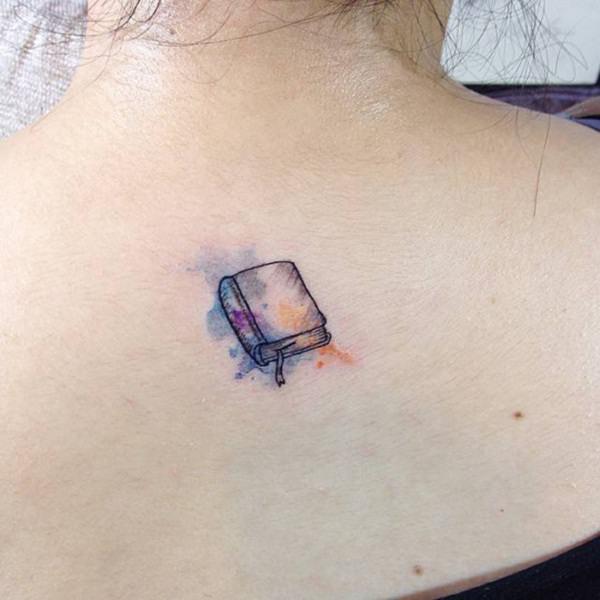 We love this magical book design, the washy colour gives it an gentle ethereal quality. The water colour look is becoming increasingly popular for tattoos lately, making them seem more like actual works of art.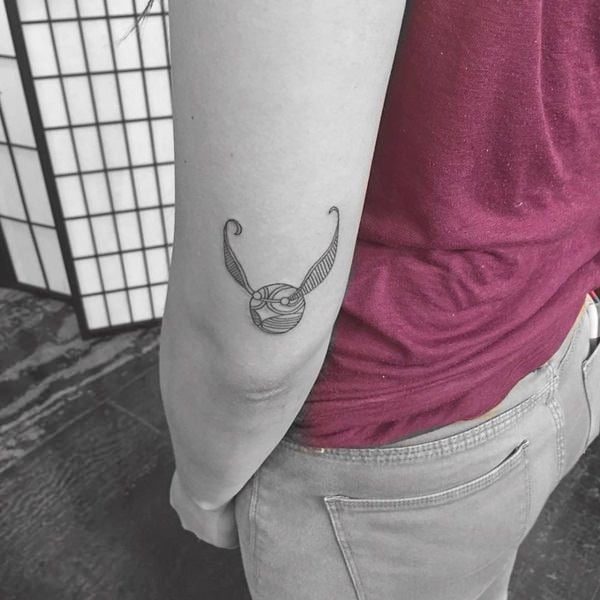 This cool design is very unusual, geometric shapes are really trendy right now. We love this one, everything about it is totally unique!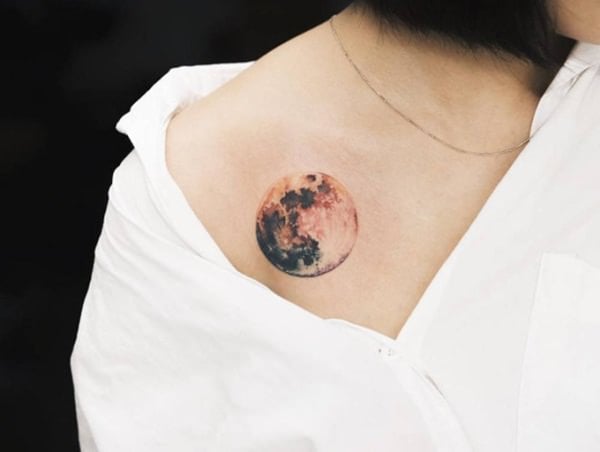 This tattoo is a true work of art, a wonderful piece that you will never get bored of. The incredible colours on this tattoo are truly individual – one of our favourite pieces for sure.
A paw is a cute way of paying homage to your favourite animal. Even if you don't have a pet, if you are an animal lover a paw works really well as a fun an sweet design too.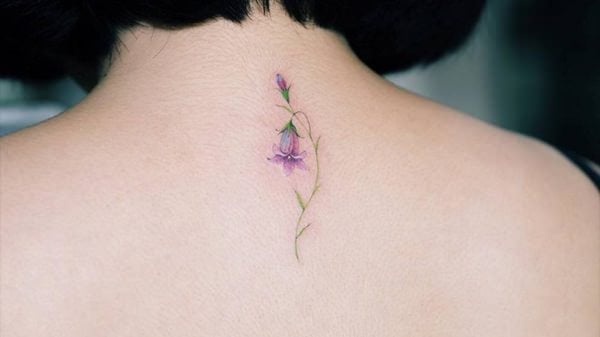 This gentle flower is delicate and beautiful – a super feminine piece. Everything about it from the beautiful colours to the way the flower gently drops make this a stunning and timeless tattoo.
We love these funky matching couples tattoos – something small and unusual works every time!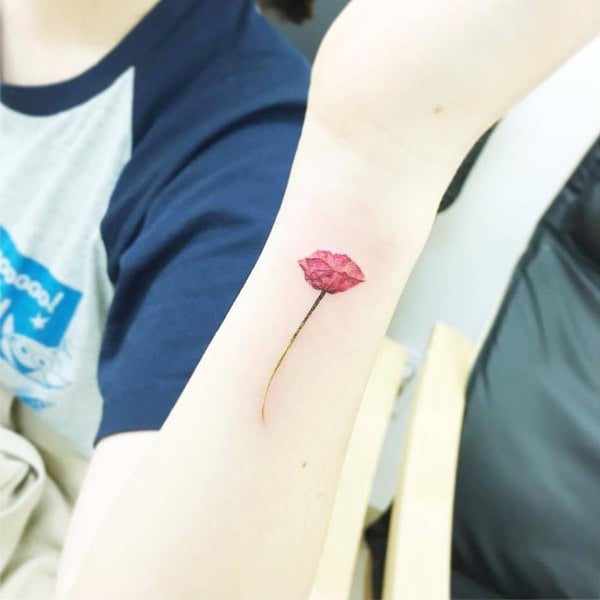 This pretty flower design is elegant and chic, the bold colour choice will make it really stand out too. We love the placement and the contrast with smooth, porcelain skin looks truly beautiful.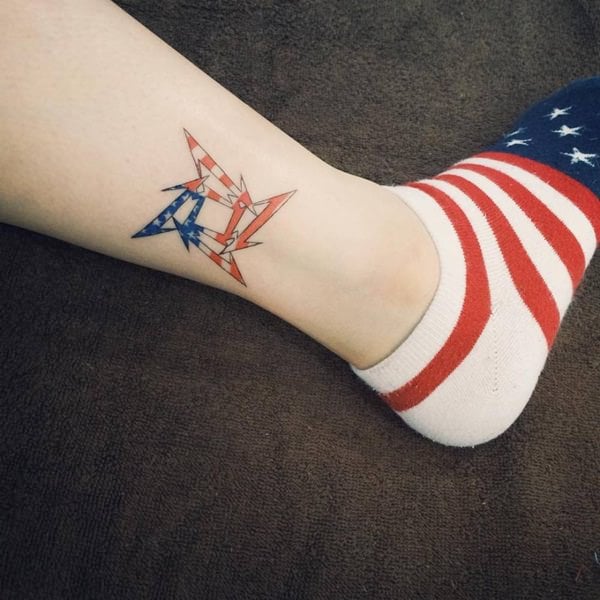 USA! USA! This calf tattoo really makes a statement! If you love your country why not try something like this with your own counties flag?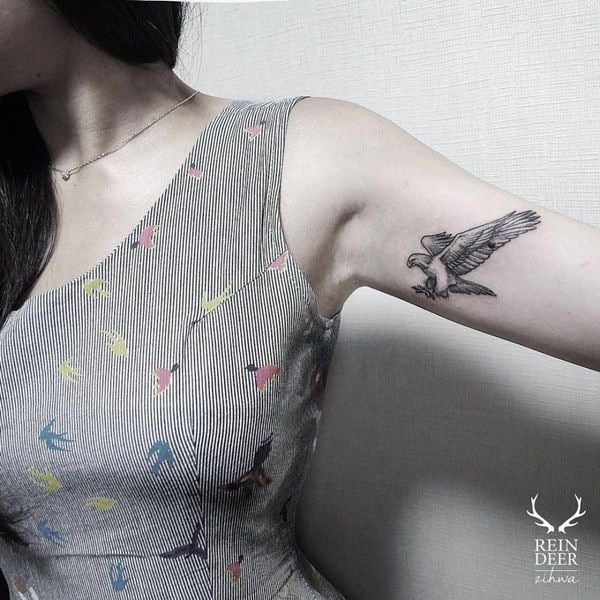 The shading and detail in this tattoo is awesome! The movement in this design is really cool too. A bird of prey adds a tough edge to your style that we just love.
We love the simple font on this elegant upper arm tattoo. A classic placement on the upper forearm is right on trend.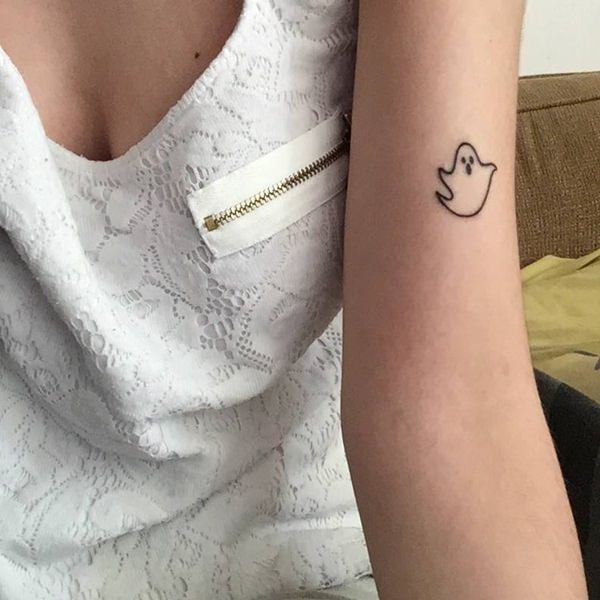 This tattoo is cute and fun, if you have a cheeky sense of humour something like this will suit you down to the ground, and keep you smiling all day long!
This unusual text on the back of the foot looks super cool. We love the bold choice of text and the placement on the back of the ankle is just perfect.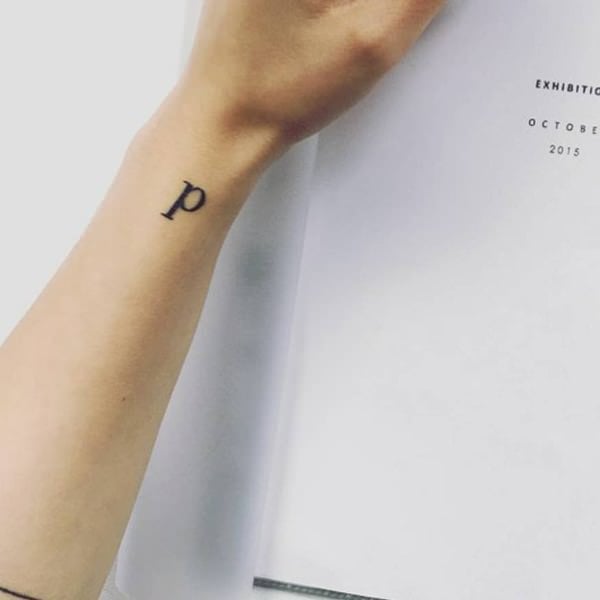 A simple single letter can make a bold statement. We love the old fashioned style font, and you can keep the meaning just for you!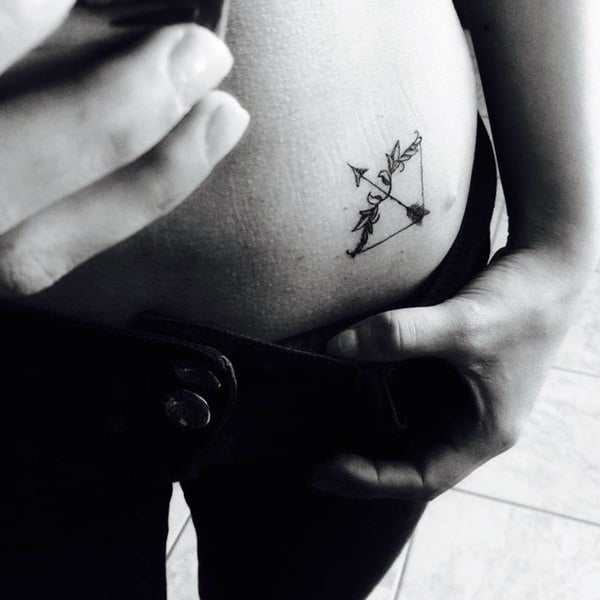 We love the delicate detail of this lovely hip tattoo. It is a totally unique design and the thin lines bring a fantastic femininity to the piece. A totally cool idea that looks just great.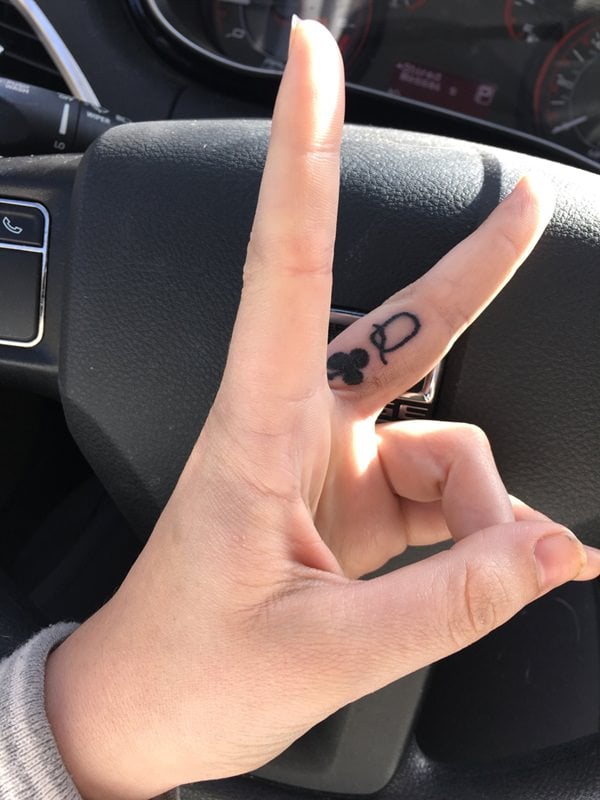 An unusual finger tattoo is sure to get lots of attention. We love the originality of this piece! it will look even better with stacks of rings to draw extra attention to it.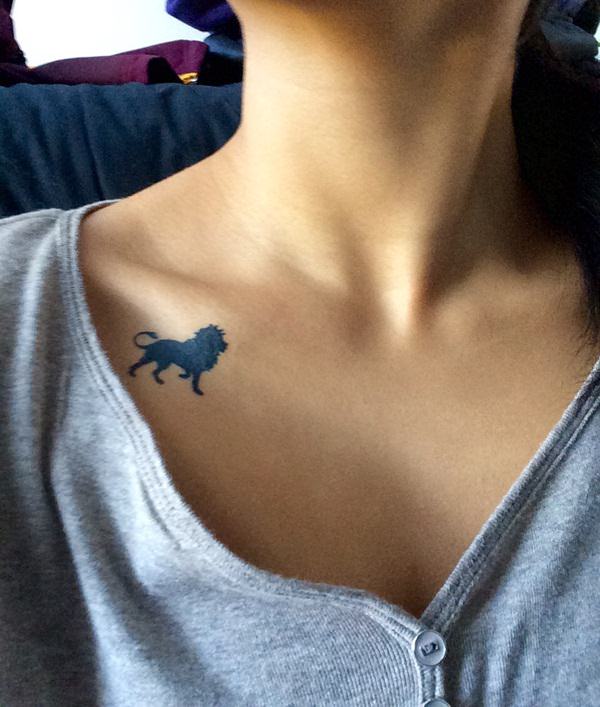 A bold outline of your favourite animal will look great for decades. The placement on the collar bone is just perfect, there is no shying away with this awesome tattoo.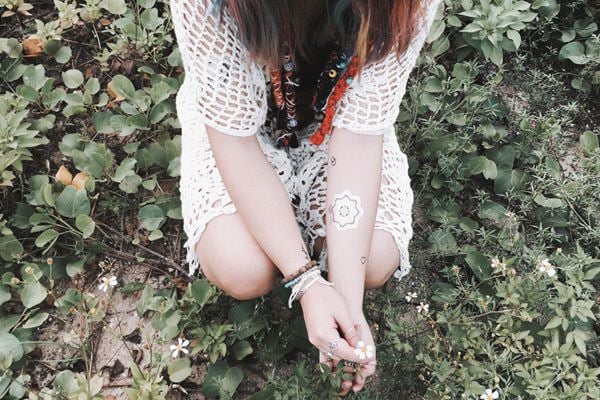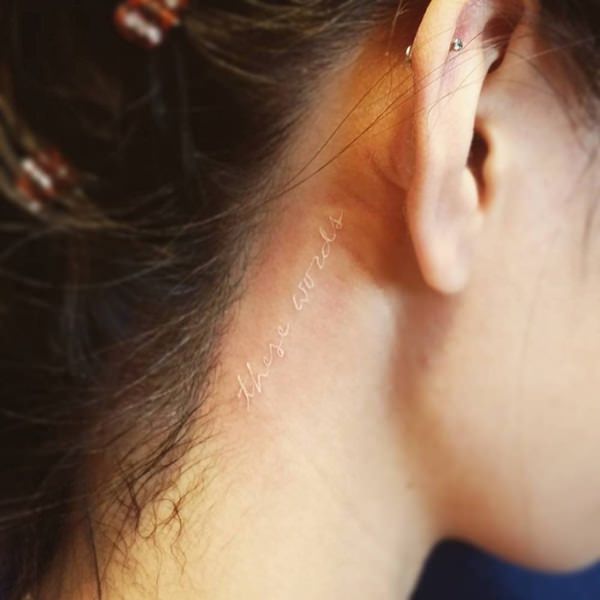 White ink is becoming increasingly popular and create a subtle and sophisticated effect. We love the elegant writing on this pretty neck tattoo.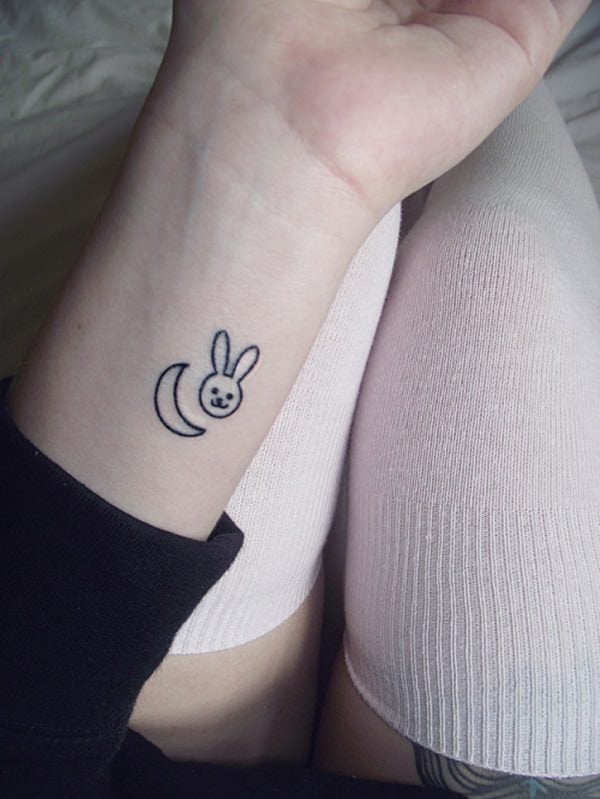 Something cute and simple can often look brilliant, just like this cute bunny and moon combination. It will call out to your inner child and the placement is lovely too.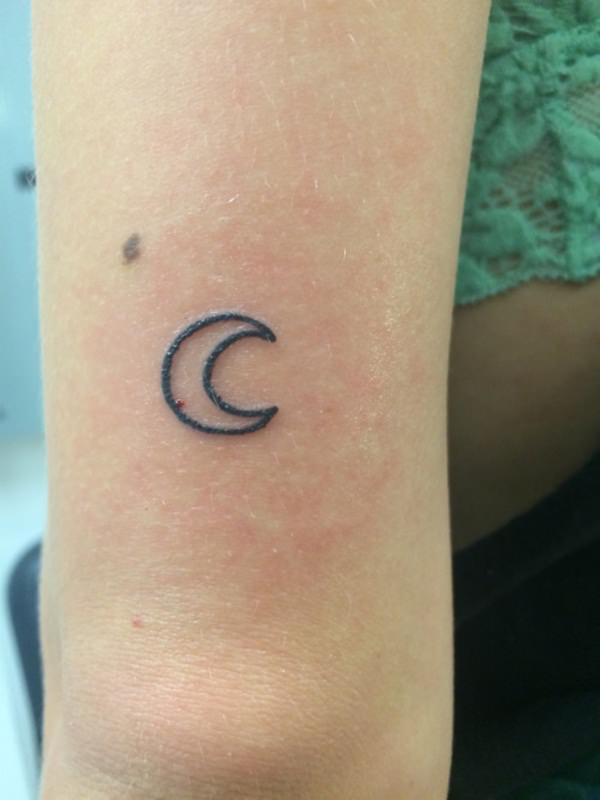 A classic moon tattoo is really endearing. The smaller the better! Just by the elbow is a really unusual placement and looks really adorable!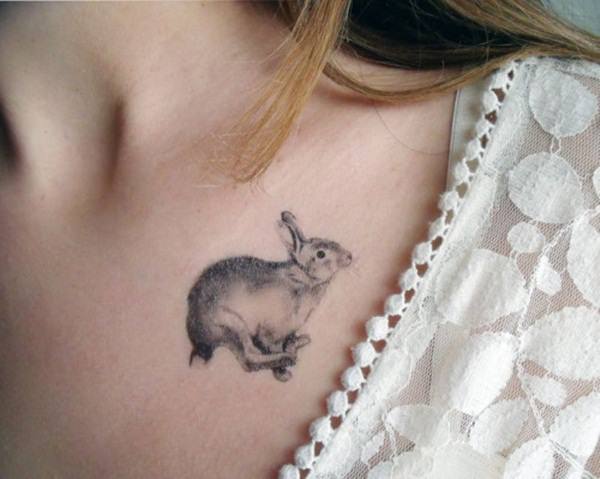 A sketchy, super detailed hare tattoo right on the collar bone is feminine yet makes a bold statement too. We love how intricate this is – this is definitely a tattoo that you will love forever.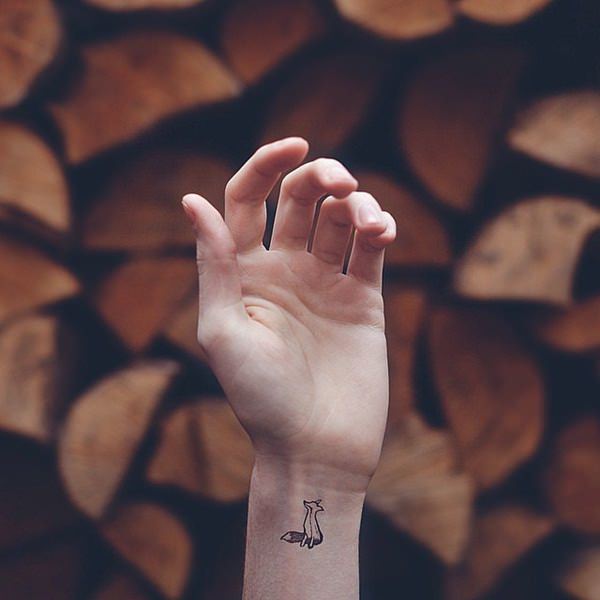 We love this adorable wrist tattoo! This would work whatever your favourite animal is – a simple outline with some detail and shading creates a totally cool effect. Jealous? Us?!
The detail on this bee tattoo is gorgeous. Tattoos that are as lifelike as possible are becoming increasingly popular, and everything about this bee makes it look as though it has just landed on her arm -truly a wonderful work of art.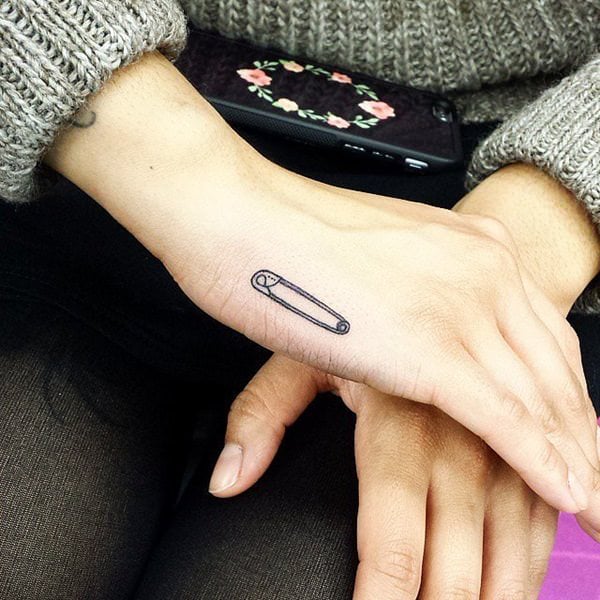 Simple, elegant and unusual, what's not to love about this safety pin design. We particularly like the way the shape follows the shape of her hand, well thought out and totally original – 10 out of 10 for this one.
This dramatic guitar outline really stands out – very rock n' roll! If you are into music  this really works and is a brilliant place for a small tattoo as well.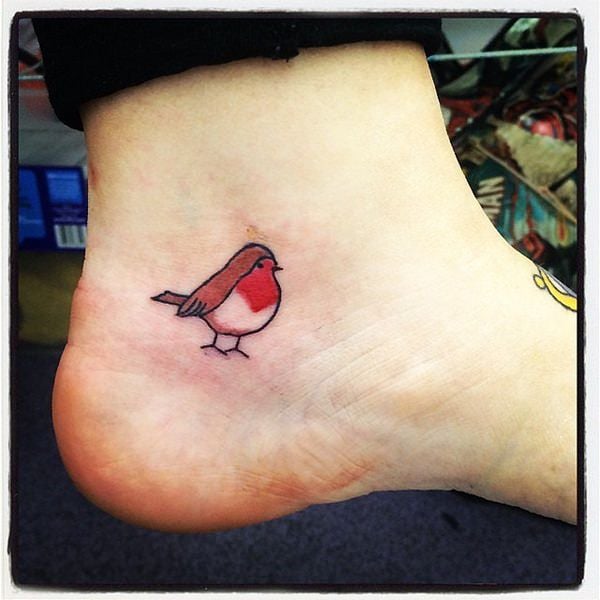 This cute and colourful Robin tattoo is one of our favourites! Robins are totally adorable creatures so why not show how much you love them and get one as a pretty and colourful tattoo?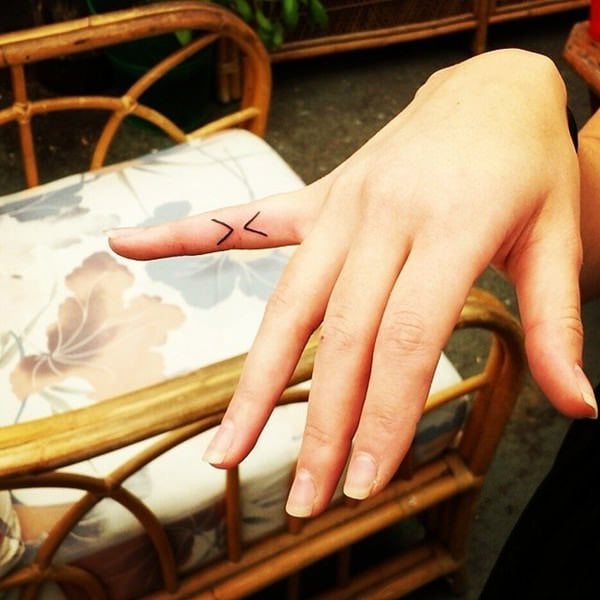 The striking, simple lines of this tattoo look totally elegant and very cool.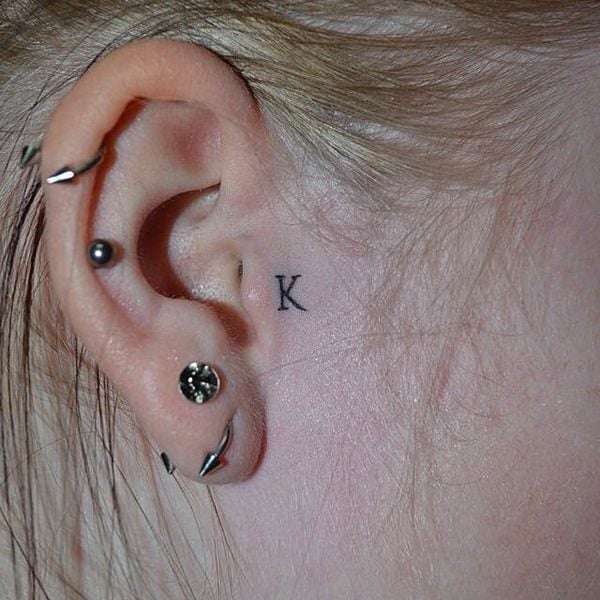 A single initial in an unusual place looks chic and classy. The delicate lines of this font work really well for a tattoo like this.
We love this delicate bow – very feminine and very cool. If you want something simple, but totally pretty and feminine, a tattoo like this will be right up your street.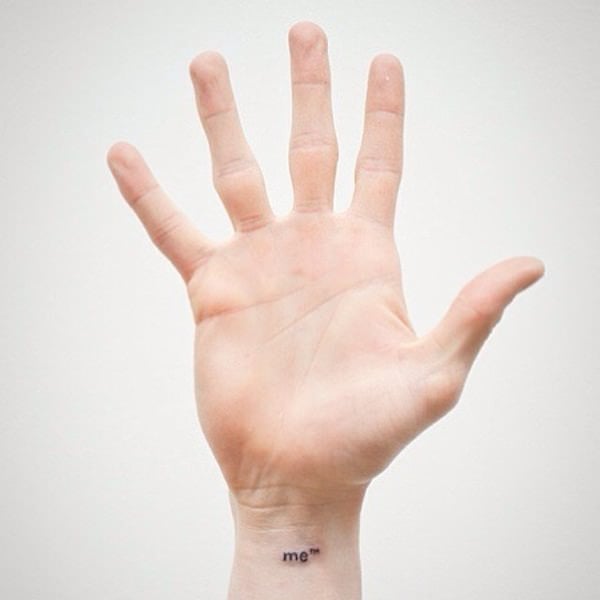 A tiny wrist tattoo is cute and fun. The unusual font works really well too.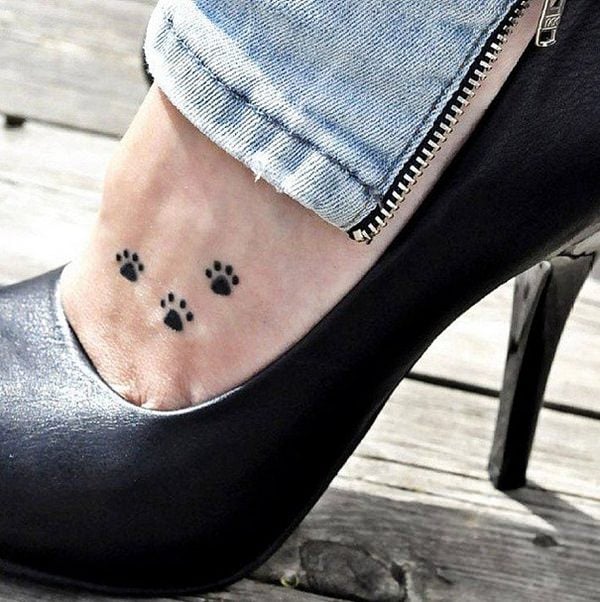 These little foot paw prints are so sweet! This tattoo is a great example of how to get on board with the paw trend without having to get anything too extravagant done.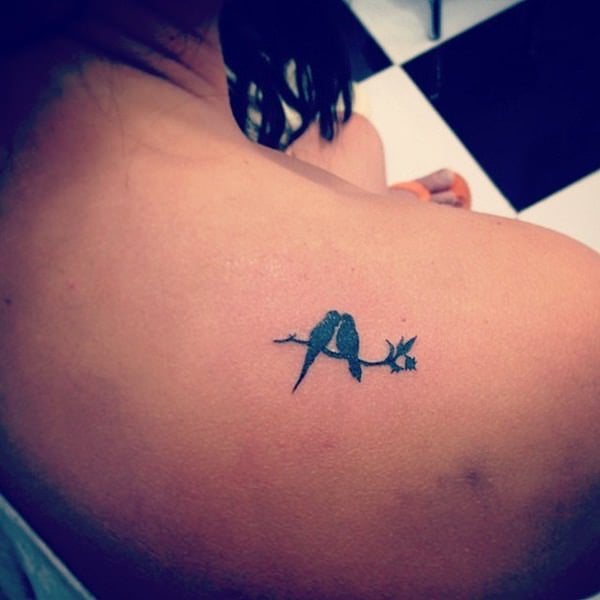 The outline of these two birds is oh so romantic. Whether it has a meaning for you or you just get it because it is totally cute, this tattoo will look incredible for years to come.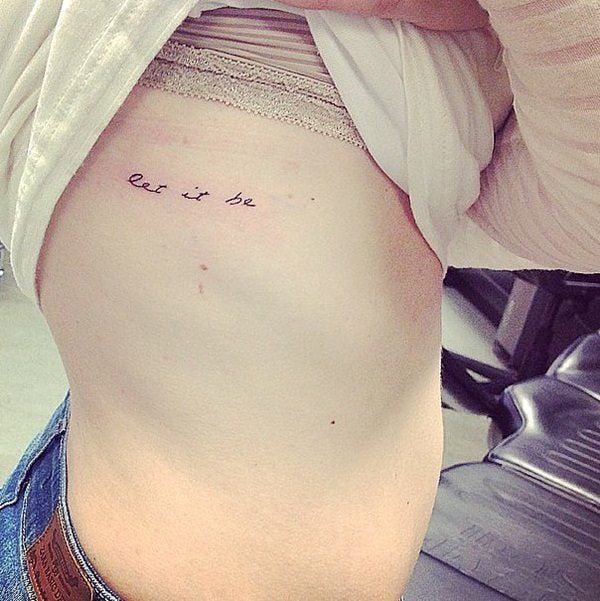 A simple statement can be truly empowering. Everything about this tattoo is just gorgeous, and feels truly inspirational.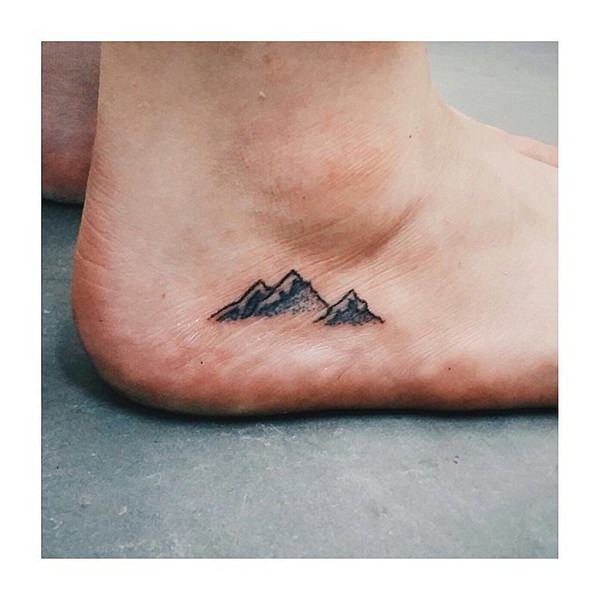 These mountains are striking and unique. We love the unusual placement and the amazing detail that has gone into them, especially considering how dainty and small they are!
This little heart is classic and timeless. We love the placement on the hand. Team with lots of cool jewellery to really make this cute tattoo shine.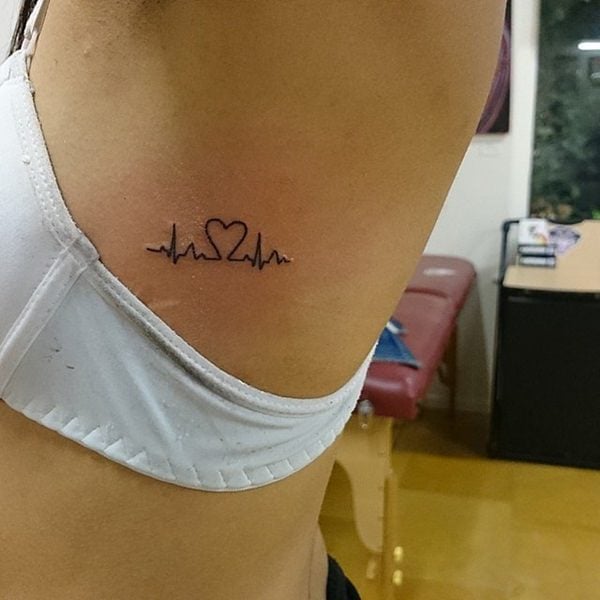 We love the sharp lines on this cool tattoo. Usually pulse tattoos have a special meaning reminding you of a birth or death, whatever the reason they look just fantastic.
A modern classic! We love this slightly tongue in cheek tattoo, it is small and cute too #iwantone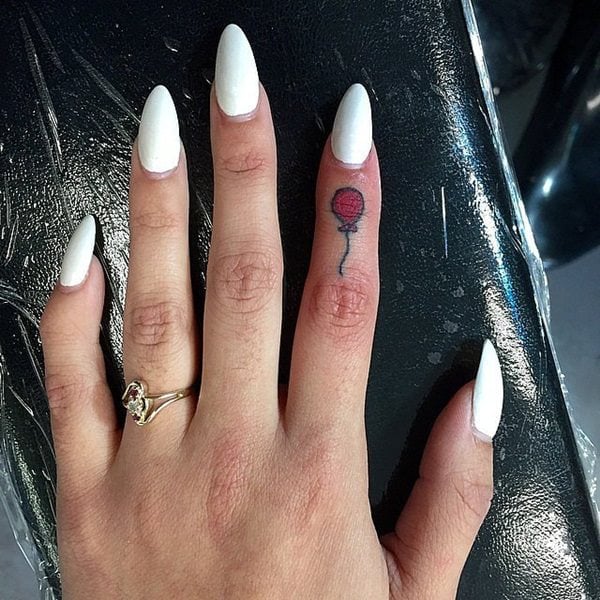 A fun and colourful finger tattoo. Call out to your inner child with a cute balloon design. The simplicity of this tatt really works.
We heart finger tattoos, and even the smallest and most simple of tattoos can look really great. This one is simply perfect and totally trendy right now as well.
An unusual take on the classic love heart design. We love the 'stitched on' effect of this tattoo. The chic and quirky design means you will surely enjoy this tattoo forever.
We just love these cute, unfussy ankle tattoos. Circles are wonderful symbols of like and love and sometimes the simplest tattoos look the best -we think they have got it exactly right.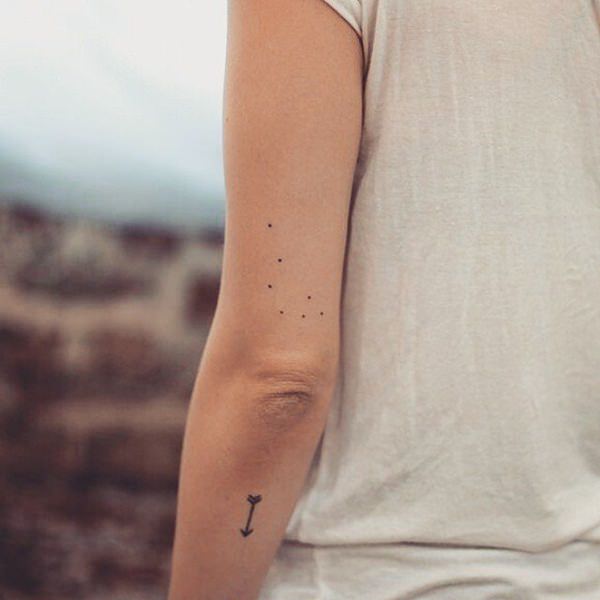 Little arrows have become really popular lately. The placement here is elegant and fun, and we love the unfussy design of this little tattoo -perfect!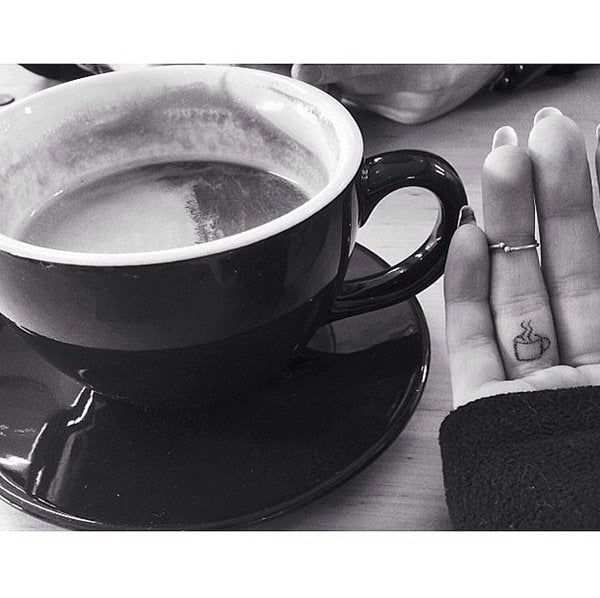 For coffee lovers everywhere! This adorable finger tattoo is really unusual.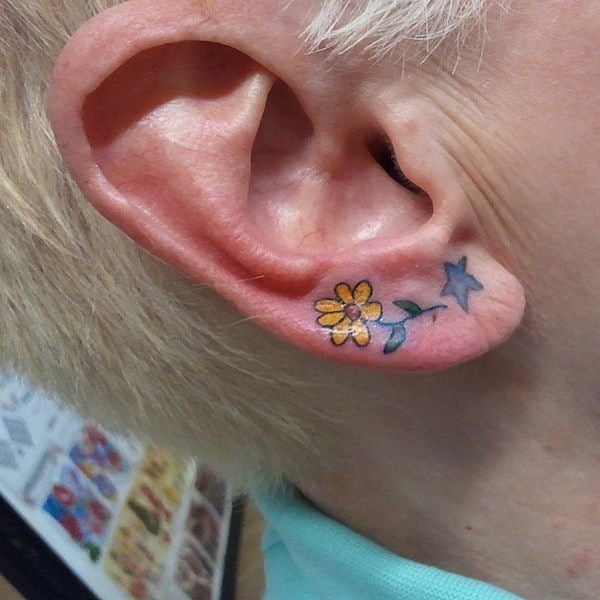 Who needs earrings with this colourful ear tattoo? This pretty design is just lovely and the bright colours make it really stand out, be a festival chick forever!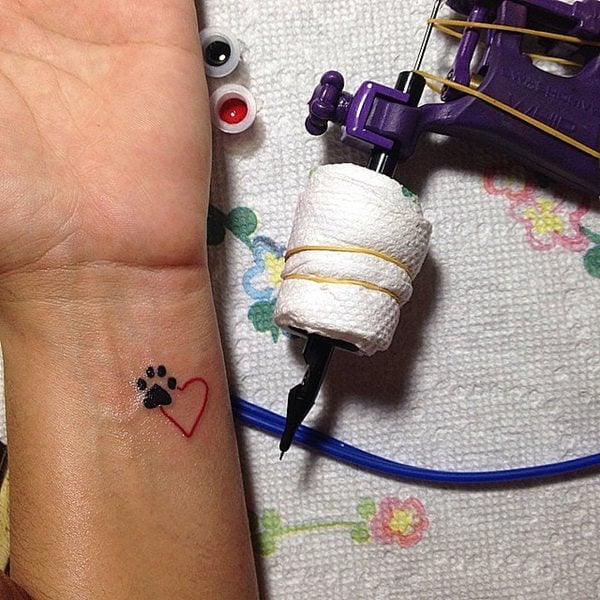 This cute heart and paw combination is the perfect way to express love for your pet! A truly adorable tatto and the red of the hear makes it really stand out.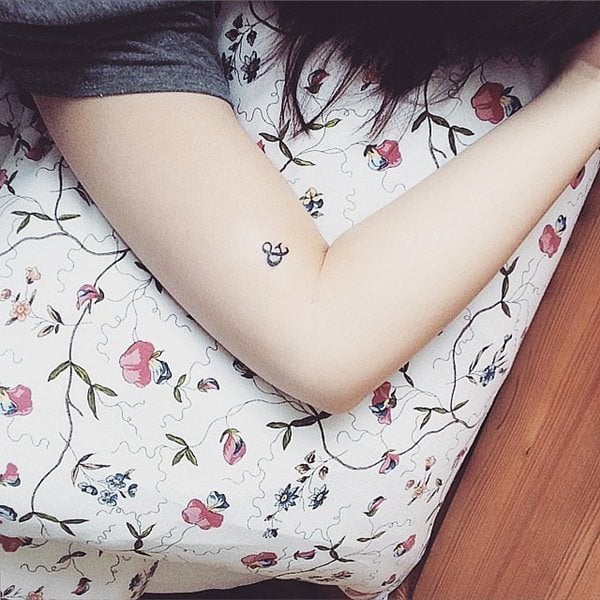 We love this bold but elegant design. It is certainly a talking point, and the simple black really looks wonderful against porcelain white skin.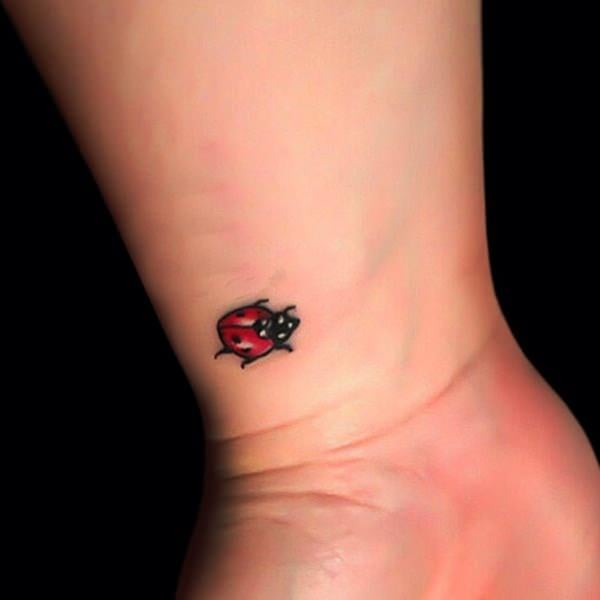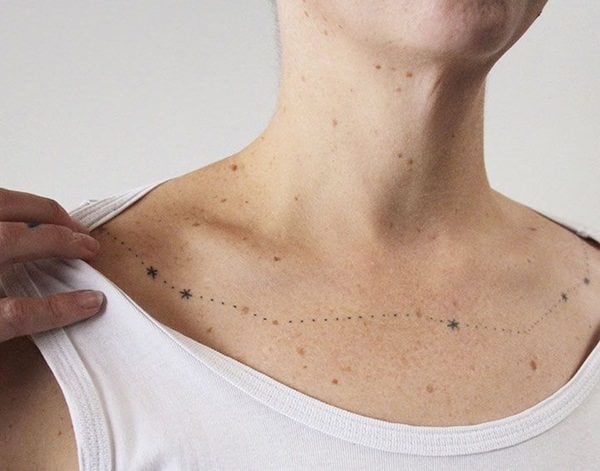 This graceful tattoo necklace is so elegant. Who needs to spend loads of money on fancy jewellery, not us anymore that's for sure!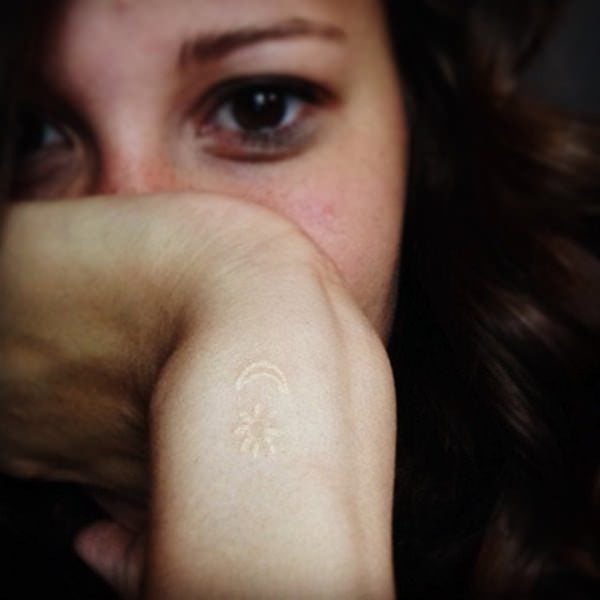 A barely-there tattoo can look really classy. Again white ink is becoming an ever popular choice and we think these subtle designs look just fantastic.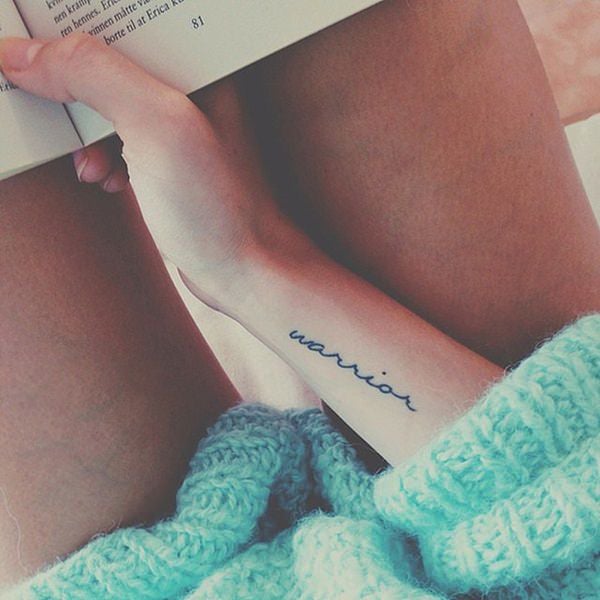 We love a elegant wrist tattoo and this one is a perfect example. Classy and sophisticated, this tattoo is right up our street!