It seems that the demand of wrist tattoos, especially amongst women is rising by the day. For a girl to have a tattoo is no longer considered a faux pas. To get a tattoo on, wrists are considered as the coolest body part as they generally have less fat and are a sensitive part of the body. Thus the process may turn out to be a bit painful when the ink is injected into the skin.
Wrist tattoos for women are often considered to enhance personality and beauty. It easily attracts. Small ones look better on the wrist of a woman. Meanwhile, the selection of a tattoo is gender specific. Girls mostly crave for infinity or cute ones. Women being more choosy and fashionable, their tattoos are often seen as cool and with a meaningful message. Come and let's explore the cute inked world of women wrist tattoos.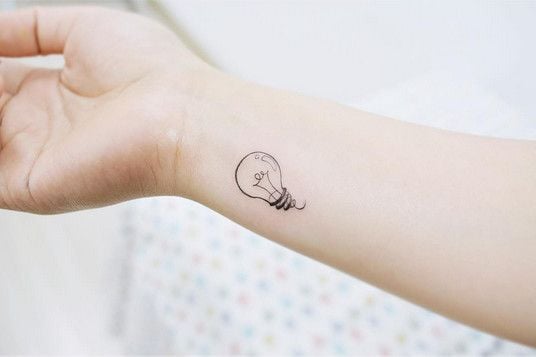 Different Wrist Tattoo Designs, Meanings and Purpose
Girl's tattoos as mentioned in the beginning are small and cute. Unlike the more assertive and loud designs of men, girls prefer classy ones like simple quotes, floral, and so on. Cute ones are often symbols – a cross, a star, love signs, even birds. Some women prefer bracelet tattoos which can be used as jewelry. Then there are small heart and hand wrist tattoos with a rubber bracelet. This is small so you can easily hide while at your workplace.
Birds are common among women. You can put it on the side wrist as it gives a different dimension to the look. Others from which you can choose are a crescent moon, sunflowers, or even a zodiac symbol. You can choose from water-color, dot-work, a white ink work, or a black work. The choice depends on your taste.
Although most tattoos are just piece of body art, some have their meanings as well. An anchor, for example, symbolizes strength and stability, on the other hand a simple glyphs means "to explore". Some women may like these pieces with definite meanings. Apart from these women like to incorporate the first letter of their fiancé/husband/child's name as well. Each has its own sentimental value, showing that you care about someone or something.
Then there are traditional ones like the "love" or "hate" signs, or a lion, which means loyal and courageous. Among minimalist tattoos which is a craze these days are ghost design, bow and arrow, compass, a dove, or a Queen of Club implying a strong-willed and possessive person.
Among the bigger tattoos women generally prefer the lotus, symbolizing divinity, or "Dream Catcher", which has historical and cultural connotations. On the other hand, geometric tattoos are trendy designs and much liked by women nowadays. They are less expensive, have a feeling of timelessness and are attractive.
Next to geometric tattoos are designs depicting the full cycle of the moon, which looks fantastic spread across your wrist. Some girls like cartoon character; so piercing a bunny rabbit can be fun as well as nostalgic.
Popularity of Wrist Tattoos for Women Today
Tattoos are considered as body art; a new kind of art form these days. Earlier it was restricted to men manifesting a very masculine expression. But with the passage of time, women have started expressing themselves through this art.
The popularity of wrist tattoos amongst women nowadays has soared significantly and much of this has been contributed by various celebrities and artists that appear to passively endorse these wrist tattoos. Although there are no limits to different symbols a girl likes to pierce, we have shared some popular ones over here.
Hope you like our choice, and apply it on your wrists the next time you visit a tattoo studio!
Lovely Examples of Wrist Tattoos for Women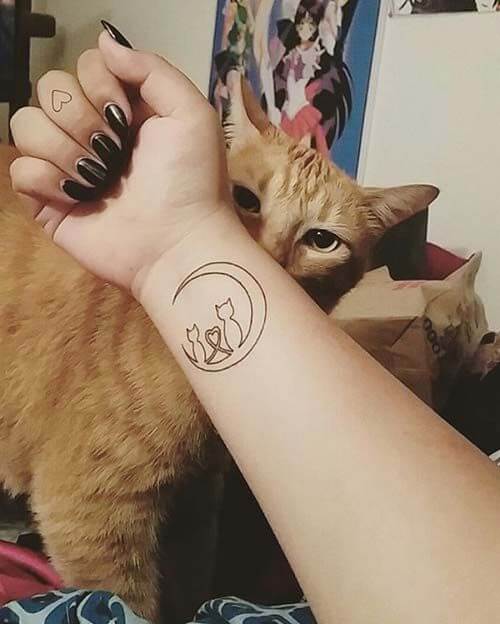 This delicate wrist tattoo design features the silhouette of a crescent moon complete with the outline of cats. It's such a simple but intricate style of ink that would look beautiful on anyone. If you are a lover of cats, this tattoo would be perfect.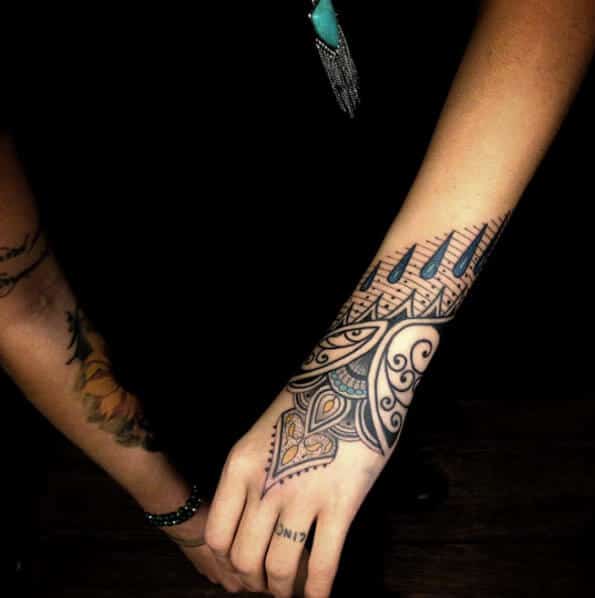 This detailed design extends all the way down the hand in a tribal/bohemian style that is very trendy. The pattern stays simple and black but definitely stands out from the crowd making it one of the most amazing tattoo ideas for women.
This tattoo says "Joie de Vivre" which means Joy of Life or Lust for Life in French. It's complete with a variety of different flowers and leaves. It's quite a feminine design which would look great on any girl who want to show off their passion for the world.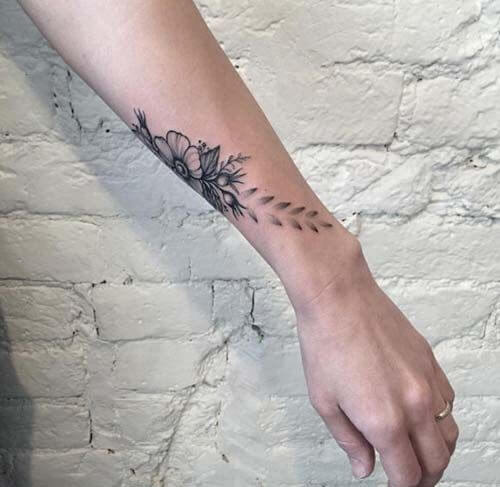 This wrist tattoo features a beautifully designed flower with feathers coming out of the petals. It comes across and down the hand/wrist in a diagonal direction for a style that really stands out on its own or as part of a sleeve.
Perfect for those who have a love of travel, this tattoo says "Wanderlust", which basically means "loves to travel". It comes complete with a compass and can also include stamps of your travel destinations. This is a truly unique design that helps show off who you are.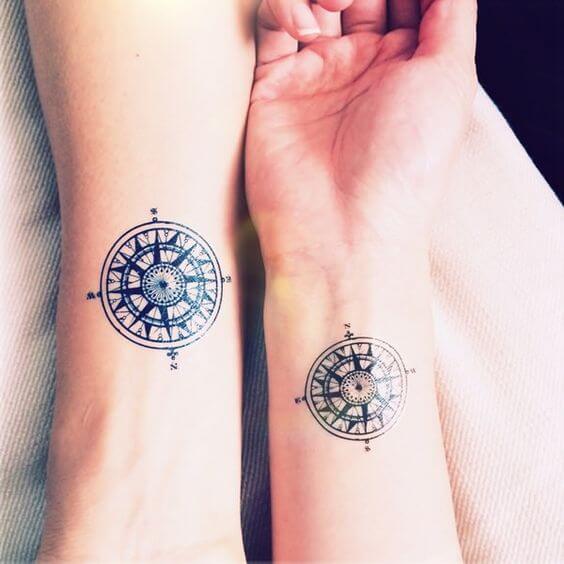 If you are looking for wrist tattoo ideas and you love to explore or travel, this design is beautiful. It is a tattoo of compass, it's very detailed and symmetrical, the truly classic style that would suit many women out there.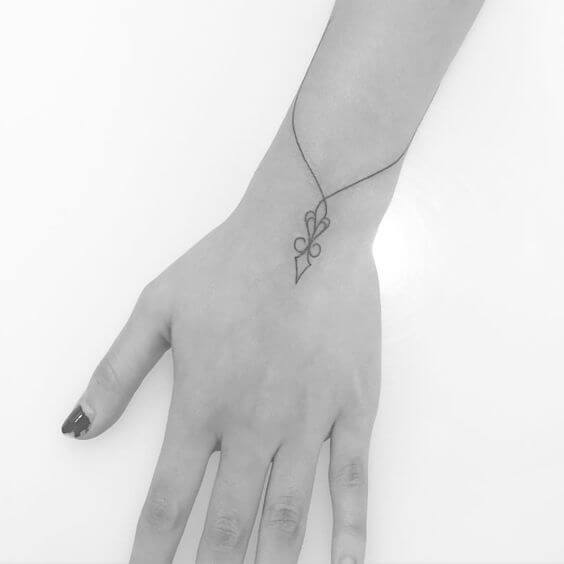 For a delicate tattoo that elegantly comes around and down the wrist, this design is perfect. It's very simple black line style, makes it look like a piece of jewelry rather than ink as it finishes neatly on the hand with a diamond shape.
This tattoo of mountains with a dewy sky behind it is simple yet detailed. The unique design is perfect for those who enjoy the great outdoors. The black lined tattoo has some simple grey shading and stands out from generic tattoos on the wrist.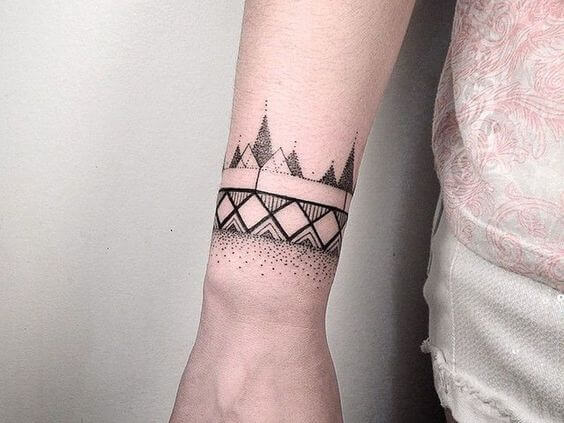 If you are looking for a bold wrist tattoos for women, this one is ideal. It features geometric shapes arranged in a tribal style. The tattoo comes all the way around the wrist and is finished with some black dots at the top of the hand.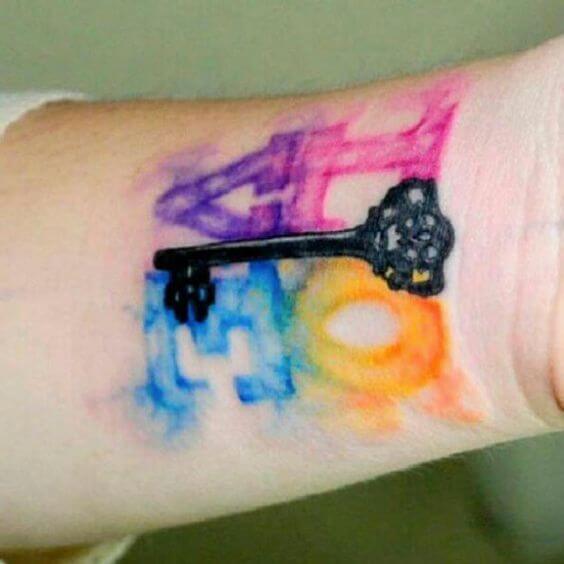 This brightly colored tattoo spells out the word "Love", with every letter in a different color. As if the design is not unique enough, it has a symbolic black key going through the writing.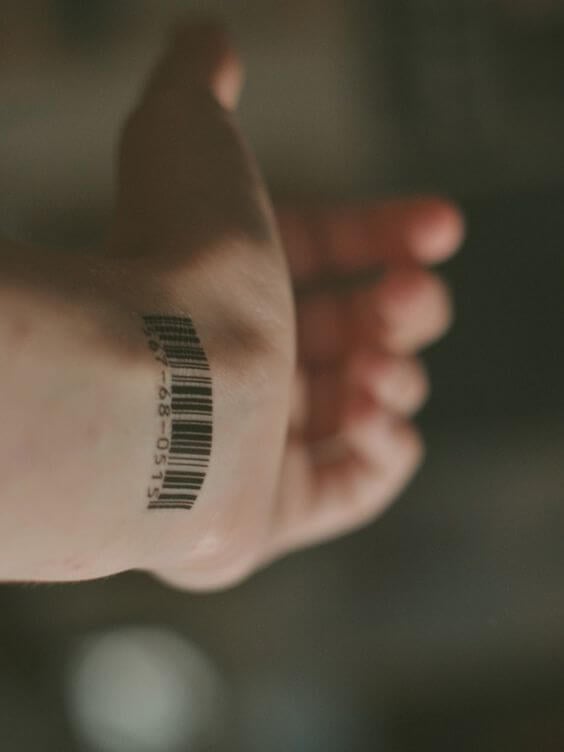 Stand out from the crowd with this unique "barcode" tattoo on your wrist. The numbers on the stamp can be a date that means something to you, whether that be an anniversary or the death of a loved one.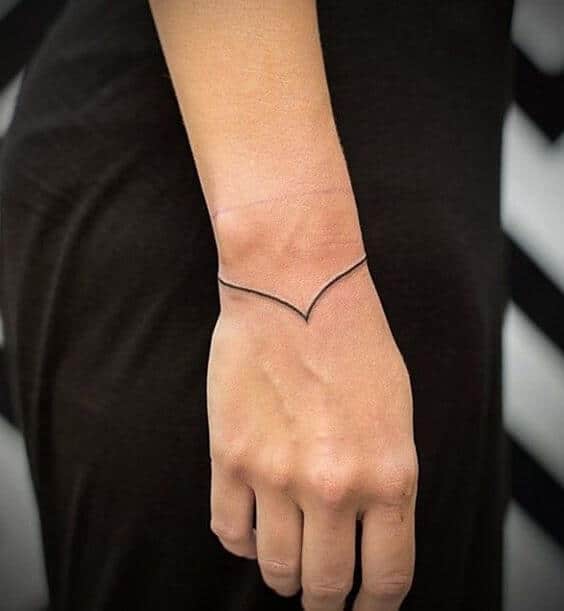 If you are looking for wrist tattoos ideas but don't want anything too complex, this minimalistic style is perfect. This simple black line design comes around the hand, meeting together at a point.
This detailed tattoo on the wrist is a flower design at the top of the hand, with a variety of other petal type shapes coming out of it and up the wrist/arm. The use of shading on this tattoo makes it a very high quality piece.
This black anchor intertwined with colorful flowers is one of the most beautiful wrist tattoos for girls. The use of shading on the anchor makes it appear 3D and the feminine touch really completes the piece.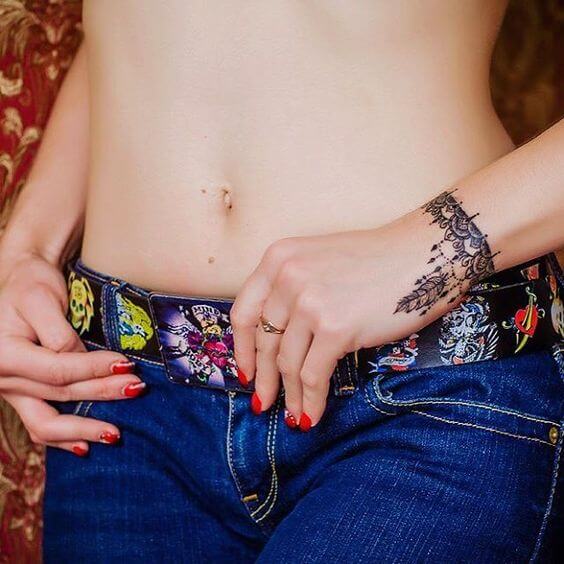 This tattoo coming around and down the wrist is intricately designed, with a lace effect that makes it stand out. It is finished nicely with a detailed feather that falls at the side of the hand.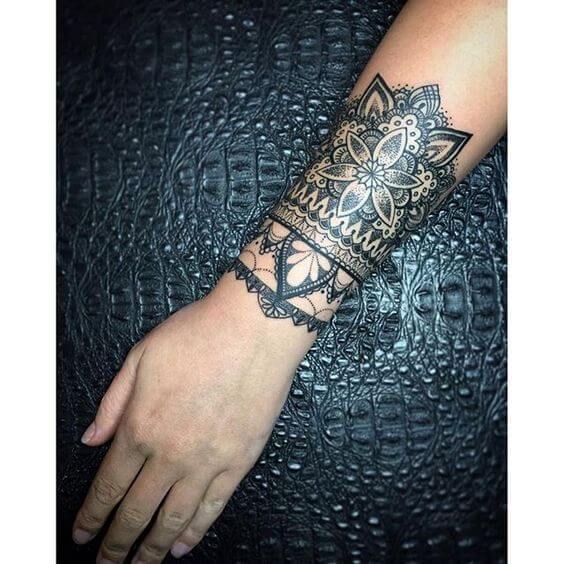 If you are looking something for a little more "out there" in terms of wrist tattoos idea, this is perfect. The design features a number of different patterns that come together in a tribal design, finishing half way up the arm for a truly stand out piece.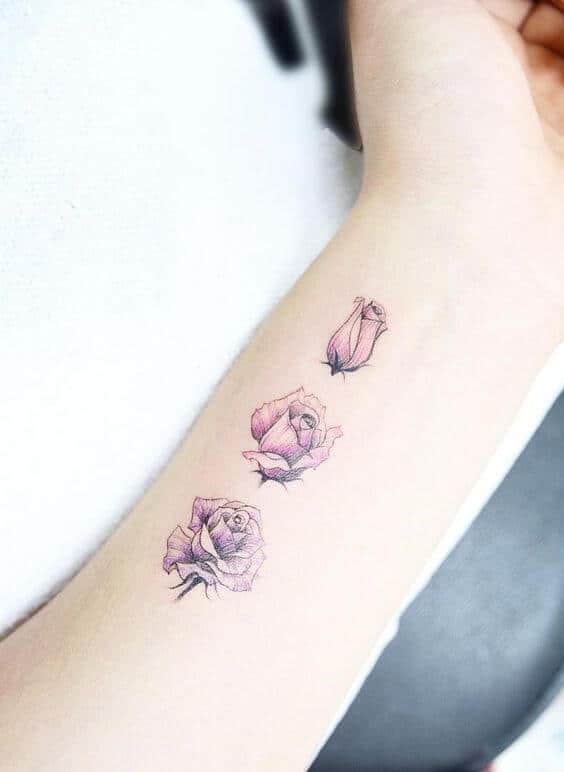 This feminine tattoo features three pink roses. What starts off as a rosebud just above the hand goes through the blossoming process and finishes as a flourishing flower. This is a gorgeous and delicate design that would suit many girls.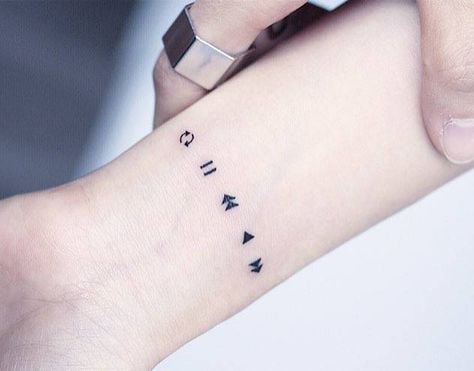 For any lover of music, this tattoo is of all the classic symbols you would find on a cassette player. The simple design uses "play", "fast forward", "rewind" and more – all equally spaced for a simple inking that is also unique.
If you want to sparkle or you love the finer things in life, this diamond tattoo is perfect. It is a little off centre and upside down on the hand. It features an array of pinks, blues and purples; coming together in a 3D style that really stands out.
In terms of wrist tattoos, this grey and white delicate flower design is a stand out piece. It has some amazing detailing and falls beautifully across the hand. This feminine tattoo would look great on many women.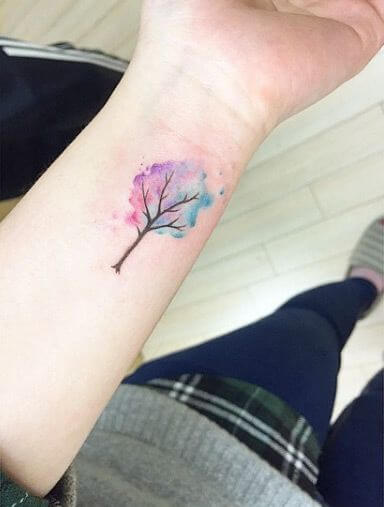 This tree tattoo is simple but with some amazing color work on the leaves to give it something a little extra special. The pastel pink, blue, and purple melt together to mark a beautiful piece of ink.
This pink blossom flower tattoo starts at the wrist and goes up the side of the arm slightly, it is made up of simple colors and shading. The light design is very delicate making it a stunning choice for any girl looking for something feminine.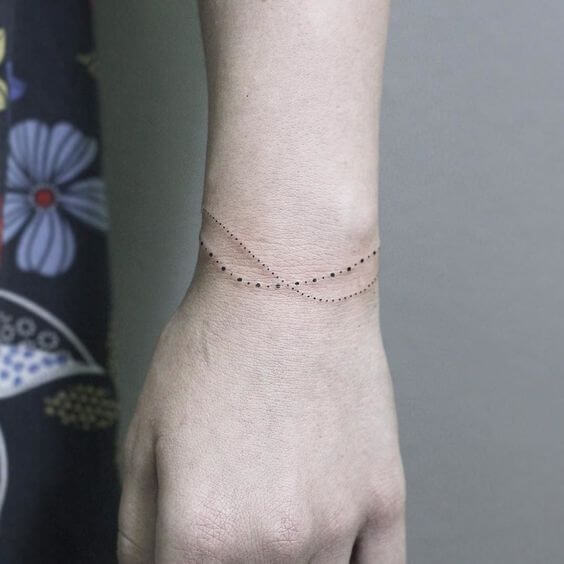 If you are looking for unique and simple tattoos ideas, this piece is ideal. It features 2 dotted lines intertwining with each other going around the wrist, this tattoo definitely stands out.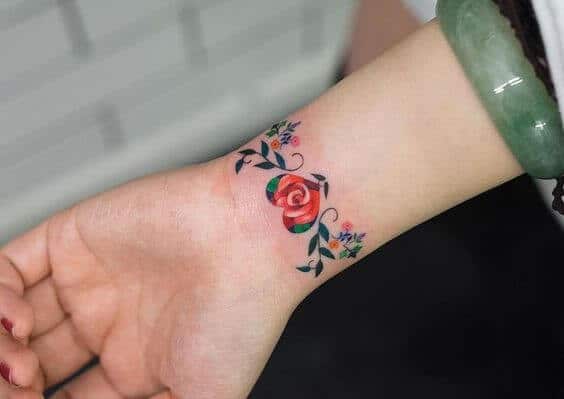 This colorful tattoo is made up of a heart/rose combo in the middle, with some petals/flowers coming out of the side. If you love leaves, flowers and anything that falls into this category – this tattoo is perfect.
This black and white inking is made up of 3 flowers, all created beautifully. The tattoo is feminine but with some great detailing also. This would look great on any woman looking for a delicate wrist piece.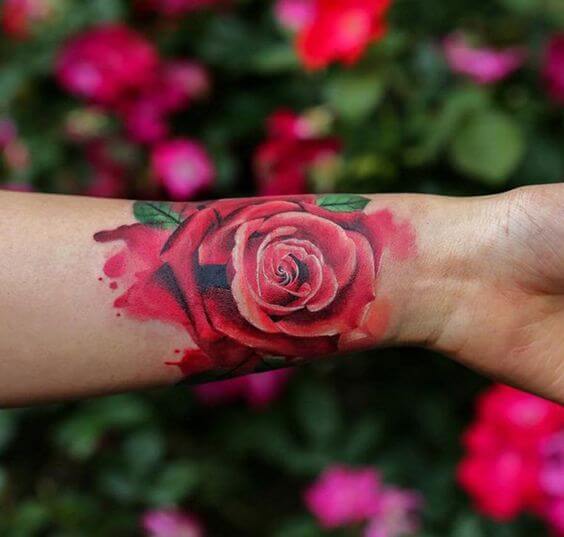 An intricate tattoo of a rose in full bloom in a light shade of scarlet, complete with emerald green leaves and detailed shadows that work its way into the middle of the flower, the edges fading into somewhat of a watercolor texture.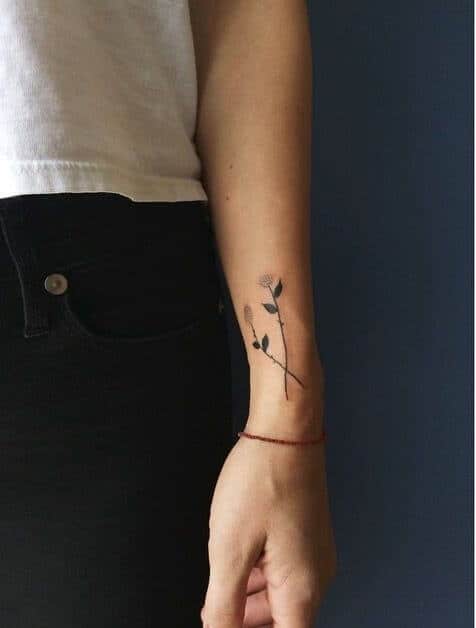 A dainty statement made up of dandelions, petals lightly dotted to allow texture, connected to a long set of stems that overlap in the middle. Two leaves are drawn for each stem, while subtle hints of thorns add certain life to the piece.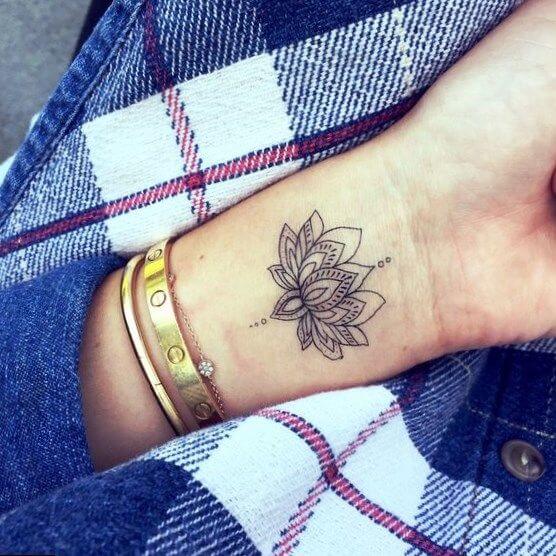 Simple yet highly detailed wrist tattoo of a blooming flower, petals open in a similar manner to a lotus or hibiscus, with delicate dots on the top and bottom of the blossom. This one focuses on lines and curves to bring life to the modest design.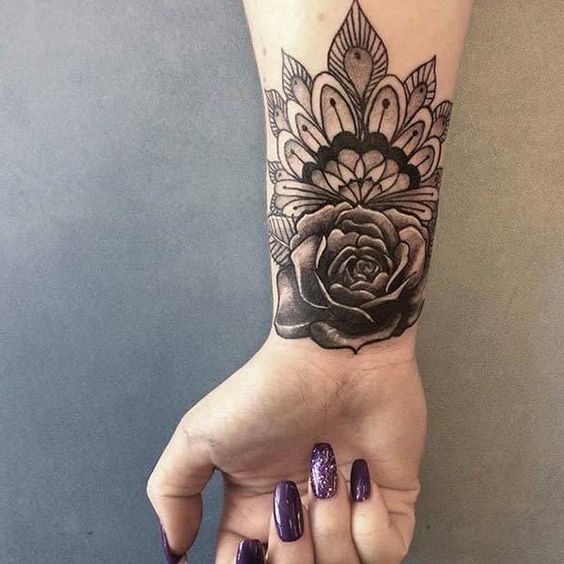 A mixture of simplicity and details – a rose in full bloom shaded to seem almost lifelike, with the added combination of lines and curves that frame the flower, almost seeming like a bouquet of mixed florals, with the rose as its main point.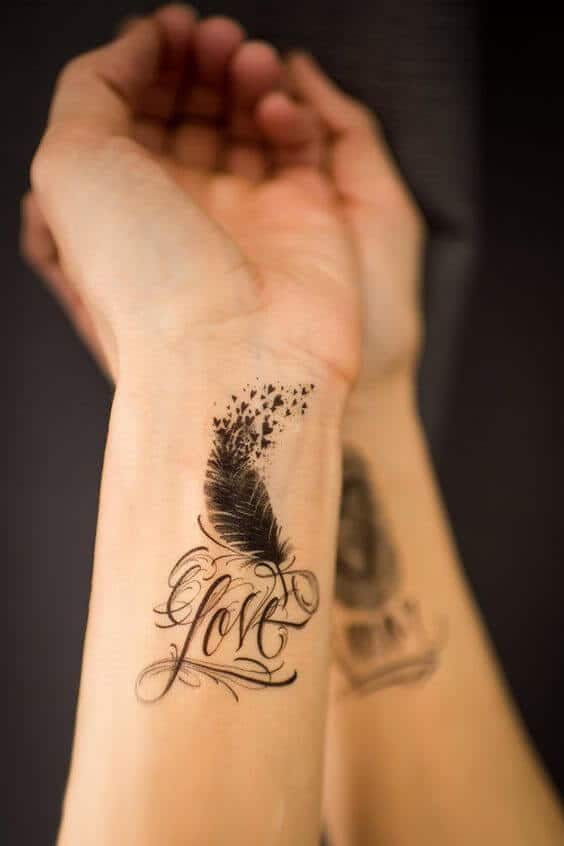 While feathers are one of the more popular wrist tattoo concepts, this managed to spice it up with the fading effect at the top, feathered pieces transitioning into tiny hearts. The word "Love" written in detailed cursive perfectly coincides and completes the design.
This one is a more creative concept that combines two of the more popular tattoo options: an arrow and a blooming flower. The stem gradually curls and forms an arrow that pierces through a lotus with shadowed tips. It's a simple, yet eye-catching.
A beautifully designed crescent moon that gradually transitions into a full moon, finely dotted along its shape to form shadows and texture to the tattoo. Beaded curtains add detail, complete with the geranium and hibiscus flowers drawn along with dark ferns.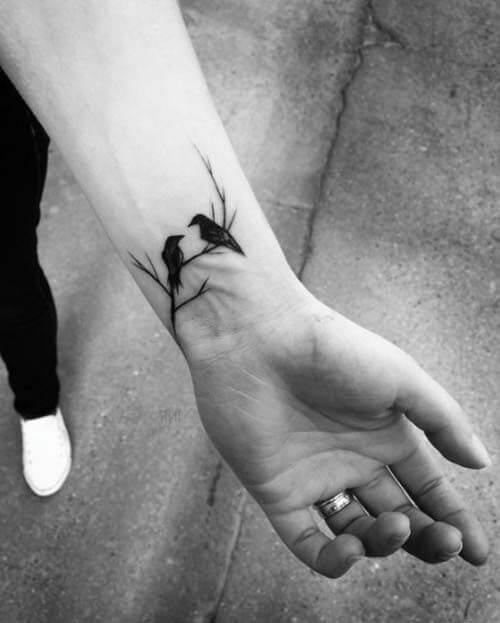 This tattoo, with its unique concept, involves the shadows of two ravens perched on a branch. The line beautifully yet subtly blends with the veins along the bearer's wrist. It is a rather minimalistic piece that stretches beyond one's imagination.
This vivid yet precise line of dots that follow the colors of the rainbow is the perfect wrist tattoo idea for women who enjoy vibrancy and simplicity molded into one creative wrist tattoo design. It's definitely one that, however subtle, says a lot about its bearer.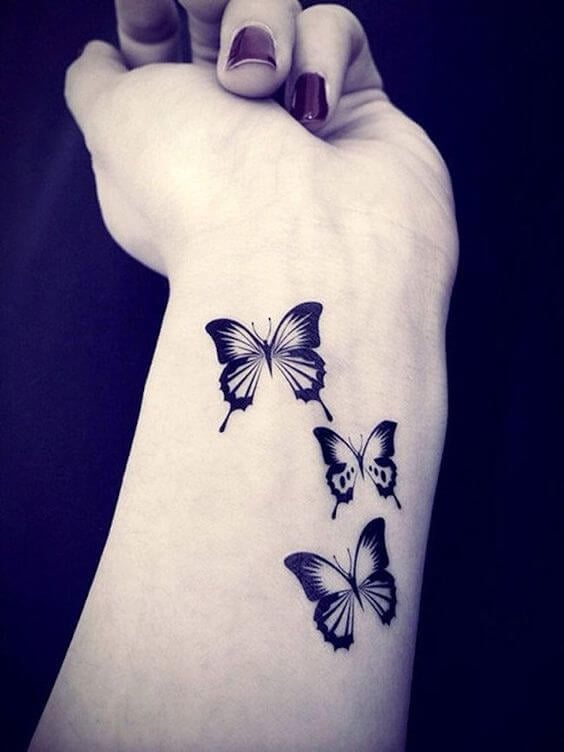 A set of three butterflies inked smoothly along the wrist, with vivid black outlines and details – two of the butterflies focus more on the linear art where distinct lines are perfectly drawn along their wings, while the middle one is modestly dotted.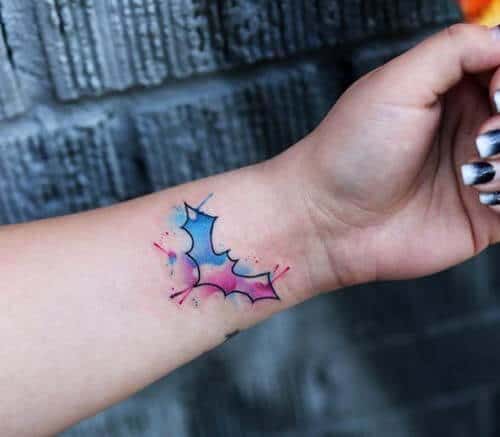 A growing trend of wrist tattoo ideas involves simple linear art with seemingly splattered colors, the vivid shades spilling along its simple back outlines. In this case, the shape is of a bat, with cobalt blue and magenta watercolor textures surrounding it.
A dreamcatcher is a growing trend among wrist tattoos for the bohemians at heart. This carefully formulated tattoo accurately mirrors the hoop and the threads in the middle that mimic a lotus, complete with feathers dangling in beaded ropes beneath the item.
Here's another one that shows off a subtle bohemian flair: a set of five arrows in a variety of designs, from its tip to feathered ends. Its simplicity adds an elegant and feminine touch to the tattoo, however simple it may be.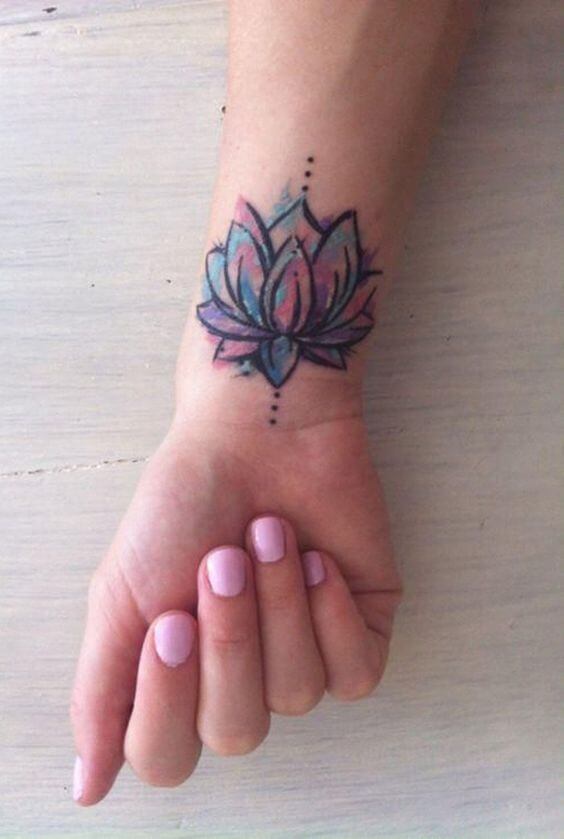 Another lotus, but this time adds a splash of color – specifically cobalt blue and magenta – between its intricately drawn form. There are three sets of dots at the top and bottom of the flower, and its watercolor texture spills a little outside its lines.
A much more detailed tattoo of a crescent moon with intricate shapes and patterns similar to a dreamcatcher, with curls and circles, not to mention the small flower in the middle and the hanging beads along its edges, add certain life to the piece.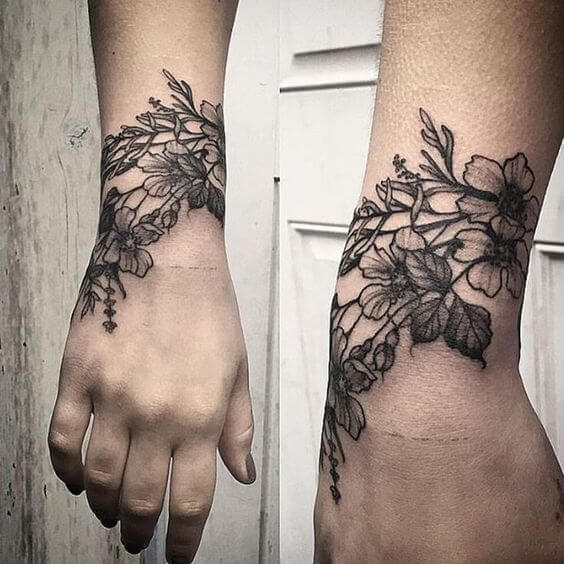 A very elaborate and intricate representation of fully bloomed hibiscus flowers, the shadows add a lifelike touch to the already detailed style, and it's completed with shapely branches and stems, veined leaves, and the small buds that have yet to bloom.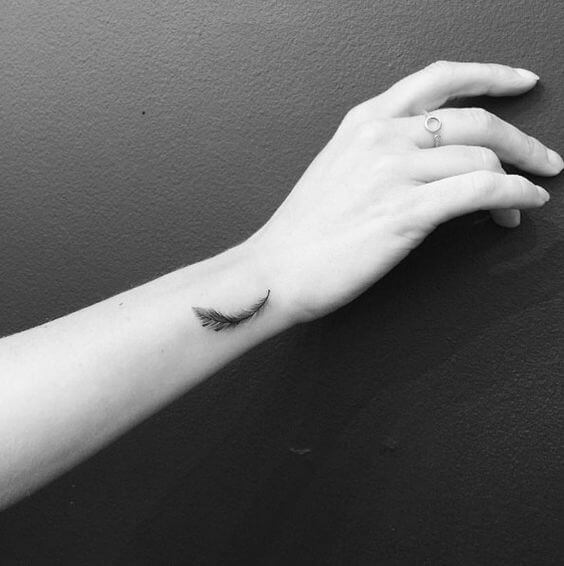 For those who prefer a combination of subtlety and grace, here is one of the more elegant and subtle tattoo ideas for women. While it's a mere black feather, its details and the distinct softness to its style due to its shape and fine points make it so that it looks like its slowly, but naturally, falling.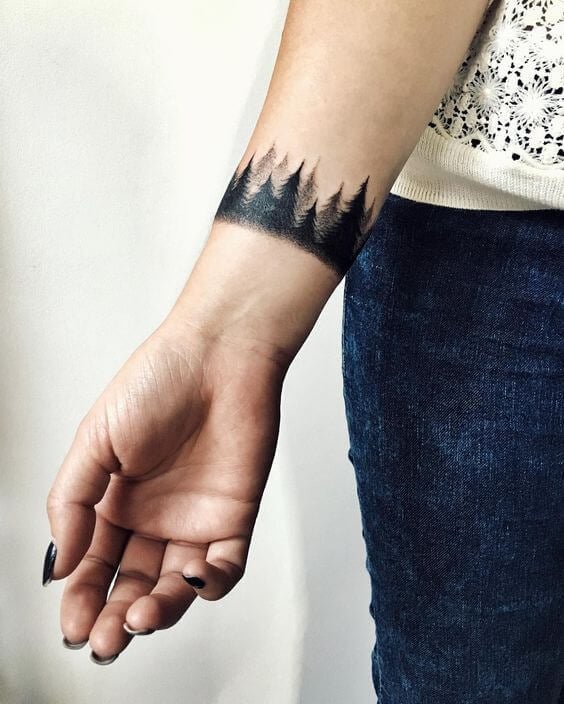 From first glance, this forest almost seems like a gorgeous, hemp wrist band. However, upon closer inspection, the tattoo offers a peek into multiple layers of a dark pine woods – the lower parts are a darker shade as it slowly transitions into shadows in the back.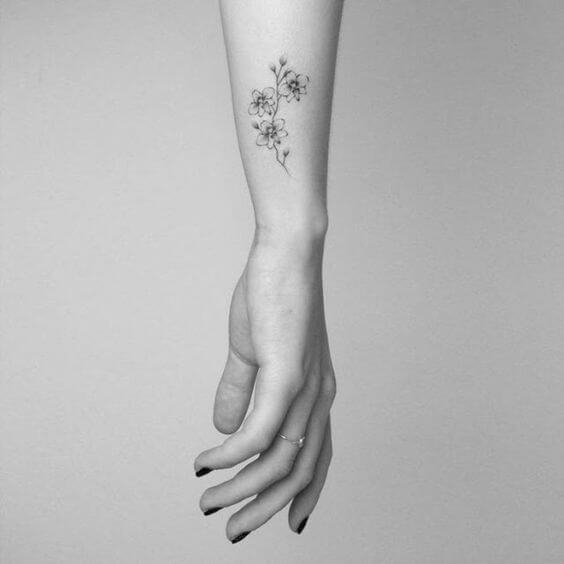 Some popular wrist tattoo ideas are simple branches of flowers, with the main point being the fully blossomed hibiscus, surrounded by buds that have yet to bloom. The branches are mere lines that act as lovely minimalistic touches to an already elegantly simple piece.
A combination of triangles and space makes for a rather hipster style. For this one, it's a precisely drawn triangle with a beautiful and fully-colored center, the shades used a mix of mulberry, spotted with lilacs to make for planets and stars.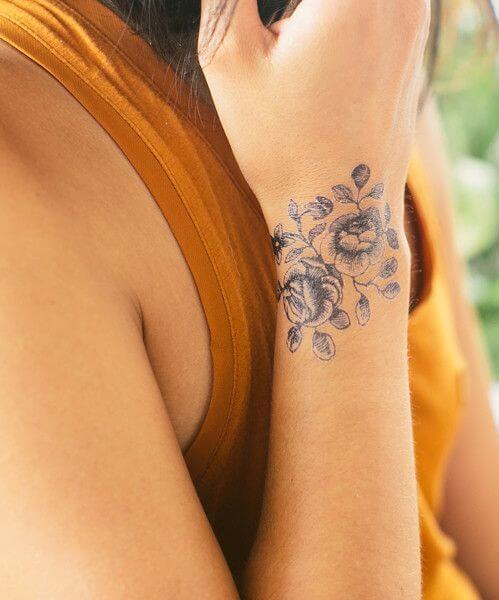 Not only does this tattoo make use of black shadows, but gray ones as well. This one makes the flowers look more like a light sketch, albeit a gorgeous one, complete with roses that are fully bloomed and surrounding buds.
Flowers are simply one of the most popular wrist tattoos idea, and inclusive of these are ones that seem to look like bouquets due to its specific, shadowed outlines. This one, however, makes it so that the bouquet acts as a corsage around her wrist.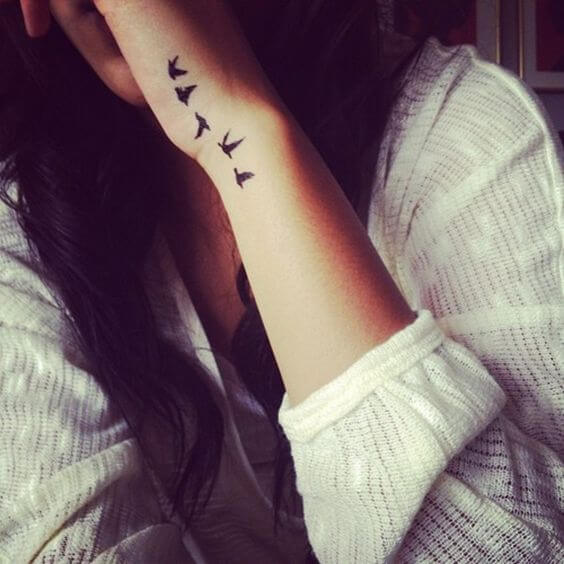 A flock of five birds following each other as they fly – in simple vivid black – which makes them look like shadows of birds interchangeably flapping their wings. It's a concept both realistic and lovely as birds tend to fly in groups.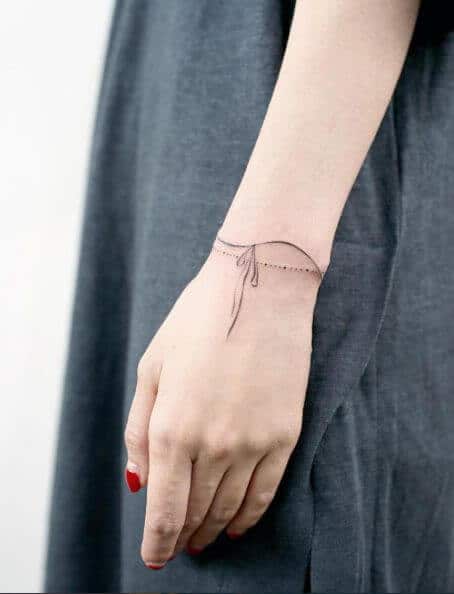 One of the more ideal wrist tattoos for girls who want to make a statement, yet still practice the art of subtlety and grace. An intricate composition that mirrors a simple beaded or bejeweled bracelet, with a thin ribbon wrapped around a delicate wrist.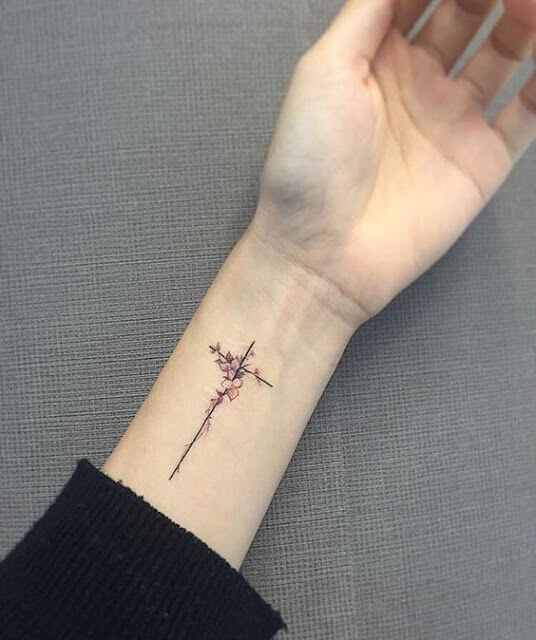 This concept involves elegantly designed florals bloom along the shape of a thin cross. The flowers, along with veins that wrap themselves around the cross, come in an old rose shade which adds an elegant and delicate touch to this tattoo.