25 Supercool Leprechaun Tattoos
Leprechauns are creatures that are part of Irish folklore. They are known to be sly and mischievous creatures. These beings are known to lead people astray for the sake of fun. For this reason some people see them as creatures that are harmful and bent on causing problems. But actually they are jolly fellows for whom life comprises only of consuming ale, smoking on the pipe and guarding their pot of gold which is supposed to be where a rainbow ends.
According to tales, you will never be able to predict how they will turn out. They could be full of themselves and tend to mislead or go the other way completely. Thereby tattoos based on these creatures tend to be quite wide in range and depending on what the person wants to believe. But one has to say that no matter how you portray these beings a leprechaun tattoo is definitely colorful and interesting.
Leprechaun with clover tattoo: This could be the imagination and the wish of a positive person. But this is what you want the leprechaun, who you want to meet to look like. Lively they are,  holding the good luck piece of a four leaf clover! You will find that the work that goes into this deceptively simple tattoo is indeed quite detailed. The proof of this lies in how much time you spend looking at and smiling.
Leprechaun on skis tattoo: This looks like the leprechaun is having a gala time on the slopes. Once again the detailed work that goes to show him on the move would need to be really detailed and intricate.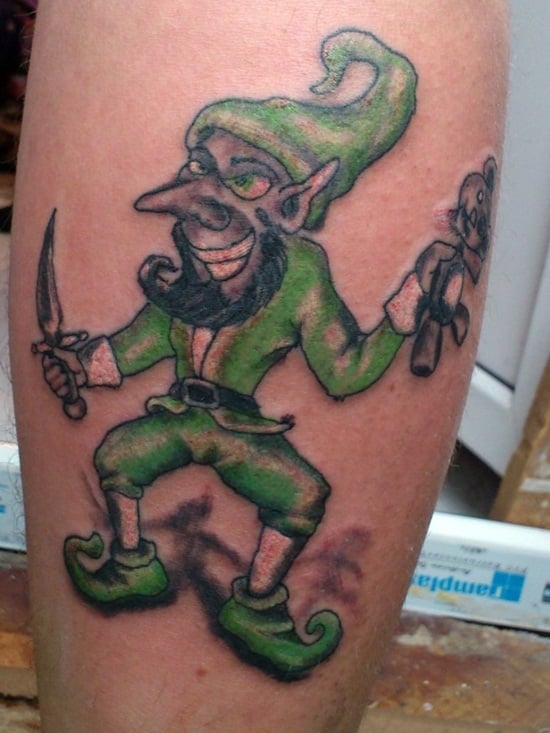 Leprechaun standing guard on pot of gold: The fierce expression of the leprechaun's face is probably enough to everyone but the most courageous of looters to get at the pot of gold. This is the true essence of the leprechaun and is portrayed well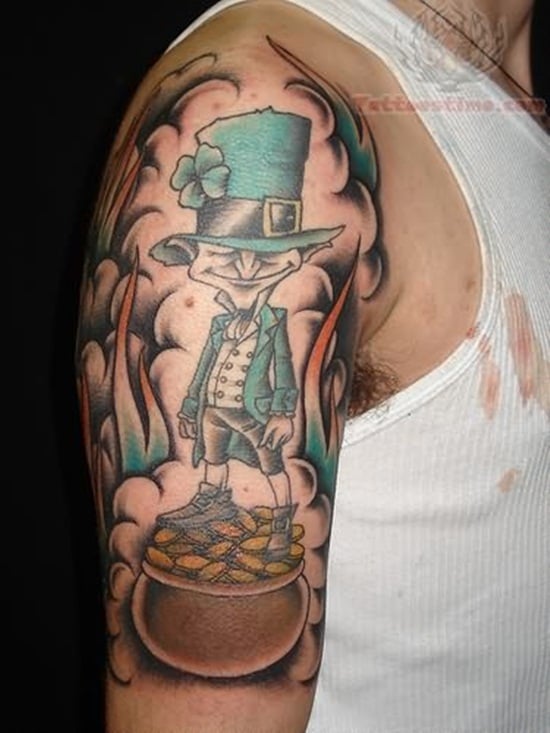 Leprechaun holding Machine Gun tattoo: A leprechaun with the weapon of destruction would be showing his true essence as some folks believe. But of course one has to know that both these elements belong to different eras.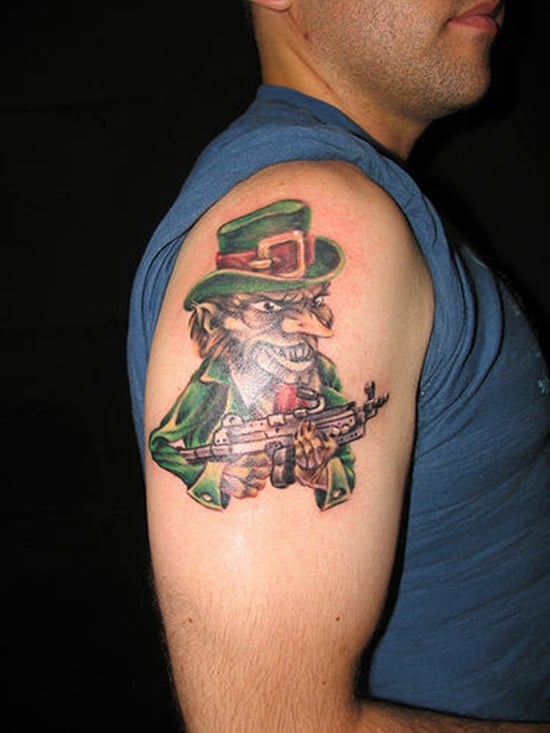 Leprechaun with Beer Mug tattoo: In this tattoo the leprechaun is showing his partying and fun loving side. One can see the clothes he is wearing through the beer mug which makes a powerful visual impact.
Leprechaun Riding on a  Beer Keg tattoo: This one surely will be the partying side of the leprechaun and the expression on his face confirms his love consuming the drink. The details of him sitting on top of the keg look really good.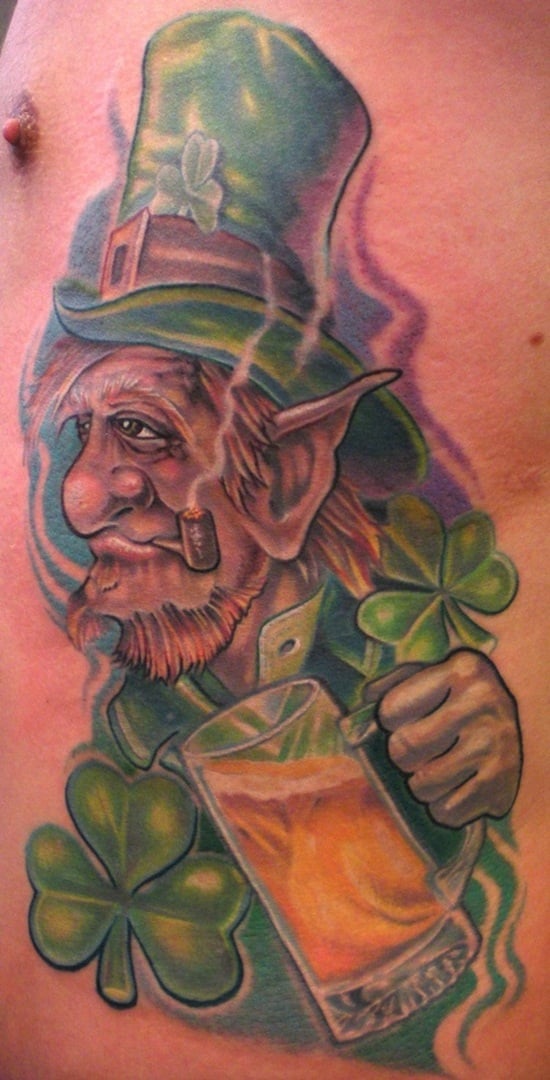 Evil looking Leprechaun Tattoo: The expression on his face is enough to show his diabolic side. You definitely want to avoid getting on the wrong side of that.
Leprechaun as Fireman tattoo: This one shows the leprechaun in a protective mode as he helps fight a fire. This is another diametrically opposite view of the leprechaun that many people hold. With details like the four leaf clover on his hat, his look of enjoying a last smoke before moving on, all these add to the charm of this tattoo.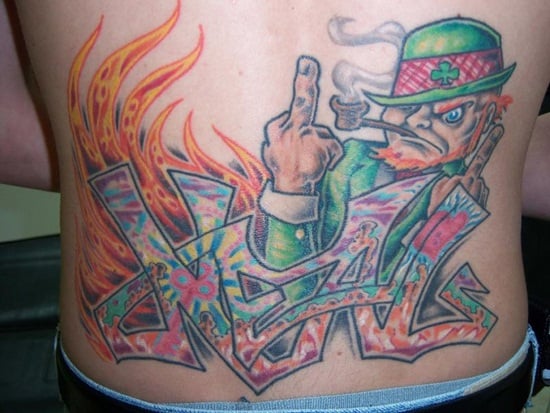 Summation of  Leprechaun Tattoos: These colorful creatures are part of legends and we know their penchant for green outfits, smoking the pipe and drinking beer. This is apart from revelry, fun, guarding gold and causing mischief. Put all these together  and you have tattoo designs that will kindle the imagination. They can be great to look at with their colorful look. And the tattoo artist could use their imagination to add the expression on the leprechaun's face and the other elements in the tattoo to make it look really compelling and charming.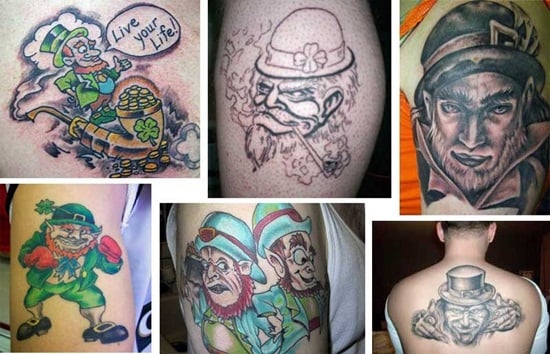 Here are some of cool designs of Leprechaun Tattoos: