Fangs bared, a full mane, and claws like razors… The lion is the king of the jungle, unsurpassed in raw power and predatory instincts. He stands tall among a sea of other animals and a tattoo really shows his true power. View these original lion tattoos and you'll be overwhelmed by their ferocity!
As the king of the jungle, the lion is inarguably one of the world's most prominent symbols of power and leadership. In addition to representing supremacy, it is also a creature that is known for its courage and pride.
While some tattoos feature lions baring their teeth and appearing ferocious, others present their calm and peaceful side. We spent hours scouring the Web for the hottest pieces of inspiration to generate this list of the twenty most original lion tattoos around:
In a Biblical sense, a lion is considered to be a creature that defends the weak and watches over those with lesser strength than itself. In fact, Jesus Christ is referred to on countless occasions as "the lion of Judah." By fusing their images together, this tattoo represents the fact that Christians see Jesus as a symbolic lion that has been sent to Earth to make up for their inadequacies.
The large size of this tattoo shows off the sizeable presence a lion's power can have on those surrounding it. Because the elements of a lion's mug are easy to enlarge, it makes for a gorgeous back piece that accentuates the natural curves and structure of the body.
While a lion's flowing mane and bold features can make it a beautiful mural piece that takes up lots of space on your body, the image of a lion also looks pretty amazing when inked on just one finger.
Being that a lion can shred its prey to pieces, it only seems appropriate that a lion could be tattooed onto the body as a shredded skin design that focuses on its ferocity.
This optical illusion looks as though it's a design consisting of randomly assorted flames, but upon closer examination, it becomes clear that the tribal elements are actually arranged in the undeniable shape of a roaring lion.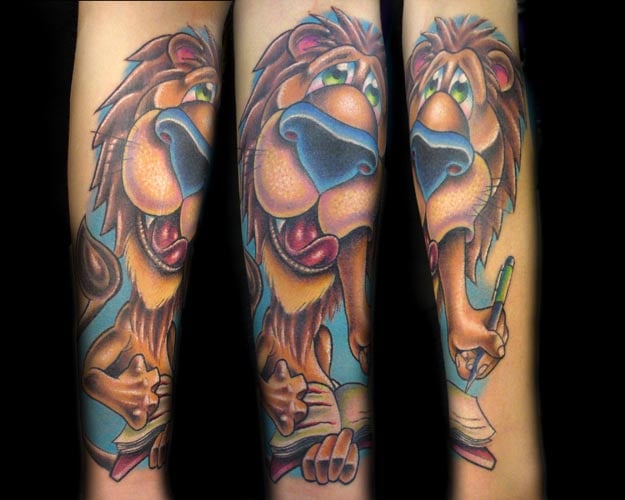 This cartoonish lion seems like it would be our best friend rather than our worst enemy. Drawn up in a colorful, new school style, this design is a great choice for those who see a lion more for its courage and pride than for its untouchable supremacy.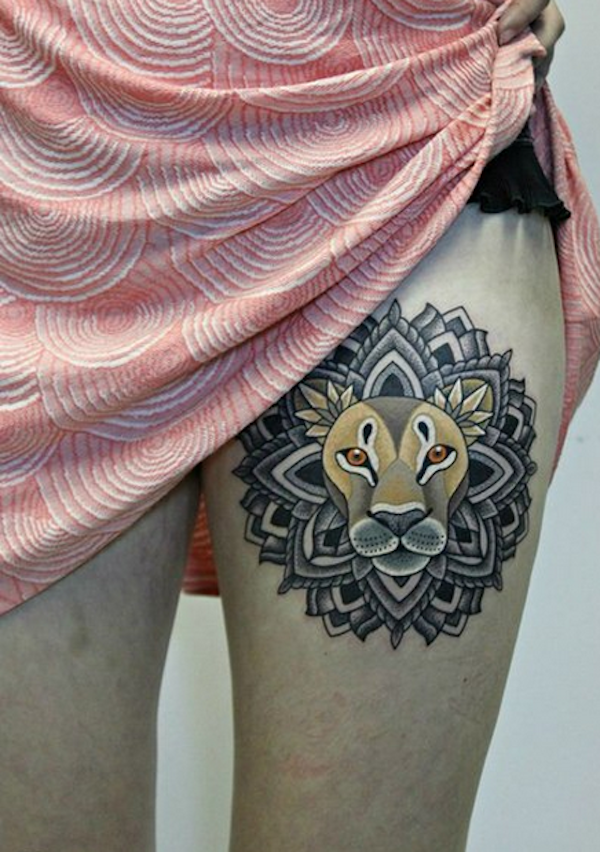 The lion is an unquestionably beautiful creature, and this floral background simply accentuates the natural beauty of a royal lioness.
From careful observation of lions in the wild, researchers have found that the structure of family is very important to them. While they may hunt independently and separate from their children at times, both male and female lions eventually reunite with their children and mates over time. This beautiful design, featuring a mother and father with two lion cubs, represents both family unity and the beauty of the natural world.
Sure, you may be laughing at the fact that we included a tattoo featuring a scene from The Lion King, but it was inarguably one of the most influential movies of the 1990's that made many people fall in love with desert lions. This blacked-out tattoo is a great way to pay homage to the film's beautiful "Circle of Life" without looking too childish or cartoonish.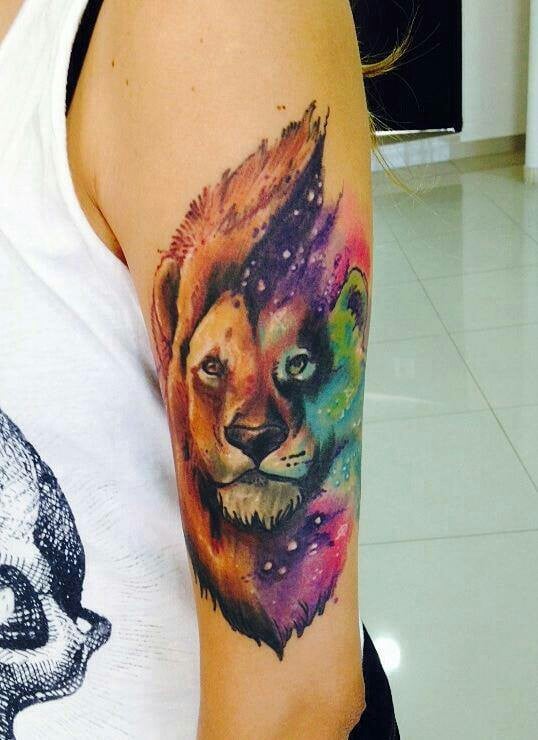 The upper arm is the perfect canvas for a lion tattoo because of the fact that it's slim but also offers up plenty of space for design. This colorful tattoo features a variety of colors with an ombre effect while still retaining the realistic facial features of a lion.
Inspired by the character Aslan of the famous Chronicles of Narnia series by C.S. Lewis, this upper arm tattoo features a famous quotation from the book beneath Aslan's image. While his character possesses a gentle nature, he can also become very dangerous because of his great power; this tattoo is perfect for those who view themselves as being both tender and fierce.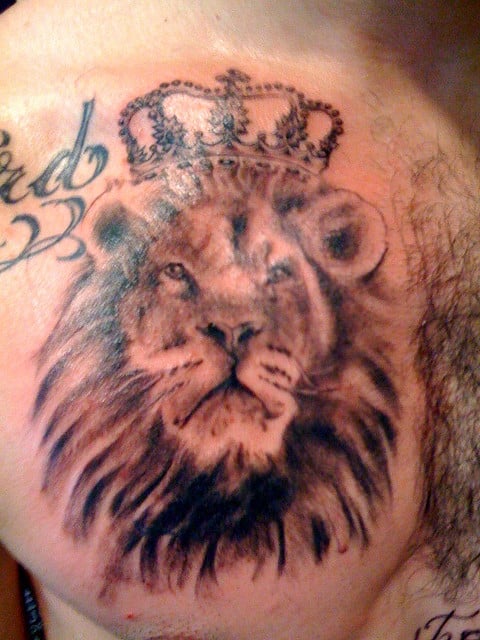 If you have always appreciated lions for their regal quality, this artistic depiction of the animal wearing a king's crown is a great choice, as it personifies his strength and power as the king of the jungle.
A unique piece that is only complete when the forearms are placed together, this tattoo represents the complexity of the lion's spirit with its multipart design.
According to the Christian faith, the lion and the lamb are both images that are used to refer to Jesus Christ, who is believed to possess the conflicting traits of both animals at once. This tattoo pays homage to the religion with its unification of the lion and the lamb.
Bob Marley's image is often juxtaposed with that of a lion in honor of his famous 1973 song "Iron Lion Zion." In the song, Marley pays homage to his Rastafarian beliefs and his Ethiopian roots.
This fun Wizard of Oz-themed tattoo features everyone's favorite lion, the cowardly little guy featured in the 1939 film. The character represents the struggle everyone faces to gather courage and use it to face life's trials.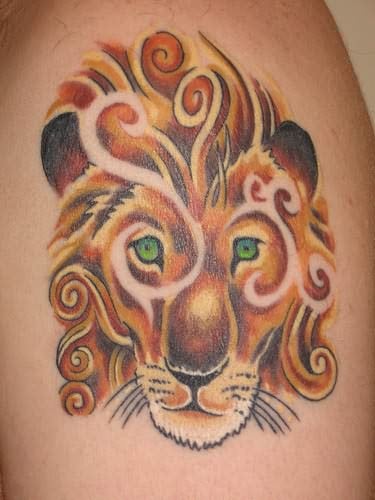 This distinctive design depicts a lion with mesmerizing emerald eyes, an image simply too beautiful to ignore.
This colorful scene looks as though it were painted with watercolors rather than inked with a tattoo kit. Featuring the lion in its natural habitat along with hummingbirds and a beautiful, flowing waterfall, there are few tattoos that are as visually captivating as this one.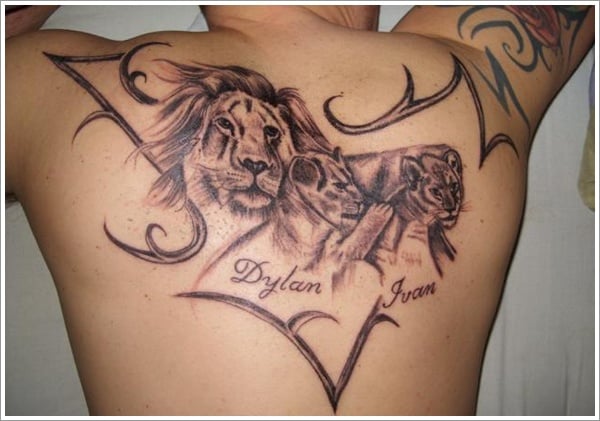 The lion is typically an excellent caretaker of its young. While it may leave them alone in the wild while it's out for a hunt, it always reunites with its cubs and provides food when possible. This tattoo uses the images of adorable lion cubs to represent the wearer's children.
A red lion is famously featured on Scotland's official coat of arms. This tattoo pays homage to Scottish heritage while also leaving its wearer with feelings of power and superiority that are frequently associated with the lion.