Think that grim reaper tattoos are just for gothic lovers and Halloween fanatics – think again! While death and it's infamous messenger are essentially a seasonal part of our world, they are also a pretty common element incorporated into tattoo designs as well. Surprisingly, this tattoo is often worn by women, despite the dark and deep meaning. Most of the tattoo designs featuring the grim reaper tend to be in somber colors and considering the grim theme tends to be big in size due to the details.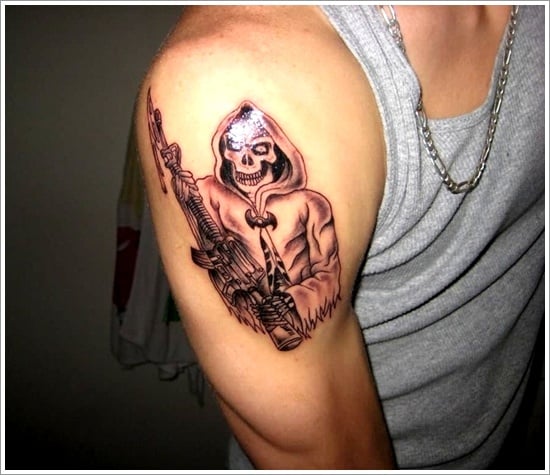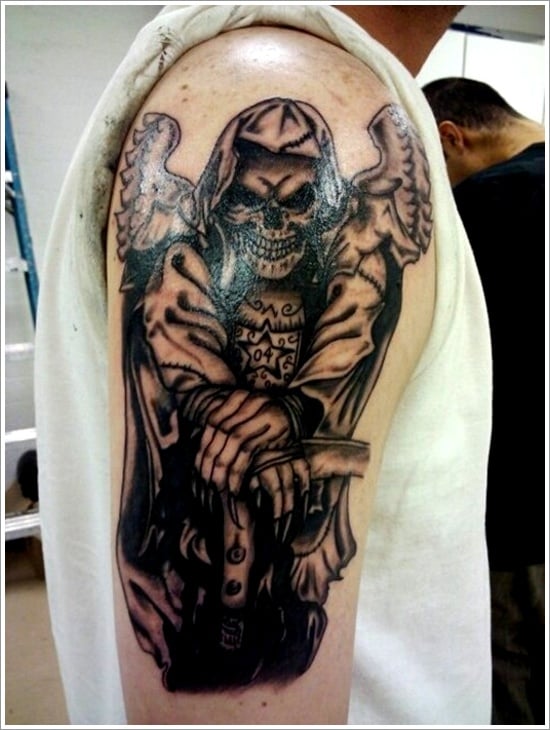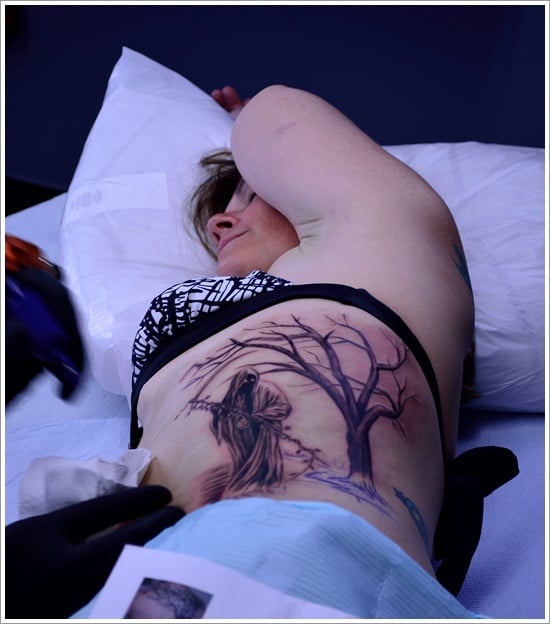 The majority of people acknowledge the grim reaper as the iconic symbol of death. However, in many cultures and folklore, it is nothing more than the chaperone into the afterlife. The long hair, the grim expression and the sharp scythe makes for a grim appearance and could strike a chord of fear in anyone. Though, in many religions, this is not the original appearance of the reaper. In fact, the only similarity is the long, black hooded robe.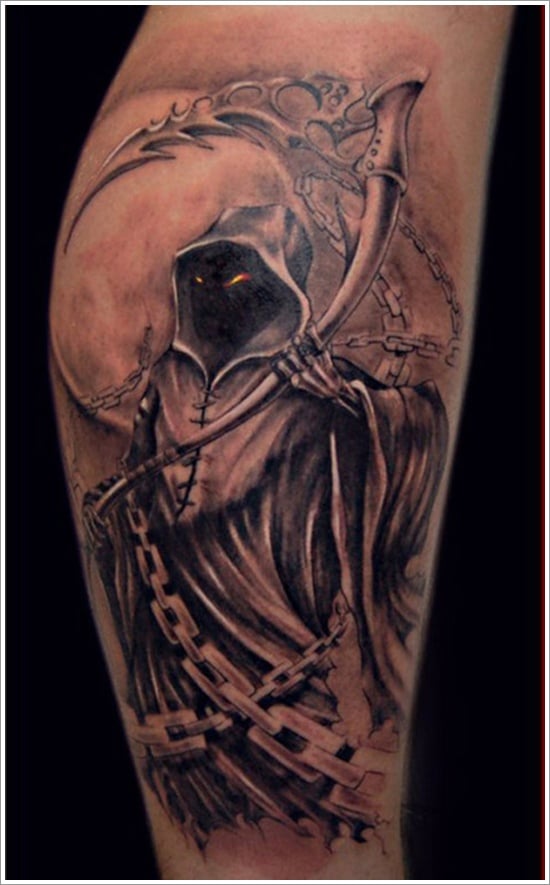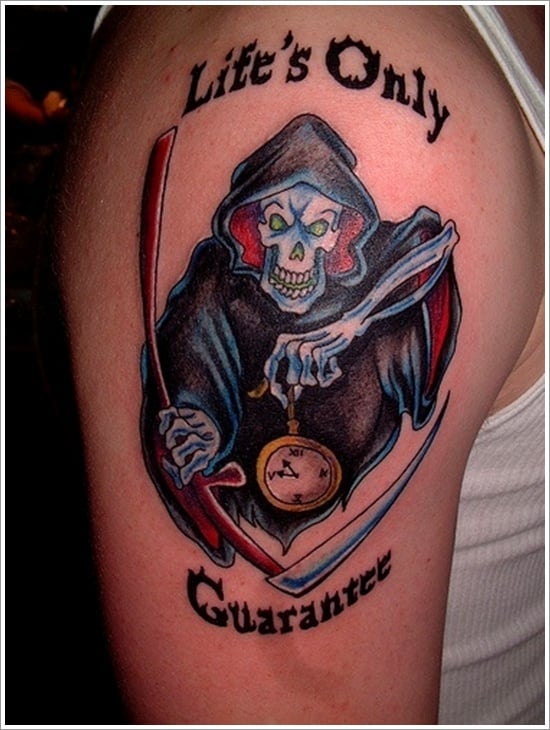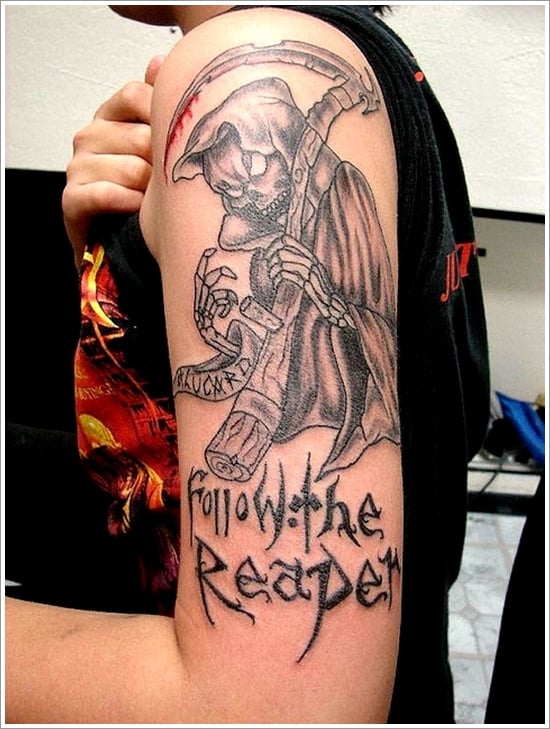 Though dark and lifeless, grim reaper tattoos can be quite the fascinating design element. Many of which, capture details and emotions that only this type of design element could. There are many stories and legends that talk about the appearance of the grim reaper right before death occurs. More religious people have claimed to have witnessed a reaper just before someone close to them passed away in their presence. As such, you may notice a grim reaper present in a tattoo memorial.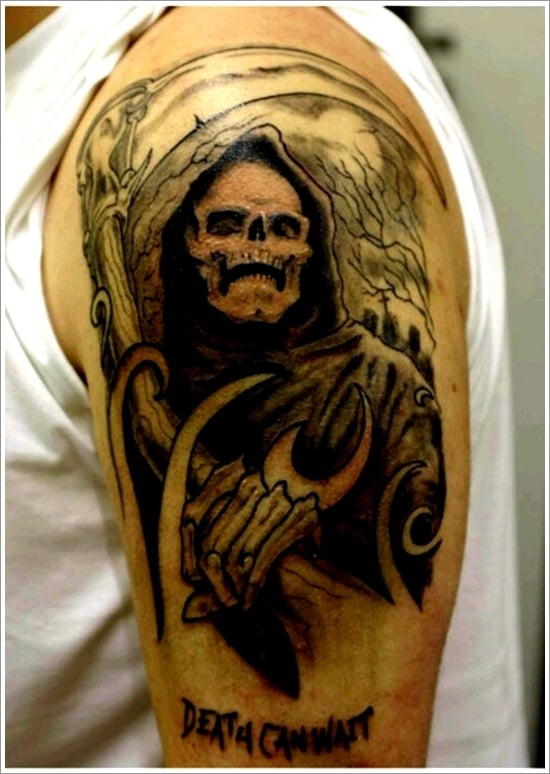 There are many ways that you can feature the grim reaper when it comes to a tattoo design. Some show him with a hood and the ever present scythe in various positions. Some feature the reaper in a faceless manner, with hollow eyes. While a skeleton or skull can be used to represent the grim reaper, they are most often accompanied into the design with the reaper. Since grim reaper tattoos are associated with death, artists tend to be creative in their designs – though many do restrict the colors to gray and black. However, you will see shades of red and deep oranges blended in around the reaper – giving the final piece a 3D feel that really pops.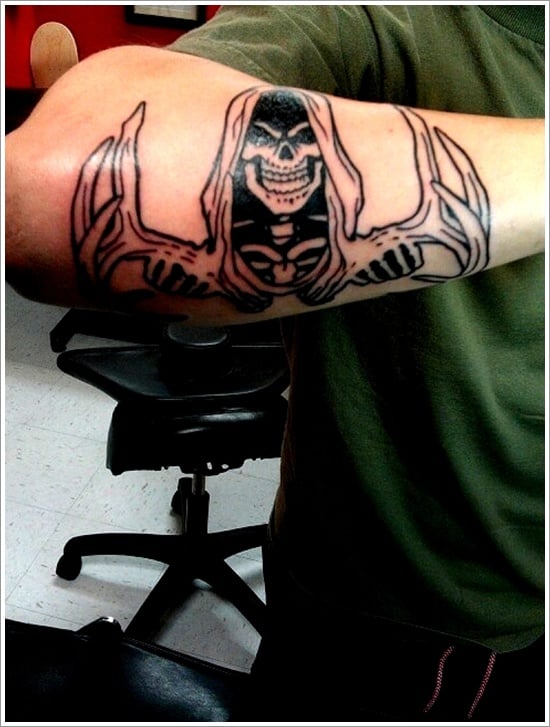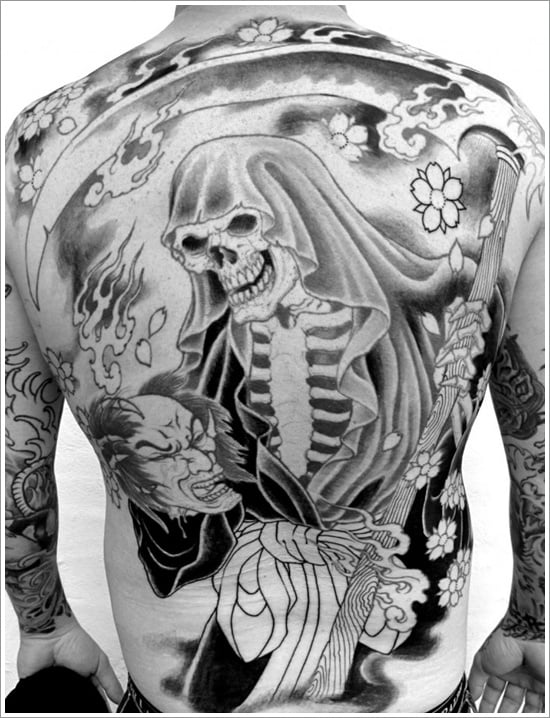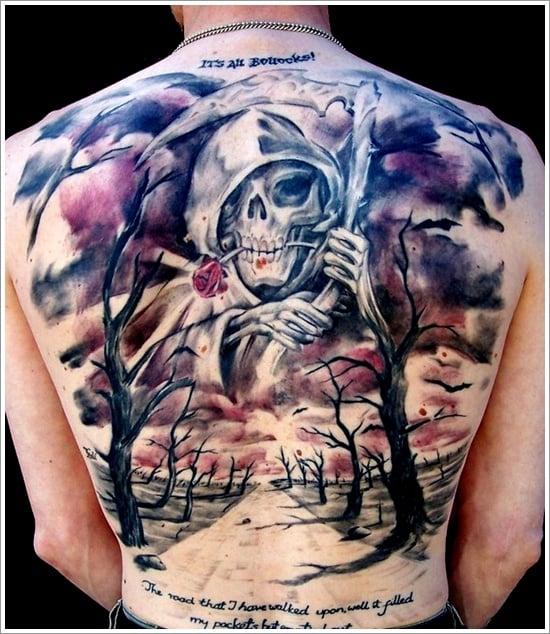 The legend behind the grim reaper has been linked to stories from the Bible, mainly the of Four Horsemen during the Apocalypse – the fourth horsemen being none other than Death himself. With that being said, you will see many reaper tattoos that showcase the grim reaper on a horse that is either a completely black or a ghostly. While most cultures view the reaper as negative symbol, surprisingly Romans considered it a good omen.
Other symbolisms attached to grim reaper tattoos may include bravery, new life, luck, reality, fragility. While these types of tattoos mostly represent the bad side of things, many use it to symbolize being cold and emotionless towards pain and suffering. On the flip side, reaper tattoos could also mean the completion of the circle of life since many believe that after death there is also another kind of beginning. Being that death or anything associated with it, inadvertently means that a person has a sense of courage, grim reaper tattoos represents fearlessness to many people. Many times soldiers or professional fighters will opt to get this tattoo just to remind them to fight with all of their will and soul.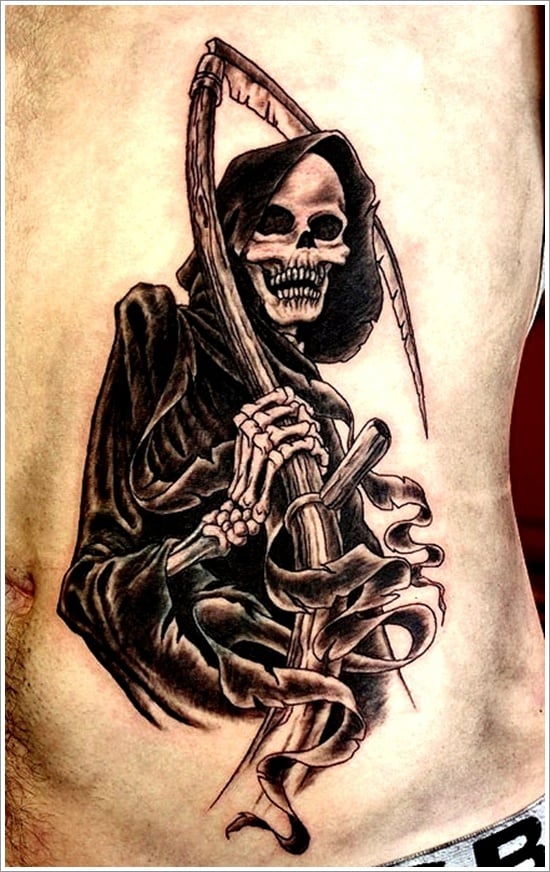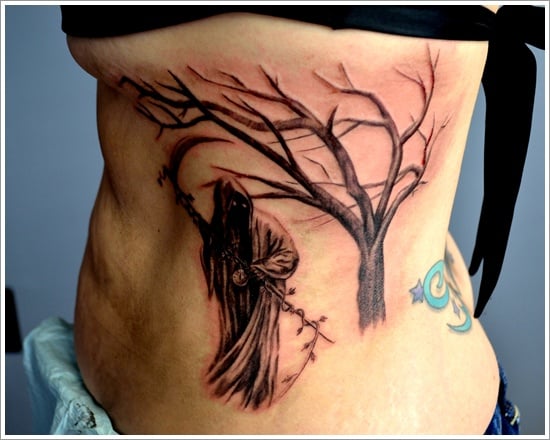 Grim reaper tattoos could be done in several ways from gothic to a very artistic perspective. Sometimes the motif could be done symbolically with vague designs depicting a more abstract reaper. If you are thinking of getting a grim reaper tattoo, then you are well advised to do your homework before getting one.
Here are some more images of Horrifying Grim Reaper Tattoo Designs: