Belly button piercings are the most common piercing among women except for the ears. And while many people just have a dual stone belly button bar, others are taking their individually to the next level. Want to shake up your belly piercing? Check out these mesmerizing piercings for a bit of inspo.
Belly button piercing is one of the most common types of piercing that a person can opt for. In fact, in many cultures, belly button piercing can symbolize a variety of different things as well such as strength, courage and fertility. In the American culture, it has become a fashion statement that both men and women enjoy showcasing. While it is more popular amongst women, many men are also getting naval piercings to accent their washboard stomachs.
There are several different ways that you can pierce a belly button. Traditionally, naval piercings are done through the top of the belly button, placing a curved barbell through the naval, usually with a studded end. However, many individuals have taken this art one step further by adding lavish charms or jewels to the end of their barbell as well.
In honor of many ancient cultures such as the Egyptian and Arabic cultures, many individuals are getting the bottom or sides of their naval pierced, using various jewelry or dermal piercings as well. This creates a unique look that, while covering the belly button completely in some cases, it generates an entirely new sense of awe to those gazing upon them.
When looking to get your belly button piercing, you should always accent the form and shape of your own body. Those with outter belly buttons may opt for a piercing through the center of their belly button since there is not enough room to go through the top or bottom of it.
You may often see belly button piercings that incorporate chains or band around the entire waist line as well. Since belly button jewelry comes in all different shapes sizes and designs, it gives you the ability to create your own sense of individuality perfectly. While many people opt for simple jewelry that accents their body shape more than their fashion sense, it is not uncommon to see studded jewelery that is relatively small in size. However, this is far from always the case. Since the belly button is one of those body parts that is often exposed and deemed as a sexual desire for many, you will often see women get really creative with their belly button piercing choices!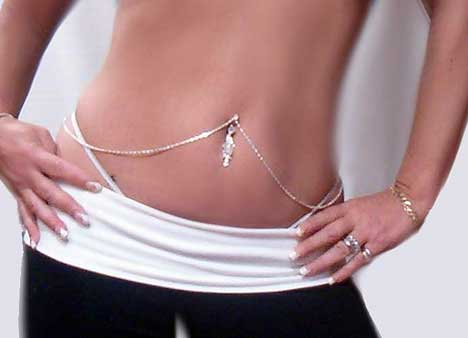 Common Things To Consider When Getting Your Belly Button Pierced
You should always consider the amount of skin and cartilage that you have around your belly button before you decide to get it pierced. The stronger the cartilage is around your naval, the less issues you will have when getting it pierced. Many people often find that without this, the piercing will not stay in and can often rip out, so to speak, most commonly when they speak. While it sounds like a painful thing to happen, you often do not even feel the piercing remove itself from the skin.
You will also want to ensure that you are getting the right jewelry. If you intend to keep a simple design piece in your naval, this will not apply to you. However, if you at some point will want to dabble with the more lavish types of jewelry, such as bigger barbells, hoops or crossway jewelery, you will want to get your original piercing with a larger gauge needle to accommodate your jewelry choice.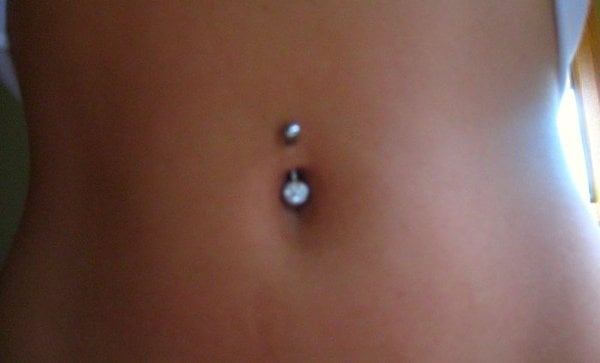 Body piercing such as naval piercings can often help you develop a strong love for piercings. It is not uncommon to base your belly button piercing around tattoos or other forms of piercing such as dermal piercings. This will give your stomach a unique and creative look to ll that gaze upon it. Since women love to wear bikinis in the summer months, you will often see the most creative piercing designs that are unlike anything you will ever see.
Here are some outrageous and simply gorgeous examples of how you can pierce your belly button with class, sexiness and of course safety!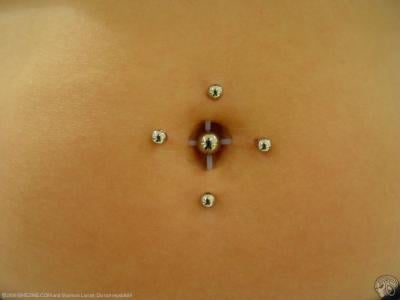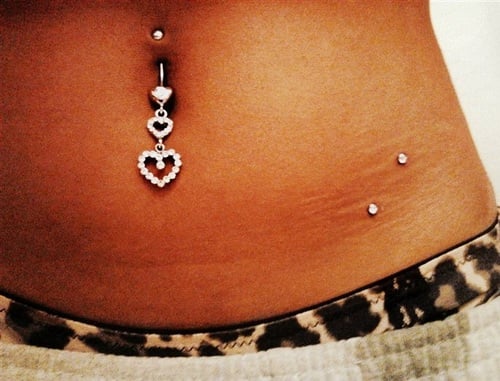 1. The delicate cute pink gemstone belly button piercing
2. A round design with little gemstones and a trailing cross
3. A pierced outie belly button with a single bar and jade ends
4. Fashionista with the belly chain attached to the belly piercing – be careful with this one though!
5. The single gemstone barbell – these are the most popular for a first belly piercing
6. The perfect belly button piercing for those that consider themselves a bit of a princess
7. A charm like belly button barbell with sea emblems attached
8. The quintessential sun seeker's belly button ring in a dulled gold color
9. A tiny daisy in a little regular sized barbell – perfect for a flat tummy!
10. A commemorative bauble for a Winchester 38 hanging from a clear gemstone barbell
11. Another Winchester commemorative bauble, this one has the actual gun itself too
12. If you've got it flaunt it! Even with a simple barbell it looks great with a midriff
13. Choose to pierce your upper and your lower belly button for this effect!
14. Spacers for your belly button anyone? Get creative for interesting effects
15. Double piercing again – this time with the dual jewel barbells
16. A pretty bow to dangle below the belly button – make it match your clothes
17. A dangling mermaid makes for a great choice for those who lose the sea
18. This barbell contains a beautiful single feather, with a hanging blue bead
19. Not only are dreamcatchers a popular choice for tattoos, they work well for piercings too!
20. This one was so cute it deserves a repeat… the circle with a dangling cross
21. A sweet dreamcatcher design with three matching feathers hanging down
22. A simple small barbell looks great with a pair of low rider hipster jeans
23. A belly ring that you can add charms too? You betcha! This one has boots and a feather
24. A single stone belly barbell – this one has a larger gemstone than usual
25. A pure sterling silver barbell is simple but effective
26. One for all the weed smokers out there! Rep your fav smoko…
27. Belly piercings go great with big, bold chest tatts like the above one!
28. Butterflies aren't just for tattoos… This one fits in the small of the belly button
29. Belly piercings are a great reason to get out there in a cute bikini top!
30. Or a cute midriff top! This one looks like it's from Thailand.
31. Whether you choose a simple barbell or something a little more fancy, you can always change it
32. And maybe do a bit of an impromptu photoshoot with your boo
33. Just another great reason to spend more time in your athleisurewear!
34. Belly button piercings look cute with a little belly button like this chick
35. A colourful side tattoo makes a great addition to your collection with a belly ring
36. This belly button appears to be frowning! Accessorize with a dangler if your belly button is like this
37. Choose tattoos that go well with your new belly button piercing
38. A photoshoot in his jocks can look really cute with a piercing
39. The more dangles you have the more eye catching your piercing will look
40. Jewelry that comes out of the top part of the piercing can look like it covers your entire belly button like this elephant
41. Accessorize your belly button barbell gemstone color to your jeans!
41. Here's another elephant piercing, this one dangles through the middle
42. The nautical look is always in!
43. Remember to do your sit ups if you want to show off your belly piercing!
44. Make sure to keep your piercing healthy, this one looks like it might be a little infected
45. Make sure the length of your barbell isn't too long – this one is just perfect
46. This double piercing has the tree of life as the bottom jewelry – too cute
47. Piercings work well with a range of different patterns like this chick's pants and cardi
48. We can see a sneaky septum piercing in this pic too – mix it up with different piercings
49. Even if you've got a small belly button, a piercing can still look cool
50. If you've got a long belly button, hanging jewels can look great
51. You might like to choose a smaller barbell and balls for something more subtle
52. With a body like Kylie, you've just got to show it off
53. Black jewelry can give you a very "now" look
54. Large jewelry really makes an impact, especially with a toned tum
55. Yoga devotee? You might like to pick up the Om symbol
56. Every piercing looks better on the beach with a rockin tan!
57. One for all the gun owners out there… Do you dare?
58. Jewelry comes in a range of different color and size gemstones
59. Queen of your castle? This one is for you
60. Another super cool crown that would be an awesome addition to your collection
61. Another simple gemstone design
65. Check out these leading dermal implants to match the belly ring – too cool!
66. A double belly piercing AND dermal implants to set it off
67. Gemstones sparkle brightly in the middle of the belly button
68. Chose a pink design for a girly take on a sexy piercing
69. We're digging this tattoo that offsets the belly piercing!
70. Ahoy mateys… Anchors away with this dangler
71. Choose pretty bright charms if you'd like a feminine set
72. A sweet double gemmed piece
73. This anchor sits quite a bit lower than the belly button
74. A brilliant blue and green dreamcatcher
75. Dermal implants can offset your belly piercing
76. Besties matching piercings!
77. A crazy four way design…
78. A pretty flower and butterfly arrangement
79. Another four way design… But connected!
80. A beautiful dangling double heart <3