Gold. It's the most precious metal that you can get, and we're no longer content with wearing jewelry on our bodies, we want gold in tattoo designs! Gold tattoos are guaranteed to highlight the wearer, and while they aren't permanent, this means that you can change up your style pretty much whenever you like.
About seven years ago in the year 2006, Nobuhiko Akatsuka started the concept of gold tattooing in Japan. This was quite a hit but was mostly restricted to the island nation of its birth. But all this changed when Arnaud Flambeau found out about this genre and the creator of it, during his visit to Japan, immediately sensed that this concept could take off in the Middle East.
The idea for this was triggered off when women there were spotted with henna tattoos, which gave him the idea of platinum and gold tattoos. The business was launched at Burj Al Arab hotel, a 5 star hotel in United Arab Emirates. The tattoos were priced starting from 50 dollars for a very small one. The price is dependent on the size of the tattoo. This concept was quite a hit especially among brides.  The pricing of these tattoos will move along the trend of gold and platinum prices.
Platinum  or 24-Carat Gold  Tattoos: For these kind of tattoos, the 24 Karat gold is used after melting and laminating it. Then it is stamped with the design that is desired. The excess gold is then removed to create this amazing and pricey art. Now the precious metal tattoos have become part of the bridal trousseau along with jewelry. These gold tattoos last for about 7 days.
The look that this tattoo creates explains the demand for this in weddings. Many women go for a heart gold tattoo.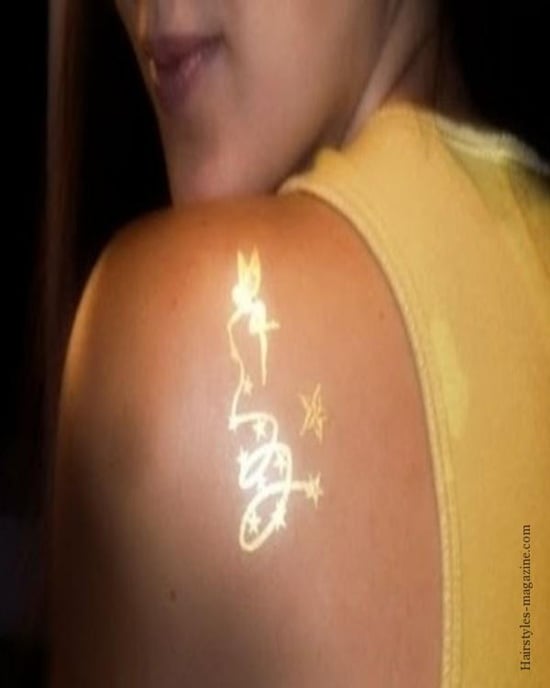 Gold tattoo in Scrolling Flower design: This looks almost too good to be true but the scroll work really stands out when done in gold.
Plant Gold Tattoo on Back: People normally go for gold tattoos on areas like the arm, the back and other areas where it is visible. A complete back tattoo can really set you back in big money. This one shows a plant gold tattoo on the back
Gold Tattoo running along wrist and forearm: This one combines art and jewelry in  the way the scroll design runs on hand, arm and the wrist.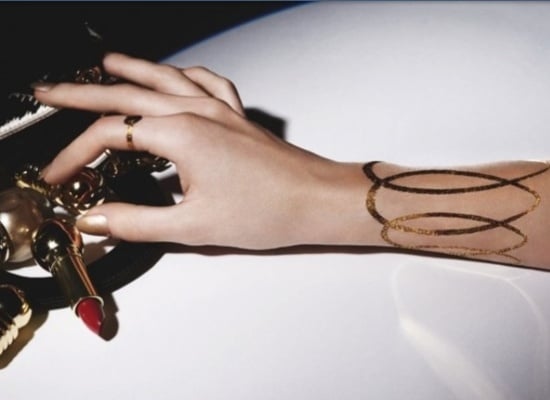 Gold  Tattoo on the hand: Done in an intricate design the gold tattoo looks really great and is displayed to great advantage on the hand.
Bicep Gold Tattoo: It is nice to see that even men are trying out the gold tattoos and this one looks really good on the bicep.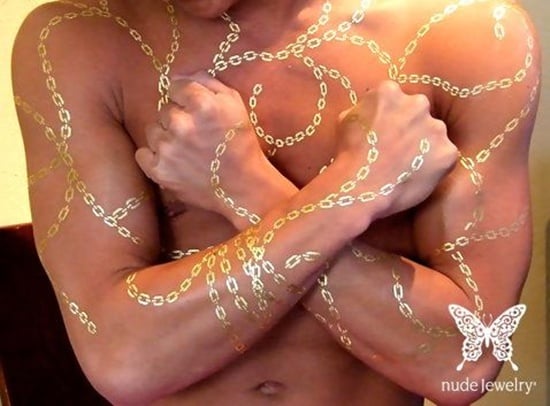 Butterfly Gold Tattoo: This looks really delicate and pretty. The detailed work on this butterfly and its wings really looks nice, especially the kiss that has been added.
Gold Tattoo on shoulder: This particular illustration is stunning since there is a piece on the shoulder and top portion of the chest of this woman. It looks good due to the color in the center of the big piece and also all the other colors added. A very stunning design that really shows the temporary gold tattoo to full advantage.
Temporary Gold Tattoos are really taking off in popularity as gold itself holds people in its thrall. These 24 karat gold tattoos are picking up a lot of mileage with more people being drawn to them as great looking status symbols that are often the center of attention. Though highly priced, these tattoos are a great symbol of love on fancy occasions. It is compelling and beautiful art.
The pricing makes it a little beyond the reach of most people but still people do go for this kind of temporary gold tattoo on special occasions. It tends to add a touch of elegance and class when the design is on a smaller and more modest range.