Morning glory is an attractive flower which is noticed for the shape like a trumpet and the way it unfurls at the start of the day. It definitely adds a dash of hues when you plant a cluster of them at one place. They way they are colored and the way they are shaped make them a great theme for tattoo designs. Another major plus point is that they draw hummingbirds to them which makes a very pleasing picture.
Plus the choice is awesome as there are many species and number of colors in this flower, though the blue and the purple tend to lead the pack.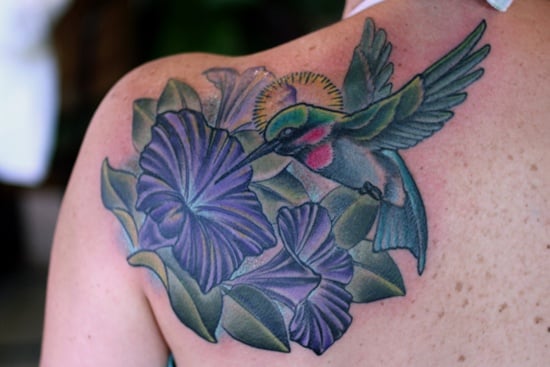 The hues of morning glory:
You can take an actual look at the flower to get an idea of the flower's look and the immensely bright hues the flower.  It will also provide you with a  view of the trumpet like shape that makes it so distinctive.
Morning glory tattoo designs:
One of the ways to go is put together about three of the morning glory flowers in a blue color to make a realistic and true to life picture. A certain depth can be provided by the tattoo artist to capture the essence of the flower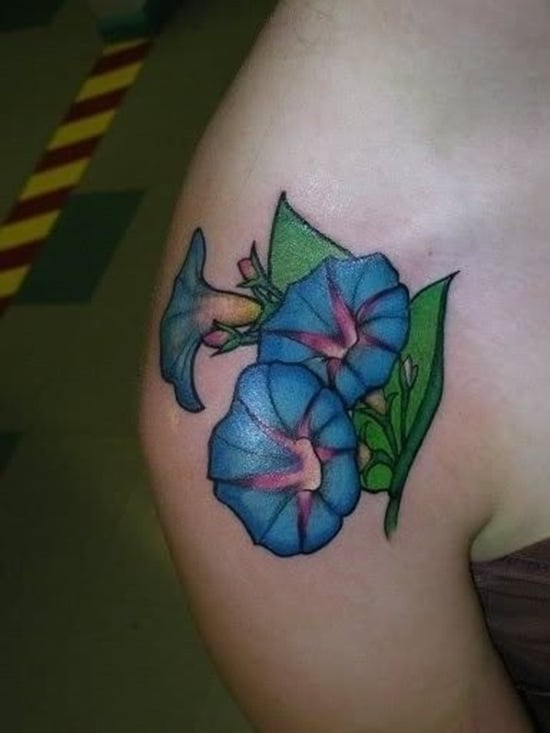 Morning glory in purple is another way to go as this is a striking color and can be made to look amazingly vibrant. You can add some sayings to give it a different look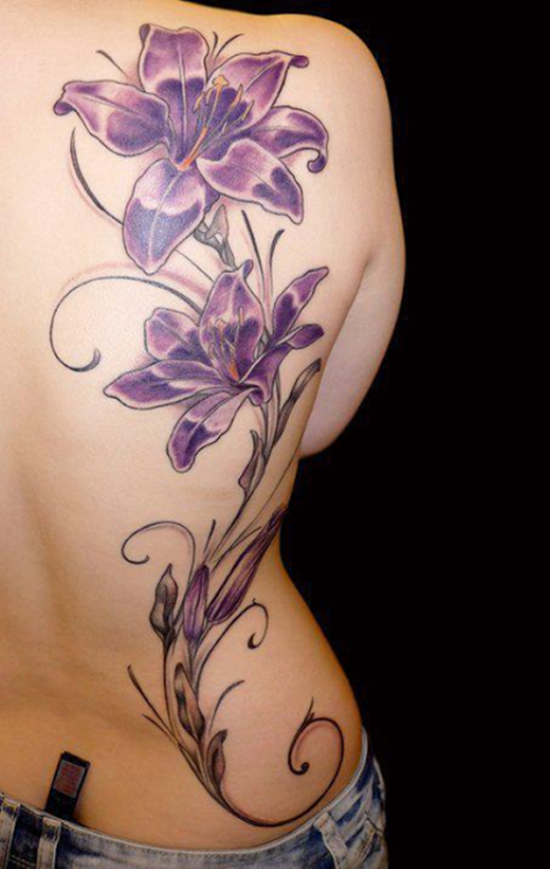 A combination of the both purple and blue also adds a more colorful and vibrant look to the tattoo. If you manage to catch the way it unfurls within the tattoo design, you will find it even more interesting.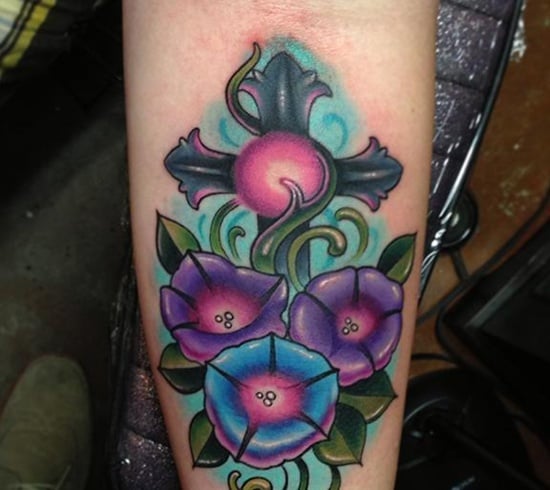 The hummingbird poking its beak into the trumpet like center of the morning glory flower to sip at the nectar is something that catches our eye. Putting that in a tattoo format really works well and all the elements gel with each other. You can add a touch of tribal design to this as well. You can add foliage and other elements to make it more elaborate depending on the location of the tattoo.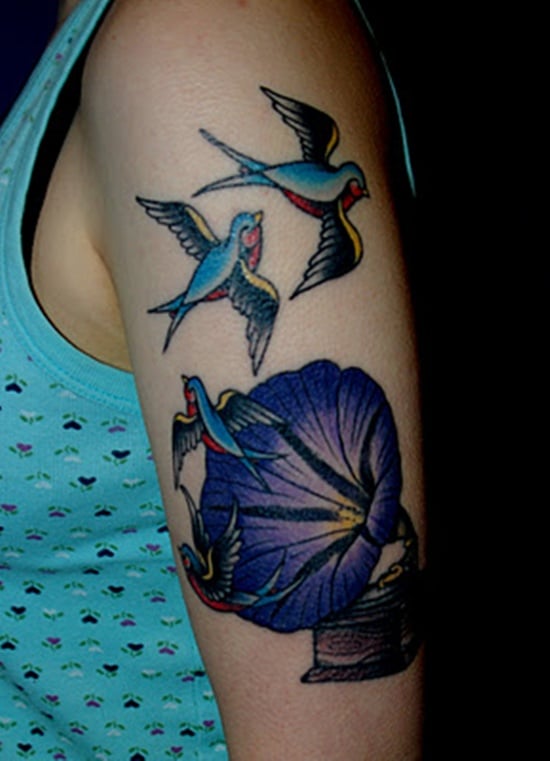 When done on the feet, this tattoo adds to the prettiness of the foot and makes everything look very cute and interesting. The more interesting thing is that when you catch a glimpse of the tattoo, it will definitely make you want to smile.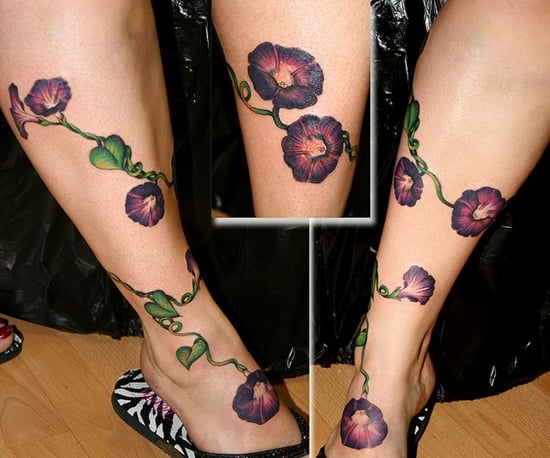 The appeal of the morning glory tattoo lies in being able to capture the simple sweetness and the utter freshness that the flower itself manages to impart. You can, of course, put together other things that appeal to you within the tattoo design.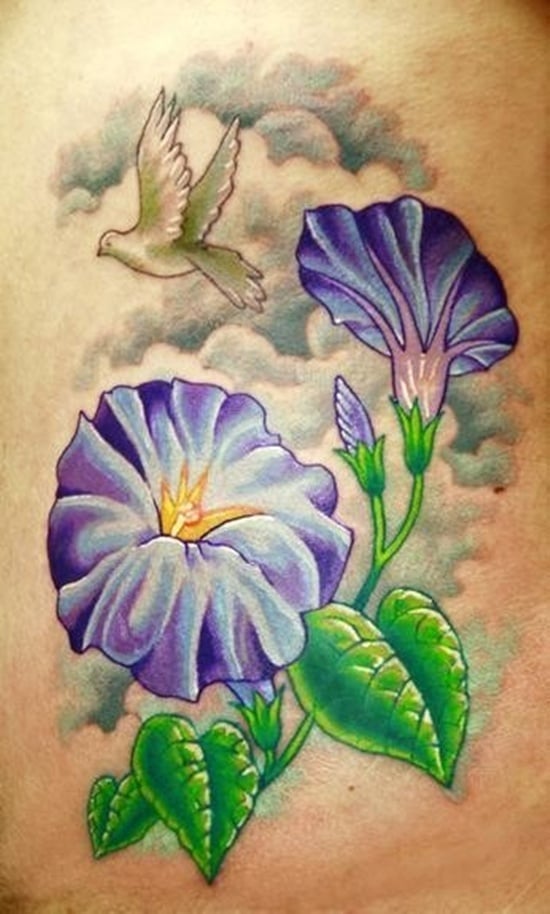 A combining of the intriguing design of a morning glory flower with the magical element in the form of a fairy, can make this tattoo work in wonders. You can make it look whimsical by adding a mischievous and funny look to the whole thing by playing around with the various elements in the tattoo.
But make sure that you do not make it too cluttered and lose the intrinsic charm of this cute and lovely flower. This is a tattoo that should put small but definite tinge of happiness in your heart and bring a quiet smile in your face. No doubt, the way in which the morning glory unfurls in the early morning of the day and adds to the charms of the day.  Plus the name itself whispers of the glories that each dawn brings to our lives. Since this is one tattoo that is very pretty to look at and also has a lot of symbolic value, you will enjoy having it on. Here are some ideas for Morning Glory Flower Tattoo: