Men and women have been permanently decorating their bodies with tattoos since prehistoric times, for a variety of reasons ranging from religious and cultural to personal pleasure. Body art has been discovered on mummies dating from 3300 BC, and has never gone out of style.
In modern times, tattoo artists have begun gaining recognition for their abilities in the realm of fine arts, and the creation of body art continues to undergo a metamorphosis of methods and styles that are increasingly popular throughout society. This article describes some of the most famous and talented tattoo artists ever, beginning with some of the "old school" artists and going on to include contemporary tattooists.
Five Great Old School Tattoo Artists
These are the people that were designing tattoos when we were all still babes, and who brought the art into the forefront of society.
George Burchett-Davis: (English, 1872-1953) One of the most famous tattoo artists in the world, George Burchett was called "The King of Tattoo Artists." He was born in Brighton, England, and was expelled from school at the age of 12 for tattooing his schoolmates. He joined the Royal Navy, continuing to perform amateur tattoos until returning home to apprentice under legendary English tattooists. Burchett excelled at his craft, studying a wide range of styles in his world, traveled and became the first celebrity tattoo artist. Burchett was known for tattooing royalty, including King Alfonso XIII of Spain and King George V of the United Kingdom. Burchett is also known for developing cosmetic tattooing such as permanently darkened eyebrows.
Sailor Jerry Collins: (American, 1911-1973) Born Norman Keith Collins, Sailor Jerry earned his nickname honestly, spending most of his life sailing the seas around the world. As a teen, Norman –not yet known as "Sailor"- spent much of his life hopping freight trains and traveling the country. He learned how to tattoo from a man called "Big Mike" in Alaska, who taught him the hand-pricking method, and then he learnt how to use a tattoo machine from Tatts Thomas in Chicago. He joined the US Navy at 19, and sailed the rest of his life, tattooing anyone who offered him skin.
Sailor Jerry became prominent in the tattoo world, known for his prolific artwork, and taught his art to two men who became famous for tattooing in their own rights, Ed Hardy and Mike Malone. Sailor's legacy continues with "Sailor Jerry Ltd," a "Made in the USA" clothing and souvenir company that also promotes new talent with their "Artist Series". Sailor Jerry's most well-known tattoo symbols include snakes, eagles, wild cats, bottles of booze and the notorious "Aloha" monkey.
Don Ed Hardy: (American, b. 1945) This one-time protégé of Sailor Jerry earned his own fame as a tattoo artist as well as the nickname of "The Godfather of Modern Tattoo." On Sailor Jerry's recommendation, Hardy also studied Japanese classical tattoo under master artist, Horihide, and began to incorporate Japanese style techniques into his own artwork. Hardy and his wife established Hardy Marks Publications and have published many books concerning alternative art, including the series "Tattoo Time." He produces the "Ed Hardy" clothing line, and continues to mentor tattoo artists at his studio in San Francisco, Tattoo City.
Hendrikus "Henk" Schiffmacher: (Dutch, b. 1952) Also known as "Hanky Panky" , Henk Shiffmacher has long been known as an expert in the realm of body decoration. In addition to owning several tattoo parlors in Amsterdam, Henk organizes tattoo conventions, has written books, curated museum exhibitions, and even starred in the celebrity edition of Holland's Big Brother. Henk also has the largest tattoo collection in the world, which is showcased at the Amsterdam Tattoo Museum.
Five Great Contemporary Tattoo Artists
Paul Tinman: (American, b. 1972) Tinman began tattooing friends out of his apartment shortly after earning a degree in sculptured glass from the Cleveland Art Institute. He moved to Hollywood in the 90s and his abilities earned him a job at one of the most famous tattoo parlors in the world, Sunset Strip Tattoo. Since then he has become a giant in the industry, known as "The Rembrandt of Sunset Strip," for his many celebrity clients. Tinman has created numerous hand-painted tattoo works for movies and designed tattoos for many celebrities, including Angelina Jolie, Ben Affleck, Busta Rhymes, Mark Wahlberg and Billy Bob Thornton.
Filip Leu: (French, b. 1967) Filip Leu began learning the art at the age of 11, and by 15 he was tattooing full time in the family business, "The Leu Family's Iron Studio and Museum," located in Lausanne, Switzerland. When Filip was 17 he went on a world tattoo educational tour to study various methods and styles of tattooing, further expanding his repertoire. In addition to helping create the Art Fusion Experience with Paul Booth, Leu is best known for his Japanese inspired back pieces and body suits.
Guy Aitchison: (American, b. 1968) and sister, Hannah Aitchison (American, b. 1966) It just wouldn't be fair to list one sibling without listing the other, as both are notable artists in their own rights. Guy is a painter as well as a tattoo artist, and owns Hyper Studios with his fellow tattoo artist and wife, Michelle Wortman. Guy paints record covers, and gave musician Rob Zombie his first tattoo. The couple has been on TLC's Tattoo Wars, and Guy has been a guest artist with his sister on LA Ink. Hannah, after appearing in the first two seasons of LA Ink, now works out of Deluxe Tattoo in Chicago, where her vibrant colors and portrait tattoos are extremely sought after.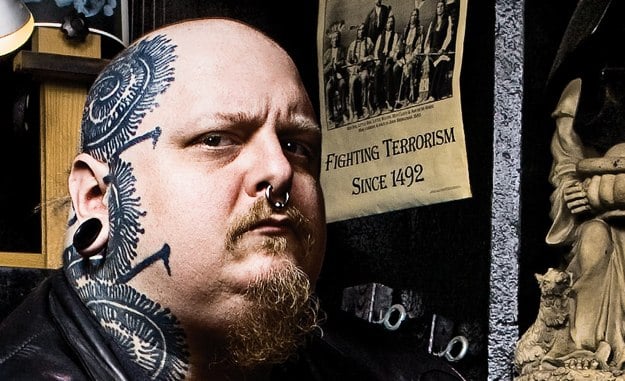 Paul Booth: (American, b. 1968) Paul Booth started his first business at the age of fifteen when he opened a sign shop, and taught himself air-brushing. After his daughter was born, Paul got his own first tattoo, his daughter's name, and became enthralled with the art of tattooing. He became a master tattoo artist, a leader in his art for twenty years and much sought after by some of the most famous celebrities and rock stars in the world. Some of his famous clients include band members from Slipknot, Slayer, Soulfly, Mudvayne, and Pantera, to name a few.
Paul Booth also shares responsibility with fellow tattoo artist, Filip Leu, for creating the Art Fusion Experiment, an exciting venue where tattoo artists work collaboratively on a single subject to create magnificent works of art. Booth presently is the owner and operator of the Last Rites Tattoo Theater in New York City. He's been featured on the cover of Rolling Stone, and has created a somewhat unique and twisted documentary entitled Paul Booth's Last Rites: Volume I. Booth's tattoos are done in a somewhat aggressively dark and macabre artistic style.
Kat Von D: (Mexican-American, b. 1982) Youngest member of our "Greatest Ever" listing, Katherine von Drachenberg,  may also be the most well recognized tattoo artist in the world. Her incredibly decorated face and body have become a contemporary icon in the tattoo world, as she has attained celebrity status through reality television on Miami Ink and L.A. Ink.
Kat quit school at age 16 to become a tattoo artist and quickly gained recognition as a rising talent. She was listed in the Guiness Book of World Records in 2007 for the most tattoos created by a single artist within 24 hours, and has gone on to open her own shop, High Voltage Tattoo, written two books, created a make-up line for Sephora, founded the MusInk Tattoo Convention and Music Festival, launched her own clothing line and opened Wonderland Gallery; an art gallery and boutique next to her tattoo shop in Los Angeles.