Tattoo artists utilize artistic and creative skills to create a design on a client's skin and help them with self-expression through ink and needle. They can be independent or work for a studio, but a majority of them start as novices under a more experienced artist and hone their skills.
Tattooists usually demonstrate a love for tattooing, besides the desire to work closely with people and discover and enhance their creative talent. There is no state protocol you need to follow to become an expert tattoo artist, although a certification or license warrants that your work complies with safe application and health standards, and also confirms that you are a skilled and capable technician.
Tattoo artists usually work at a tattoo parlor, which is fitted with design books and all the necessary equipment, and preparation spaces. Ink pens need to be properly sterilized on a regular basis after every use. A number of inks are used for creating different effects on a number of skin types. Tattoo studios must be registered with their local council and follow all the necessary rules and regulations.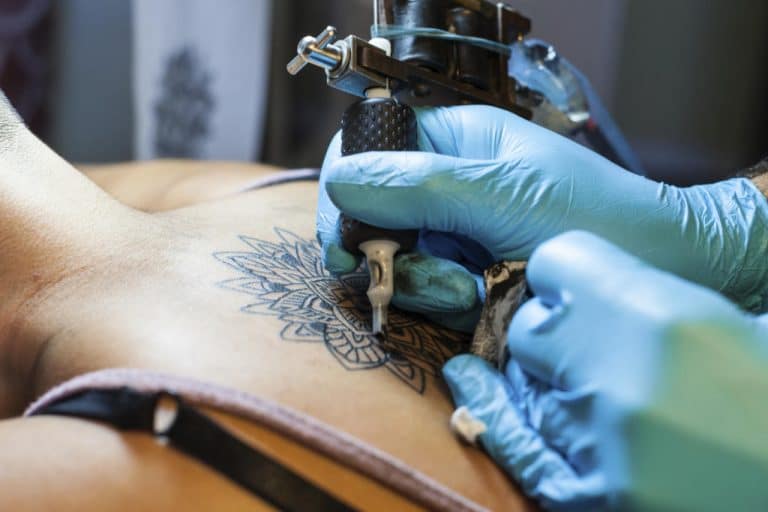 Duties & Responsibilities
Pricking the skin of the client, using a needled electronic tool that injects indelible nontoxic ink into the skin to form ornamental or decorative design. The tattooist may also have to shave and wash the area on which the tattoo will be made.
Pressing charcoal-covered stencil, drawing designs, or tracing patterns of the design onto the client's skin to mark the outline.
Dipping needles into ink solution and pressing it into the skin to inject permanent pigment.
Applying sterile dressing to the area.
Sterilizing needles in a steam-heated cabinet.
Repairing and adjusting the needled electric tool, with the help of hand tools, like pliers and screwdrivers.
Mixing nontoxic pigmented ink, as per the formula.
Drawing original ideas and designs on paper, tracing designs onto an acetate sheet, and cutting out design to create a stencil or pattern, using a knife or stylus.
Cleaning the environment and maintaining safety standards.
Ensuring the entire work area is thoroughly sanitized to prevent blood-borne diseases, like HIV, hepatitis, and other infectious viruses.
Offering clients a portfolio of their work to examine.
Meeting clients to discuss their needs and special requirements.
Applying bespoke or pre-made designs to the client's skin
Staying up to date with the current safety and health procedures.
Education Requirements
Typically, tattoo artists receive a license after they complete a training program and pass an examination that proves their capability to properly comprehend and follow officially established safety and health protocols, not only their personal creative capacity in applying or designing body art. Federal certification and licensing requirements may differ. Some states lack national regulation, and rules are under the control of the city or county government. In general, tattooists should be at least 18 years old. Certified or licensed tattooists may be required to renew their permits every couple of years.
Certification or Licensing Requirements
Licensing or certification standards may mandate a tattooist to complete a certain training period or apprenticeship under the guidance and supervision of a well-known field expert. For instance, Oregon requires licensees to complete at least 360 training hours as well as complete 50 tattoos under an approved artist. This can take at least 1 to 2 years. Some states require beginners to possess a distinct apprentice permit or license, which you can earn by completing an application and paying a small fee.
Some submissions for state credentials or licensing may require fingerprints, a photograph, and personal history in order to complete a background check. Evidence of training may also be required. Even though the government doesn't regulate a licensed tattooist's creativity, the customers of a tattoo studio may consider this an important factor.
Academic qualifications are strictly optional for tattoo artists. Clients are unlikely to enquire about your degree in design or arts. However, perfecting the art of playing with inks and drawing art on the body is critical. Dexterity in technical and artistic skills ensures the client receives a tattoo that is aesthetically-pleasing and administered expertly.
Apprenticeship
Tattooists should enroll in an apprenticeship, as per the Alliance of Professional Tattooists (APT). The APT recommends the apprenticeship should last for a minimum of three years to allow the tattoo artist to learn the art of operating the tools and also practice other sterilization techniques completely. The APT states free apprenticeships are rare.
Skills Required
Artistic ability and creativity
Thorough knowledge of tattooing and tattoos
Customer support skills
A steady hand
Dedication and patience
Excellent interpersonal skills
An empathic nature and the ability to turn clients' ideas into real designs.
Outstanding attention to detail.
Respecting clients' ideas and desires without offending them
A love for different cultures.
The ability to improve a client's present idea by adding new details.
Qualifications and Experience Needed
Must be 18 years or older
Must have completed an apprenticeship or training program to earn certification/licensure
Must have a flair for creativity
A nice and understanding personality
The more experience you have, the better. In order to secure a position as a trainee, a prospective employer will like to see proof of your creative ability, your portfolio, and your background. Any type of experience in logo, graphic novel or other kinds of design would count as an added bonus.
Salary & Other Benefits
A tattoo artist's earnings depend on various factors, including the number of clients they receive, the reputation of their studio, and their personal experience. A professional and experienced studio can expect to earn an average salary of $32,000 a year, as per Simply Hired. Salary will vary depending on the geography. A tattooist in Boston, for instance, earns a median salary of $55,000 on annual basis, according to Indeed.
Working Hours
As a tattoo artist, you can expect to work approximately 30 hours a a week. However, a number of tattoo artists find Saturday to be their busiest day. In this profession, you would basically be working standard hours, but since the process is highly taxing and you will be required to focus for long and sustained periods at a time, this would more likely be divided into smaller blocks to ensure your performance does not drop at any time. Work hours are typically 9 to 6 or even longer on certain days, and a 6-day week is pretty common.
Each session lasts between 1 and 3 hours and depends on the task at hand. Because tattoos are permanent, one session calls for intense concentration and dedication in order for the job to be performed perfectly. The job of a tattooist is challenging, but with all the hard work comes a sense of accomplishment and improved creativity. A majority of tattoo artists today are males, but an increasing number of women are joining the industry with every passing day.
How Much Should You Tip A Tattoo Artist?
Many people are unaware that it is customary to tip a tattoo artist. And it is completely understandable since this subject is not really advertised or talked about and unfortunately, many tattooists go without receiving a token tip after tattooing their clients. So, if you are planning to get a new tattoo soon, remember to reward your tattoo artist with a decent tip, provided they do a good job and are nice. If you lack the extra money, make sure you tell the tattooist. Tattoo artists, especially the ones who work for someone else, are like waiters, i.e. they rely on tips to pay their bills.
Keep in mind a tattoo artist is only paid a percentage of what you pay for the tattoo. If you are wondering about the right amount to tip the tattoo artist, remember the rule of thumb is to tip them anywhere from 10% to 20%. Of course, it is all up to you to decide the right percentage, which will usually depend on the quality of the job they do. If you find the artistry was commendable and you were also greeted with a friendly and supportive customer service staff, you should tip closer to 20%.
However, if you feel tattoo is perfect but the customer service is not, you can go ahead and tip closer to 10%. And unless you get into a gruesome fight or your tattoo is completely ruined, make it a point to leave something for the artist regardless of how small the amount may be. Also, no matter how little time your tattoo takes to draw or how small it may be, you should still tip the artist.