If you are looking for a tattoo that's different as well as sexy, then you are going to be thrilled to have a Ruby Rose tattoo. They are the next best thing these days when it comes to tattoo ideas.
If you have read the news headlines recently, then you have surely heard about Ruby Rose tattoos because they practically have their own following now. Ruby Rose is a stunning actress and her tattoos just make her even more appealing to her fans. Her tattoos have been coveted and they make her who she is.
What do we know about Ruby Rose, well she has had many achievements in her life? She is a multi0-talented artist and she's very beautiful. She is not only an actress but a model, DJ and even a VJ with MTV. She is just as well known for her achievements as she is because of her tattoos. Ruby Rose has over 60 tattoos on her little body and it's hard to believe, but it's true. Her tattoos are inspired by many different occasions as well as other things in her life. If you are looking for a creative tattoo, then this is a great idea for you. You will be able to see all her awesome tattoos. Below are 52 Sexy Ruby Rose Tattoos For Your Next Ink:
 1. The Dog
Who doesn't love a good dog tattoo? If you have a dog in your life that you love to pieces then why not show your love with a tattoo.
The same tattoo of the dog that she loves before she got the sleeve. A great tattoo idea.
3. Sexy Vixen
A sexy woman exactly like Ruby Rose herself. I love the blue hair and the bandaid on her face.
4. The Detective
The detective from a popular TV show is just the perfect image to show that you are also a true badass.
5. Sleeve Designs
There is plenty of inspiration here if you are looking for a sleeve design. There is plenty of colors here that shows some amazing artwork.
6. Great Work
Another angle on her beautiful sleeve work. You can tell she put a lot of thought into the tattoos that she got.
7. Multiple Images
We have keys, cartoons and scratchy bloody words.
8. Work Being Done
A great image of Ruby Rose getting her sleeve completed. Sleeves can take up a lot of time; you may want to do it a piece at a time.
9. The Tiger
The tiger design is bright and detailed, a cartoon image that you are sure to love.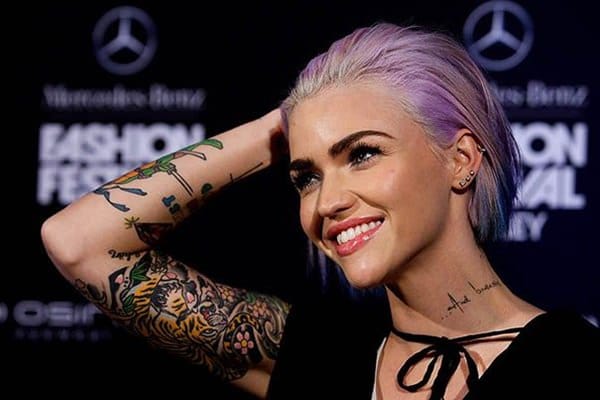 10. Multiple Sleeves
She has all kinds of images that cover both her arms.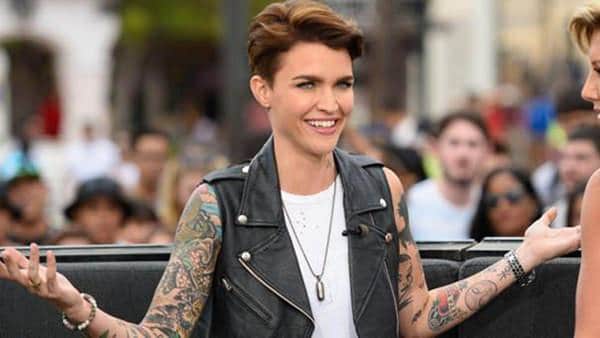 11. Back Designs
The blue haired woman and some quotes make up some of her back tattoos.
12. Doves
She has a dove on her neck and it looks pretty badass.
13. Hard Bodies
Her hard body is perfect for all these amazing tattoo designs.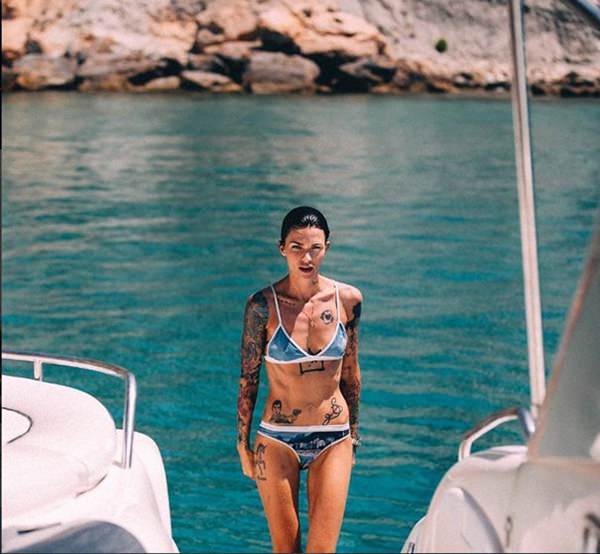 14. Chest Tattoos
These cool card tattoos on the chest really pop off her skin.
15. Portraits
The face of a woman on her arms creates a great design.
16. Work of Art
Another image of Ruby Rose getting her sleeve work done. If you like the idea of getting a sleeve, then you are sure to love these images.
17. Quotes
"Run With Wild Horse," is a great quote. You can use that one or pick one of your own.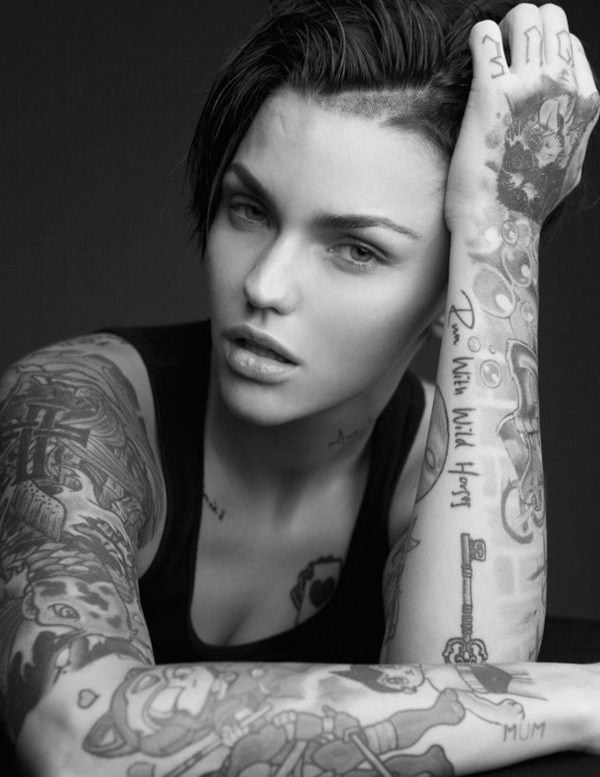 18. Midriff Designs
All her tattoos look pretty amazing and her midriff tattoos peek out of her jeans in a cool way.
19. Great Tattoos
A great picture of her sleeve design with her awesome chest tattoo. You are sure to love her tattoo designs they are all so beautiful.
20. Cartoon Images
Ruby Rose definitely loves her cartoon images and we can certainly agree when it comes to the Teenage Mutant Ninja Turtles.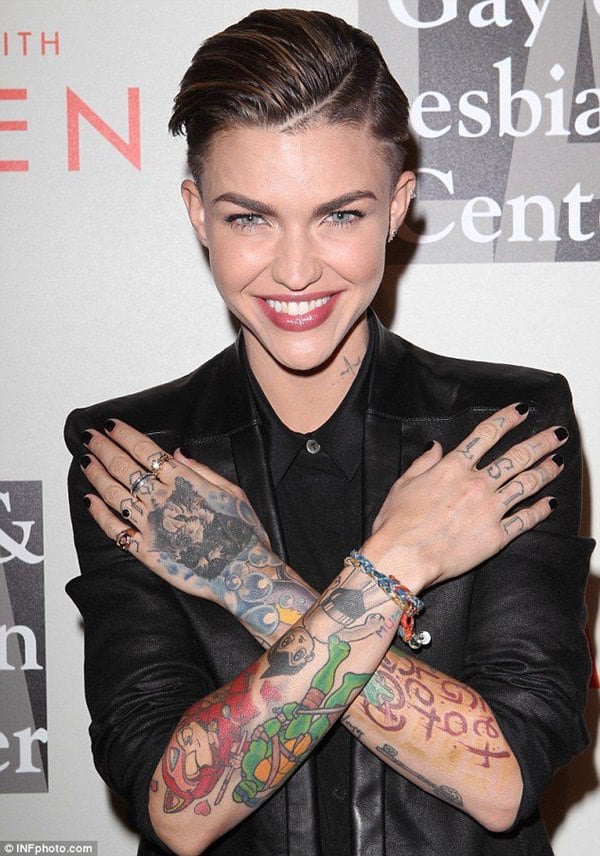 21. Great Skin
The tattoos look great on her skin because she has that awesome white porcelain skin.
22. Finger Tattoos
Lust and Love are definitely powerful words and why not have them on the fingers where they are easily seen.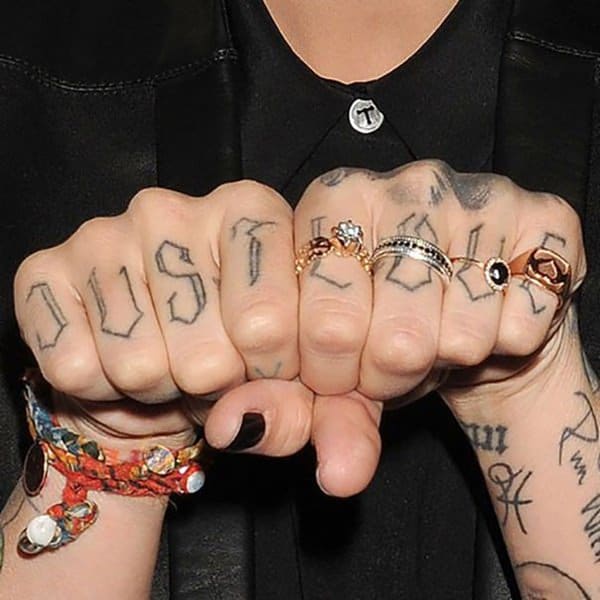 23. Sexy Sleeves
Another example of her sleeve work and we can see another image of a female. She has three portraits in total.
24. Great Designs
A great example of her sleeve tattoos, they are all so amazing.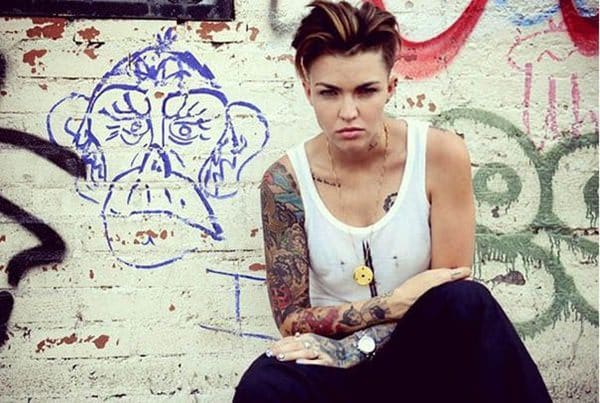 25. Cartoons and Quotes
These colorful tattoos look amazing in a sleeve and the quote is really cool as well.
26. Neck Tattoo
A great neck design that is really sexy. It's a great place to put a quote.
27. Words With Meaning
Choose something that means something to you and use it as your quote.
28. Cartoon Tiger
A great tattoo design and it's up close. We can see the tiger in more detail now.
29. Tiger Sleeve
Another view of the tiger sleeve, the colors are just so awesome.
30. Symbols
Symbols are great tattoos because they look really cool. This one is also small enough to be placed anywhere.
31. Hearts With Love
A great heart design with love in mind. This could be a girlfriend of Ruby's or another important person in her life. Names are forever though so be careful with putting them on your body.
32. Hand Designs
Another example of a hand tattoo that is mysterious.
33. Closeup
A closeup of the hand tattoo, this one really shows the letters perfectly.
34. Chest Art
A great chest design that you are sure to love. Who doesn't love a deck of cards and they make for a good tattoo? These specific cards may mean something to Ruby; they may just not be chosen at random.
35. Boxing Gloves
A great shoulder design that is obviously in memory of someone. The sleeve is also displayed here and we can see all the bright and wonderful colors. There is across here with many different elements. The colors are all amazing.
36. So Much Ink
When we can see all the ink together, it's just so beautiful. There are so many beautiful images here that it's hard to choose a favorite amongst them all. Can you pick a favorite?
37. Shoulder Tattoo
A closeup of the shoulder tattoo that shows off the boxing gloves. These are all really great tattoos. There are a few names attached to the art that obviously mean something important to her.
38. Portrait
I love the afro on the portrait of the girl. It's such a cool tattoo that you are sure to love. The great thing about her tattoos is they are all personal and very creative. Each and every one of them has a personal meaning to her and that's what makes them so awesome.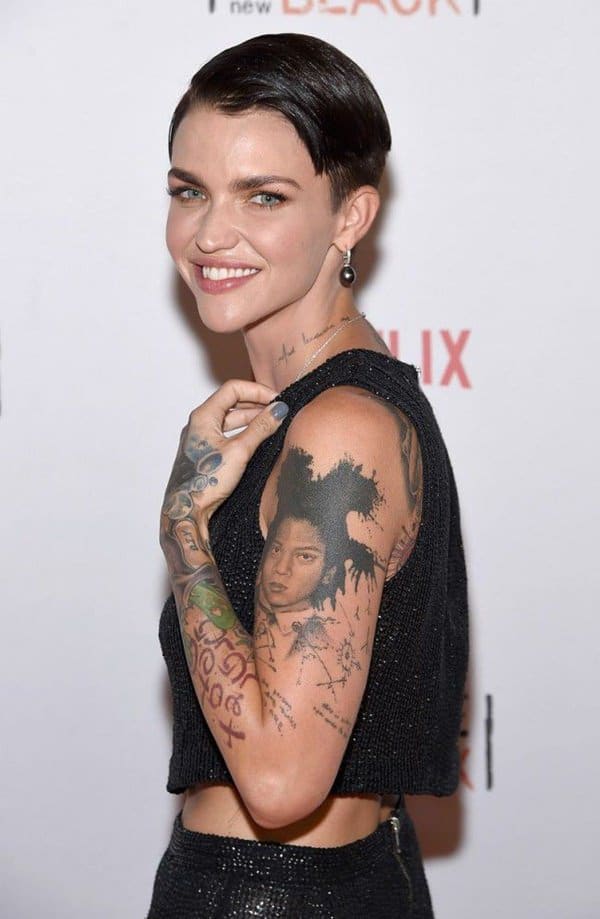 39. Portrait Closeup
A woman that probably ahs a lot of meaning for Ruby Rose. Portraits are great if you have someone special in your life that you want to represent. It looks like there are geometric tattoos underneath the portrait and those always look cool.
40. Awesome Designs
A great image of the sleeve designs that she has. It's all amazing work. Some tattoos are colored while others are black and white. We love all these designs.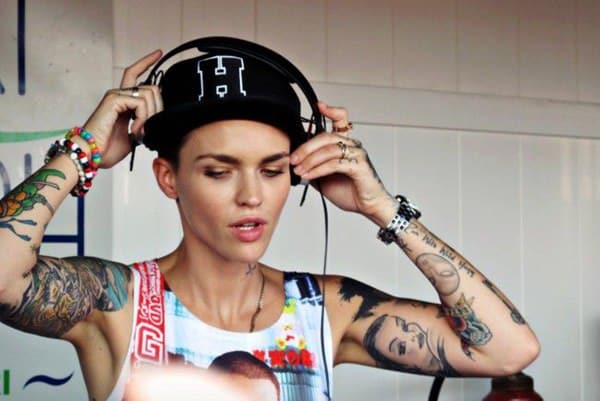 41. Alien Love
Here we see the alien as part of her sleeve design. It's just a face but we all love aliens and this is a cute design. If you love aliens, you are sure to love this design.
42. Stars
These stars are an adorable addition to all the tattoos that she has. They are tucked nicely behind the ear and look great. Four stars are all you need for a cool design, and these stars are really cute. We love this cool art.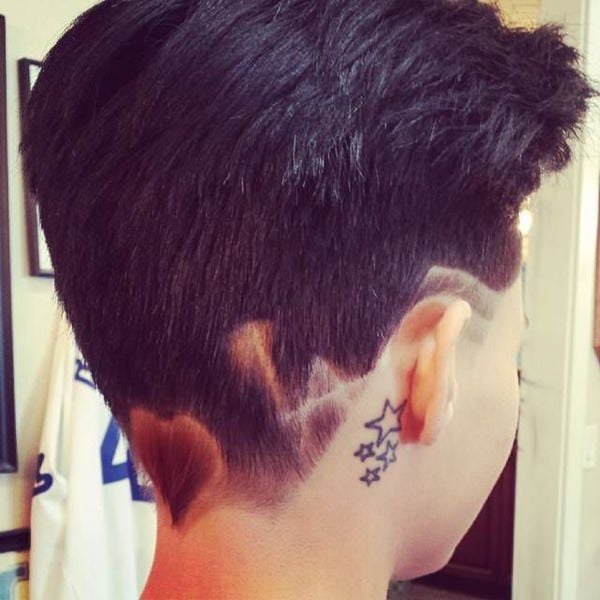 43. Inner Lip Tattoo
A cool tattoo with a simple message. The inner lip is painful so just be prepared.
44. Love
A lot of Ruby Roses' tattoo has plenty to do with love. If you are all about the same message, then try this tattoo out.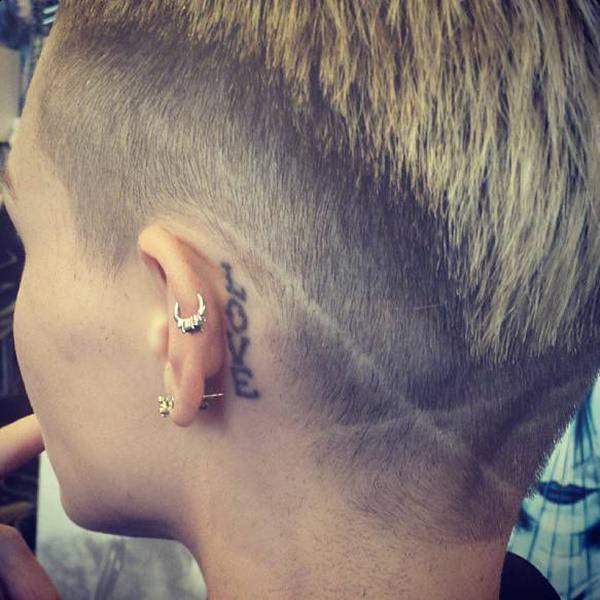 45. Ninja Turtles
A great cartoon that takes us back to our childhood. We just love the Ninja Turtles, they are amazing.
46. Down the Rabbit Hole
A great tattoo design that is inspired by Alice in Wonderland. A great tattoo that is truly creative.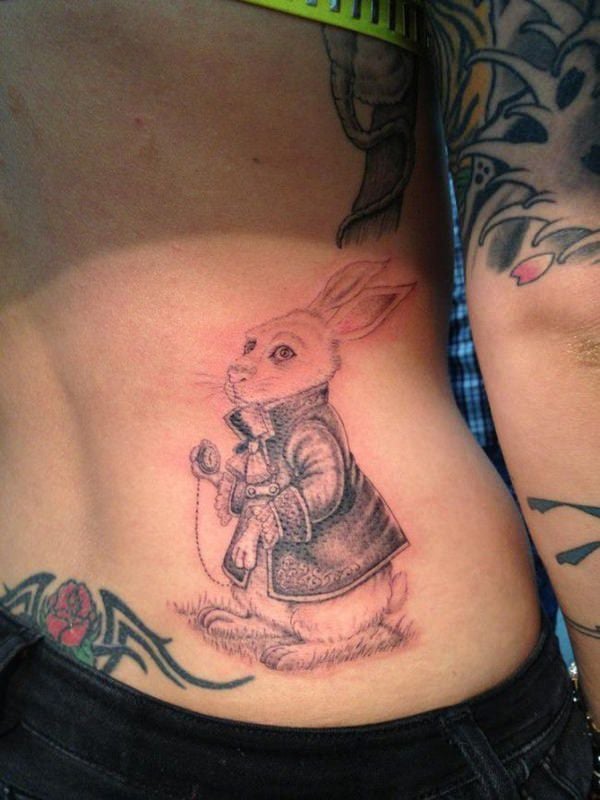 47. Cartoon Images
Another cartoon figure from your favorite TV shows. If you are a fan, then you are sure to love this tattoo.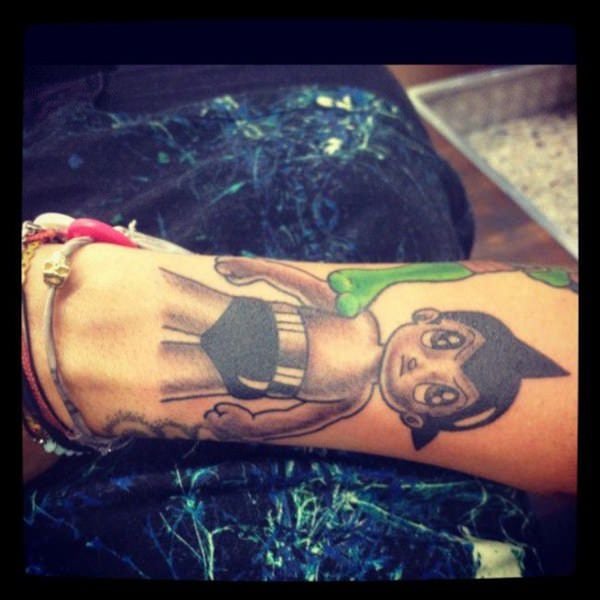 48. A Possum
A possum on a branch is part of this hottie's ribcage tattoo. If you love these fun creatures, then you are sure to love this tattoo.
49. Kitty Warrior
Another cartoon character from a popular TV show. Ruby Rose obviously loves depicting her favorite characters on her body.
50. Here
A finger tattoo that has the word "here" written on the side of her finger. There is a cute little star there as well.
51. Trust in God
A great tattoo for those who love God. This tattoo looks cool because it's almost done in the way of a children's drawing.
52. MTV
She obviously has a love for MTV because she has it tattooed on her fingers. We can also see her Lust and Love tattoo as well. These are all cool tattoos that you will surely love.