Tattoos are amazing for many different reasons, one of which is because they can make a certain area of the body very alluring and interesting. Hip tattoos can be very sexy and seductive if they are done properly. If you are looking for something different, then a hip tattoo may be just what you are looking for.
Tattooing has a lot to do with creating and implementing a gorgeous tattoo design that will look amazing. There are many areas of the body that you can get a tattoo, but the hip area is becoming increasingly popular. You can just imagine how sexy a hip tattoo can look if you have the right design. They are certainly more popular when it comes to women and girls though men have got them as well.
The hip area is basically where the upper torso is joined with the lower part of the body. This area is a wonderful canvas where you can create some magical designs. The sky is the limit for getting these hip designs done; you can get a small design or a large one. It really doesn't matter what design you get, just the fact that the tattoo is placed on the hip makes it pretty sexy.
The great thing about hip tattoos is that they can easily be covered if you have a career that frowns upon tattoos. But you also get to flaunt these amazing tattoos while you are on the beach or just wearing shorts while hanging with friends on a patio. Imagine how amazing the tattoo would look with a dress that is slit all the way to the hip.
Below are 78 Sexy Hip Tattoos That You Are Sure to Love:
1. Flower Jewelry
A great tattoo design that has a lot of detail. I love the jewelry elements that add some elegance to the style.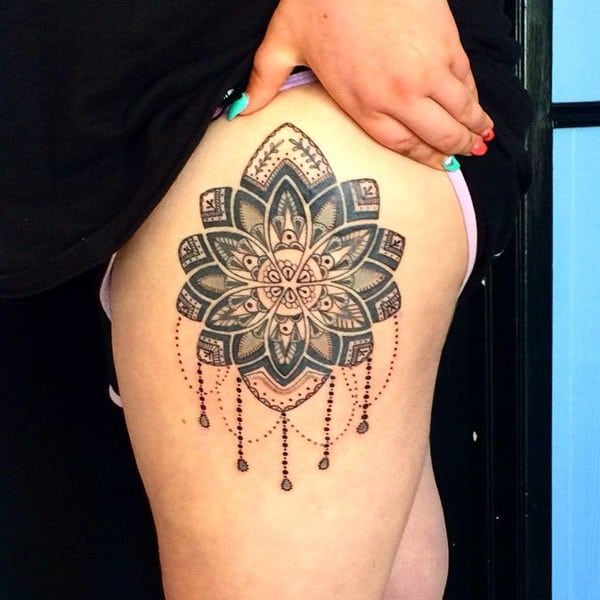 2. Lion Headdress
This stunning tattoo fits perfectly on the hip. There is a lot of detail involved in this gorgeous tattoo.
3. Little Mermaid
If you love cartoons, then you are sure to love this sweet design of the Little Mermaid. It's cute and colorful and fits nicely on the hip.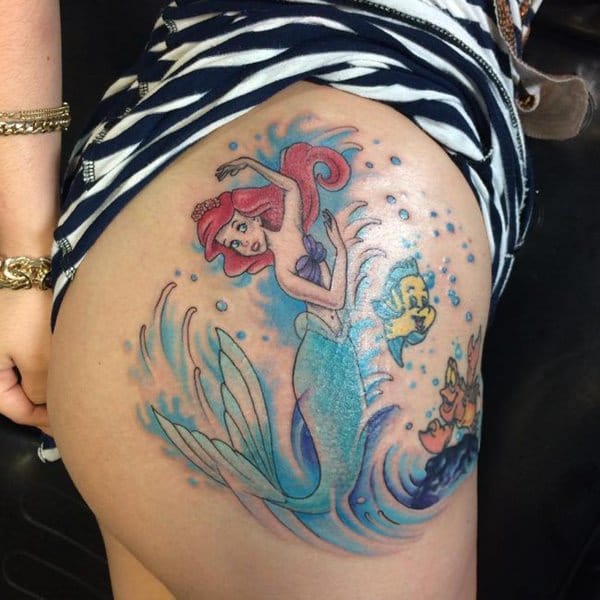 4. Chandelier Designs
These designs are gorgeous because of the jewelry elements to them. It's a sweet design that is sexy on the hip.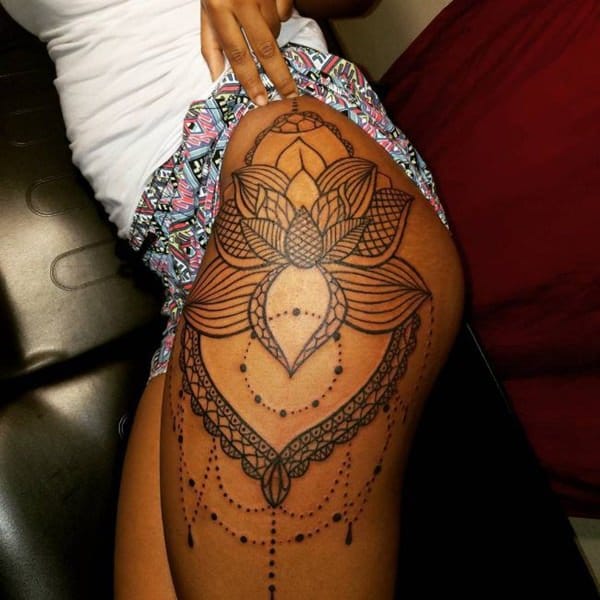 5. Florals
If you like flowers, then this is the perfect tattoo design for you. I love these designs and they go all the way down the hip.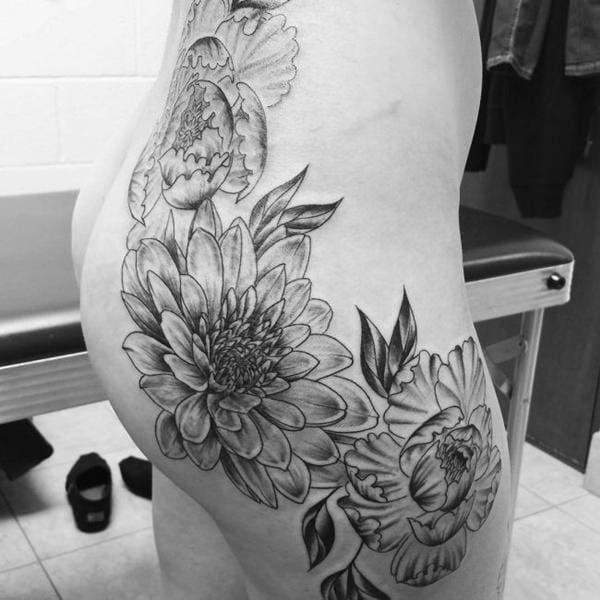 6. Moon Designs
This is an incredibly sexy tattoo and it's also very elegant. This jewelry chandelier design is in the shape of a moon and it's gorgeous.
7. Bold Colors
If you love wildlife or even hunting, then you are sure to love this tattoo. There are some amazing colors involved. 

8. Portraits
A gorgeous hip tattoo of a few women that are quite detailed. These detailed images are stunning and I love the splashes of colors amongst the black and white.
9. Red Rose
If you love roses than this is a simple design that you are sure to love.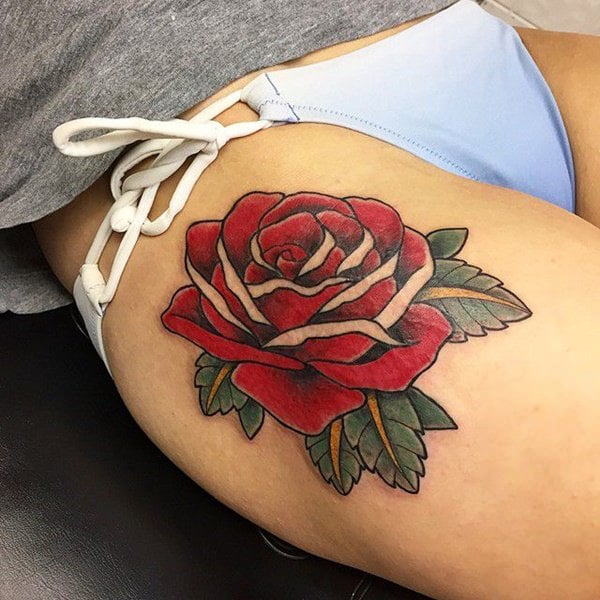 10. Leopard Spots
This is a unique tattoo design that is beautiful and creative for the hip area.
11. Dreamcatcher
This large tattoo design is an incredible looking dreamcatcher. It's a fun design with some amazing colors.
12. Fruit Designs
This fun design combines fruit and florals together to create a beautiful tattoo.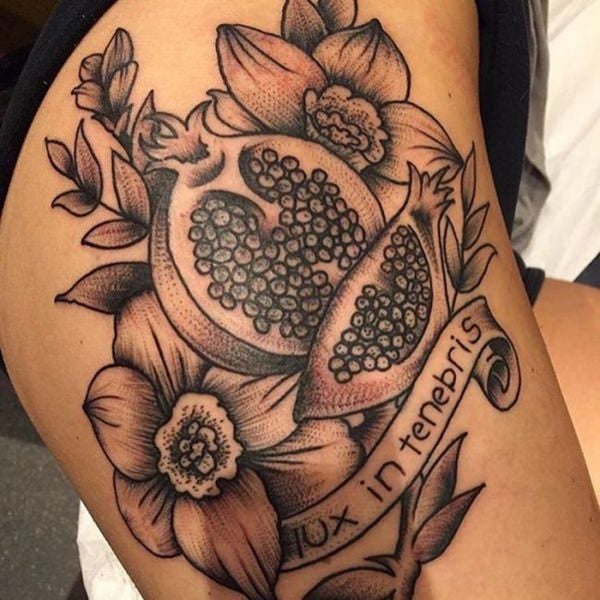 13. The Gypsy
The gypsy is known to be a mysterious and sexy person and this image is certainly both. It's a great image that is also large, fitting perfectly on the hip.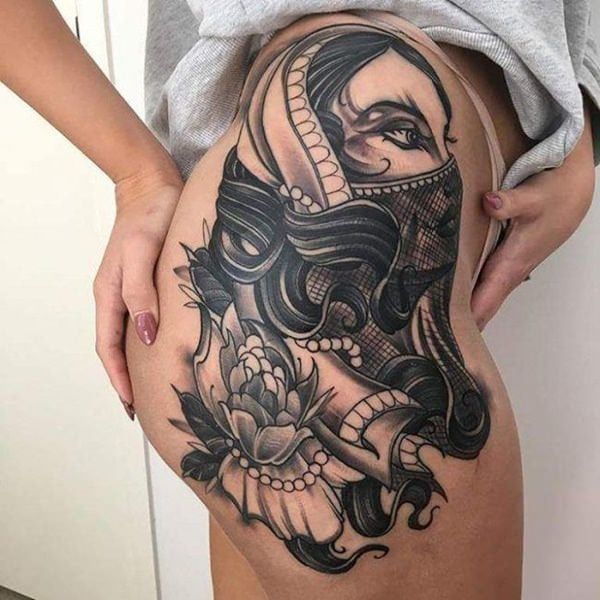 14. Pretty Pink
A great floral design that has just a splash of color.
15. Elegant Images
Lace, pearls and gorgeous flowers, what more could you want from a stunning hip tattoo.
16. Kitty Moon
If you love cats, then you are sure to love this design of a moon and a cat.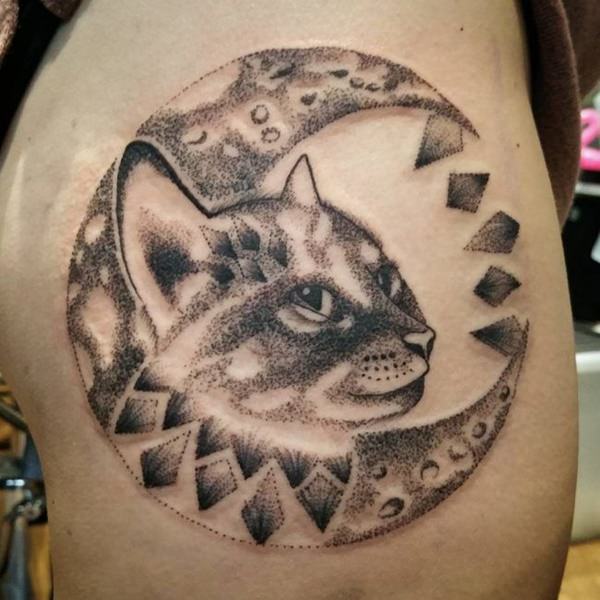 17. Stunning Floral
A simple tattoo design is a clear image. The design element is perfectly implemented here.
18. Hot Air Balloon
This tattoo is bold and bright. A hip design that is truly a gorgeous one. The design is detail and the colors are bold and bright. I love the deep red involved with this tattoo.
19. Black and White
This hip tattoo is gorgeous and all you need is a black and white outline. It's an amazing design that you are sure to love.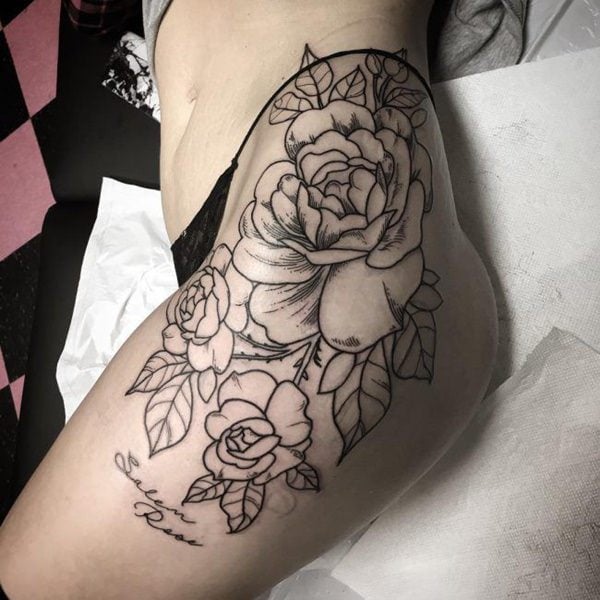 20. Bold Coloring
These great flowers are gorgeous hip tattoos and the colors involved are truly beautiful.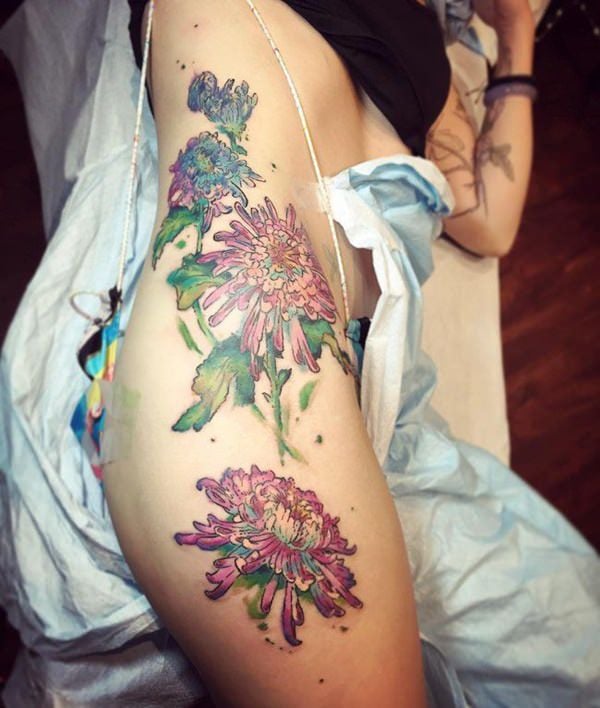 21. Elephant Design
A great tattoo of an elephant in a headdress. I love the detailed tattoo design especially in the face of the elephant. The eyes are so clear and gorgeous.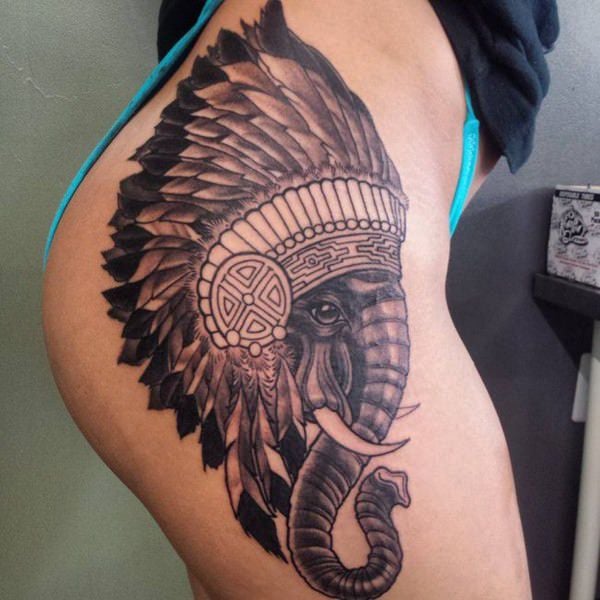 22. Beautiful Birds
A gorgeous bird design that has a heart shaped floral design around them. I love the colors that they have here.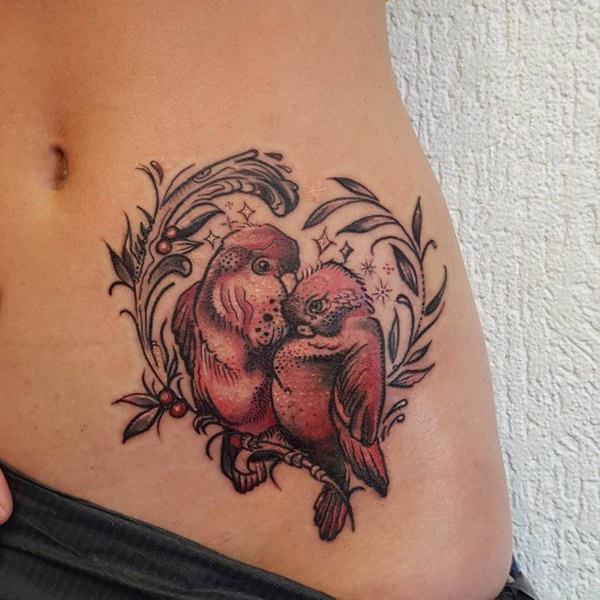 23. Hip Leaves
Leaves on either side of the hip. they match and they are gorgeous.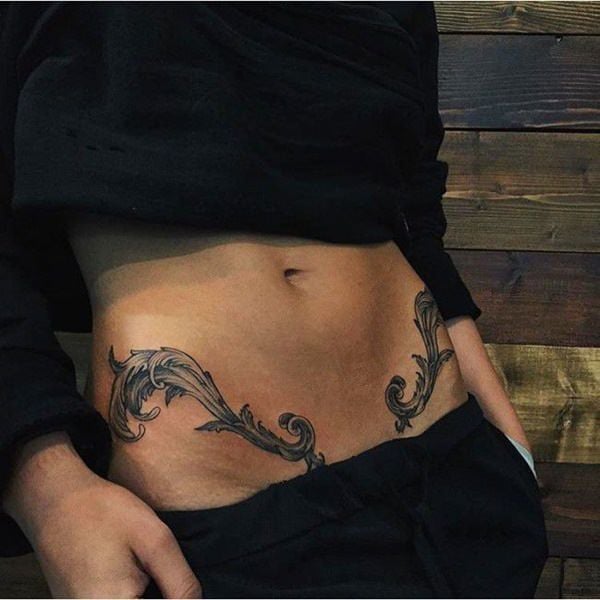 24. Red Rose Tattoos
A great floral design that is gorgeous. There are three flowers here that are just wonderful.
25. Stained Glass
This stained glass floral design has some wonderful colors.
26. Stunning Hip Tattoos
This large tattoo is really beauty and it doesn't need any color. It's a large design that goes along the ribcage as well.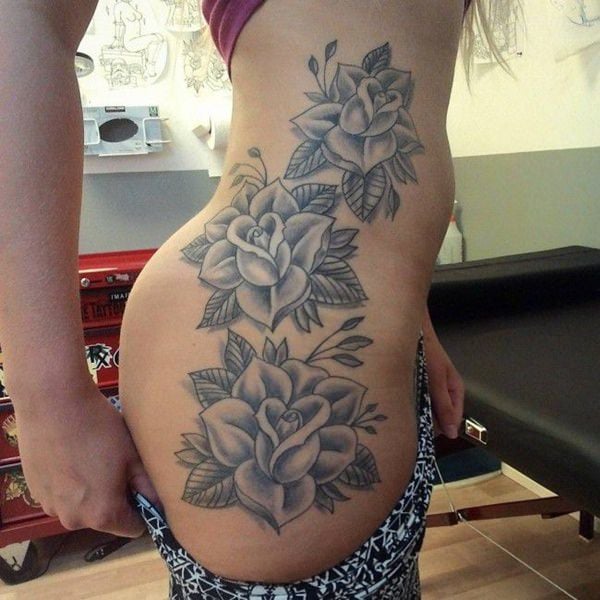 27. Deep Pink
Three bright pink flowers that you are sure to love. These colors are incredible.
28. Chinese Symbols
These red roses amongst the Chinese lettering make for a cute hip tattoo.
29. Gorgeous Flowers
This gorgeous design has a colorful feather that turns into flying birds. It's a unique design that you are sure to love.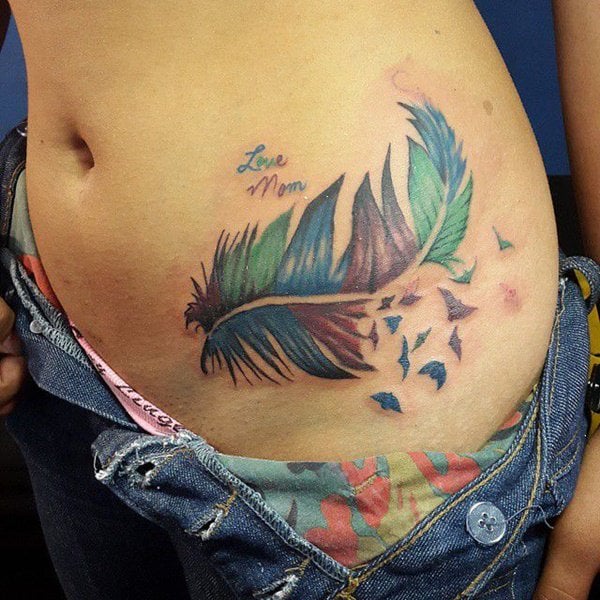 30. Multiple Flowers
A great design that has multiple flowers scattered along the hip.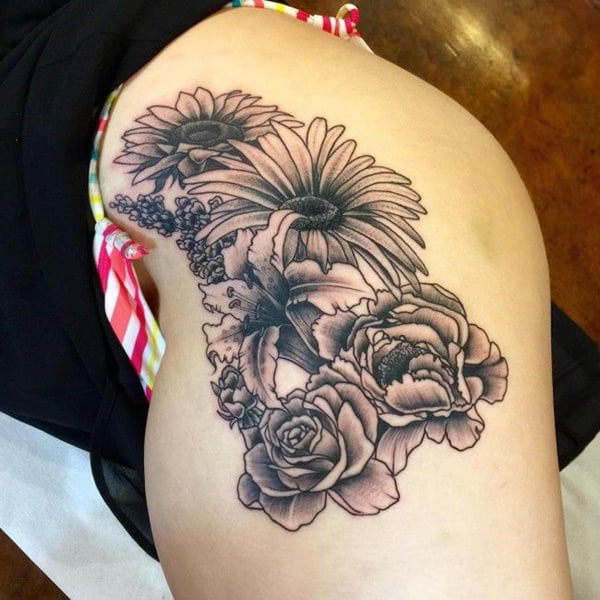 31. The Great White
A great design for those that love sharks.
32. Gorgeous Lotus
Bright and beautiful flowers that you are sure to love. Two flowers that you are sure to love.
33. Stunning Roses
A great design that has just a few roses but it's a wonderful tattoo.
34. A Mermaid
A stunning and detailed design that is sure to draw the eye. It's black and white and almost looks like a drawing. 
35. Dragon Design
This tattoo design is detailed and absolutely gorgeous. There is a lot of detail involved in the dragon design and if you have a love for dragons, then you are sure to love this one.
36. Stunning Women
This sexy hip design is very detailed with a woman shaped seductively along the hip. She has designs all over her skin that are gorgeous.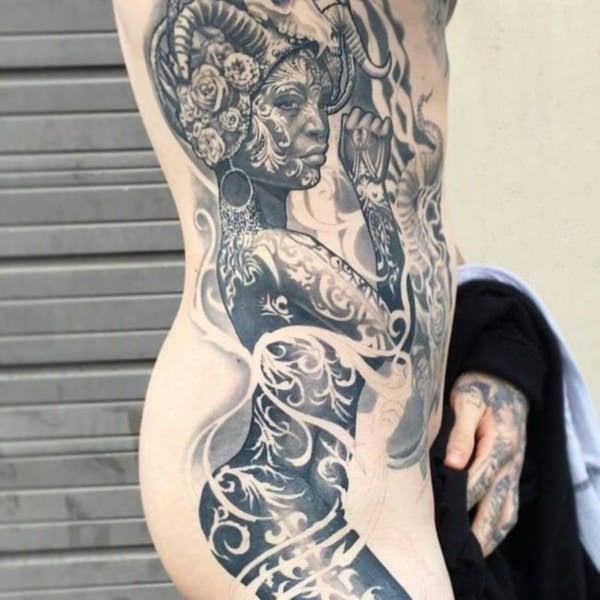 37. Outline Tattoos
A great oriental face amongst some flowers. It's an original design that you are sure to love.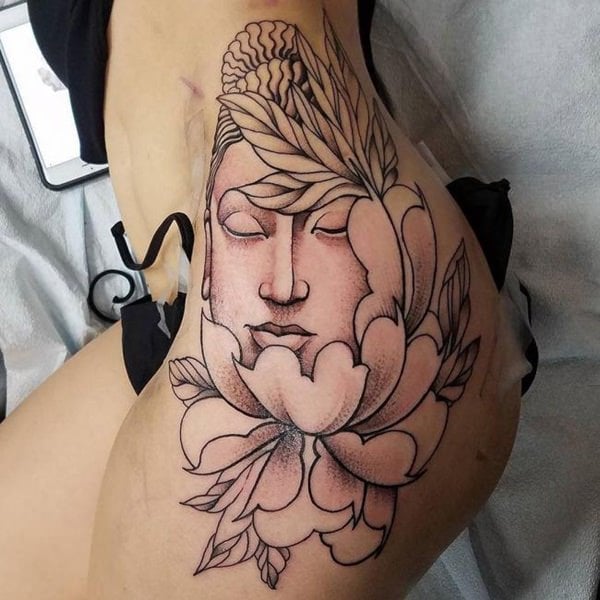 38. Fun Florals
These flowers are just outlines, but they are still very beautiful.
39. Koi Fish
Koi Fish are very popular designs and the added flowers bring some color to the tattoo.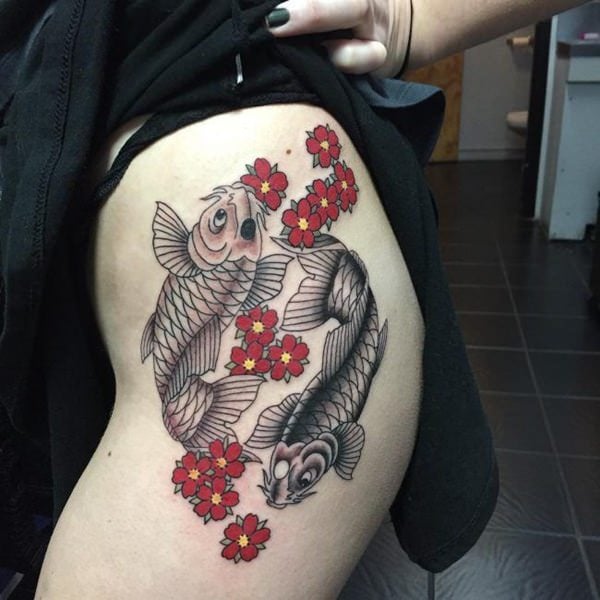 40. Deep Florals
A great tattoo with many different flowers all along the hip. It's a gorgeous hip design that you are sure to love.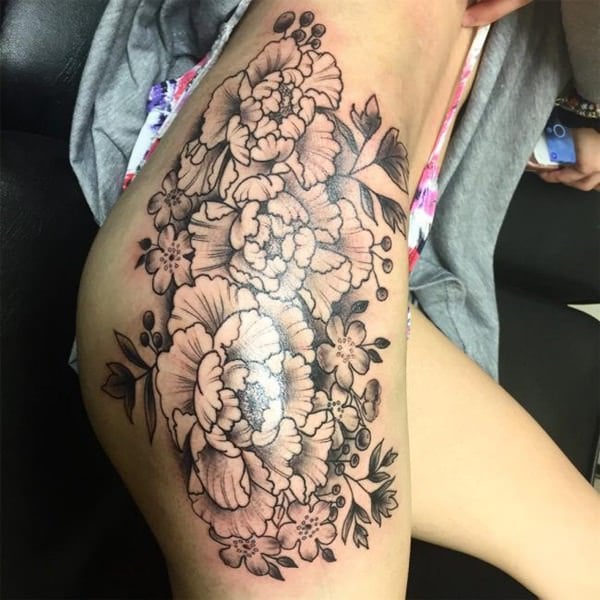 41. The Painting
This gorgeous floral design is so stunning that it looks like a painting. The colors and the technique involved make it look like art.
42. Daring Pink
A great floral design that has a splash of pink to it. You won't find a more stunning floral design than this one.
43. Lotus Designs
A detailed floral design that is breathtaking.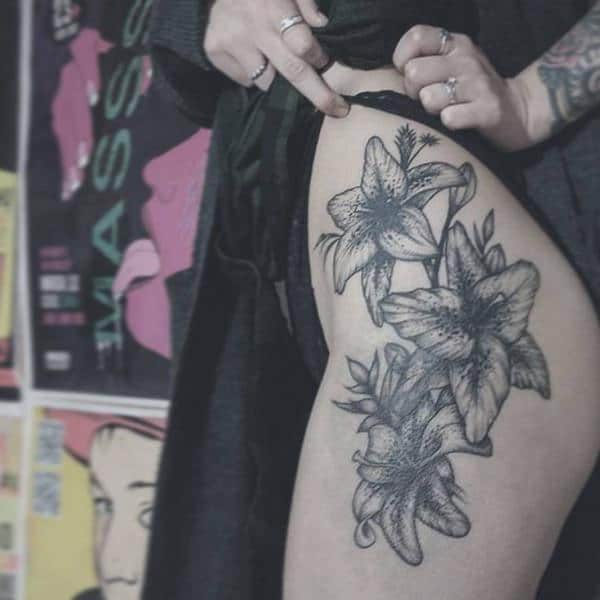 44. Gorgeous Flower
Deep and dark designs that are truly wonderful. I like the dark contrast involved with these designs.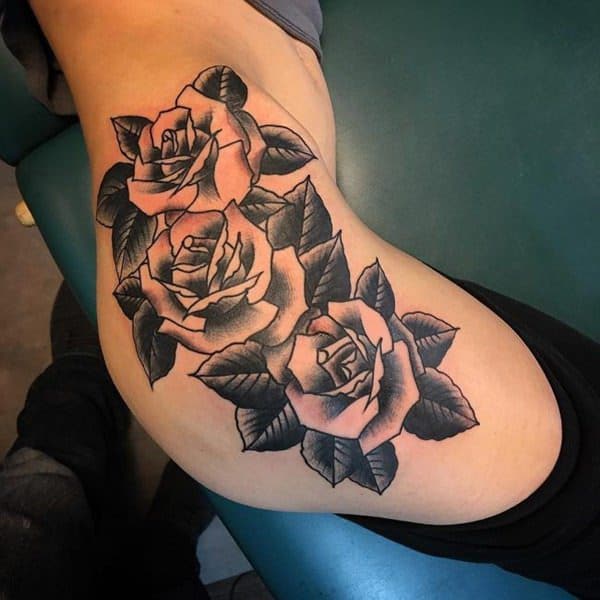 45. Creative Designs
Another example of a floral tattoo that looks amazing on the hip.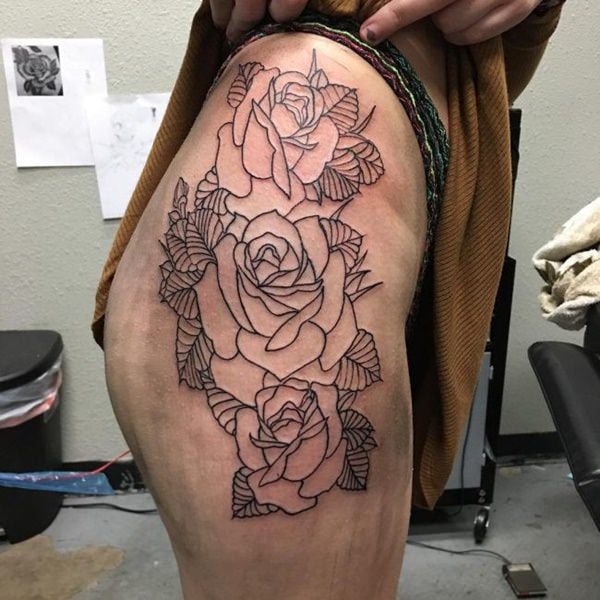 46. The Warrior
A great design that is very detailed. It's very ornate and the face is detailed, a wonderful tattoo that you are sure to love.
47. Broken Mirror
A mysterious tattoo that has a broken mirror and an elegant mask. It's elegant and gorgeous. The red and black together is truly amazing.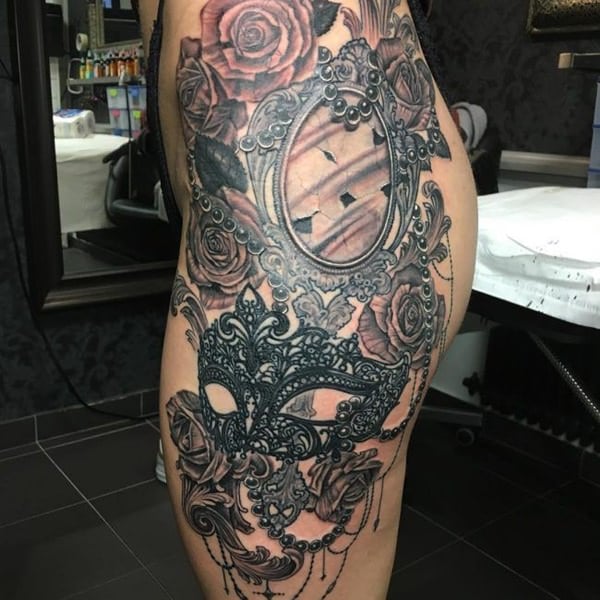 48. Jewelry Links
A unique design that has plenty of roses and some jewelry elements.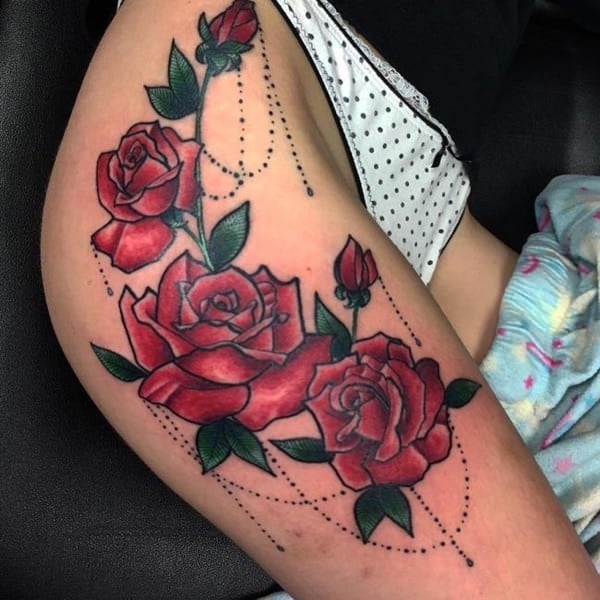 49. Breathtaking Feather
This feather is not only different, but the colors attached to it is truly breathtaking. If you are looking for a unique tattoo, then you are sure to love this one.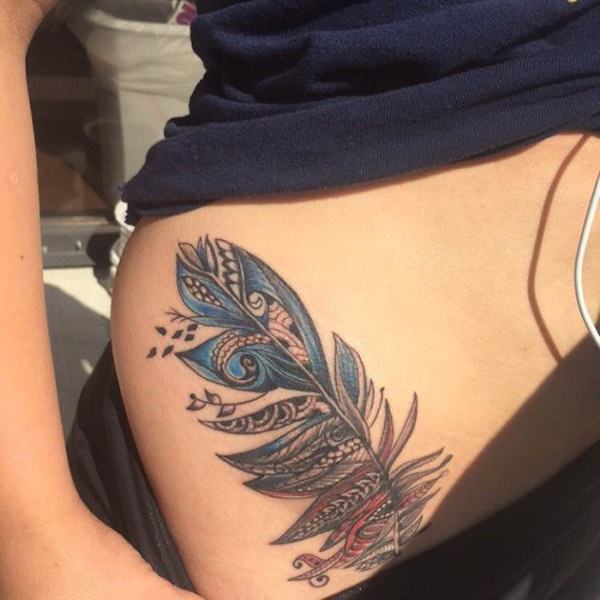 50. Pink Skull
A great tattoo of some black roses and a pink skull, add it a bow and you have something cute and a little badass.
51. Gorgeous Bee
If you have a love for bees, then you will love this design. It's a great image that shows some great art. A glistening blue eye. 
52. Watercolor Art
A special sort of tattoo that has no black outline. Beautiful colors that look like watercolor art.
53. Special Flowers
A great tattoo that looks more like a painting. There is no dark outline to this kind of tattoo; it's an entirely different technique.
54. Bouquet of Flowers
A great bouquet of flowers that covers the whole hip.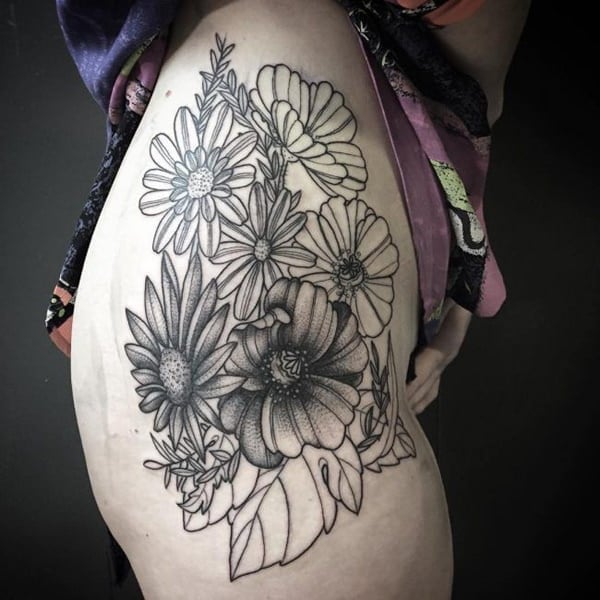 55. Peacock Love
A great image that has a lot of details that make for an incredible hip tattoo. I love the gorgeous design.
56. Cat in the Hat
A fun tattoo that has a lot of fun images for people who love Dr. Suess. It's a great depiction of the old school books.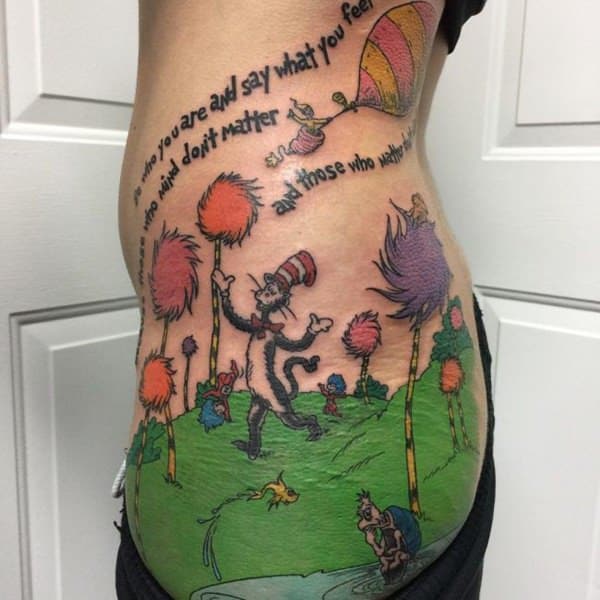 57. Bold Flowers
If you love flowers, then you won't be able to resist these beautiful flowers.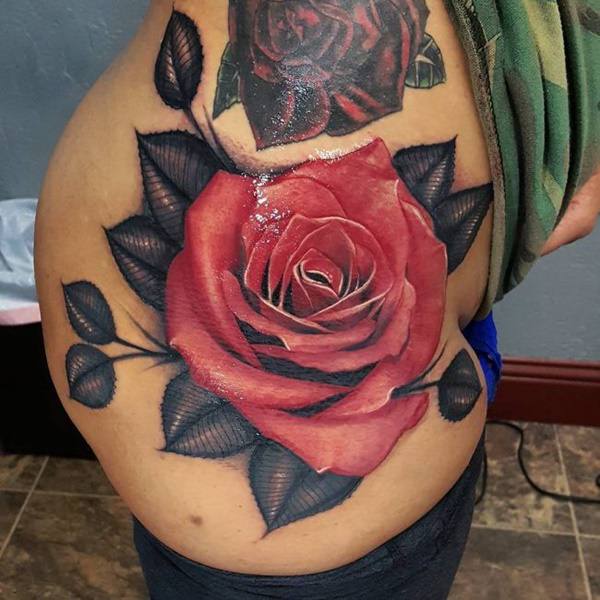 58. Chandelier Tattoos
A great tattoo design that has a great image that has chandelier elements to it.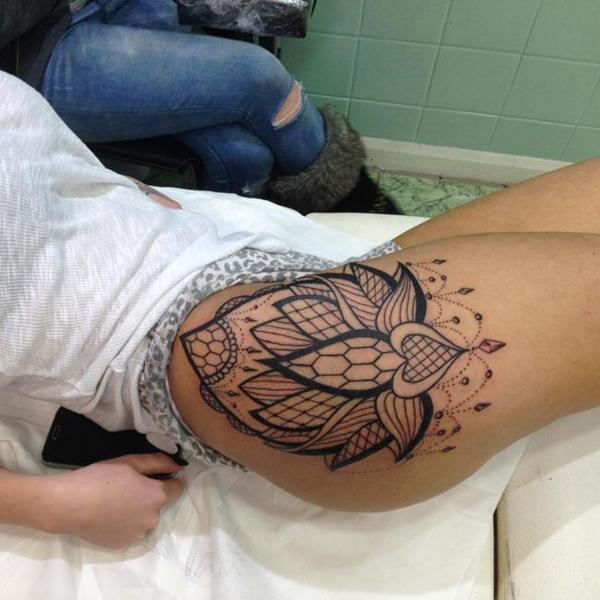 59. Fun Images
A great design that you are sure to love. If you are looking for an image that you are sure to love.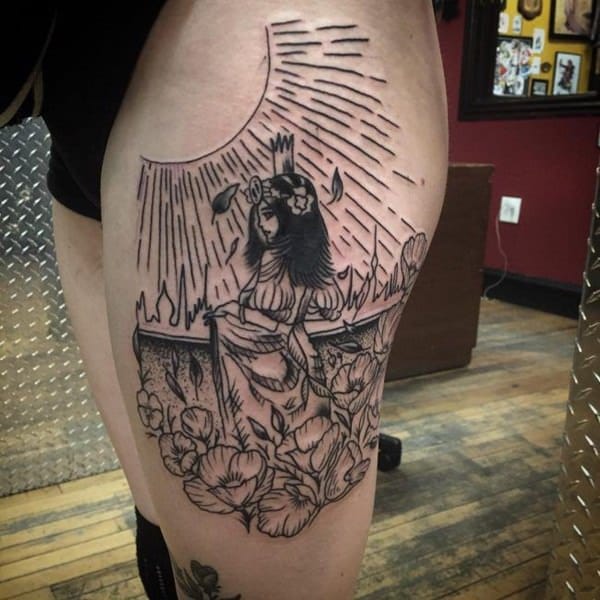 60. Snakes
This badass tattoo has a snake slithering through some flowers.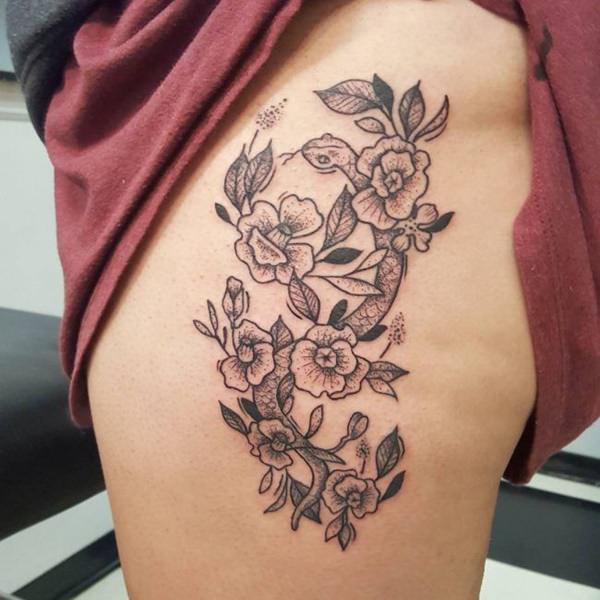 61. Dreamcatchers Love
A great image that has some wonderful colors.
62. Tribal Love
You don't get much more detail than this one. The feathers in the headdress look so clear and intricate.
63. Bee Tattoos
If you love bees, then you will love this detailed and colorful hip tattoo.
64. Green Flowers
A great tattoo that you are sure to love because of its beauty. A green hip tattoo is truly a beautiful one.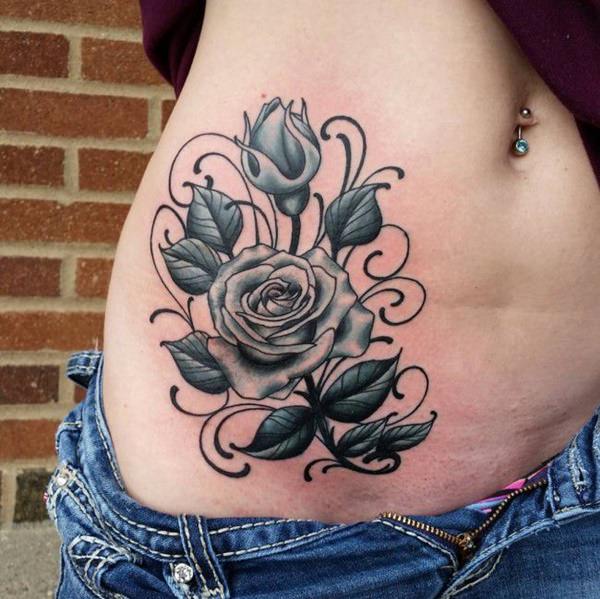 65. Bold Designs
Another example of a tattoo that looks great on the hips. Roses are always great looking tattoo.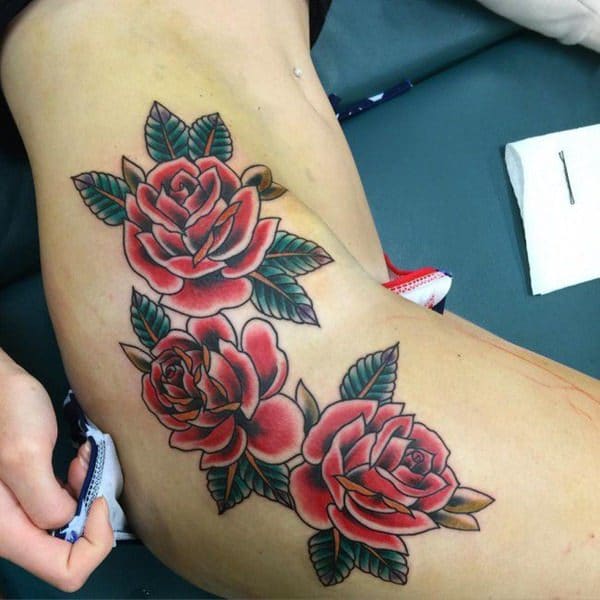 66. Small Designs
A great tattoo that is not too large. If you want an average side tattoo, then this would be a great one.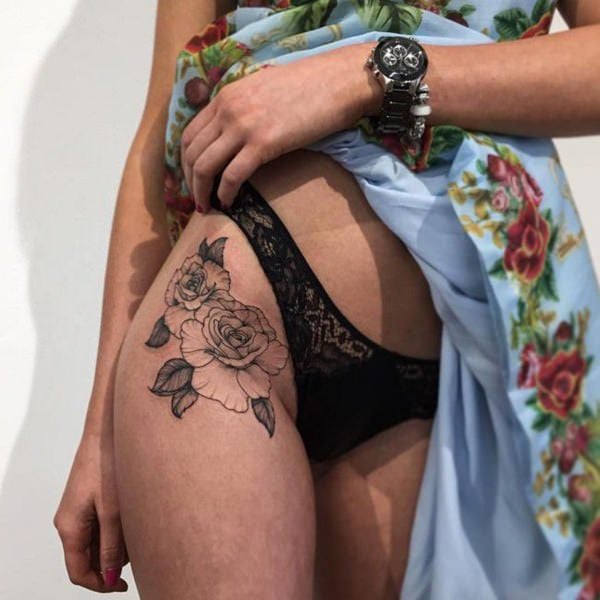 67. Flying Bees
An old school tattoo of a bee flying around some flowers.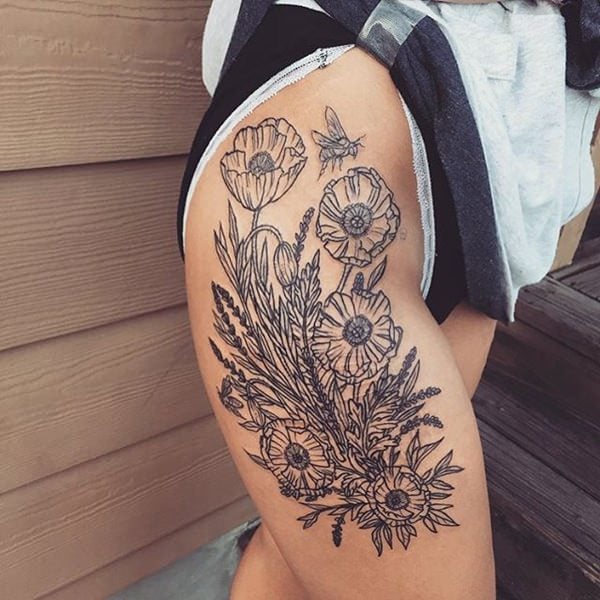 68. Ram and Snake
This cool design has a Ram and a snake together. How cool are these amazing details for a hip tattoo?
69. Detailed Octopus
If you love octopuses, you will love the detailed hip tattoo. It's a great image that is rather large in size.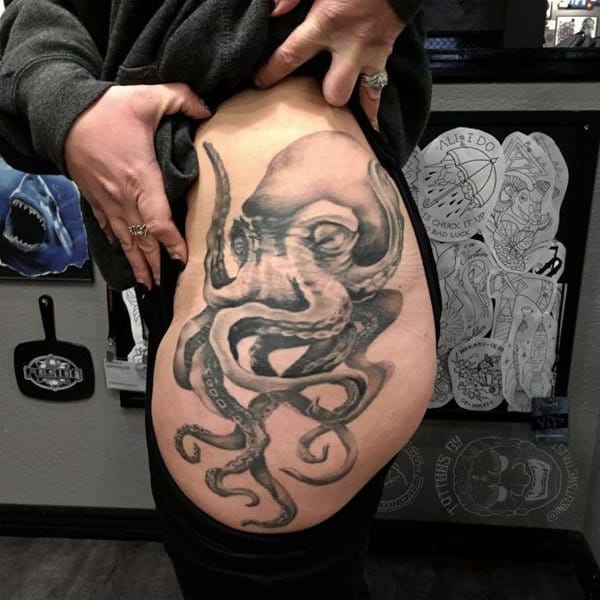 70. Cougar Love
A great design for those wildlife lovers. It's a clear image with some great colors.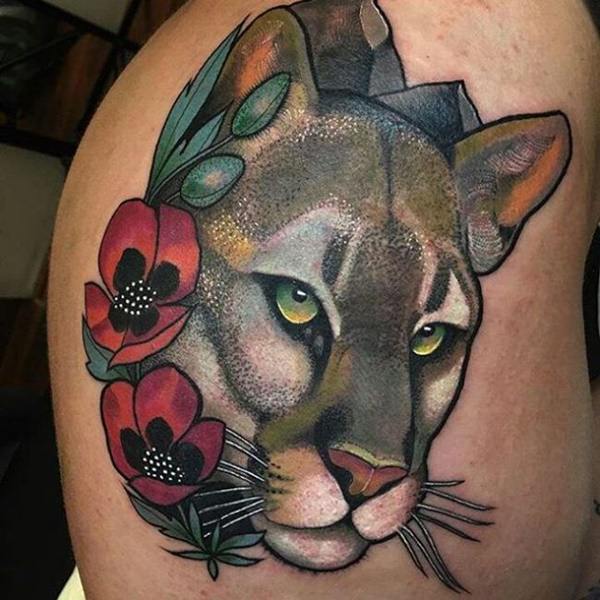 71. Creative Elements
These flower chandeliers are always so beautiful. I love the pink and blue together, these are beautiful colors.
72. Purple Flower
These gorgeous colors are bright and vibrant. A wonderful hip tattoo.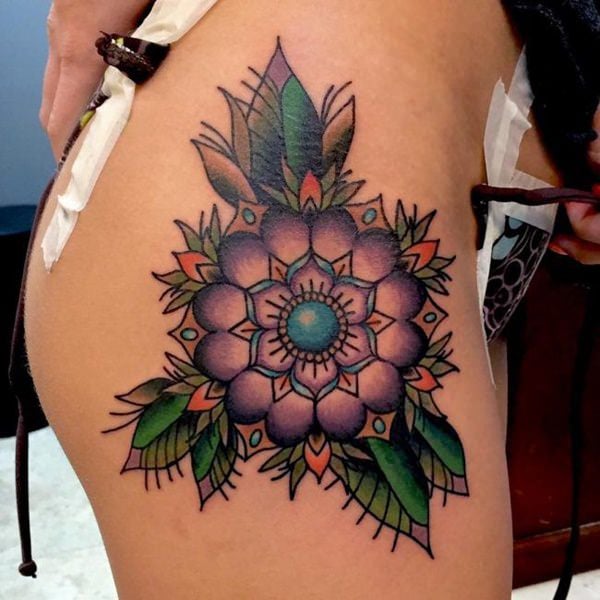 73. Jewelry Designs
A gorgeous flower design with jewelry elements to it.
74. Stunning Flowers
This is a different style of floral design, with the rich designs. I love what is happening here with the dark contrasts.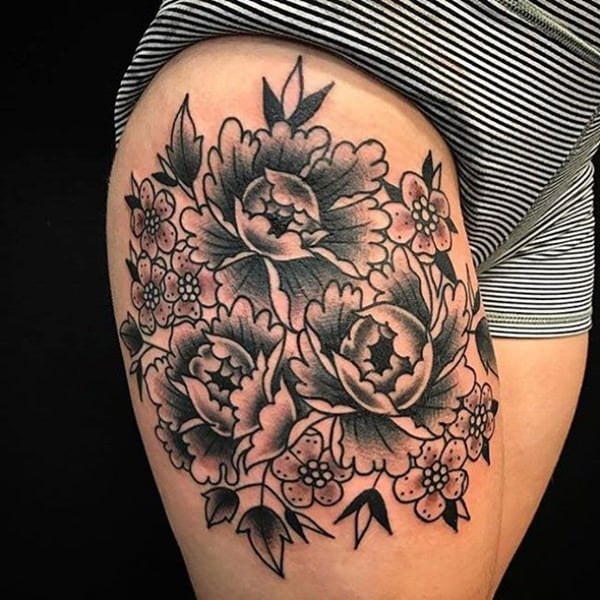 75. Gorgeous Jewelry
A solid design that you are sure to love with these jewelry elements.
76. Big Designs
A great image that covers the entire hip. You are sure to love this wonderful design.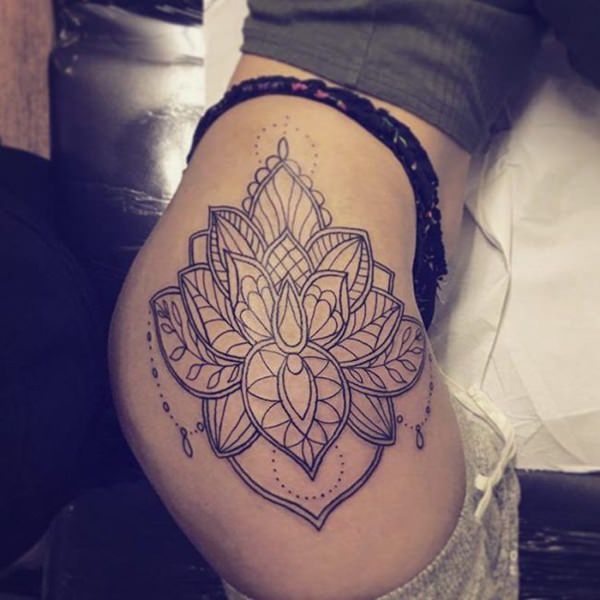 77. Orange Tattoos
Fabulous designs such as these ones offer beautiful colors that you can show off at the beach.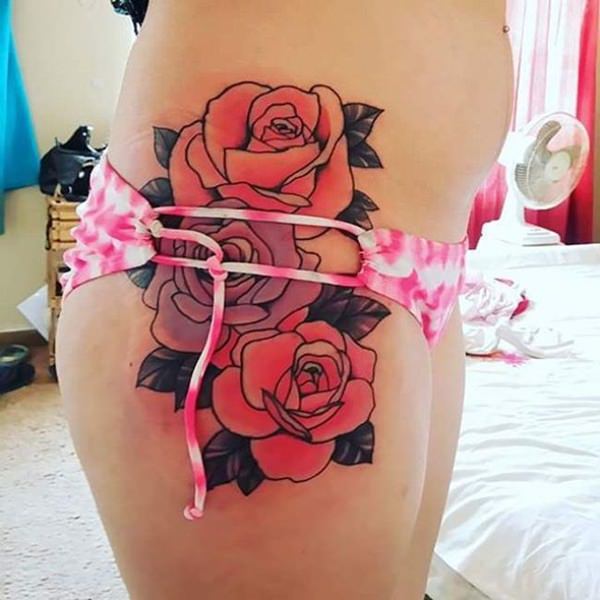 78. Simple Rose
One simple rose that will sit nicely on the hip.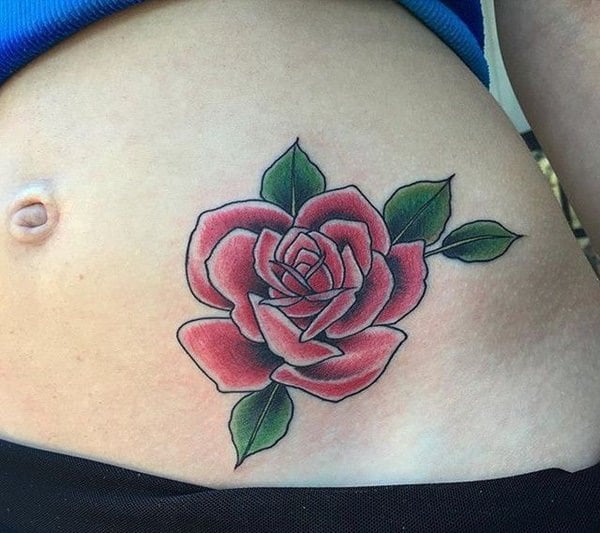 There are many great designs here that you can choose from. The next step is to find a tattoo artist that has experience and a portfolio to show you. Don't go with the cheapest option because you get what you pay for. You don't want to regret your choice. You want someone that has experience, so you don't end up with a bad tattoo. They are permanent and you want to be proud of what you have. These tattoos are truly wonderful and we hope that you have found one that you can make your own.
We hope you enjoyed the article! Comment on your favorite image!