If you are looking for a new and fresh tattoo idea, then think nothing of trying to get a spine tattoo. They are the newest trend in the tattoo market, and you are sure to love these killer designs. This sort of tattoo looks fantastic on women because women always love to show off their backs and there is no better way then to have a spine tattoo. They are hot designs that can also be feminine for women or badass for men.
These tattoos are very creative, and some of them can go from the lower back all the way up to the neck. Many people believe that a spine tattoo can represent the backbone of your life, not just your body. You can get the tattoo in any shape or size, it all depends on your personal preference. Many people who decide on a spine tattoo usually get a bigger design because some of them look quite nice.
There are many different options available to you for a spine tattoo. There are Chinese letters, unique designs, flowers as well as some special quotes that can even be incorporated into a bigger design. You can get them in black or white or in color, either way, they are both very beautiful concepts. Just be prepared for some pain because the one downfall to a spine tattoo is that it can be very painful. The tattoo machine can feel like it is pinching into your back and if you are getting a large tattoo, it can be hours of pain.
If you are thinking of a spine tattoo, then check out this list of amazing design options for you. Below are 47 Sexy and Alluring Spine Tattoos for 2017:
1. Hammerhead Sharks
If you are a lover of sharks, then you are sure to love this design of various sharks swimming up the spine.
2. Unique Symbols
This stunning design certainly makes for a beautiful tattoo design.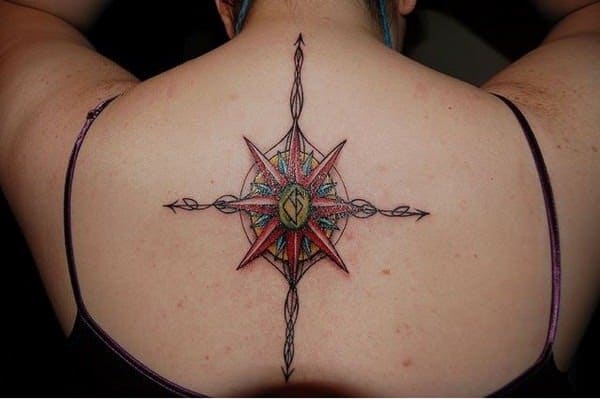 3. Various Flowers
This large spine tattoo is made up of different types of flowers in many different colors.
4. Tree of Life
The beautiful part of this black and white tattoo is that the trunk of the tree is growing right out of the backbone. It's a unique way of having a spine tattoo.
5. Chinese Letters
If you want a personal message that's just for you, then try a Chinese lettering spine tattoo. The great thing about Chinese lettering is that they always look beautiful.
6. Fruit Designs
This apple design has the various forms of apples that you can buy all in a row down the spine; it's certainly a different design.
7. From Top to Bottom
A stunning design that goes from the lower back to the neck. It's wide on the spine and has a unique concept to it.
8. Stunning Spine Tattoo Designs
A stunning design that you are sure to love because each element is beautiful in its own way.
9. Moon Designs
These moon shapes are in different sizes as they go down the spine.
10. Spine Designs
This design is of an actual spine, and it's truly unique. It's one of those badass designs that people talk about.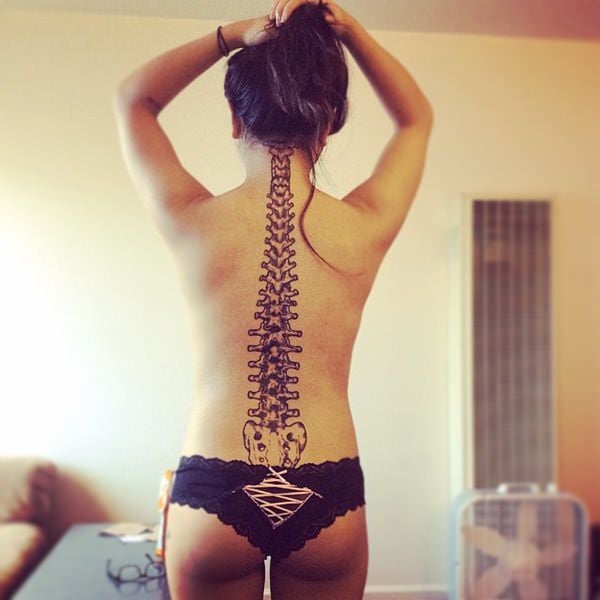 11. Scroll Designs
A thin tattoo design that goes from top to bottom. A beautiful design that you are sure to love.
12. The Eclipse
Another moon design example but this one is the process of the eclipse. It's unique and beautiful.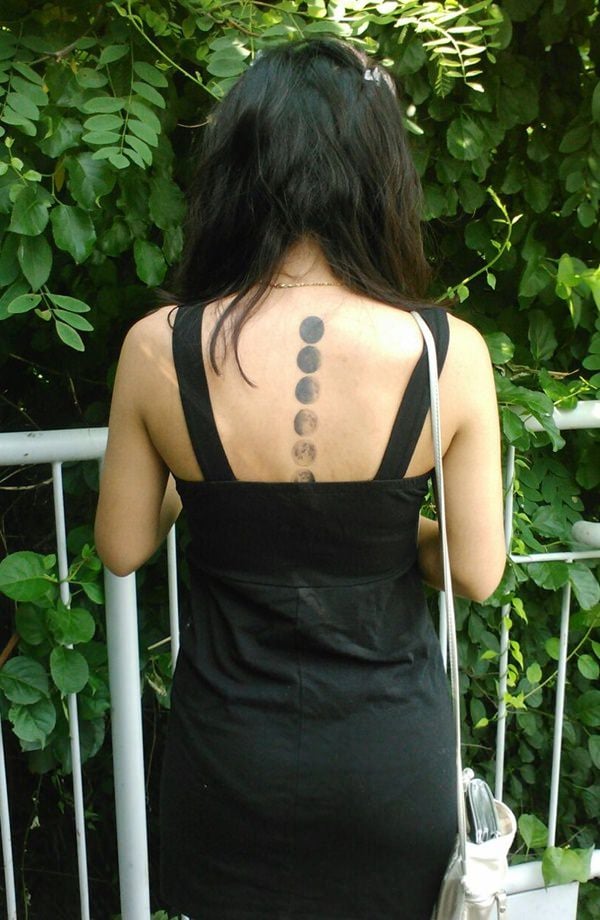 13. Personal Messages
Choose a personal message that means something to you and have it tattooed vertically on your spine.
14. Thick Spines
Another example of a spine design but this one is much thicker and wider than the other.
15. Element Designs
You can add many elements to the spine tattoo just like this one. There is the backbone design, but the girl has added ribbons and flowers to create her own unique design.
16. Space Designs
This design looks like it's from space or an alien design, either way, it looks pretty cool.
17. Planets
A spine design that has many different planets all along the spine. It's a colorful and gorgeous design.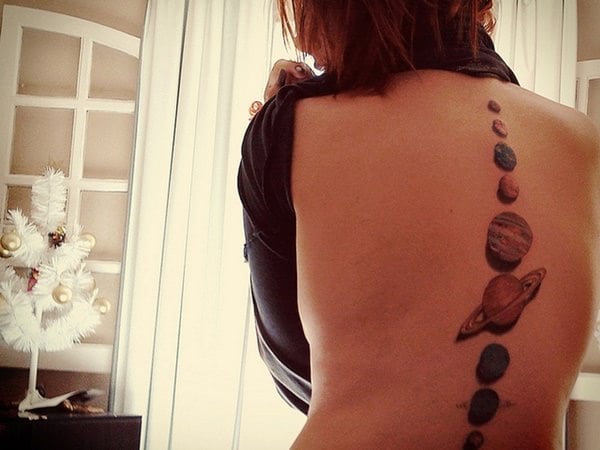 18. Shapes
A cool design that is made up of many different shapes.
19. Literary Designs
This design is unique and very awesome. It could be a literary design based on all the books, but it may also represent mathematical formulas because of all the numbers on the book bindings.
20. Pointing Spine
This backbone design has a point at the top, like a sword. It's truly a special design.
21. Caligraphy 
This message is tattooed in writing, which gives it an elegant style to it. The beautiful writing down the spine really makes the overall tattoo special.
22. Special Tattoos
This thick tattoo design is very unique, and it goes from top to bottom. As you get to the lower back, it widens into a different design idea.
23. Pretty Tattoos
Beautiful tattoo designs that are all combined together to make a stunning spine design.
24. Tribal Tattoos
A smaller version of the spine tattoos if you don't want a large tattoo.
25. Medieval Designs
If you are looking for a large badass tattoo, then you are sure to love this one. It's large and in charge, a wonderful design.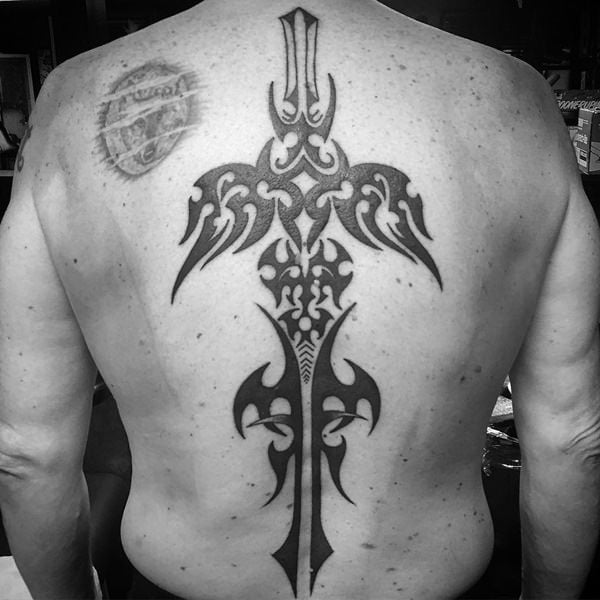 26. Floral Tattoos
This swirling floral design makes it's way up the spine. There are other elements like butterflies that make the tattoo even more beautiful.
27. Paw Prints
This spine tattoo is made up of paw prints that walk themselves up the spine. At the end, there is a heart to show your love for your pet.
28. Geometric Designs
I love the bright colors that are involved with this beautiful tattoo designs. If you want a tattoo that is different then this is the one for you.
29. Beautiful Flowers
These blossoming daisies are all over her spine, and they are small and large. It's a detailed design of flowers in bloom.
30. Unique Tattoos
An unusual design that is truly one cool looking tattoo. If you want something that is going to draw the eye, then this is it.
31. Bone Pieces
This backbone design is in pieces, a wonderful design for someone who wants a different tattoo idea.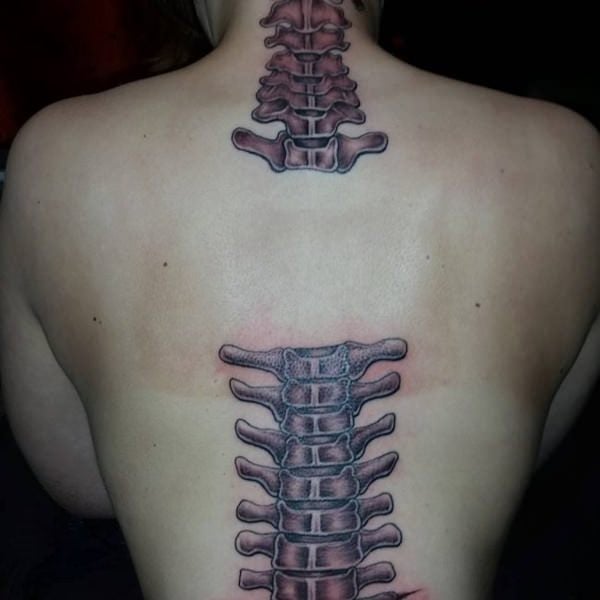 32. The Reflection
This knife design has a reflection of a woman on it. Judging by the inscription on the side it could be in remembrance of someone who passed away.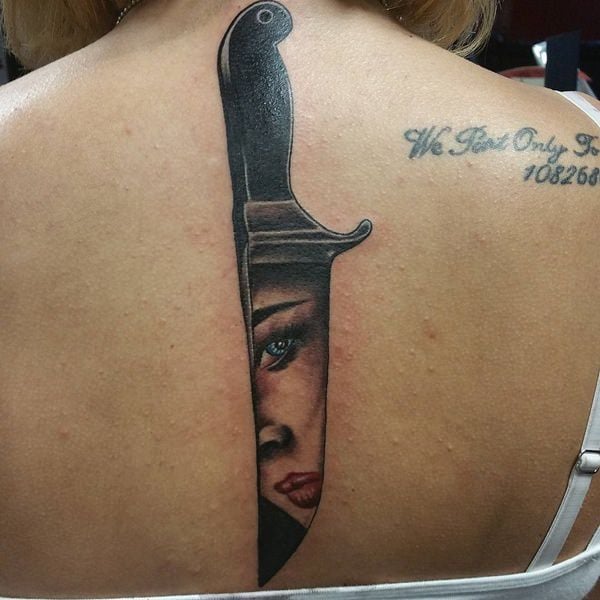 33. Thin Lines
This tattoo is very delicate; the design is made up of a lot of small thin lines. It's elegant and beautiful.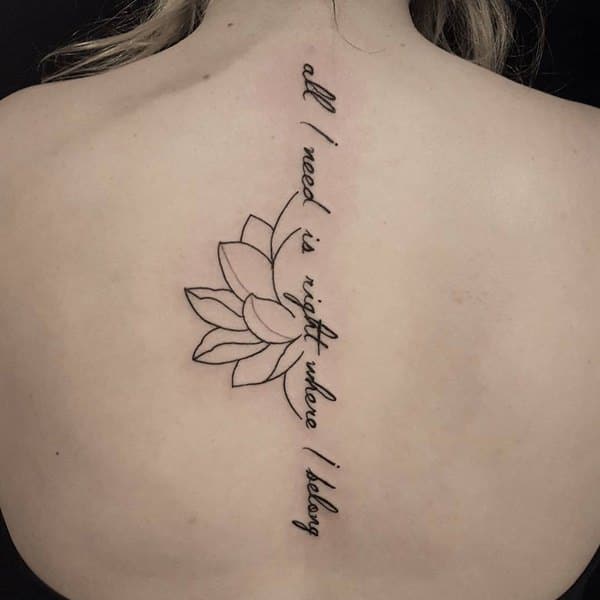 34. Stunning Lines
This backbone tattoo is a little more unusual. It goes from top to bottom, and the lines are thick and original.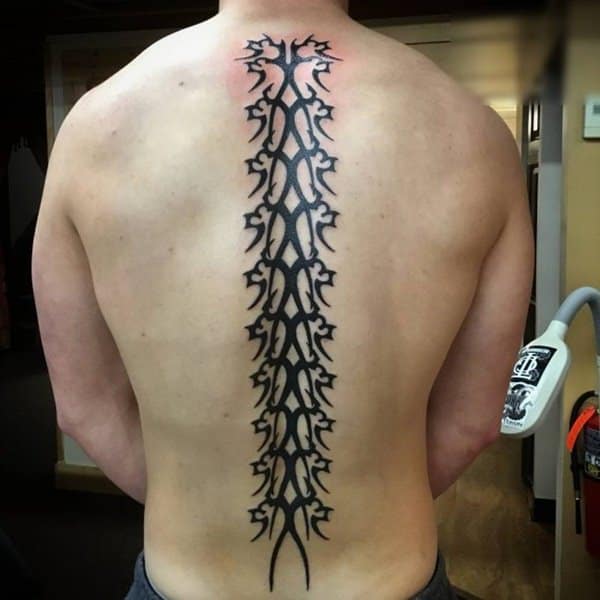 35. Striking Designs
It's delicate and beautiful, a tattoo design you don't see every day. It's very detailed; you won't find a more intricate design that this one.
36. Spine Writing
A simple line of writing down the spine, it's unique and elegant. If you want a delicate design that this is it.
37. Feather Love
A delicate feather design that is held together by a rope. I love the detail with the rope design.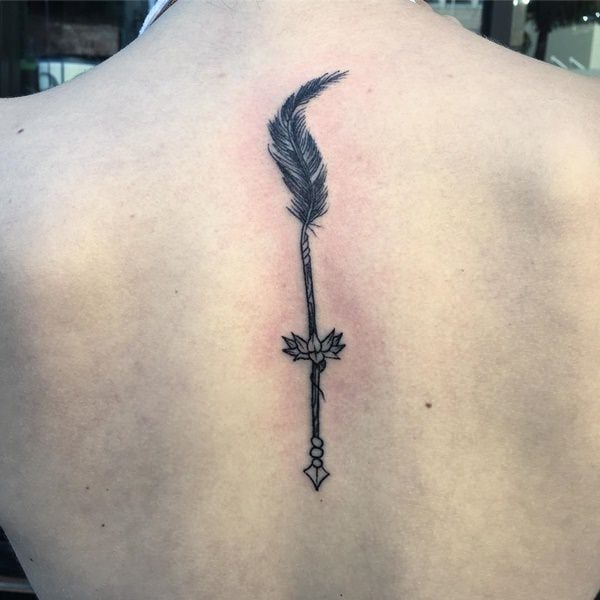 38. Tribal Designs
There is a lot going on with this tattoo design. There are arrows, birds as well as many other elements. A great design that is truly unique.
39. Geometric Symbols
These geometric shapes are amazing when put together. It's unique, and the different colors are truly amazing. If you want a design that is truly stunning, then you are sure to love this one.
40. Bone Structure
This tattoo is all about the end of days. It looks as if some disease or virus has eaten away at his back. It's very detailed, and he really looks quite horrifying. It's a badass design that is sure to draw some attention at the beach.
41. Red Rose
This bright red rose, just jumps off the skin. Not only is it beautiful but it's a striking design that is very eye-catching. I love how the stem goes down the spine in a unique way.
42. Simple Messages
If you don't want a large tattoo design than this one is perfect for you. It sits in the middle of the back, and it's simple for someone who isn't looking for something big.
43. Different Symbols
These geometric shapes and symbols have meaning behind them. They are truly unique if you are looking for a cool design.
44. Backbone Love
Another example of a backbone tattoo design and this one is large and more voluptuous. The bones look more like balloons which make the style very different. If you are looking for an original design then this would be it.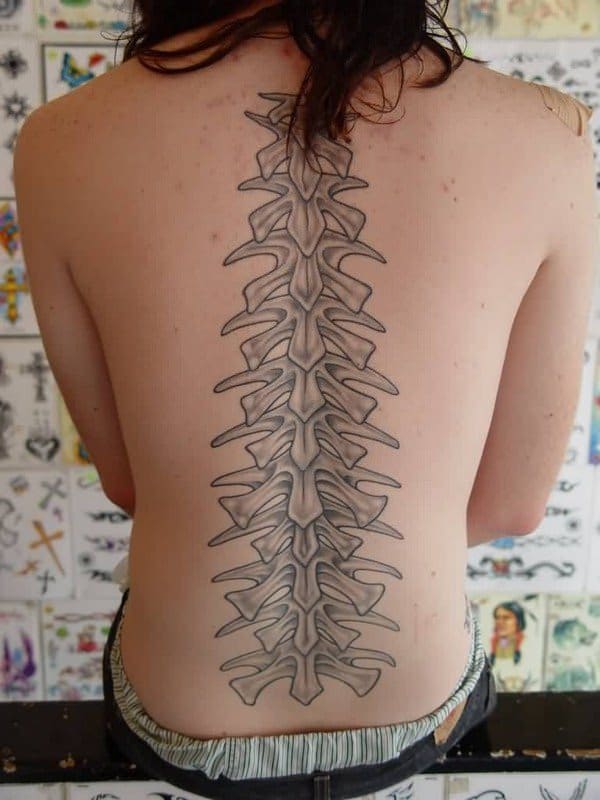 45. Angel Wings
The angel wings are just part of the tattoo design, and the inscription that is on the spine is something completely different. If you want an eye-catching design then this is it.
46. Rose Designs
Another example of a rose design that goes from the neck down the spine. The bright coloring is sure to bring a smile to your face.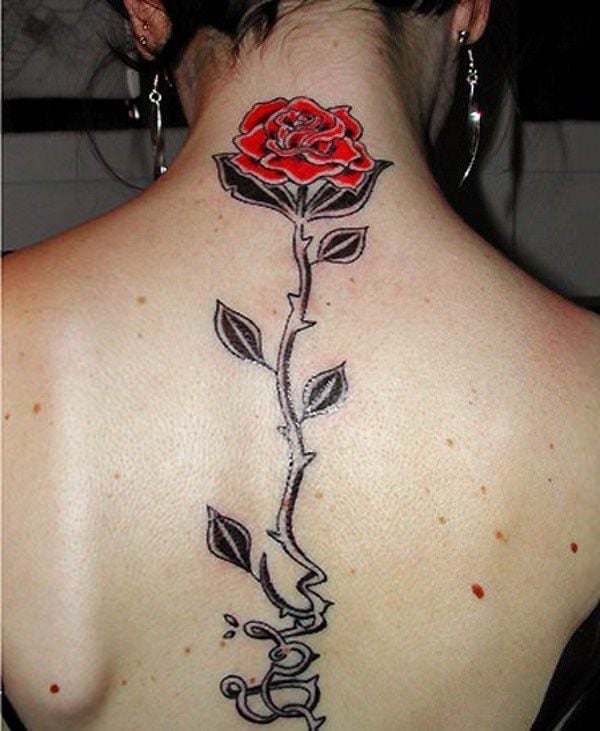 47. Alien Eyes
If you are looking for a truly different backbone design then you will love this one. There are skulls, and eyeballs that peek through the spine.