If you are looking for a floral design that has some meaning to it then look no further than a cherry blossom tattoo as it is full of meaning. Not to mention that they are one of the most stunning flowers in the world. They are charming and unique a real eye-catching flower. The soft pinks and red hues that make them unique are truly beautiful. They are the kind of designs that are created because of their uniqueness.
The special part about a cherry blossom tattoo is that they are only around in the spring. You don't get to see them very much because they are just there for one season. Many people get these tattoos because of the memories that they bring.
What is a Cherry Blossom?
The Cherry Blossom is widely known in Japan due to their many meanings. People get the cherry blossom tattoo because of the symbolism it represents. They are not only a national symbol for Japan, but they also have lots of festivals throughout the spring to celebrate the flower itself. Talk about amazing! There is symbolism involved with the flower as well as cultural meanings as well. The blossom is a symbol of love and joys, but not just that it's about strengthening the human spirit and celebrating life in general. Because this beautiful flower only blooms in spring, it's supposed to represent how fleeting life could be so everyone should live their life based on that fact.
The Meaning from a Male and Female Perspective
The cherry blossom tattoo isn't just for women; they can be available for men as well. They certainly have strong feminine characteristics which are why women love them, but it's not a tattoo idea that should be generalized. If you are a man and you want the same symbolism than the tattoo can be changed to represent a masculine idea. It depends on what the tattoo means to you no matter what other people think of it. If you want a tattoo that stands for something then that's all that matters.
Male Perspective: You can add elements to a cherry blossom tattoo that makes it more masculine such as skulls, fire or designs that appear more masculine.
Female Perspective: Adding hearts or stars to a cherry blossom tattoo can make it more feminine as well. Many women add butterflies or flowers to it as well.
Cherry Blossoms Represent Femininity and Optimism
The light colors that are representative of the cherry blossom make it easier for women to attach to the design. There is symbolism behind the cherry blossom that many people believe that the design can make a man fall in love with a woman because of the power behind the flower. It's because the flower is so beautiful that it leaves people in awe and they can't help but stare at the design or flower itself for a long time. The cherry blossom is connected to emotions and love.
The flower itself represents new hope and new beginnings. Many people get the design because they need a fresh start in life and the blossom represents that. It's about the courage you need to make a fresh start or come around to a new decision. It's about optimism and being optimistic for a fresh start in life.
Cherry Blossoms Represent Morality and Religion
When it comes to religion or spiritualism, the cherry blossom is supposed to represent enlightenment. It's all about standing up for what you believe and walking towards the light. It's about not taking your life for granted and to live it based on the fact that life is short. Life is sweet and short, and the cherry blossom represents that life should be lived to the fullest and cherished. Not only that but it represents wisdom in your life. If you are facing challenges or life lessons, the cherry blossom can remind you that you can overcome anything in life. Nothing is too hard to get through. It's about learning to deal with what happens in your life and getting through no matter what you face.
The lifespan of a cherry blossom is short. It blooms, flourishes as only this flower knows how to do and then it dies, often suddenly and unexpectedly. It only has one chance to lie, and then it disappears, which is why it represents life in general because life too can seem to be fleeting at times. There are so many meanings to the cherry blossom, and one of them is that you should always be humble and to protect life at all costs.
If you are looking for a cherry blossom tattoo, then you have come to the right place for plenty of ideas. Below are 69 Gorgeous Cherry Blossom Tattoo Ideas For Your Next Ink:
1. Cartoon Designs
A unique design of cartoon cherry blossoms. I love the little bee that creeps up on the flower.
2. Ribcage Tattoos
The cherry blossoms are a large tattoo that trails down the ribcage; they are beautiful.
3. Bright Colors
The cherry blossom tree is all about time and the colors on the tattoo are incredibly amazing.
4. Tiger Designs
There are cherry blossoms falling all around this beautiful tiger.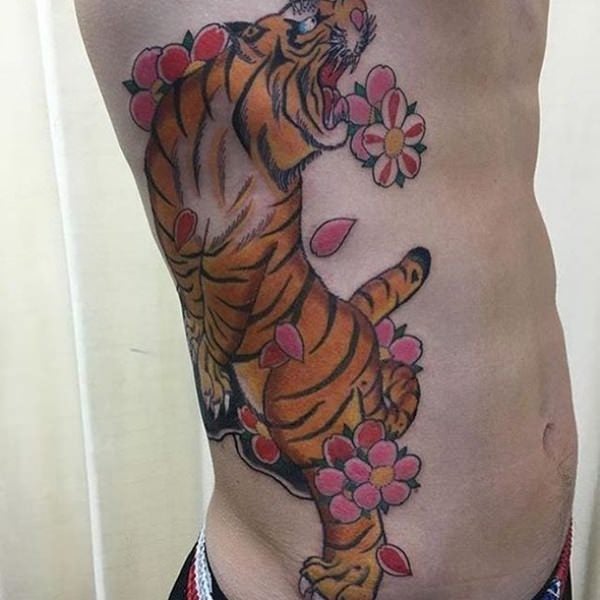 5. Chinese Lettering
You can add other elements to your cherry blossom tattoo to make it more original for you.
6. Flying Away
These cherry blossoms are bright and beautiful. If you look off to the left side, you can see something has flown away, possibly a bee or a butterfly.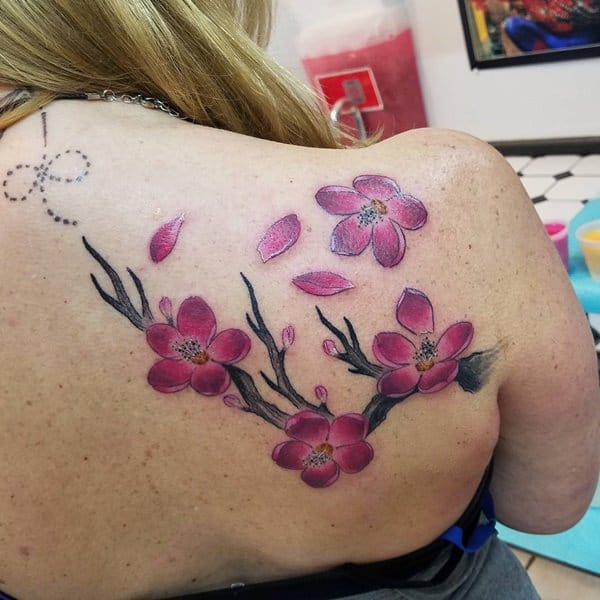 7. Japanese Drawings
This Japanese image is amongst the cherry blossoms, creating an unusual design.
8. Humorous Images
A kitty is drinking a Japanese beer amongst some cherry blossoms; it also has a bib on. You don't get much more original than that.
9. Purple Owl
The cherry blossoms are in the foreground of the tattoo, almost as a backdrop. It's the owl in the design that shines the most.
10. Sleeve Tattoos
This sleeve tattoo is all cherry blossoms along the arm.
11. Back Tattoos
If you are looking for a large tattoo, then consider this cherry blossom tree. It has a thick trunk, and the blossoms are all over it.
12. Dream Catcher
This beautiful dreamcatcher has cherry blossom on the top creating a very feminine look.
13. Snake Designs
If you want a masculine cherry blossom design then just add a snake with an arrow through its head.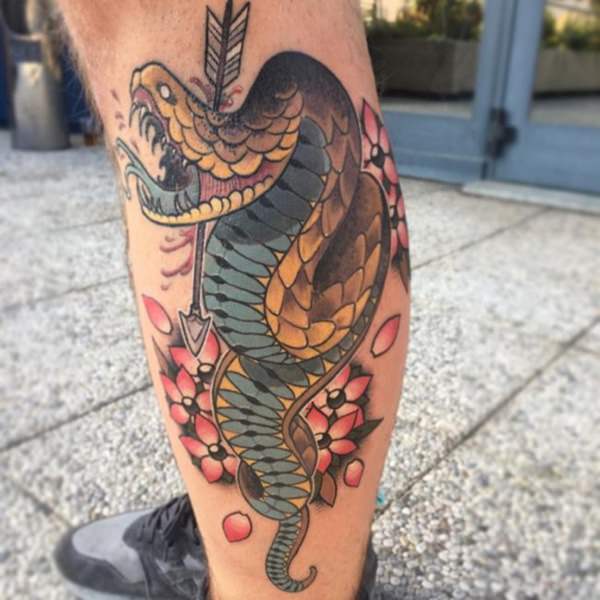 14. The Art Work
These cherry blossoms look more like a painting, and the colors are beautiful together.
15. Cherry Blossoms
If you are looking for a larger design, then try a sleeve tattoo.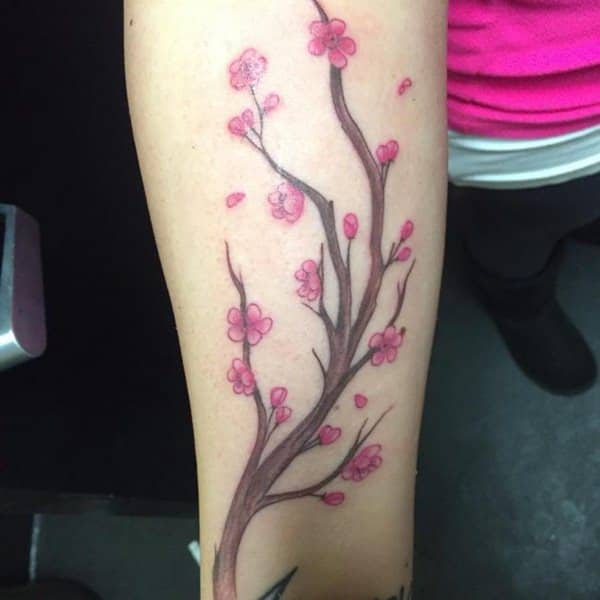 16. Striking Designs
These cherry blossoms are sure striking as they creep along her midsection.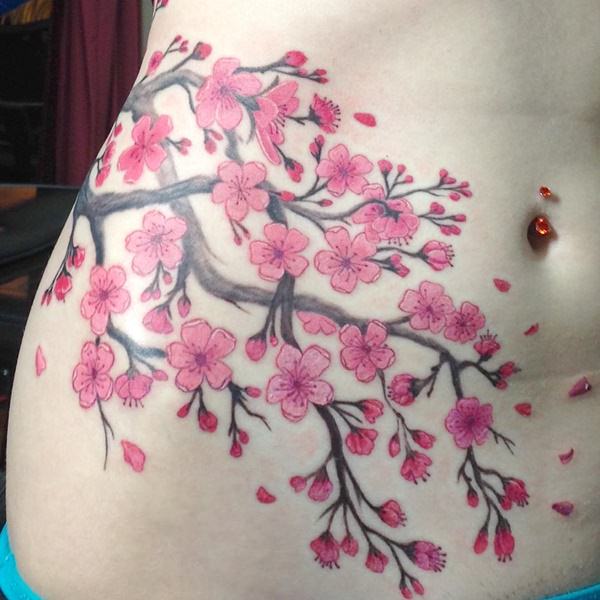 17. Pink Explosion
These cherry blossoms are colored pink, and they are blowing in the wind a long her back and neck.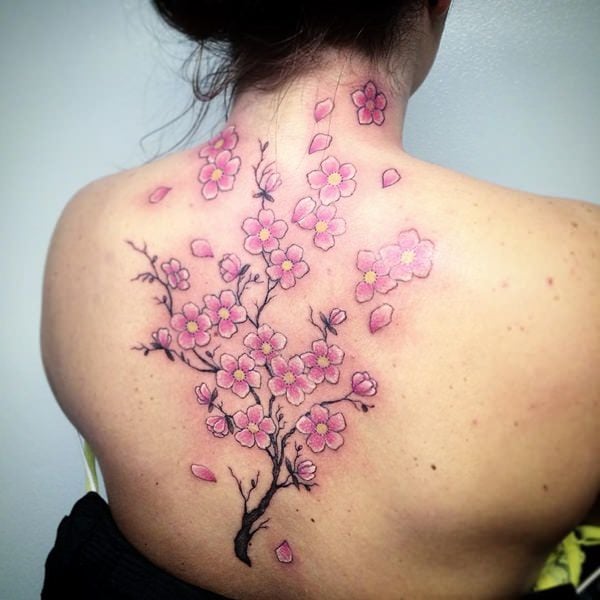 18. Two Blossoms
If you want a more simple design then try two blossoms together. There isn't a lot of detail to the design either.
19. Jewelry Designs
These blossoms are connected like jewelry, the way they are arranged brings out an elegance to the design.
20. Other Languages
Try a quote in your native language and surround it with cherry blossoms.
21. Bright Neon Colors
This design has been changed to have the cherry blossoms in bright neon colors.
22. Just a Branch
A branch that has a few apple blossoms attached to it. These tattoos can be placed just about anywhere.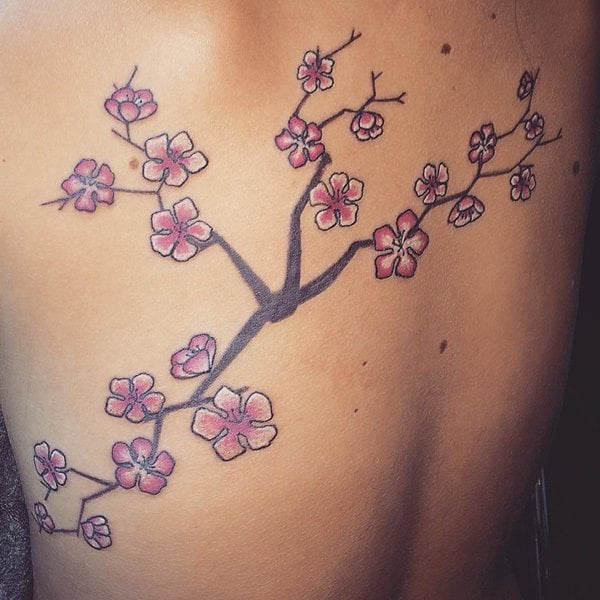 23. Different Colors
If you want a different look than the traditional cherry blossoms then just change the colors like in this sleeve design.
24. Small Designs
A small design consisting of a few cherry blossoms.
25. Striking Colors
These cherry blossoms are striking in color, the brightness of this design is sure to draw the eye.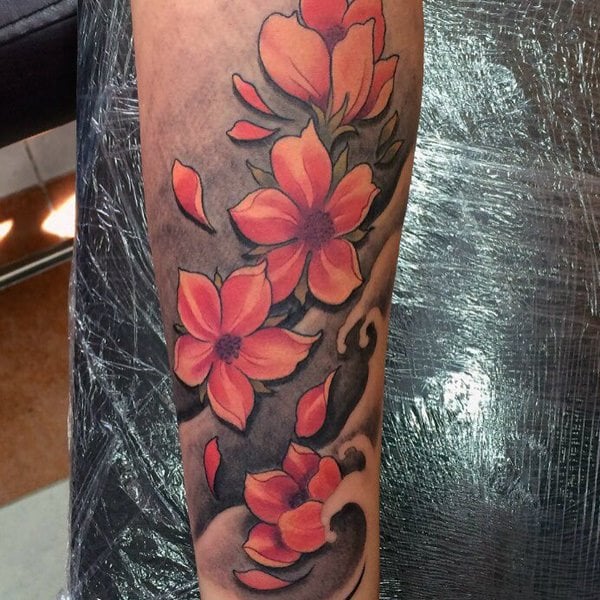 26. Creative Designs
These designs are like artwork; cherry blossoms can be made in any type of design and color to suit your taste.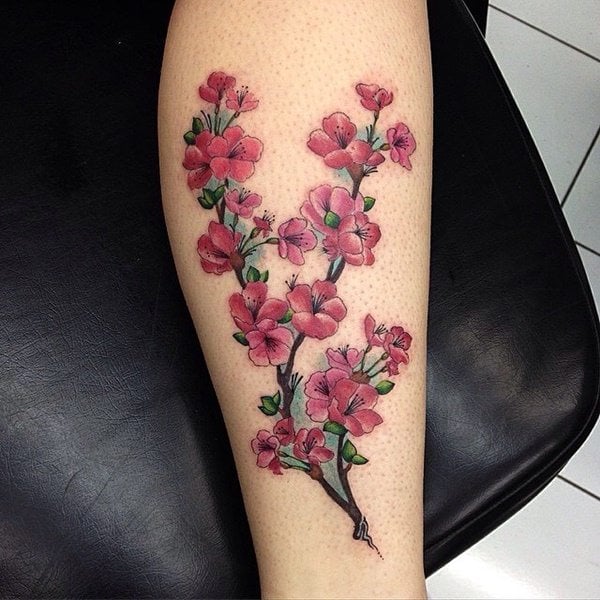 27. Shoulder Tattoos
Bright cherry blossoms that surround the shoulder and chest.
28. Stunning Designs
Cherry blossom designs with a personal and spiritual message.
29. Spiritual Symbols
A spiritual symbol that is surrounded by cherry blossoms.
30. Branch Designs
Another example of a traditional design for the cherry blossom tattoo.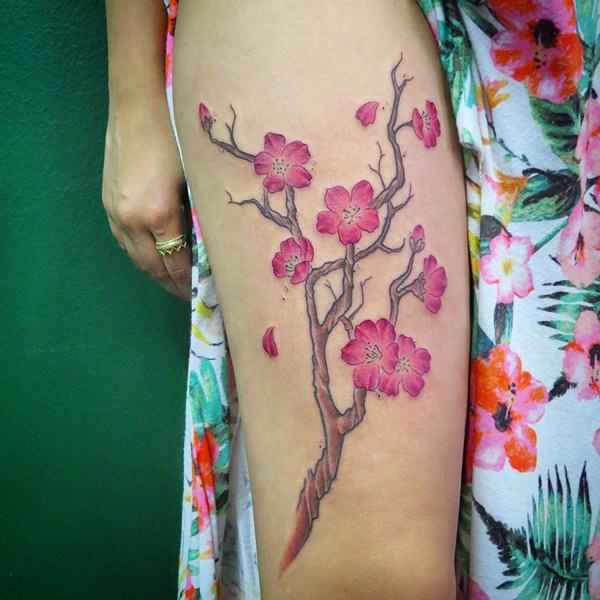 31. Soft Pinks
A simple design that is created with a soft pink coloring. It is a small design if you are looking to stay simplistic.
32. Beautiful Coloring
This cherry blossom design is made up of very bright colored blossoms. They are sure to catch your eye.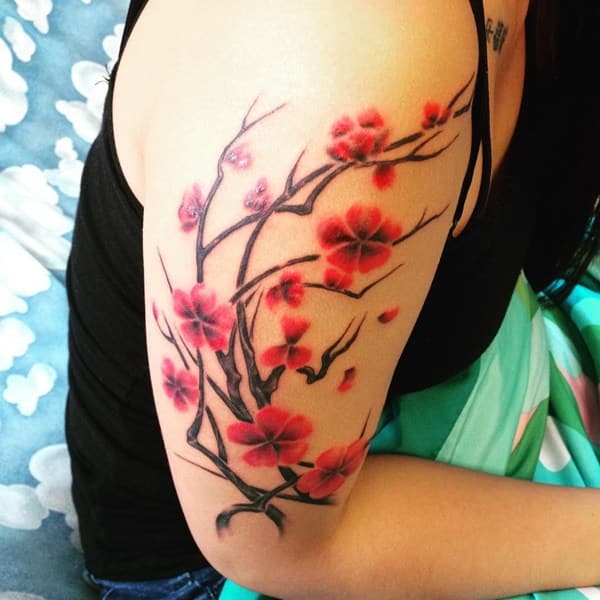 33. Cartoon Blossoms
This cartoon design has many different elements with the blossoms.
34. Strong Designs
A sleeve design of a strong tree with the cherry blossoms amongst the branches.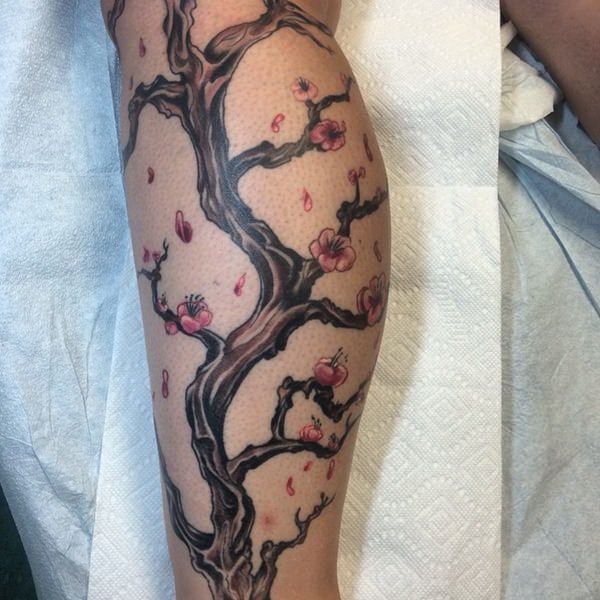 35. Big Blossoms
A great design that has the blossoms blooming and proud.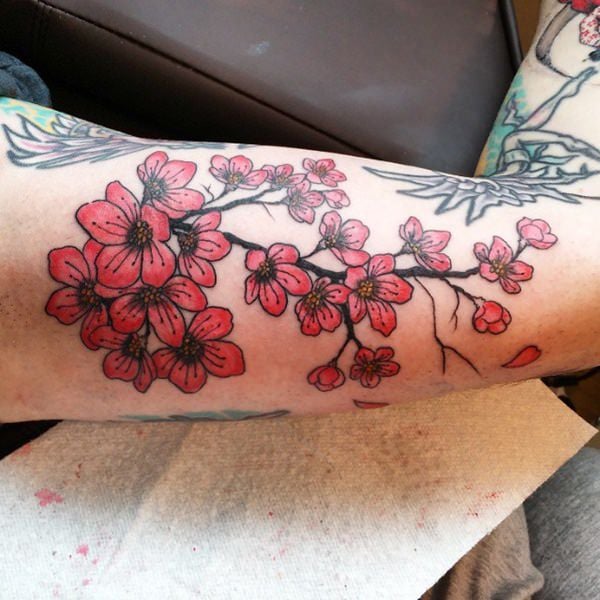 36. Different Blossoms
These blossoms look amazing because they are a little different from the traditional blossom.
37. Bright and Beautiful
A great shoulder tattoo that has the branches creeping to the front.
38. Black and White
A simple design that still represents the meaning behind the cherry blossom.
39. Double Designs
These matching designs compliment each arm, bringing out a wonderful design.
40. Simple Drawing
A simple example of a few cherry blossoms and they are tickled in pink.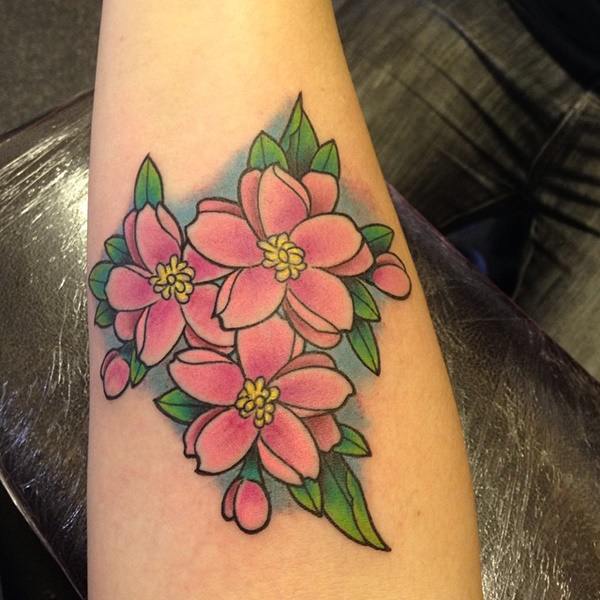 41. Be Grateful
A great positive message that is surrounded by blossoms with a bright pink coloring.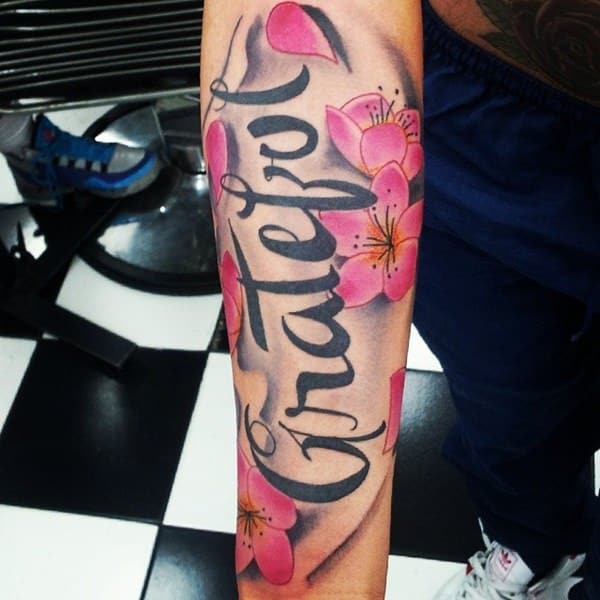 42. Bright Pink
These flowers are so bright that they pop off the skin. If you are looking for a great design, then you are sure to love this one.
43. Foot Tattoos
A great tattoo design that is small and can fit easily on the foot.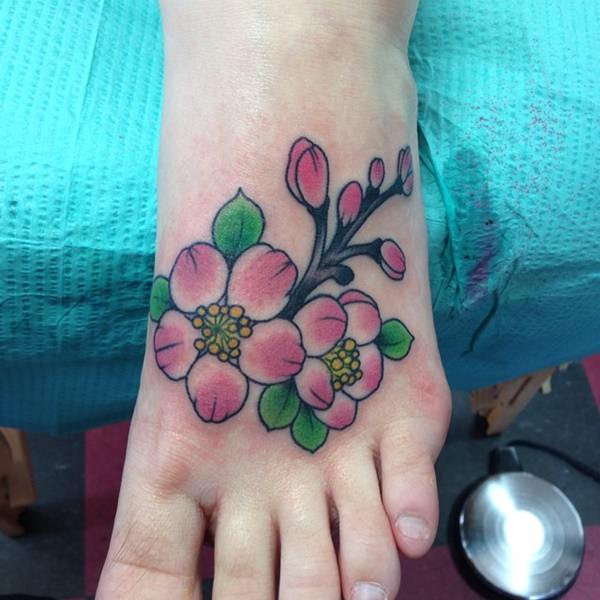 44. Multiple Colors
There are many different colors that complement each other. There is some Japanese symbolism on the side as well. The blossoms have a different design, but it makes for a beautiful tattoo.
45. Outline Designs
A simple outline design with a splash of color. I love the blue and pink together.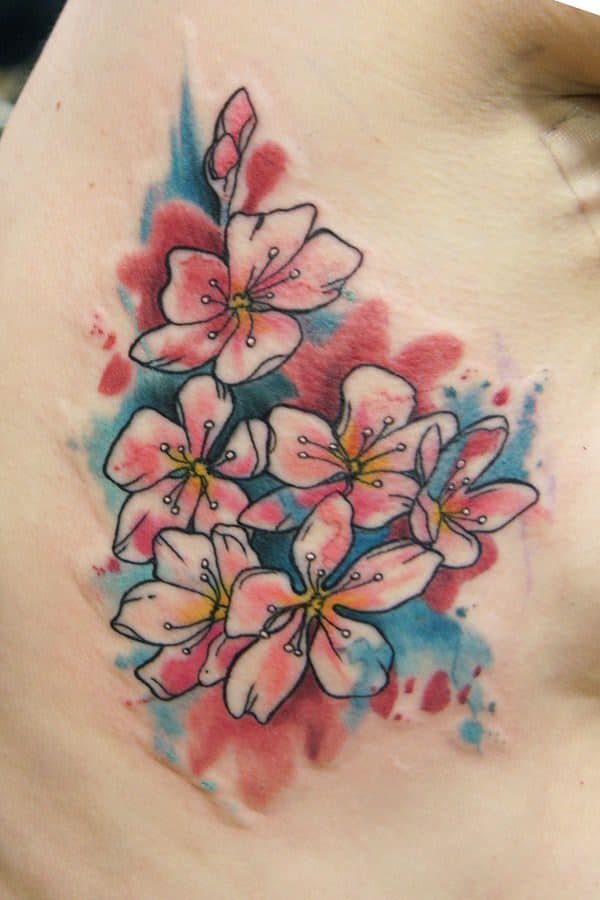 46. Make a Message
A traditional design with a message.
47. Bold Blossoms
A bold design that doesn't have a lot of detail to it. There is a lot of simplicity to the design.
48. Add Something
This is the same tattoo as before, but they have now added a personal message to it. A great design that is made better by the message.
49. Faded Flowers
These flowers have a faded look that is breathtaking. They have added a personal message to it.
50. No Detail
A simple shoulder design that doesn't have a lot of detail to it.
51. Beautiful Colors
A large tattoo design that has colors together that are very complementary.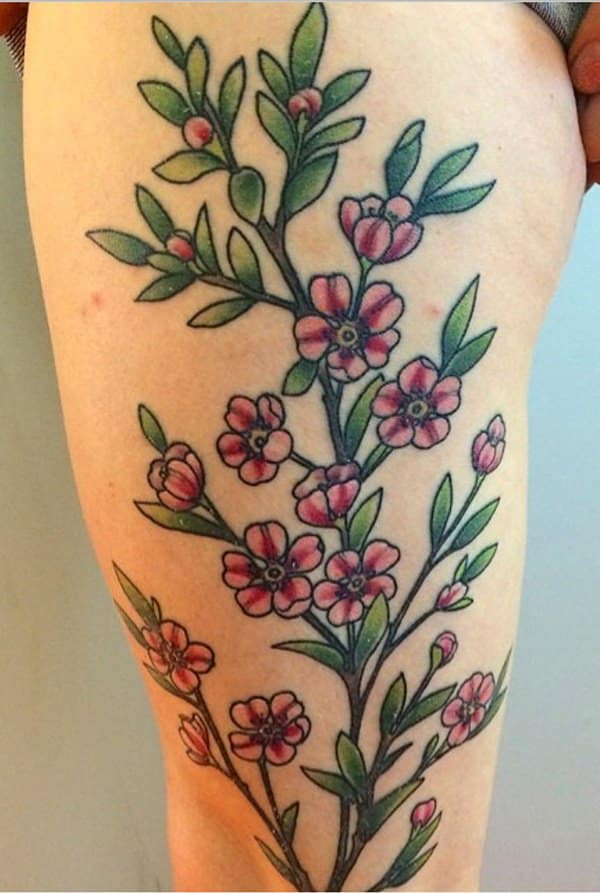 52. Splashes of Color
This design is more about the splashes of color than anything else. There is no detail in the blossoms just bold colors.
53. Different Styles
The cherry blossoms can come in many different styles, and this is a different one.
54. A Portrait
This is a very different design that looks great with the cherry blossoms.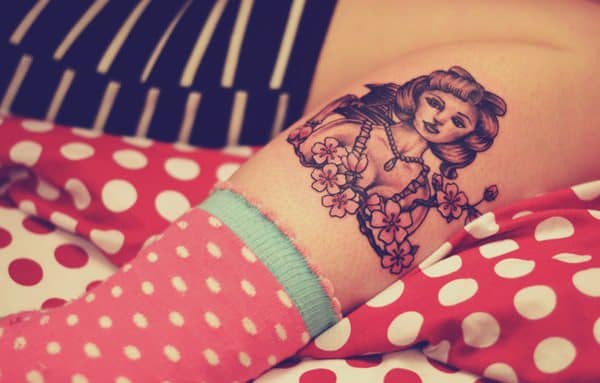 55. Bold Blue
I love the bold blue coloring that is part of this tattoo design, it looks incredible.
56. Soft Designs
I love these soft colors between the cherry blossoms and the hummingbird. Everything goes well together with this design.
57. Pink & Black
The color combination here is just amazing; I love all the colors together. The style is breathtaking, and it makes for a great ribcage tattoo.
58. Basic Designs
A design doesn't need to have a lot of detail to be amazing.
59. Zig-zag Branches
This unusual design has the branches reaching out in a very different way; the trunk is quite thick as well.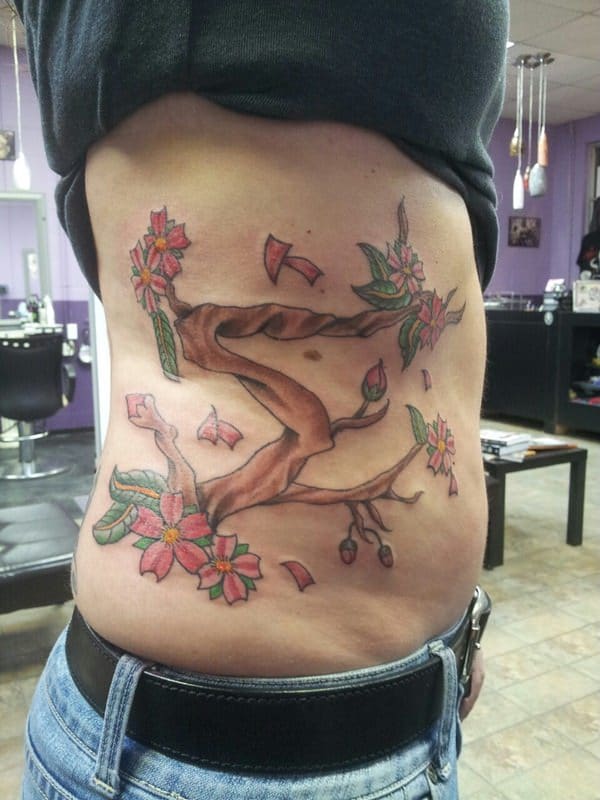 60. No Outline
You can give your tattoo a mysterious vibe by leaving out the outline around the tattoo.
61. Back Tattoo
Another example of a traditional cherry blossom design.
62. Aliens
She added some aliens to the cherry blossom tree to create a fun design.
63. Stamped Design
This tattoo looks like the flowers were stamped on to create a different style.
64. Scratchy Drawing
I love this artists design; it's beautiful.
65. Circular Designs
The blossoms haven't bloomed, and there is a robin waiting for it.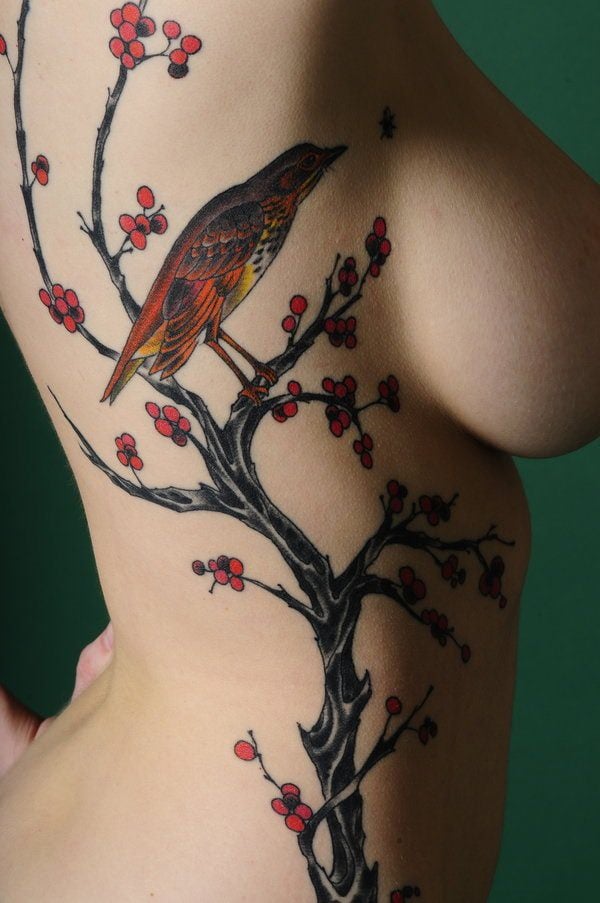 66. Neck Tattoo
Large flowers that trailed up the neck to create a stunning design.
67. Stunning Colors
These stunning hummingbirds are suckling from the beautiful blossoms.
68. Beautiful Art
Stunning tattoos that look like art.
69. Delicate Branch
This branch is delicate and beautiful sitting on the shoulder.