Flutter by butterfly! The butterfly is one of the prettiest and most popular elements that ladies (and some men!) choose to get inked. The pretty creature reminds us all that we've turned from a simple cocoon and emerged a resplendent, beautiful animal. They're everyone's favorite insect, and they make amazing tattoos.
In a recent study conducted over 1000 people in the US it turns out that when it comes to tattoos, women out number men. A total of 59% of women were found to have at least one tattoo versus only 41% with the men. With that in mind we're going to take a look at one of the more popular tattoos among women – the butterfly tattoo.
Now we're not saying that getting a butterfly tattooed on you us unmanly (well it kind of is) but it does go without saying that butterflies are one of the top designs chosen by women to get tattooed on themselves. Why is this? Well obviously they're beautiful, but everyone knows that.
The butterfly also represents love, peace, flight and most of all transformation. Let's remember that the butterfly starts out as a caterpillar and through time evolves in to the beautiful butterfly which we all know and love. This transformation is symbolic to a lot of women that have changed or grown from their past. Sometimes it is as simple as the change from girl to woman or maybe they have overcome a dark period in their life in the past – whatever it is, we don't want to dig too deep in to the meaning behind it all, we just want to go ahead and show you 95 of our favorite butterfly tattoo designs.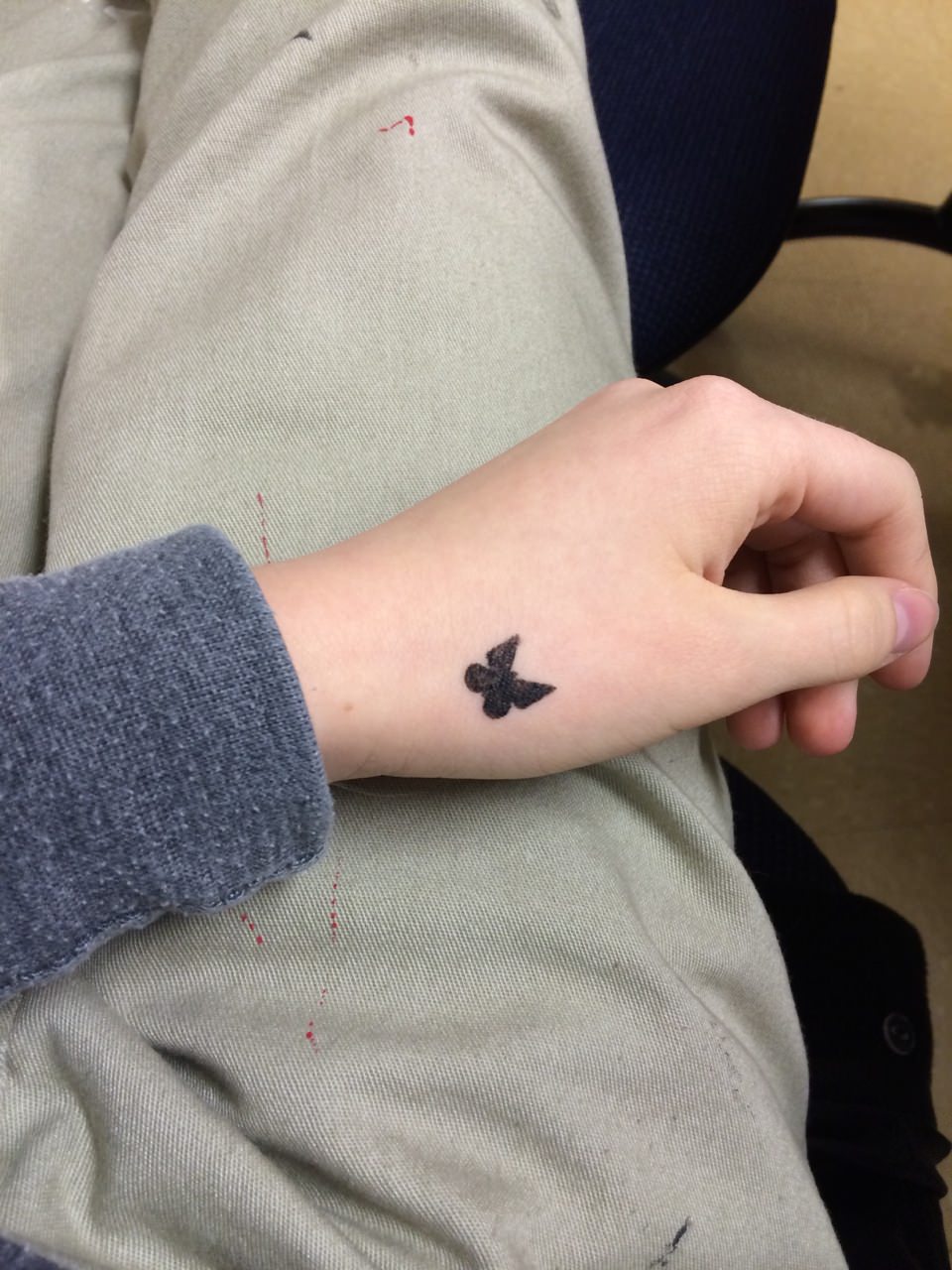 A small, sweet butterfly on the hand doesn't go unnoticed. If you're not feeling so brave as to get a full piece, why not start out with something small like this?
A colorful, above the knee, beautiful monarch butterly looks great in a short skirt like we see in this picture.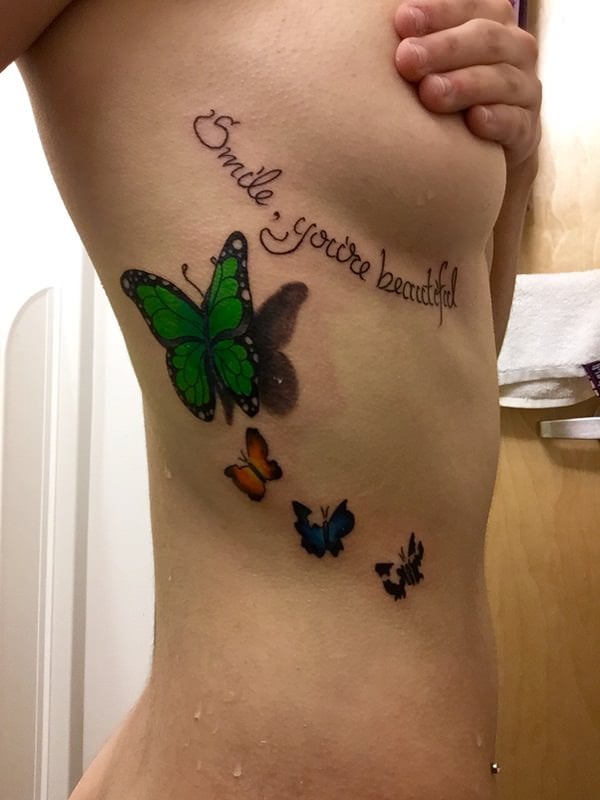 A series of butterflies may be more your style? Make them colorful and vibrant. The ribs is a great placement for it.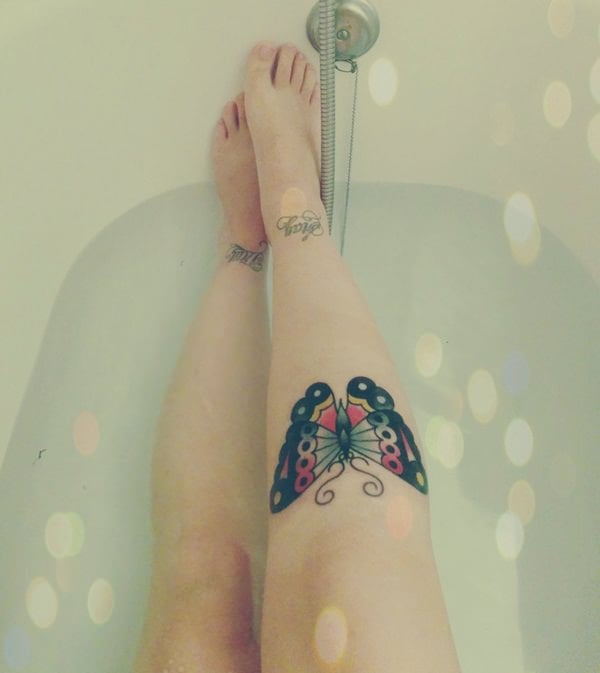 Simple designs might be your thing. This stylized butterfly sits pretty just below the wearer's knee, hinting of more.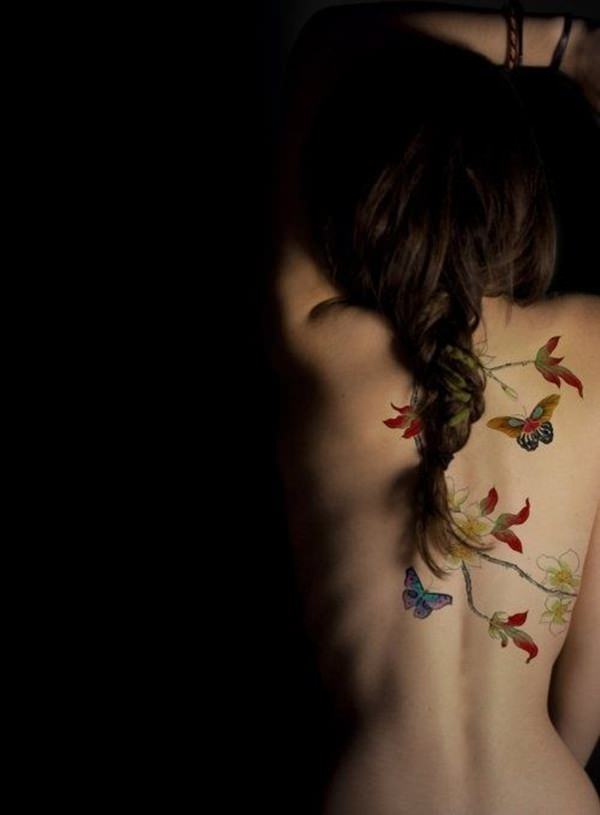 Butterflies and plants go together like milk and cookies. This is an interesting, meandering back piece featuring both.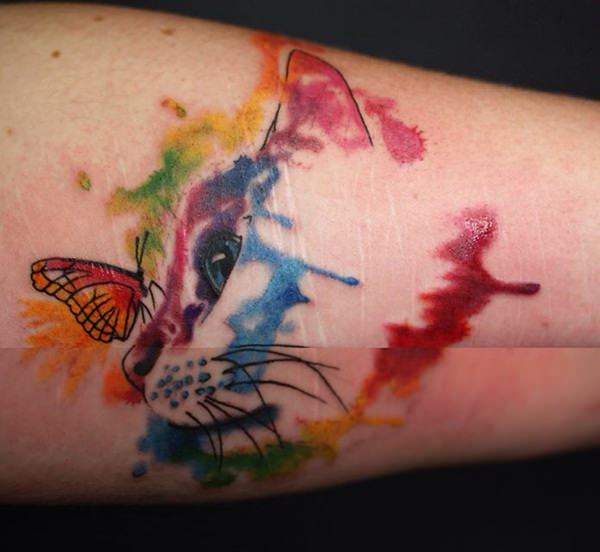 This is an exquisite example of a watercolor tattoo. Have you ever watched a cat play with butterflies? It's a sight to behold!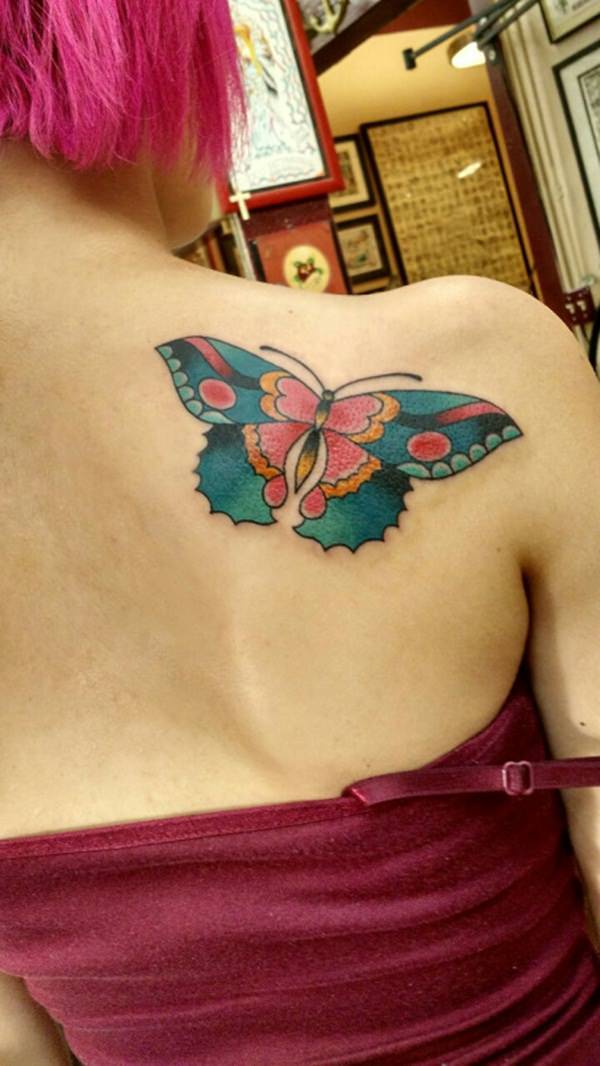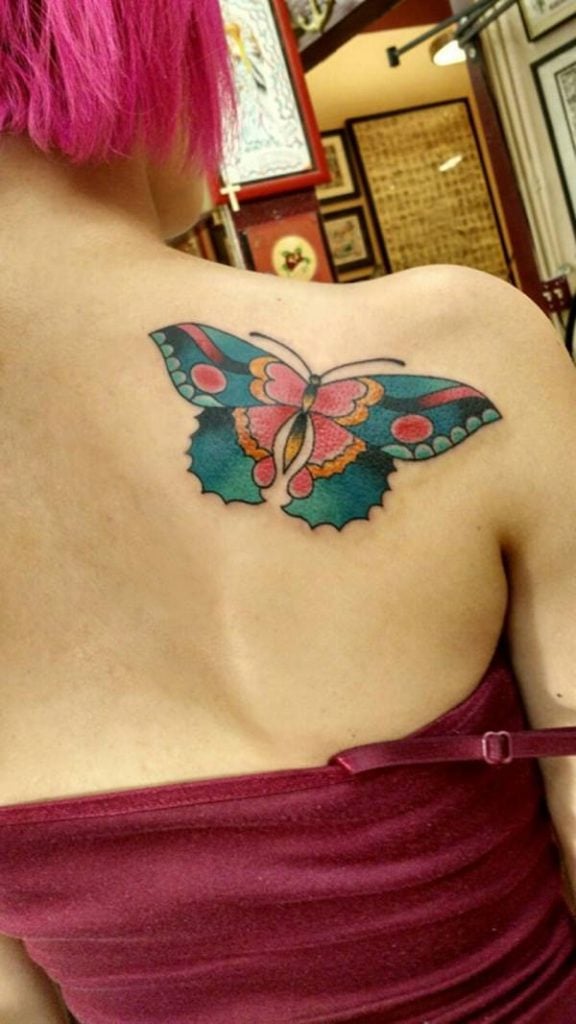 Behind the shoulders are a popular spot for tattooing – beware, you won't be able to check out your tatt yourself easily.
While we usually think of butterflies are colorful animals, you can have just as much of an impact with a black and white tattoo.
Not brave enough to ink? Foil print stick on tattoos are popular for just that reason. Test them out and see what you think.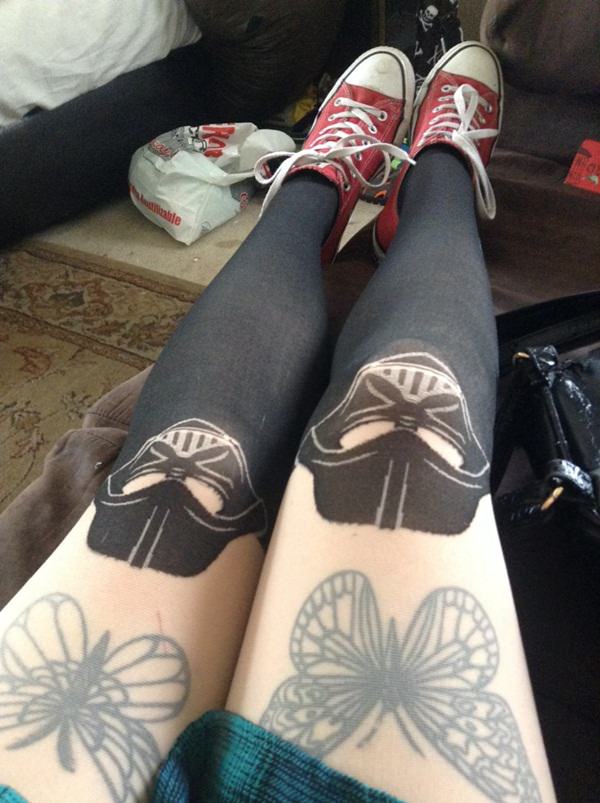 You can see this girl's butterfly tattoos peeping out from benear her cool sheer topped stockings – a great combo.
This beautiful, intricate design is both bold and yet at the same time delicate. See a master tattooist for fine work like this.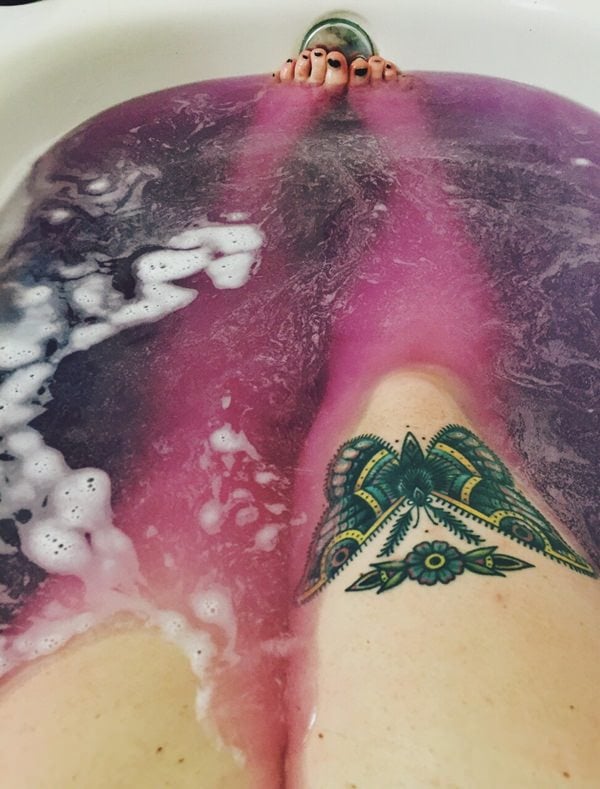 Choose your color schemes wisely when you are designing your tattoo. This one has sumptuous yellows and greens.
Ever noticed how some butterflies look like skulls? Nope? Well neither did we until we saw this dope tatt!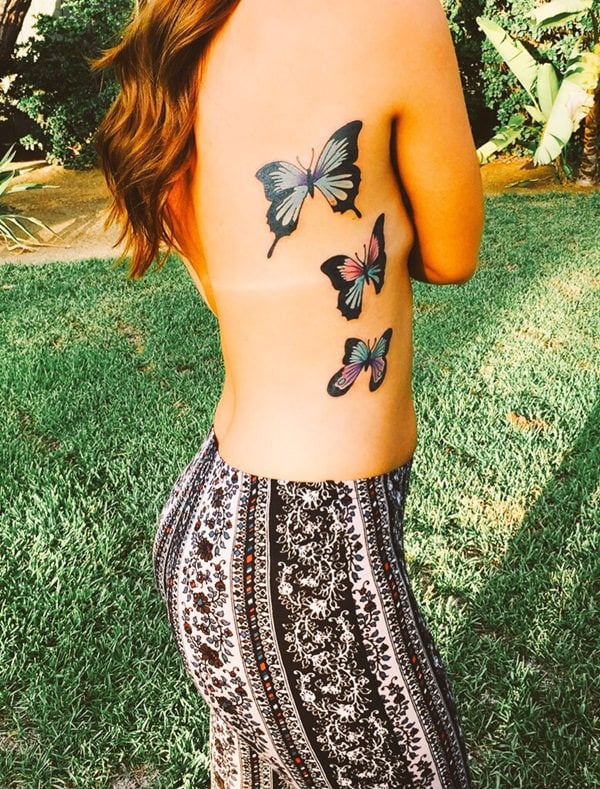 Having a trail of butterflies down your body makes for the ultimate in free spirited tattoos, and doesn't it look awesome?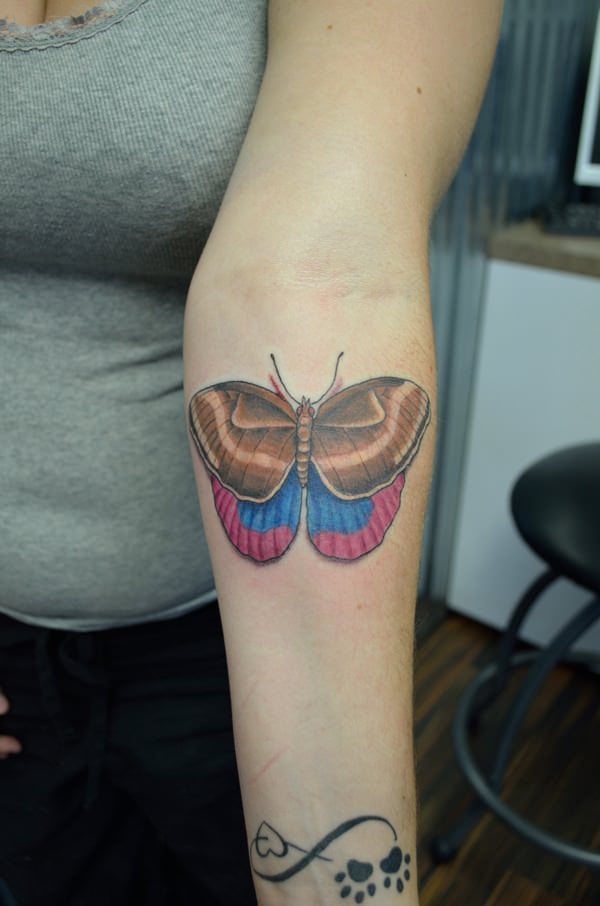 How about a moth for a different take on a butterfly tattoo? Moths aren't just the ugly cousin of the butterfly you know.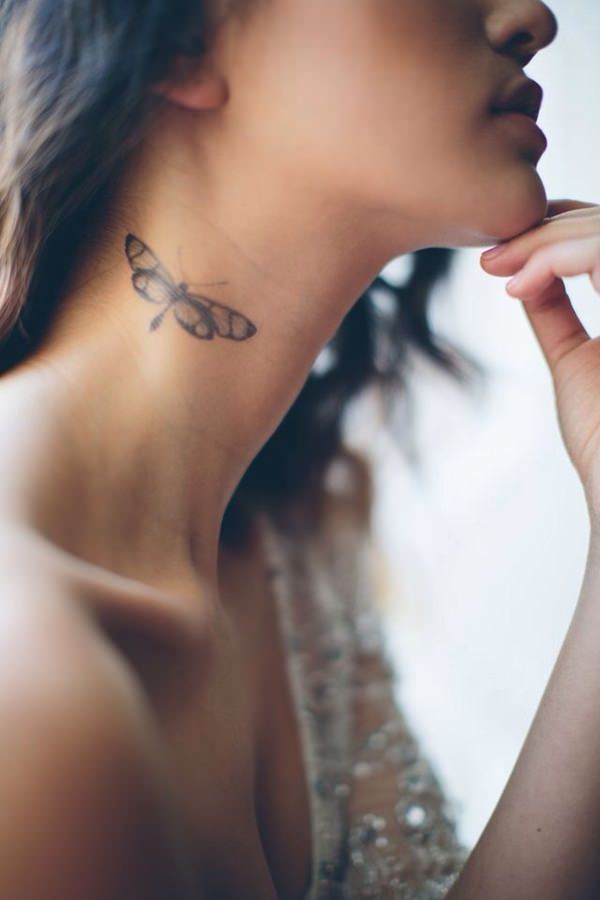 The neck tattoo: not for the faint of heart. Even if it is something as gentle as a butterfly, a neck tatt is always a brave choice.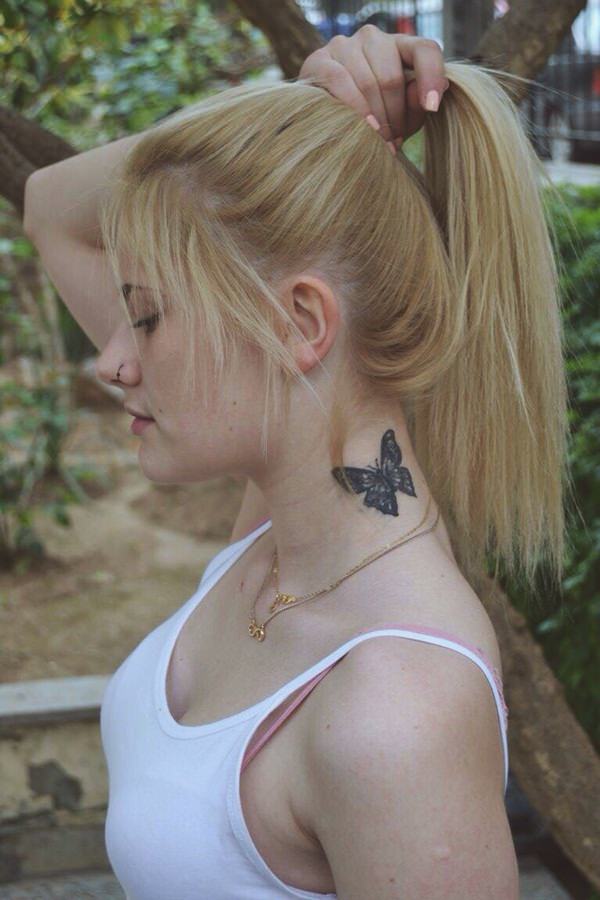 Another neck tatt, however this one is at the back of the neck and can usually be covered by hair if you wish to do so.
This butterfly has a whole lot of different colors going on. It looks alomost like a kaleidescope when you look at it.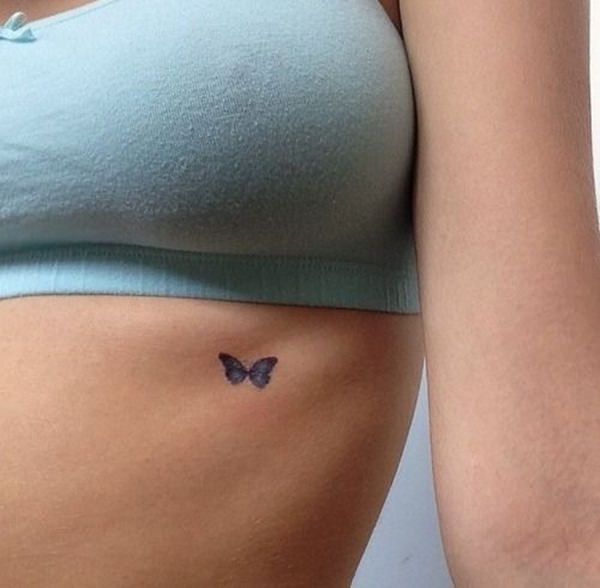 We simply adore these tiny little butterfly tattoos. They are perfect for when you don't want something big, but a subtle new addition.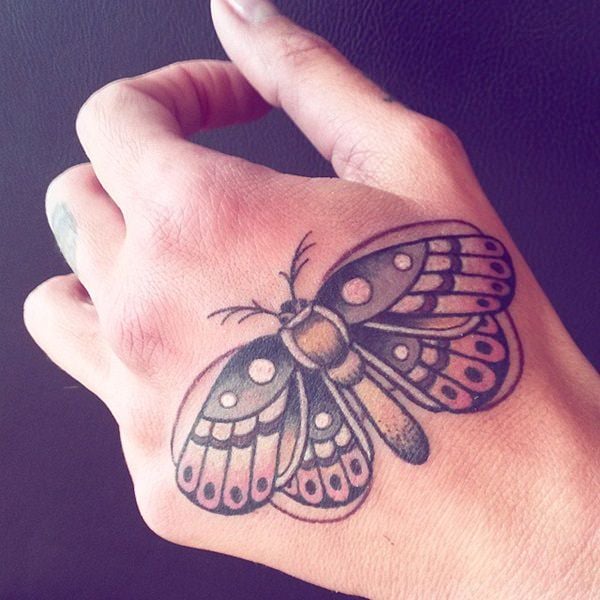 This style of tattoo is very popular the world over. You're able to match up a lot of different designs like this one.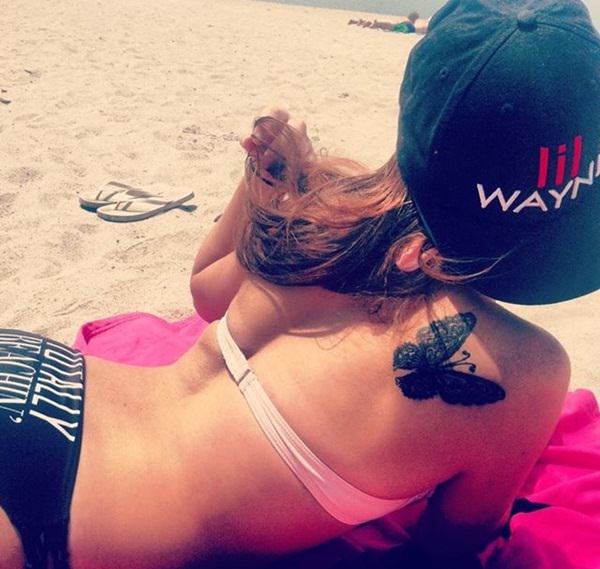 This butterfly tatt is a gorgeous lace design, in simple black. This one would've taken a while in the chair to sit through!
There's nothing cooler than matching tatts on both your arms or both your legs and this is a case in point for sure.
The tatt is absolute cartoon craziness realness! Getting your skull tattooed is probably one of the most extreme body mods.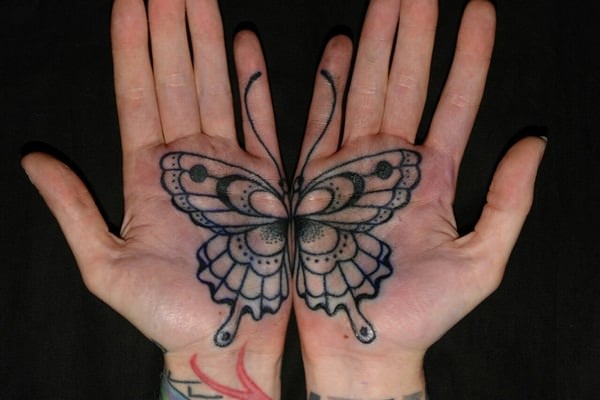 While palm tatts aren't exactly the best know, they can be very visually appearing. Tip: they need top ups more regularly.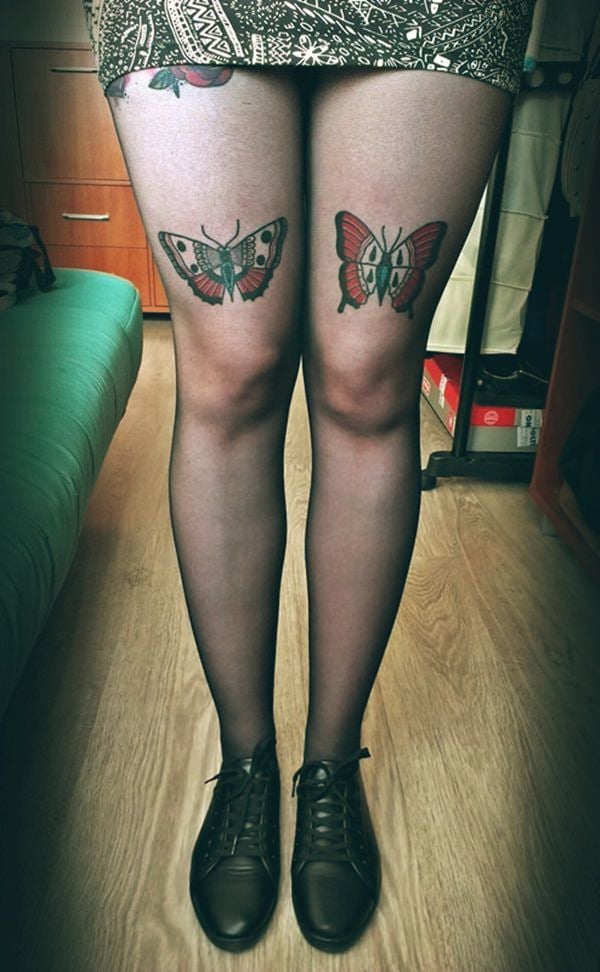 Anoher example of some very cute butterflies above the knees. Perfect for impromptu leg photo shoots of course.
What in the what now??!! This elephant butterfly octopus beast is so out of left field it's just flat out crazy. And cool!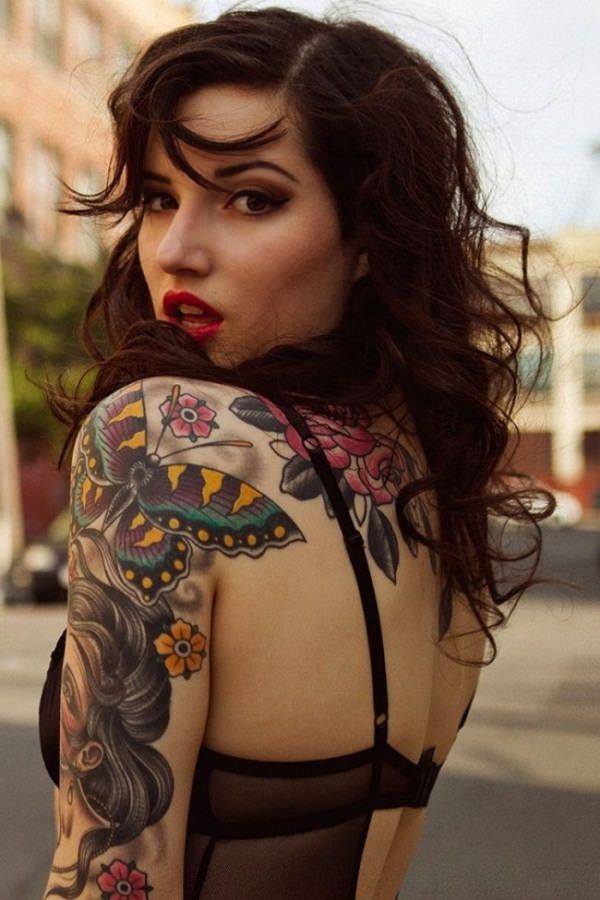 Working your butterfly tattoo into other tatts that you have can pay divedends. This one is super cool with the lady underneath.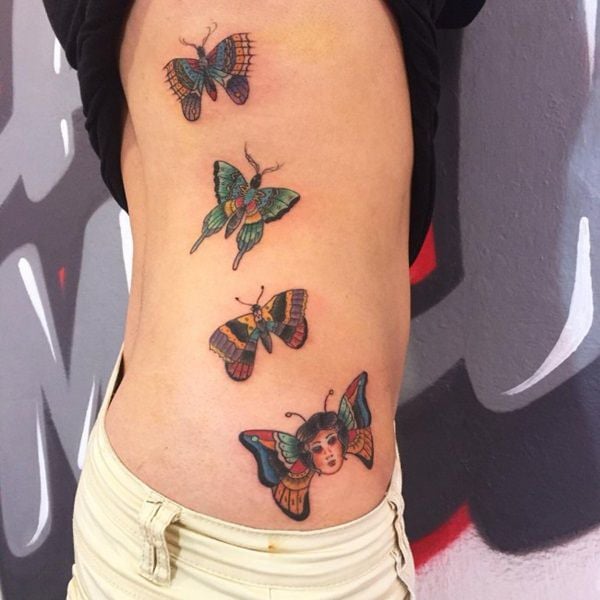 Note the interesting face in the middle of the final butterfly on this girl's torso. Personalization is key to your tattoos.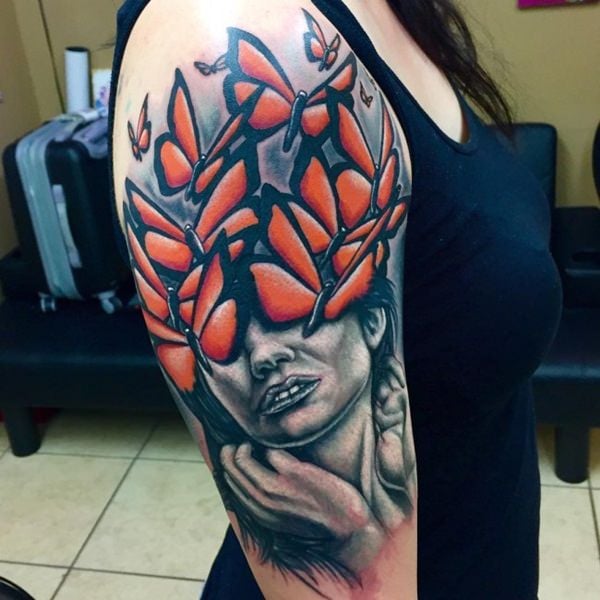 We really love the thought behind this one. The colorful orange butterflies bursting forth from the eyes is truly unique.
Ahhh yes, the lesser known sideways butterfly. This is some really interesting positioning, both in orientation and on the body.
Thi striking butterfly tatt is at the base of the palm in a black outline design. Perfectly Instagram worthy.
This butterfly looks like it's been drawn over the original flowers on the back of the hand here. Not a bad addition to the scene.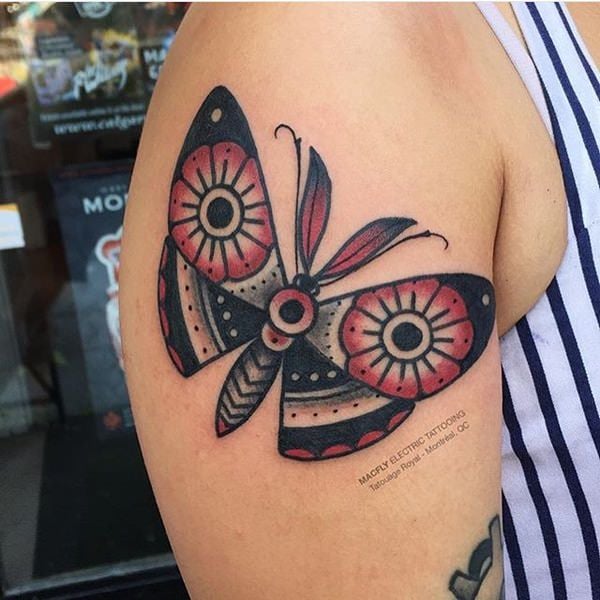 Another tattoo in that very distinctive style. Reds, black, and gray are among the most popular inking colors.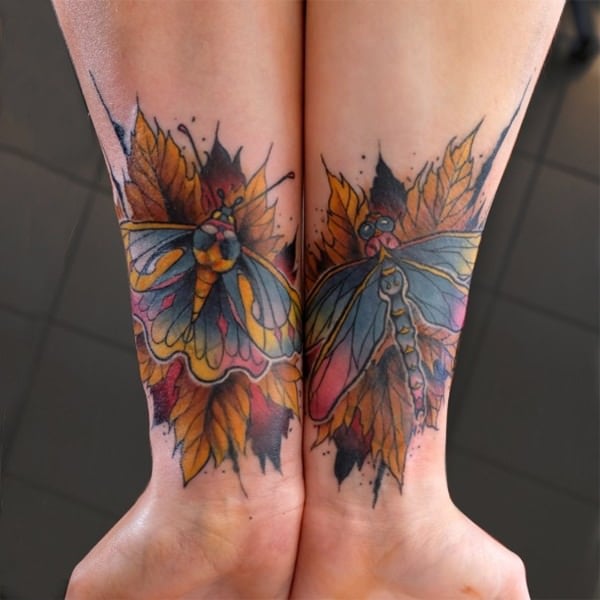 This is a choatic, emotional, mad mess that somehow comes together and makes sense. Two gorgeous butterflies.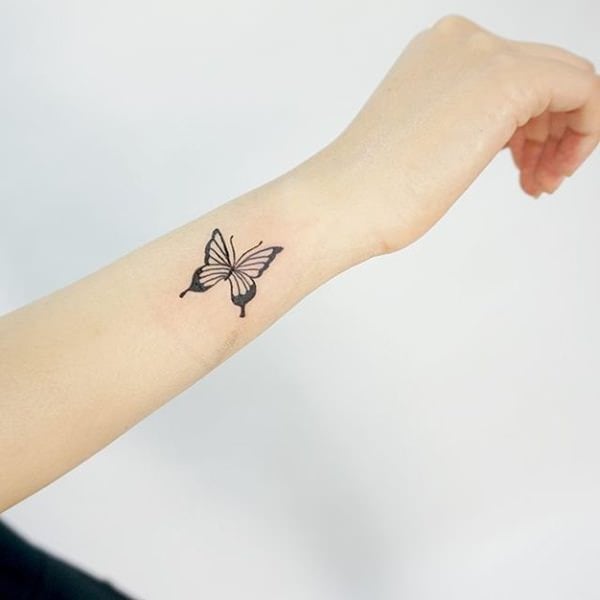 A simple design might be all that you need. It's the shape of the butterfly that matters, the rest is just filler.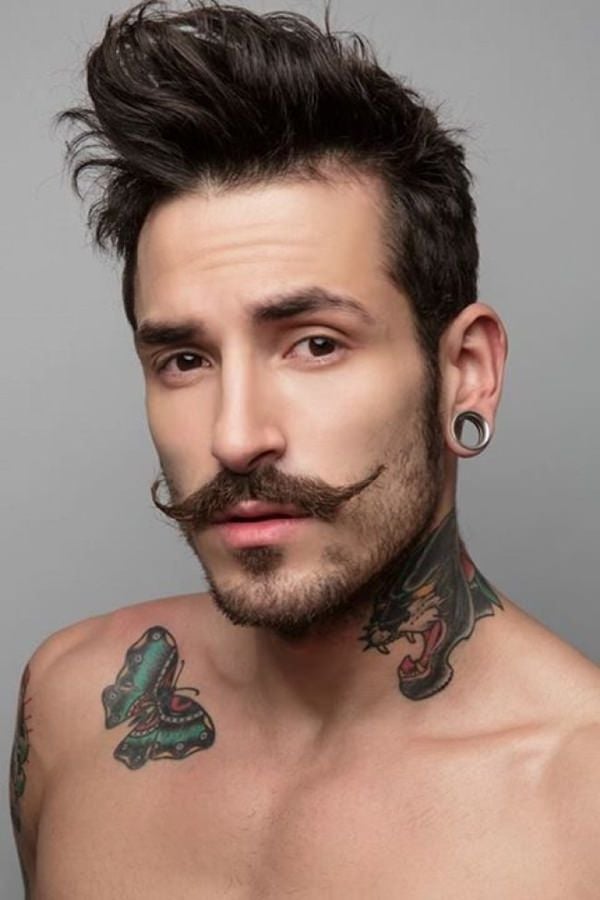 Butterflies don't always have to be feminine. This turquouise chest butterfly is manly – or perhaps it's just the beard.
Why not incorporate a butterfly into a dedication tattoo? This one has been done in honor of a daughter's birth.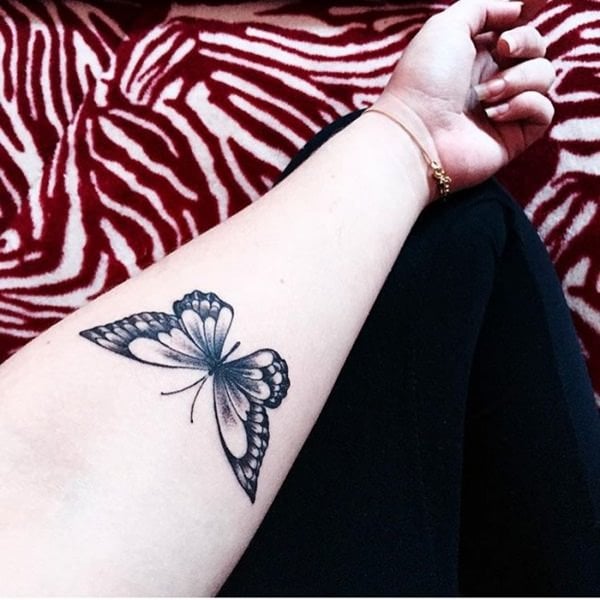 Another black and white butterly on the arm. We really like the shading on this one, very professional.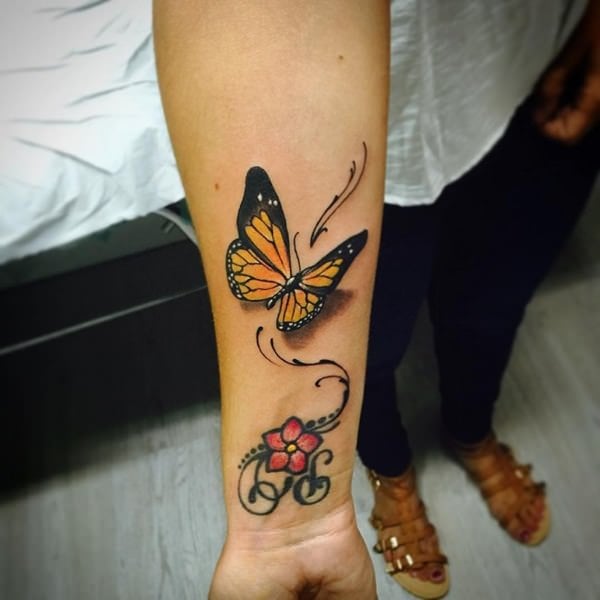 Notice how you can really make your tattoo pop if you put a shaded shadow behind it? You might like to think about doing this for your next piece.
I spy the bearded man again! That turquoise butterfly on the chest is recognizable anywhere. Nice abs there!
This oriental design is very feminine and delicate looking, despite the relatively large size and conspicuous placement.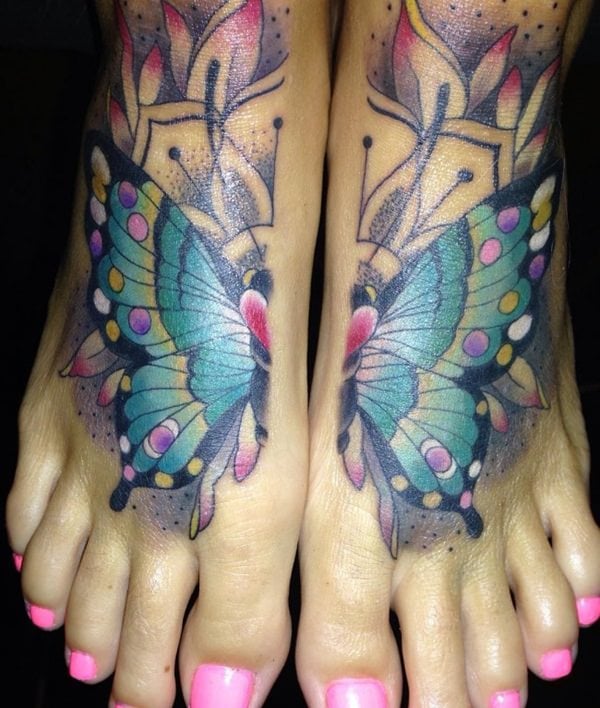 This design has been dreamt up to come together as two halves to make a whole. The pretty pastels really make it.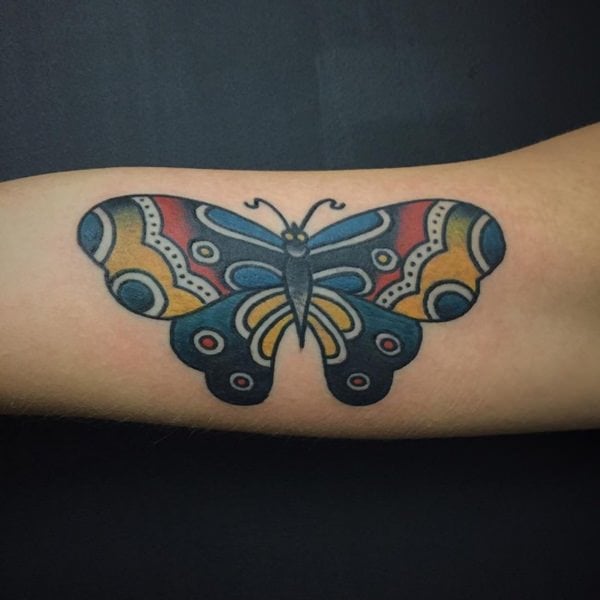 The shading on this piece is just brilliant isn't it? Not only are the colors well thought out, but their grading looks unreal.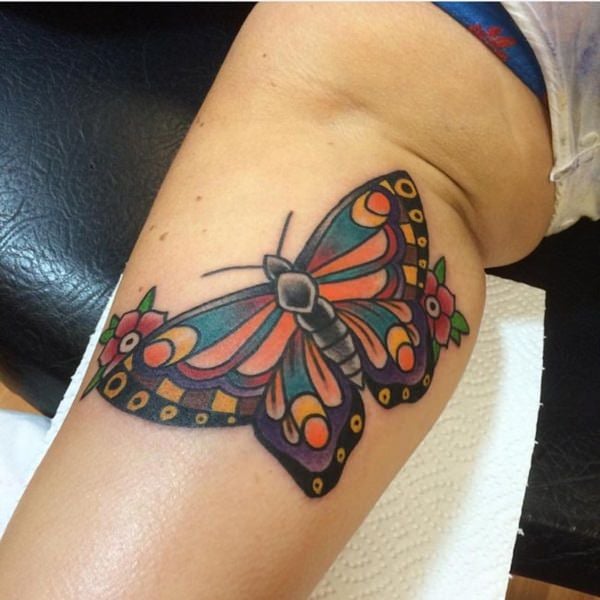 This butterfly among the flowers really pops, due to the bold choices of color throughout.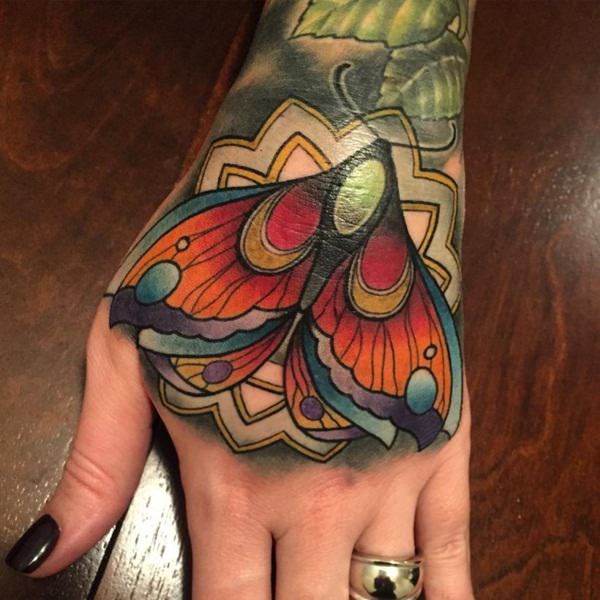 Go wild and tr something completely different – like this stylized hand design. Brilliant color work here, too.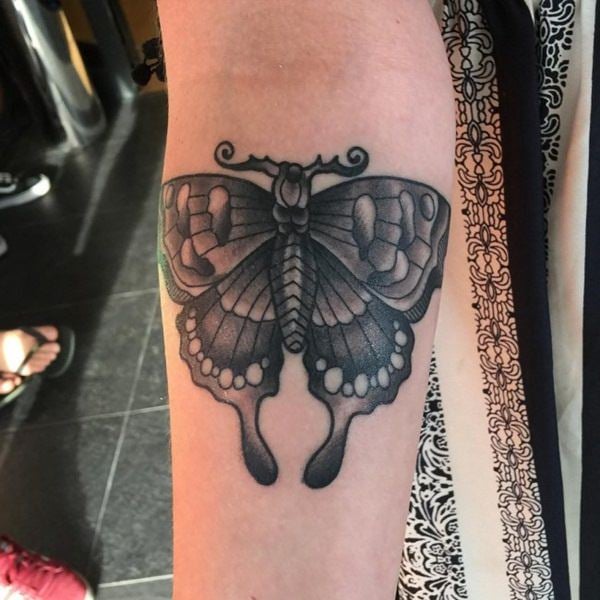 Another large black and white butterfly tatoo design.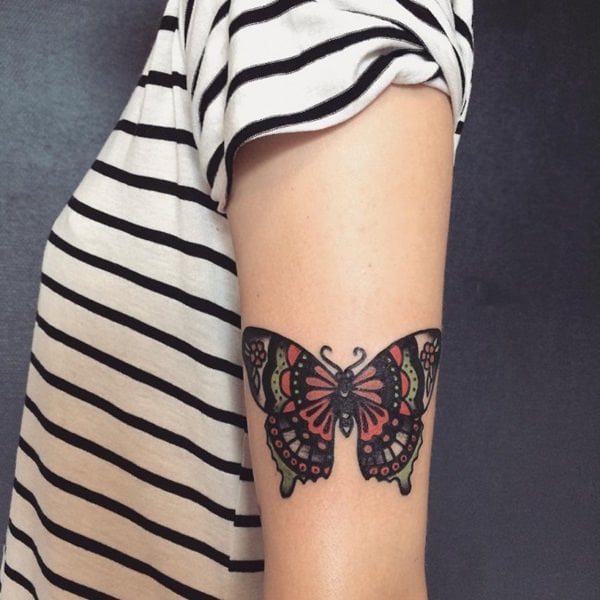 The reds and greens of this piece remind us a little bit of Christmas. What do you think?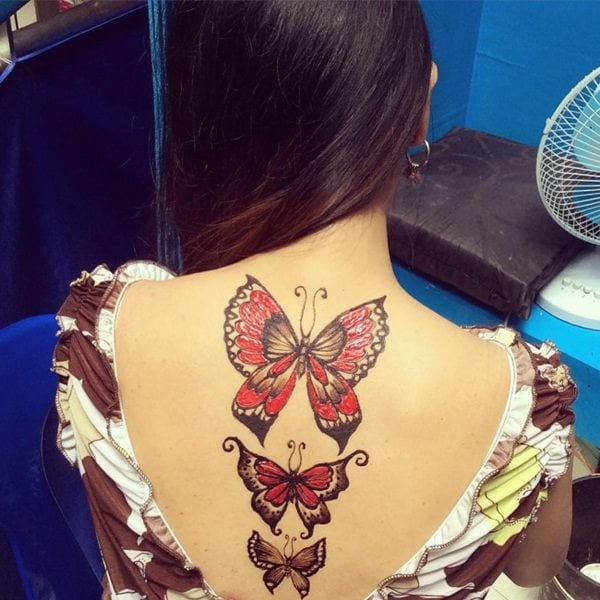 Many people choose to get tattoo designs down the middle of the spine for a dramatic effect. This one is simply stunning!
This butterfly is part of a watercolor menagerie on this girl's body. Cool!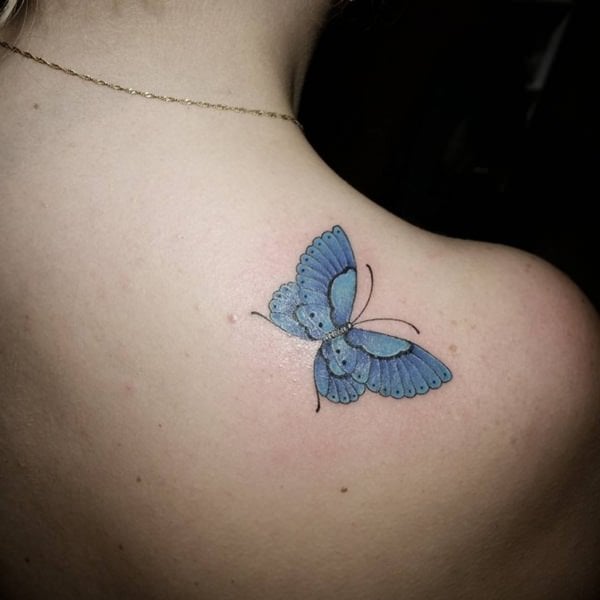 A pretty little violet butterly.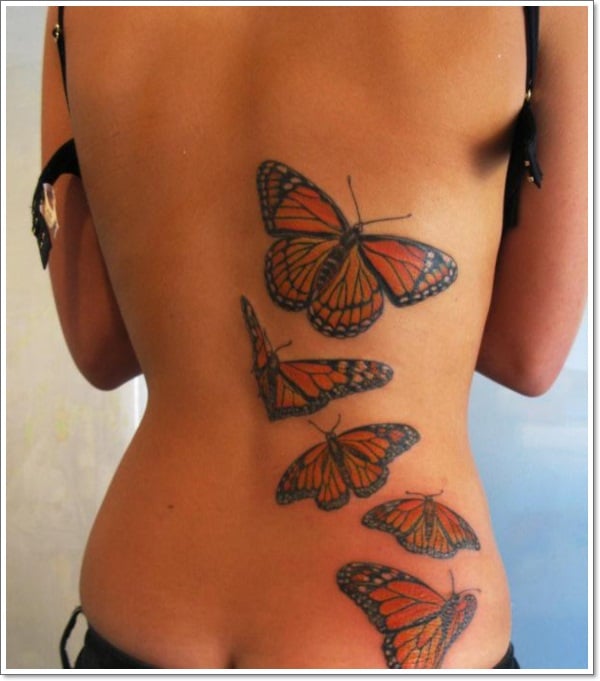 First off lets take a look at those beautiful butterfly design above featuring 5 butterflies up a ladies back. This features a mixture of Viceroy and Monarch butterflies which actually has a really interesting and symbolic meaning behind it all. The Monarch butterfly is toxic, whilst the Viceroy is not toxic and is known as a mimic-butterfly. By looking the same as the Monarch butterfly, the Viceroy butterfly is able to avoid been eaten as birds assume that it's toxic. This to humans is symbolic of people been judged on face value rather than people actually getting to know the real them.
As you can tell this freshly inked butterfly looks a bit red and swollen but all the same looks very beautiful.
A great looking blue and pink butterfly on a women's shoulder which is quite a common spot for the butterfly to be tattooed.

Is it a Monarch or a Viceroy butterfly? It can be almost impossible to tell, but it's a great tattoo all the same.
Another look at this great butterfly neck tattoo design.
A more abstract style of butterfly on someones wrist, we really like the pastel style colors used.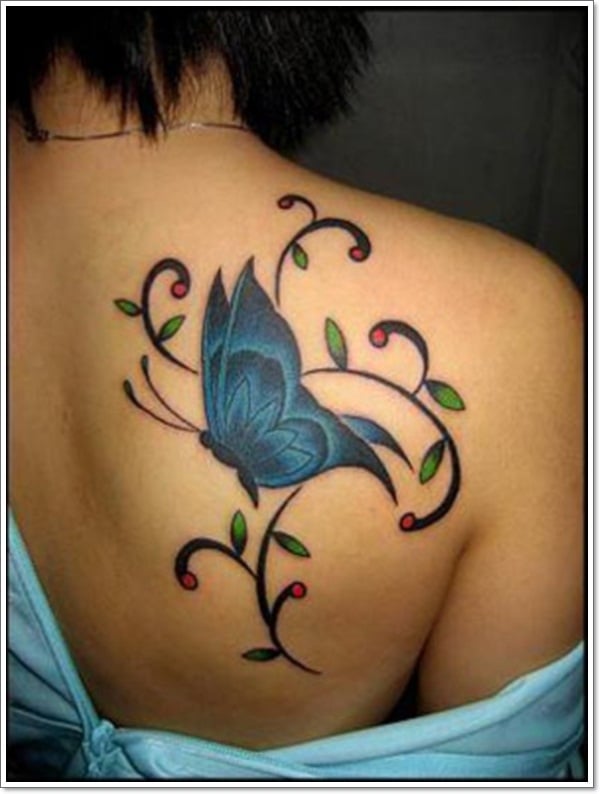 Mixing butterflies with floral designs is very popular, particularly among young women wanting a pretty design.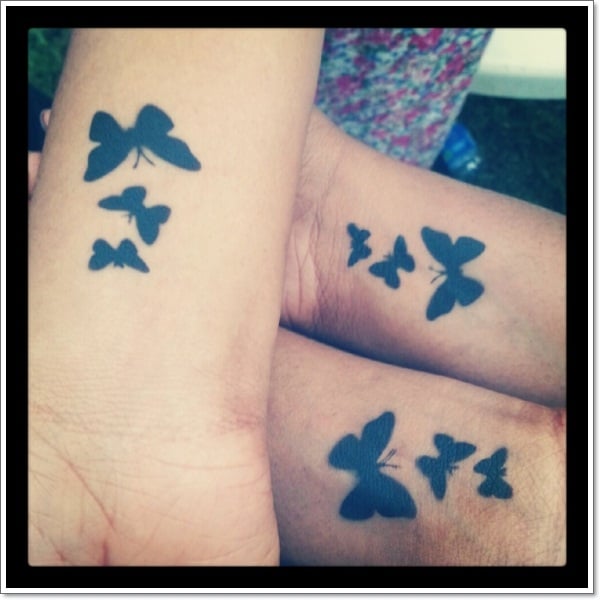 Black ink is often a great choice for a tattoo when you want something simple that will be timeless.
A beautiful love heart style butterfly positioned directly on the top of a ladies neck, very nice indeed!
Another great orange and black design on the fore arm.
Besides the shoulder and back, one of the more popular positions for butterfly designs is the foot, amongst other reasons it can be covered up relatively easily.
Whilst not a butterfly tattoo, butterflies are known to be symbolic of love and here is a great finger love tattoo that we wanted to show you.
Three butterflies, that more than likely represent either three children or three family members.
A beautifully positioned pelvic tattoo of a purple and yellow butterfly.
Another great example of a orange and black butterfly on a women's shoulder blade.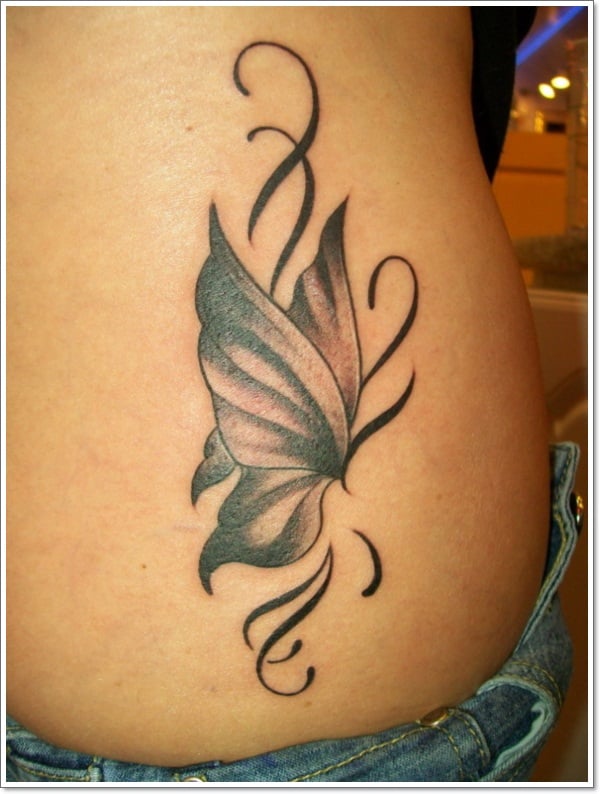 Tattoos that go up women's rib cages, beginning from the stomach are extremely popular in recent years due to how sexy and gorgeous they can look.
Ultra realistic tattoos are another popular design nowadays. When you get a life size butterfly like this one on your fore arm it can fool people in to thinking that it's actually there!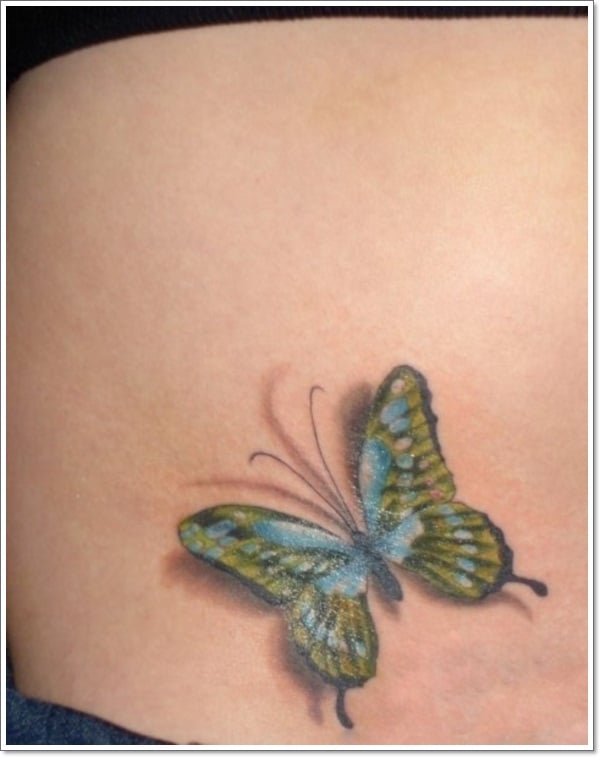 A close up picture of a realistic butterfly tattoo design. We really love the intricacy of this one!
Have a pretty butterfly tattoo on your back and going to a formal event? Why not add that wow factor with some stick on jewels.
Tattoos behind the ear have been popularized these days by the likes of pop singer Rihanna showing hers off.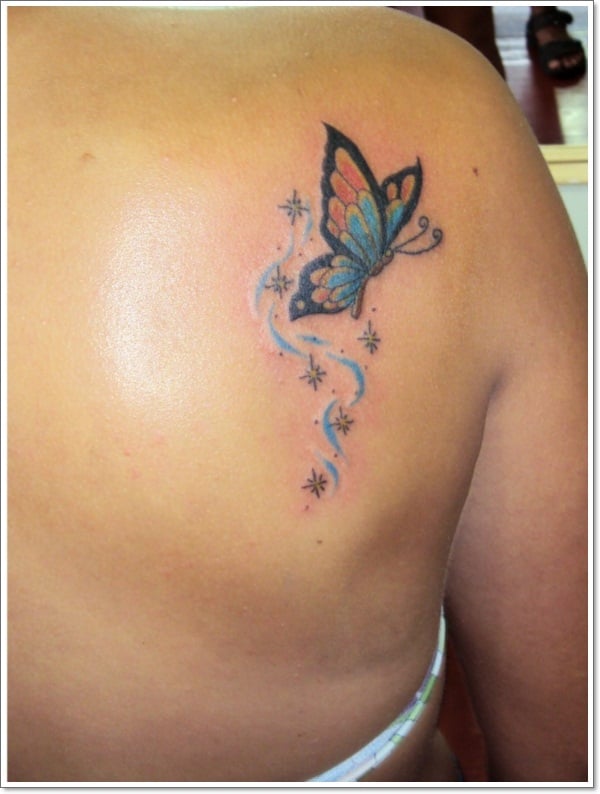 Often people want to get reminders of people tattooed on them but don't really want to get their names tattooed. Getting stars like the above design can be a great way of showing how much certain people in your life past or present mean to you.

A beautiful purple upper thigh tattoo design. These are very popular because you can easily cover it up with your pant line, or show it off to that special someone…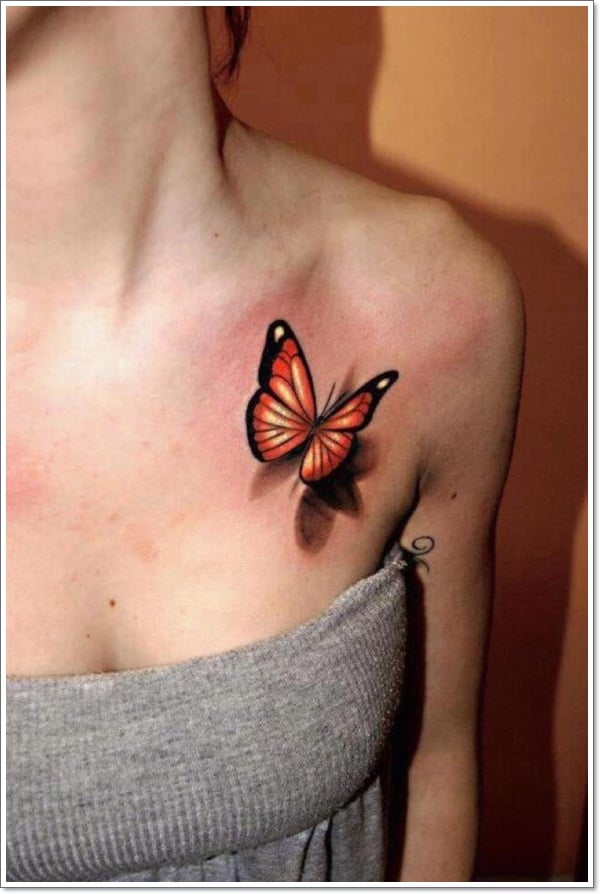 A great photo of a butterfly chest design with some amazingly realistic shadow work going on.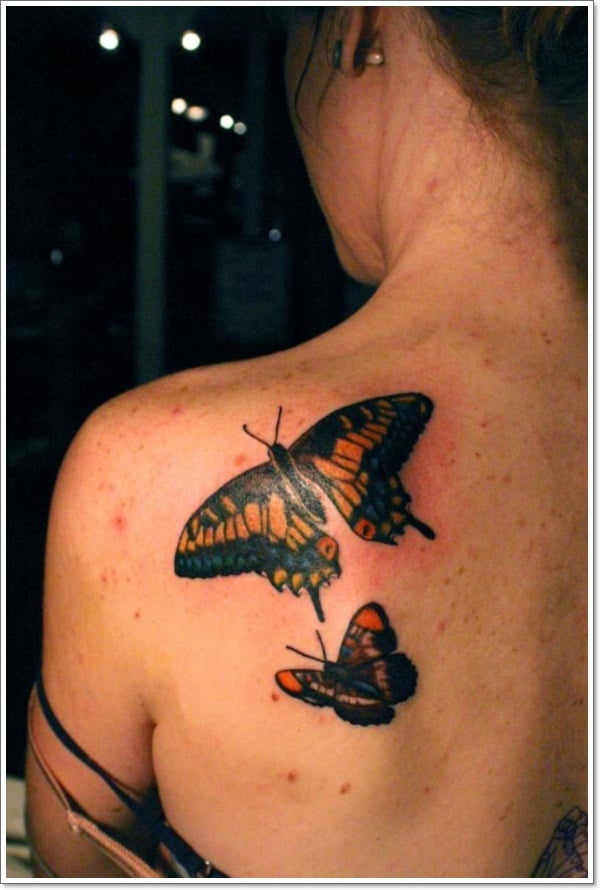 Another great close up of some very professional looking shoulder blade designs.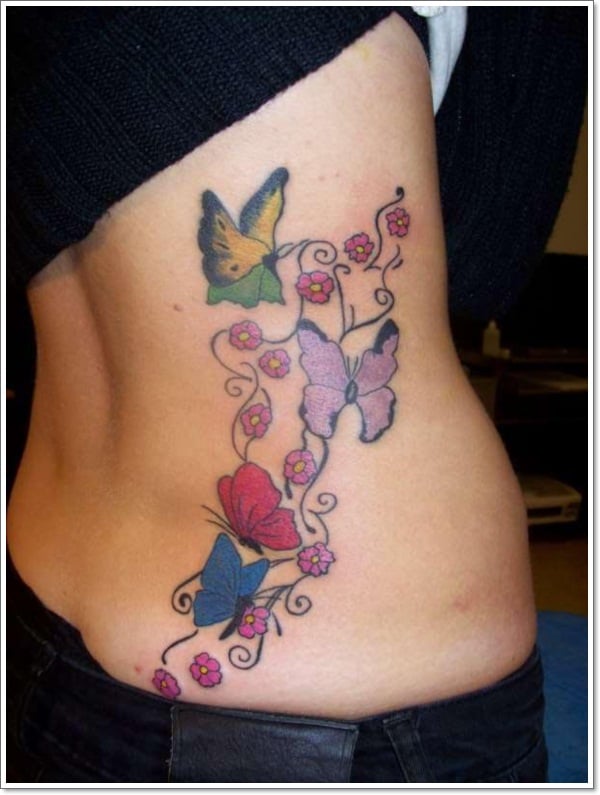 How could you possibly make the butterfly look even more pretty? Add cherry blossoms, thats how!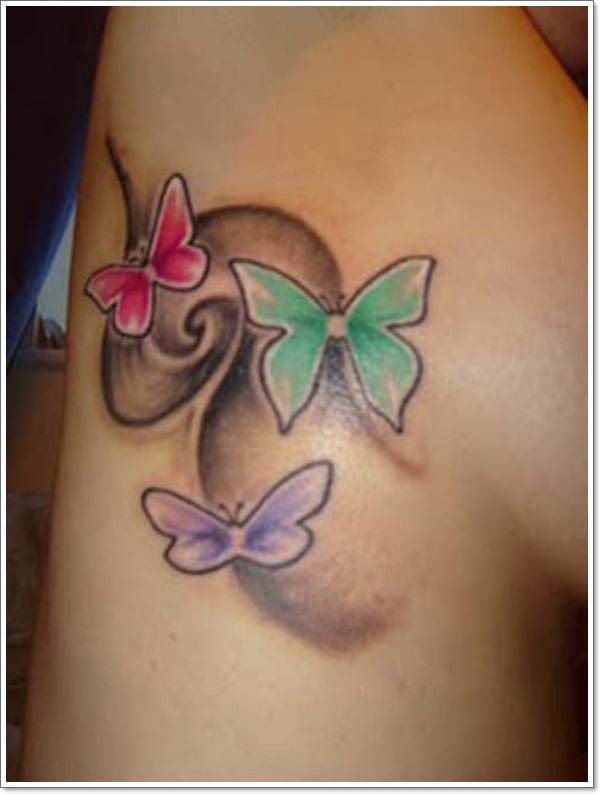 Three great looking pastel colored butterflies on someones rib cage.
A tiny butterfly tattooed on the cartilage of someones ear – very cool.
More of a tribal style butterfly design on the ankle.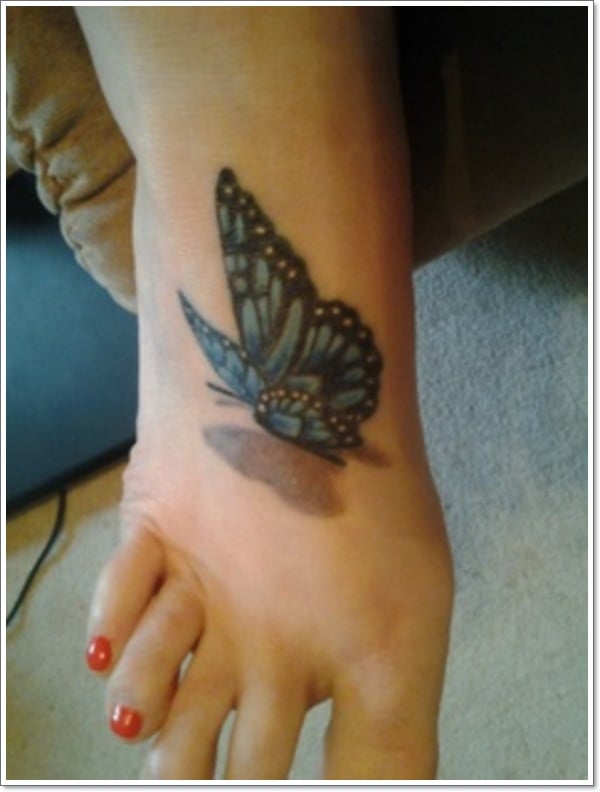 Another example of a really pretty looking blue butterfly on someones foot. This gives you a great opportunity to even match toe nail polish!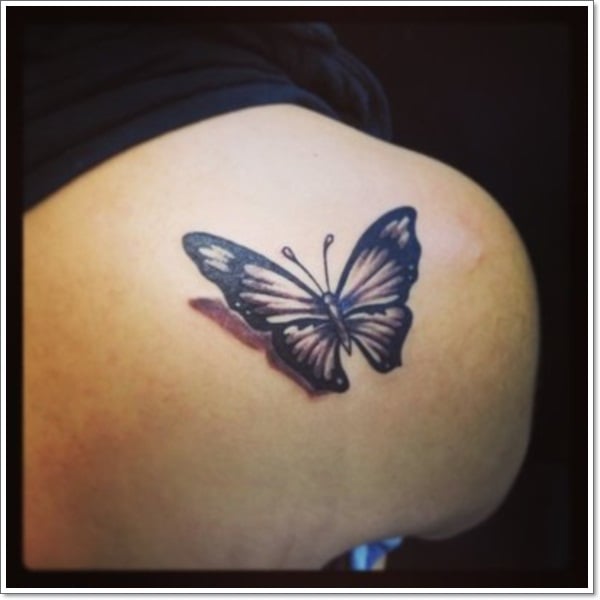 We love this one, butterflies wings in full flight and some great shading work as well.
In Japanese culture its tradition to leave the windows open of the guesthouse because it's good luck if a butterfly should fly in to that room and also symbolizes a loved one coming to visit. Here we can see another great example of a person mixing the beautiful cherry blossom tree with a orange and black butterfly design.
This is very cleverly done, starts at the bottom of the right foot and works its way across to the left foot and then all the way up to the knee. We particularly like the modern street art style with the paint drips and all.
An exquisite looking purple butterfly with a nice swirly design on a woman's chest.

The reference behind this design is Silence of the Lambs a cult horror movie which has a moth/skull design on the main movie poster. This is a twist on it using the butterflies beautiful form rather than that of the moth. It looks really great on the neck too.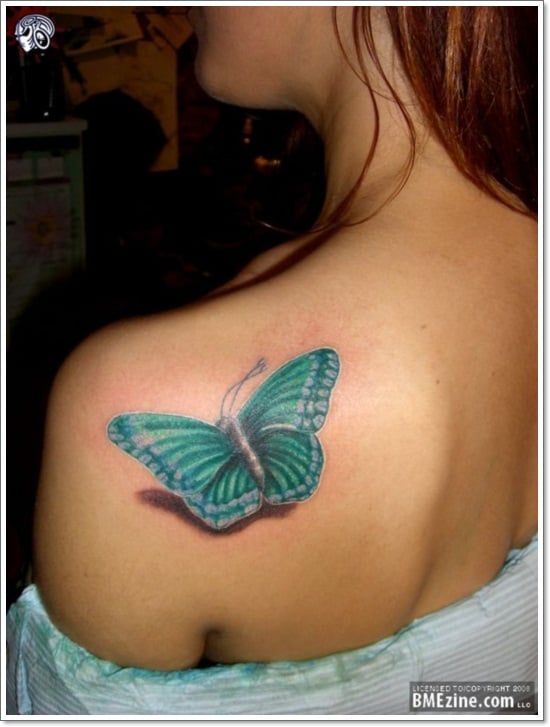 We absolutely love the deep emerald coloring on this one!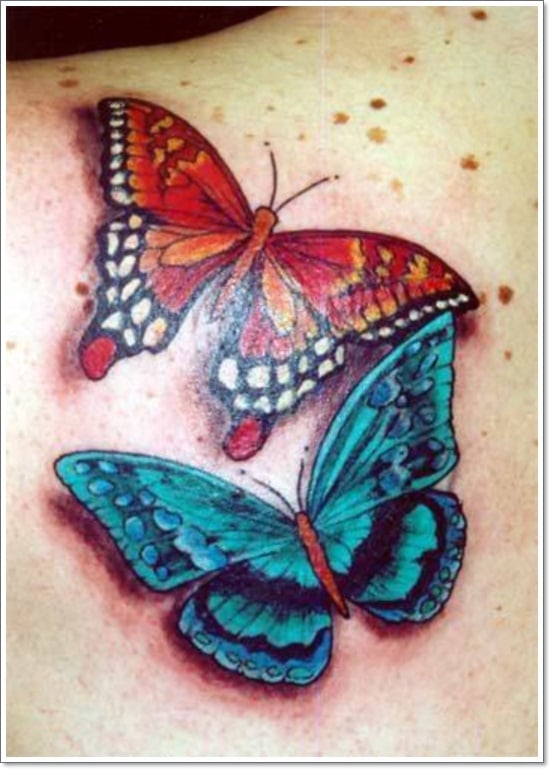 It is often symbolic to get two butterflies next to each other like this, to represent either yourself and a loved one or maybe even your parents, particularly if are recently deceased.
Another great example of mixing in curvy script style font with butterflies that are nicely tied in together with a pink swirl and some stars. Opting for a design like this where there is only blacks and pinks can work really well together rather than going for a whole bunch of colors.
A great looking sleeve design featuring lots of flowers and some butterflies. The coloring and shading work on this one is absolutely breathtaking and you would have to be thrilled with a result like this one!
A very intricate and cool looking butterfly tattoo on the back of a ladies neck.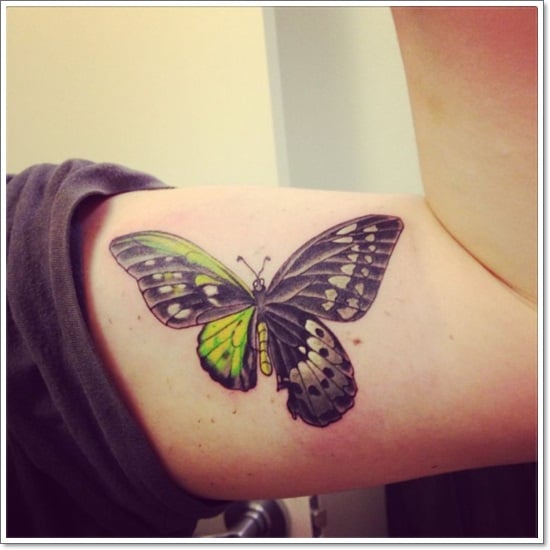 At first glance this one looks quite peculiar because of the lack of symmetry in the wing sizes, however it no doubt has some kind of symbolism to the person and overall is a very cool looking black and green design.

Another amazing example of a well done black ink design mixing stars and the butterfly on someones ankle.
This is a perfect example of really great tattoo placement. It's not too in your face, but more of a subtle, minimalist look. We particularly like designs that go across the shoulder and back like this because when you're dressing for work you can quite easily cover them up. Come weekend time you can set the butterflies free!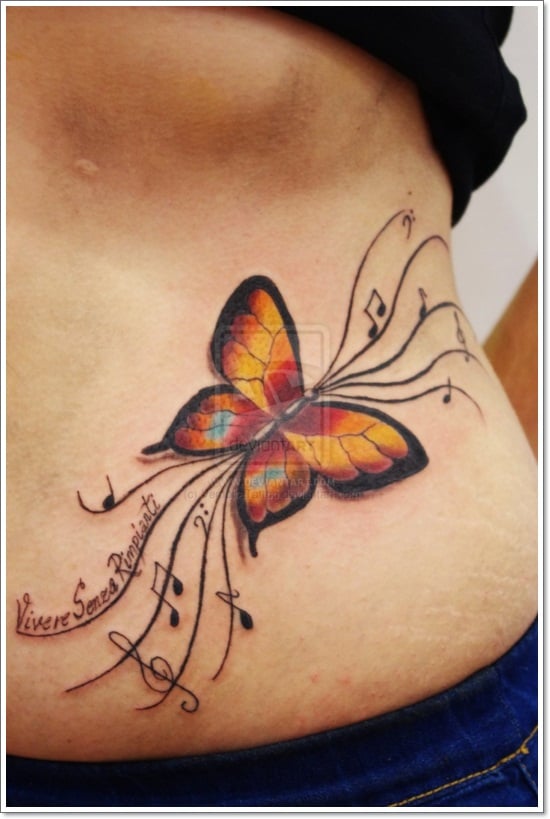 A great modern twist. When you are very passionate about something such as music or a particular song but don't necessarily want to get just the lyrics tattooed like everyone else, than why not incorporate it in to another design like the one above.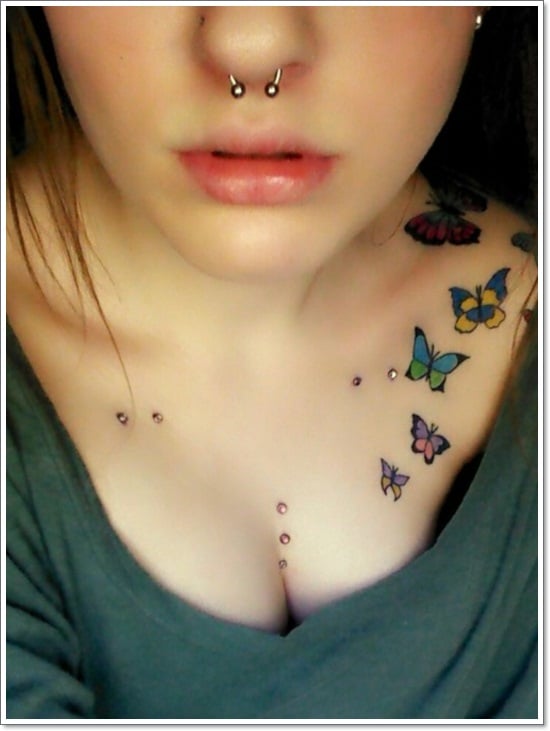 This is one of our favorite designs. At least 5 butterflies working their way up from the chest area and over the shoulder. It's complimented very nicely by the body piercing jewels too.
Lastly we will finish on this one. Whilst at first glance it may not be the prettiest of all the butterfly tattoos we have shown you, it is none the less one of our favorites of them. We absolutely love how the person has opted to go for a butterfly on the side on view rather than it in full flight. Whilst this does immediately cut off half the available beauty of the butterfly it does give the design more of an appearance of the butterfly taking off for flight. This can be very symbolic to a person that has recently overcome something traumatic in their life and wants to remember it by getting a meaningful tattoo. We also love the shape of this design, in particular the wing shape.