45 Traditional Geisha Tattoo Designs
One of the most misconstrued cultural elements is that of a Geisha. As such, a Geisha tattoo is a rather unique design as Geishas are often misunderstood to be women of the night. In all actuality however, the Geisha culture is much more than a mere prostitute; it represents the powerful attraction and seduction that a beautiful and intelligent woman can create. Among the Japanese culture both men and women sport tattoos of a Geisha. One thing that you have to remember about a Geisha tattoo is that it has many details in them making it necessary to go for a large sized one.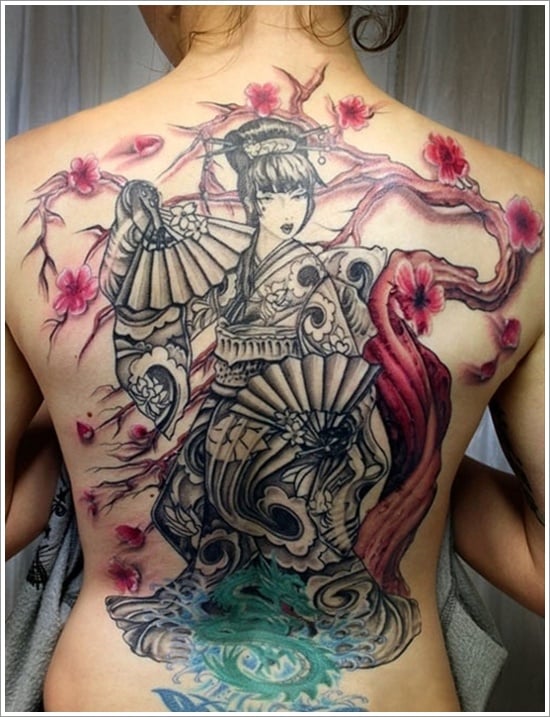 Geishas are essentially beautiful women who are bred and trained in the art of entertaining men. This was not necessarily restricted to pleasing them in bed, but being the perfect entertainer or companion, even if on a temporary basis. Geishas were required to be well-groomed, elegant, adept at singing and dancing, well-versed in conversation and maintain the ability to be good listeners. In essence, they were trained to be the perfect companion, however their reputation negated their status – since they were shared prizes, they were often not permitted to marry.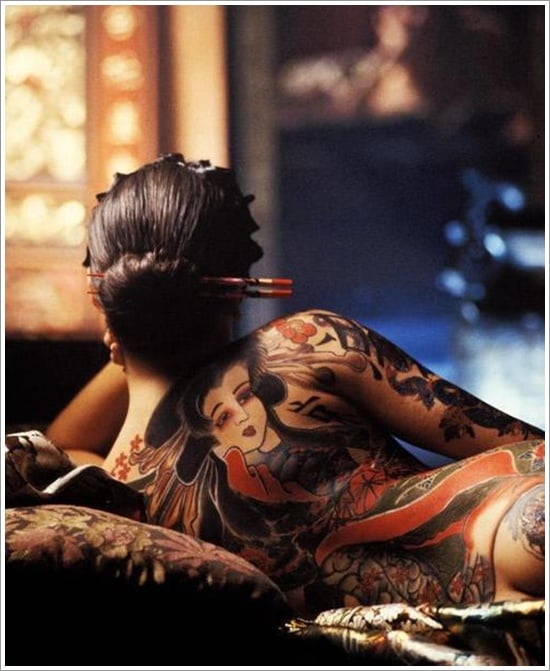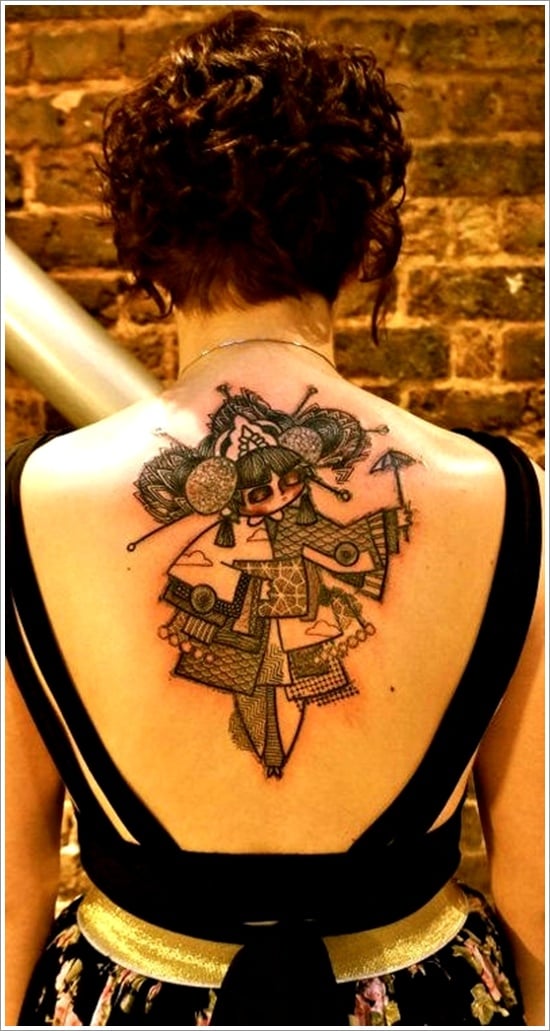 A geisha had to project an air of mystery and allure which made men want to be with them. Usually petite women, wearing a white mask and having jet black hair – a Geisha would always be dressed in vivid colors. She would be the epitome feminine beauty and a person well-versed in the arts. Their life goal was to ensure that the men who visit them have a relaxed and entertaining atmosphere, where food, wine, music, conversation and dance flowed as per the mood. The Geishas would even provide interesting insights into politics and history during the course of their conversation with the visitors. Over the years, women of all walks of life have become privy to Geisha tattoos to express these qualities in themselves and their personality.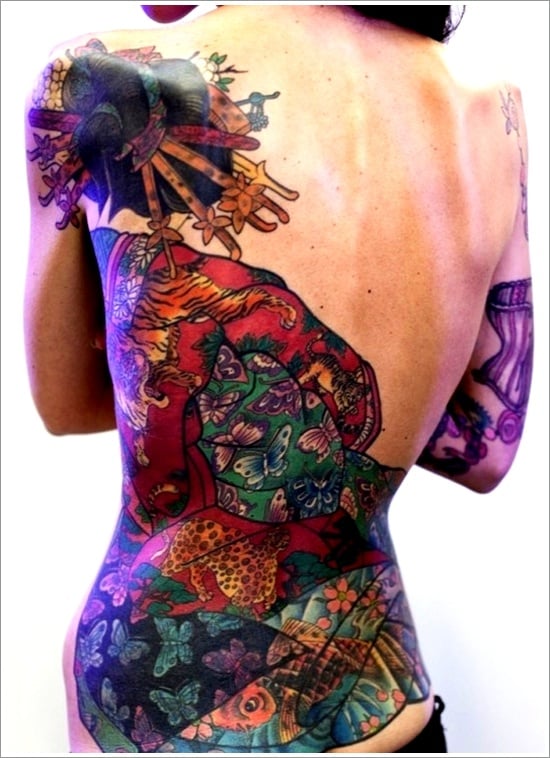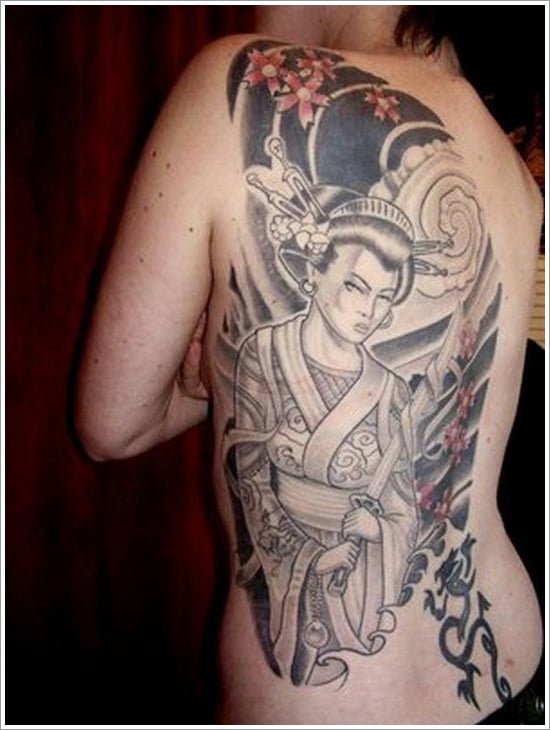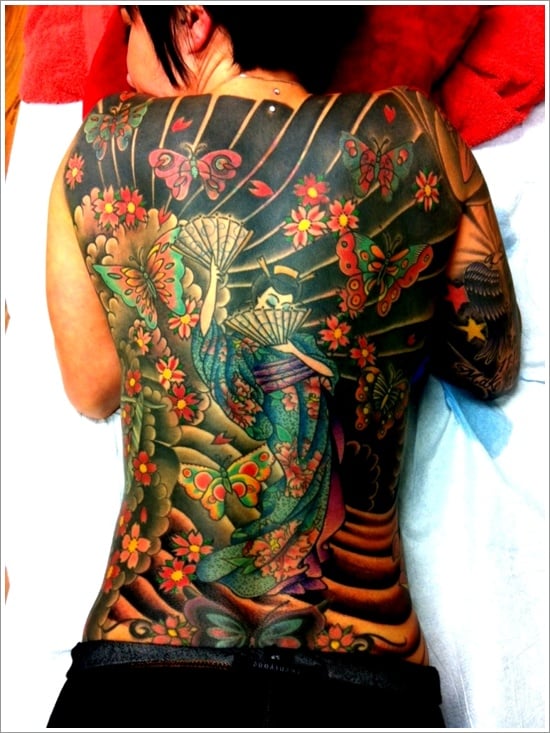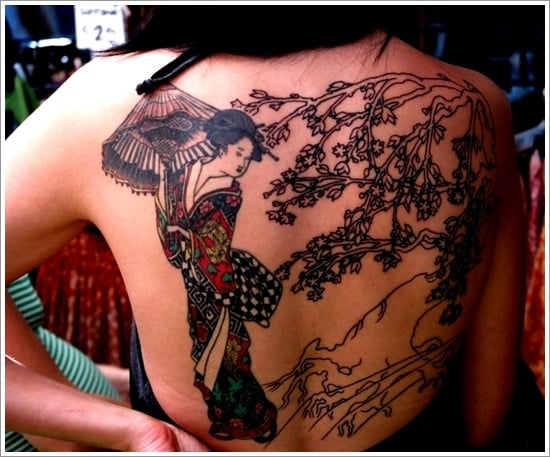 A Geisha, in essence, was the symbolism of womanhood, a desire that every man longed for – making it another popular meaning for a tattoo design. Geisha tattoos often represent complete femininity, softness, beauty, wisdom and core of subtle strength. The Geishas were renowned for their role in tea ceremonies as well as taking part in other cultural functions. A Geisha would usually don the color red as it is supposed to be the color of attraction and fertility. Colored Geisha tattoos will often depict a brightly red color robe or dress that flows and forms to the Geisha's body.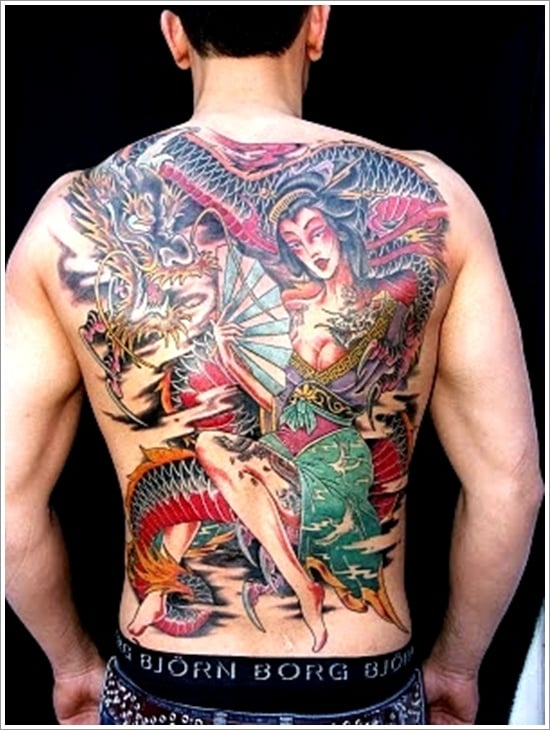 In paintings and art the Geisha would be represented immaculately turned out in terms of dress and coiffure and show along with trees and nature. They have also been shown as part of the Cherry blossom that is much venerated in Japan. The overall look of Geisha would be really strong attraction and elegance but would never cross the border to crass appeal.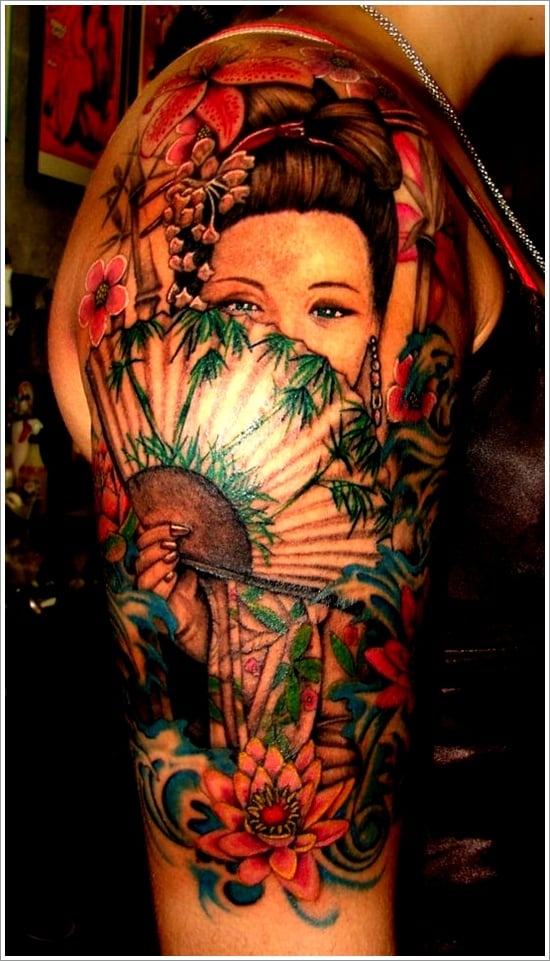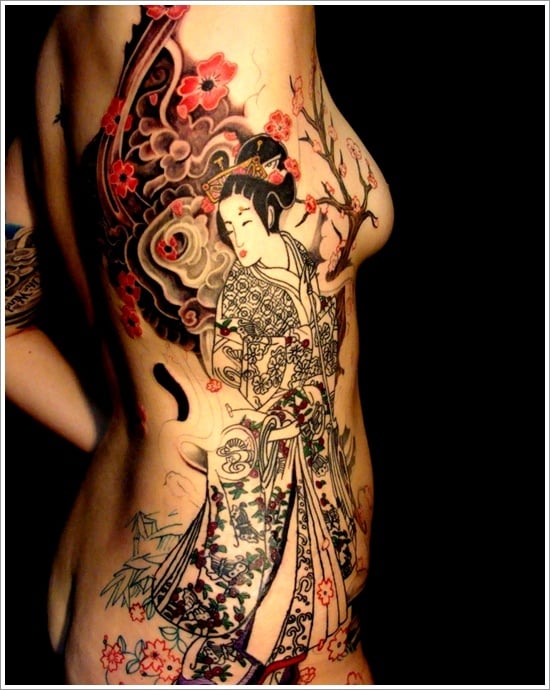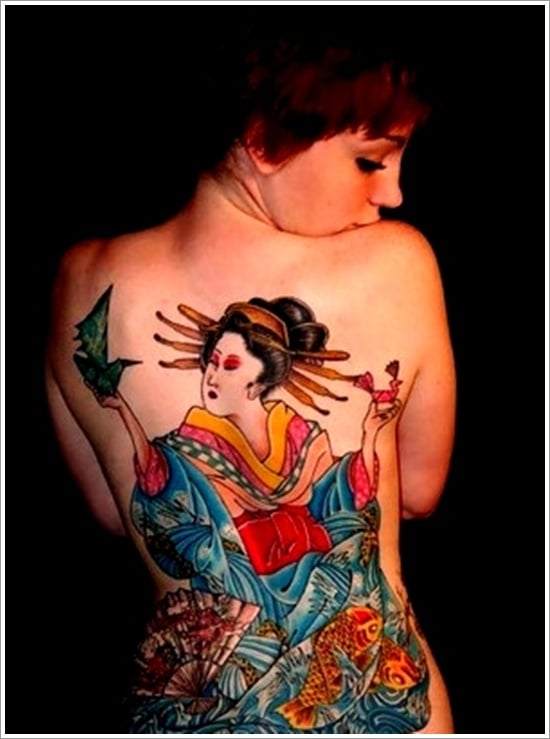 A tattoo having the Geisha as the design at the center are worn by men and women. Men would like a geisha tattoo because it represents what they want and women would want a geisha tattoo to try and inculcate some of the unique qualities that a geisha is supposed to have. If you are looking to get a geisha tattoo you need to find an artist who can do justice to this design. A well done geisha tattoo is going to be large and a thing of beauty. But to capture the immense beauty and grace of a geisha the tattooist has to be good at detail work.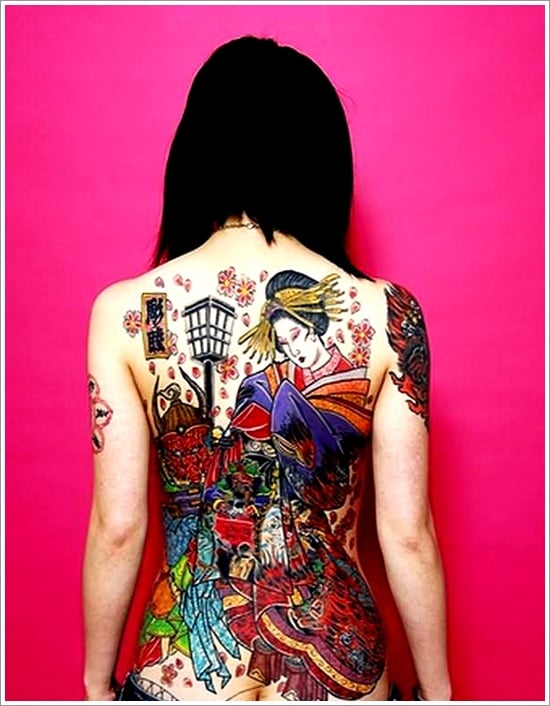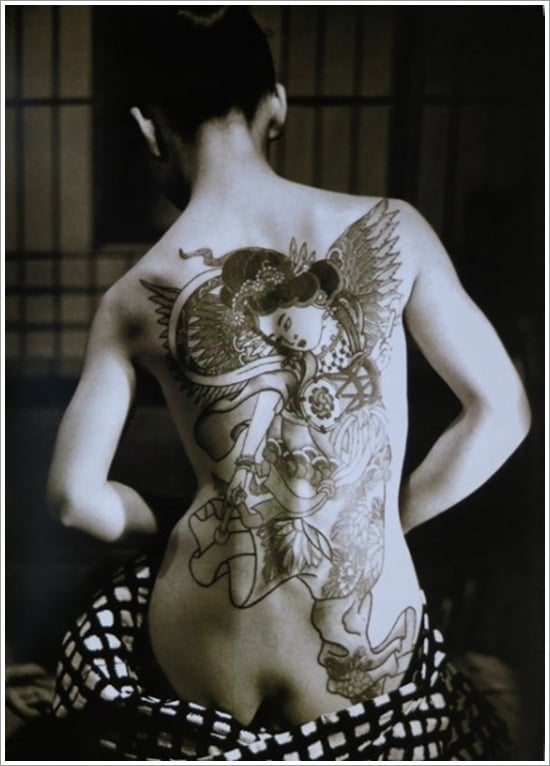 You have many choices when it comes to Geisha tattoos. They can be portrayed in many scenes along with other things that are symbolic of Japanese culture. You can show the Geisha amidst the accoutrements of the tea ceremony or as part of the cherry blossom festival. Or you can have a geisha along with  Samurai warrior or with some profound saying the Japanese script. Often Samurai are shown as protecting the Geisha which can be used as a theme for your tattoo design to depict beauty and protection.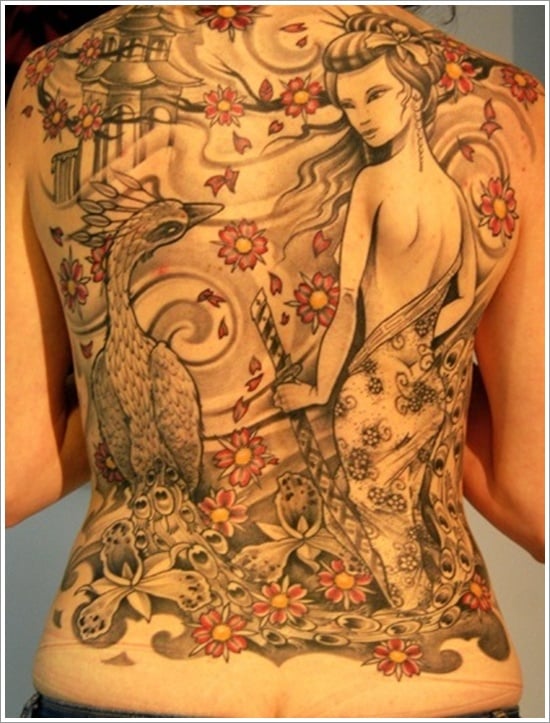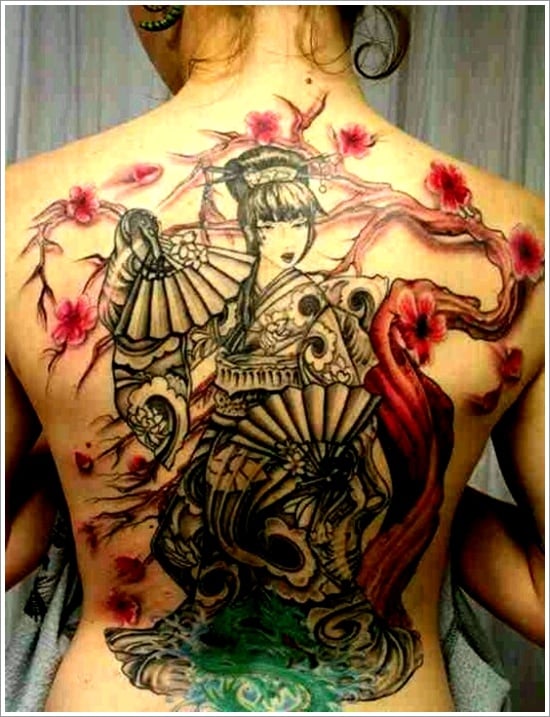 Since only the nobility where associated with Geishas these tattoos represent beauty, elegance, mystery, sensuality, the exotic, grace and many other attractive qualities
Here are some more ideas for Traditional Geisha Tattoo Designs: