Cherry tattoos are super cute – you'd be hard pressed to find anyone that disagrees with that! From their perfect red fruit to the cute green leaves, they're a great choice for anyone who is after a girly design that really pops. We've sourced 40 great cherry tatts for you to get some inspiration from.
Cherry tattoos are sexy and cute and are tattooed on girls to communicate various characteristics like innocence, sexuality, youth, courage, commitment, and sometimes Christianity (as it is also believed to be the fruit of paradise). Cherry tattoos are fun designs to play with and the additions of other symbols can change the meaning or just make it look cool. Cherry tattoos are commonly seen with a stem that shows that an individual is unspoiled, innocent, and fresh. This top ten will look at the best that this category has to offer!
Cherry Punk Tattoo
The Cherry Punk tattoo plays with the cherry design, turning the cherry into skulls. This punk tattoo projects the opposite of what a cherry is known for and makes it dark and rotten. It is a cool and morbid way to celebrate the end of innocence and goes with the style of the punk genre. This creative tattoo also shows fangs on the skulls making them look even cooler like cherry vampires! Great tattoo for all you punks out there!
The Cherry Bowtie Tattoo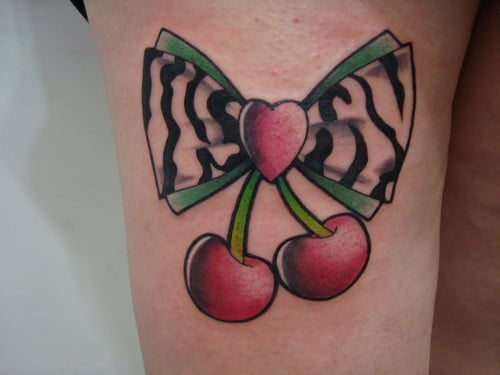 This cool tattoo has two ripe cherries with its stems turning into a beautiful bowtie. The heart at the center of the bowtie adds to the cute factor, giving the tattoo a sense of elegance and charm. The Cherry Bowtie Tattoo is an ideal tattoo to get inked on your belly or on your thigh. Either way, its super cuteness will shine through celebrating your innocence, adorability, and youth.
The Pink Flower Cherry Tattoo
This foot piece brings together a pink flower and a cherry tattoo. It is painful tattoo as it is on a sensitive area like the foot. This tattoo is a fun accessory to show off during the summer. You can also get this tattoo without the flower as the cherries alone stand out and look great!
The Real Cherry Tattoo
This cherry tattoo is the ultimate cherry tattoo. The stem and the fruit look so realistic that it is hard to believe that it is a tattoo at all. The Real Cherry Tattoo is a great conversation piece that can be hidden under your clothes or shown off with a backless top. Celebrate your sexuality with this super realistic tattoo.
Life is Sweet Tattoo
Cupcake tattoos are a common in the cherry tattoo genre. They are a nice way to celebrate life, youth, and your general sweetness. Cupcakes also award you the opportunity to play with color when you get a cherry tattoo. This tattoo has the band with the text "life is sweet" which is a celebration of a good life. It is a grand tattoo for those of you who are on a positive high. It is also a tattoo that never gets old, let's face it, everyone loves cupcakes!
Hello Cherry Tattoo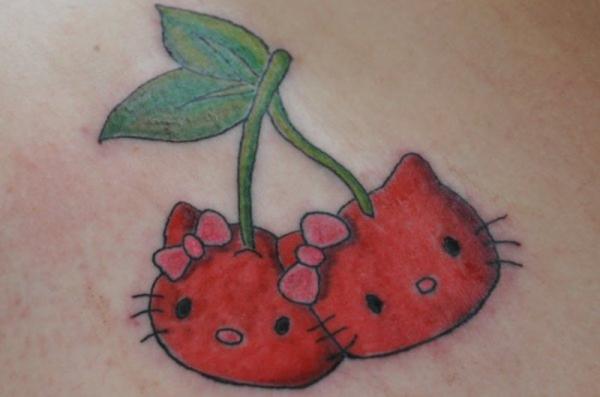 This unique tattoo is for the young girl out there who is a big Hello Kitty fan. Hello Kitty is a fictional Japanese character that has grown extremely popular around the world. The Hello Cherry tattoo fuses both the cherries and the kitties to create a cute and memorable image. This tattoo can really be inked on any part of your skin and is ideal for the sweetest girlies.
Cherry Fire of Desire Tattoo
Flames around cherries have historically symbolized burning desire. This tattoo celebrates sexuality, desire, and passion. It is a tattoo that really expresses one's personality. Although the cherries are burning in flames, they stay intact symbolizing youth and a sense of being untouched.
Cherry Bomb Tattoo
The Cherry Bomb Tattoo is a creative tattoo that is the epitome of youth, parties, and drunkenness. Cherry Bombs are popular fireworks that are also known as Bangarangs, Globe Salutes, and Kraft Salutes. It is also the name of an alcoholic drink that is common at clubs and parties. It is a shot that is a mix of cherry vodka and Red Bull energy drink with little bit of grenadine syrup. Like the firecracker, the shot also feels like an explosion, a burst of sweet alcohol and energy. This tattoo of cherries and a band with text is for all you club kids and party girls!
Wild Cherry and Stars Tattoo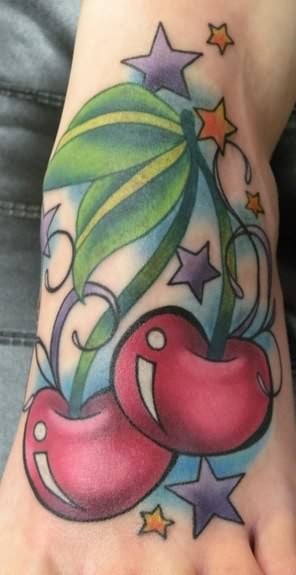 The Wild Cherry and Stars tattoo is a beautiful tattoo to get inked on any part of your body. On the foot it is painful, but it if you get it, it will be one of the best foot tattoos around. The cherries look wild and they are in an explosion of colorful stars that surround them. It is a great conversation piece and does wonders for the appearance of one's foot.
Cherry Blossoms and Stars Tattoo
If a pair of cherries are not enough for you, you got to get this tattoo. This tattoo incorporates cherry blossoms, a bunch of cherries, and stars. It is feminine and an eruption of femininity, youth, and innocence. It takes the shape of the body and curves with your side adding to your beauty. It is a fabulous work of art that will only be shown off in the summer!