If you are looking for a tattoo that will represent your love of being a parent, then look no further than this article. You will find many ideas to inspire you with your next tattoo choice. This could be your first tattoo or your seventh; it doesn't really matter. The choice to be inked has been made. Now all you have to do is figure out what to get that will most represent your role as a parent or how you feel about your child. The tattoo is permanent, so you want to make sure it's something that you will really love.
It's not just about picking a great design but a great artist as well. You don't want someone botching up your epic tattoo choice. You want someone to take care of you and do the best job that they can, leaving you with something awesome at the end of it. Make sure they have lots of experience and talent sure doesn't hurt. You can personalize your special tattoo so that it has great meaning to you for life. Below are 48 of the Best and Most Inspirational Baby Tattoos for Parents:
1. The Footprints
Footprints have always been a popular choice for parents. In this case, they have the name of their daughter surrounded by angel wings. Beautiful! I'm a big fan of angel wings, and this is a really great design choice.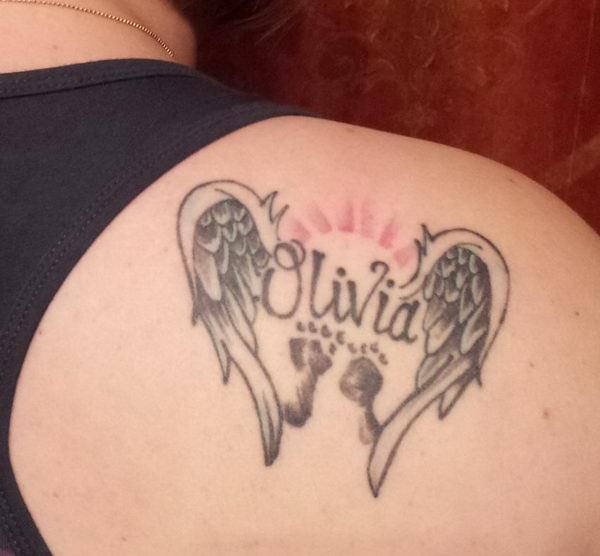 2. The Portrait
Many people opt to have a photograph of their child tattooed onto their daughter. It's a personal choice and one that some people like while others don't. It's up to you what kind of design will make you most happy.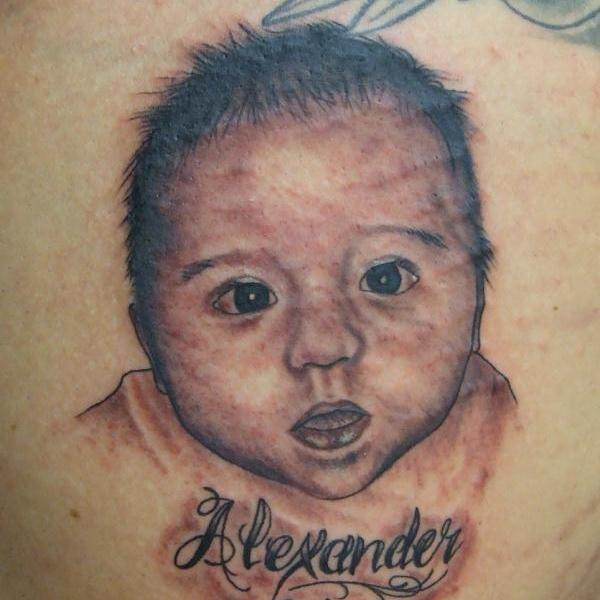 3. Holding Hands
This design has a lot of detail which makes it gorgeous in design. The parent is holding the hand of their child; the child is grasping the finger tightly.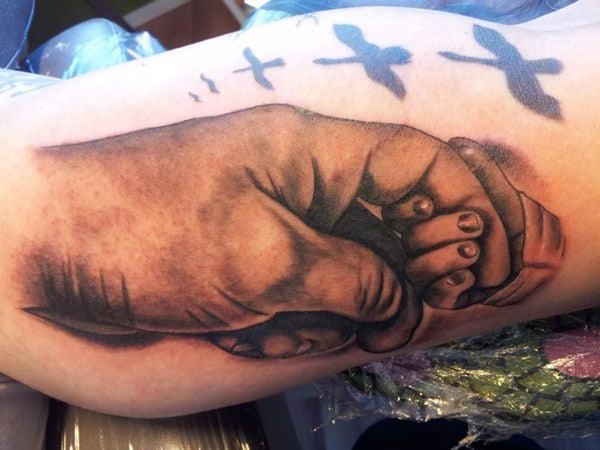 4. Unusual Decisions
This tattoo is certainly different; it's placed in the perfect area to make it look like the girl's panties are in fact the baby's diaper. If you are looking for a tattoo with some humor to it, you might enjoy this one.
5. Prints
Another great example of a tattoo with hand and footprints. The name of the child is also part of the tattoo design.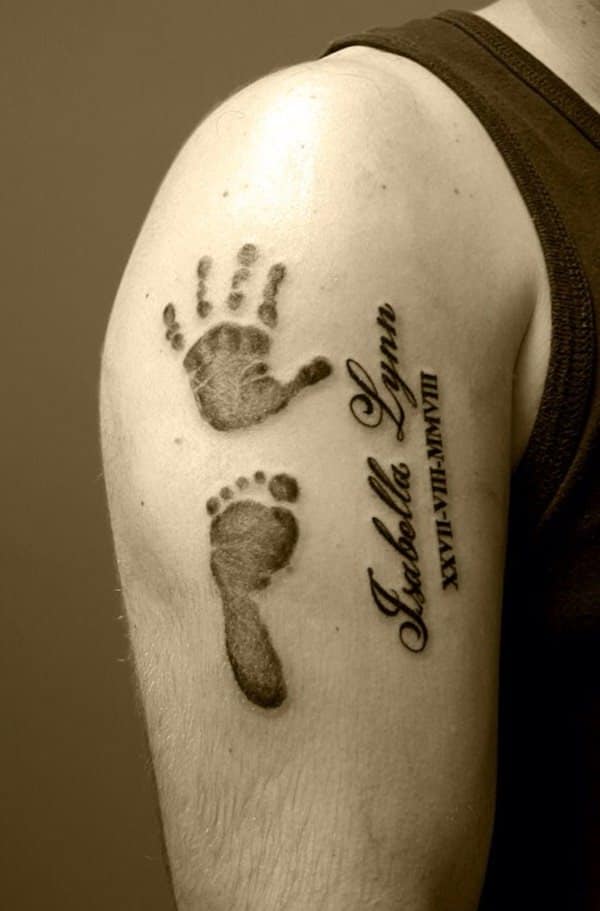 6. Creepy Designs
This appears to be a design that has a mother and child together. That would be all well, and good except the lower half of the mother seems to be of another organism or metal device. If you are looking for unusual, then this is for you.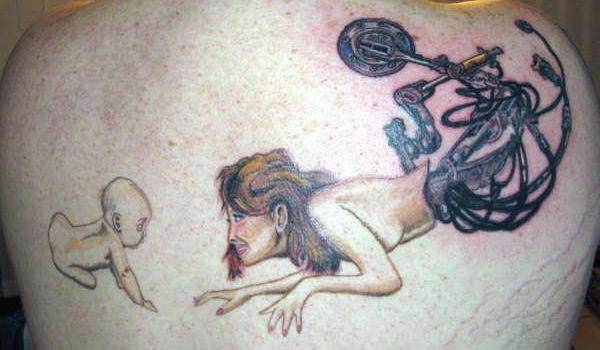 7. Breastfeeding
This tattoo shows the bond between the mother and the child. The child is breastfeeding while the mother looks down at her child with love.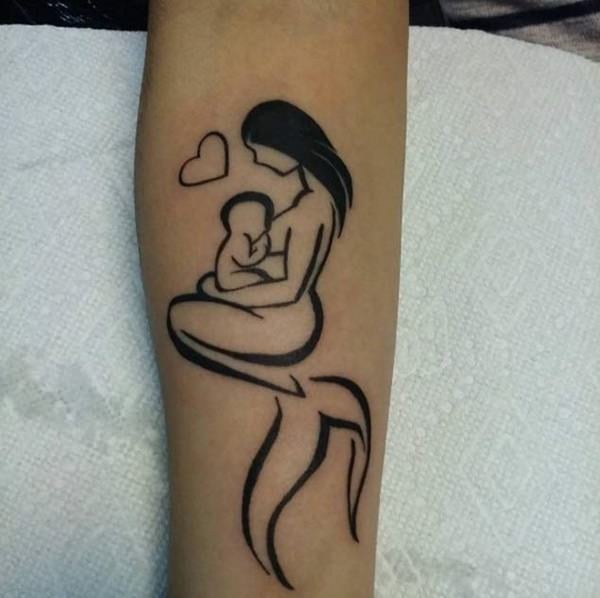 8. Holding Your Child
A simple outline but it still gives an effective message. This child is loved by the mother as she holds him close to her.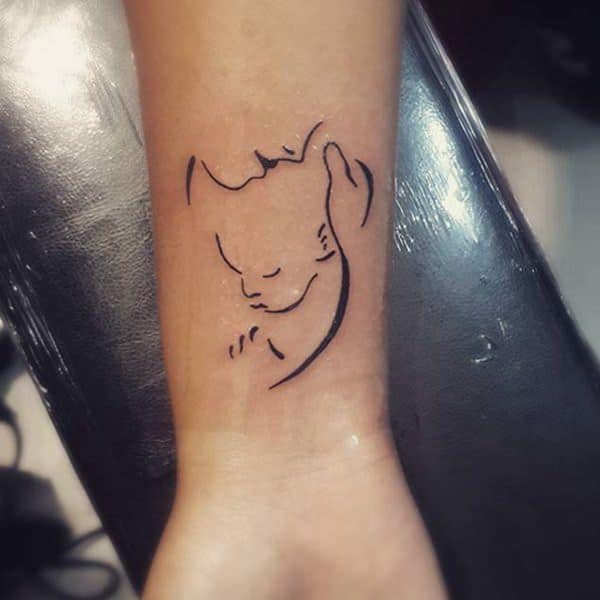 9. Matching Prints
These footprints are matching one on each foot. It's a great design as well as a popular one.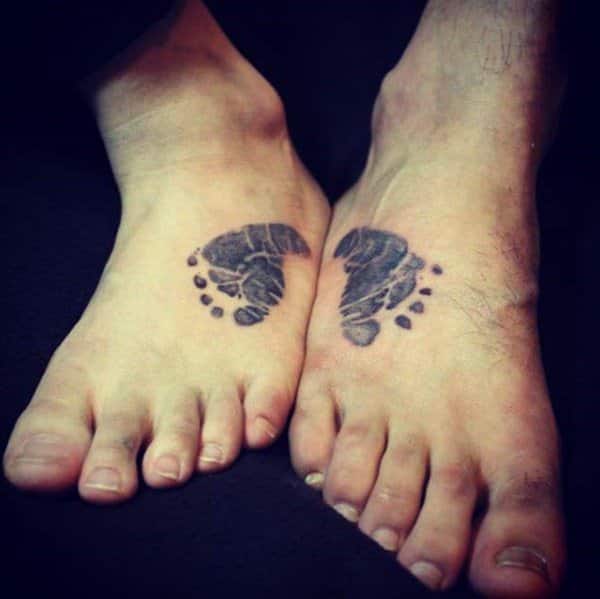 10. Taken From a Picture
This tattoo was taken from a picture and personalized. It was completed in the dot design that makes it a little more like a sketch drawing.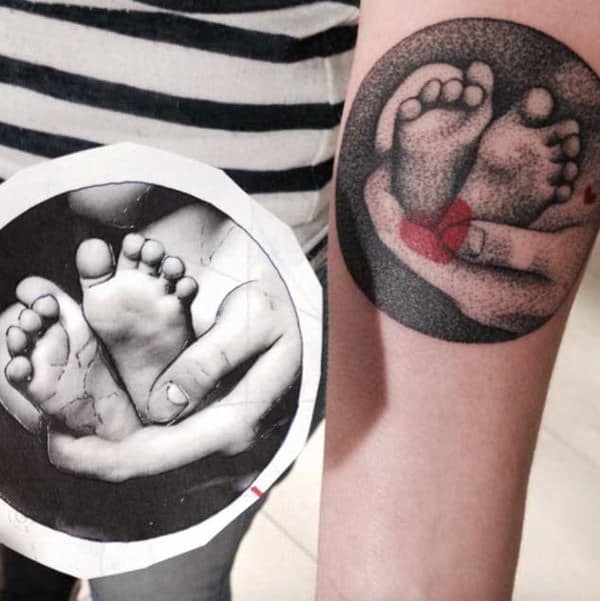 11. Multiple Children
If you have lots of children that you want to represent then get a tattoo that speaks for all of them instead of three different tattoos.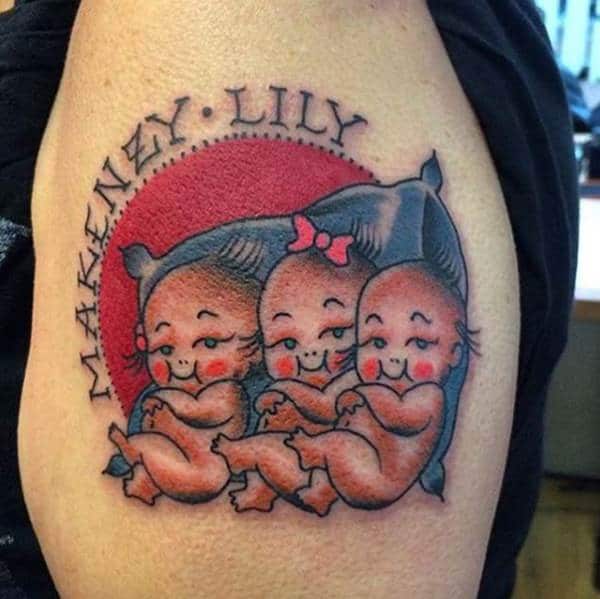 12. Fun Designs
This fun cartoon design shows that Dad has a sense of humor. It's an old-fashioned depiction of a childlike person with a mustache.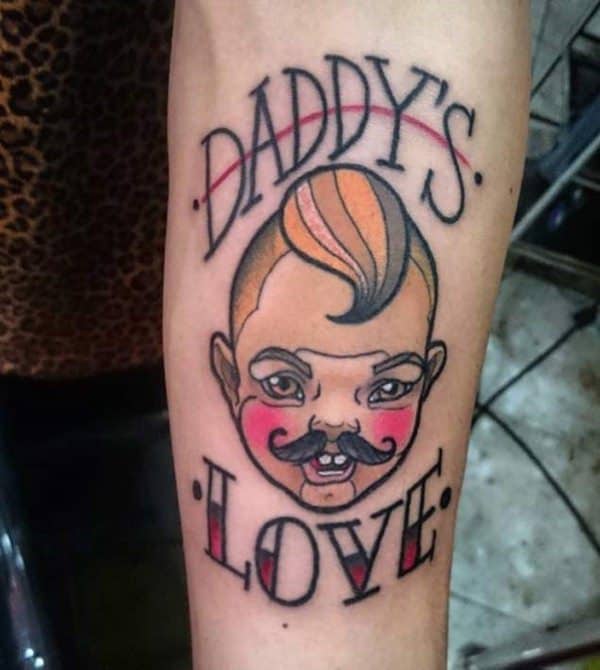 13. Inside the Womb
If you want always to remember what it was like to have your child inside your belly, then you might really enjoy this tattoo. It shows the child laying in comfort with the umbilical cord floating with it.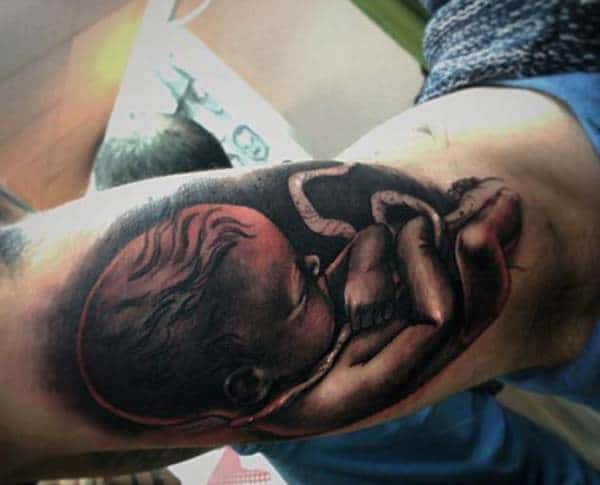 14. Holding the Child
This chest tattoo shows a child laying with two hands holding it. It's just an outline, but it's a nice tattoo of a baby.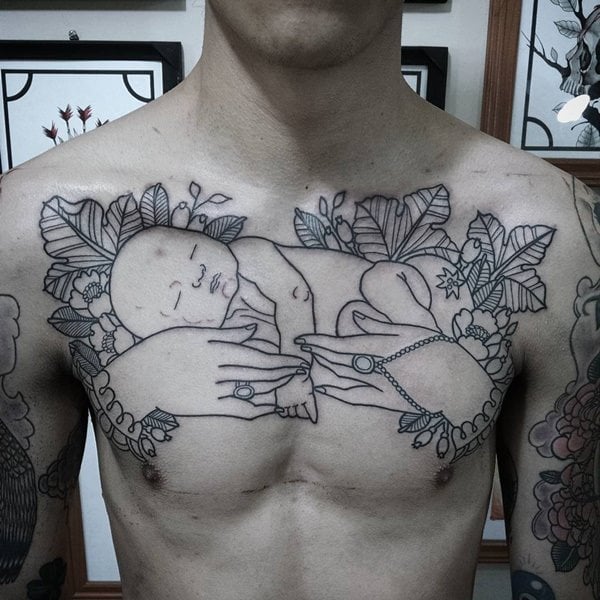 15. Cherubs
Angels, especially cherubs, have always been very popular when it comes to getting a tattoo that represents your child.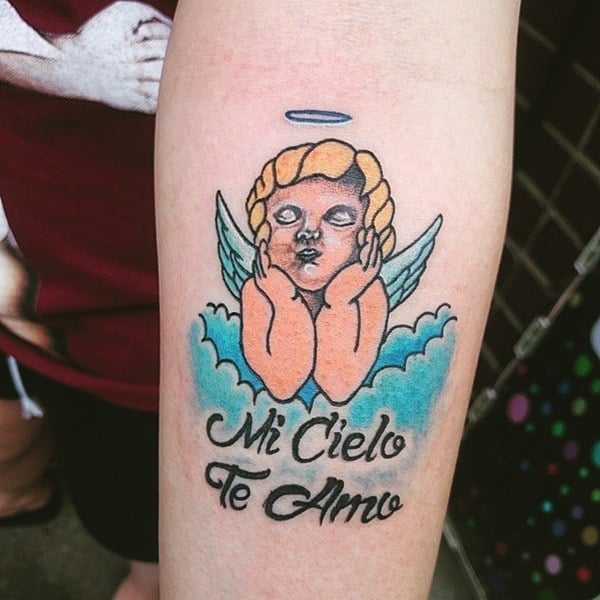 16. The Many Moods
These two cartoon characters show an example of the many moods children have, as we all know. It's not always happy smiles when it comes to the moods of a child.
17. A Picture to Remember
Another example of using a picture to create a tattoo to remember. If you want a picture on your body of a child then find one you love.
18. Baby Angel
A sweet picture of a small baby angel with delicate wings on the back. If you are looking for something small, then try this style out.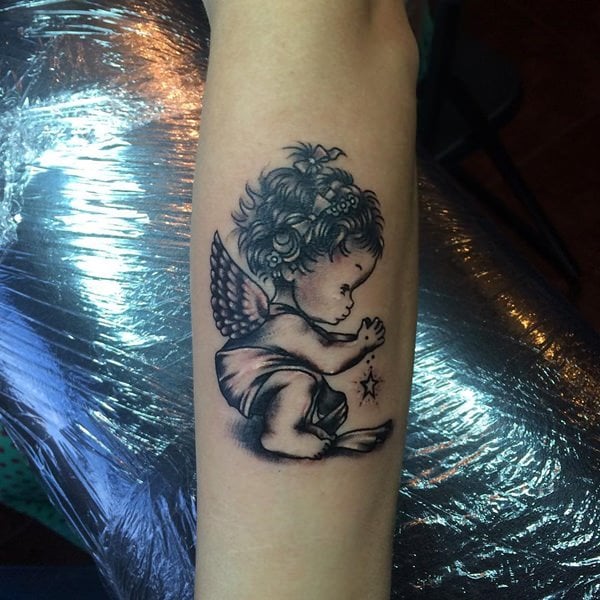 19. Cultural Tattoos
There are many different cultures out there that signify parenting in different ways. I'm not sure how the Rams head fits into the whole thing, but it's a different design.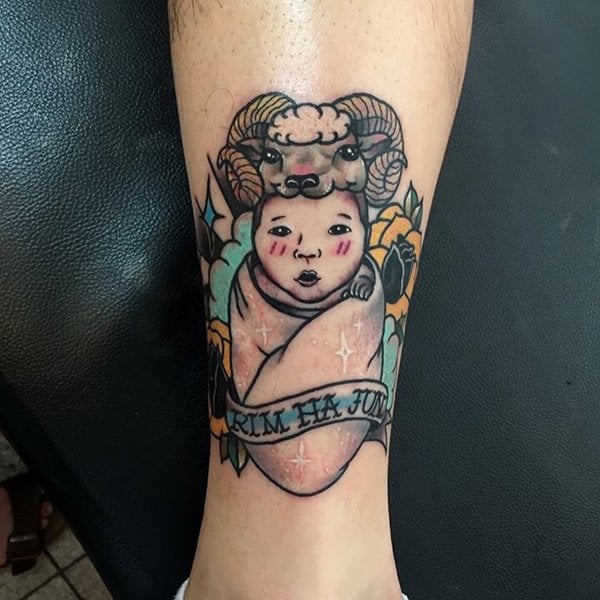 2o. Sad Baby
Tattoos are permanent so if you are thinking of putting a portrait on your body make sure that it's one that will make you smile every day.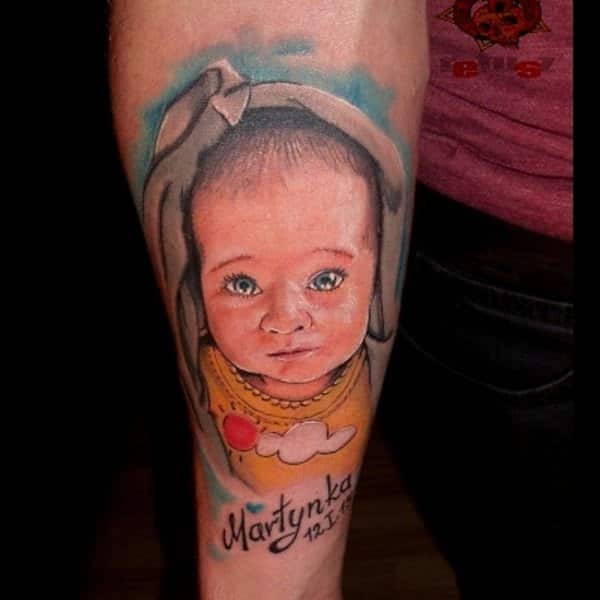 21. Dancing in the Rain
This tattoo is a great example of the innocence and joy that child have regularly in life. I could easily see a child doing this very thing.
22. Smiling Babies
Another example of getting a portrait of your child on your body. This one is rather large and takes up most of the arm.
23. Detailed Drawings
Another example of a portrait, this one is very detailed and has many great features to it. It resembles a drawing more than a tattoo.
24. Angels Waiting
A cherub angel is waiting and looking off into the distance as if in thought. I love the detail in the eyes; it's very realistic.
25. Praying Angel
This angel resembles a child praying before bed. It's cute and colorful, the blue really popping off the tattoo.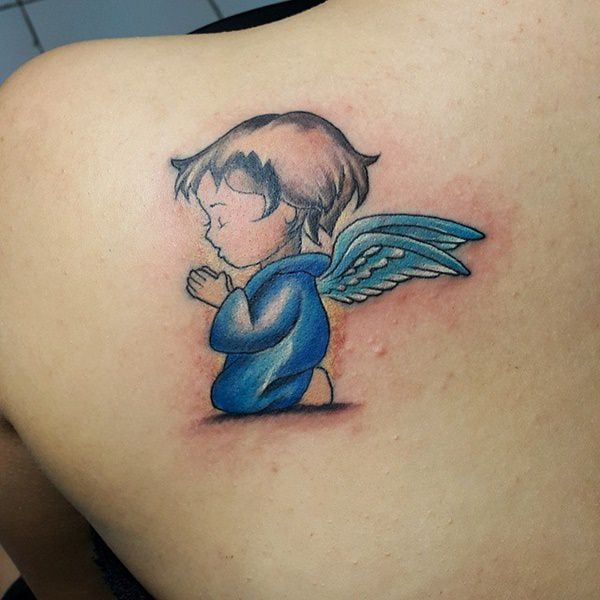 26. Chest Tattoos
Another example of a portrait of a child, this one fits nicely on the chest.
27. Little Girl
This unusual tattoo has a little girl with red hair in a field full of roses. She has the planets behind her swirling in the sky. The colors are great, and it's definitely a different design if that's what you're looking for.
28. Girl with Balloons
This little girl is taking a walk with some balloons. It's a cute design that shows the joy that a child takes in simple things such as balloons.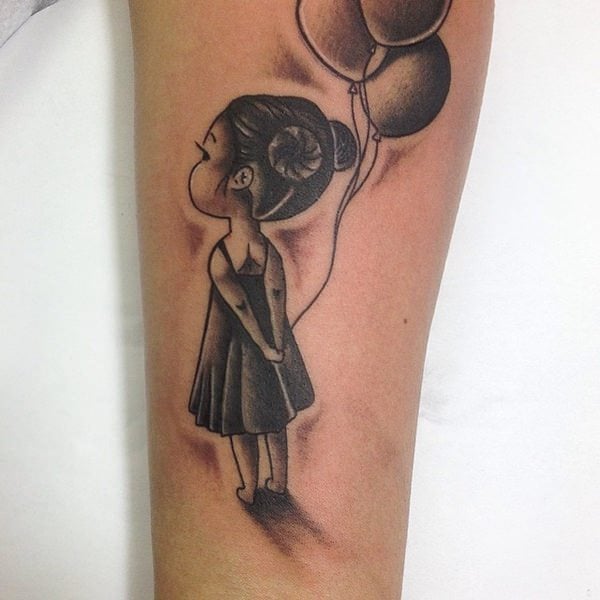 29. The Truth
This tattoo certainly speaks the truth about children. They can be doing something as a great as judo practice and then the next thing you know they are picking their noses.
30. Special Picture
Another great example of a portrait of a child, this one has the birthday with the picture as well.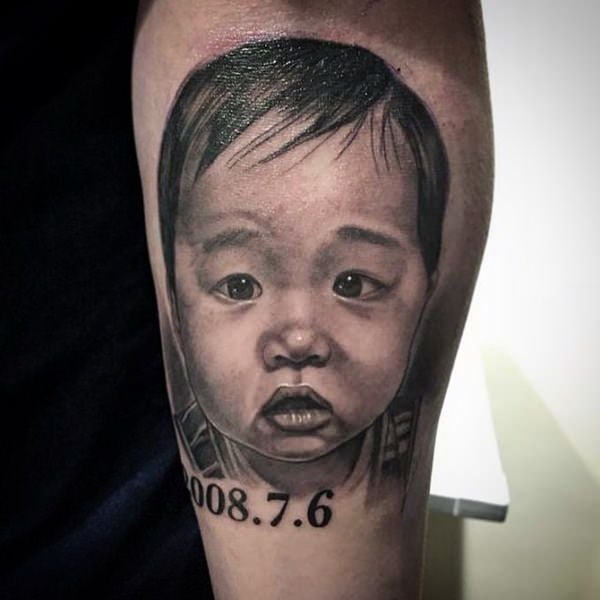 31. Best Friends
This childhood tattoo is all about best friends and what they mean to each other. The joy on the faces of these girls tells a story all its own.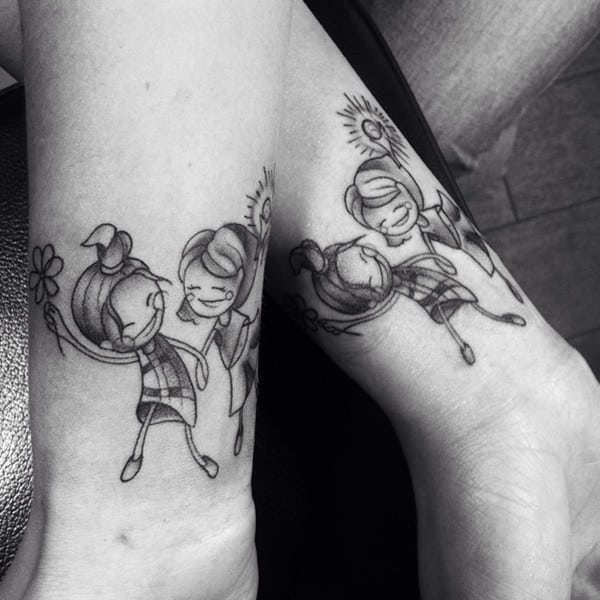 32. Holding the Feet
This is a pretty popular image that you often see in photographs after a child is born. If you love the look so much it could be a great tattoo idea as well.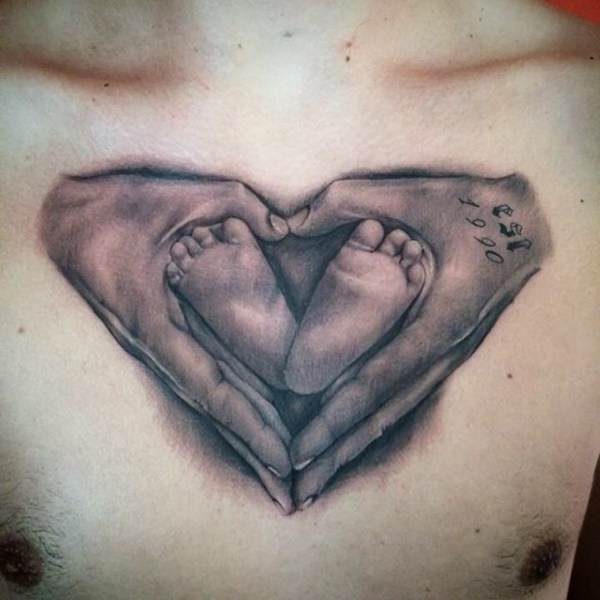 33. Pretty Babies
Another great example of a portrait, this one is of a little girl with a happy expression on her face.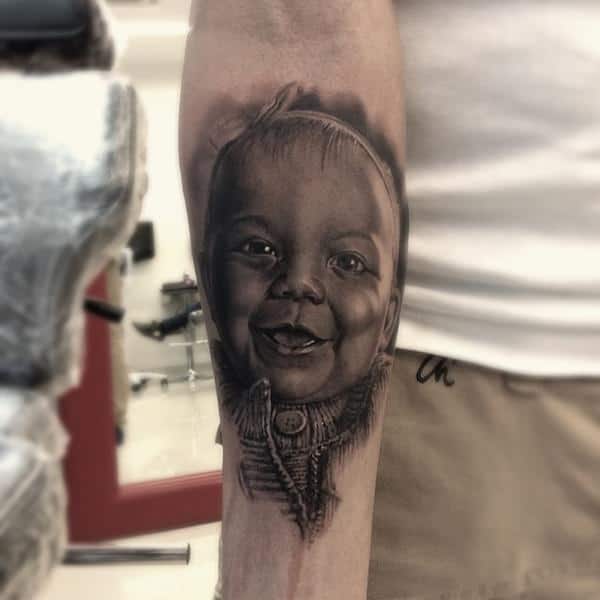 34. Baby Portraits
When people think of getting portraits done, they have to decide at which age they want their child on their body. Again it seems like a popular design choice, but there are still lots of people that don't want huge portraits on their body.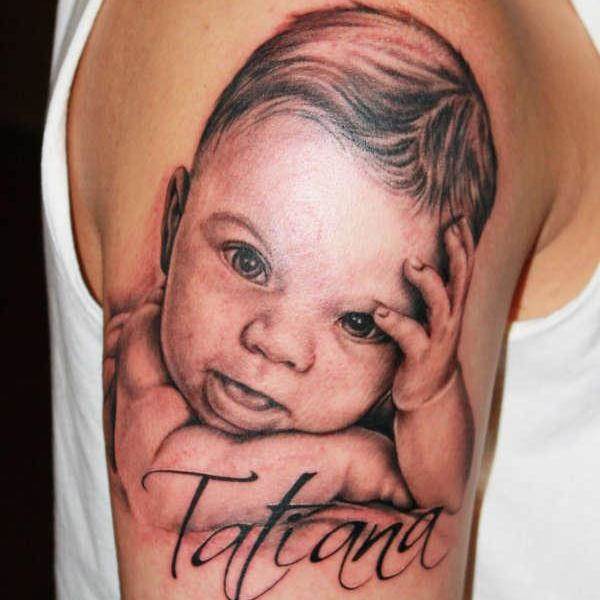 35. Baby Toys
Maybe there was a special toy that your child was obsessed with. They carted it around wherever they went. If that's what reminds you of your child the most, then it could be a fun tattoo idea. This fun idea allows for the name of the child to be added.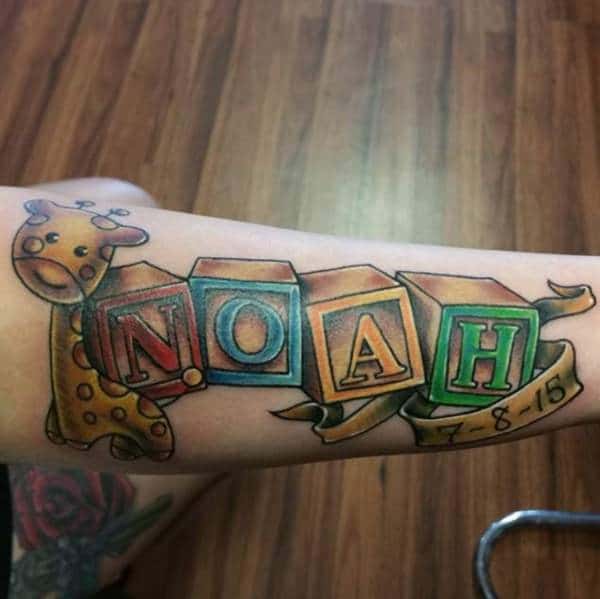 36. Angel Love
A sweet cartoon of a baby angel holding a heart. If you are looking for an adorable baby tattoo, then you might fall in love with this one.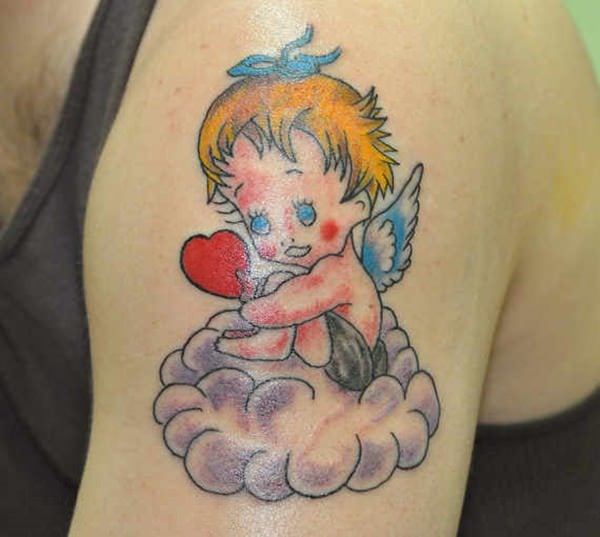 37. Boxing Babies
This hilarious baby choice is sure to put a smile on your face. It's got plenty of cartoon elements to it, and the fact that the baby is wearing boxing gloves is very charming.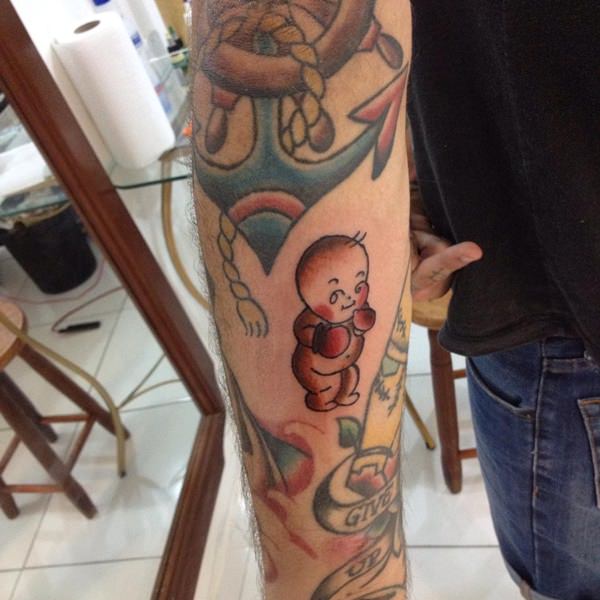 38. Classic Cherub
This is a classic cherub look, one that is very popular as well. The cherub is looking off into the distance with it's head in its hands.
39. Remembering a Lost One
This tattoo is all about remembering the passing of a baby. It's a cute and meaningful way to remember loved ones that are no longer with us.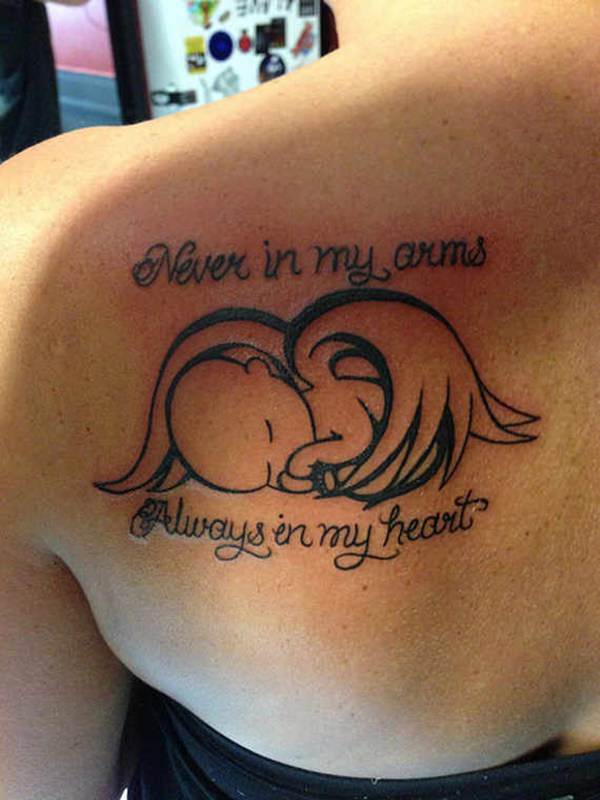 40. Cherub Designs
Another great example of a cherub design, this one is full of color and has a feeling of hope.
41. Classic Tattoos
Another example of the print tattoos theme. It's a very popular one, and it's beautiful as well. This one has a print of the hand and foot with the name of the little girl and the birth date. It fits nicely on the shoulder.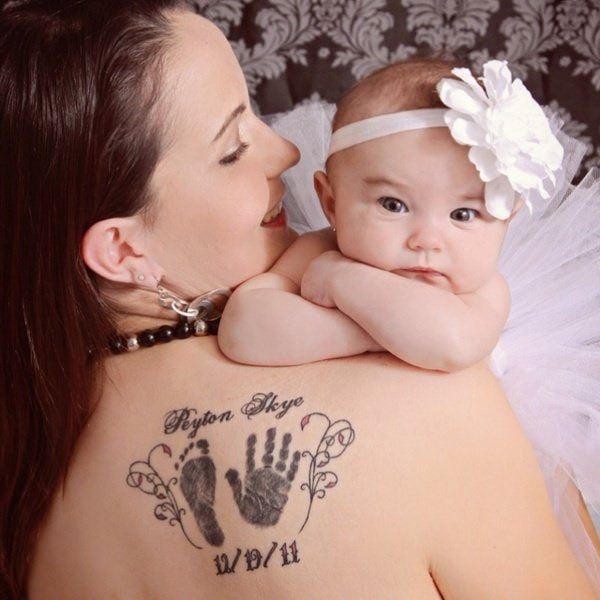 42. Hawaiian Flowers
There is something that is always so beautiful about Hawaiian flowers. They are always so colorful and bright. They complement just about any design, and in this case, it's the footprints. If you are a fan of footprints, you can always add something else to the design as well such as butterflies, flowers, and even birds.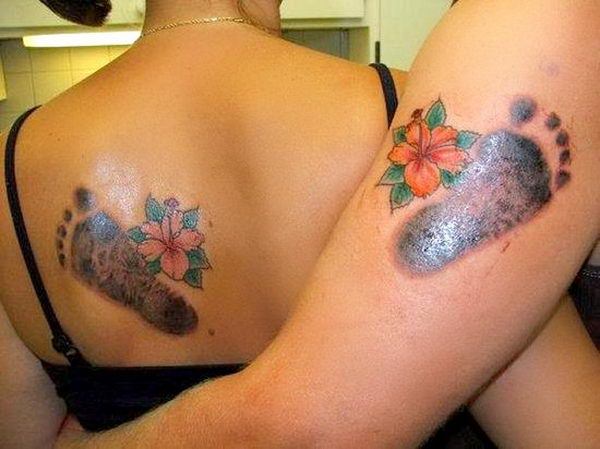 43. Large Designs
You can't really go wrong with this large design if you are looking for a back tattoo. The footprints are back, and they look great surrounded by pink flowers. The name of the child is there again with the birth date.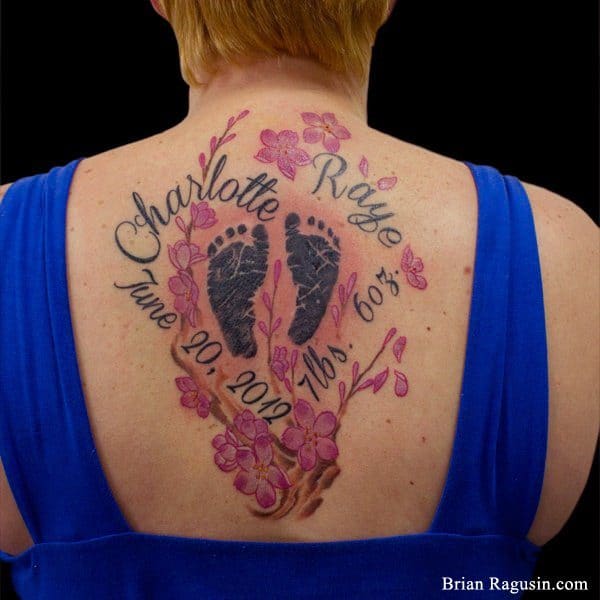 44. Realistic Designs
I love this little footprint, its a great example of that type of design. What I like about this one is you can see all the little wrinkles in the foot, that are signatures for your own child.
45. More Footprints
These designs are great examples of how many different ways you can do the footprint design. The little feet are there as well as the little boy's name. A classic design that will never grow old.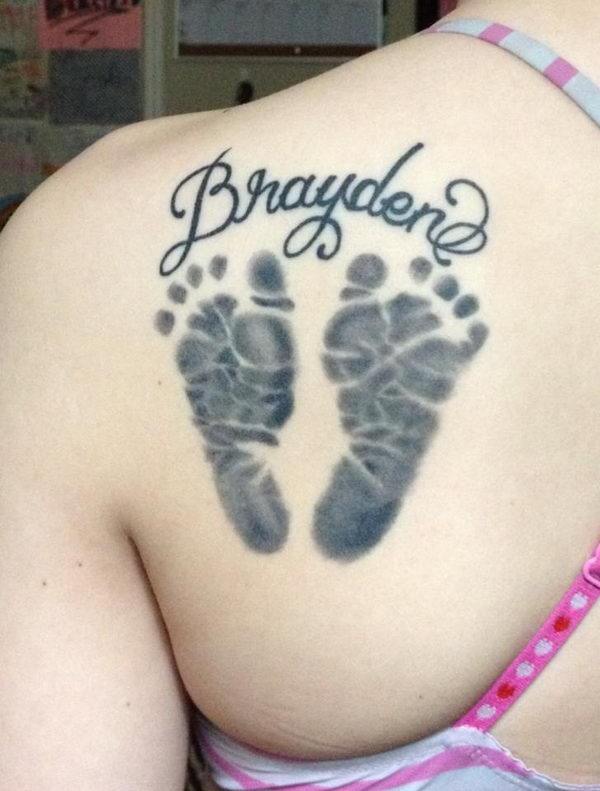 46. Ribcage Tattoos
A great design that fits nicely on the ribcage. That area is one of the most sensitive ones so be prepared for a little more pain. It's not an area that is going to make you feel comfortable at all.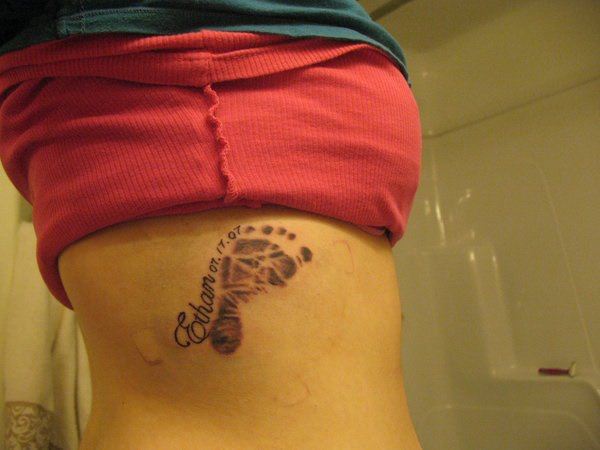 47. Foot Tattoos
A great example of how nice the footprint tattoo will look right on your foot. The name and birth date is added as well.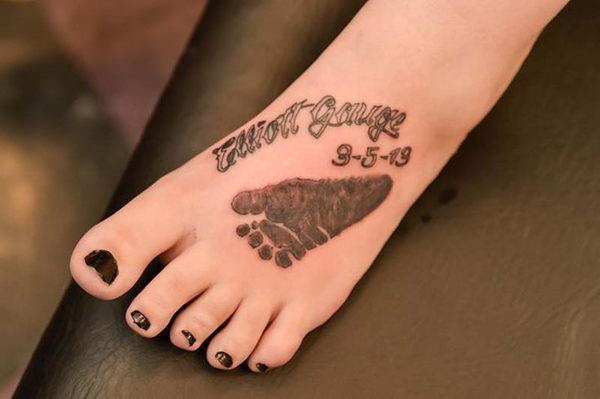 48. The Rosary
This tattoo design has many different elements that create a very nice picture. The footprints are there as well as some evidence of religious faith. Add a rose in the middle, and you have created a unique look that is special to you.
There are many different types of tattoos that you can get that show your love as a parent. You can choose something humorous or something touching and special. The sky is the limit for choices, it all depends on what you're looking for. If a tattoo is what you want then choose something that you are going to love forever, take some time and think about it. We hope that you were able to find something in the article to inspire you on your journey. Getting a tattoo is an exciting thing and you want to be happy with the choice that you make. Doing something that represents a love for a child should be honored and appreciated.
The next step is choosing an artist that is going to take their skills and talent and create exactly what you are looking for. It's so important to choose an artist with experience so that you can be comfortable knowing that your body is in good hands. That way when you leave the tattoo studio, you will have something you can show off to your friends and family with pride. You don't want to have to hide the tattoo and worry about getting it covered up. We hope that you have enjoyed the article and please comment on your favorite tattoo design!