Besties are the best! If you and your BFF are practically twins then you've probably thought about getting matching best friend tattoos before. Perhaps you've got something in mind special to the both of you or perhaps you need a little more inspiration before diving in at the deep end. That's why we've come up with this list of 110 inspirational ideas for best friend tattoos. Check em out!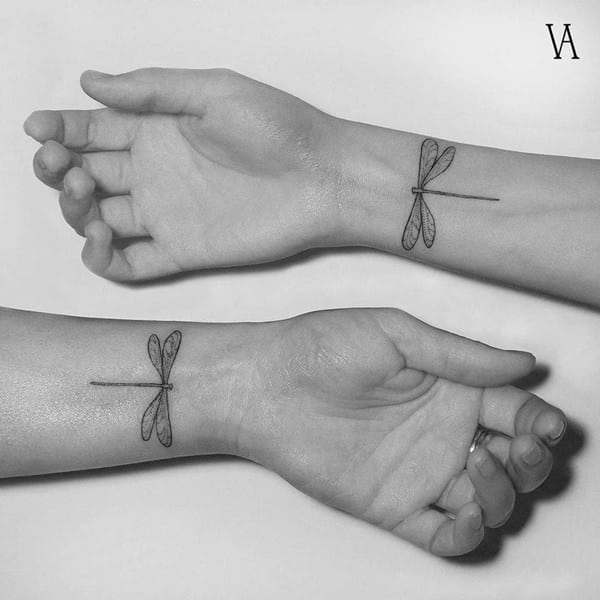 1. Dragonflies
A gorgeous, delicate wrist piece, these dragonflies will always be in style. Wear your friendship loud and clear in this easy to spot location.
2. Pinky Swear
Swear you'll keep a secret? These girls do! If you and your bestie are always pinky swearing about everything, why not tatt yourselves some interlocking pinky best friend tattoos?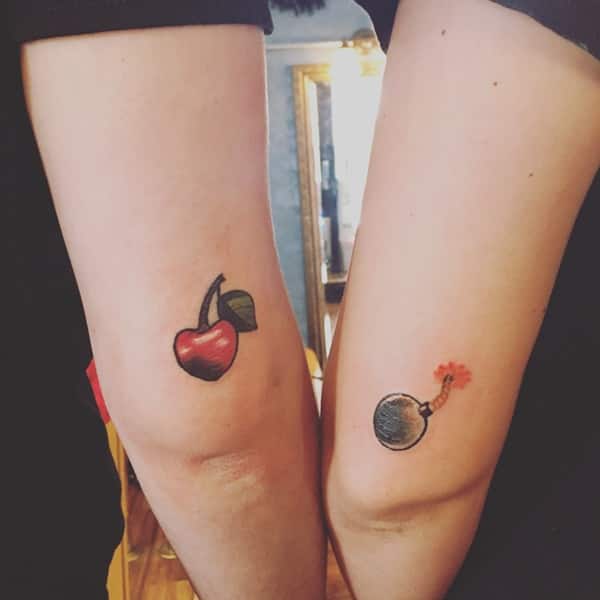 3. Cherry Bomb
Cause you're my ch ch ch ch – ch ch ch ch cherry bomb! Instead of getting both the same tattoo, why not make it one that turns into something even cooler when the two of you are together?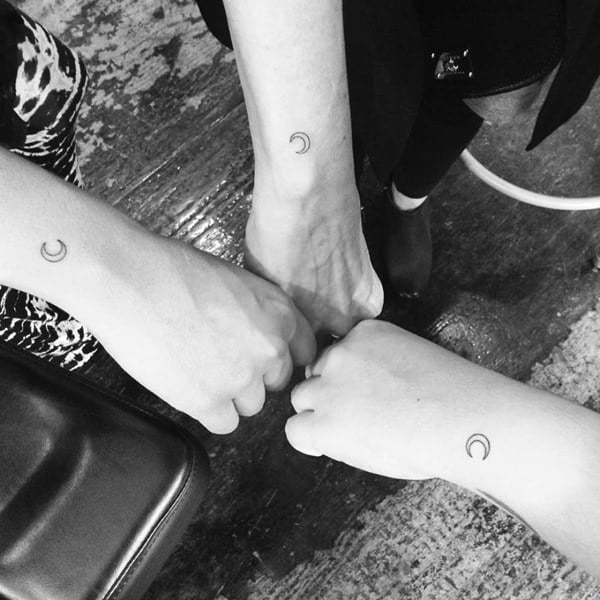 Also See: 101 Small Tattoos for Girls That Will Stay Beautiful Through the Years
4. Crescent Moon
More of a trio than a duo? This triple threat team has some tiny crescent moons on their wrists to show their friendship.
5. Moon and Planet
When the stars collide… It'll be just you and I. These cute little thumb tattoos are just the ticket if you're looking for some cool matching hand tatts.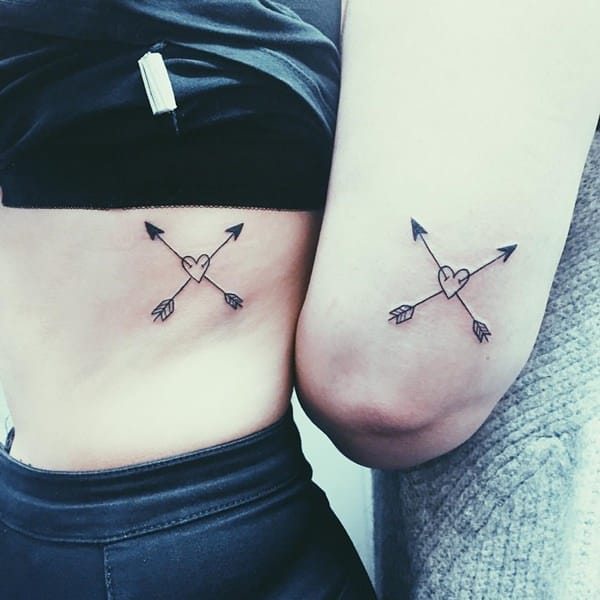 6. Arrows Through My Heart
You and your bestie don't always have to get your tatts in the same location! Here's a pair who decided on the arm and the chest.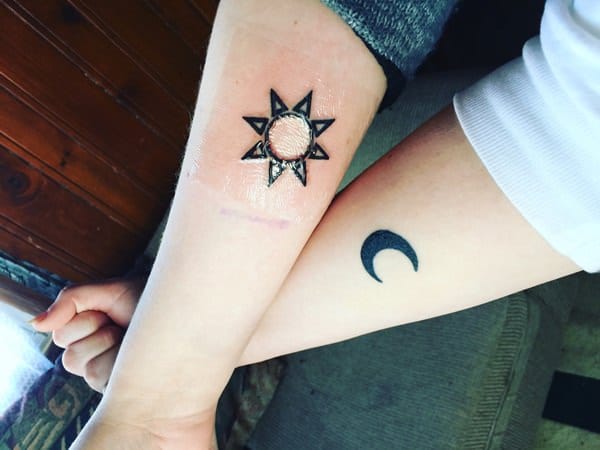 7. Sun and Moon
Another matching set of tattoos, this sun and moon show that these two best friends complement each other in every single way.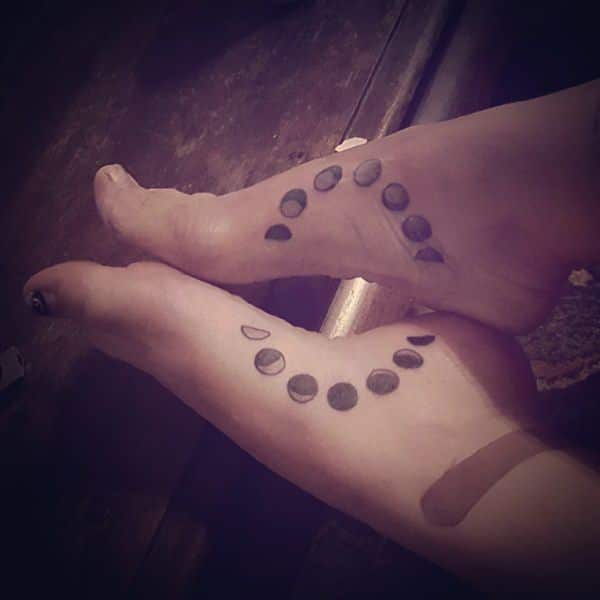 8. Phases of the Moon
Love walking in the night with your best friend? These phases of the moon tattooed above the arch of the foot can show your passion.
9. The Wrist Crescent Moon
More crescent moons abound! These ones are a little more bold as they are colored in. The wrist placement means you'll always think of them!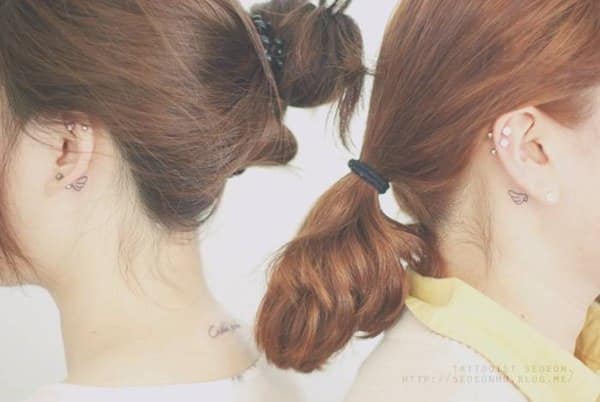 10. Angel Wings Behind the Ear
These two best friends have decided to put some tiny angel wings behind their ears. These types of best friend tattoos can easily be hidden too.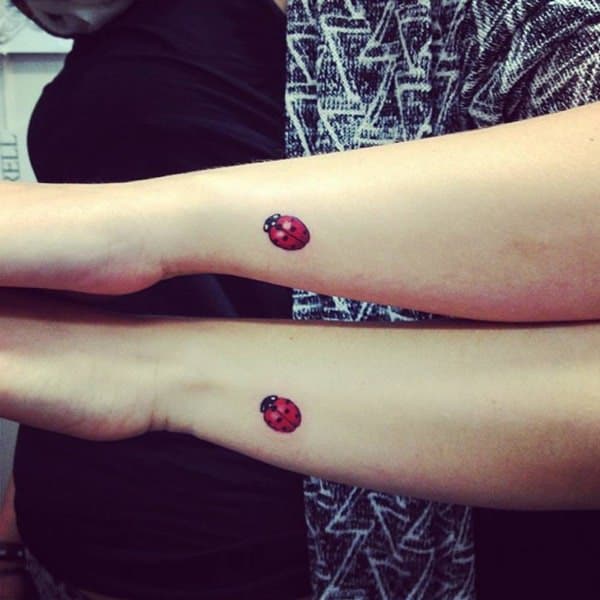 11. Ladybugs
Ladybugs or lady beetles? Whatever you call them these cute leg tattoos are just bursting with colors. You won't be able to miss these ones.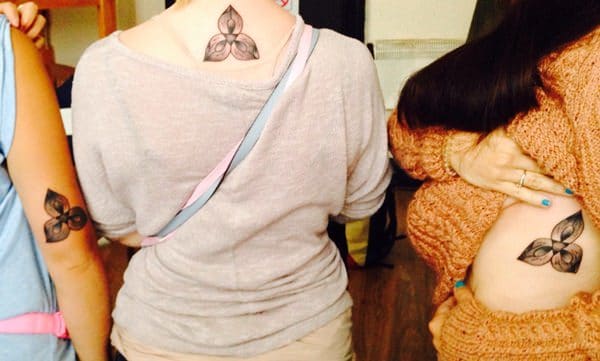 12. Charmed Sisters
This trio of friends obviously loves Charmed as they have the matching tattoos from the show. It's cool how they have each in a different place, isn't it?
13. Love hearts
These jogging ladies have decided that their love for each other was so strong that they'd seal the friendship with a love heart.
14. Matching Om
A spiritual choice, these two enlightened friends have decided on a wrist placement for the Om symbol. A great choice, especially with the bracelets.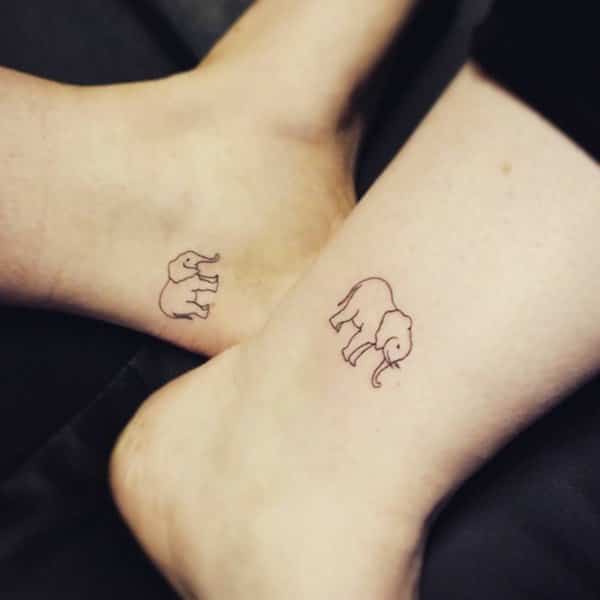 15. The Elephants
You can choose to have just simple outlines for tattoos instead of going all full on with color. These elephants are a great example of that.
16. Sunny Side Up
A swirling sun? That can only mean that this friendship burns the brightest of them all! Feet are easy to cover up if you have a professional job, too.
17. Cool Smiley Face
These friends are very cheeky! They've tattooed the cool smiley face on their middle fingers, ready to be held up if someone annoys them!
18. Cool Smiley Face Up Close
Need a closer look at those smileys? Here it is, enjoy!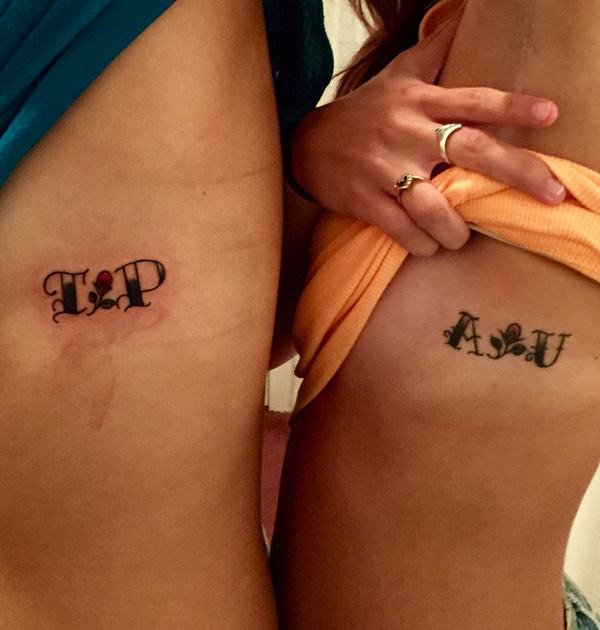 19. Your Besties Initials
A friendship that'll never die? Getting each other's initials isn't just for lovers. Choose to get your best friends initials inked on you instead!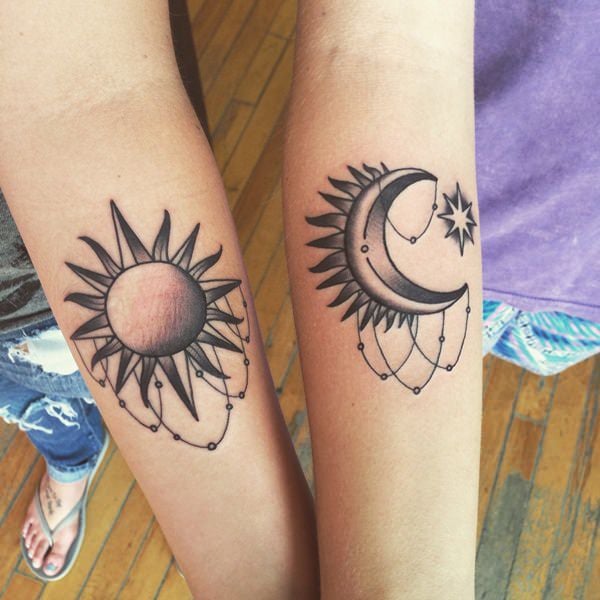 20. Hanging Sun and Moon
More intricate than the other sun and moon tattoos we've seen, this pair have some pretty drapery attached to the bottom to really make them stand out.
21. Love Bellies
If you're getting a love heart with your best friend then why not ink it in a different color, like this gorgeous stand out red here?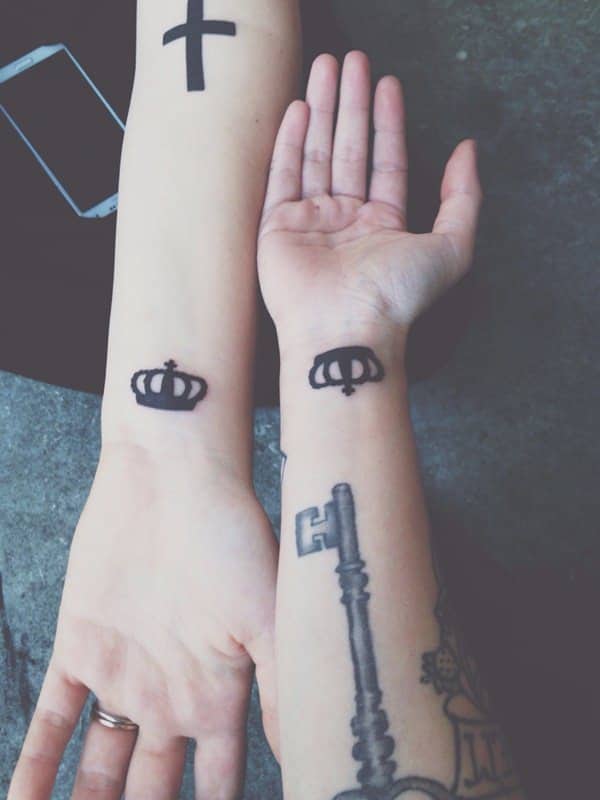 22. Matching Crowns
Who wears the crown? You both do! That's why you should display it on your body that you're both rockin, fierce queens!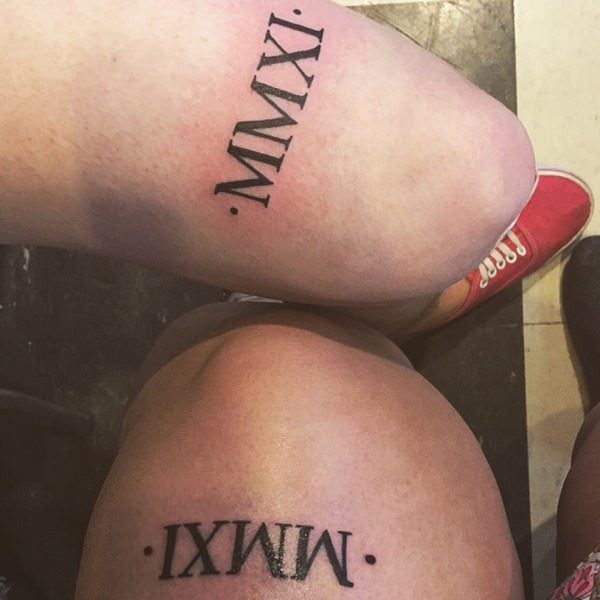 23. A Special Date
While many people ink just regular dates on their bodies, this pair has spiced it up a bit by adding a date in roman numerals instead – 2011.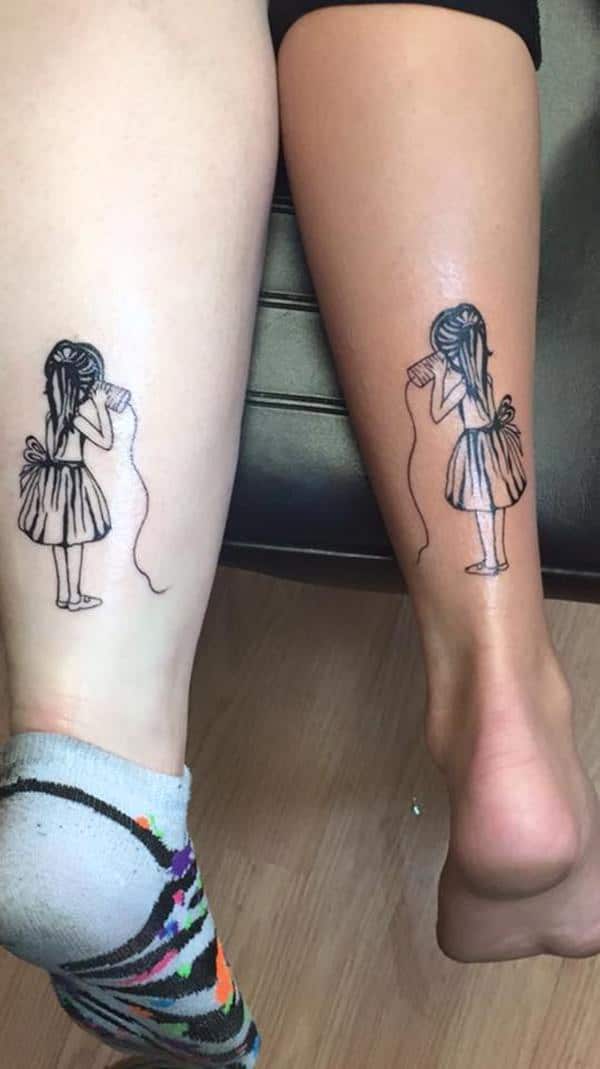 24. Always on the Line
These sweet best friend tattoos depict two little girls listening to each other through the old tin can telephone. Why not make your own custom tattoos?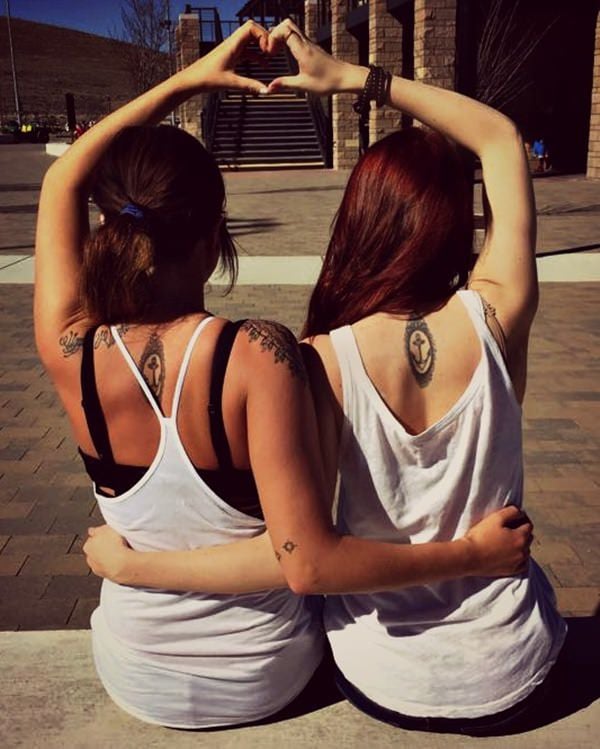 25. Upper Back Cameo Cross
If you've been thinking about a tattoo design for a while then why not ask if you're friend's interested in getting the same thing done?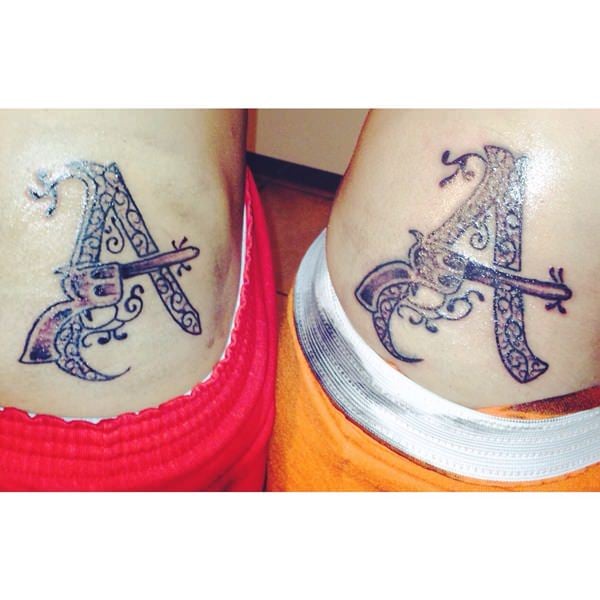 26. Ace Guns
If you both have the same name then you can get matching initial tattoos like these two brave babes above.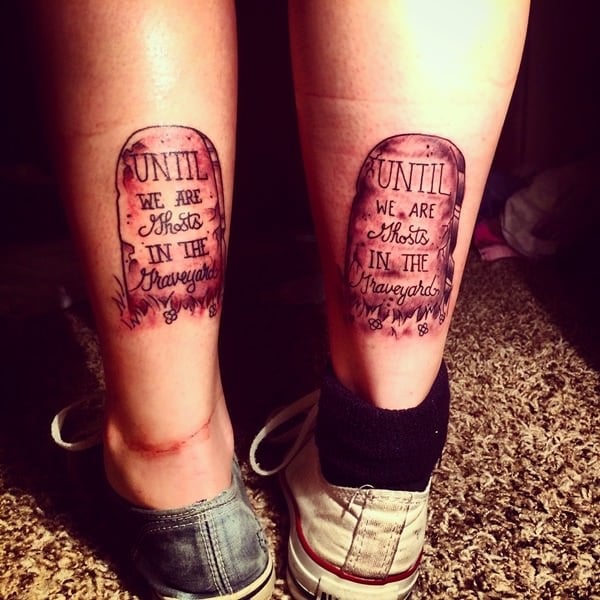 27. Til Death Do Us Part
While lovers may come and go, you'll probably have you best friend for life, or longer – "Until We Are Ghosts in the Graveyard".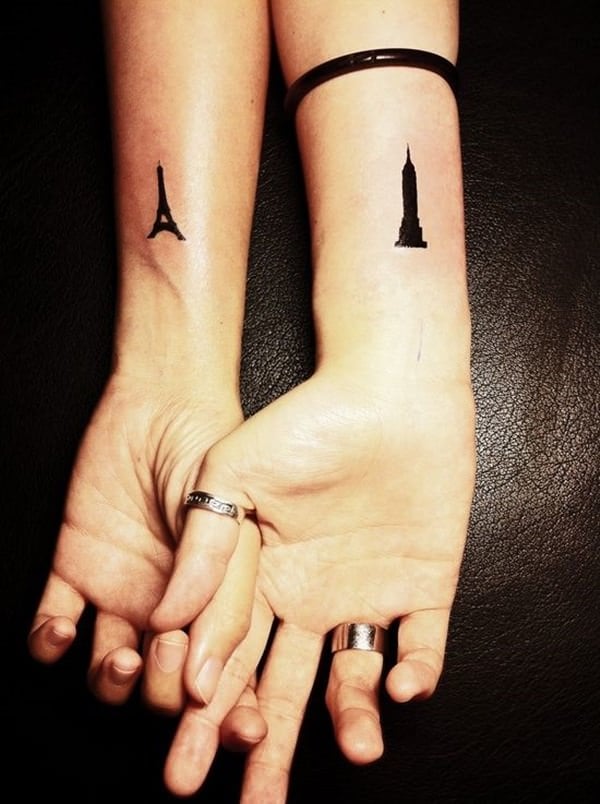 28. Travelling Tatts
Did you go on an amazing world trip with your best friend? These two did! Inking your favorite spots from the trip is quirky and special.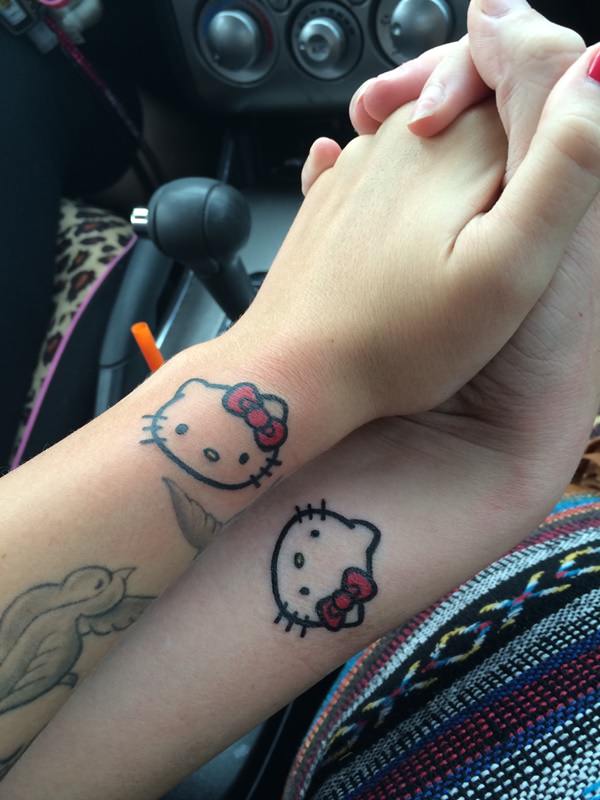 29. Hello Kitty
Are you both mad about something that other people find strange? Hello Kitty? Dinosaurs? Witches? Why not ink it?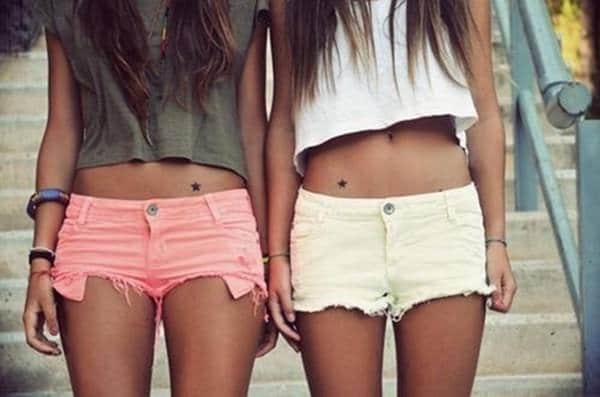 30. Tiny Stars
We really like these tiny stars on the lower belly. It's cool that these ladies have it on opposite sides of the body.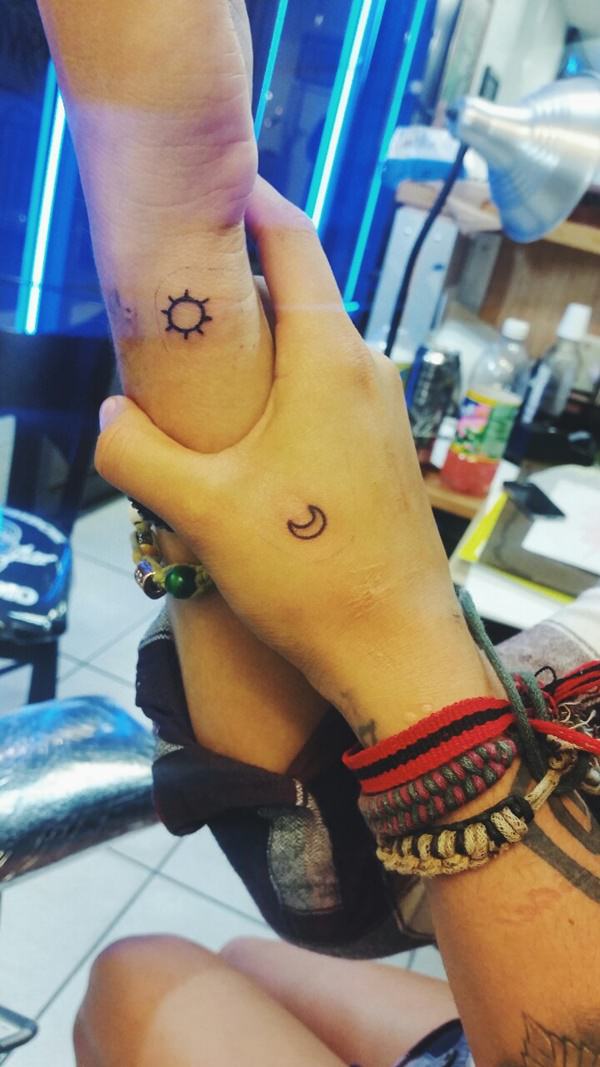 31. Sun and Moon
Another classic sun and moon combo. These are smaller and more rounded than most that you will come across.
32. Animals in Love
Obsessed with animals? You are your bestie could get a tattoo of each of your favorite animals in love like these two above!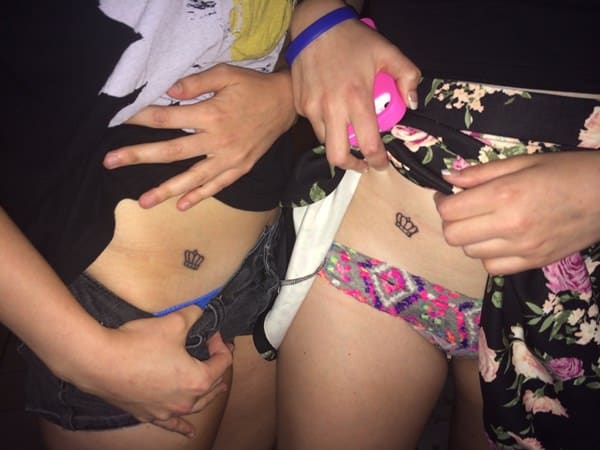 33. Royalty
Some more cool crowns, these placed on the lower belly. This is a great spot that your parents won't see it too!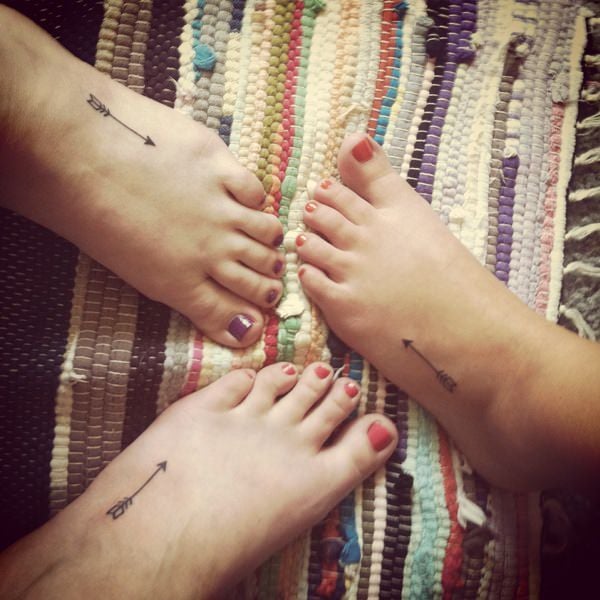 34. Arrows All Round
Tiny arrows are really popular at the moment, and these three best friends have decided to take the plunge and get inked together.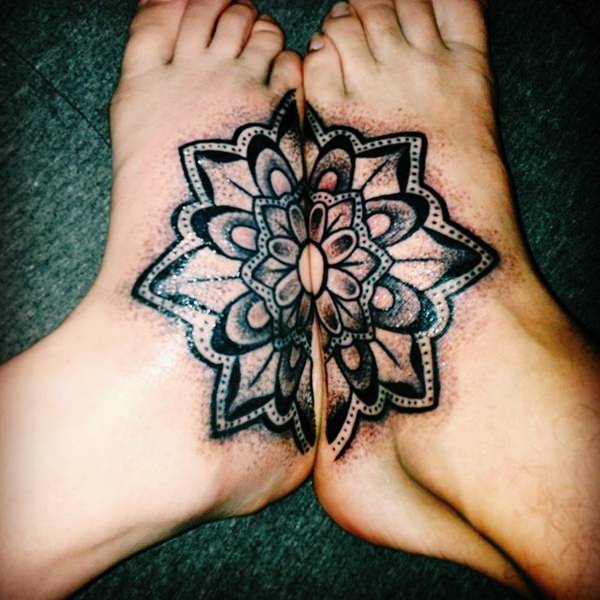 35. A Flower Together
Many people choose to get best friend tattoos that when put together turn into a whole picture. It's like reminding yourself you're better together.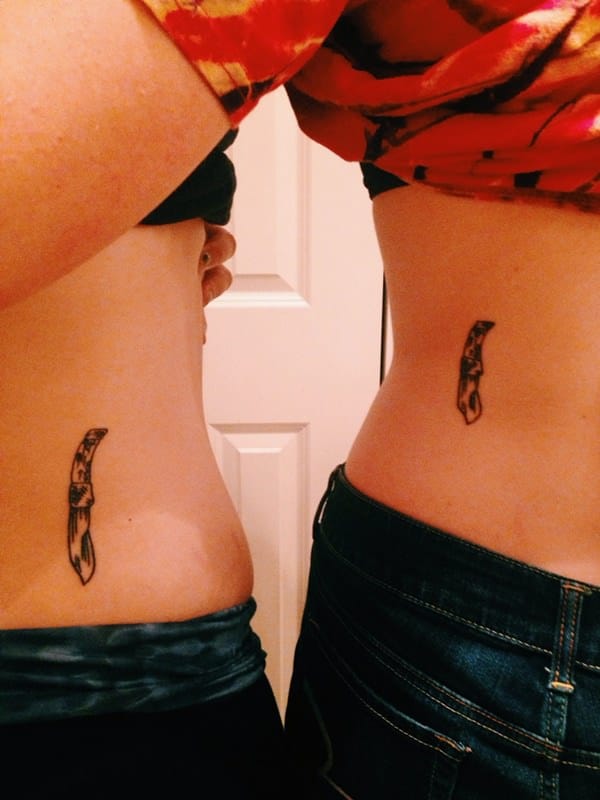 36. The Hankerchief
This tattoo obviously has a lot of meaning for these too. Do you have personal jokes that only the two of you know?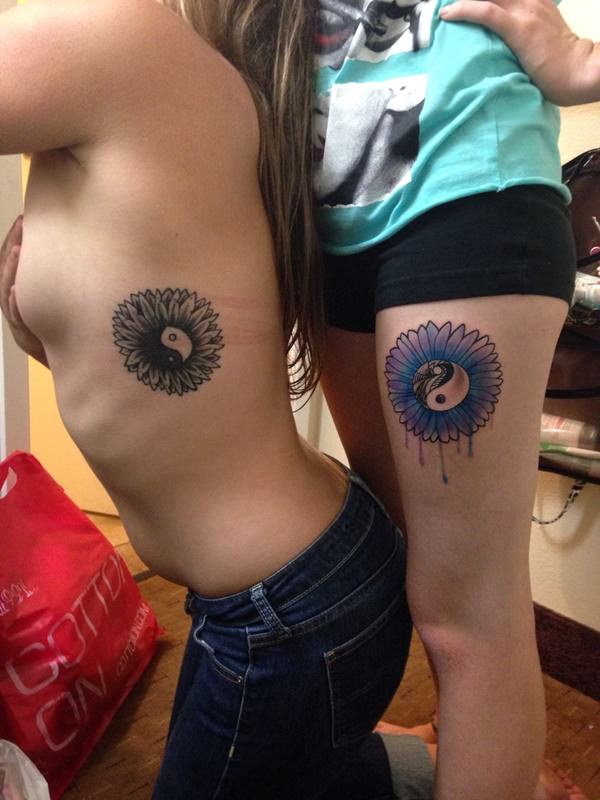 37. Yin Yang Flower
These two ladies have combined two popular tattoo designs into one – the yin yang and the sunflower. Doesn't it look cool?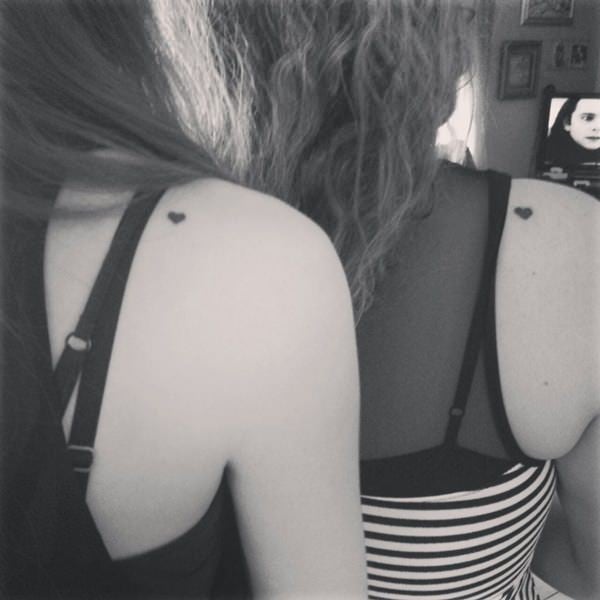 38. Heart on My Shoulder
A coloured in tiny heart in an obvious place on your body will show all onlookers that the two of you are best friends.
39. Pinky Swear Hearts
Whenever you pinky swear with your best friend you'll be reminded of how much the two of you love each other with these matching hearts.
40. Betty and Veronica
Ever felt like you and your best friend are straight out of an Archie comic? If you're the Veronica to her Betty you could get best friend tattoos like this.
41. Pinky Love Hearts
The pinky love hearts look even better with a lick of killer nail polish like these two girls have done here.
42. I Love… Avocado?
Share a mutual love of a particular food? You could always get matching tattoos of it like these big avocado fans here.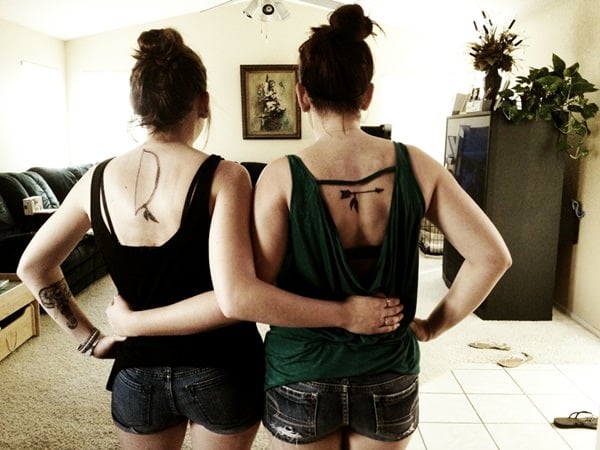 43. Bow and Arrow
Another case of where this pair looks awesome apart but even more awesome when put together. The popular bow and arrow style works well here.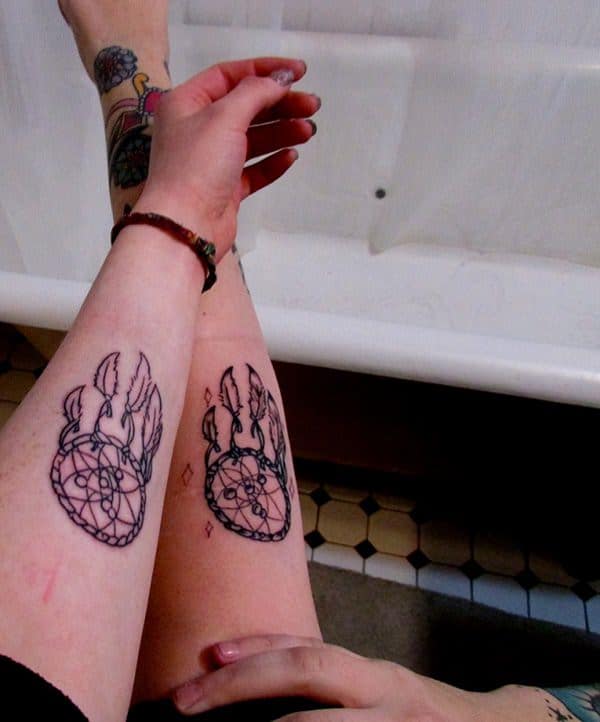 44. Dreamcatchers
The dreamcatcher is the perfect tattoo for the girl forever wandering. Why not get a matching dreamcatcher with your bestie?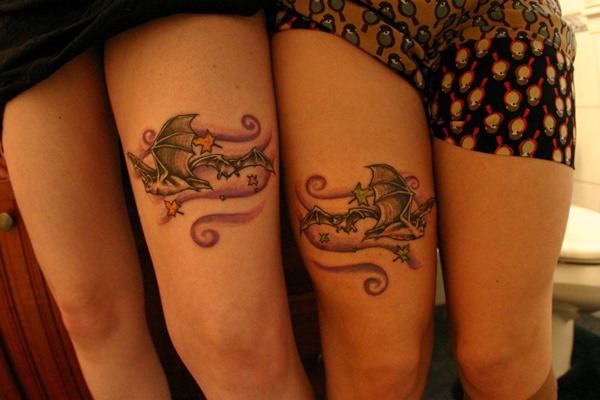 45. BATS!!!
These mystical bats look just amazing with the purple swirls behind them. We're not sure what it means to these ladies but it's obviously something they both love!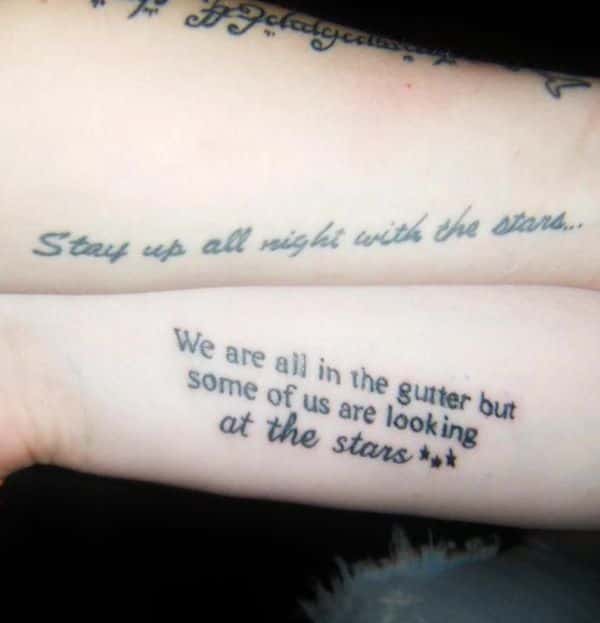 46. Take Her Lead
Do you love a tattoo that your friend already has? Maybe you could expand on it on your own body for your own best friend tattoos.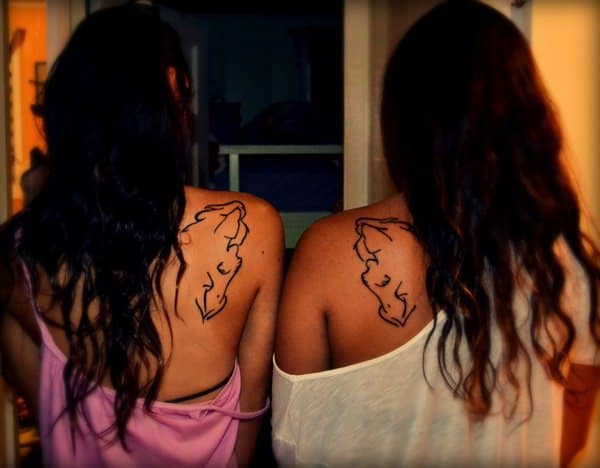 47. Matching Babes
Does everyone always ask you if you two are sisters? Get each other's likeness inked on your body to always remember your special bond.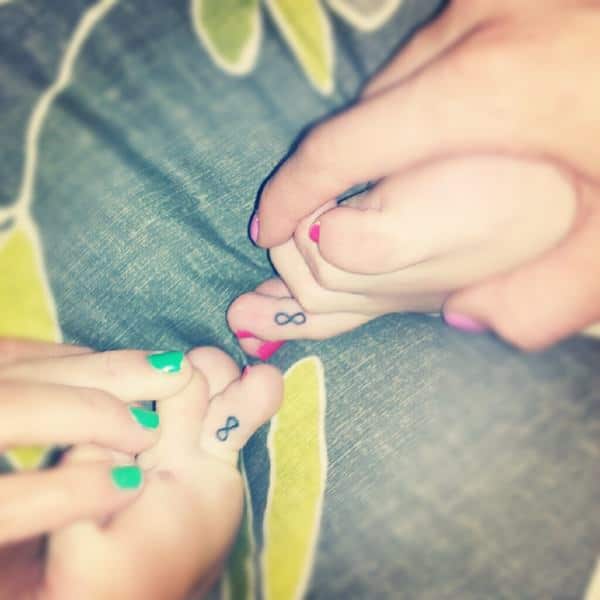 48. Inner Infinity
For the tattoo shy, or those that just don't want anyone else to know, you can get a secret matching tattoo between your toes like this inner infinity!
49. All Stars
More of the popular star design right here with these two colored in star designs.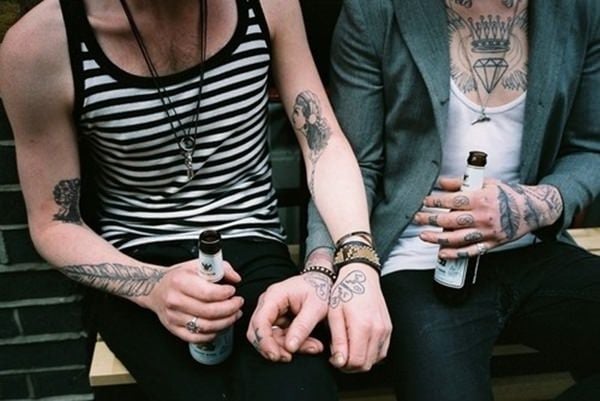 50. Love Hearts to Butterfly
Keep your matching tattoos in the same theme as the rest of the tattoos on your body. This way they will look better together.
51. Birds in Flight
Lots of people have the birds in flight sprawling across their upper backs. It makes sense to get it matching if your best friend loves the idea too!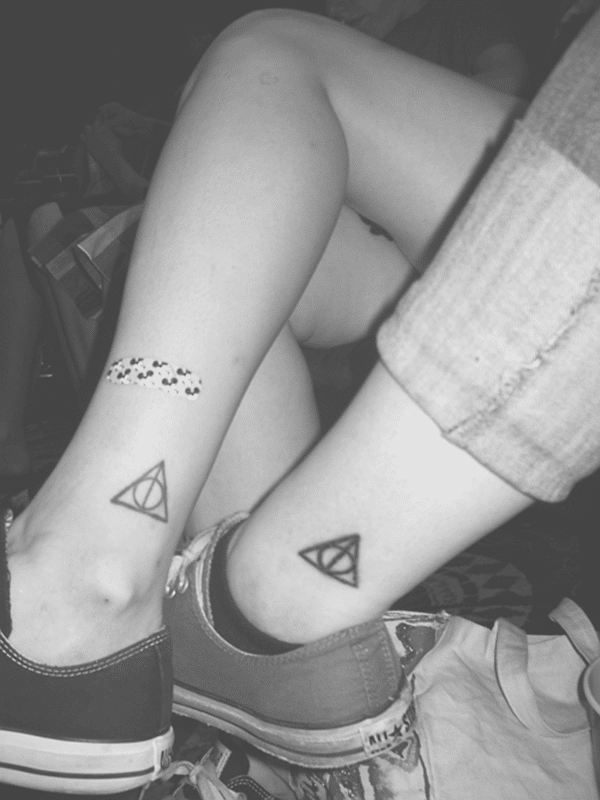 52. Crazy Triangle
Geometric designs are very popular among tattoo aficionados. Try doodling some designs with your BFF to see what you come up with for your best friend tattoos.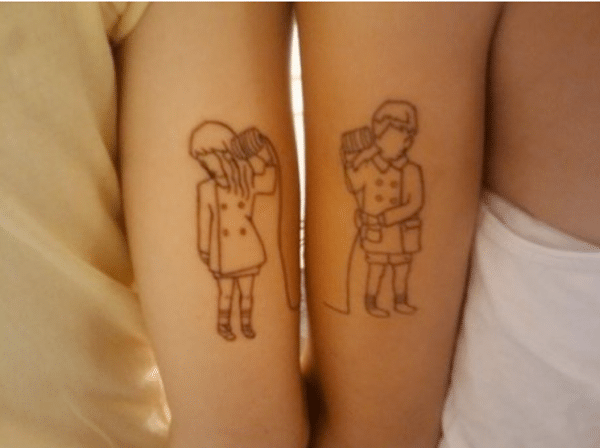 53. Kids with Tin Cans Take Two
Another example of sweet kids chatting through the old tin can telephone. You'll always be in touch!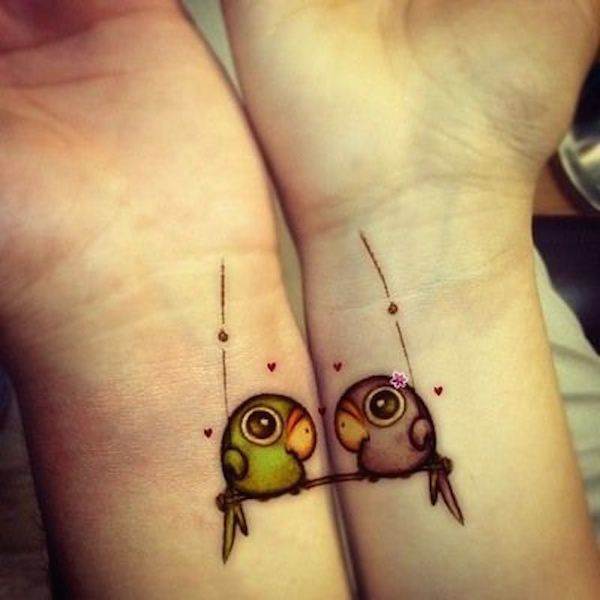 54. Swinging Birds
These two little love birds have obviously be done by a master tattooist. Choose your best friend tattooist wisely for the best results.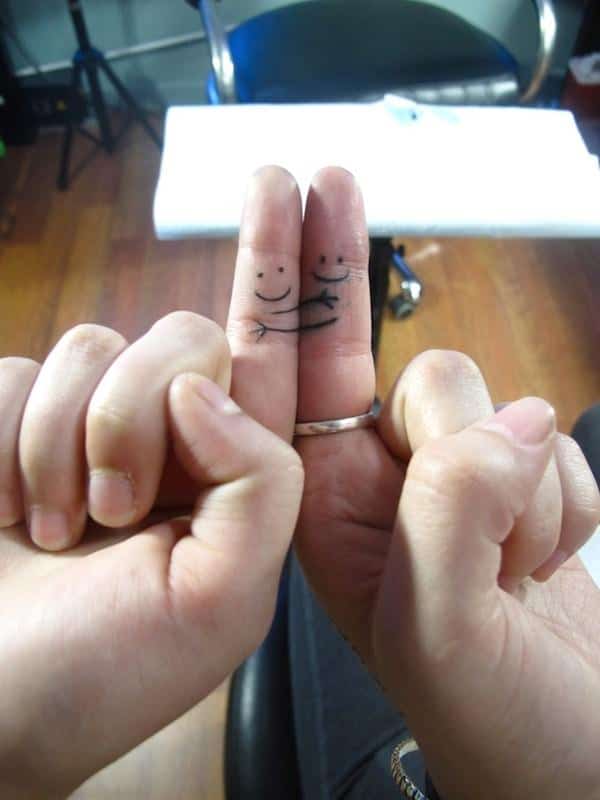 55. Hugging You and Me
A sweet, simple design, these two smiley faces embrace in a hug when they come together. Everybody together now – awwwwwwww.
56. Classic Sun and Moon
She's the sun and you're the moon. Or is it the other way around? Best friends can be either or both!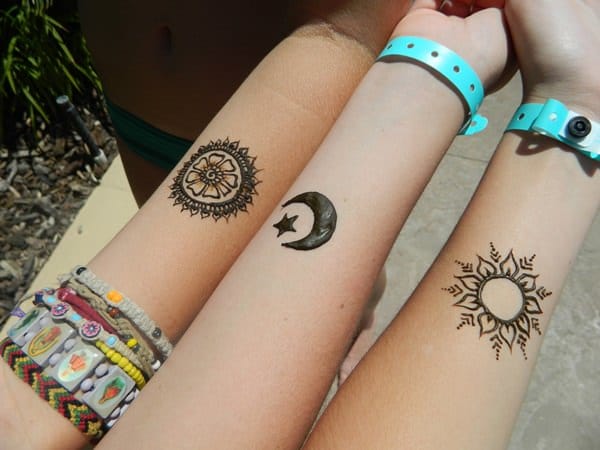 57. Sun, Moon, and Flower
You don't have to get permanent tatts if you don't want to. Henna, like these designs above slowly wears off in just a few weeks.
58. Three Birds
If you are a trio of best friends then you might like to incorporate the number three into your design somehow – like these three little birds here.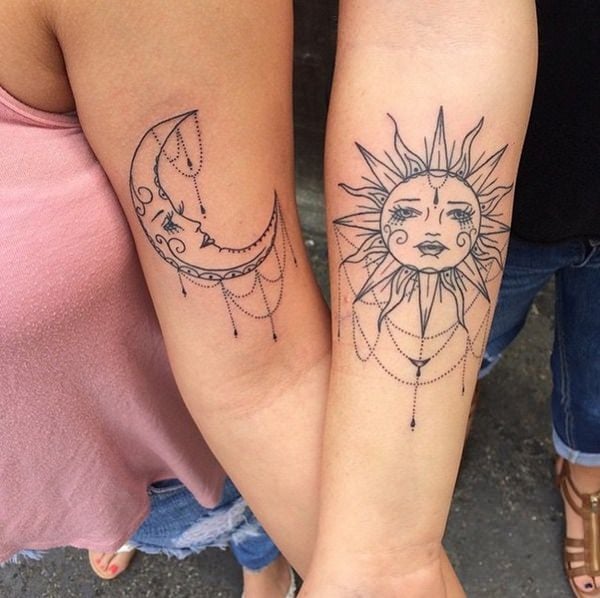 59. Stylized Sun and Moon
A regular sun and moon may not be your thing. Personalize your design by adding extra stylistic elements like this duo above have done.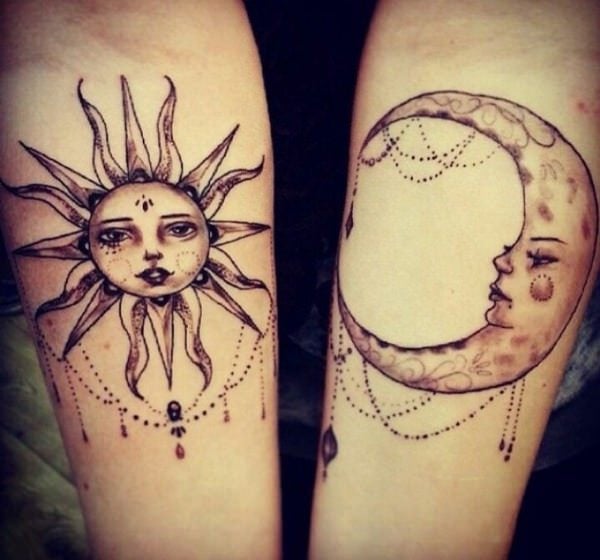 60. Beautiful Sun and Moon
Another stylized sun and moon design with pretty shading and beading.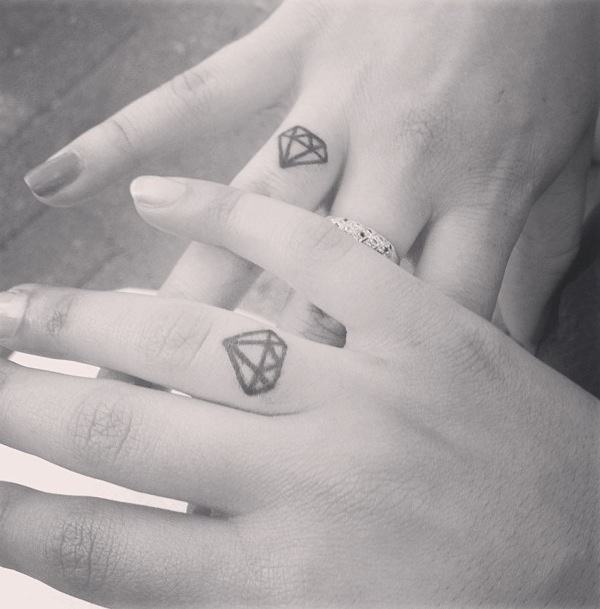 61. Flash That Rock
Diamonds are forever so these designs make sense because best friend tattoos are too! Easier than wearing a ring, these diamond tattoos won't come off.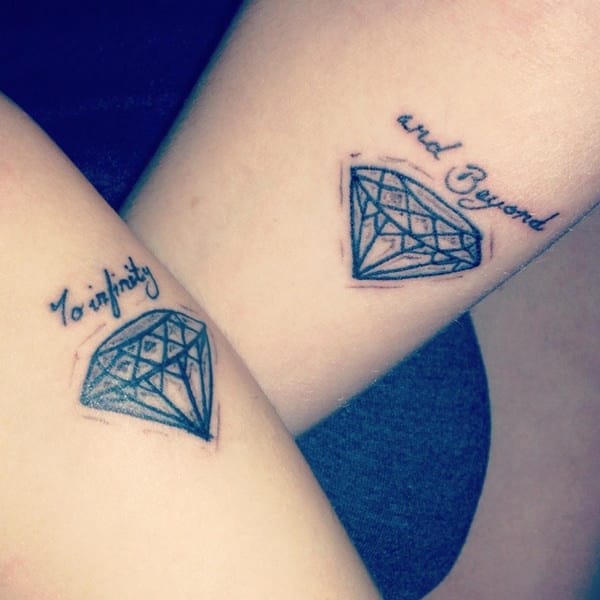 62. Your Fav Quote
Your favorite quote might be able to be broken up into two separate parts that are even cooler when they come together to reveal all.
63. Two Smileys
Don't want to commit to a big, noticeable tattoo? These smileys on the pads of the fingertips are small and will wear off over the years.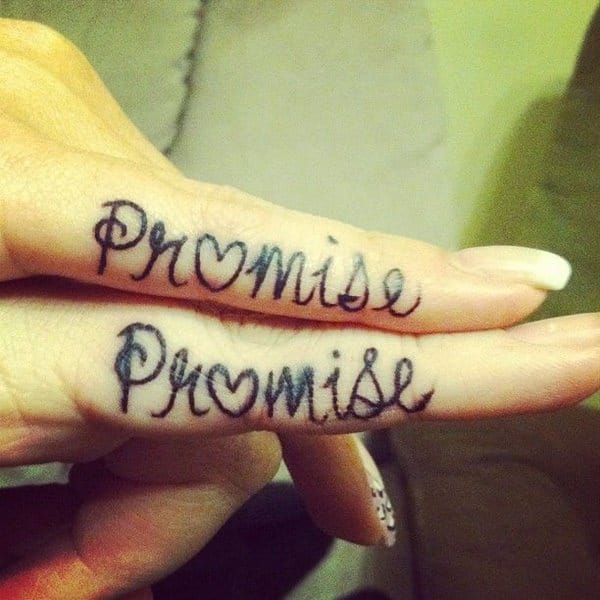 64. Pinky Promise Part III
These girls have gotten the word promise tattooed on their pinkys and sealed it with a heart. We really love the script in this one.
65. Elephant Origami
What an original design! The origami look of these elephant tattoos make them almost geometric and they really pop out.
66. A Black Cross
If you share a religion that you are passionate about then you might like to add some religious symbolism to your bodies together.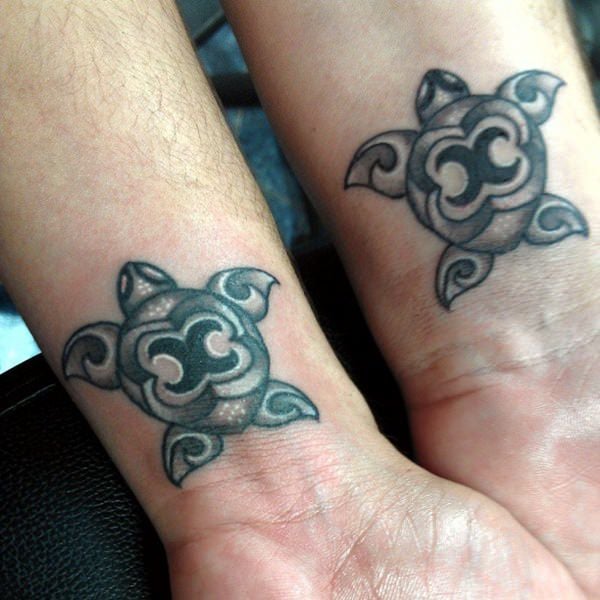 67. Tribal Turtles
These tribal tattoos are a gorgeous take on a majestic animal. If you share a love of animals then you might like to do a stylized take on one of them.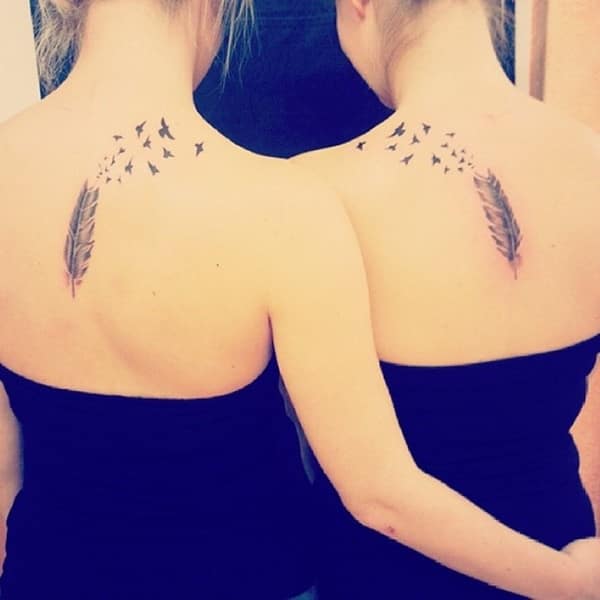 68. Feathers Blowin in the Wind
A pretty design that blows up from the center of the back across the shoulder.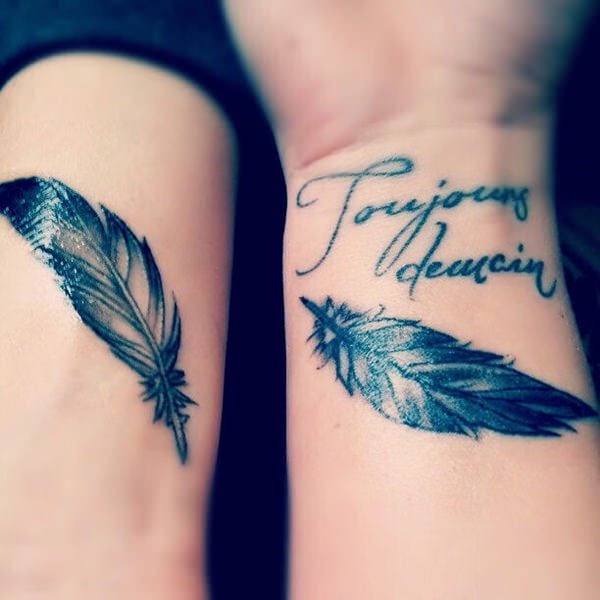 69. Two Feathers
You can get matching tattoos that you can always add to later. Some people like just a few tattoos and some people like to keep on going!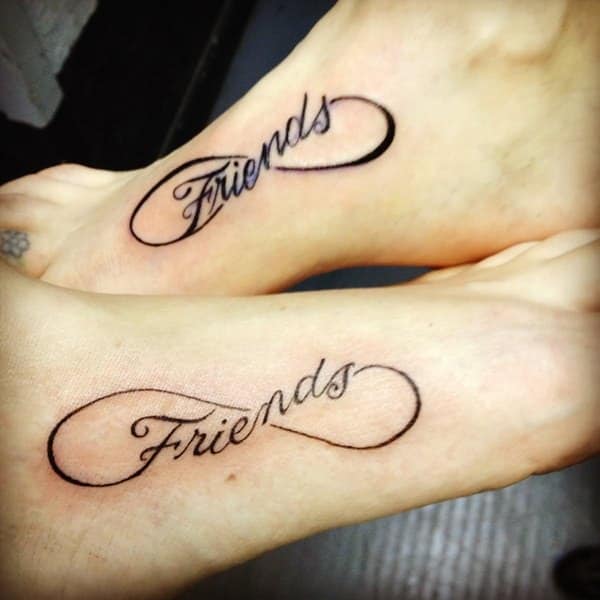 70. Eternal Friends
This is a take on the often tattooed infinity symbol. With friends in the center the meaning becomes so much more apparent.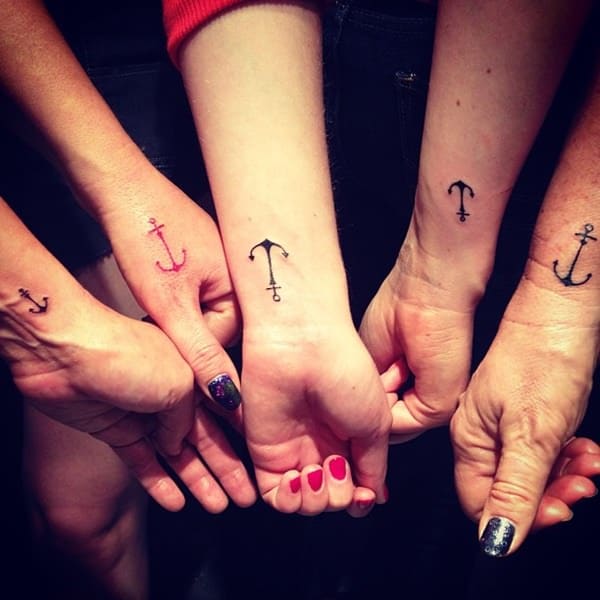 71. All the Sailors
Maybe your whole friend group wants to get in on the action? Choose small best friend tattoos with different colors so each of you is unique.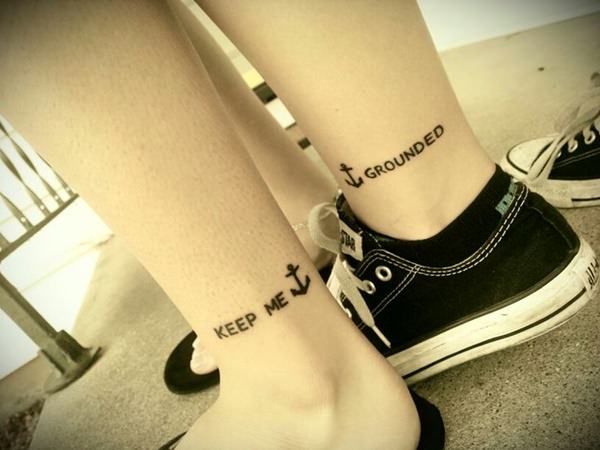 72. Your Special Phrase
These 'keep me grounded' best friend tattoos is a reminder to both of these friends that if they're in trouble the other one is always there.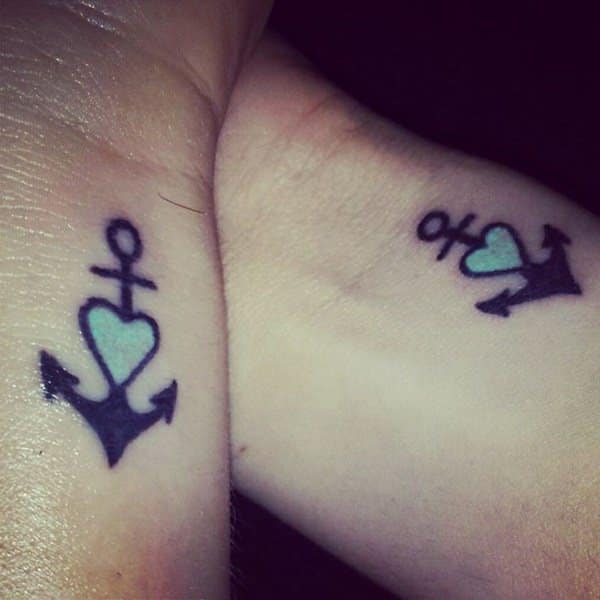 73. Love Anchors
A unique twist on the regular anchor, these pretty tattoos have a light blue love heart in the center of them. Put your own spin on a traditional design.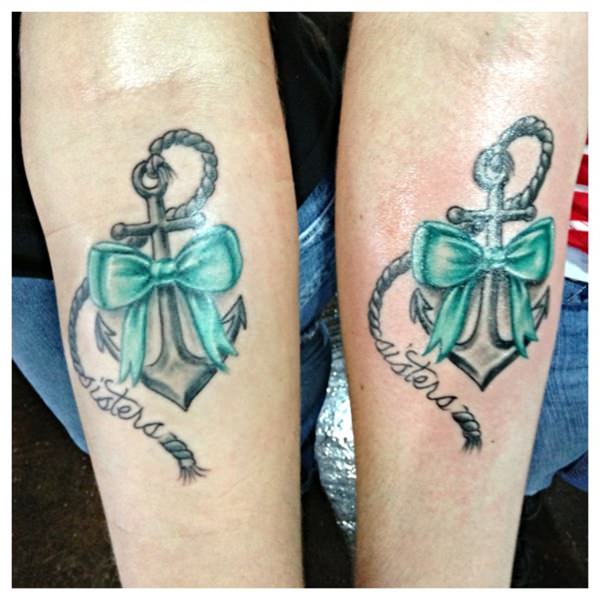 74. Sailor Sisters
Is you best friend more like a sister to you? Then you might like to put the words sisters into your tattoo design to add more meaning.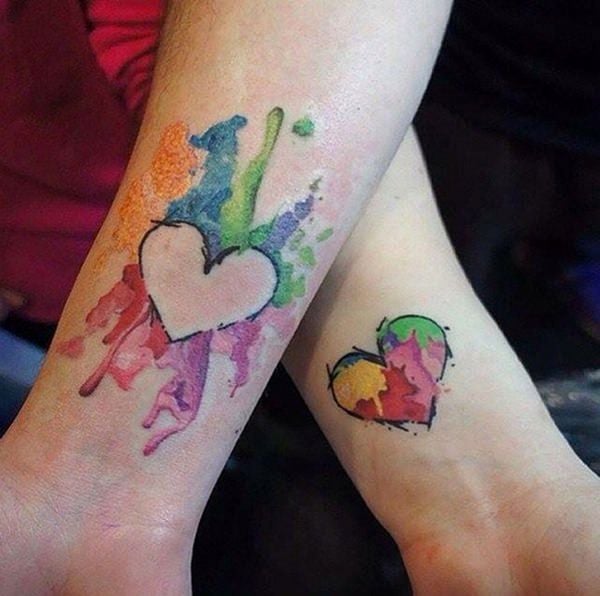 75. Inside and Outside Heart
This is a brilliant watercolor design that a lot of though has gone into. Choose an inside and outside design to show your personalities.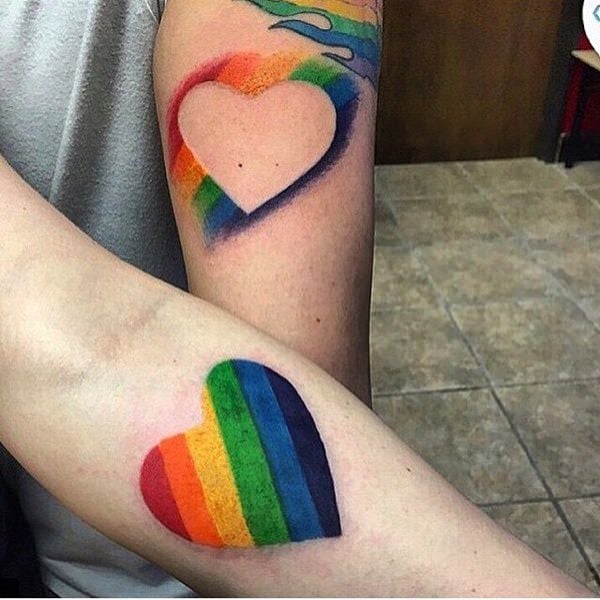 76. Rainbow Hearts
This pair of rainbow hearts show the girls pride bodly on their arms. A brilliant tattoo for best friends to get.
77. To Infinity and Beyond
Everybody's favorite cartoon spaceman Buzz gets the ink version of his phrase "To Infinity and Beyond" written up here.
78. Key Sisters
Some people have a real fascination with keys and locks. Do you? Why not try a key tattoo out with your best friend?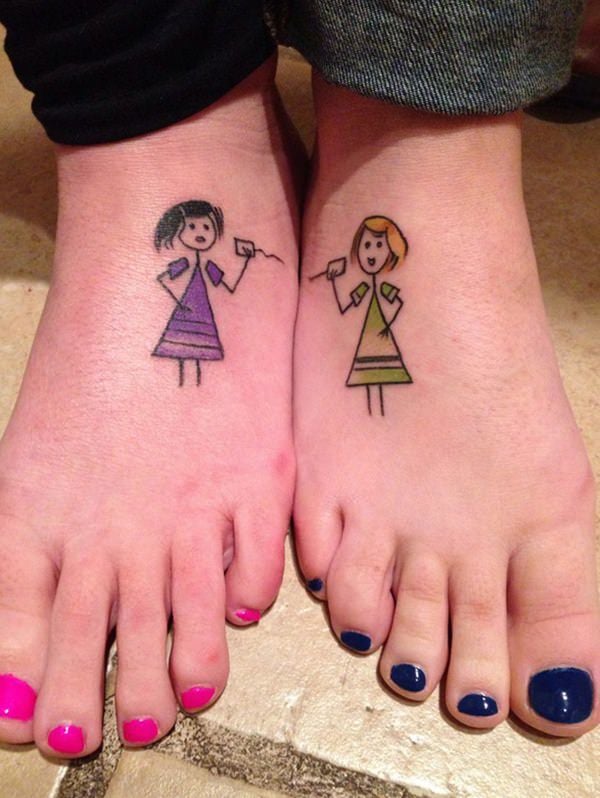 79. Ladies on the Line
This is another take on the friend tattoo where two kids are chatting to each other over the tin can telephone. Stick figures are a great way to go.
80. A Trio of Ladies on the Line
This take on the ladies on the line stretches across three besties legs. A great design for best friends in threes.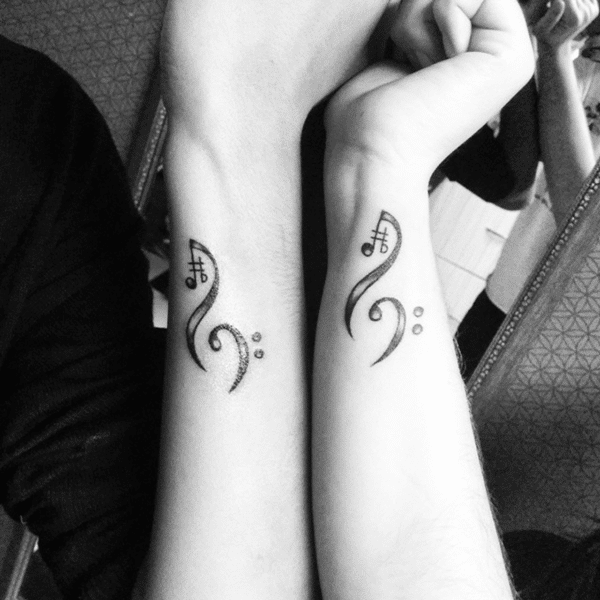 81. We Love Music
If you and you best friend are audiophiles, the you might like to consider getting some music symbols that match in ink.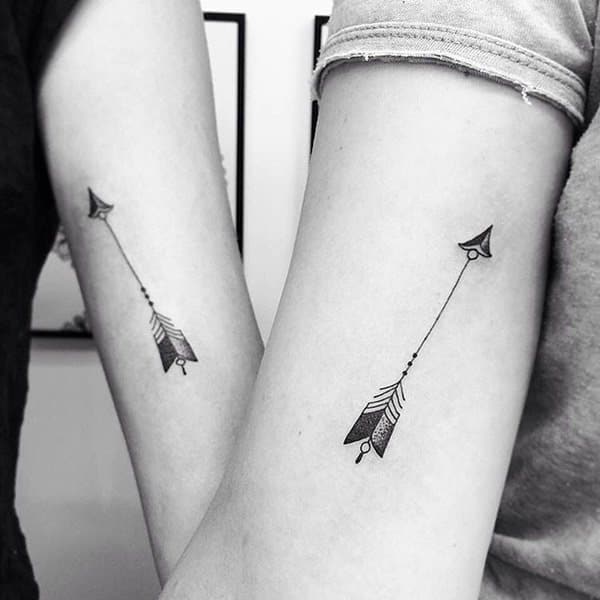 82. Fine Arrows
These two very fine arrows must have required a very stead hand from the tattooist! Make sure you visit true professionals for work like this.
83. Crossed Arrows
More arrows here, this time in a crossed design.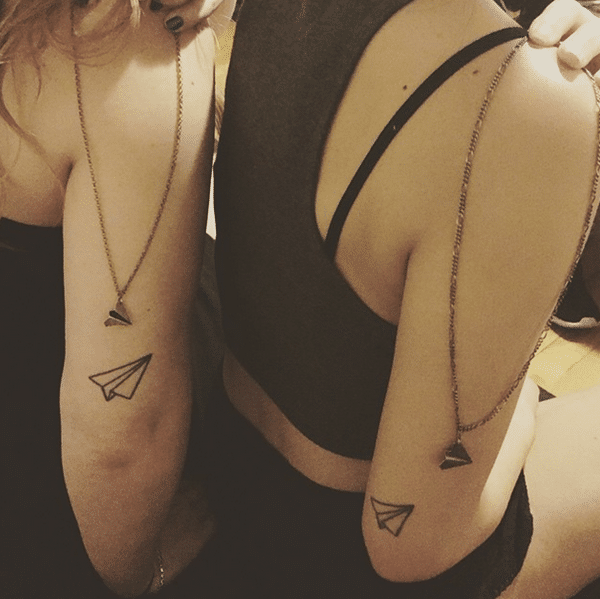 84. Our Paper Planes
These two friends obviously loved their matching necklaces so much that they though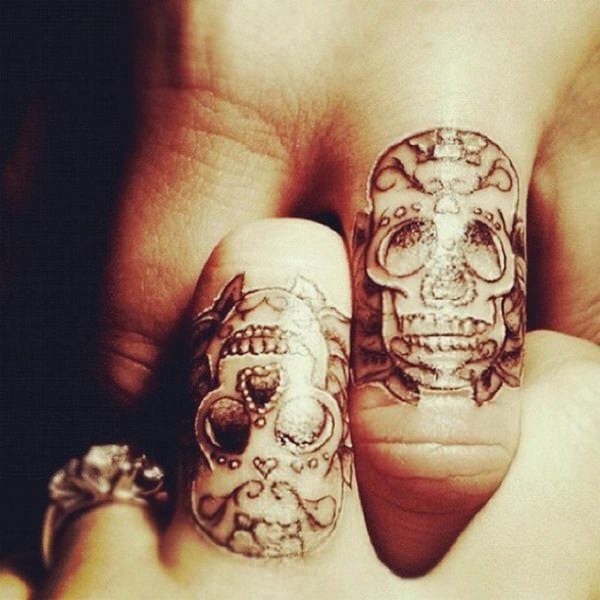 85. Skull Rings
This skull ring design is incredibly intricate for finger work. Be sure to shop around for a tattooist who really knows what they're doing.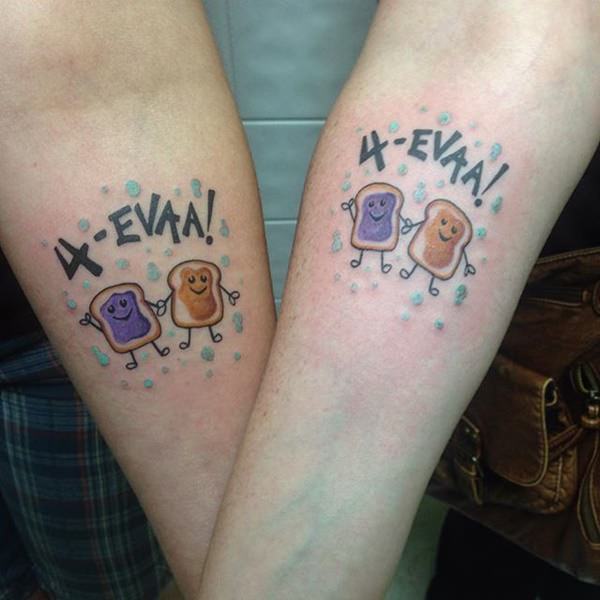 86. Peanut Butter and Jelly Forever
Do you and your best friend go together like… peanut butter and jelly? Milk and cookies? Something else? Choose a cute "go together" design like the one above.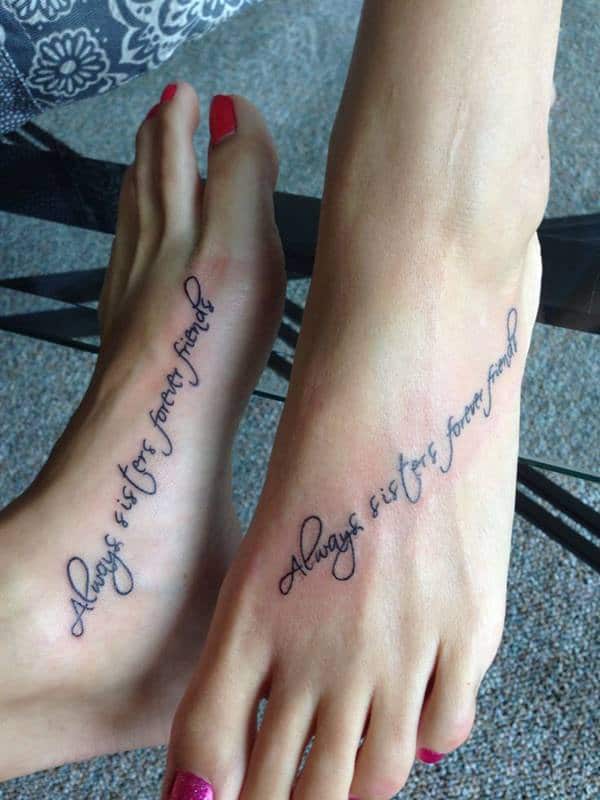 87. Sister Best Friend Tattoos
Some of us are lucky enough to have our sisters as our best friends. What could be more fun? Show your love with sister ink.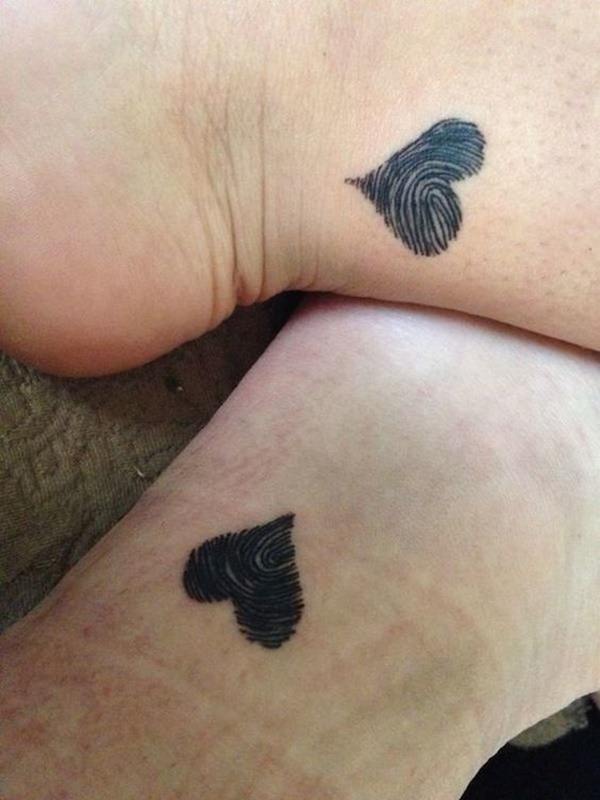 88. Fingerprint Heart
A heart is more special when it's stamped by someone else. These fingerprint hearts are unique in every way.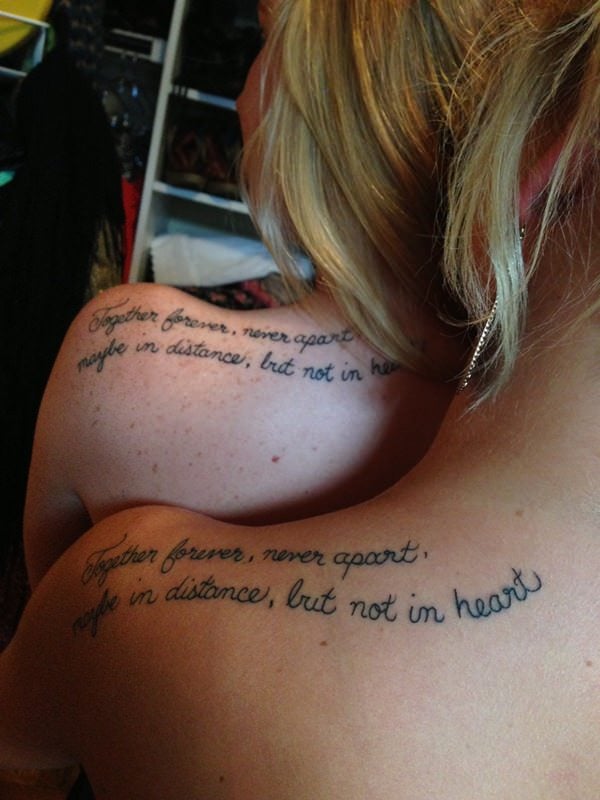 89. Together Forever
Remind yourself that no matter where in the world your best friend is they will always be there with you in your heart.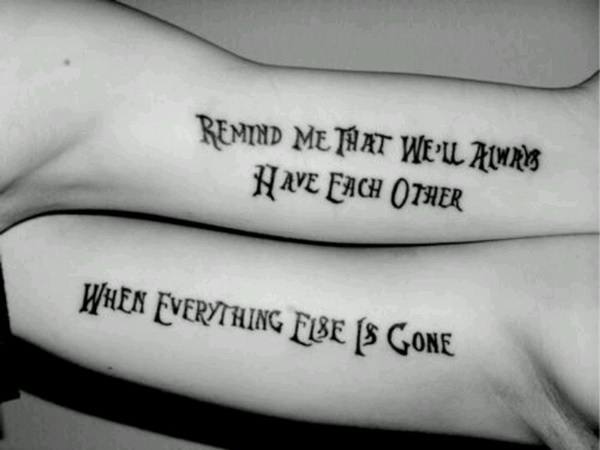 90. A Brief Reminder
Another reminder phrase of the friendship that you share together. This one reads "Remind me that we'll always have each other when everything else is gone".
91. I Will Stand With You
You're always gone to back up your best friend, right? Life is always better when you know someone will always have your back.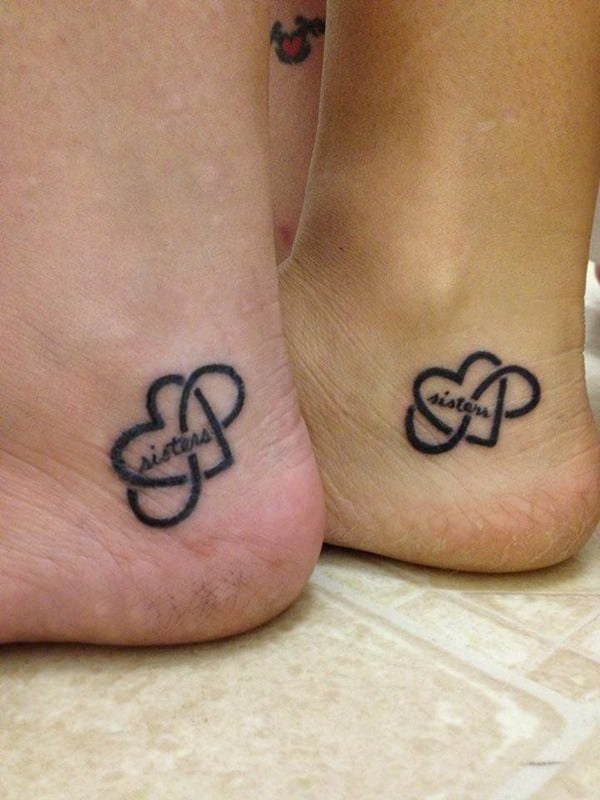 92. Infinity Sisters
This cute combo of a love heart, infinity, and the word 'sisters' is sweet, simple and won't cost you both the earth!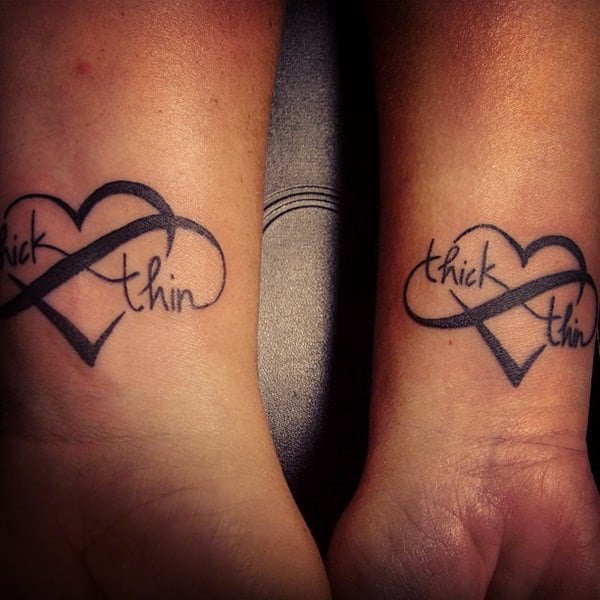 93. Always Through Thick and Thin
Another infinity and love heart combo, this one also says thick and thin.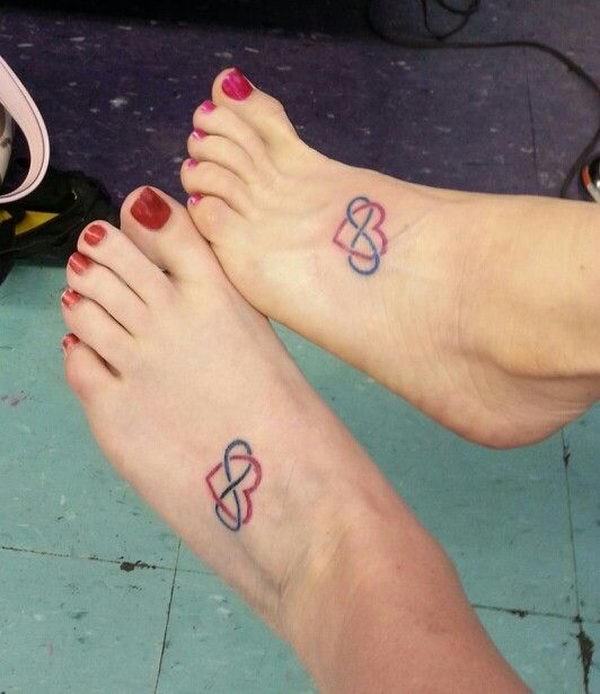 94. Colorful Heart Inifinity
If you love the inifinity and love heart combo, then you might like to brighten it up with different colors with your bestie with these best friend tattoos.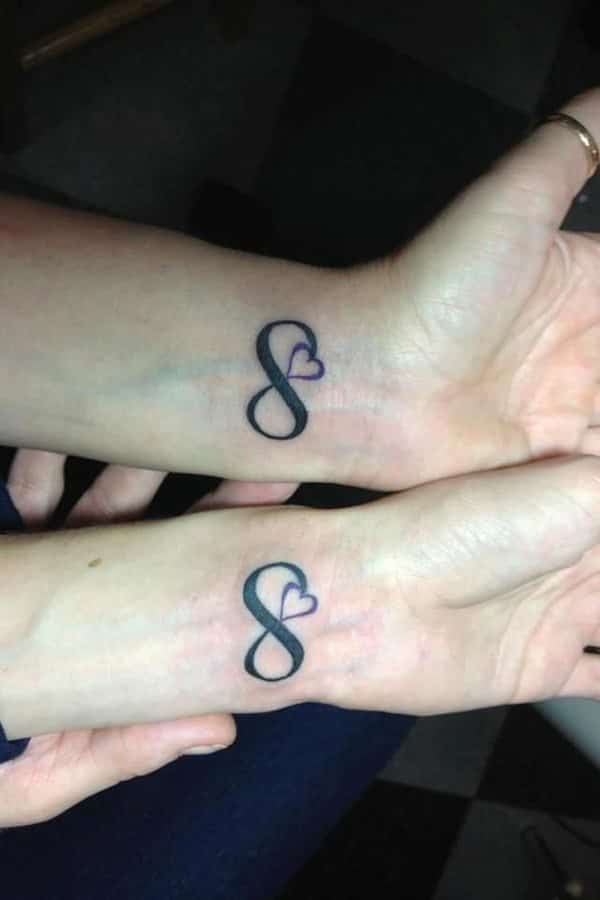 95. Tiny Heart Infinity
This take on the infinity and love heart puts the love heart within the infinity symbol. Perfect for best friends.
96. The Infinity Heart
This infinity has the heart incorporated into the infinity symbol. The result is resfreshingly sweet.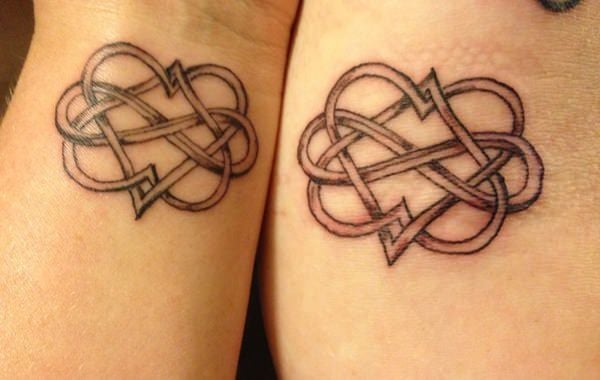 97. Celtic Infinity Hearts
Do you like Celtic designs? This Celtic looking infinity and heart combination can give you a good looking tattoo for you and your best friend.
98. The Whole Crew
Number your crew tattoos like the ones above. These ones have Roman numerals so the numbers look even cooler.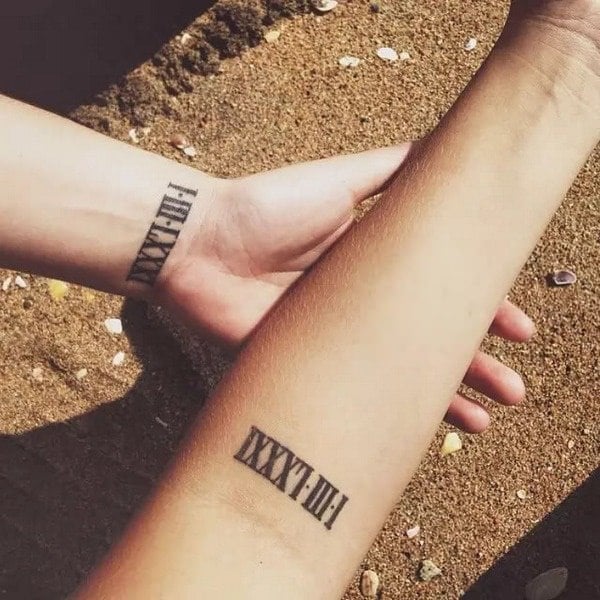 99. That Important Number
You and your best friend will have some special dates and numbers that you hold dear to you. Tattoo the Roman numerals to share it always.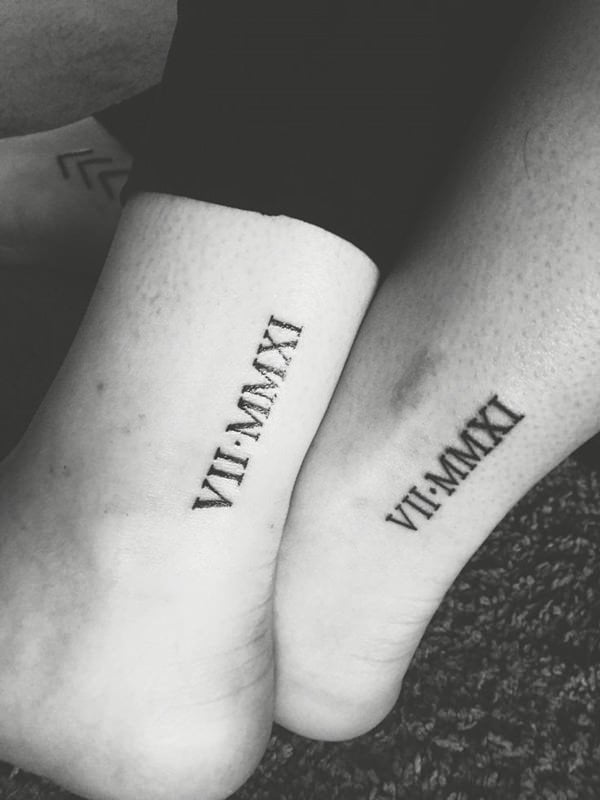 100. Roman Numerals
Another example of some special roman numerals best friend tattoos on this pair.
101. Lucky Number 7
Do you both share the same lucky number? That must cause some fights! Get it inked forever so you both win.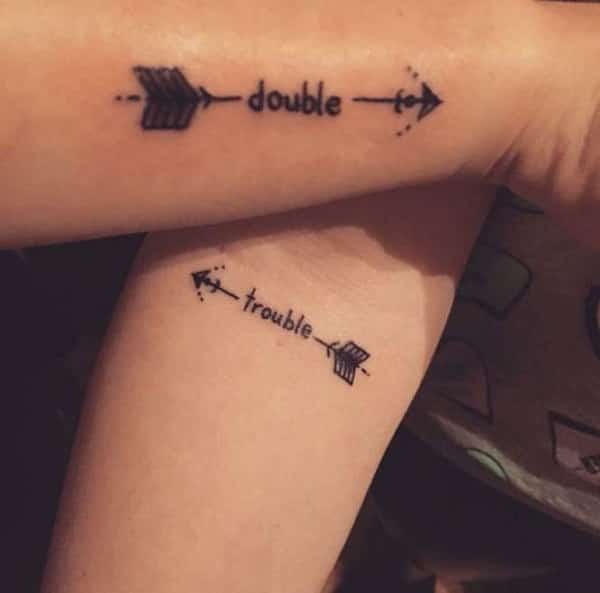 102. Double Trouble
These two best friends are always getting themselves up to mischief. Which is why they've got the double trouble tattoo!
103. More Ladies on the Line
These cute stick figures are even more ladies on the line. They look an awful lot like the stick figure families that have become popular on cars.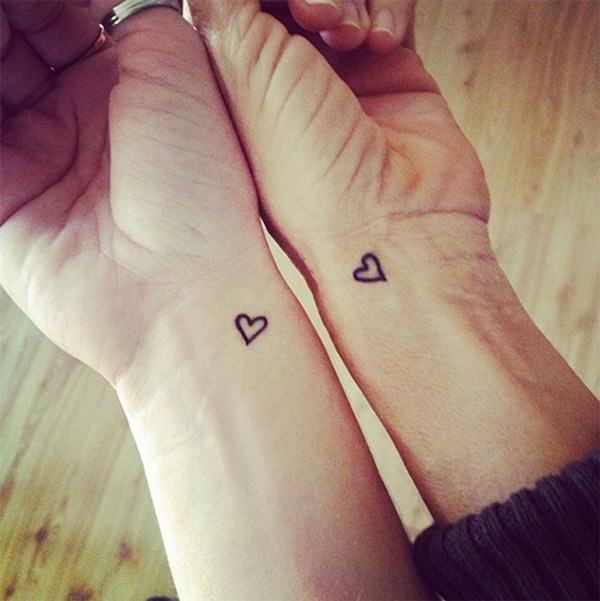 104. Tiny Wrist Hearts
Map out the shape that you want your hearts to be in before going to the tattooist. You can draw hearts a million different ways so you want to get it right!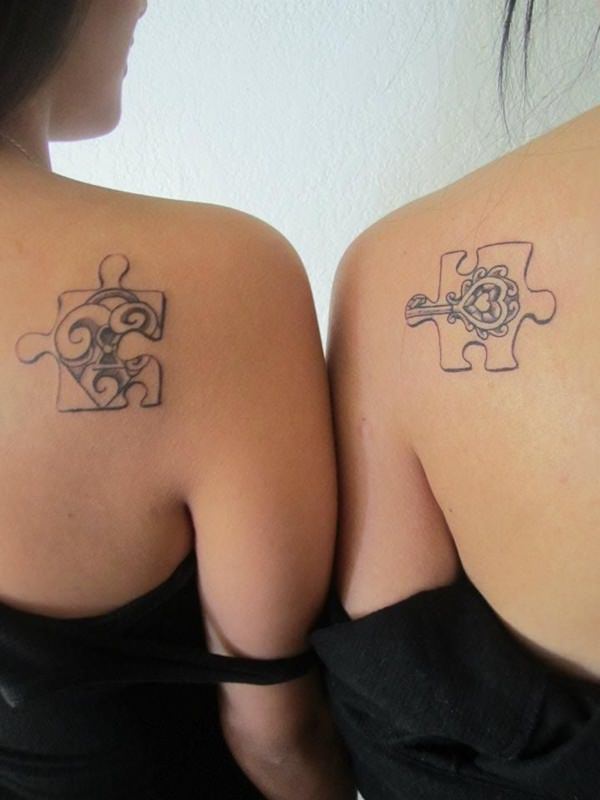 105. Interlocking Puzzle Pieces
You go perfectly together, right? And it's like you can't have one without the other? Interlocking puzzle pieces might be a cute design to get.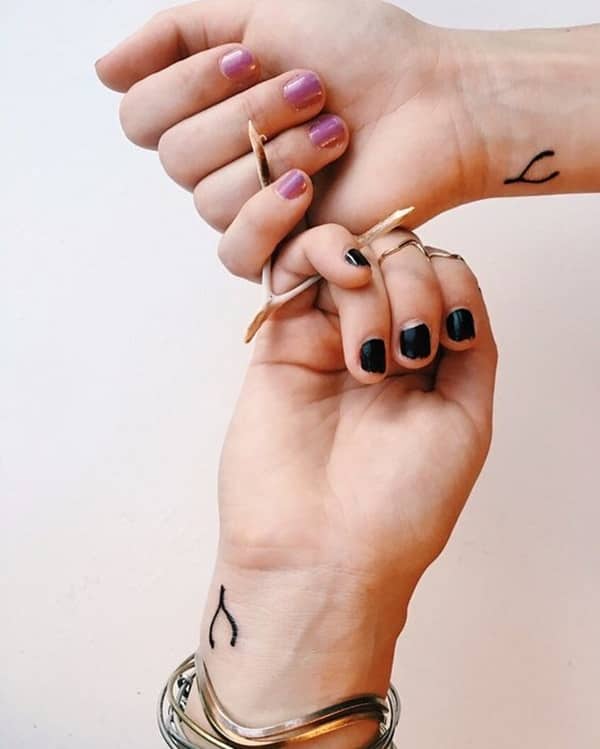 106. Wishbones
A simple wishbone is a pretty design for best friends who want very minimal tattoos.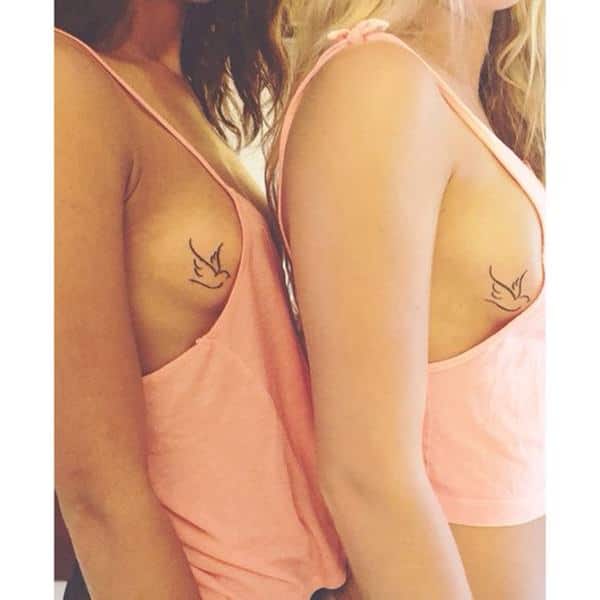 107. Bird Boobs
Side boob alert! This is a unique spot to get tattooed. The pretty doves will peek out of any racy tops that you choose to wear together.
108. Sun and Moon Shaded
This sun and moon design has some deep shading to give a more dramatic effect.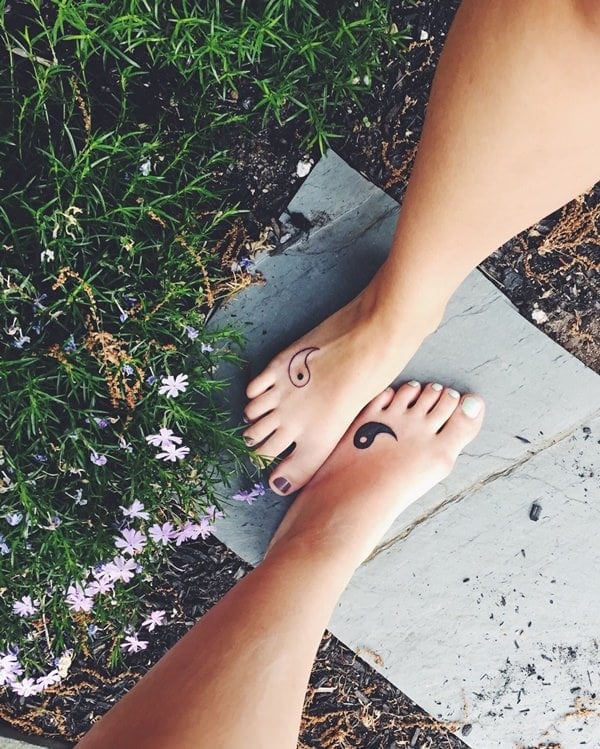 109. Yin and Yang
Is she the yin to your yang? Get a half and half yin yang tattoo for coolness when you hang out.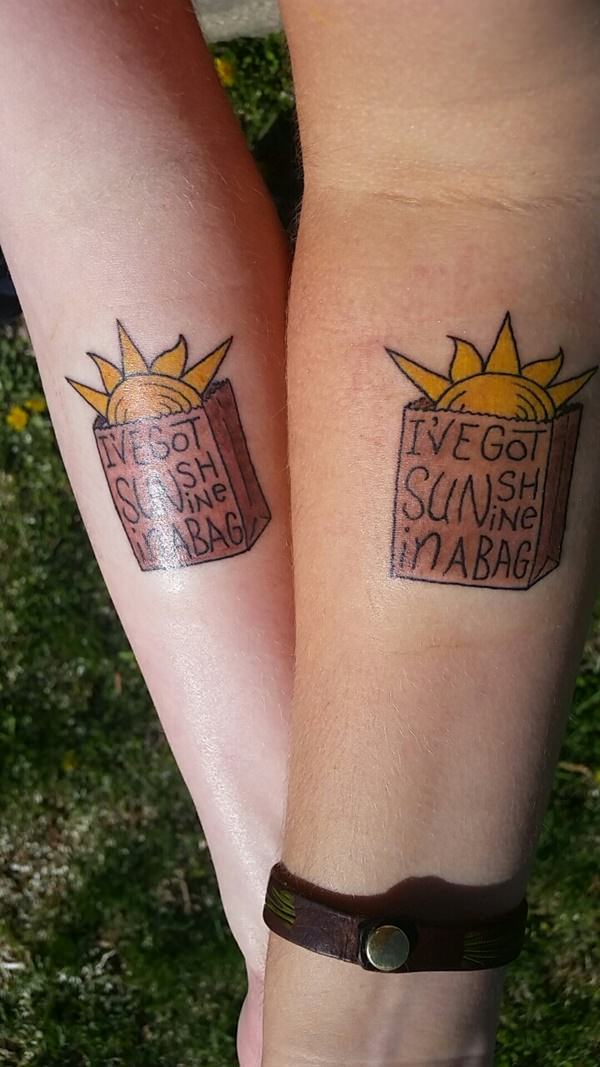 110. Sunshine in a Bag
Flip the sun tattoo and make it special with sunshine in a bag.