If you love flowers, then think about getting a Chrysanthemum tattoo design. They have a lot of history, and this flower is one of the most cultivated ones in the world. They are so popular in fact that they reign high as the most purchased flowers for gardening. They are considered to be the Queen of the Fall Flowers. Gardeners have been breeding these flowers for centuries creating flowers of many different colors. Now you can get a Chrysanthemum in colors such as red, yellow, bronze, pink, purple, orange and white.
The word Chrysanthemum is combined from the Greek word that means gold and anthemon which means flower. How cool is that? This flower is a sign of perfection, and even though it started off small, it's now so much more.
This flower comes from China, and it was cultivated over 2,700 hundred years ago. It is a symbol of beauty and has even been used as a medicinal herb. Many believed that this herb is a powerful symbol of life and can replenish it. It is said that many people even used the boiled root for headaches, the sprouts were used in salads, and they even brewed the leaves for a special drink.
"'If you would be happy for a lifetime, grow Chrysanthemums,'" says one ancient Chinese philosopher. In China, the chrysanthemum is a symbol of Taoist simplicity and perfection. Autumn is the season of this flower, a time of tranquillity, completeness, and abundance following the harvest. Since it blooms right into winter, it may also symbolize the ability to mediate between life and death, between Heaven and Earth. The ancient Chinese name for chrysanthemum is "Chu."
Below are 49 Beautiful Chrysanthemum Tattoos With Special Meaning:
1. Ribcage Tattoo
A large tattoo that covers the entire ribcage. The flower itself is quite large. It goes all the way down to the buttocks.
2. Red and Green
These bright green and red flowers really pop off the skin. It's a beautiful flower.
3. Shoulder Tattoo
A shoulder tattoo that shows off a large Chrythesamum. It has great colors of red and green.
4. Bright Neons
A sleeve tattoo that is black plus the added effect of neon colors that really make things pop. It's a dark tattoo.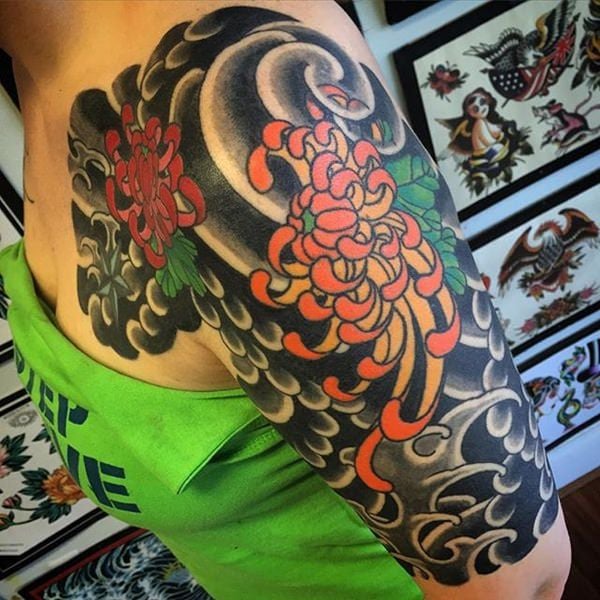 5. Bright Fuchsia
A bright pink flower that covers the arm. It has a lot of detail to it, and the fuchsia coloring really makes things pop.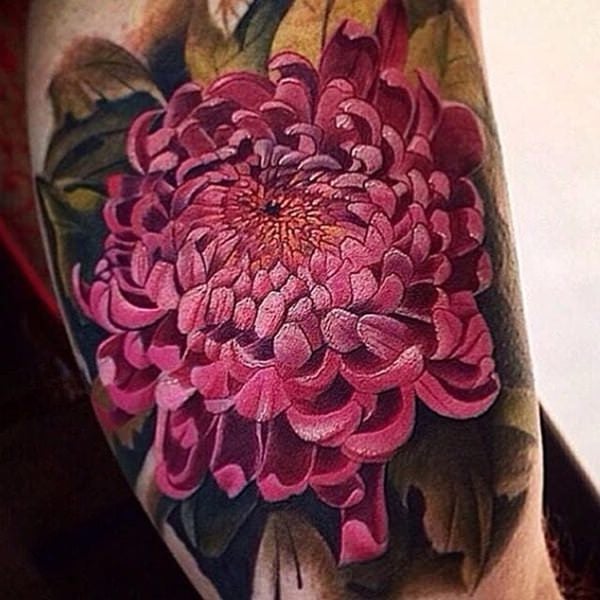 6. A Flower Outline
This flower outline looks great on the arm, and it resembles a drawing. It's a great design that you are sure to love.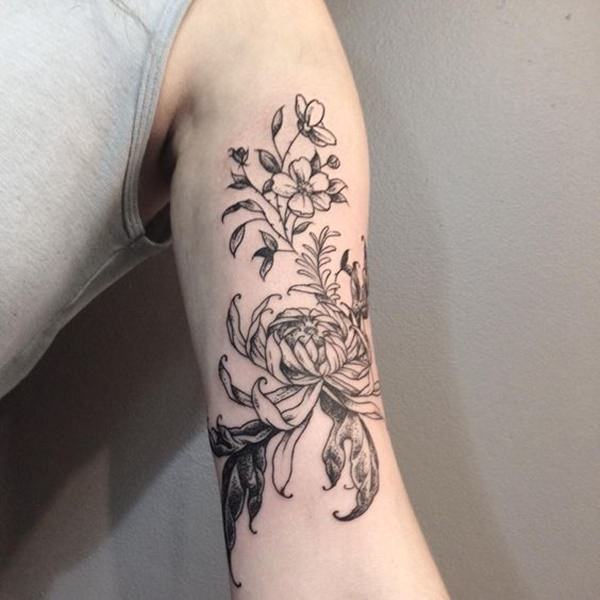 7. Stunning Details
The stunning detail involved in this sleeve tattoo is quite remarkable. It's a black and white design that you are sure to love.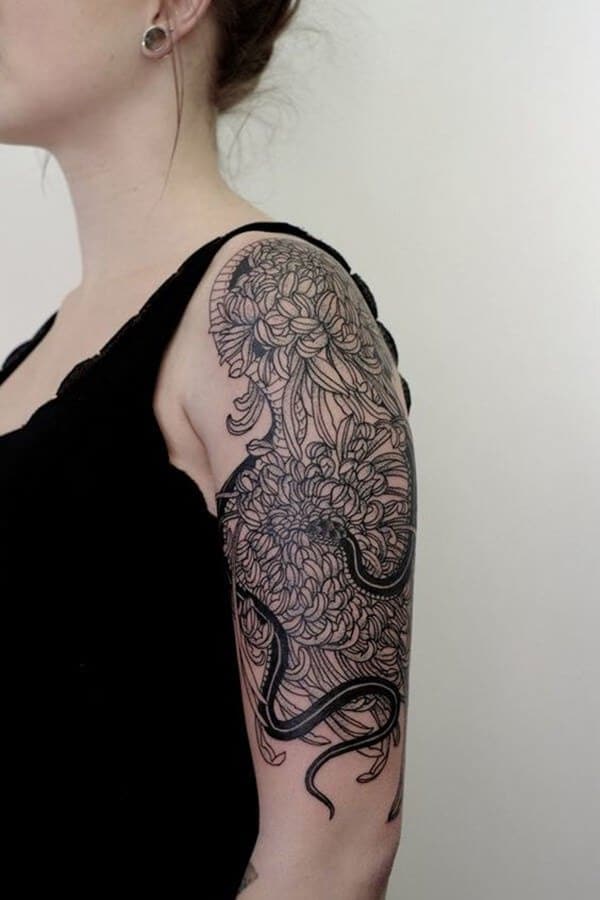 8. Chrysanthemum Tattoo
It's a stomach tattoo that looks amazing in black and white. The flower design looks great.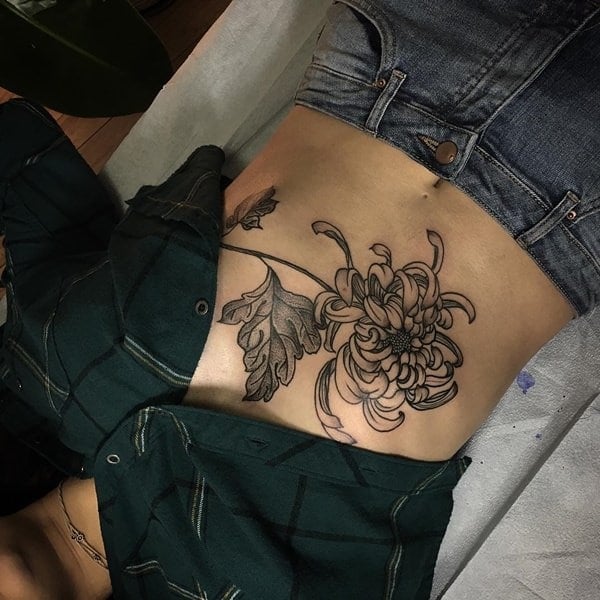 9. Bright Yellow
This arm tattoo is a great overall design that has a bright yellow design. These bright colors are truly eye-popping.
10. Bees and Flowers
This beautiful bee is coming close to a flower that it wants to pollinate. It's a wonderful black and white design that really stands out.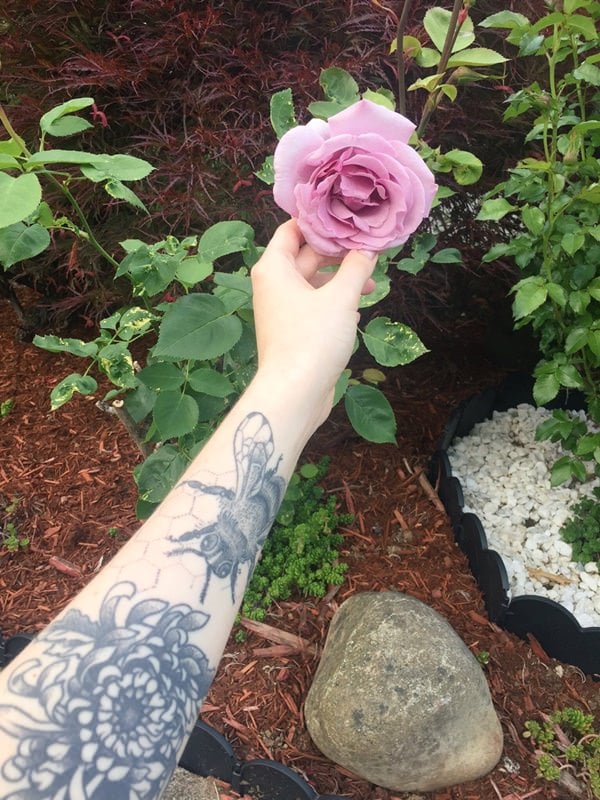 11. Autumn Colors
This shoulder tattoo has some great coloring that reminds you of autumn colors. I love these fresh colors together they really warm up the look.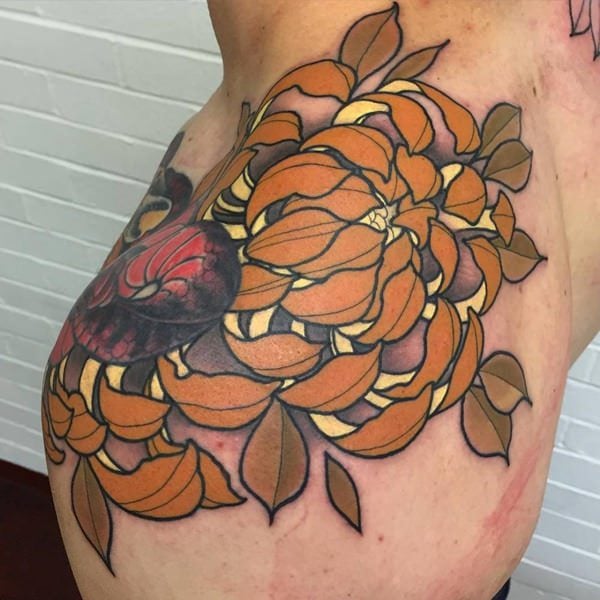 12. Blue and Purple
A leg tattoo with some bright colors in a standout blue and purple. If you want beautiful coloring, then you are sure to love this tattoo design.
13. Bold Designs
A back tattoo that has a wonderful design with some bright red to pop out the whole design.
14. Neck Designs
A neck tattoo might be exactly what you're looking for. This is a great design with some good colors.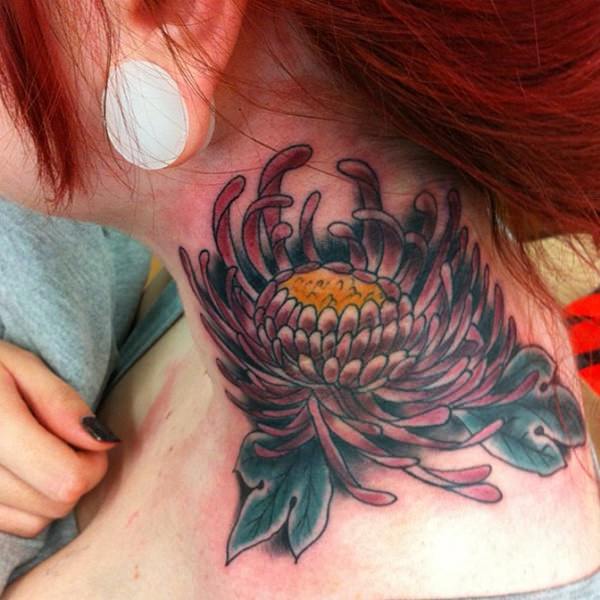 15. Chest Flowers
A great design that looks great with a lot of black. Bright pink lines that really bring the whole look together.
16. Bold Colors
This great leg tattoo is one that has blacks as well as some pretty great colors that are truly fiery.
17. Snakes
A great black and white floral design that has a snake winning through the flower. A wonderfully detailed design that looks amazing.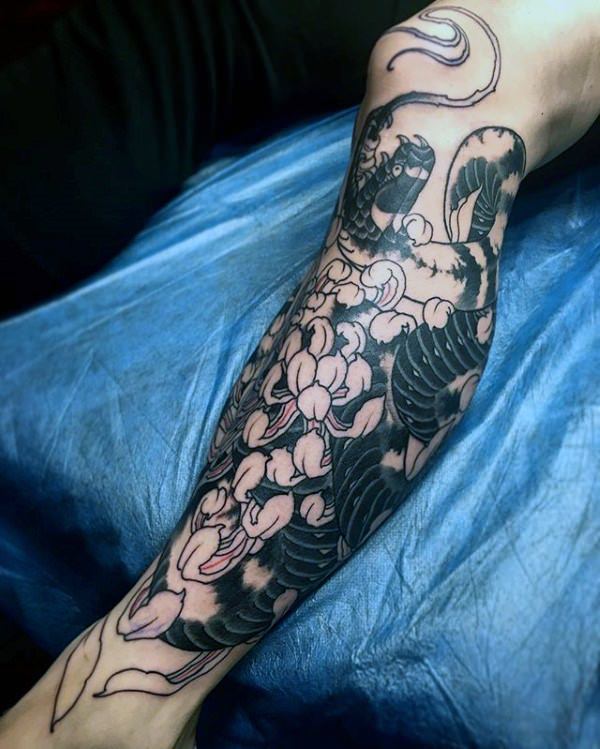 18. Dragon Sleeves
A chest and sleeve tattoo that has a great design with some great colors. The dragon running throughout the design is one that looks great with the bright colors.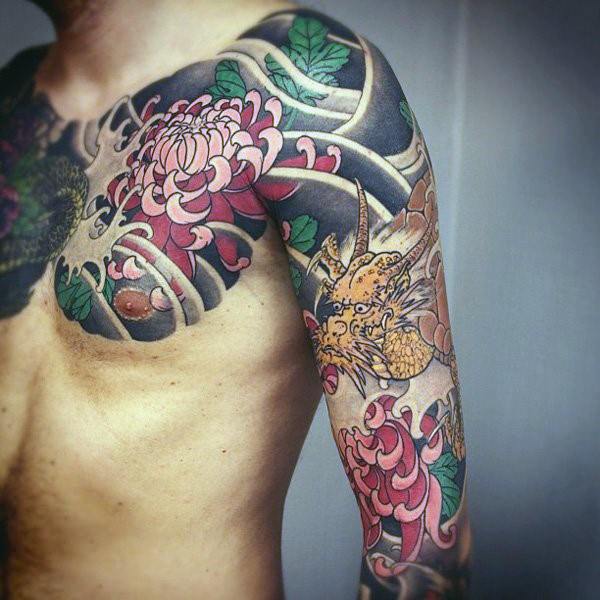 19. Sleeve Waves
These gray waves are making their way down the arm with some flowers attached as well.
20. Badass Bones
If you are looking for a tattoo design, that's floral but has some badass elements then try this one out for size. The hooded skull man is one that is sure to draw some attention.
21. Full Body Designs
This full body tattoo is one that has plenty of great colors. You won't find a tattoo that is better designed with so much detail.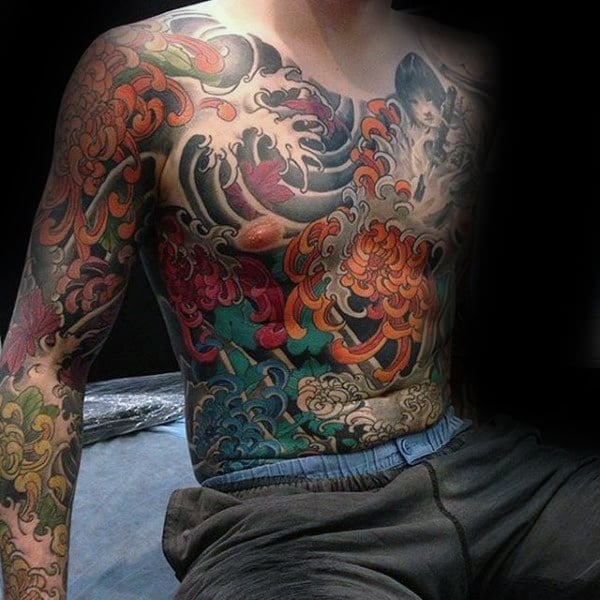 22. Great Dragon Designs
Another great example of flowers and dragons together.
23. The Devil
Great imagery with the devil on one side with the flower know as the Power of Life on the other side.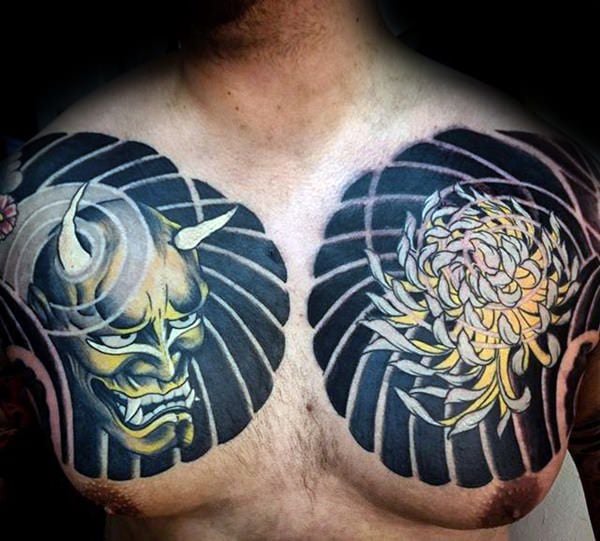 24. Snake Designs
Another great example of adding snakes and flowers together.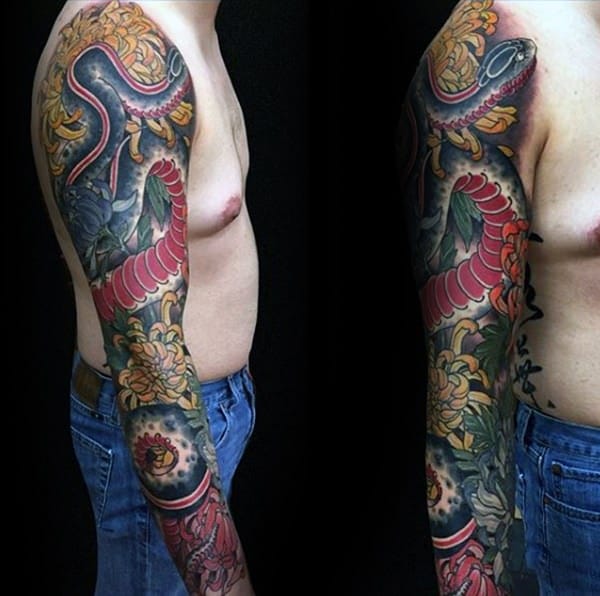 25. Bird and a Flower
If you have a love for exotic birds, then this might be the tattoo for you.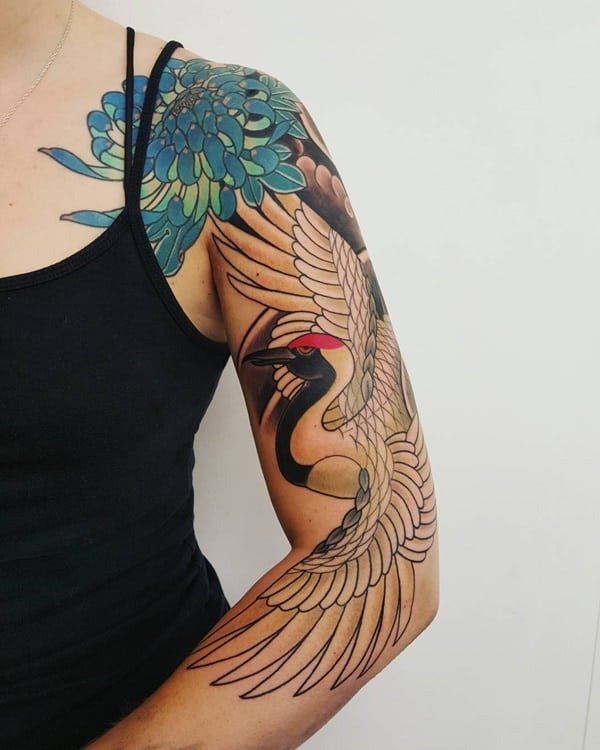 26. Great Colors
This badass tattoo combines a skull with some seriously bright flowers.
27. A Pencil Design
This design looks like a pencil drawing; it's truly unique.
28. Contrasting Colors
I love how the red and black contrast each other in this picture! It's a cool design.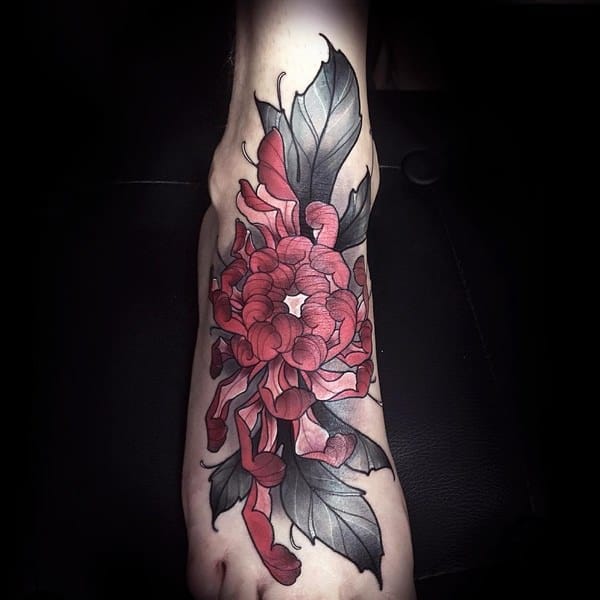 29. Boney Fingers
This flower is being held tight by some boney fingers.
30. Dark Designs
A dark flower that looks good on the neck.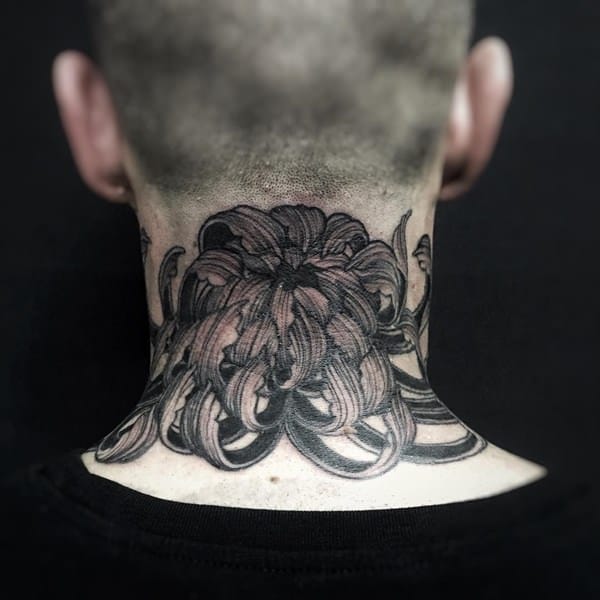 31. Arm Flowers
A great design for the arm that is sure to make anyone smile.
32. A Sleeve Design
A dark tattoo design that looks great on the arm. It's a long tattoo that would look great with some color.
33. Bright Designs
Pink and blue colors make these flowers look wonderful.
34. Floral Designs
A great design that looks amazing in black and white.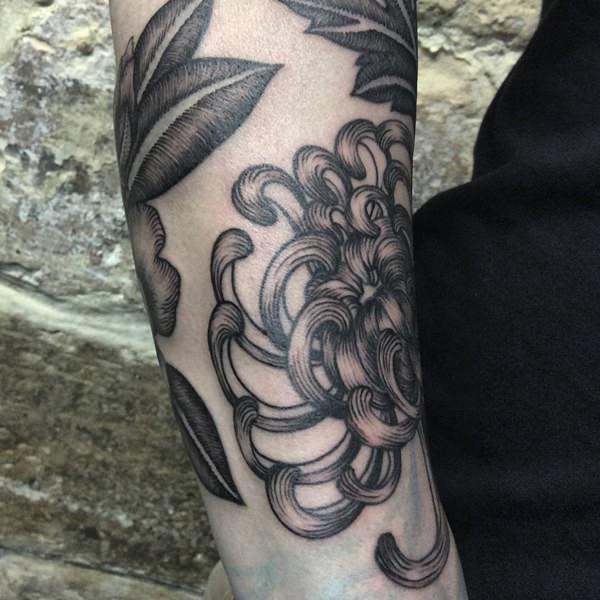 35. Jumping Off the Skin
A stunning floral design that jumped off the skin with some bright colors.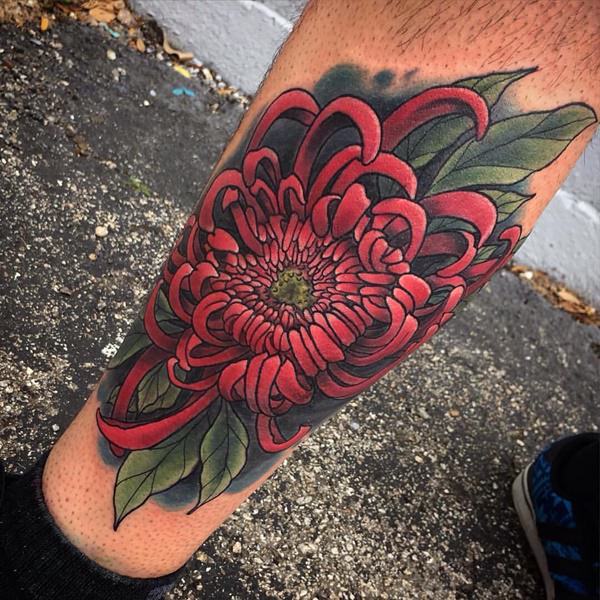 36. Like a Portrait
This floral design looks more like a painting than a tattoo. I love it.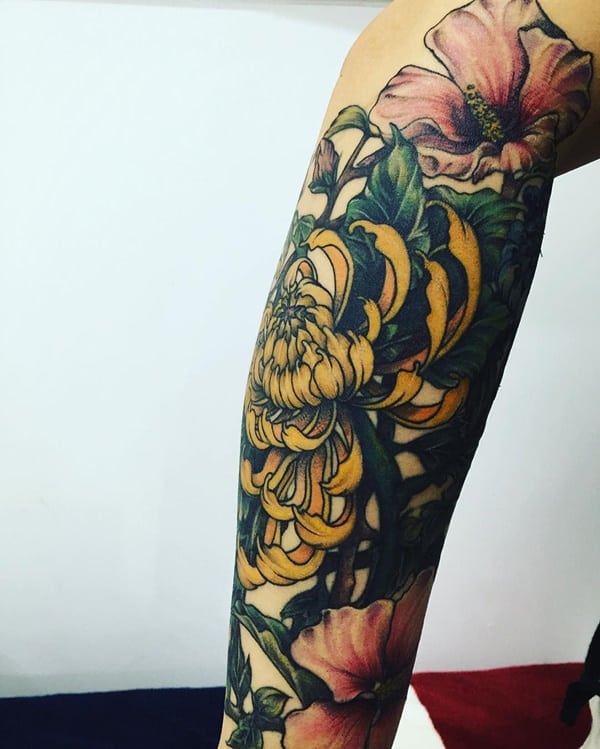 37. Black and White
A bold design with a contrast of black and whites.
38. Crazy Detail
This detailed design is stunning. I loved the attention to detail when it comes to the skull.
39. Deep Blue
This 3D design looks amazing in blue and yellow. I love this design.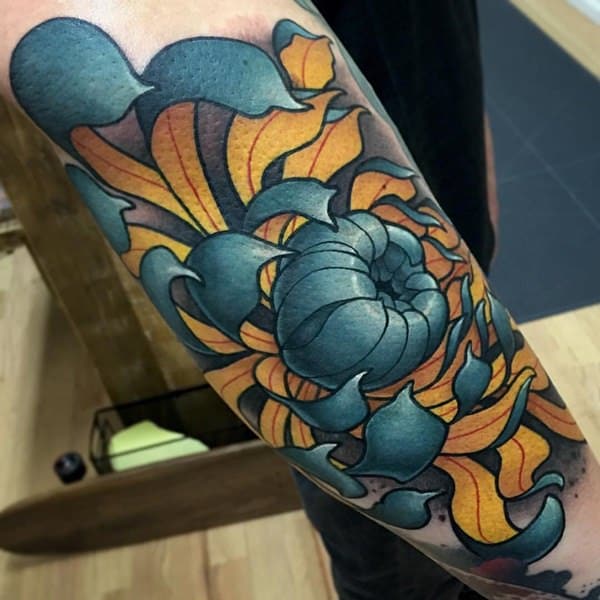 40. Big Flowers
A great design that is really zoomed in close to create a different effect.
41. Dark Sleeve
This tattoo is very dark and could have been the result of covering up a tattoo. If you want something bold and don't mind the commitment then try this stunning design.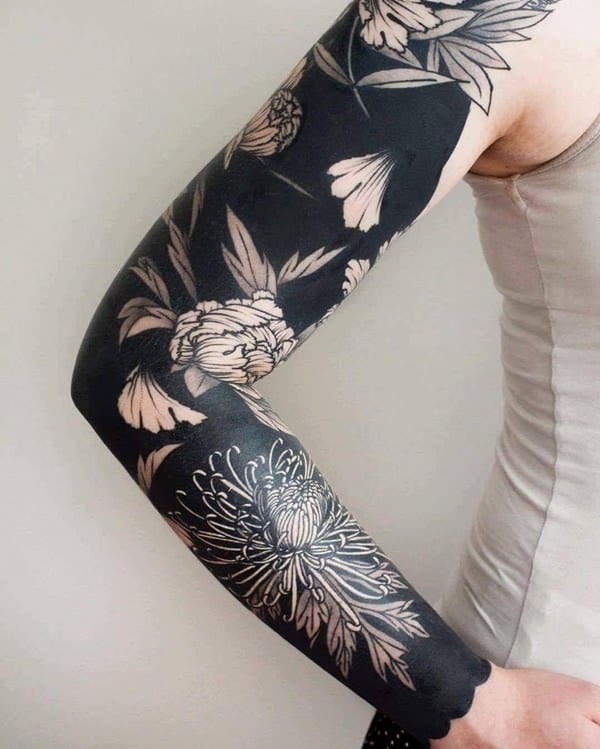 42. Inner Arm Design
A great flower tattoo for the inner arm.
43. Blooming Flower
Red and yellows on a flower that is blooming beautifully.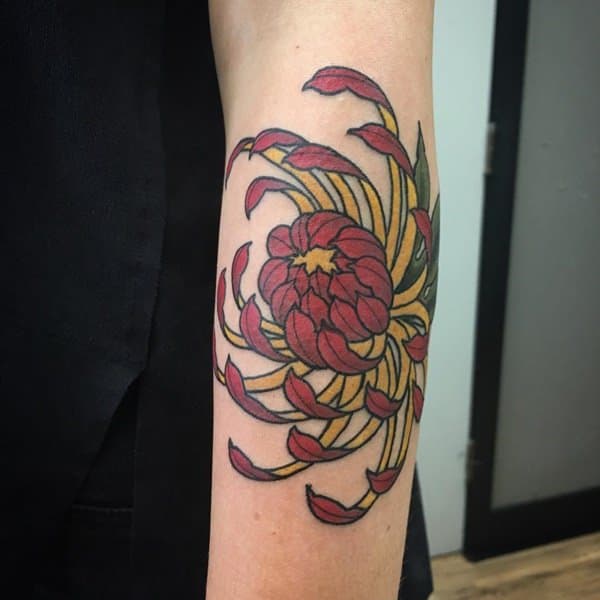 44. Blooming and Bold
I love these amazing colors that just make this flower one of a kind.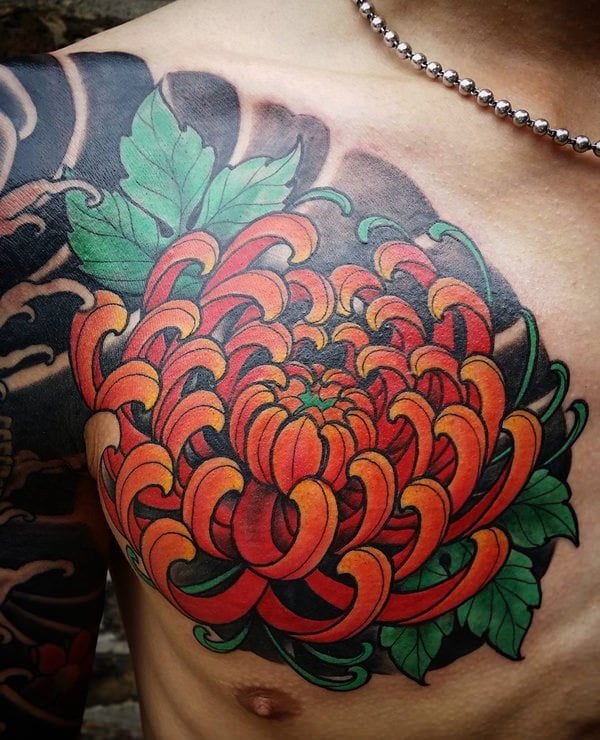 45. Beautiful Chrysanthemum Tattoos
I love the detail involved in this tattoo.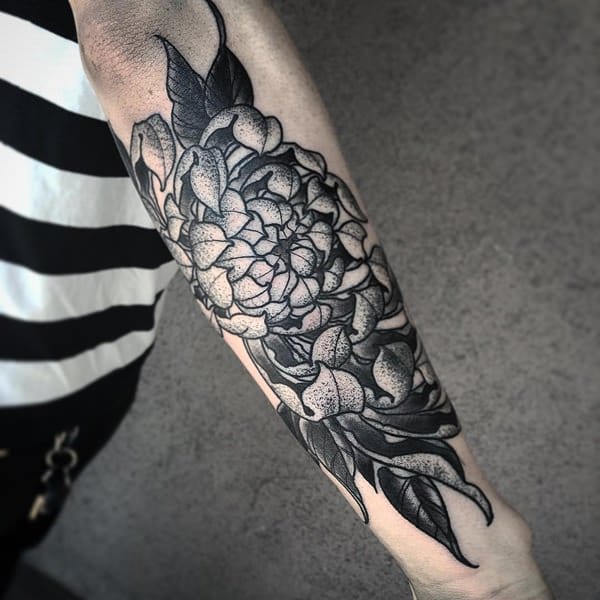 46. Yellow Fire
Another example of the flower in yellow in red. This design has a lot of fire in it.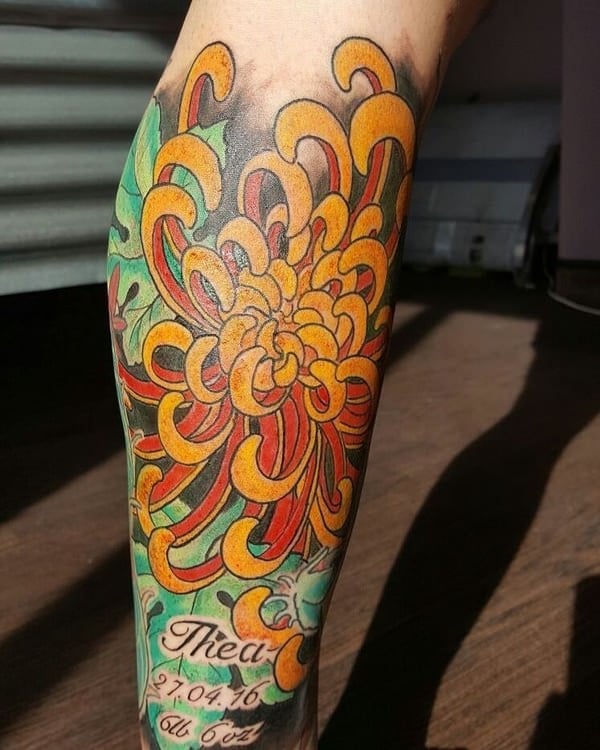 47. Pink Felines
This chrysanthemum has a feline in the middle of it. I love the pink petals that are circling the cat. The bright colors make the design so much better.
48. Different Reds
These various reds are truly stunning, and you should take note of the way it brings out the design together.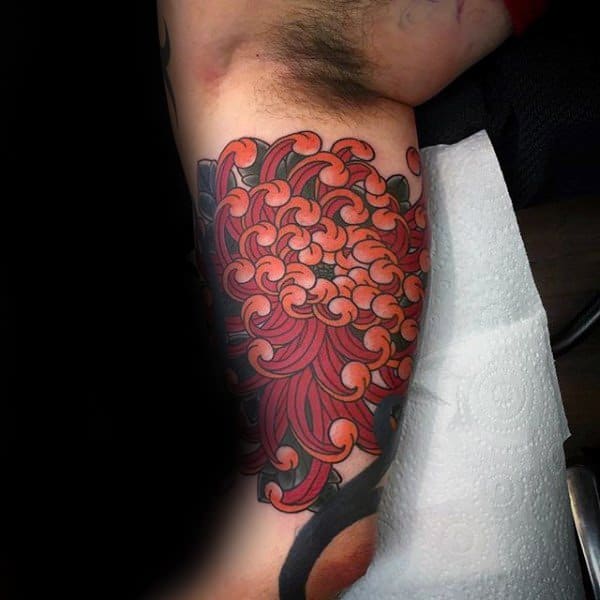 49. Double Designs
A great design that you can match on both arms. You are sure to love these floral tattoos.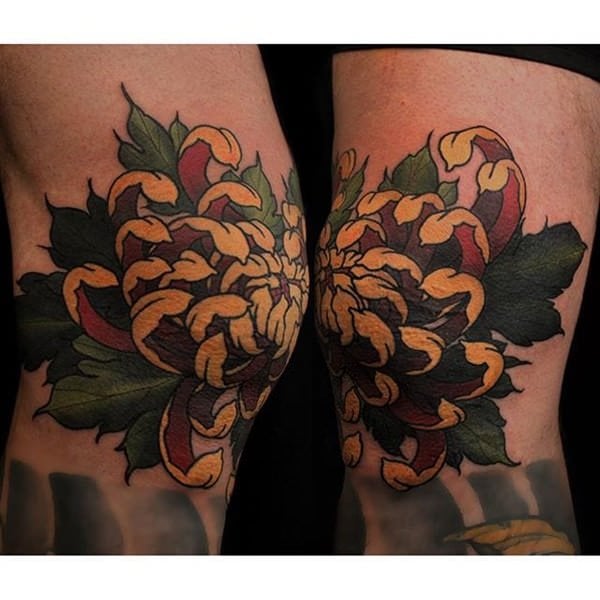 Now that you have chosen your design, it's time to pick a tattoo artist. It's crucial that you don't just pick the first one that you see. Do your research and make sure that your artist has a lot of experience and has a portfolio to show you. The last thing that you want is for the artist to be inexperienced and then you are left with a tattoo that you don't even like anymore. You want to cherish your tattoo for as long as possible, for life.  You need to make sure that you have an experienced artist so that you can get the tattoo that you love without any regrets.
Once you have chosen an artist, decide where you want the design to be placed and be prepared for a little pain. All tattoos are a little painful; it's just a matter of buckling down and getting through it. All you have to do is think about getting through it so that you enjoy the completed work of art.
Tattoos can be an amazing way for you to show off your creative side and a touch of your own personality. It's the best way to say, "Hey, this is me!" Have fun and enjoy your tattoo because you deserve it.
We hope that you enjoyed the tattoo article and feel free to comment on your favorite tattoo below!