Firefighters are one of the many heroes' we have that wear uniforms. They risk their lives every day, going into burning buildings to save our loved ones and us. It really takes a lot of bravery to do a job like that. When a firefighter goes into a building to save a child, it's like being saved by Superman for them. There are millions of firefighters out there savings lives, and you might be shocked to know that 800,000 volunteers are available to do the job. You probably come across one every day and don't know it.
The walk through blazing fires daily to make sure they bring out survivors. It's a complicated and very dangerous job, and they do it because somebody has to. Just imagine what it must be like to go into a burning building when walls are toppling over, or floors are caving in. There are smoke and flames that could burn them, scarring them for life. Never mind the poisonous gasses in the air. It's a difficult job, and not everyone can do it.
Many firefighters like to have a firefighters tattoo as a badge of honor on their body. Who can blame them, it's a career that you can certainly be proud of. If you are looking for a firefighter tattoo to show your love, then check out these designs. Below are 28 of the best firefighter tattoos to show your love:
1. Striking Detail
We all love a man in uniform, and this one has a lot of detail. It's an amazing tattoo that looks a lot like a drawing. My favorite part of the tattoo is the dark coloring of the black shading. It's a great overall design.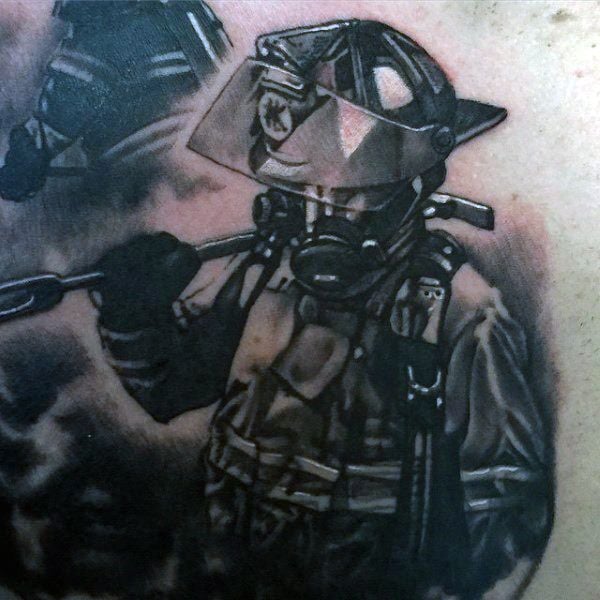 2. Patriotism 
There are lots of great colors to this tattoo, and if you are all about serving your country, then this is a great design for you. This design may have something to do with September 11th as well. The number on the helmet obviously represents a specific person. I love the powerful image in this tattoo.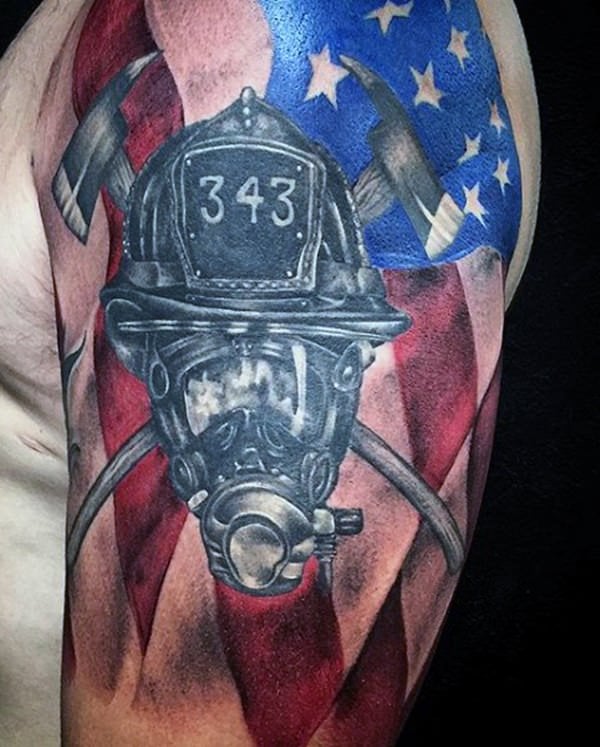 3. Chest Tattoos
This detailed tattoo is great for the chest and arm. It's dark and striking, not to mention it's one hell of a cool tattoo. I love how dark the tattoo is and the original design that is around the firefighter badge. It makes the tattoo truly unique.
4. Burning Fire
A great tattoo design that has a lot of detail. There is also flames behind it that really stand out. If you want something unusual, this might be the design for you. The detailed shield is super cool.
5. Full Body Tattoo
A great tattoo design if you are looking for a full body tattoo. It's a detailed design that has a firefighter on the job, saving lives. It's a pretty cool tattoo. A great tattoo that is a great depiction of what it means to be a great hero on the job.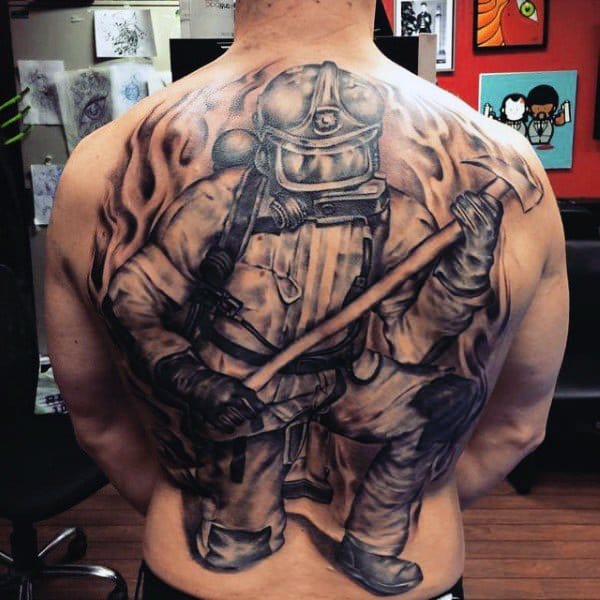 6. Firefighter Mask
This is a unique design that has the silhouette of a firefighter shown on the mask. If you are looking for something different, this is a great design. It's a scary job that only a few will ever experience, but this tattoo is a really great, original design. It's striking and beautifully powerful.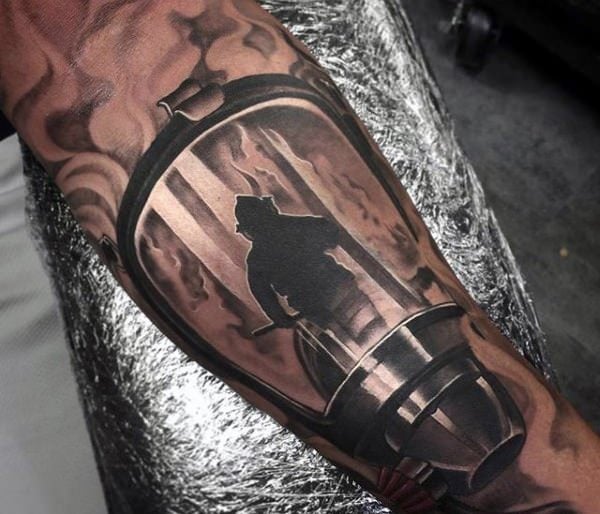 7. Breaking Down the Door
A great example of a firefighter breaking down the door with an ax. It shows great courage to be part of the job. If you are looking for a sleeve design that shows strength and power, then this is the one for you. It's distressing and unique for anyone that wants something cool.
8. For the Love of the Job
A firefighter watching a tragedy go down. A great detailed tattoo that you are sure to love. It could be the twin towers falling in the reflection; it's hard to tell, but this is a great tattoo that could represent any image that you can think up. You could use this tattoo to be creative and create something unique to your life.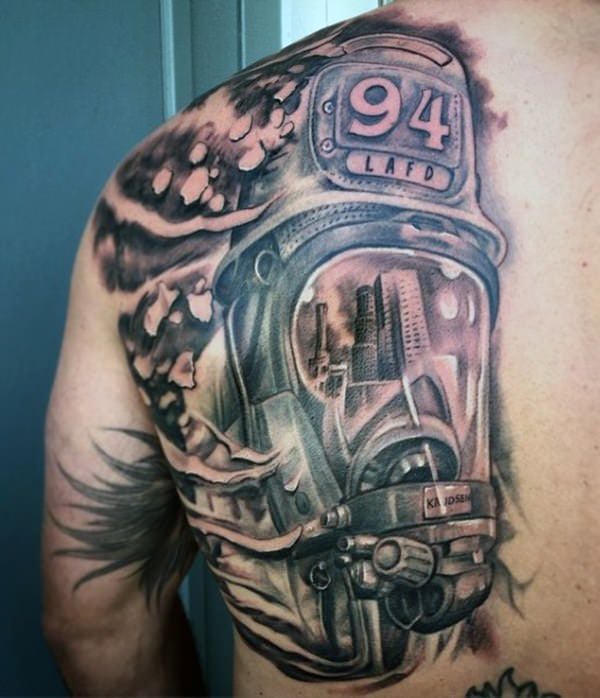 9. Angels Around Us
There's no doubt that angels are always around firefighters when they are on the job. This detailed tattoo depicts just that while firefighters work tirelessly. When it comes to savings lives, you can always imagine Angels to be around, and they are also considered to be guardians behind the firefighters keeping them safe. I love the image because it has feeling behind it, it's a moving image, as well as a unique one.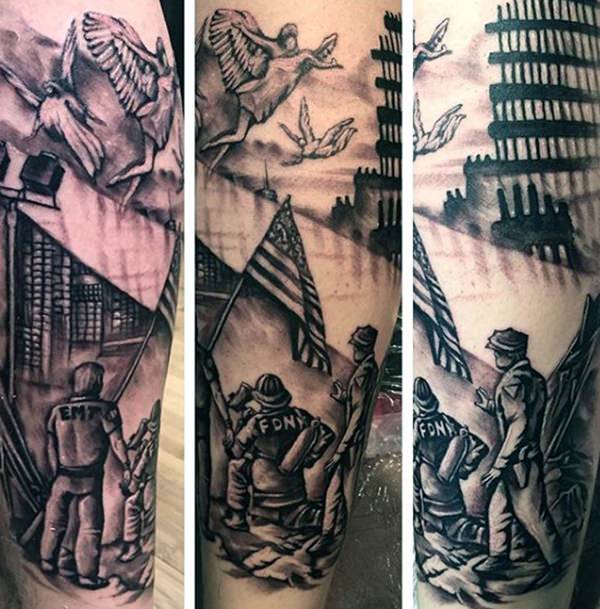 10. Creative Firefighter Tattoo
This has to be one of the best firefighter tattoos that I've ever seen. There are so many fun images thrown together to create this design. Not to mention the beautiful colors that bring it all together. It's an inspiring image that any firefighter would love. It's a striking sleeve and the images completely wrap around the entire arm. I think it's a wonderful tattoo that has so many fresh elements to it that it's something that you can stare at all day.
11. Destruction All Around
This is a great design of what it means to lose a building to a fire. There is obviously loss here you can see that in the stature of the firefighter. It appears as if this specific tattoo was created from an actual tragedy. Hopefully no lives were lost. That's part of the job, however, and we are thankful that these people are there to help us.
12. Tattoo Correction
This tattoo correction was beautiful, and it shows a deep passion for what it takes to be a firefighter. The colors are amazing. The red and orange of the fire behind the image is a great at making the tattoo really pop.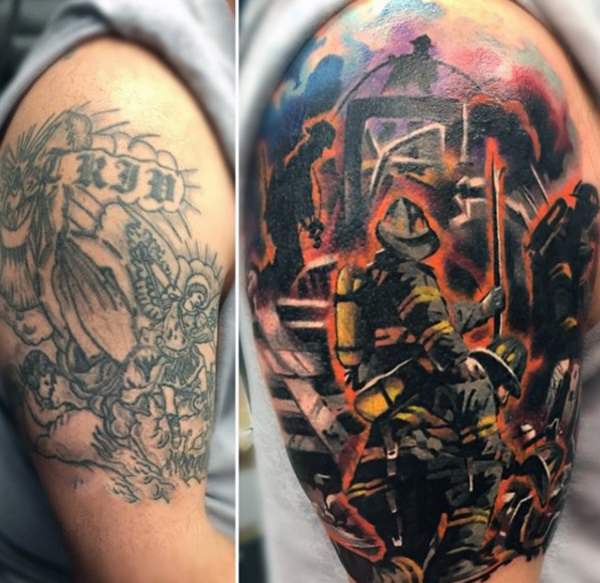 13. A Town Afire
A firefighter walking down the street as cities are burning down. It's a powerful image that shows what it really means to be a firefighter. The name on the jacket suggests it's a real man on the job and this is how he feels sometimes. It's a striking tattoo.
14. The Hero
All firefighters are heroes, and we all have a love for them. A great tattoo design of a hero.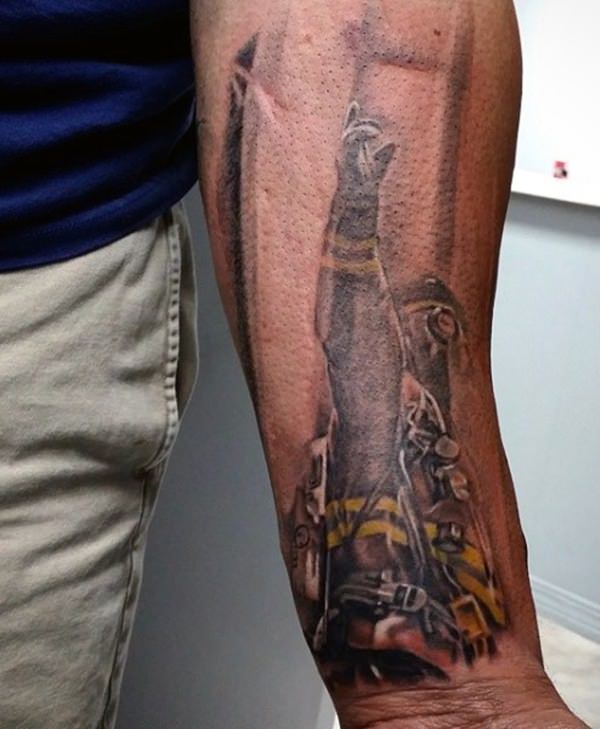 15. Blood in the Ground
A strong depiction of the life of a firefighter. The blood from many deaths has soaked into the ground. The detail is amazing, and the message behind it is a powerful one.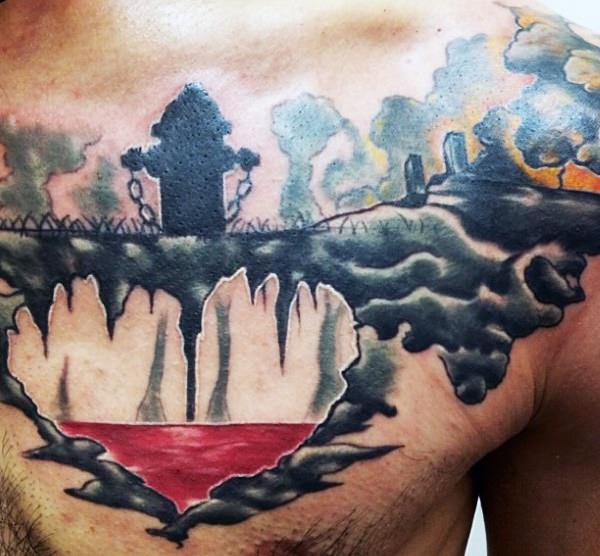 16. Colorful Designs
There are great colors attached to this design. You don't get more detail than this, and it's got a great message as well.
17. Extreme Details
If you are looking for a big tattoo, then you won't find a better one than this. It's an amazing design with some insane details. Firefighters are bringing out babies from a structure; it's a stunning creation.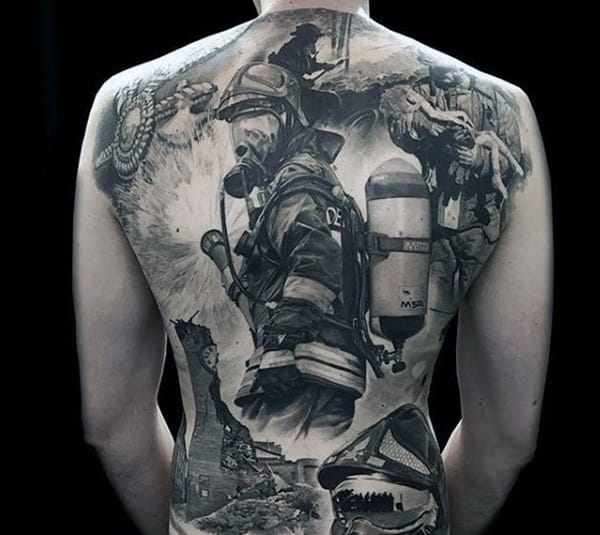 18. The Truck
A great design that shows firefighters being dropped down as well as the trucks.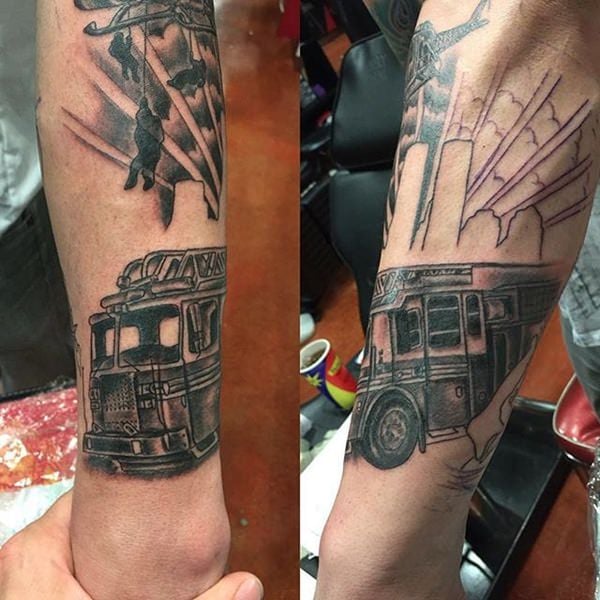 19. A Cartoon Design
A picture of an old school firefighter. It's colorful and unique if that's what you're looking for.
20. Creative Colors
A stunning image of a woman firefighter with striking details. The colors involved are extraordinary, and the picture is so detailed that it could be a painting. I love it.
21. Shoulder Tattoo Design

A great design for the shoulder with a lot of detail.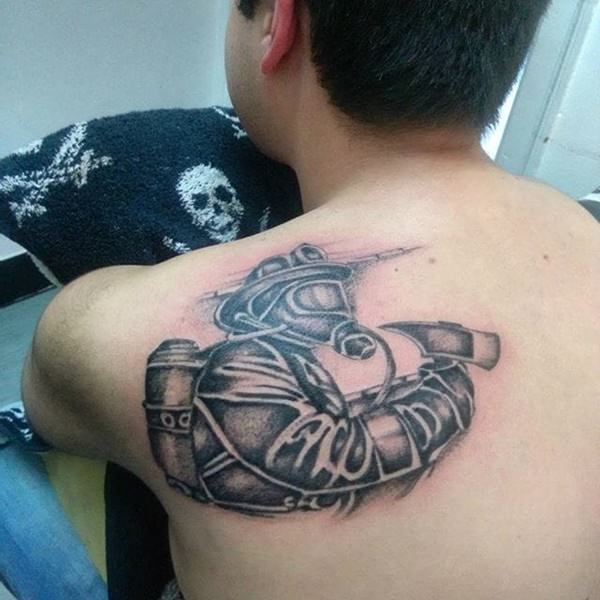 22. Just the Helmet
A colorful tattoo of the helmet that firefighters wear when they are on duty. I love the fire blazing in the background.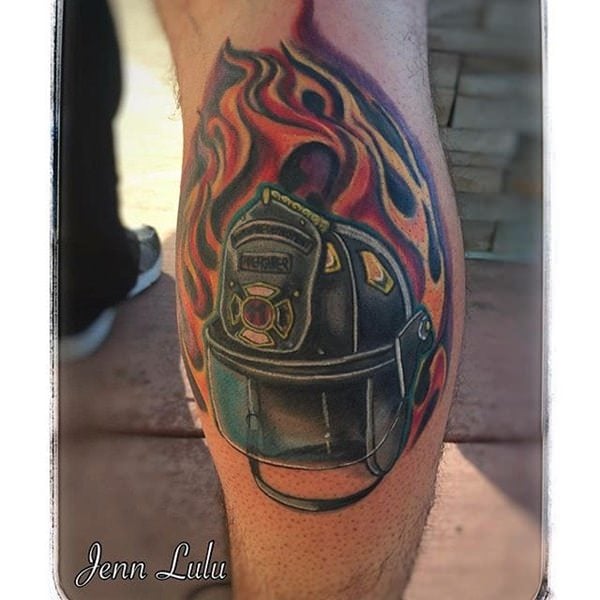 23. Cartoon Fires
Another old school picture of a fire truck as well as a house on fire. It's a fun design that leaves out the detail and the seriousness.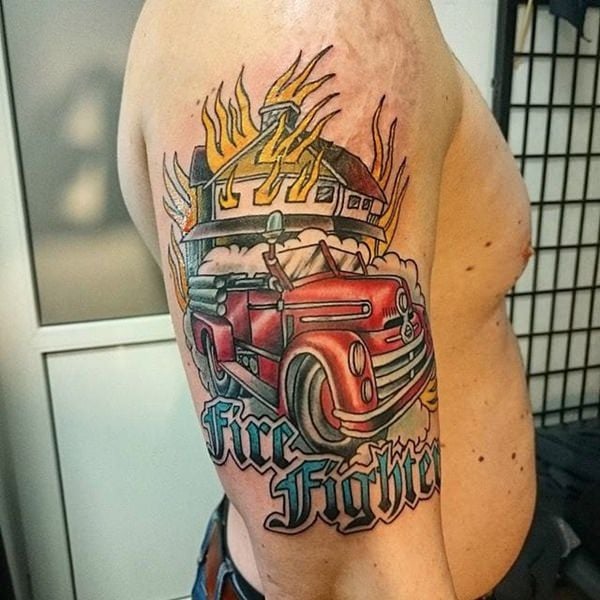 24. The Badge
Firefighters badge from a hero that has fallen. Someone obviously wants to remember someone they love who died.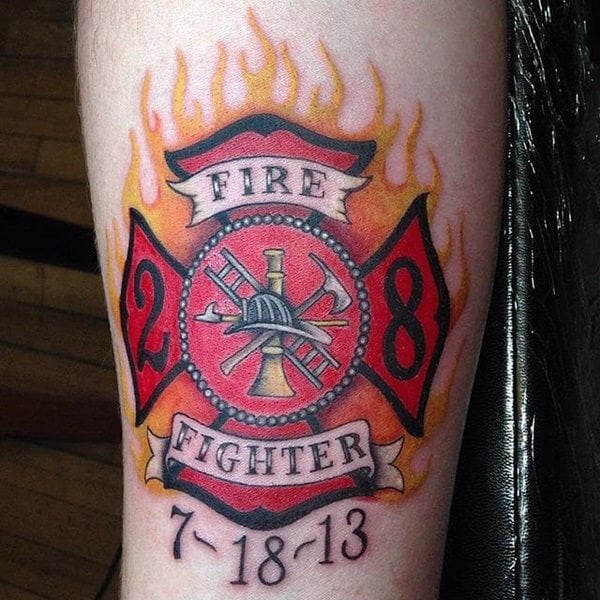 25. Just the Truck
A detailed picture of a fire truck. If you want a firefighter tattoo but just want to express yourself with a truck then you would love this design. It's detailed, and it's large enough that you could put it on your arm. If you are looking for a truck tattoo, you can't go wrong with this tattoo.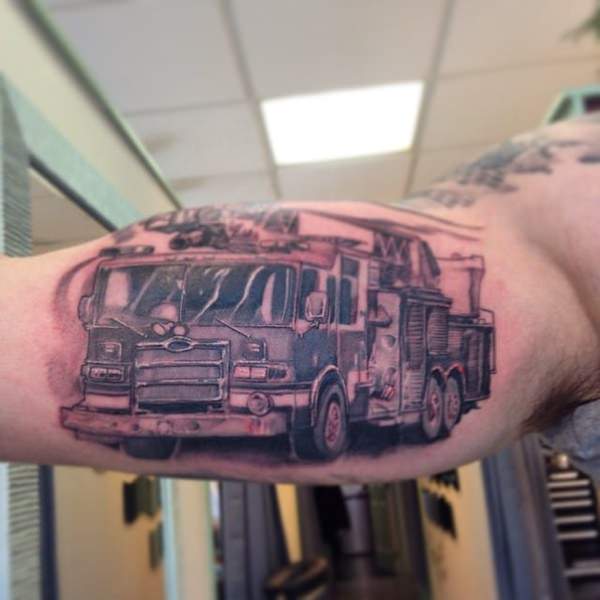 26. Sugar Cane Skull
If you want something different and you are a fan of the sugar cane skull craze, then this might be just the tattoo you are looking for. It's a female fighter with a sugar cane design on her face. It's cool and different. There are lots of detail and very little color, but it still looks great. A wonderful tattoo for someone who wants to honor the female firefighters.
Also See: 99 Gnarly Skull Tattoos That Will Make You Gawk
27. Hero on the Job
A detailed design that fits perfectly on the arm. If you want a realistic tattoo, then you are going to love this one. It shows a firefighter that is in full uniform on the job. It's a great tattoo.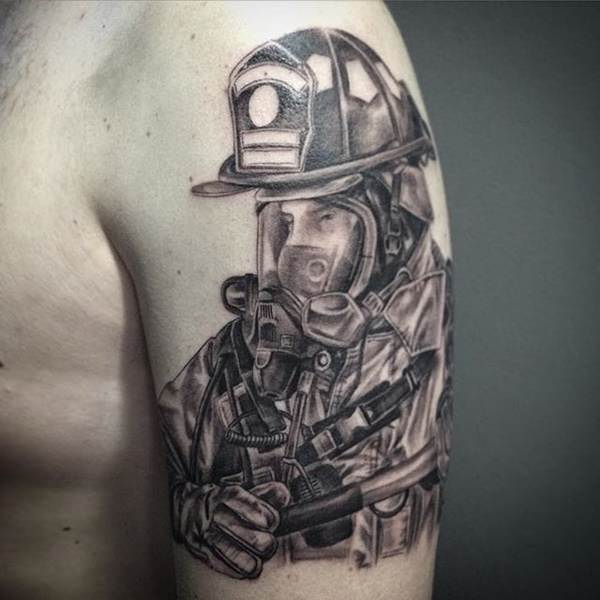 28. Raising the Flag
These firefighters are off duty, and they are raising the American flag to honors all the firefighters that have fallen and worked hard for their jobs. This tattoo is all about honor and dignity. The flag is the only color involved in the tattoo, and it's great that way.