Where oh where should I get inked next? A lot of us think of our design before we come up with the place that we'd like to put it on our bods – especially if we're running out of clear territory! If you're thinking about inking up your shoulder, or just want to check out some cool designs that you can place there, we've got you covered.
Getting a tattoo is a big commitment, it's like signing on the dotted line of a lifelong contract. Tattoos are with you for life (well besides laser, but let's not think about that right now) so it's important that when picking the right design that you get something that works with that area of the body.
What do we mean by that? Well lets take the shoulder for example. A very popular area to get tattooed by both men and women. There are many reasons it's a popular spot to get inked, but for the most part it's due to the fact that you can choose to show it off with a tank top at the beach or you can cover it up in the office with a business shirt or even a t-shirt, depending on the design.
When choosing the appropriate tattoo design for the shoulder area, the first thing we should consider is that the shoulder is rounded. With this in mind, choose a design that works to the curves of your shoulder shape. Secondly, the shoulder is also a (comparatively) large surface area, so this generally means that larger size tattoos will work better here, especially because you can extend them around on to the back, the front or even down the arm in to more of a sleeve design.
So without further ado, let's take a look at 70 magnificent shoulder tattoos…
Often people will start with a shoulder tattoo and then extend it out across their chest. Here you can see a circuit board style design that's extended out in to a cool geometric and abstract pattern on the chest.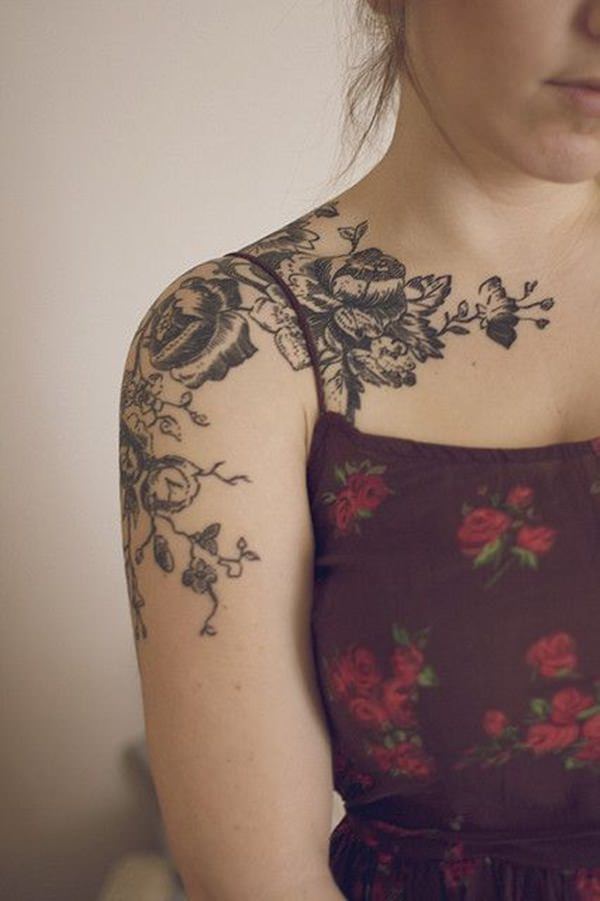 A beautiful sketch style floral design on a ladies shoulder.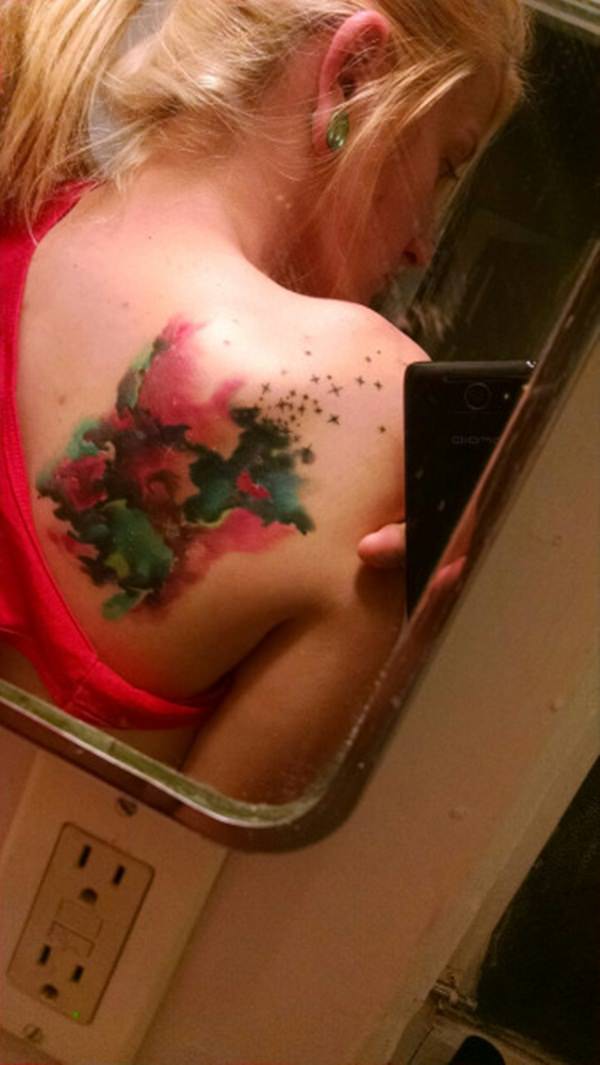 Watercolor style abstract designs are becoming increasingly popular tattoo styles.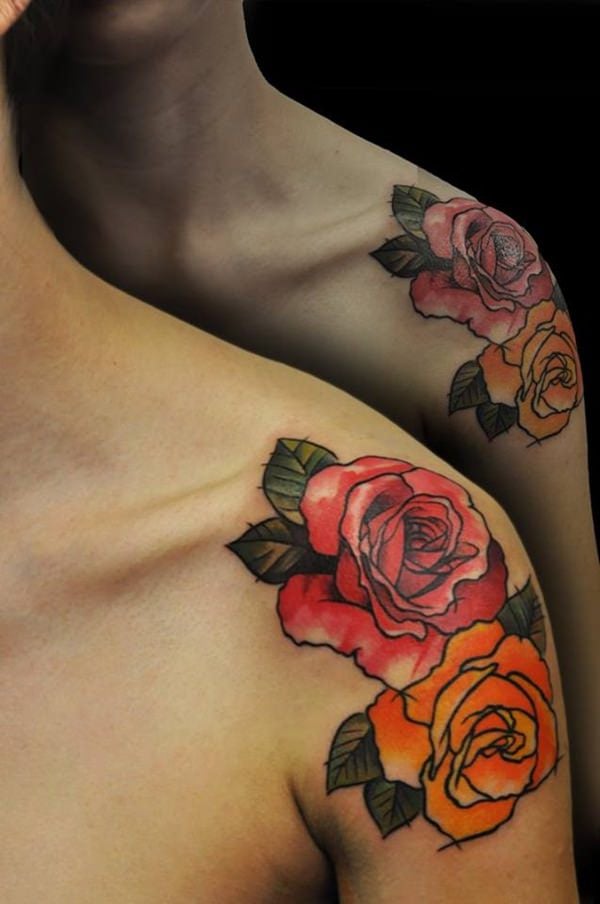 This is a traditional rose outline with a modern twist with the watercolor style fill.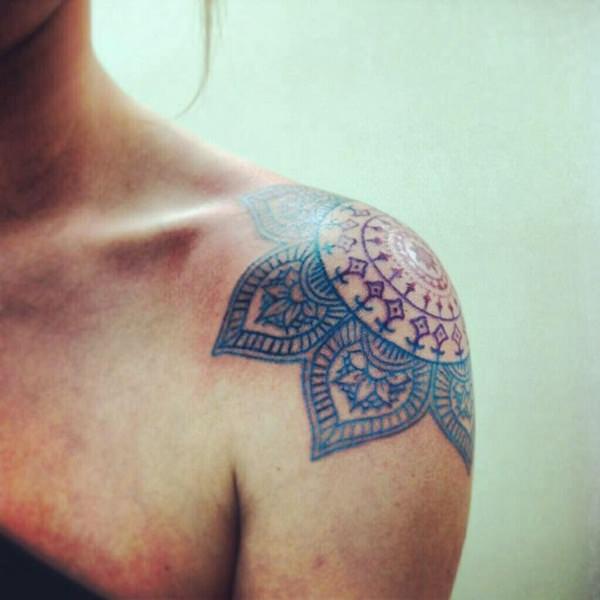 Mandala tattoos require very precise handwork and this is a perfect example of just how beautiful they can look on your shoulder.

Whilst cats may have 9 lives, us humans only have one – so choose your tattoos carefully!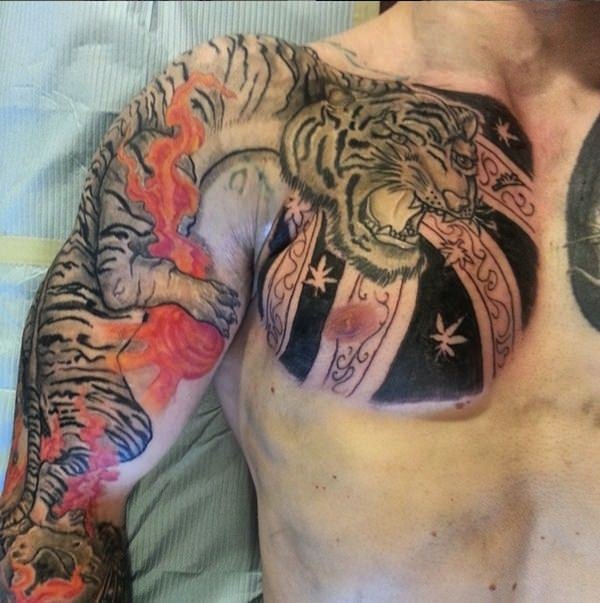 Speaking of cats, here is a beautiful big tiger that goes all the way up the arm, shoulder and across the chest.
Small bird tattoos are very popular and beautiful tattoos, particularly for young women to get.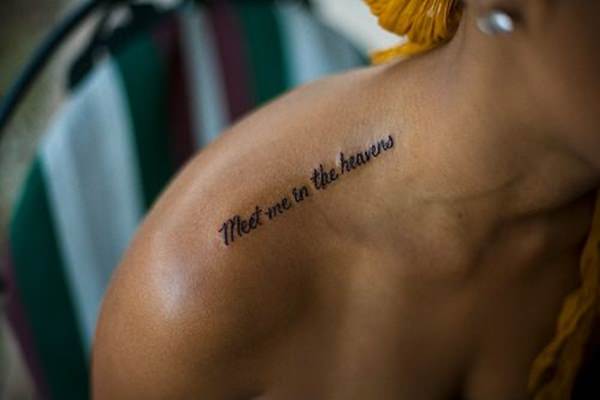 "Meet me in the heavens" – script text can look really great when written this nicely.
A beautiful tattoo of a sunflower just starting to blossom.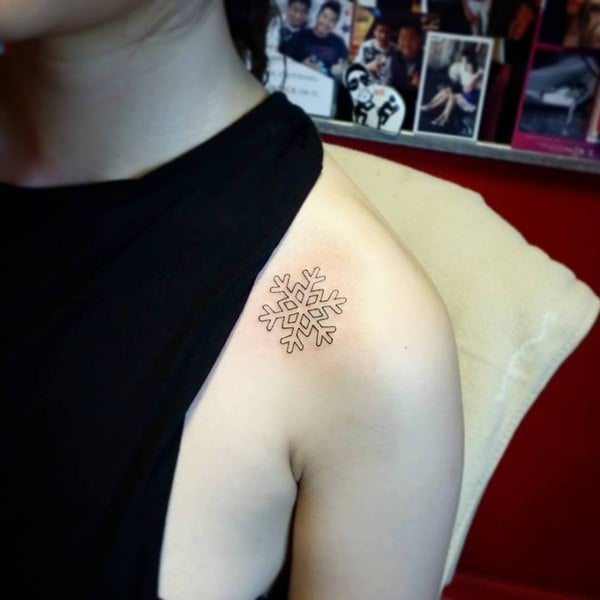 Love the snow? Here's a great and timeless design of a snowflake that we really like.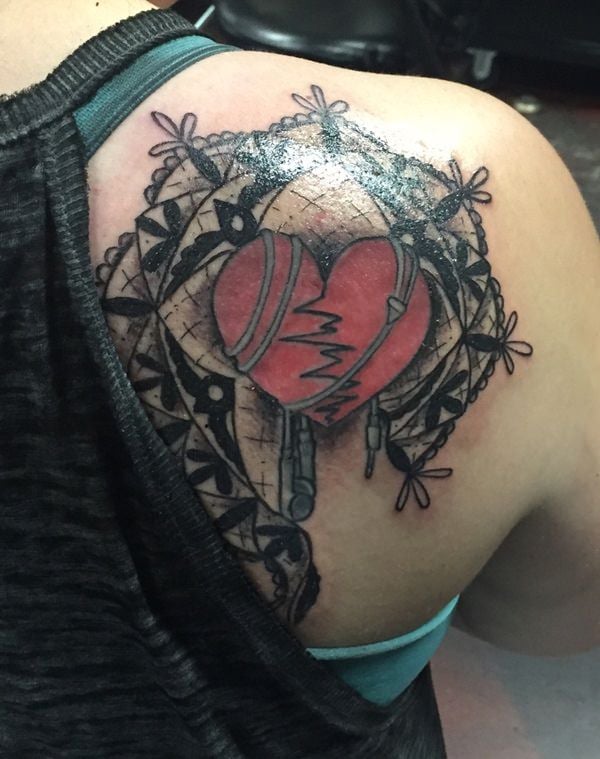 A great twist on the classic love heart tattoo, here transformed in to a musical themed design.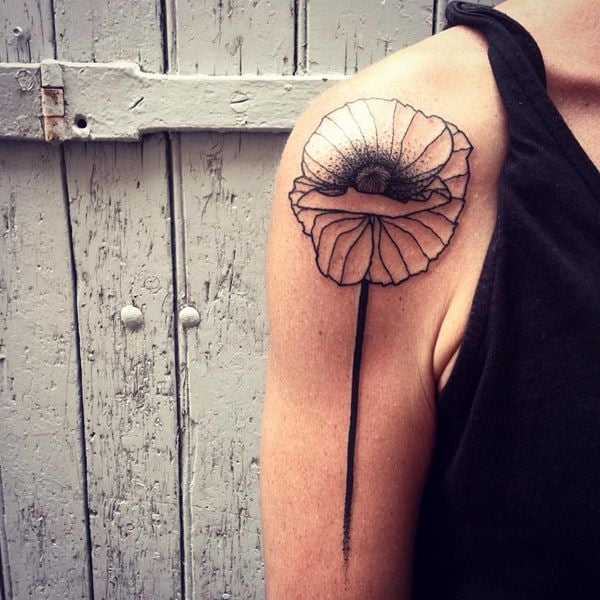 Tattoo designs with long line work can work really well going down the arm.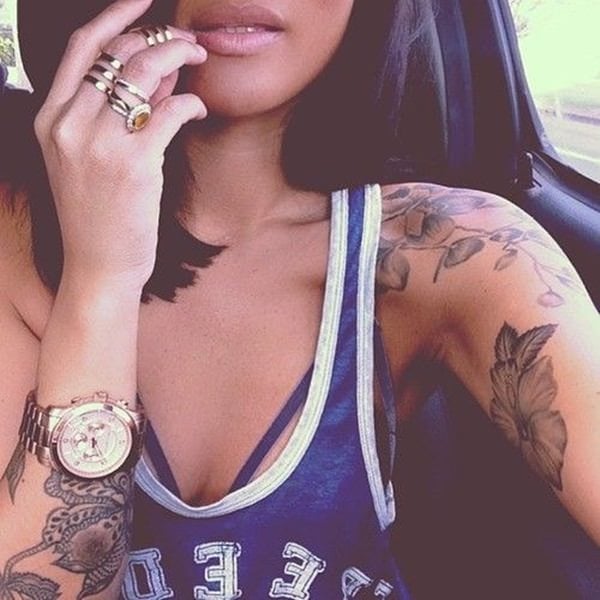 Another beautiful example of flower designs on a females shoulder.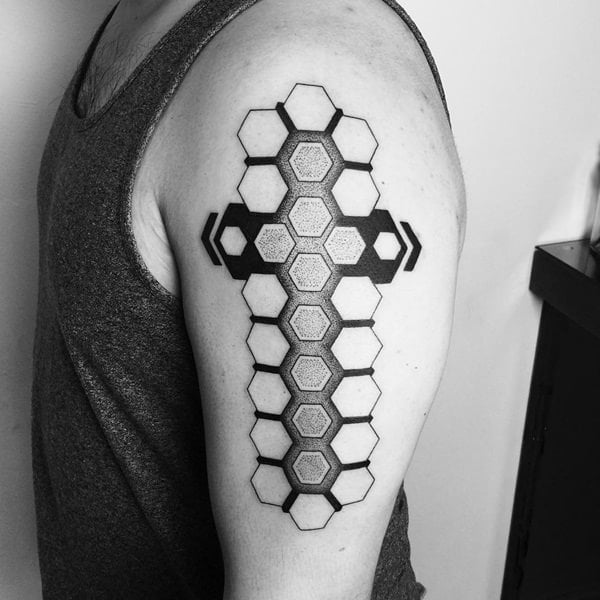 Geometric designs are one of the most popular tattoos these days, and this is a great example of how bold and cool they can look.
The eagle has been a very popular tattoo design for years and here is a really intricate one done on the shoulder.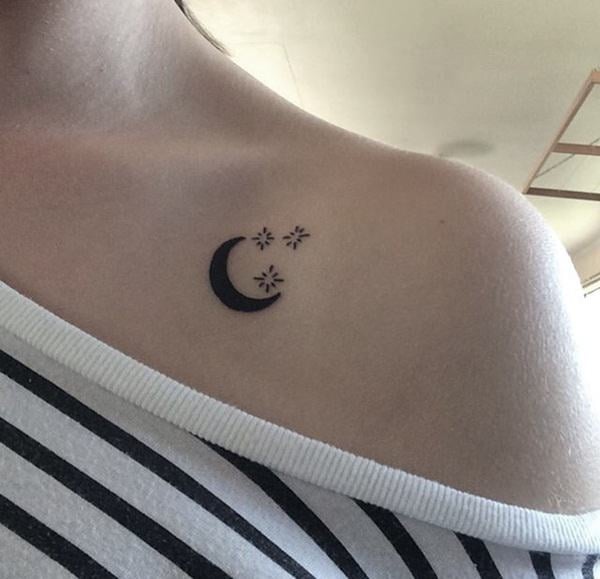 Another great example of a tiny tattoo that looks great, especially if you're going for that minimalist look.
What a fantastic David Bowie tattoo design. Reds and blacks always go well together.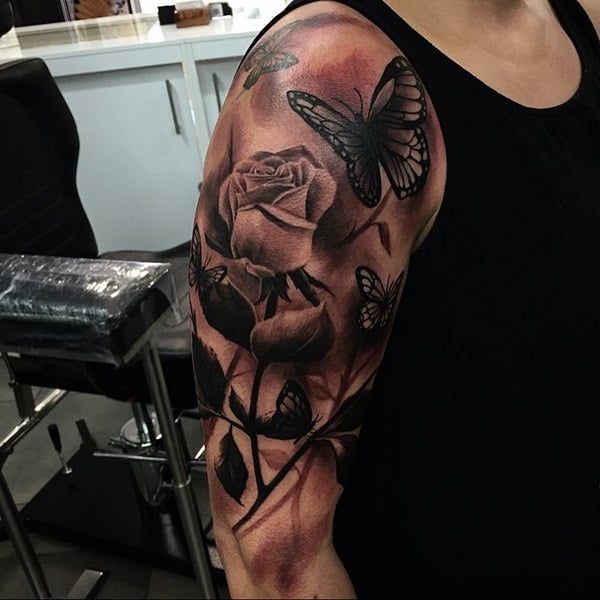 The shadow and detail in this butterfly and rose design is just exquisite!
A fierce and beautiful looking queen design on a mans shoulder.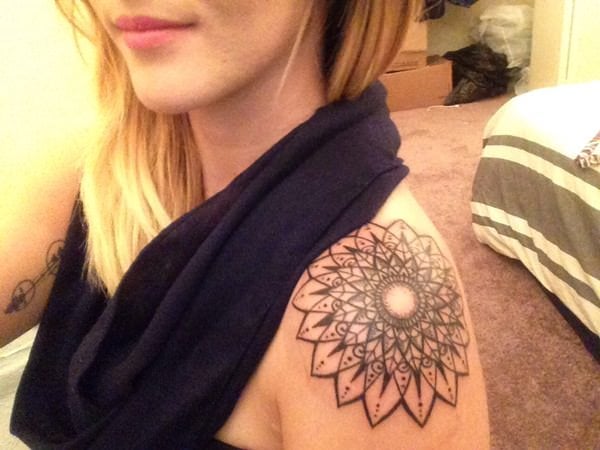 Another example of a beautiful mandala design.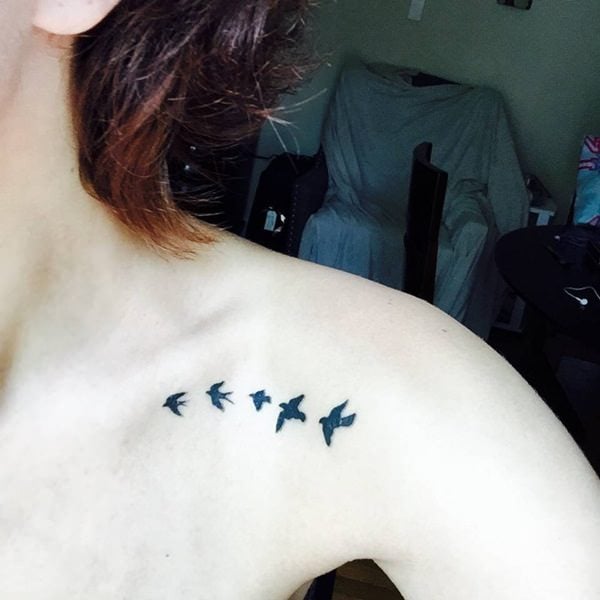 Sparrows are a very popular tattoo among females and here you can see why!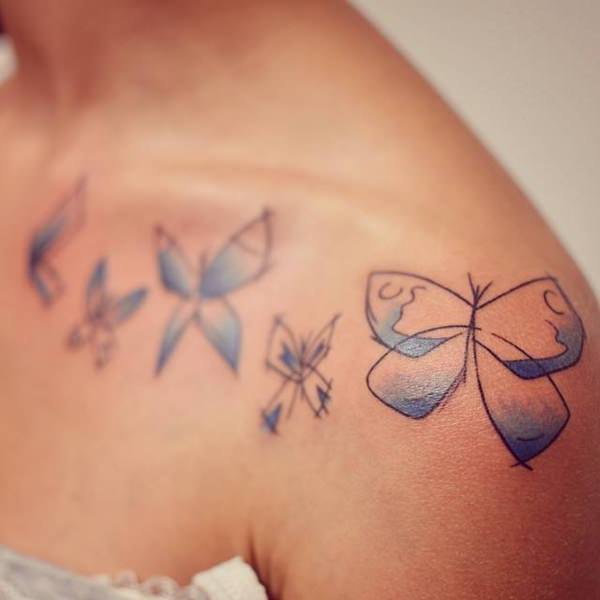 Some beautiful and unique butterfly designs using blue ink for shadowing.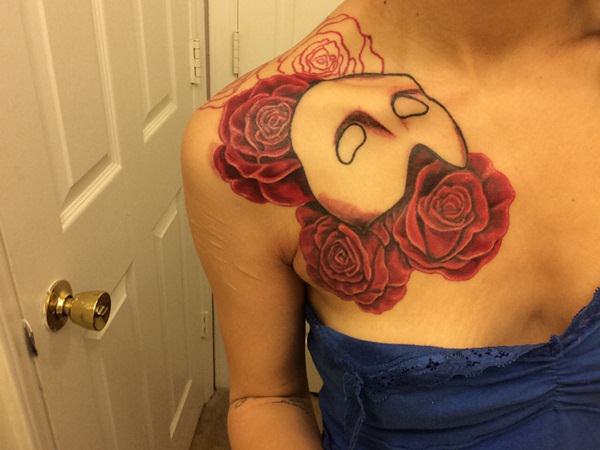 If you're in to the arts and drama, than the infamous phantom of the menace mask is a great design idea for your next tattoo.
Galaxy shoulder design that forms a bass clef.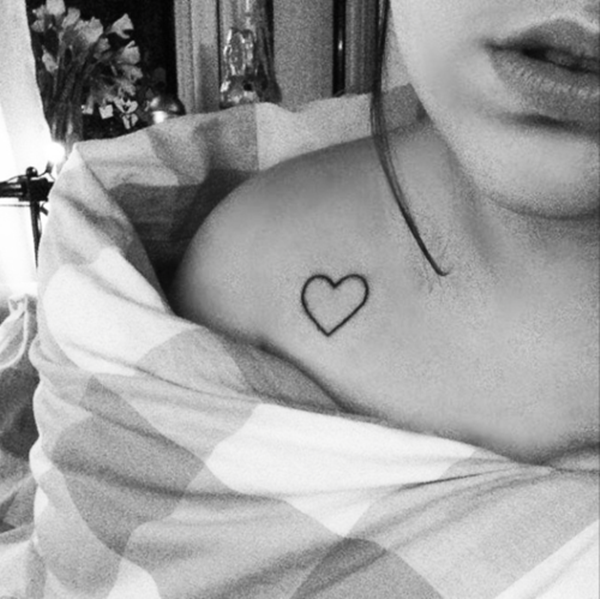 Simple yet poignant. Love it!
A beautiful fern design going across the shoulder and a nice color gradient.
Another beautiful cat design on the shoulder – this time of a lion.
A ferocious looking brown bear on a mans shoulder.
More flower designs.
A dinosaur skull tattoo design surrounded by flowers.
How a colored in mandala can look.
A beautiful elephant tattoo. We particularly love the red ink splatter effect.
Full moons are a great time to celebrate and now you can celebrate all the time!

It doesn't get much simpler than this basic circle tattoo, yet it works really well.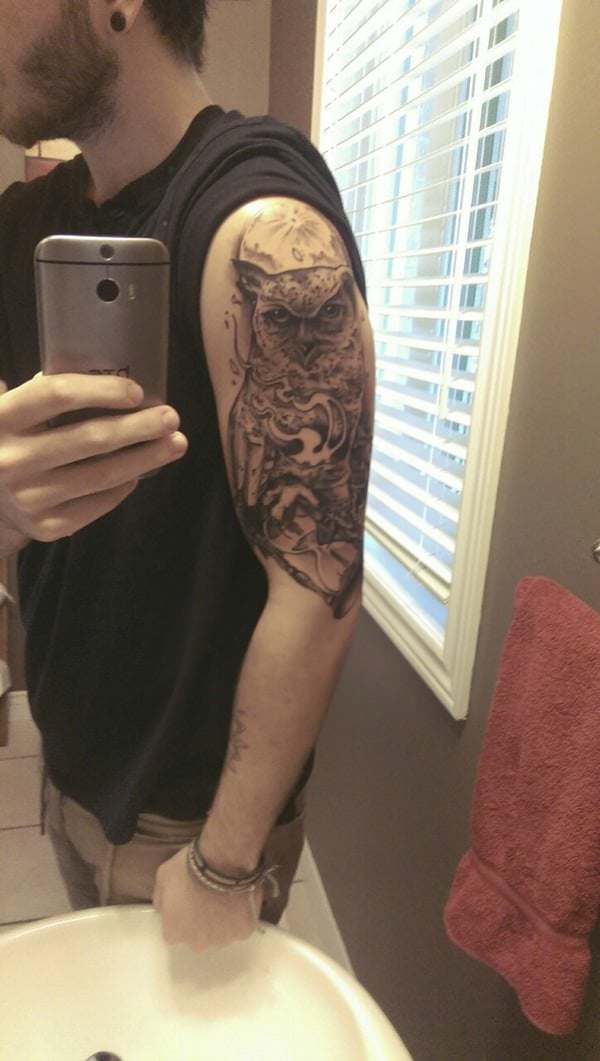 Owls are another popular design for both males and females.
Another owl design, this time in color.
I don't think there is a tattoo more common than the butterfly on a girls shoulder, yet it still manages to look beautiful.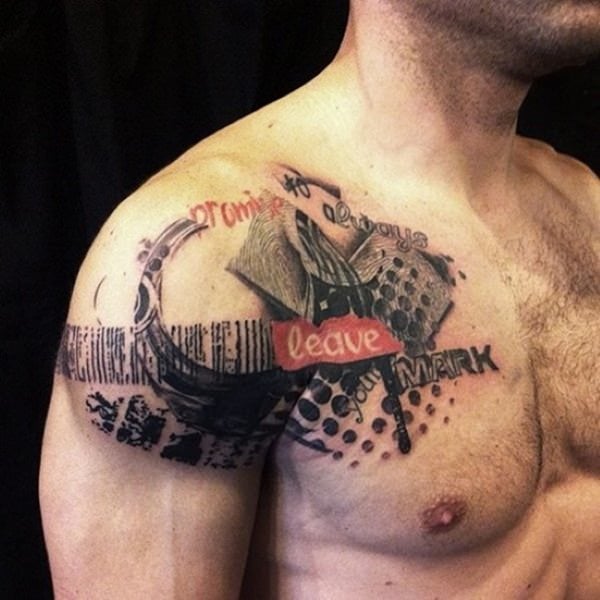 A modern and abstract shoulder and chest design.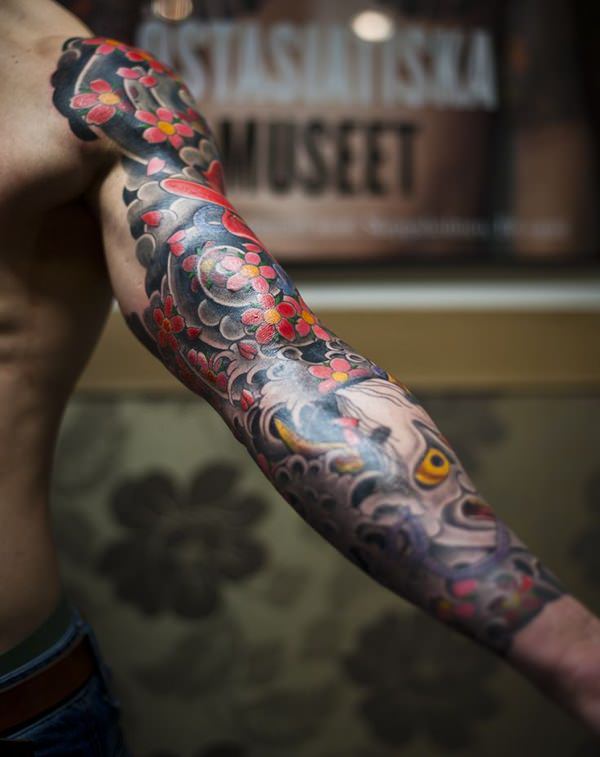 This one looks super fresh, look at how much that color pops!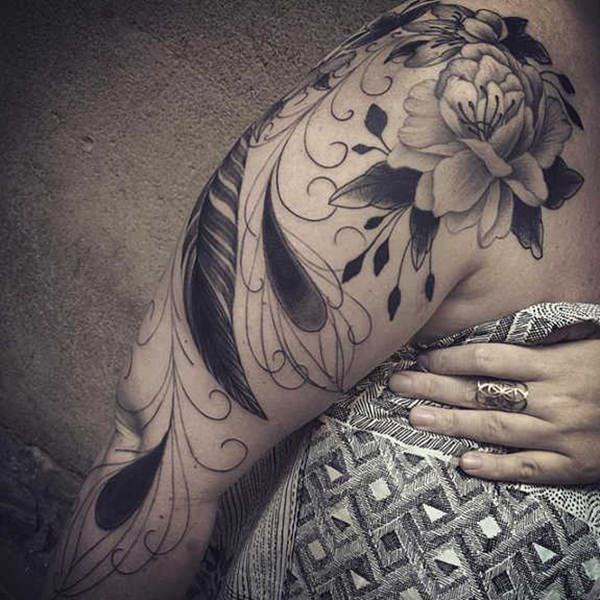 Another beautiful flower design.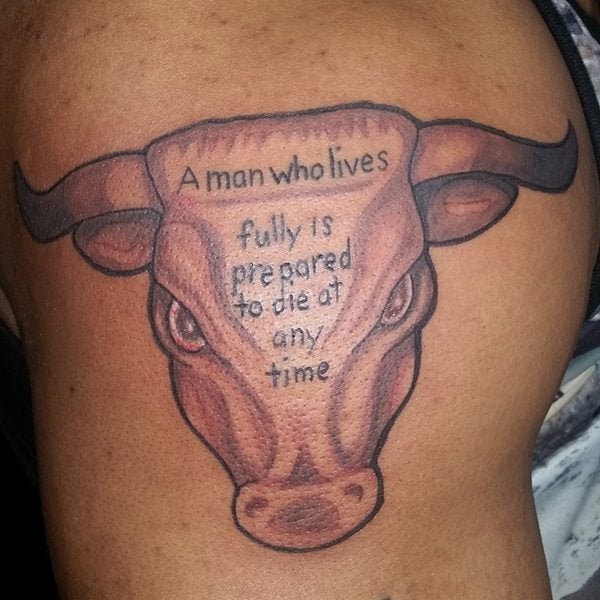 Choosing the right font for your tattoo can be a tricky task.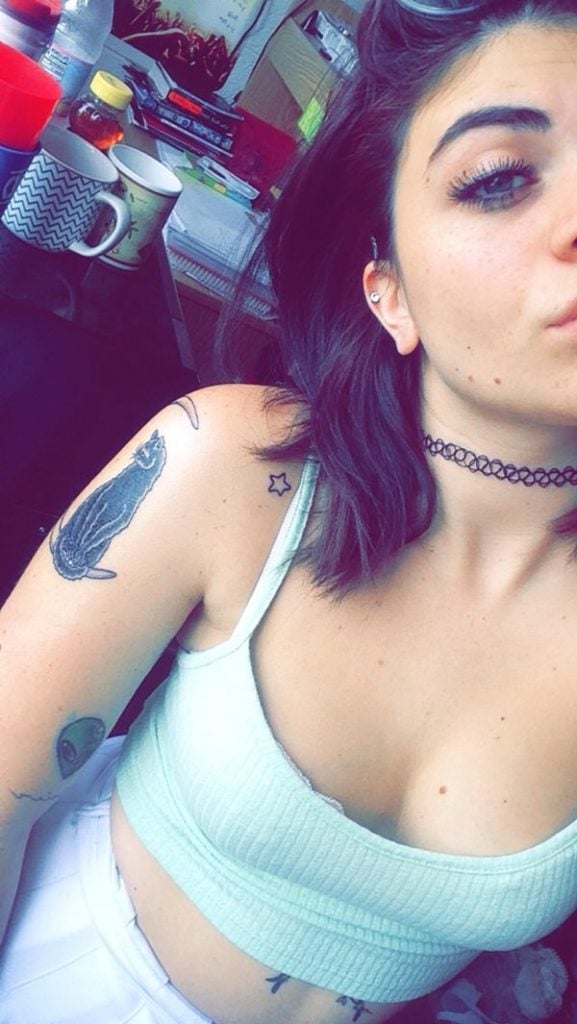 Stars and cats. Simple always works.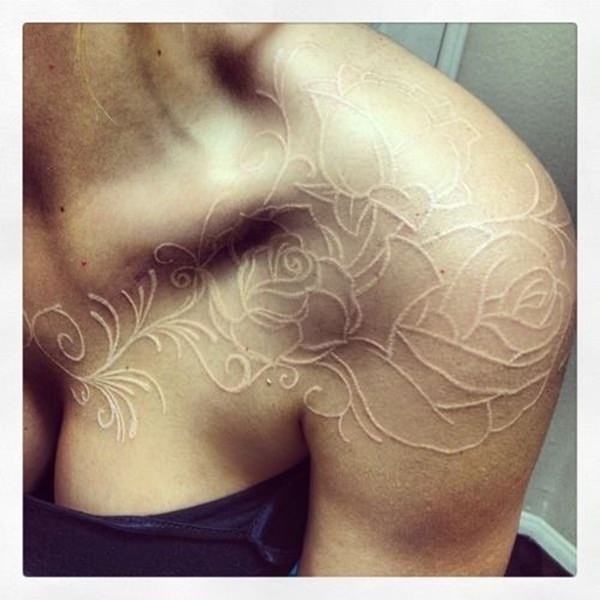 Don't want your boss to know you have a tattoo? Why not get one in UV ink?
A dragon wielding dual pistols unloading the clips – doesn't get much more badass than that!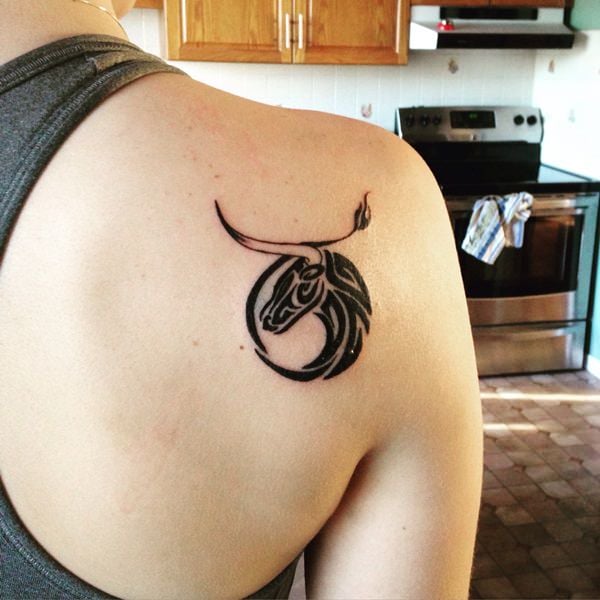 A beautiful tribal style animal tattoo design.
Ravens on each shoulder, these were clearly done by someone very talented.
The sun, the moon and the stars all wrapped in to one!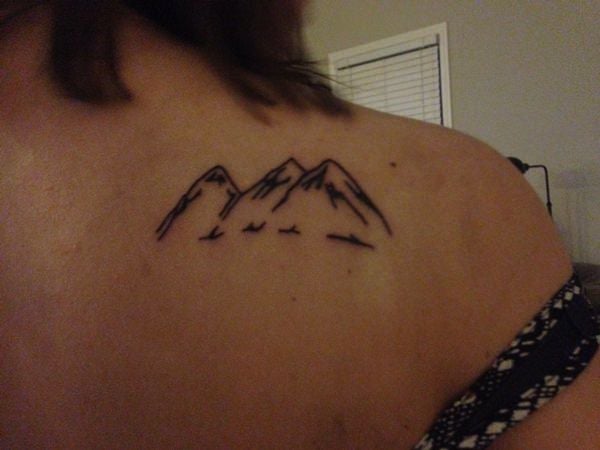 Mountains, must be another snow lover!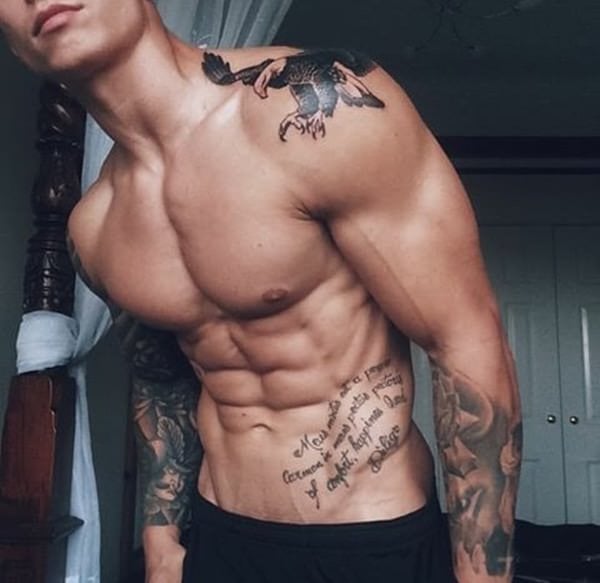 Been doing a lot of work at the gym? Getting a new shoulder tattoo can be a great excuse to show off your hard work, not that you should need one…
Another dragon tattoo and example of reds and black inks working well together.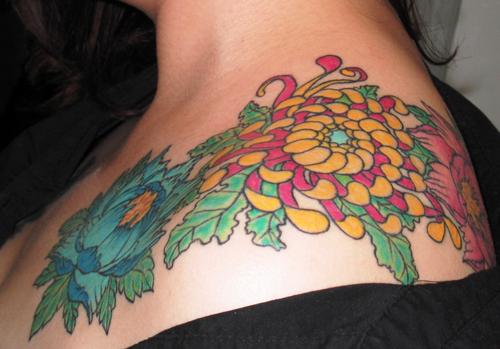 A beautiful lotus flower design on a woman's shoulder.
A great looking Japanese style sleeve tattoo.
Again, another great example of Japanese style tattooing with a modern twist.
Here is a great example of someone that initially got a shoulder tattoo and is now extending it even further, which is always an option.
And again.
When females are opting for tribal designs often a lot more intricate ones like the above look nicer than the typical black design that most males get.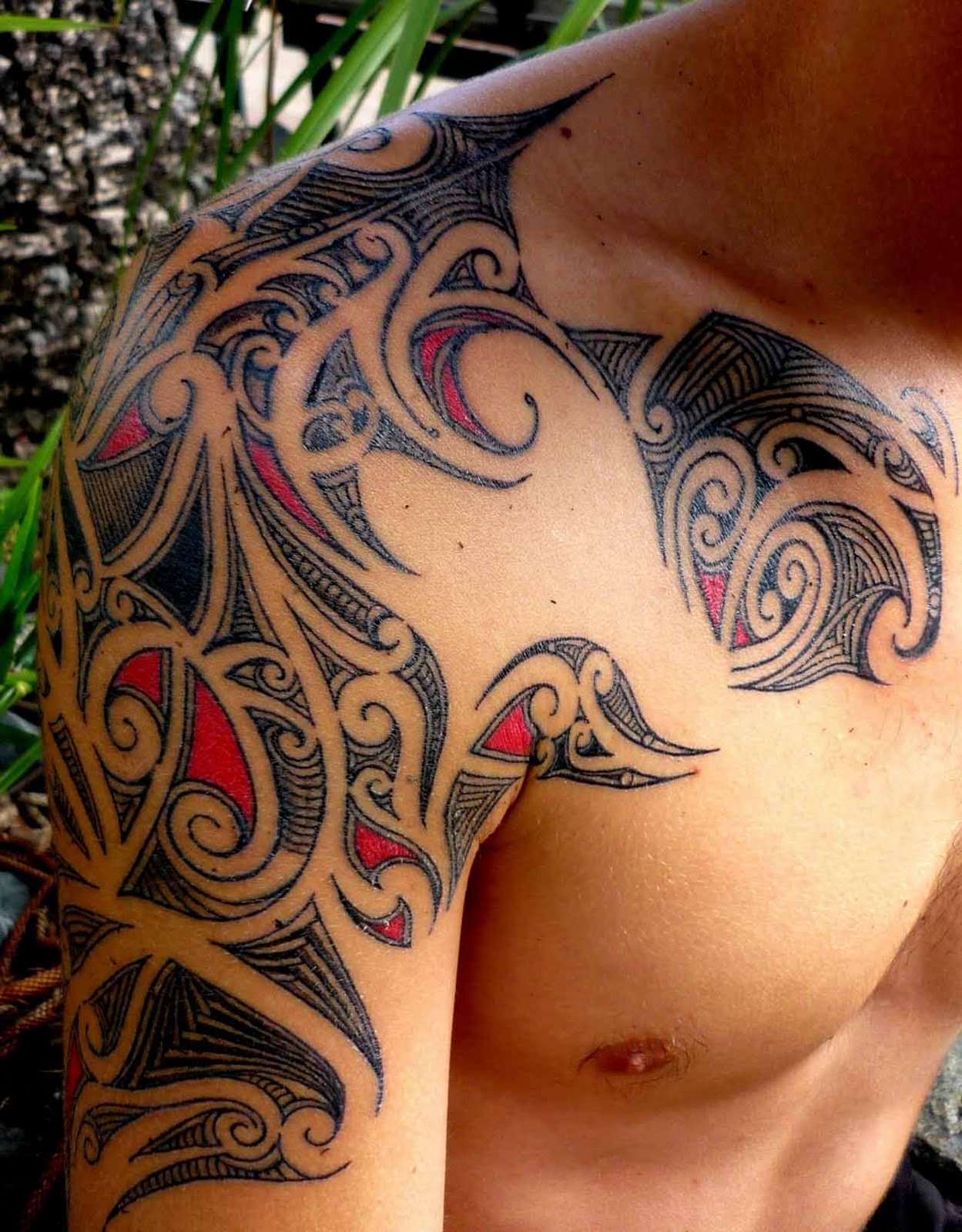 Here is a great example of a red and black tribal shoulder piece.
Big fan of the Robocop movies? Why not get a Robocop tattoo?
Another similar design where it looks like your part human, part machine.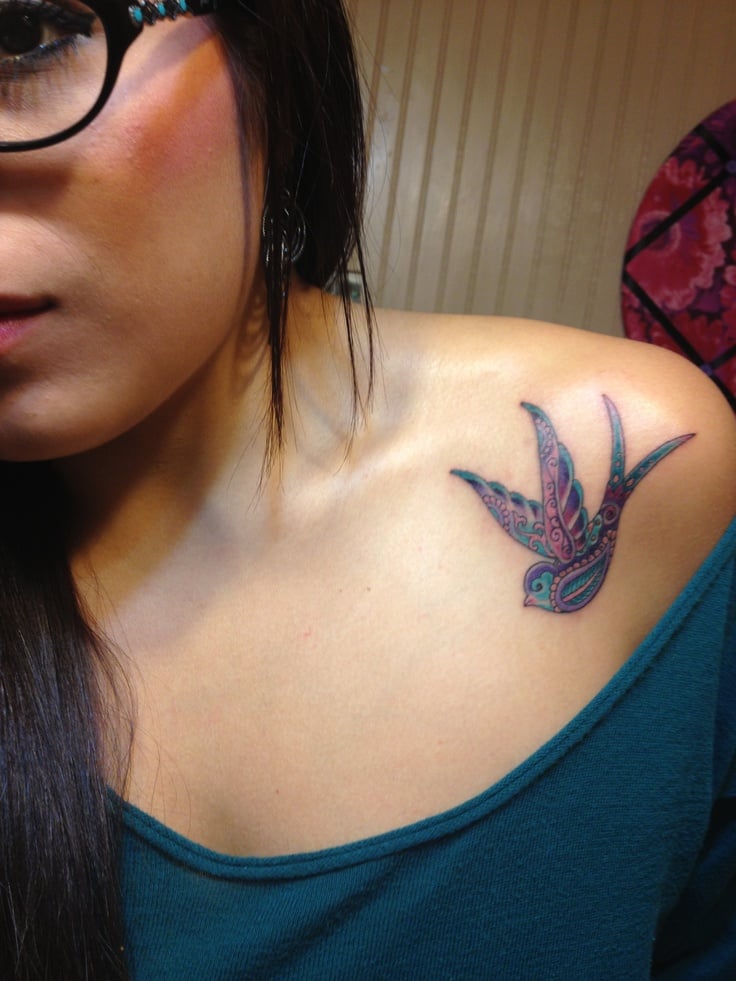 Teal and purple also go very well together, we just love this bird tattoo.
A more abstract bird style tattoo.
Birds have long been a popular tattoo design for people to get and further past that they represent a lot of traits that as humans we aspire to. For one they are up early (some of us even struggle with this) and their chirps can represent the coming of a new day. Most of all though it's their flight and ability to move on and cover great distances that makes us in awe of them and also is why they can hold a bigger significance than just a pretty bird tattoo to look at.
A flock of birds coming over the shoulder, great placement.
If you're in to old films, getting an old movie star tattooed can be a great way to show it!

Getting pretty women tattooed is particularly popular amongst males, need we say why?

Another great example of a pin-up style tattoo.
And again.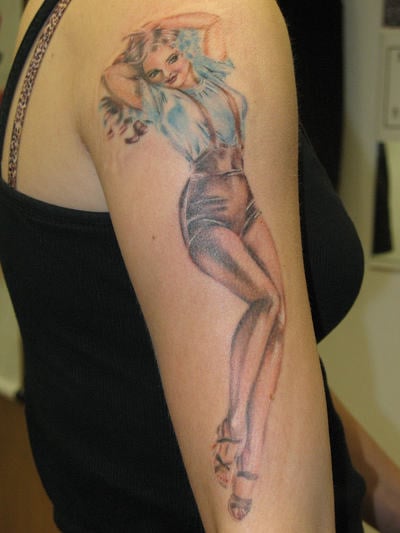 Once upon a time it was considered that only males would get the female form tattooed on themselves, but in recent years it has changed quite a bit. It is very common nowadays for both men and women to get pin up style women tattooed on themselves.
A bold black owl sitting on top of a skull. Whilst it is beautiful, it's also the kind of image that could give you nightmares!
Lover of bacon? Than it goes without saying that this is a tattoo for you.
"When you think I'm sunk – I will float on". Here is a great example of a more traditional nautical themed design. Whilst designs like this were historically reserved for sailors and people who served in the navy, they are now common place, particularly amongst men that have a love for anything ocean related such as fishing, sailing, swimming or even something such as moving overseas in their life.
A beautiful butterfly and flower design. The butterfly is a very popular tattoo, particularly for females to get. Whilst there doesn't need to be a reason behind getting such a pretty creature as the butterfly tattooed they do also hold a deep meaning. The butterfly represents a change for the better in ones life, as the butterfly starts off as a caterpillar. A lot of people may get the butterfly tattooed to acknowledge them overcoming adversity in the past.
More pretty butterflies, this time in just black ink.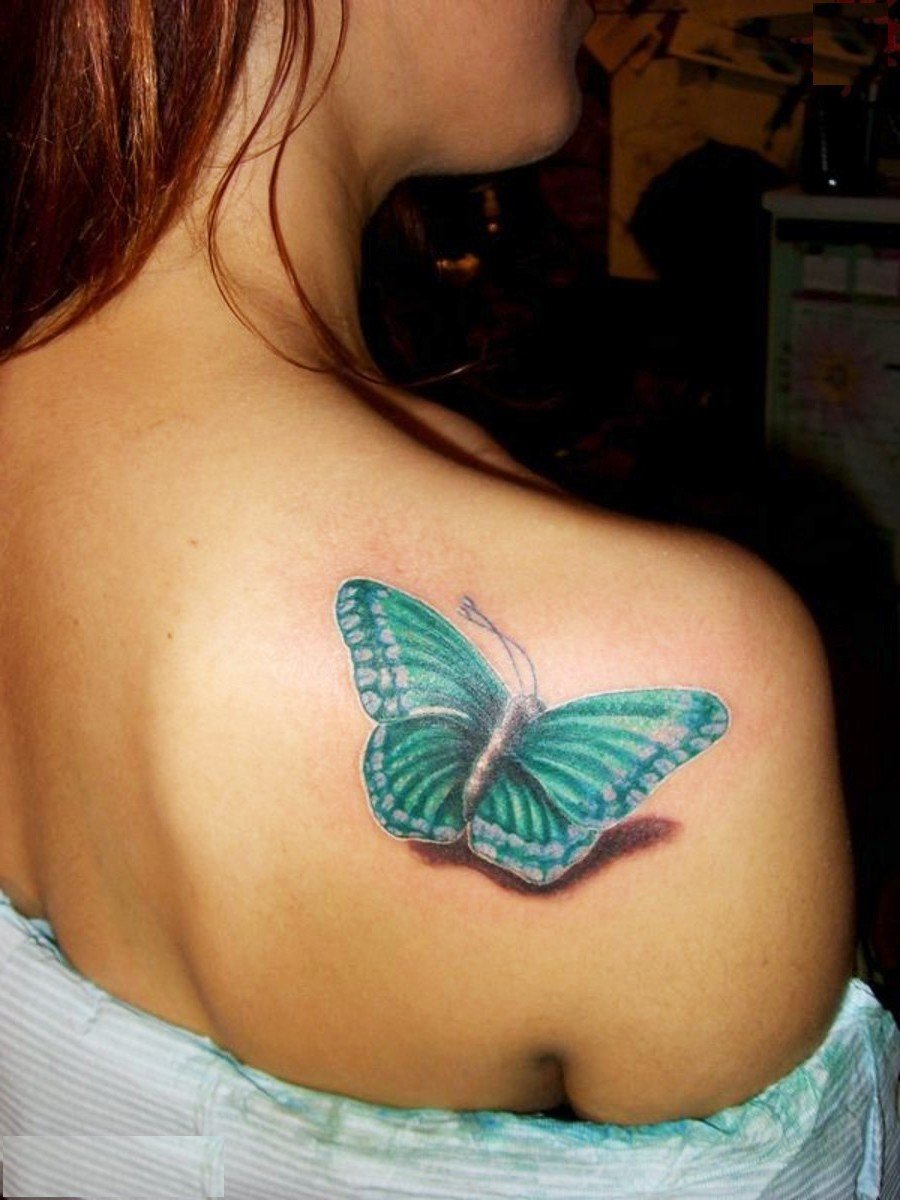 A great looking green themed butterfly and evidence not to wear your favorite clothes when getting new ink, because it will rub off on them!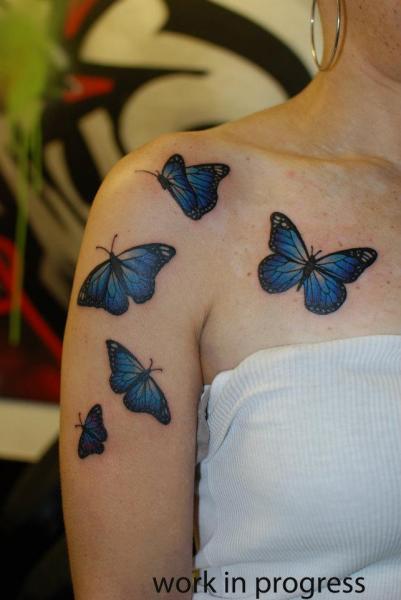 Five beautiful blue butterflies across the shoulder and arms, we really like how they have opted for varying size and shape butterflies really adding a bit of depth and uniqueness to this design.
And again. This time with names included that may be her sons names.
Star shoulder design, these are looking very fresh and tender!
More 5 pointed stars, this time going up the neck as well.
And over the shoulder, this time a mixture of filled and non filled.
A modern and clever take on the star tattoo design, get things that are meaningful to you as the filler such as:
The checkered flag – this is generally symbolic of ones love for car or motorbike racing as the finishing flag that is waved at the end of the race is patterned with black and white checkers.
Treble clef – Besides been a beautiful symbol, the treble clef is actually a musical symbol and represents ones love of music.
Scales – the scales in this one could either be representative of ones love for fish/fishing or could have deeper meaning such as having a strong skin like that of a dragon.
German flag – the german flag star is no doubt representative of ones origins or birth place.
Here is a great looking pixie back tattoo. The pixie is similar to the fairy and originates from Celtic culture. The pixies is a tiny creature and can represent the innocence of youth and well as nature and magic. Pixies are particularly popular tattoo designs amongst females and this particular one reminds us of Tinkerbell from the Peter Pan story.
A really cool tribal style dragon tattoo design. The dragon is definitely one of the most popular tattoos to get to date. It can represent anything from strength, to wisdom, to protection and even can serve as a reminder of greed and immorality.
This particular design looks like it incorporates love heart shapes in to it which might be symbolic of the persons love for not only dragons but also the mythology behind them. In recent years dragon tattoos have become even more popular, this can be some what attributed to how popular the HBO tv show Game of Thrones is which of course has dragons in it.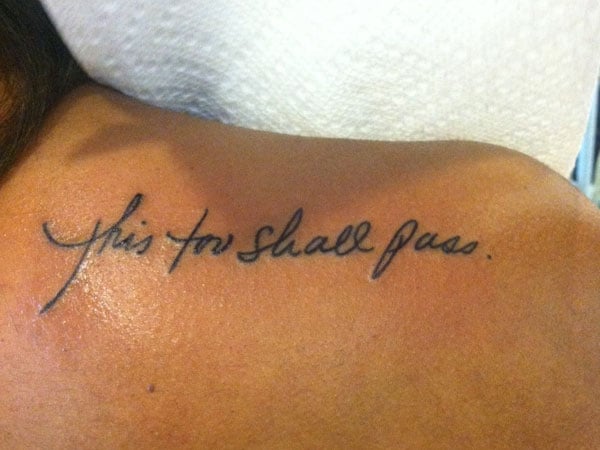 Finally to finish, some beautiful script writing on the back of someones shoulder.
Now that you've taken a look at some possible options for shoulder designs, hopefully some of the artwork has inspired some creativity in you or sparked some ideas for your next tattoo. As always we just need to keep in mind that a tattoo (for the most part) is for life, so it always pays to choose carefully.