Mandalas are beautiful circle designs that are drawn out of sand in special ceremonies that originated in India. They are increasingly popular among a spiritually connected audience – and that includes those who like tattoos too. A mandala is a bold choice for those looking to ink themselves with something significant.
The word "Mandala" means "circle" in Sanskrit. It is a ritual and spiritual Indian religious symbol that represents the universe. It has since grown into a cultural phenomenon that does not have any religious or geographical boundaries. Mandalas are most often represented by a square with four gates and a circle at the center.
1. Mandala on the Calf Tattoo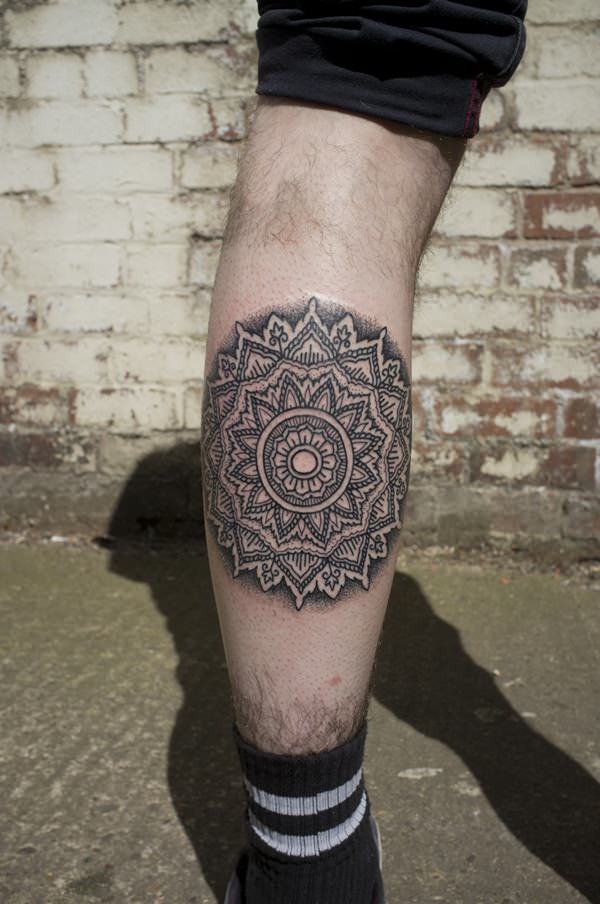 There are thousands of calf tattoos but this Mandala on the calf is one of the best. It fits perfectly with the shape of the calf muscle, mesmerizing the onlooker with every step. Word of advice, if you get this tattoo, don't skip leg day at the gym!
2. Center of the Back, Center of the Universe Tattoo (Large)
This tattoo represents the universe right on your back. All the lines and intricate designs boast the mad skills of the tattoo artist. Get this tattoo and you won't have a shortage of fans who will watch your back! This unisex tattoo is great for anyone looking for a back piece that gets people talking. However, please note that this is a difficult tattoo to get, so make sure that you thoroughly check the experience and skill level of the tattoo artist before getting this super cool tattoo.
3. Center of the Back, Center of the Universe Tattoo (Small)
Like its larger relative, this is a smaller version of the Mandala on the back that is both dainty and beautiful. Ideal for a girl who wants to play with art and fashion, this tattoo screams good taste and style. Get this tattoo and enter the universe right below your neckline.
4. Yellow Star
This tattoo goes away from the traditional tribal style of tattooing with dark ink. Using light yellow ink, this tattoo celebrates the center of the back and the universe with its warm colors and tail. It's a show stopper in the tattoo world and is a great way to accessorize clothing where the back is low cut. It's a fun piece of art that will get your friends asking questions.
5. Lotus
This cool tattoo fuses the sacred lotus flower with the beauty of the Mandala. Surrounded by planets and a teardrop necklace, the tattoo leaves the onlooker with a lot to ponder. It's a great tattoo to start a conversation about the meaning of life and our place in it. Further, you can't deny that this tattoo is a thing of geometric beauty.
6. Mandala for the Thigh Tattoo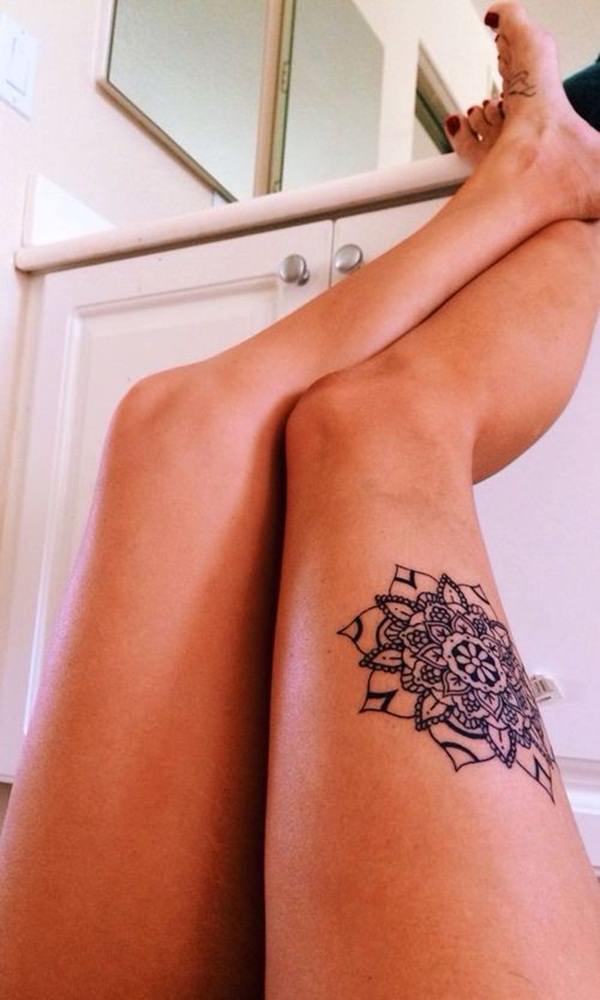 This tattoo is or the larger side and great piece for the thigh. It's multidimensional and gorgeous, but it can mostly be a tattoo for private viewing as a result of its location. This tattoo is ideal for those who don't like to draw attention to them but enjoy spirituality and tattoos. Further, this tattoo makes the best you of skin tone and shading to create depth and a 3D effect. It's a great Mandala tattoo for those who want to be reminded of the universe every day.
7. Half Moon
This tattoo is for girls and is located right below the breasts. The Mandala is represented as a semicircle like the moon and celebrates femininity and eternity. This tattoo uses shades of black and red fused with skin tone to perfection. If you're going to get this tattoo, make sure that you're willing to go through some pain. The skin below the chest is soft and sensitive and as result it will sting a little. This tattoo is ideal for the seasoned veteran who is looking to add to her collection of tattoos.
8. Gypsy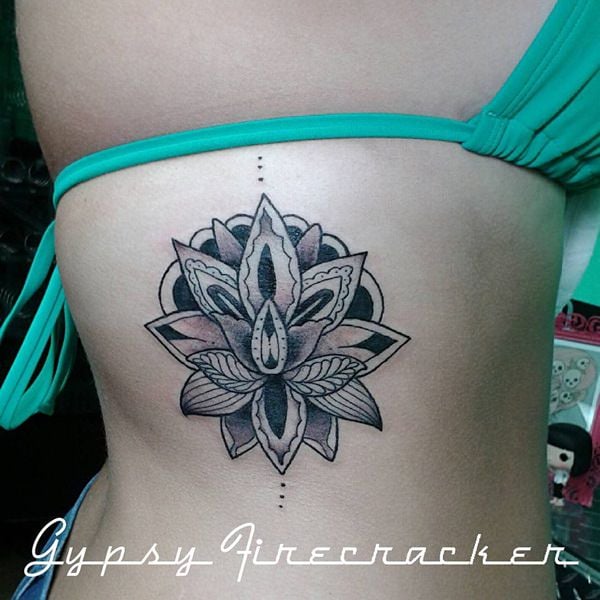 This is a painful tattoo to get as it's on the side over the ribs. But the excruciating pain will be worth it when you see the dark shades that make this Mandala special. Although you can rock this tattoo anywhere on your body, it's perfect for the side as blends beautifully with the symmetry of the girl's body. Again, this tattoo is not for the faint-hearted.
9. Mandala Leaf Tattoo
This creative tattoo is quite interesting to say the least. It incorporates nature and the universe in one striking image. The leaves that come out of the last rim represent nature and peace while flower at the center represents light and life. It's a great back piece that is midsized with different shades of black. It's geometrically stunning and ideal for spiritual individuals that are one with the universe.
10. The Flower
This pre-tattoo sketch shows the Mandala drawn like a flower. It can be either simple small piece or a larger more intricate geometric beauty. This tattoo is ideal for those who love to play with shading. The dark and light shading in this tattoo breathe life into the Mandala creating a multi-dimensional effect.
11. The Spiritual Lines of the Mandala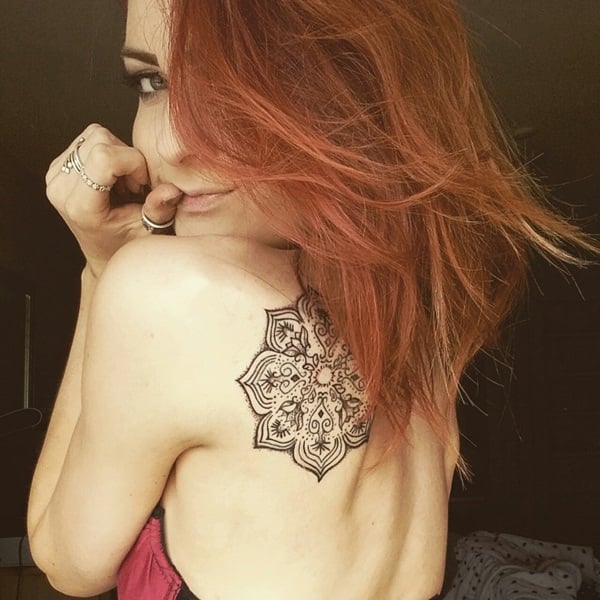 The spiritual lines of the Mandala tattoo doesn't depend on shading and intricate geometrical shapes. It however makes use of dark thick lines and a lot of skin space to communicate the messages of the universe. It's a creative tattoo inspired by the Mandala and is a great fashion accessory to the shoulder blade. If you're at a dinner party with your shoulders exposed, be sure to be ready to tell all your admirers about the mighty Mandala.
12. The Infinite Branches of the Mandala
The infinite branches of the Mandala is a significantly large tattoo that is ideal for the thigh. Not only does it fuse branches of leaves with intricate geometrical designs, but it also uses multiple colors to stand out. It's a great tattoo to rock on the beach!
13. Sexy Mandala Lotus Tattoo
This tattoo uses the cleavage and the space below the breasts with dark shading to bring the Mandala to life. It's a beautiful geometrically perfect piece for the hardcore girls out there who are not afraid of a little pain. You can be sure that people will be looking below your chest and not at it when you're sunbathing on the beach.
14. Multi-Dimensional Universe Tattoo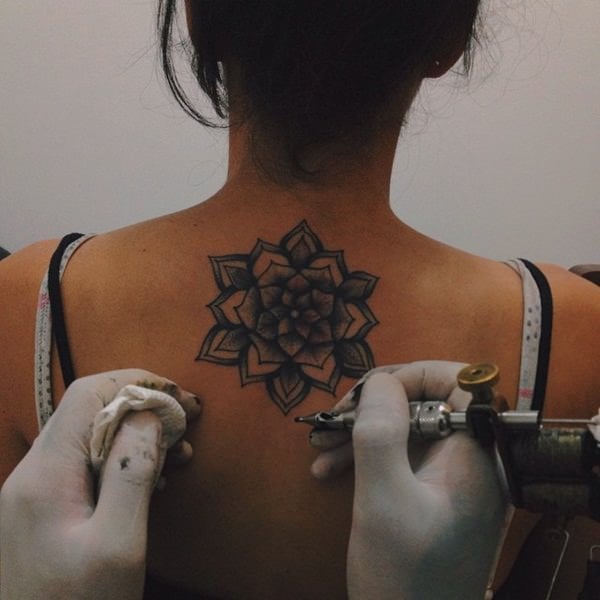 This tattoo skillfully uses shading to bring the lines, shapes, and dimensions to life. It's a small back piece that is ideal to be placed right below the neck. This popular tattoo is an attention grabber and you can bet your friends will soon copy it. If you're into mindfulness and yoga, this tattoo is a great addition to your spiritual arsenal.
15. The Universe, the Lotus
Just say it! This tattoo is amazing as it brings together the universe (the way Hubble telescope pics depict it) along with the lotus flower and the Mandala. It's a large creative piece that requires high level of skills to recreate the lights of the planets and stars on skin. This amazing piece will shine bright through your skin making you the talk of the town!
16. Simple..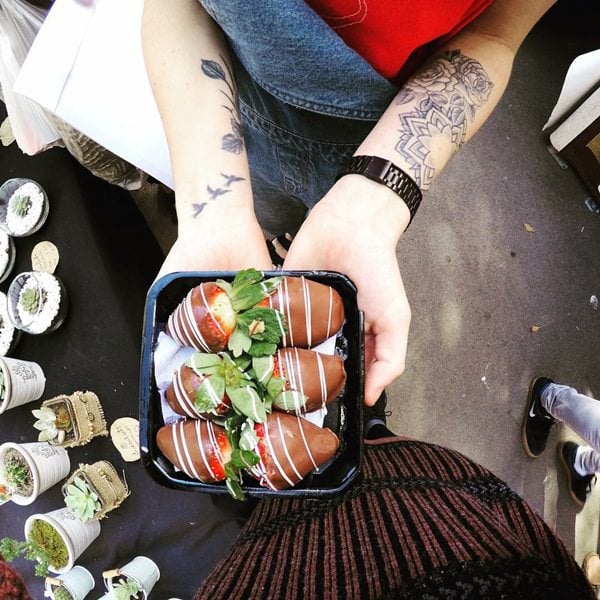 Not all of us are into intricate designs and complicated geometric shapes. Some of us like simplicity and simple Mandala piece celebrates just that. It's a great tattoo to have on your arm or wrist and take the universe with you wherever you may go in this journey called life.
17. The Spirit of the Mandala Tattoo
Wow! Holy cow! Amazing! Those are the adjectives you will hear once you get this mind blowing tattoo. This large piece makes use of different colors to create cool shades that bring the tattoo to life. This tattoo is both simple and intricate, but don't let that fool you as it will take hours of hard work to get this tattoo. If you do decide to get this piece on your body, put it in a place where everyone can see it and appreciate this wonderful work of art!
18. Revolving Star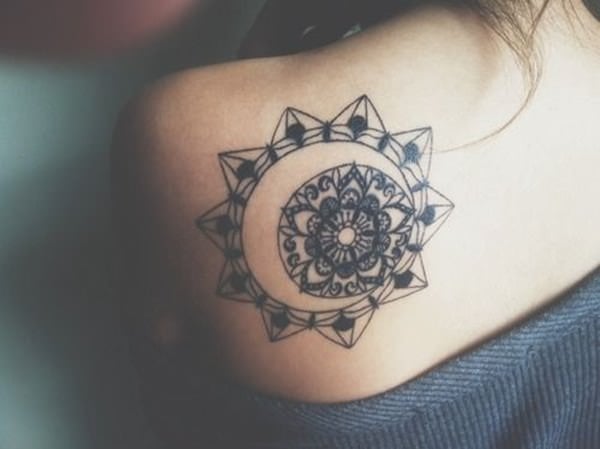 Like planets and the stars revolving around a big bright star, the Mandala revolves within the star in this creative shoulder tattoo. It gives if you false perception of movement when you view the tattoo. The artist's use of dark geometric lines and the use of skin to form a crescent moon like shape makes this tattoo look like a mythical symbol from the past. It's great tattoo for those interested in astrology and spirituality.
19. Tribal Sun
This tattoo breaks away from the traditional two squares and a circle theme and represents the Mandala like a tribal sun tattoo. The intricate curvy tribal lines turn the Mandala into a flower, sun, and tribal symbol. The thick lines and the use of skin creates a great contrast to make this tattoo stand out and pop out the skin.
20. Black Mandala Flowers & Arrows Tattoo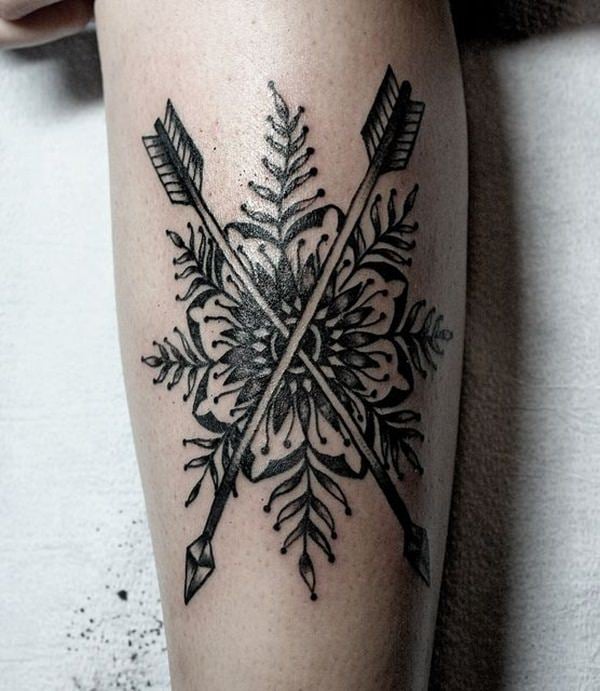 The black Mandala flowers and arrows tattoo gets its inspiration from traditional family crests and modern art. This cool tattoo transforms the Mandala into a flower with branches of leaves sticking out of every corner. The arrows that crosses each other takes its inspiration from badges and family crests making the tattoo stand out in all its glory.
21. Light Shade
This fantastic tattoo makes the best use of gray shading to create images that look like leaves and flowers within the Mandala. It's a great somber tattoo for those who want to represent the universe and all its beauty with a subtle tattoo. This piece is both beautiful and soothing to look at and can be a great motivator while engaging in meditation.
22. Mandala Split Piece Tattoo
If you want something really cool, it's going to hurt a lot. But the pain will be well worth in once this tattoo is complete. This split piece tattoo is essentially two identical tattoos on each foot creating one big Mandala when the feet come together. It's gorgeous piece of art and a great conversation starter. Tattoos on the foot are excruciating, so get mentally prepared if you're going to get this extraordinary tattoo.
23. Mandala Elbow Tattoo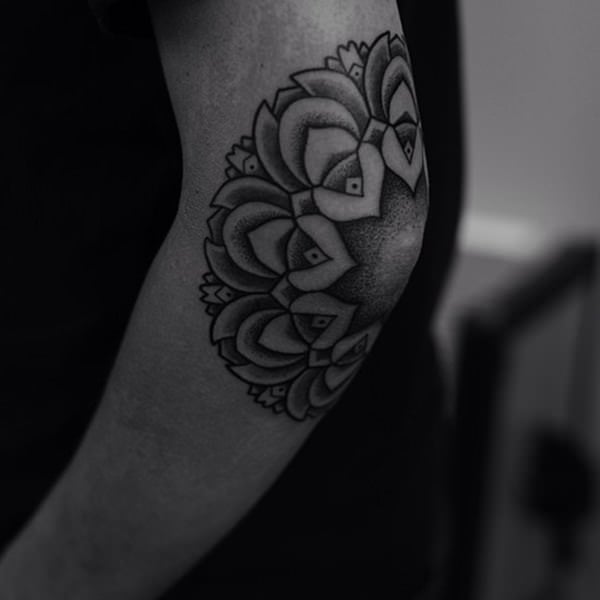 Tattoos located near the bone are going to hurt like hell, but why not do it when you can get an excellent tattoo like the Mandala elbow tattoo. This Mandala does not depend on geometry or hundreds of lines, but instead it gets the message across with deep dark shading. Its great piece to add to a collection of tattoos!
24. Om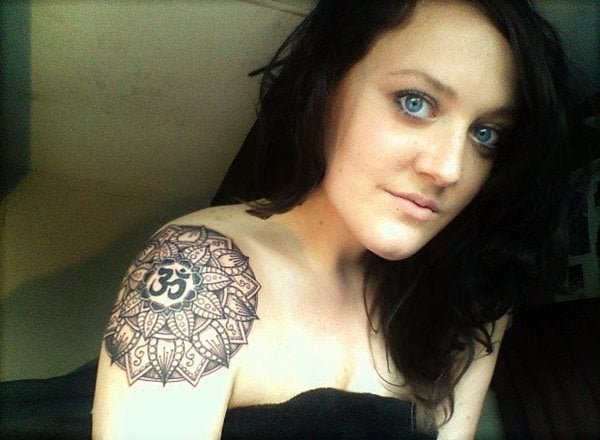 If you're into Indian religions and spirituality, the Om Mandala tattoo is a great piece of art to represent your individuality and values. This beautiful tattoo represents the universe and the sacred sound of Dharmic religions. It's a beautiful tattoo that is intensely spiritual and fuses together a broad spectrum of philosophy and belief.
25. Black & White Sacred Flower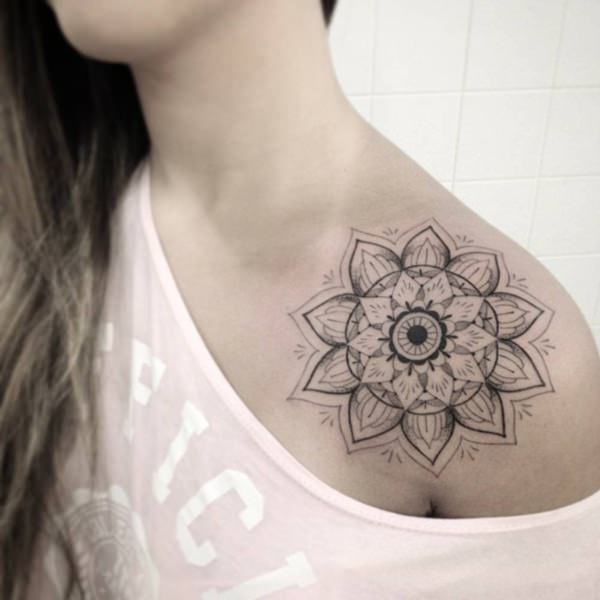 This great shoulder piece incorporates the Mandala and the lotus flower to create a stunning tattoo. The artist had mad skills putting this tattoo together with dark lines and light shading. If you're thinking black and white and spiritual, this tattoo will be perfect for you. It's a great unisex piece that can adorned anywhere on the body.
26. Mandala Paw Print Tattoo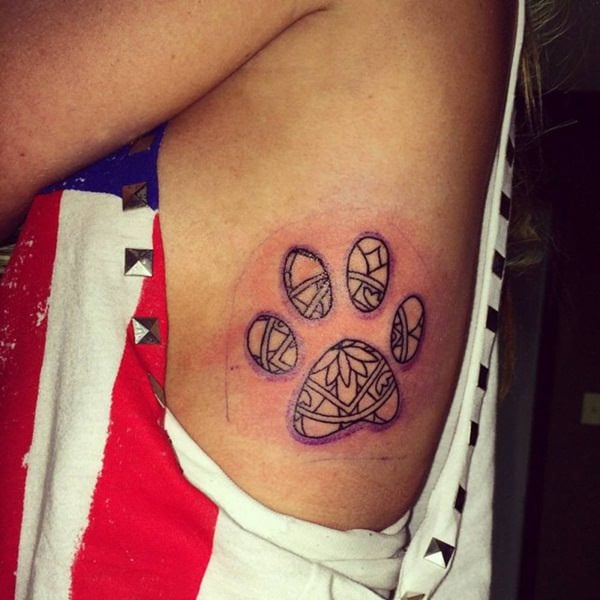 When it comes to a high level of creativity in tattoos, it doesn't get more creative than this! This paw print tattoo represents the Mandala within the print itself making this one of the most unique tattoos ever. At first the Mandala is the image doesn't grab your attention right away, but as you look deeper into the paw print, the Mandala will reveal itself making you one with the universe. It's a great tattoo for all the cool kids out there.
27. Geometric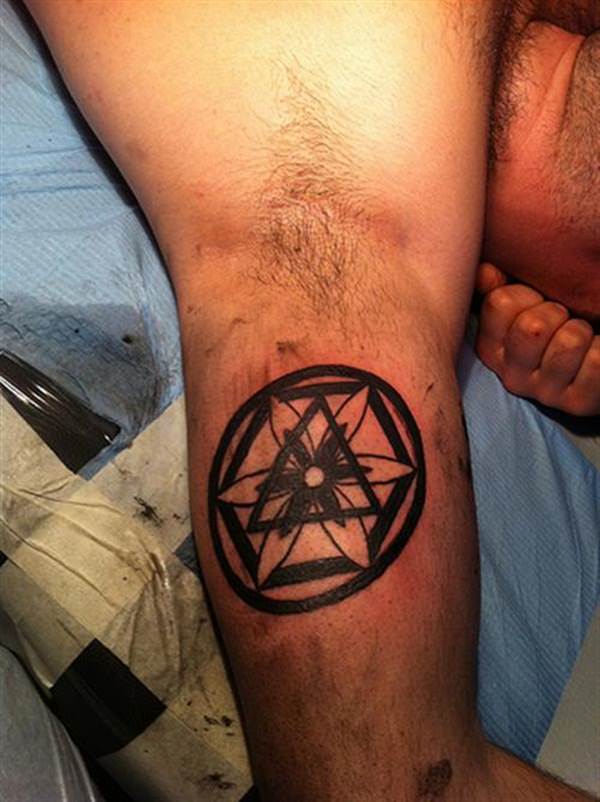 This simple tattoo relies heavily on geometric shapes to create the Mandala. The thick triangle, hexagon, and circle create the Mandala border with the flower in the middle. This tattoo is so cool and creative that you don't realize that it's a Mandala tattoo at first glance. However, a closer look will reveal the ancient beauty and wisdom of the Mandala.
28. Infinite
This beautiful tattoo is like and large number of flowers coming together to create the universe. It's a gorgeous representation of spirituality through dark and light shading. It's a small enough piece to fit anywhere on your body, but it's ideal for the shoulder or arm. This tattoo can also be done by adding several colors if black and white isn't your cup of tea.
Psychedelic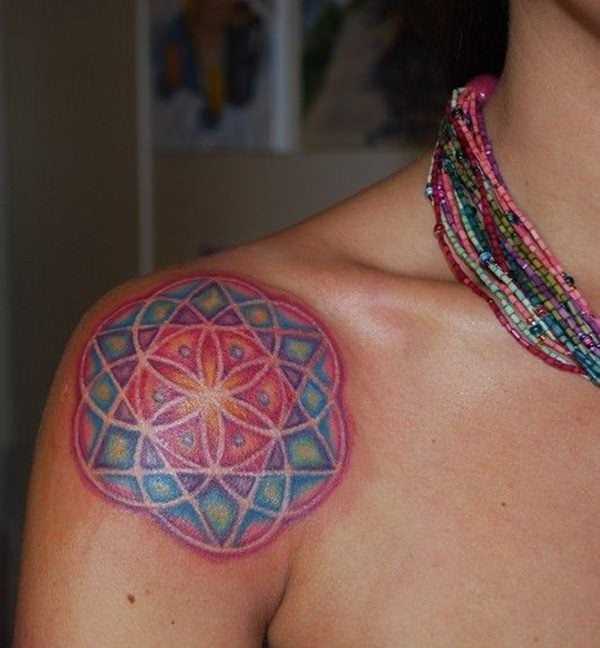 The psychedelic Mandala tattoo is both rare and beautiful. Traditional Mandala tattoos are always black and white with heavy use of shading. This tattoo incorporates psychedelic elements and color to bring this gorgeous tattoo to life. The triangles and the circles come together in perfect symmetry to make up this great tattoo that will be a hit among your friends.
Dharmic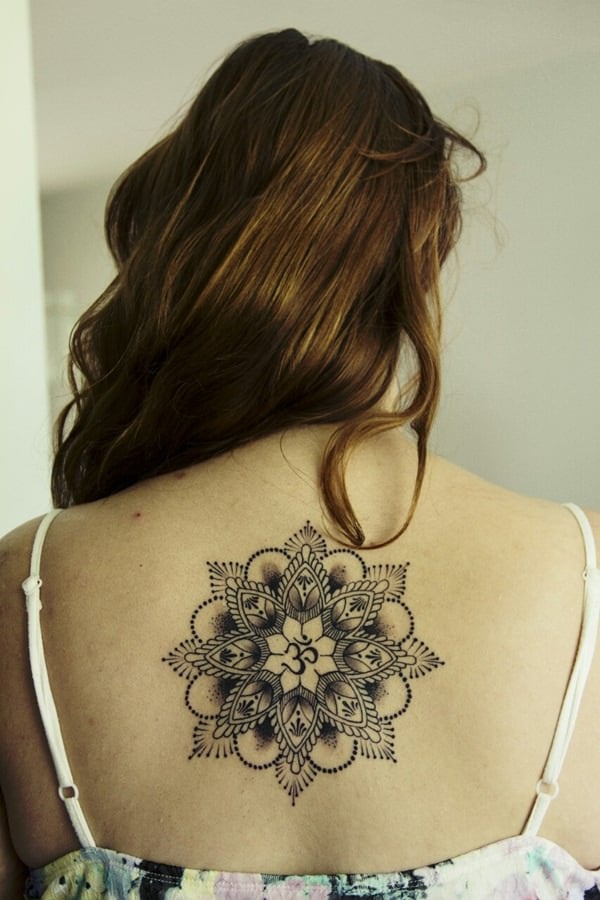 If you have been meditating, you will be very familiar with the sacred sound of Om. Both Dharmic traditions and the Mandala go hand in hand and are celebrated in this beautiful tattoo. The intricate geometric lines and shading make the perfect tattoo.
Mandala Sacral Chakra Tattoo
This tattoo is for those who are serious about tattoos as it's large and requires a lot of time and effort to complete. This beautiful piece uses shading and geometric lines on a large scale to truly bring the Mandala to life. Located over the sacral chakra, this tattoo celebrates creativity, sexuality, and self-worth with the universe. It's a wonderful tattoo for spiritual tattoo enthusiasts.
Anagram Leaves
This creative tattoo incorporates an anagram along with dark lines and shading to give birth to Mandala. The geometric lines and shading makes the Mandala look like a fusion of flowers and leaves and is a great tattoo to show off at the gym. So if the Mandala means a lot to you and you have an anagram that also has significant meaning, this is the right tattoo for you. Make sure you tattoo artist has mad skills before you attempt to get this one on your body!
Eternal Cycle
This fabulous tattoo celebrates the infinite nature of the Mandala. The tiny intricate lines and shading come together in perfect symmetry to create the traditional Mandala. It's a great tattoo for someone who wants to make a statement about their spirituality. It is also just a cool tattoo that looks great. So even if you're not into eastern belief systems, this can still be a fantastic tattoo to have on your skin.
Mandala Crescent Tattoo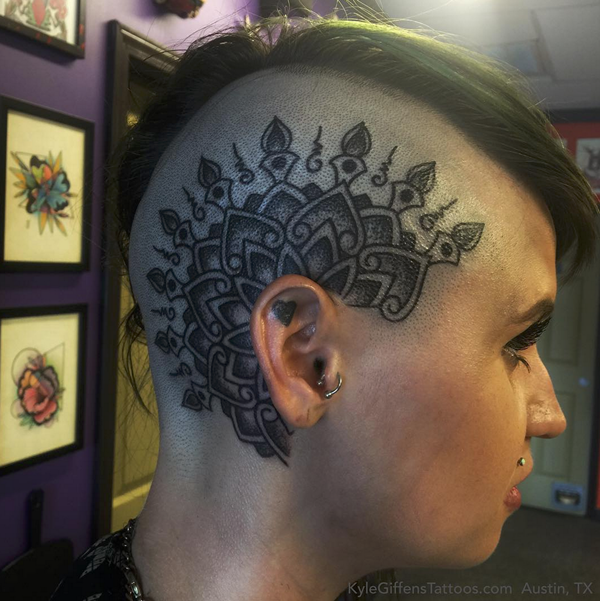 Tattoos on the skull are for those who are totally punk and hardcore. Not only is it excruciatingly painful, but it also makes a statement about your nonconformity and individuality. The crescent Mandala perfectly matches the symmetry of the skull and goes around the ear making it look like it was part of the body all along. It's a beautiful tattoo and a great conversation piece.
Half Mandala
This beautiful yet painful tattoo represents half a Mandala on the foot. If this one goes well, it will be ideal to match this tattoo with the other half represented on the other foot. It's a great tattoo to focus on and get lost in while engaging in meditation or spiritual activities.
The Flower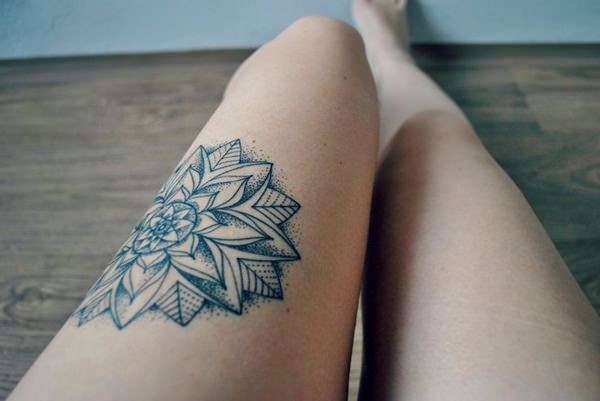 This beautiful tattoo uses geometric lines and shading well to bring about the shape on the Mandala. This unisex tattoo is quite common, but that doesn't stop it from being one of the best tattoos on the list. This tattoo can be adorned by anyone who is a fan of shapes and lines.
The Spirit of the Universe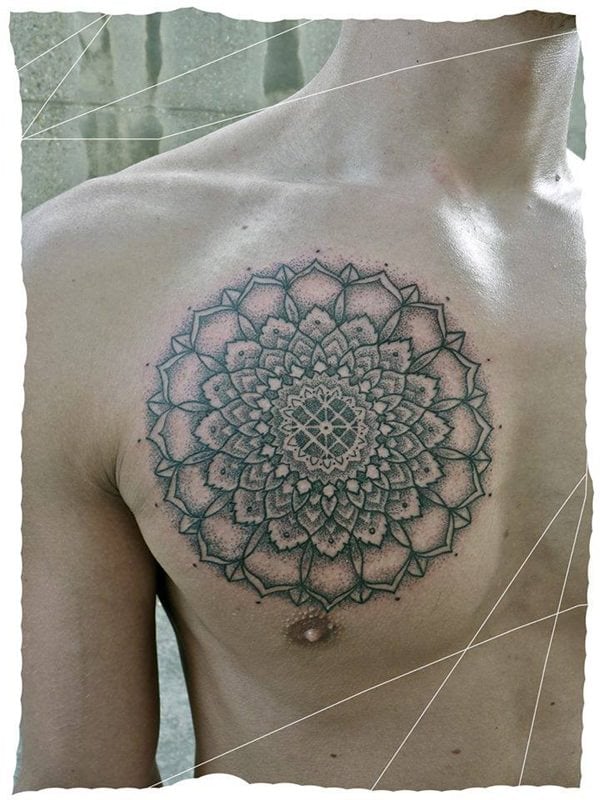 This tattoo with black and white shading is a great Mandala tattoo. When all the lines and shades come together, you can almost perceive several flowers within the Mandala. It's a great tattoo to be places on the chest or the calf. It's a wonderful tattoo for anyone who is a fan of geometric art.
The Mandala Frame Tattoo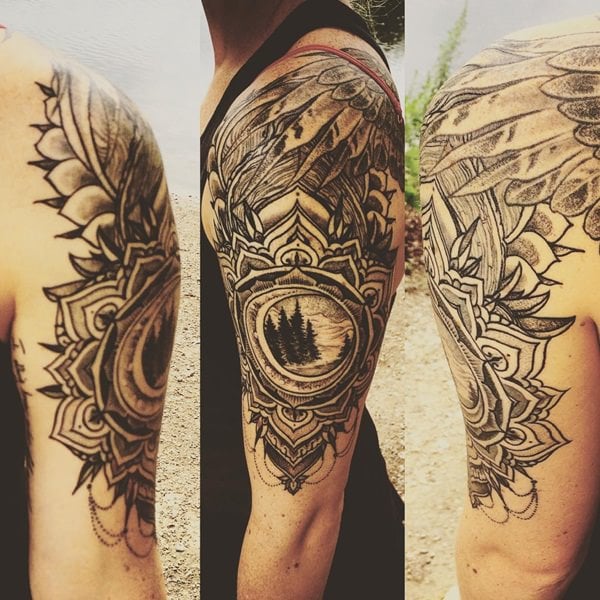 This unusual tattoo uses the Mandala like a photograph frame and incorporates fern trees within it. Nature, spirituality, and contemplation of infinity go together in this eye catching piece of art. The dark shading in this tattoo is spectacular and comes together perfectly for a tattoo on the arm.
Hibiscus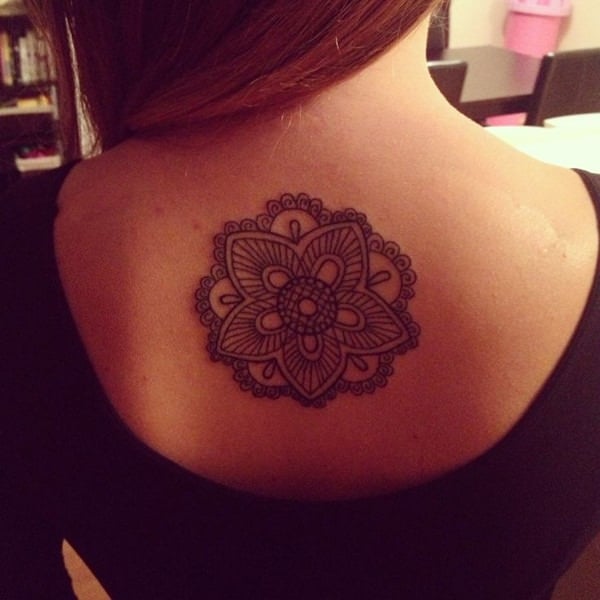 This is a great tattoo as it takes the elements of the Mandala to create the impression of a hibiscus flower. Ideal for the middle of your back, this a great tattoo that brings the old world and new world together through art. It can also work as a great fashion accessory if you're wearing a little black dress.
White Mandala Tattoo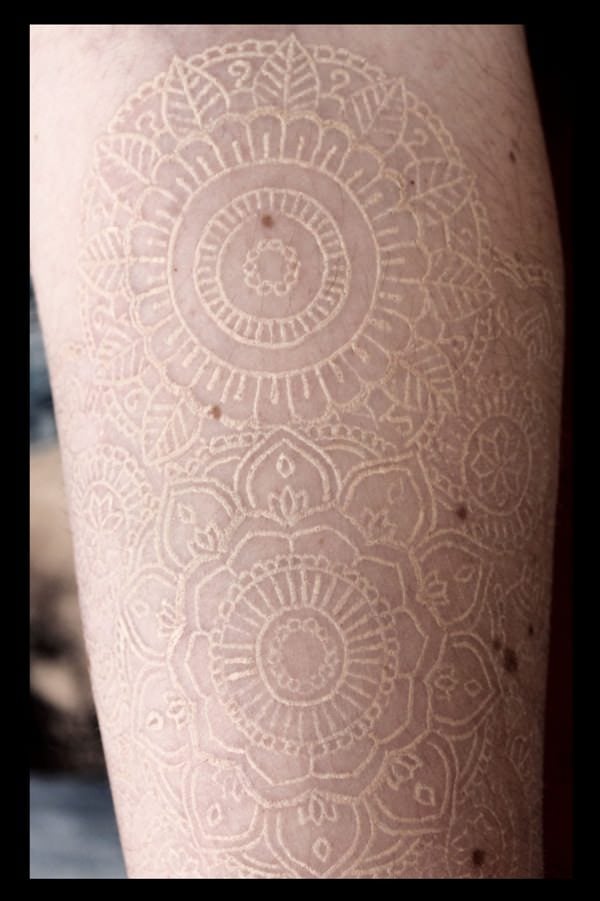 Tattooing anything with white ink is difficult and won't work on everyone. However, if you're able to get this tattoo on your skin, it will definitely be a show stopper. The complicated lines that make up the Mandala have a hint of henna based art. It's a stunning piece that would suit anyone looking for a unique tattoo.
Love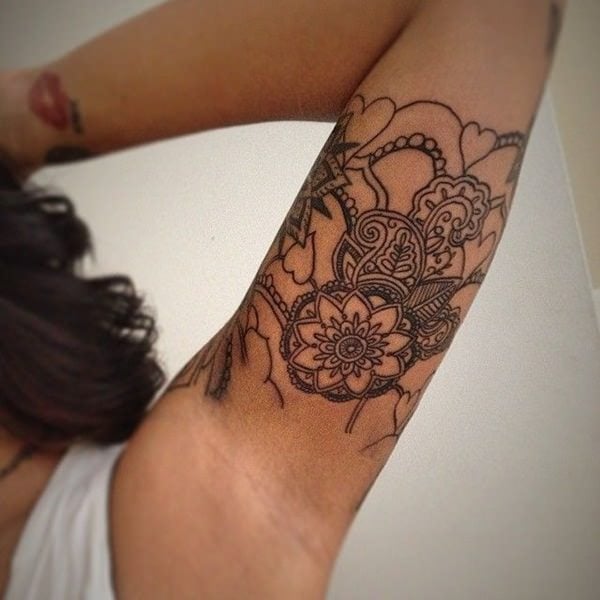 This tattoo is a great piece to incorporate into another tattoo. So if you're working on a sleeve or a large back piece, this is the tattoo you should go for. It's simple and stunning and communicates the message of the universe.
…in Bloom
The Mandala in bloom tattoo uses dark shading to make the Mandala appear like a flower in bloom. It represents the birth of the universe in all its beautiful glory and also symbolizes life. It's a great piece to add to your thigh or arm to represent the great Mandala.
Henna Inspired
Ever get henna painted on your skin and wanted it to last forever? That's basically what this tattoo is, a beautiful Mandala tattooed onto the hand just like a henna painting. It's a painful tattoo that isn't for everyone as it is also easily visible.
Moonrock
This tattoo gets its inspiration from ancient moonrock carvings from South Asia. It's a wonderful back piece tattoo that celebrates the cyclical nature of life and the infinity of a timeless universe.
Belly
If you have a hot body and want to draw attention to it with a sexy tattoo on your belly, this is the tattoo to go for. The lines and the shading of the Mandala bring the image to life and make it look like a flower. With every angle of this tattoo, you will see different shapes making it a cool piece to rock on the center of your body.
The Soul of Mandala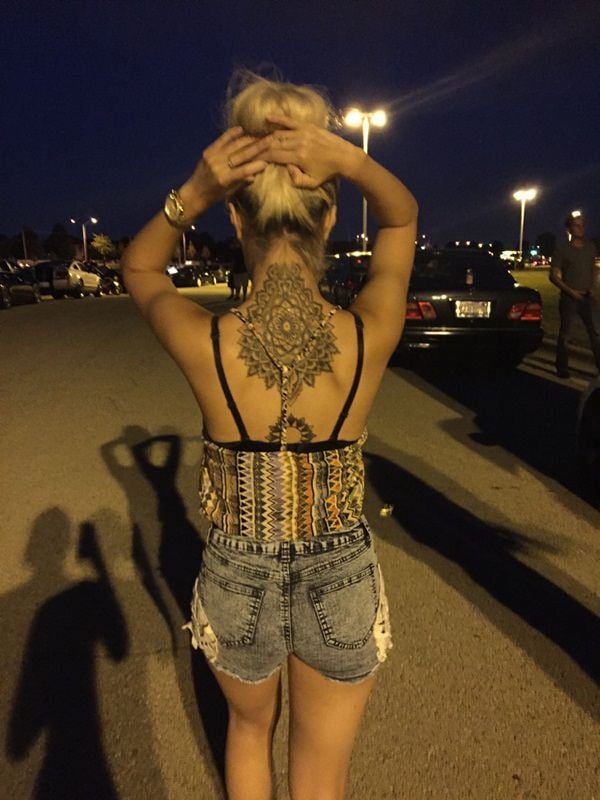 This beautiful tattoo starts at the neck and goes right down the back. It's an intricate piece that requires a lot of work and is a great tattoo for all those spiritual tattoo lovers out there. This tattoo makes uses of a wide array of lines and shapes incorporates the Mandala right at the center of the back and of the tattoo. It's gorgeous tattoo that is ideal for the mindful individual in you!
Punch of the Universe
This hardcore Mandala tattoo isn't for everyone. Not only is it highly visible, but it's also quite painful to get because of the sensitive nature of the hand. Next time you get into a bar brawl, it will be a great tattoo to have as some drunk will get punched by the universe. What can beat that?
Cycle
It's true that the complicated lines and shading of most Mandala tattoos make them special and stand out. But that's not to say that these simple pieces can't have the same effect! This is a great simple piece that can be adorned on anyone who is looking for a simple spiritual tattoo.
The Eternal Eye
This is a great design bringing in various South Asian traditions and beliefs into one tattoo. Its's great conversation piece as the eternal eye is hard to ignore and it can set you off on a journey of discovery and spiritualism.
Black Sun
This beautiful piece of art is also a Mandala although it looks more like the sun. The artist creatively uses shading to bring the Mandala out of the skin and it's just hard not to notice this amazing tattoo. It's a simple tattoo that you can get anywhere in your body as it's small enough and cool enough to fit anywhere.
Bracelet
Ever wanted to rock a Mandala bracelet? Then why not get a permanent one with this gorgeous tattoo. Ideal for yoga and spiritual enthusiasts, this tattoo will bring out your spiritual side and attract like-minded beings.
Traditional Mandala Shoulder Blade Tattoo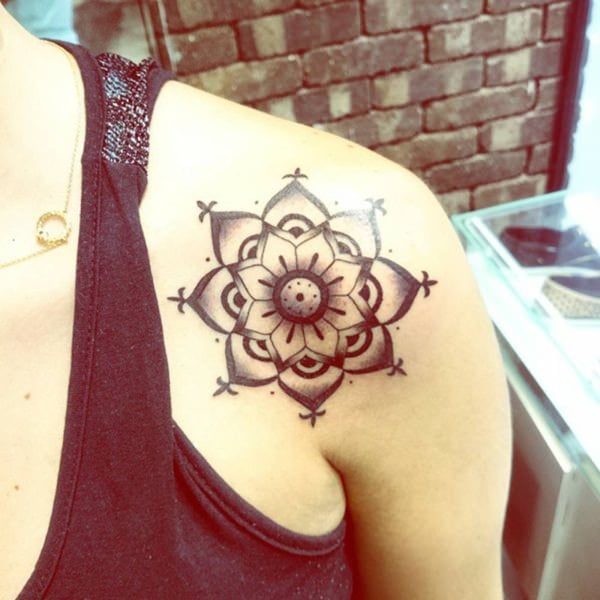 This traditional tattoo uses thick dark lines and dark shading to bring the Mandala to life. Ideally placed on the shoulder blade, this is a great fashion accessories and promotes your spiritual identity. This tattoo is also great first tattoo for those thinking of getting inked for the first time!