For those after a tattoo that is both colorful and unique, it's hard to go past watercolor tattoos for your designs. The lack of a black outline makes each watercolor tattoo look just like a painting, rather than a stylized picture. These tattoos often look so much more real than a traditional tattoo simply due to the coloring.
Watercolor tattoos are no different in their execution than any other tattoo but they are completely different in their design. Watercolor tattoos have an artistry to them that is unmatched and will certainly turn your body into a living walking work of art. To get an idea of the beauty of this style and to decide whether or not you want to get one, here are some of the best watercolor tattoos around.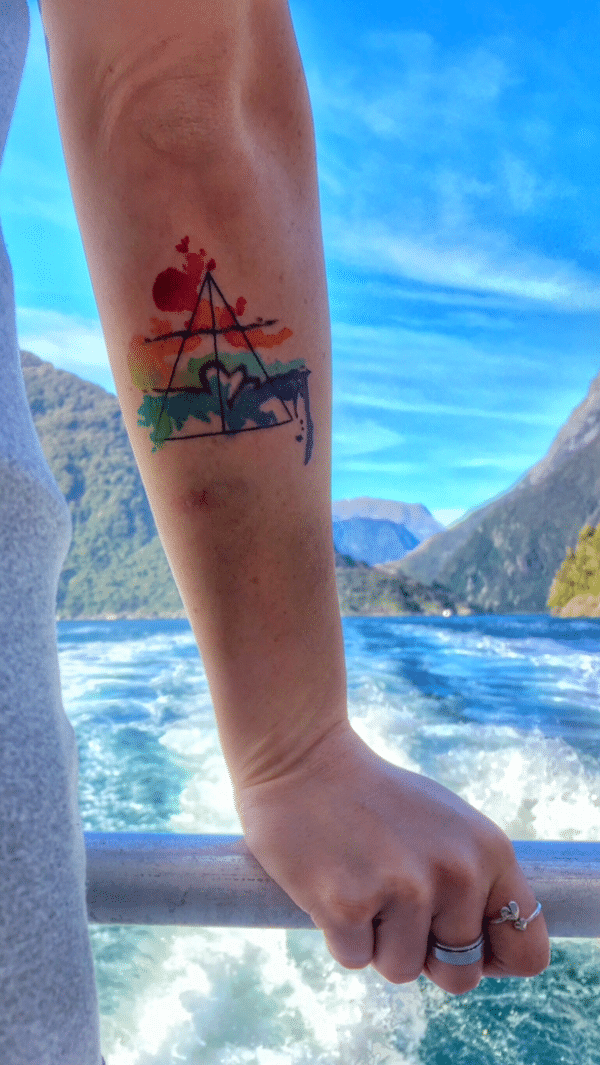 A rainbow triangle
Splashes of color of the rainbow make this pretty triangle really stand out from one of the more popular tattoo designs of the past few years.
A pastel rain picture
This gorgeous girl standing protecting herself from the rain and yet reaching up to touch it is highlighted with some amazing pastels.
A blue feather
While feathers are a hugely popular tattoo choice, how many do you see looking as awesome and unique as this one here?! A true blue eye catcher.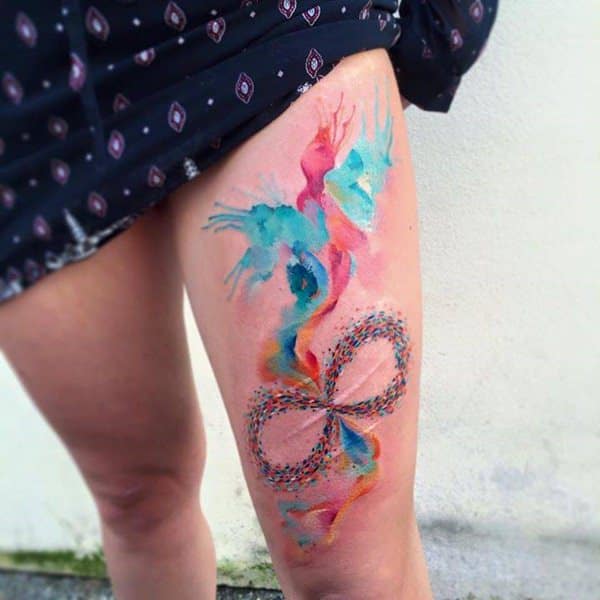 Dotted infinity
You will have also seen a few infinity symbols getting about, haven't you? Have you ever seen anything like this one here? It's like an artist chose this girl as their board.
His n her crown
You can take a regular tattoo design (even an old one you'd like to spruce up) and add "drips" of color for something that's infinity more beautiful.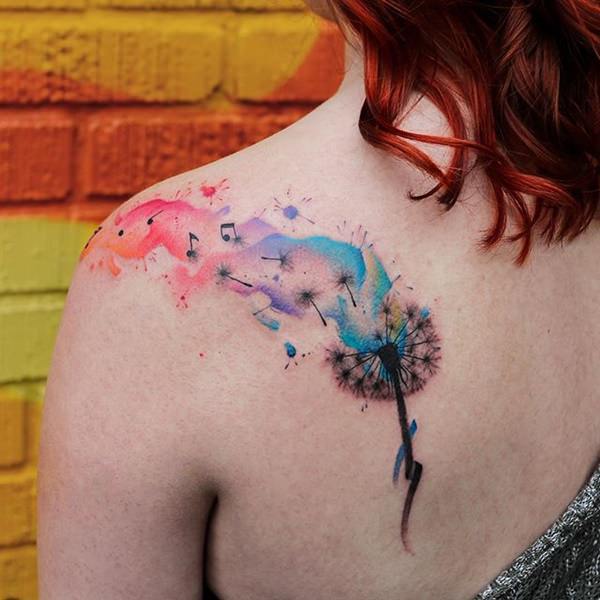 Blowing dandelion
This blowing dandelion would have been gorgeous on it's own but the colorful highlighting and blowing of muscial notes make it a clear stand out.
The beetle
You don't have to use the regular colors that you would in the real world with watercolor tattoos – wuite the opposit in fact. This beetle is brilliant in color and size too!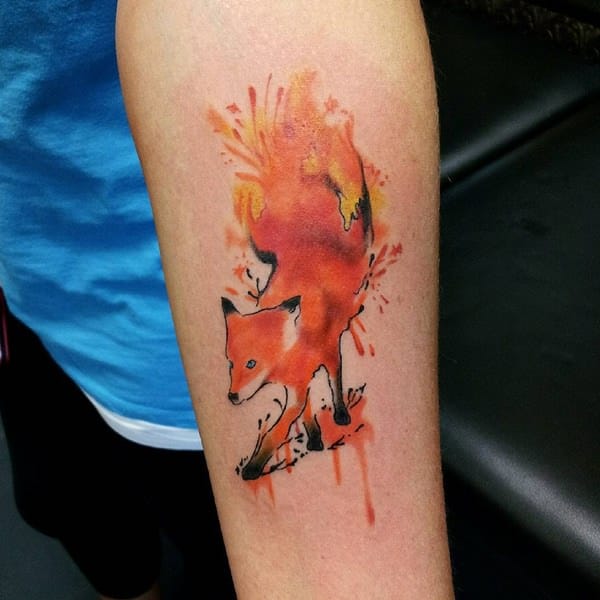 The painted fox
You don't have to use all the colors either. A subtle watercolor tattoo just blends similar colors to give a tattoo that leaps off the skin like this little fox here.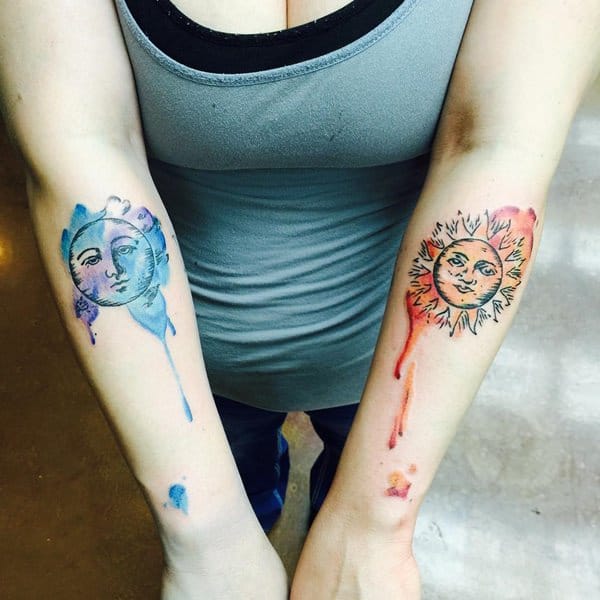 Sun and moon
What we really love about this sun and moon watercolor tattoo is the continuing drops of color that splotch down the arms. It looks freshly painted and so unique!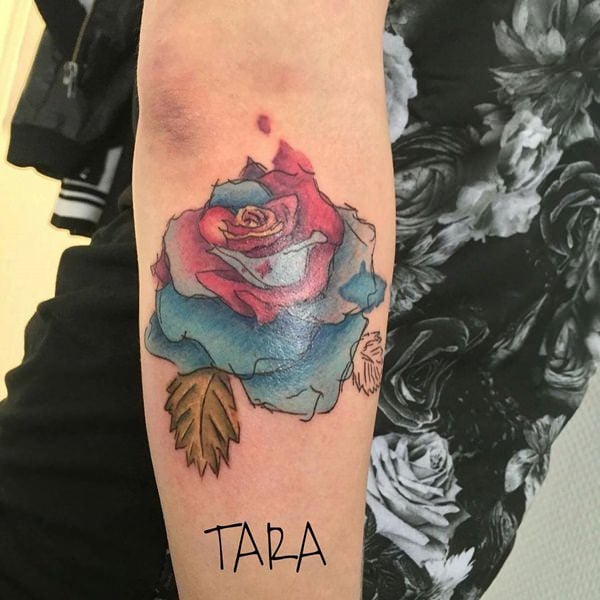 Watercolor rose
Notice the gradation of colors here in the rose. The lighter blue to the darker blue, along with the lighter red to the darker red are indicative of a truly talented tattooist.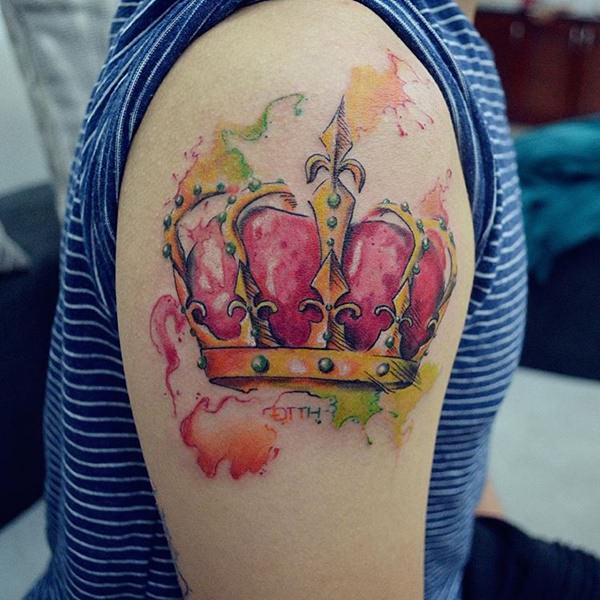 Who wear the crown?
Another crown design, this one really puts the "water" into watercolor. Notice how it looks like in parts that the ink has been mixed with water and splashed on.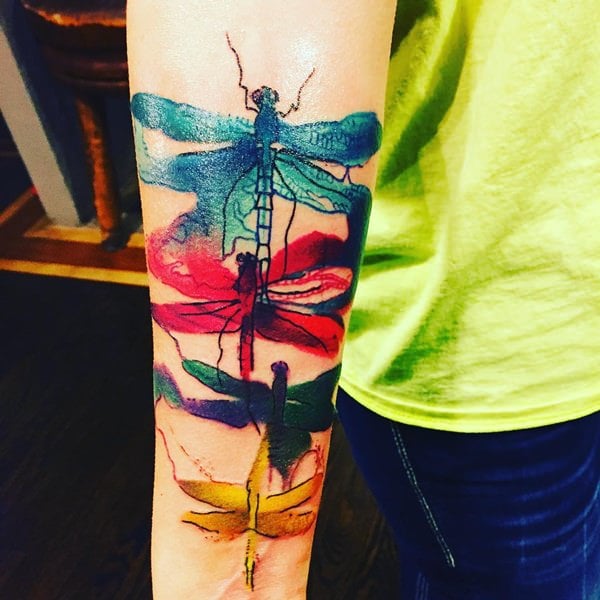 A colorful set of dragonflies
These dragonflies have been colored in the brightest of shades. There is no ignoring this tattoo, that's for sure!
The pheonix
Watercolor tattoos don't necessarily need traditional deep ink outlines to look good. These pheonix is made up of patches of all different colors and is still easily distinguishable.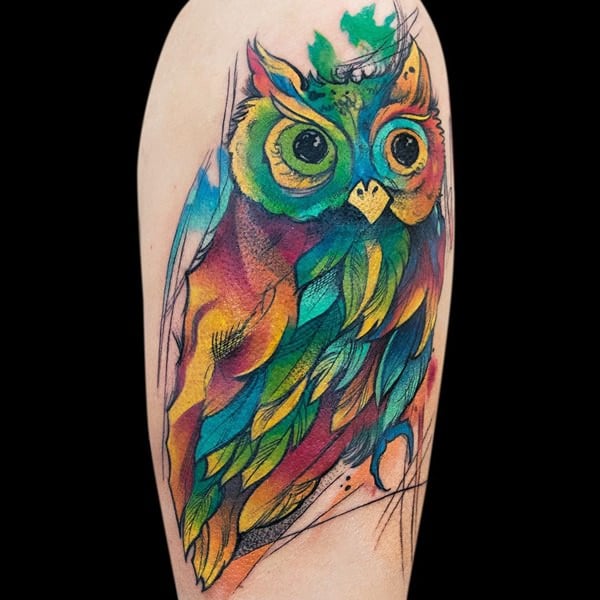 A colorful owl
It really helps when your tattooist has a good grasp of the color wheel. This owl looks great because all the colors within are complementary.
Adding to a pirate ship
We're pretty sure that this pirate ship was inked quite a bit before the wearer decided to add some splashes of color to it. What do you think of the results?
The painted elephant
Another outline design that would've been added to later, the watercolor splashes cover up the seeming mistakes in the middle of the design. It beats your average cover up!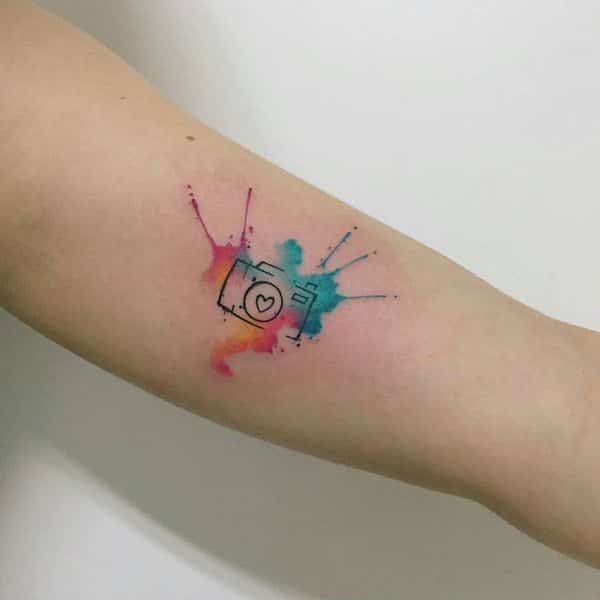 Photography rocks!
You can even enhance your small tattoo with splashes of watercolor. We love it how this one looks like the camera flash is going off and capturing some awesome snaps!
The jellyfish
Sea creatures make perfect partners with watercolor tattoos. Check out this jellyfish design for a bit of inspo!
A hummingbird
Look at all the different colors in this design! There is a lot going on here, and yet somehow it all works really well, including the script below.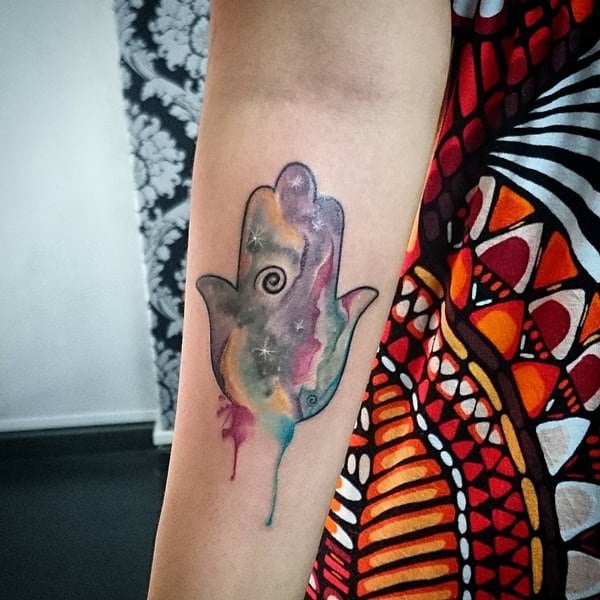 Night sky
We're not sure what's going on here – is that a hand? But the colors and night sky feel are simly mesmerizing. The white stars look brilliant amongst the watercolor.
The princess
Copy your favorite design from elsewhere and then get a great watercolor artist to enhance it in ways only they know how to!
Flowers over the mountains
Once you start with one watercolor, you might not be able to stop! Many people find that watercolor tattoos are a lot easier to expand on than traditional tattoos, because they cann just "melt" in.
A purple unicorn
Don't we all wish we had a unicorn? Well you could too, if you chose to get a tattoo like this one here. Pretty and feminine and yet still bold.
My family
It looks like this person has a real dedication to their pets! Check out the tiny paw prints and names down the bottom and then watch them melt into a dreamcatcher and eyes.
The Indian
If you have a heritage that you're proud of, then you might like to show it off in your watercolor tattoo, like this Indian design here.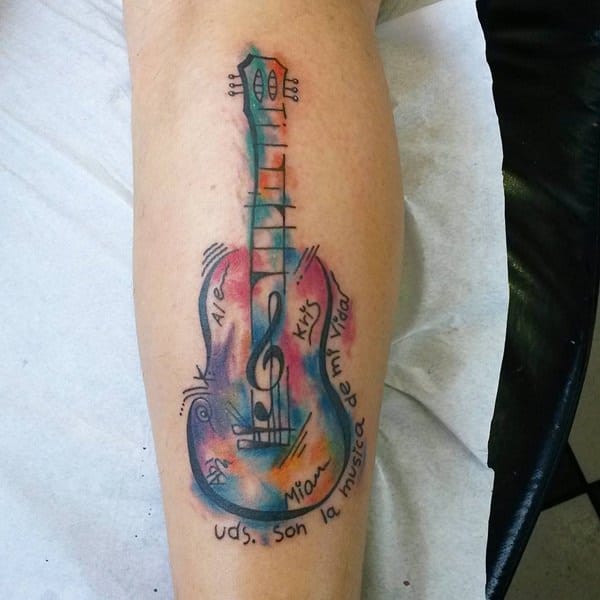 The musician
Tattoos are often inked because they're something that you really care about. The wearer of this tatt obviously is a huge fan of music.
Henna style watercolor
Henna style tattoos are popular among those who've had henna tattooed and want it to be permanent. The splashes of color elevate this tattoo into a different realm.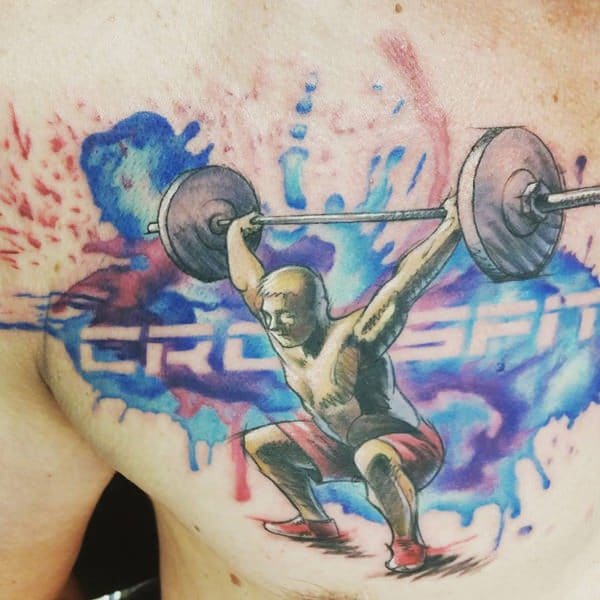 The weighlifter
What appears to be a fairly boring tattoo can be made much more eyecatching be adding watercolor to it. Take, for instance, this weightlifter design here!
A bright dreamcatcher
Watercolor tattoos work particularly well with etheral type symbols, such as the dreamcatcher, delicate flowers, fairies, etc.
SPLAT!
We love the movement in this watercolor tattoo. With the bold straight lines and then forceful "splashes" of color it shows that this person is very creative!
Holding an apple
Watercolor tatttoos don't have to be all dream-like splotches, you can also choose to color in blocks too, like up this top of this holding an apple design.
Winged shoulder
Do you remember when feathered shoulder pads were in fashion? Well you could always make them last forever if you got a tattoo like this one.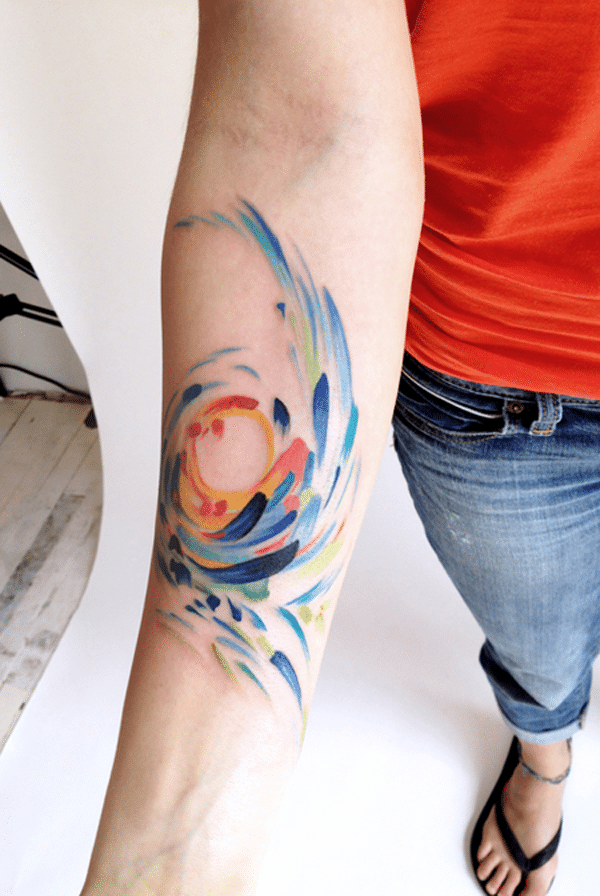 Swirling color
Tattoos don't have to be a real life "thing" either. This swirling lots of colors is beautiful and eye catching.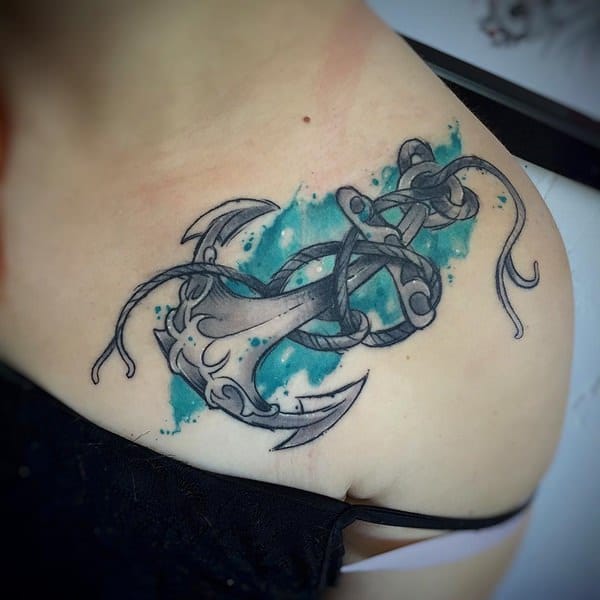 The anchor
Watercolor can be used to make a background for your existing tattoos. The blue here looks like the anchor has just been dropped into the water.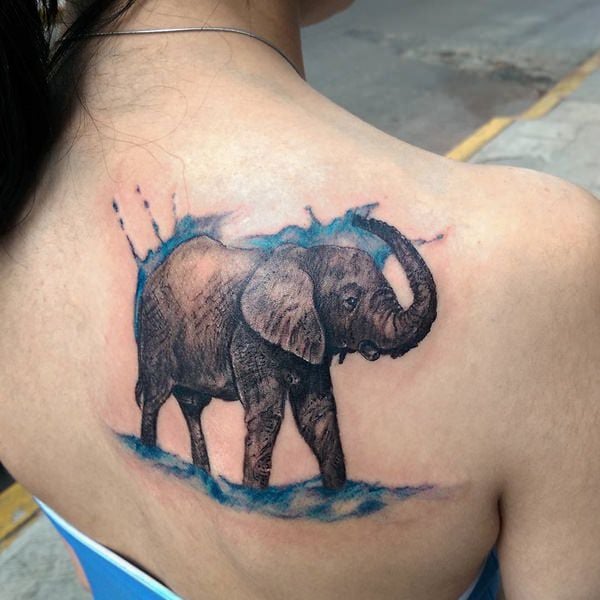 Bathing elephant
Can you imagine what this tattoo would look like if the water was just done in traditional shading instead of blue? Ther watercolor really brings the image to life.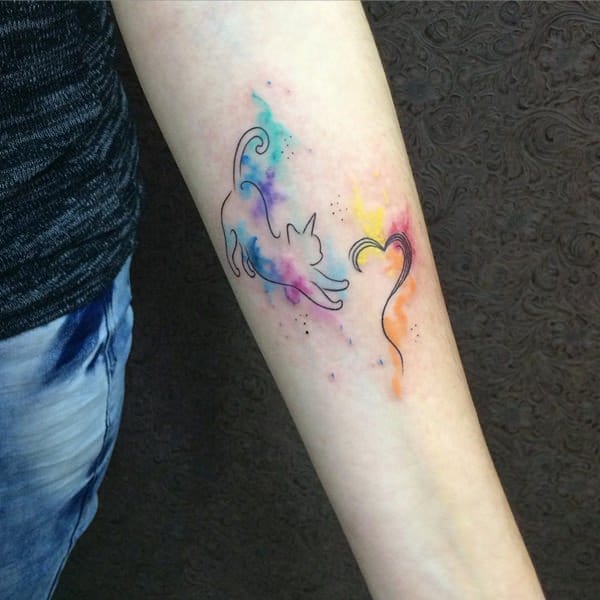 Chasing hearts
Another simple design that is brilliantly highlighted by the use of watercolor tattooing.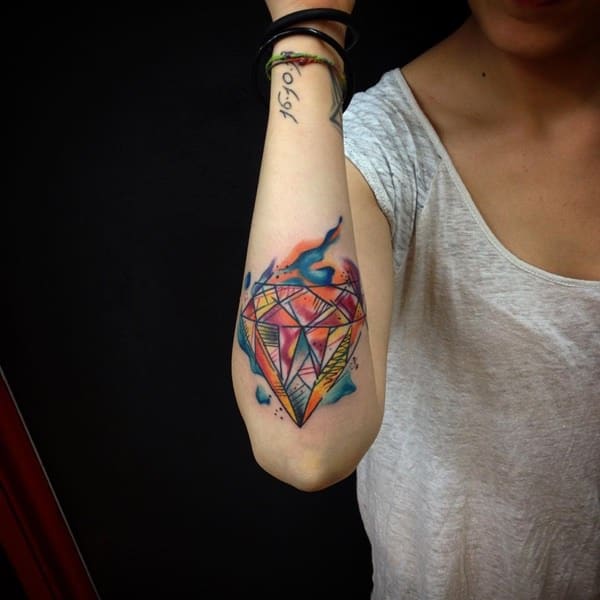 Colored diamond
Diamond tattoos are really in. While many people highlight them with white ink, you might choose to go for super sized color instead.
Elephant and diamonds
Notice here how you've got the outline of the elephant and diamonds, however the splashes of watercolor fall completely outside of the outlines… Very cool.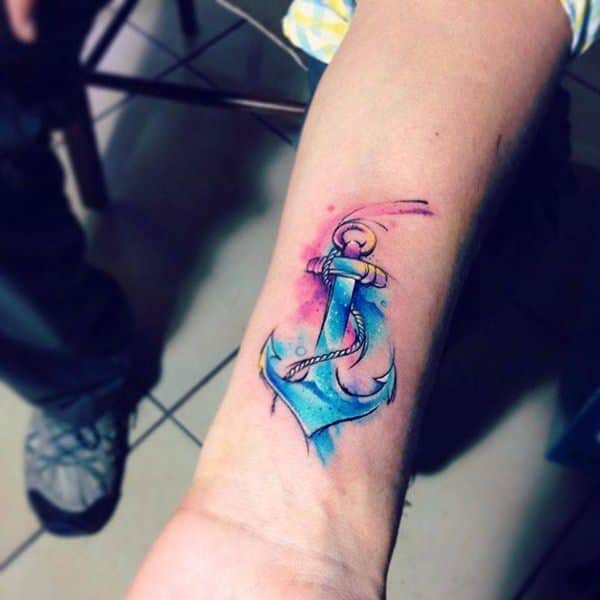 Anchors away
This is great use of blues and whites on the anchor to make it really look like it's in the ocean. Perfectly complemented by the purple, too.
The black disc
If you've got a pure blue tattoo that you've like to change up a little bit, then why not add some splashes of watercolor to your design to reinvigorate it yet again.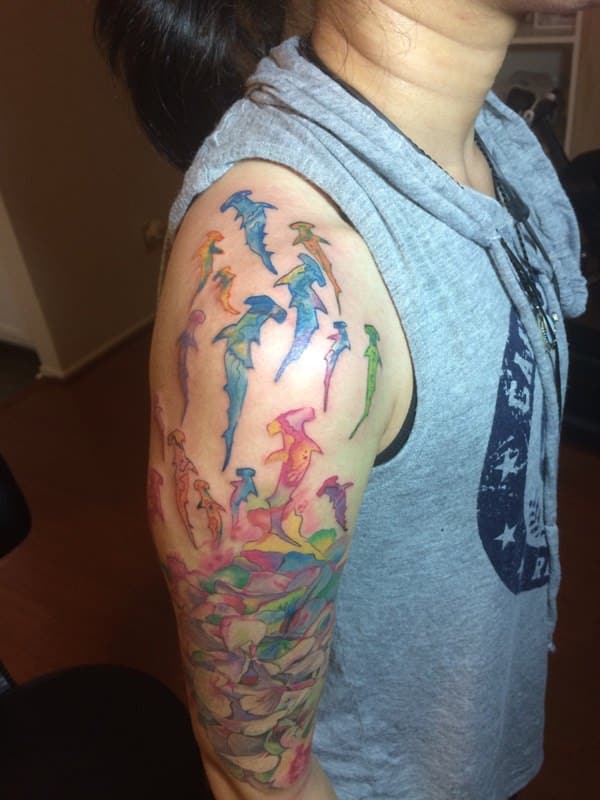 Hammerhead shark collection
This person must be an absolute fiend for hammerhead sharks! The watercolor sharks go all the way from the wrist up to and over the shoulder, which makes it a truly stunning piece.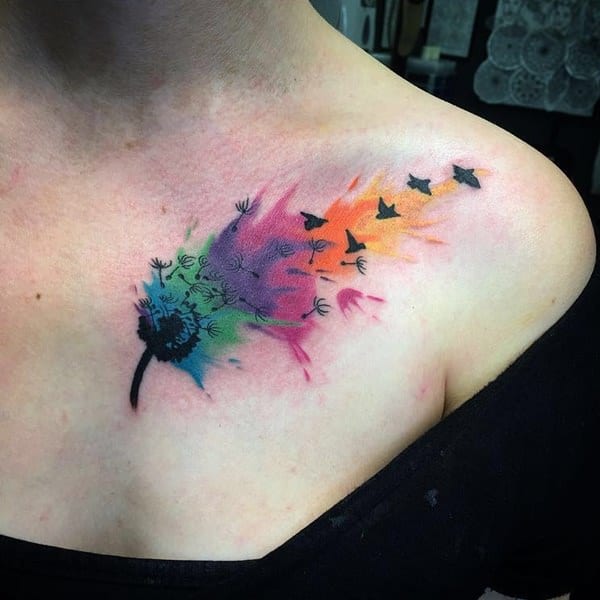 The color pop dandelion
Dandelions take on a whole new form when you add watercolor to them, especially when done as vibrantly as this tattoo. All the colors of the rainbow extend out from the center.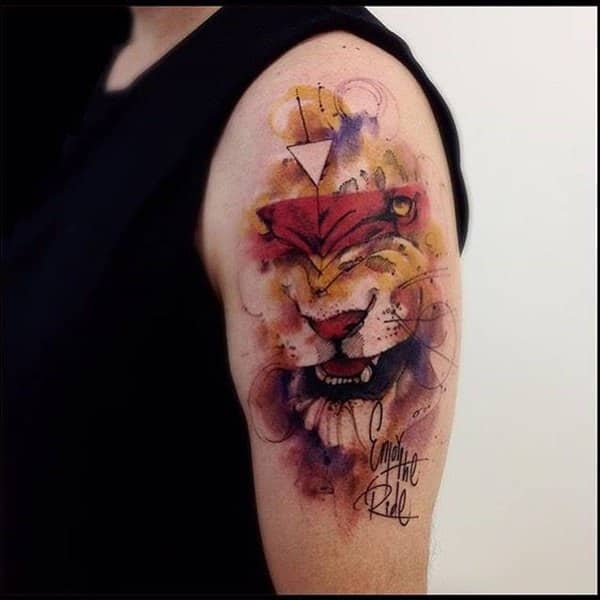 The lion
This piece shows why some tattoo artists have huge waiting lists. The artistry in this piece is truly amazing. Even the script down the bottom, "Enjoy the ride", shows artistic finesse.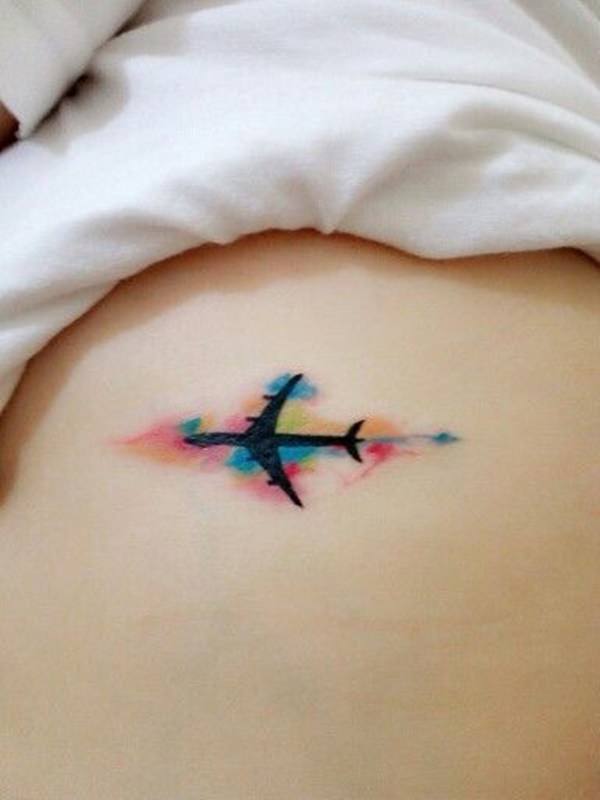 Among the clouds
We're sure that this neat tatt of a plane among the colorful clouds means a great deal to the wearer. Perhaps they're a pilot? Perhaps they had a near miss they are reminded of each day?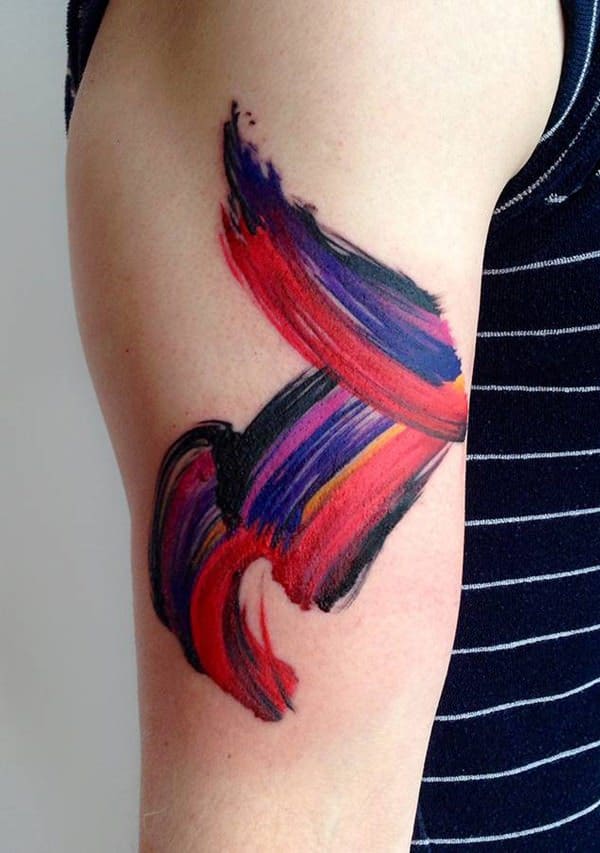 Adventures in crayon
Your tattoo doesn't need to be a "thing", it can merely be an expression of a feeling, like this tattoo here. The bold, scratching colors show fierceness and stamina combined with the black.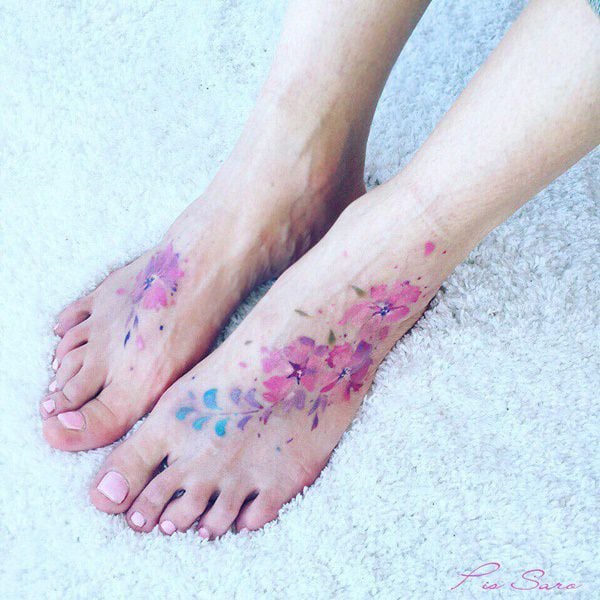 Pretty as a picture
Watercolor tattoos can traipse over various parts of your body, making yourself much like a painting. Consider complementary watercolors on your opposite feet or arms.
Bloom in red
This white and red flower is different from your average roses, hibiscus, or lilly, showing the wearer's unique spirit. We love how the stem fades away at the bottom.
A trailing tree
The roots of this tree are simply mesmerizing, don't you think?!
Red bull skull
This tattoo is also in the style of the elephant that we saw earlier – perhaps done by the same artist?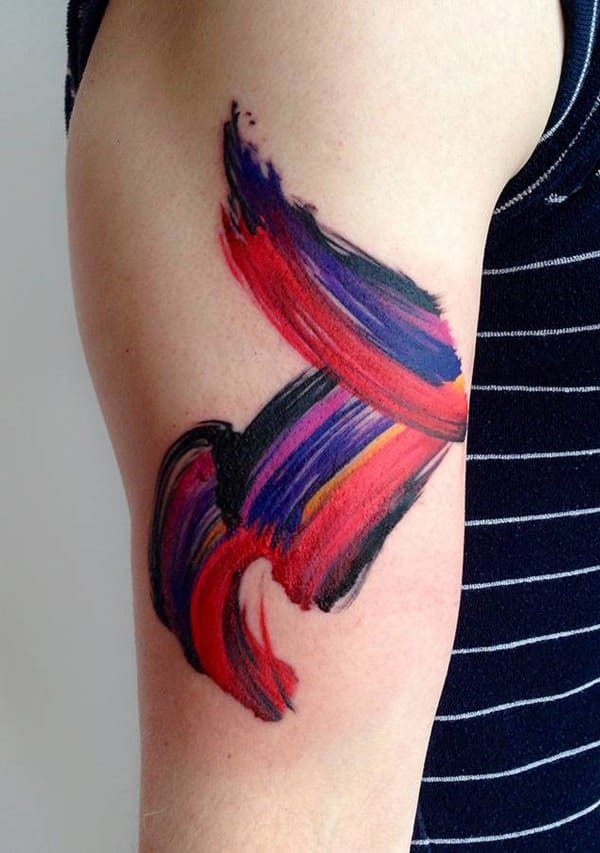 The swirl
We love this one so much we included it twice!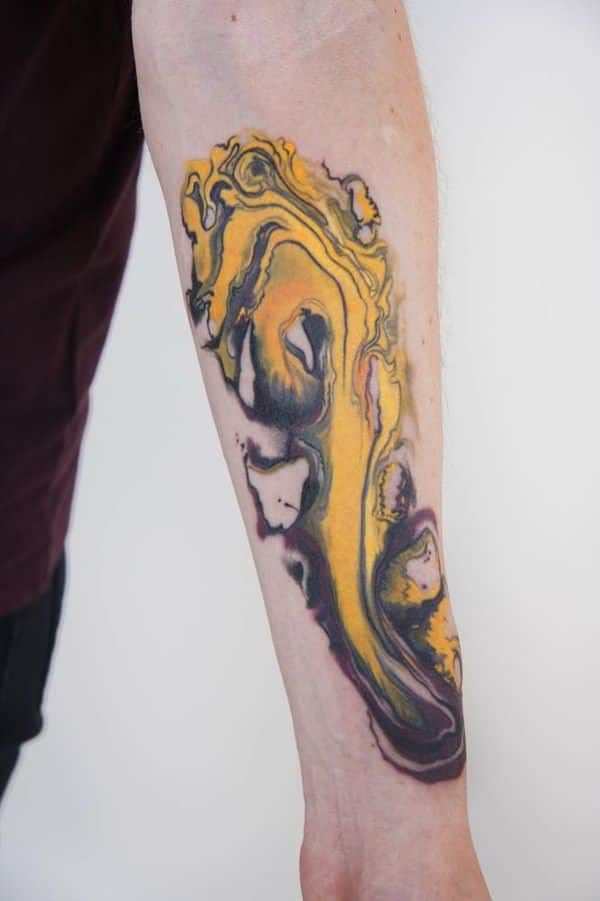 An oil painting
Doesn't this tattoo look like an oil swirled in with the yellow and black?
A watercolor mandala
If mandalas are your thing, maybe you'd like a tattoo like this one.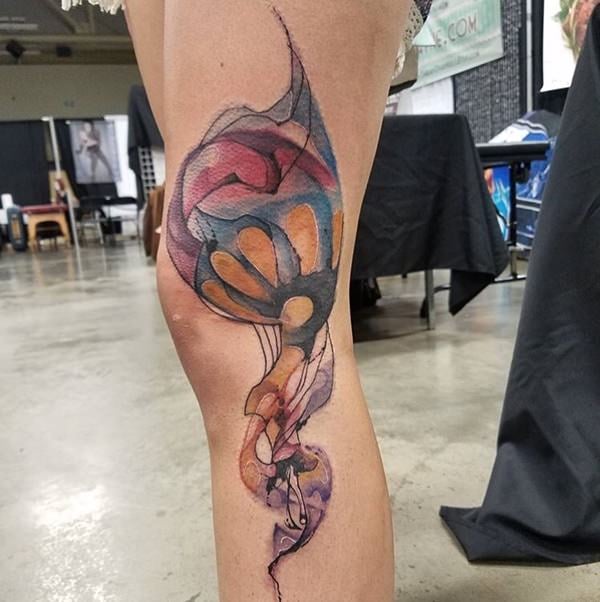 Balloon dancer
Look at the tatt of this little girl dancing with her ballon in the wind.
An ever growing tree
The branches of this tree extend out into the air, growing infinitely.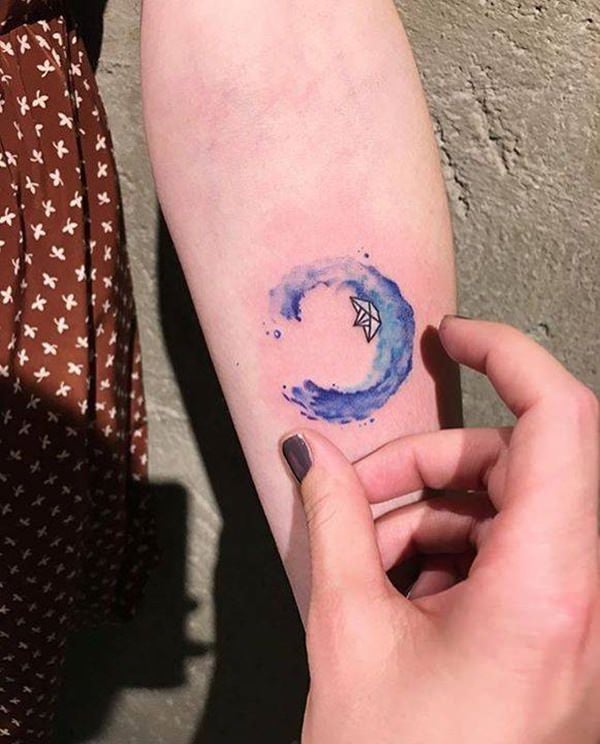 Sailing in the water
Origami tattoos look great when they are combined with a watercolor effect.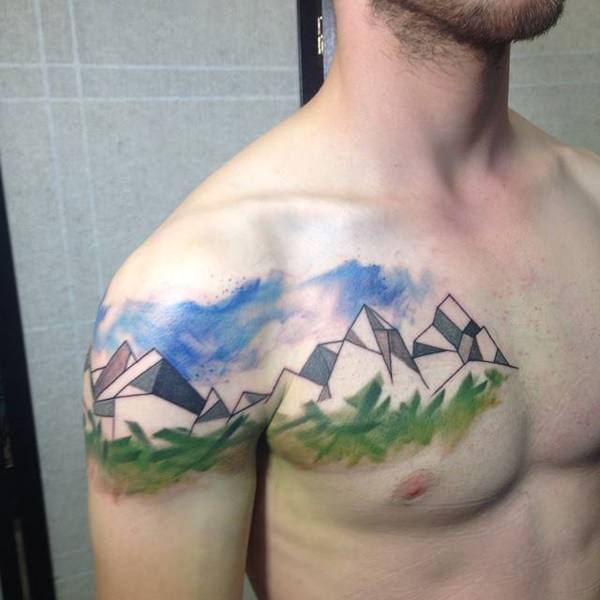 The mountain range
This lad looks like perhaps he is a mountaineer.
Watching the dragon
Does this one remind anyone else of The Neverending Story? Is that Falcor?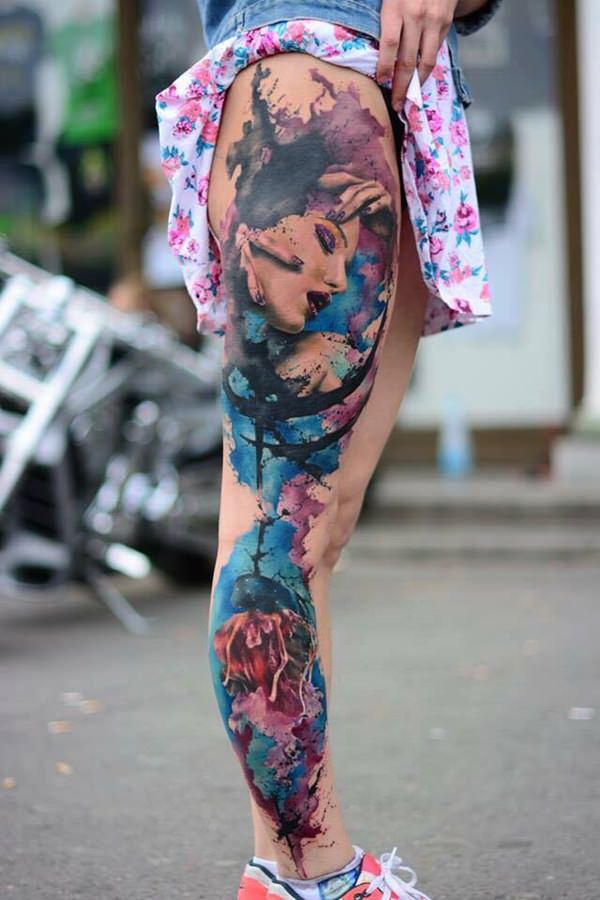 A beautiful woman
It is amazing what the power of watercolor can do to your tattoos.
A swing by the ocean
If you have a favorite holiday spot you might like to get it inked.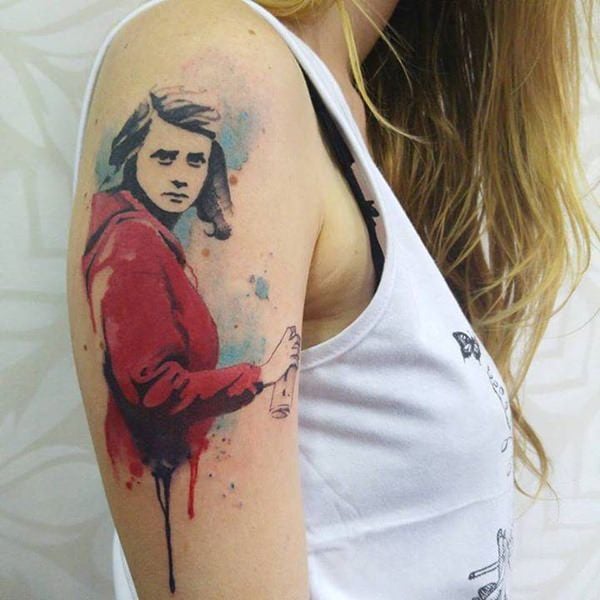 The Banksy
Draw inspiration from your favorite street artists when getting inked.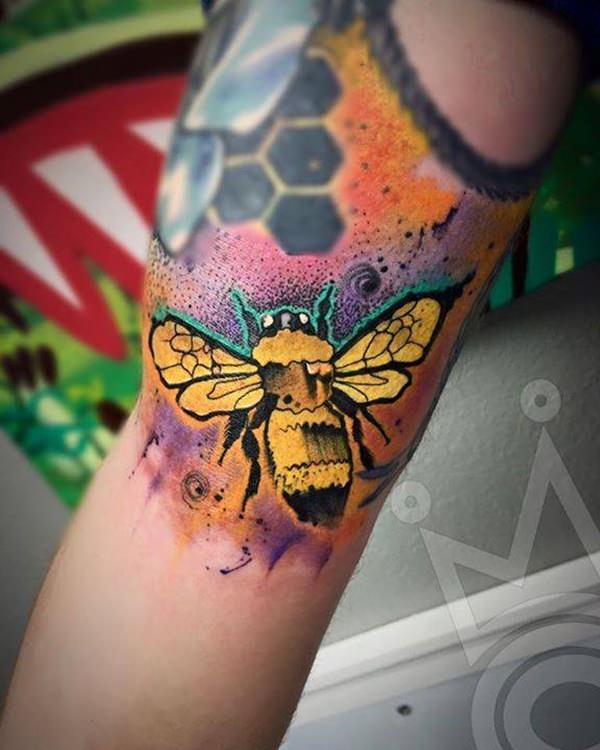 Buzzing
The bold yellow of the bee looks amazing with the stippling and watercolor here.
In control of the universe
This beautiful piece sees the controller of the universe, pulling her strings.
Butterfly
Butterflies are perfect for watercolor tattoos because they are so full of color that the muted watercolor hues still look great. The blotchy watery design flows throughout the butterfly wings and then splatters off the edges for a grungy artistic look.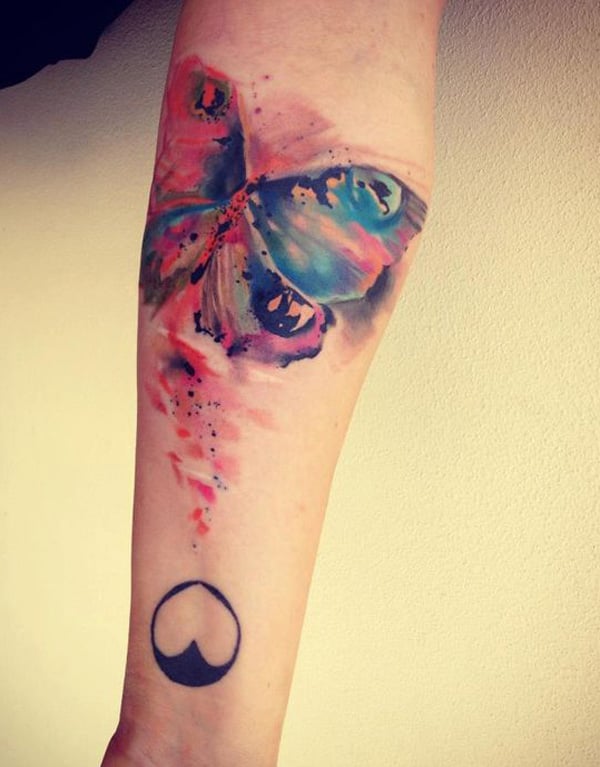 Wolf
The wolf is a strong spirit that is popular with tattoos because of its solitary beauty and its loyal nature. This wolf watercolor shows the unique artistry and style of the watercolor design. The colors are bold but blotchy and it looks like the paint is just dripping down the chest. Since watercolor paint is very thin and does drip easily these tattoos take on that same life and quality.
Rose
The rose is a design that works for nearly any style of tattoo and this symbol of love is one of the most popular tattoo designs. However, it does create a stunning watercolor tattoo as well. The red color of the rose dripping out of the black outline turns a very basic and normal tattoo into one that is in a category all its own.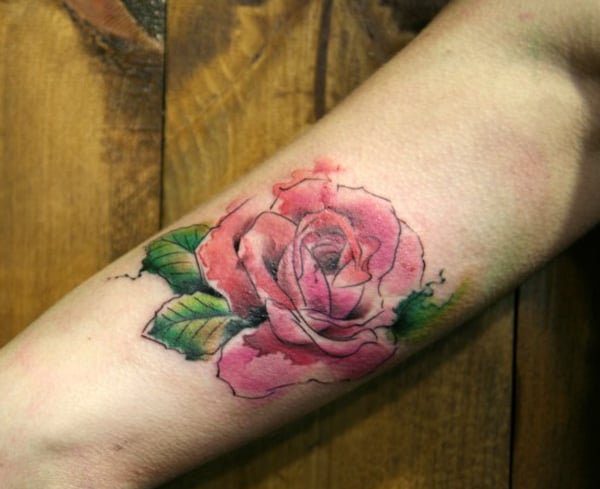 Negative Space
One way to make a watercolor tattoo that is truly stunning and has a design that is one of a kind is to create a negative space image. This means that you have a design, like the deer in this tattoo, and then have the paint splatter around the design. The negative space left behind shows the image while the gorgeous splashes of color highlight the image in an unexpected way. This is a perfect choice for artists or those with a creative spirit.
Feather
Feather tattoos are great choices for a watercolor design because the flowing shape of the feather. The feather can be turned into a work of art with bright splashes of color. The paint colors can splatter outside of the feather for an edgy look. To add even more style and character to the design the splatters of paint can morph into birds flying away.
Paint Splatters
Watercolors are so stunning when done in a tattoo design that they do not even need a design to complement. You can simply have splashes of bright watercolors to drip down your body or just as splashes and swirls of color. The color is so vibrant and the splashes so realistic that you look like you just left the art studio. Therefore this is a choice that no painter would ever regret.
Fish
Fish lend themselves perfectly to watercolor tattoo because the liquid nature of the color is just like the water where the fish makes his home. The choice here is to do the fish normally and have the background as watercolor or do the entire design in watercolor. The free flowing splashes and bright colors stand out to create a visually stunning masterpiece of art.
Rain
This is another way to use the unique nature of watercolor tattoos to the best advantage. The dripping nature of watercolor paint creates a perfect rainstorm. In this tattoo the silhouette of a kissing couple protected by an umbrella is underneath a mesmerizing rainbow rain. The splotches of color are just dripping down like real watercolor paint would to create the rain. The thing to remember about watercolor tattoos is that often the design is a little rough and ragged without any clear boundaries or definition. That is what makes this style of tattoo so unique and so beautiful.
Owl
The owl design has become a popular choice because the owl is such a dignified creature and being splashed with color just becomes a gorgeous tattoo. The owl starts with a basic outline that can either be bold and rigid or it can be jagged. Then the watercolor paint just splashes over the outline. The watercolor effect is created from the fact that the outline still shows underneath the color.
Humming Bird
Humming Birds are also great choices because the way a humming bird flies. The humming bird flies by flapping its wings so fast that they are little more than a blur. Therefore the blurry nature of watercolor tattoos are just perfect to create a blurred, colorful image of a humming bird.
Black and Grey
While many watercolor tattoos are all about the colors that are splashed across the skin. An amazing watercolor tattoo can be created in a black and grey design as well. This design is a combination of intricate details with splashes of watercolor, but it is all done in black and grey. The flowers and circles are done meticulously with clean straight lines. But the watercolor effect is added and it looks as if someone just spilled water on the design and caused the ink to blur. It is a one of a kind effect that takes a very skilled artist to create.
If you are interested in a watercolor tattoo it is important that you find an artist that is skilled in that style of tattooing. Often this is a design that has to be done freehand so you won't even be able to see the watercolor effect on the stencil and it will only be apparent once it is being done. So it is important to do your research before going to just anyone for this style of tattoo art.