If you are looking for a great tattoo to represent your heritage. Irish tattoos come in many different forms and styles. You can get traditional ones as well as ones that are basic and just represent the culture. The great thing about Irish tattoos is that they are colorful and usually with a spiritual element to it.
There is quite a mix to choose from, you can have an Irish cross, Celtic tattoos and even Claddagh hearts. The sky is the limit when it comes to having an Irish tattoo. Having an Irish tattoo is a wonderful way to express that you have to your heritage and culture.
The Influence Behind a Irish Tattoo
The are many different influences behind the Irish tattoo. The strongest influence comes from the Celtic culture. Celtic people are from an ancient civilization that lived in Europe mostly around the British Isles. They lived there around the time of the Roman Empire. If you are looking for more of an intricate artwork, then a Celtic design may be just what you're looking for. They are more of a stylized tattoo design. These designs turn and twist within itself to create a wonderful pattern. It's very similar to the Irish stonework that can be dated as far back as 400 BC. Celtic tattoos draw on traditions that are ancient.
Shamrock Designs
Irish tattoos can be about heritage, but there are also a lot of Irish people who are religious. They love to talk about the lives of saints. St. Patrick is the one that was involved in bringing Christianity to Ireland for all the Irish people. He was known to be someone that is very intelligent and often used props to show the Christian principles to the Irish. One of the best symbols of Christianity is the shamrock. It symbolizes the teaching methods that St. Patrick used. The story goes that St. Patrick plucked a shamrock from the ground and used it to show everyone what the Holy Trinity was all about.
The shamrock is known to be sacred in Ireland mainly because in Pre-Christian times grew and cultivated Shamrocks as they believed they had mystical powers. They believe that the shamrock can ward off evil, could warn of approaching storms as well as the fact that they represented the three phases of the moon.
Below are 50 inspirational Irish Tattoos with Significant Meaning:
1. The Harp
A simple design that has a harp as well as a shamrock tattoo. It's colorful if you want something uncomplicated.
2. The Shamrock
A great design that is simple and wonderful. If you are looking for a colorful design that symbolizes your Irish tradition then this is it.
3. Skull Irish Tattoo

If you want a shamrock tattoo that is a little badass, then try this one on for size. It's bright green, and it has a unique skull design in the middle of it.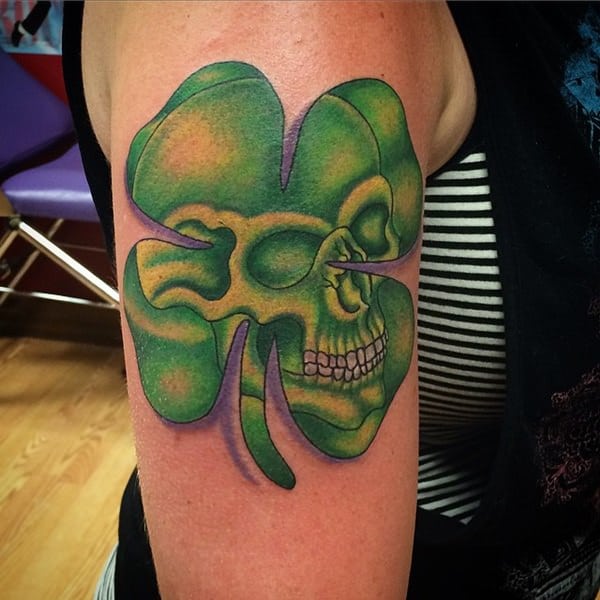 4. The Irishman
This Irishman looks tough with some muscles showing. If you want a traditional yet fun design then this is the one for you.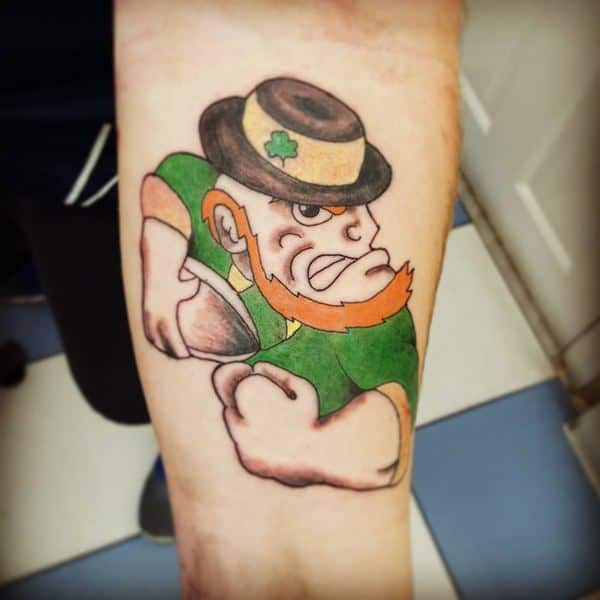 5. Nautical Designs
This nautical design shows a shamrock with it as well. It's a great example of how you can combine your passions to create a great design.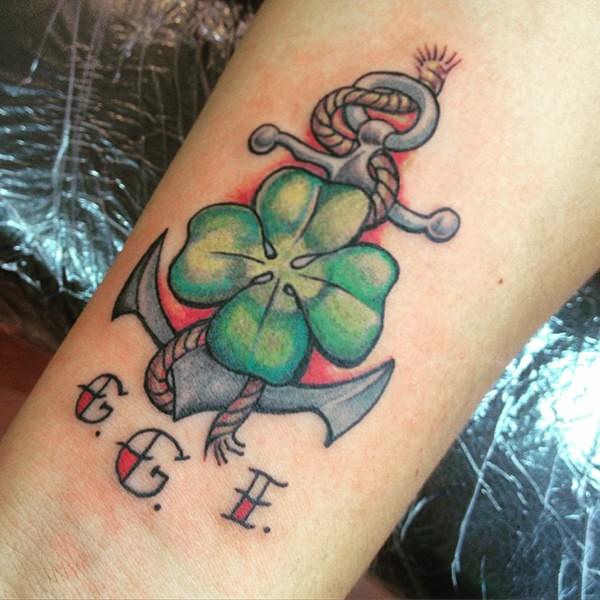 6. Geometric Designs
There's nothing cooler than a geometric design. This one is pretty great even though it's just a simple outline.
7. Sleeve Designs
You can get different elements such as a shamrock, horseshoe and many others design to create a unique sleeve design.
8. Flying Away
A different design that has a shamrock with a paper plane design attached to it. It's a unique design with its own meaning.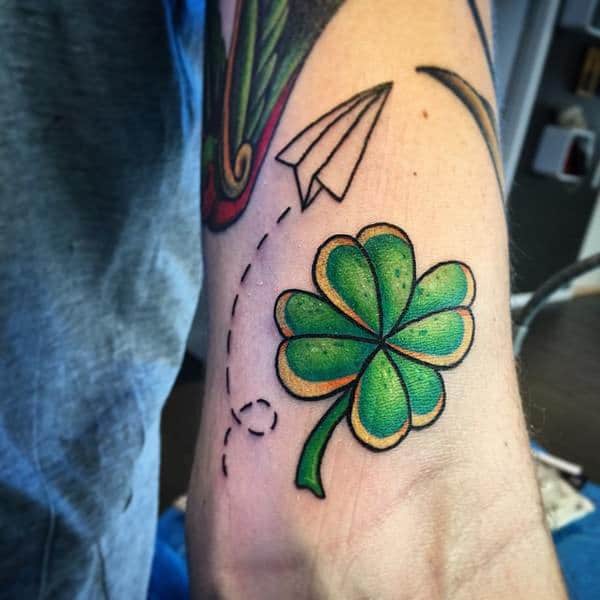 9. The Leprechaun
A great design of a Leprechaun that has a lot of detail. It's a black and white tattoo that will make anyone Irishman happy.
10. Crowning the Irish Tattoo

This is a great tattoo design that shows a sense of pride for your family. You can add some crown designs to it with your family name.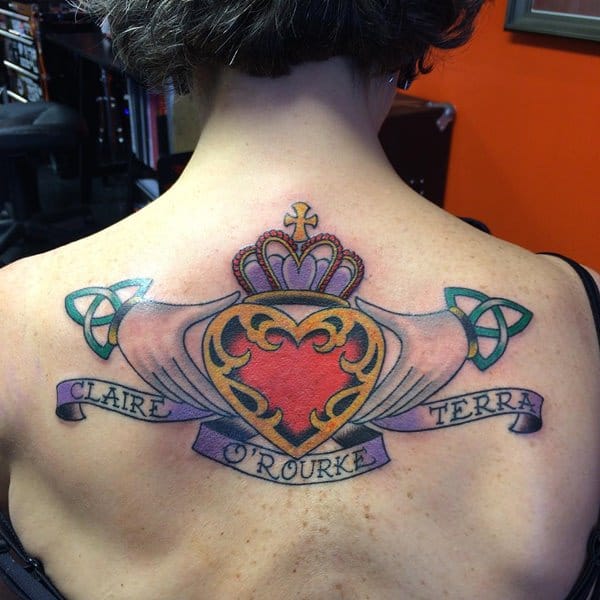 11. Celtic Cross
This Celtic cross has a lot of detail to it. The black is gorgeous, and the design is intricate. If you are looking for a sexy design that is special, then there are many different cross designs like this one to choose from.
12. Dragon Art
What a beautiful design with so much detail. If you want a solid design that is very badass, then try this one out. It's a very different version of the Celtic cross design.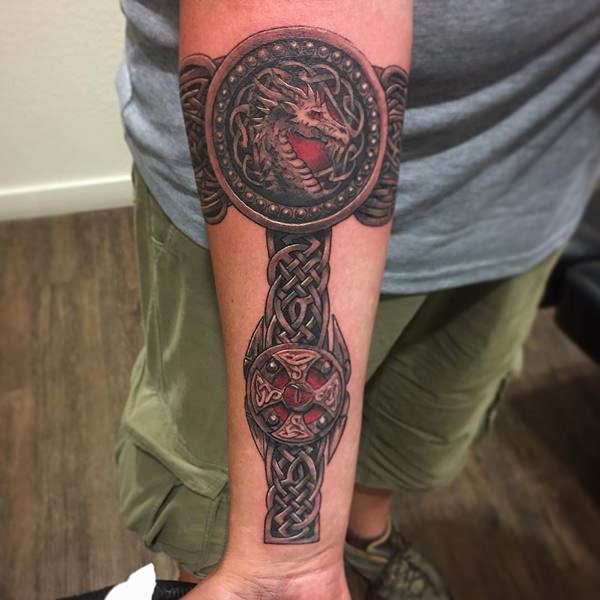 13. A Family Design
Another example of the royal family design that has some Irish elements to it. If you want to represent your family and heritage all in one, then try out this design.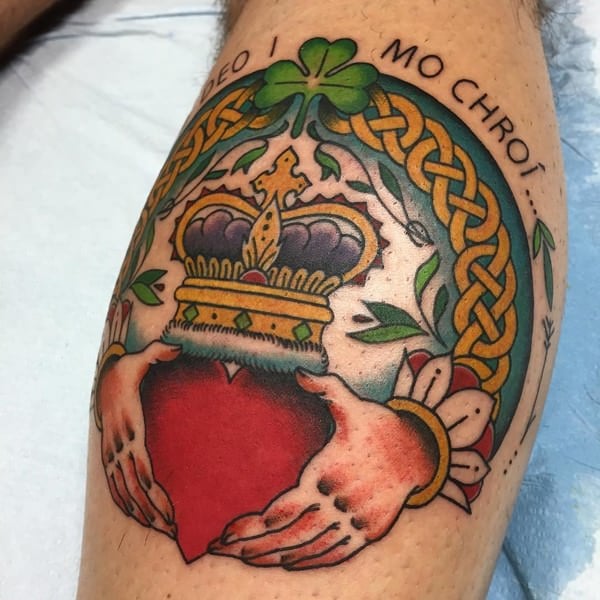 14. Bright Red
A Celtic Design with many twists and turns. This one has a red element to it that makes it mesmerizing.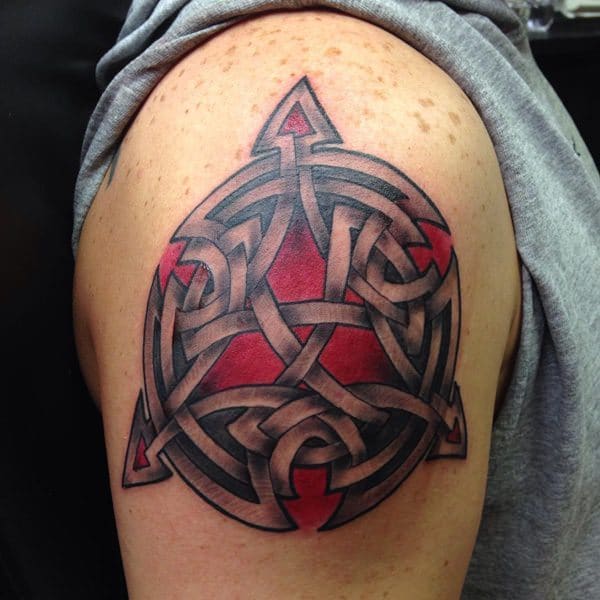 15. Irish Designs
A unique design that is sure to bring a smile to your face.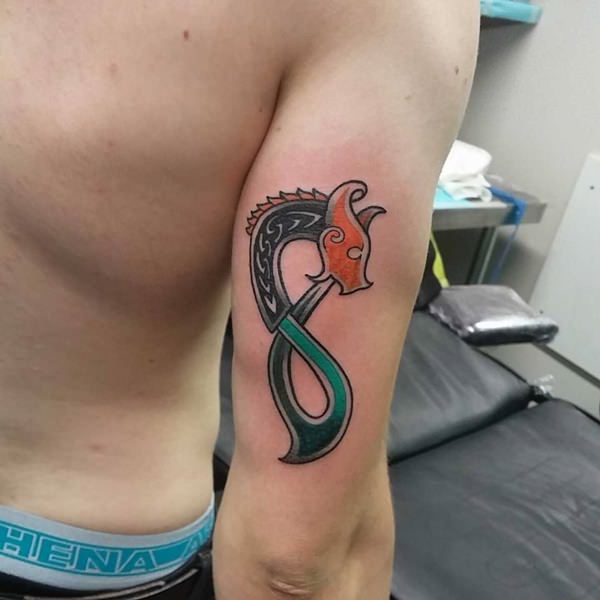 16. Hand Tattoos
A simple shamrock that can be placed anywhere. The hand is a great place for small designs.
17. Heritage Irish Tattoos
If you are the type of person that loves to shout from the rooftop that you're Irish, then this may be the tattoo for you. The colors are perfect to the tradition, and you have a shamrock to complete the design as well.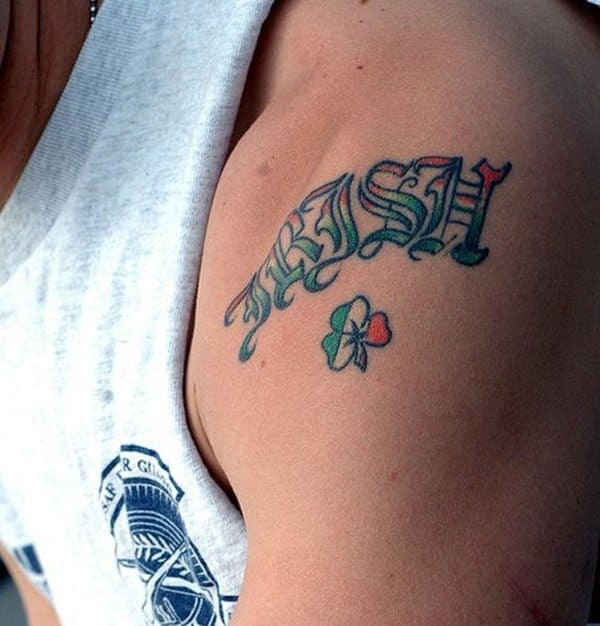 18. Celtic Designs
A cool design that will sure to draw the eye.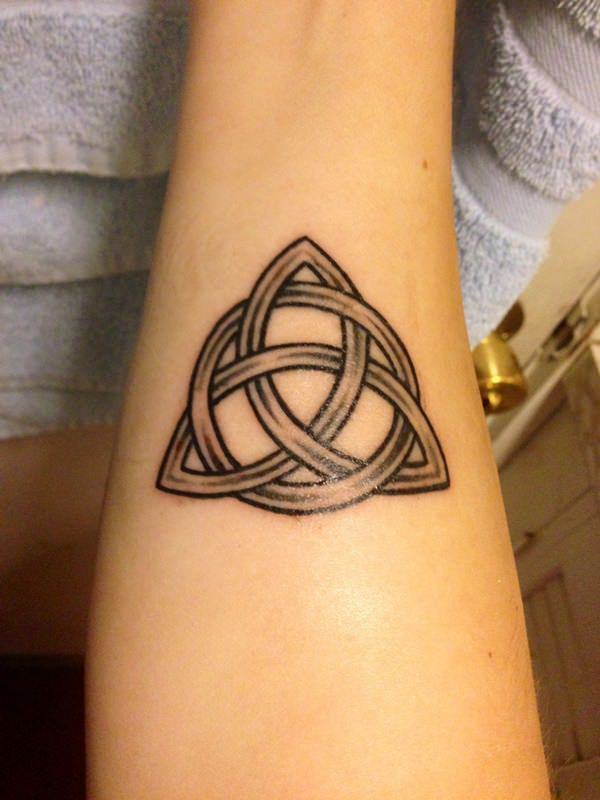 19. Shiny Designs
This design looks like it's jumping off the skin. The coloring is just beautiful as well. The design is intricate, and it has the traditional elements of an Irish tattoo.
20. Tree of Life
Another example of a great Irish Tattoo design, this one has the Tree of Life encased in a Celtic circle. This tattoo could represent a lot of different things.
21. Stunning Shamrock
A stunning shamrock design that has the Celtic elements as part of the tattoo. I just love the coloring involved in this design with the blues and greens.
22. Large Irish Tattoo Designs
A large tattoo of a green Shamrock with Celtic elements on the inside. If you are looking for a large tattoo, then try this design out.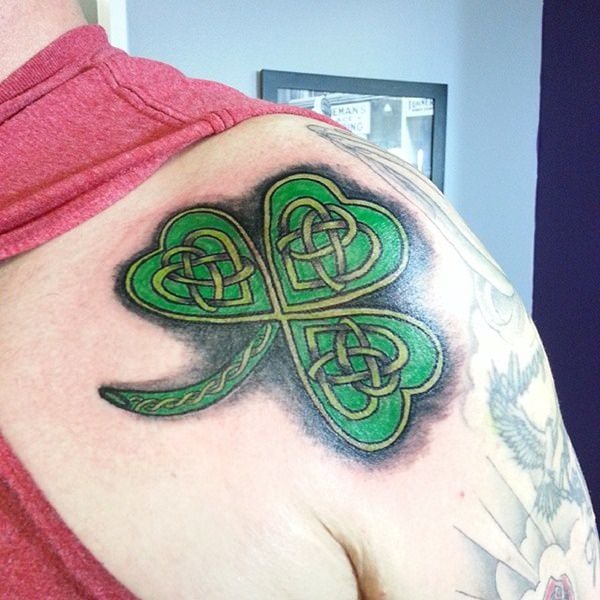 23. 3D Designs
A stunning design that looks as if the skin has been torn revealing something else underneath. It's a popular design choice, it just usually has many different options for what is revealed. In this case, it appears as if there is metal underneath with a Celtic cross.
24. Dreamcatcher
If you love dreamcatchers, then you are sure to love this Irish inspired design. I love the bright green coloring.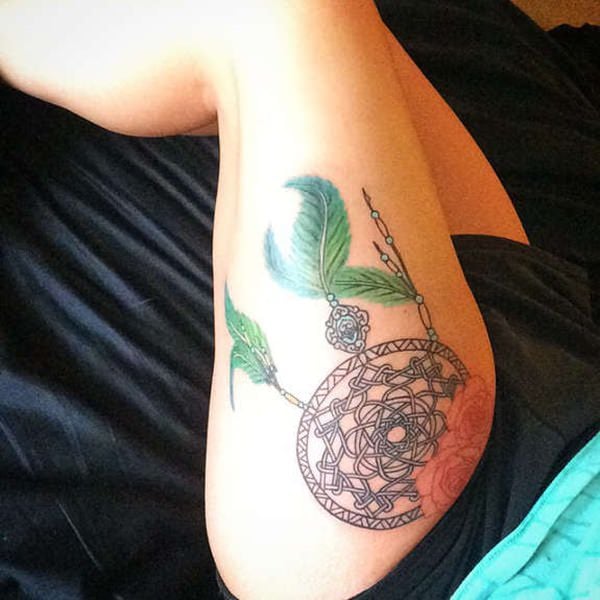 25. Celtic Square
Another example of a Celtic design and this one is in the shape of a square. I love how all the lines intersect with one another. It not only looks cool but it's beautiful as well.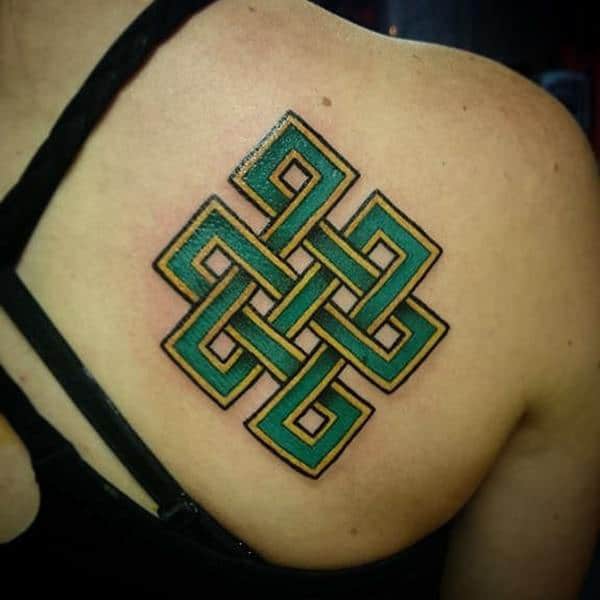 26. Beautiful Sleeves
If a sleeve design is what you truly desire then check this design out. Not only is it beautifully designed but the coloring is quite nice as well. There is a harp as part of the sleeve design as well.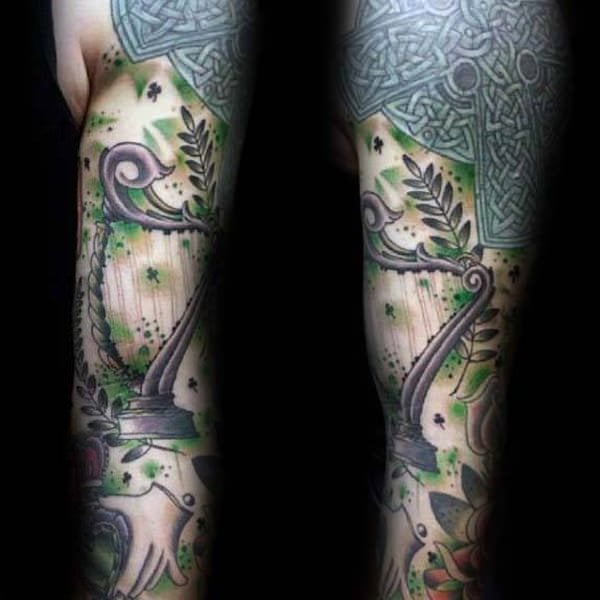 27. Harp Tattoos
A basic harp design that looks great as an arm tattoo.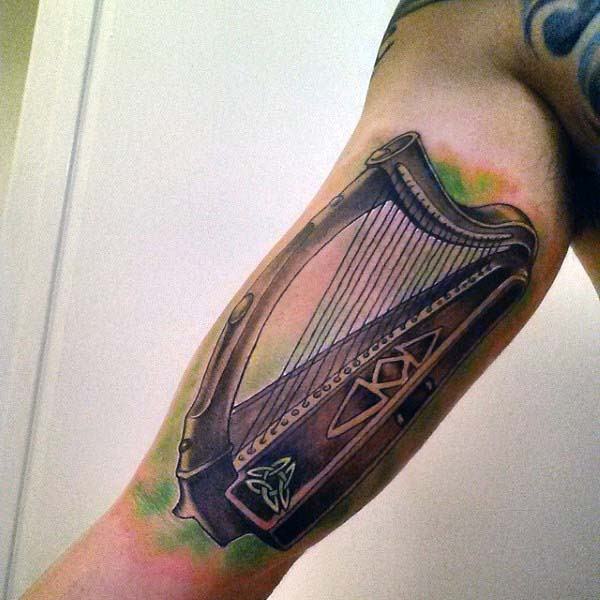 28. White Tattoos
White tattoos are growing in popularity, and this is a great example of what one looks like as a Celtic design. It's small and circular, something that isn't going to take up a whole lot of room, but it does provide you with a unique look.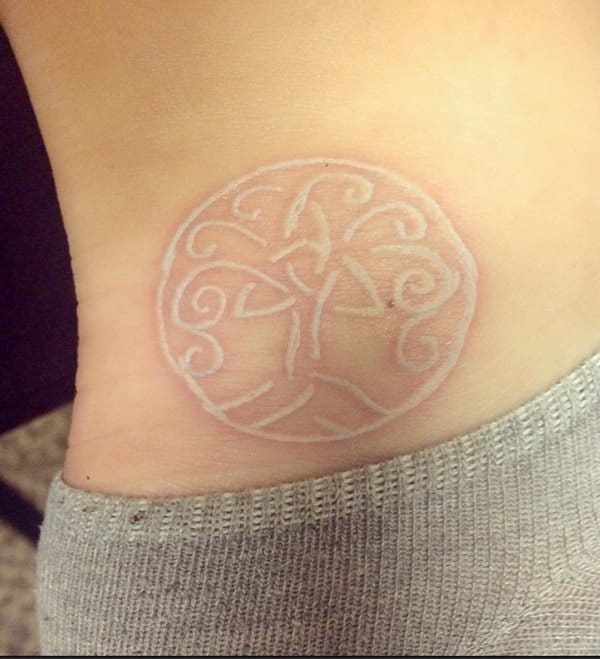 29. Cartoon Designs
If you are looking for something that is a little more whimsical than a cartoon design might be just what you are looking for. Whether you want it on the top of your head or not is an entirely different point.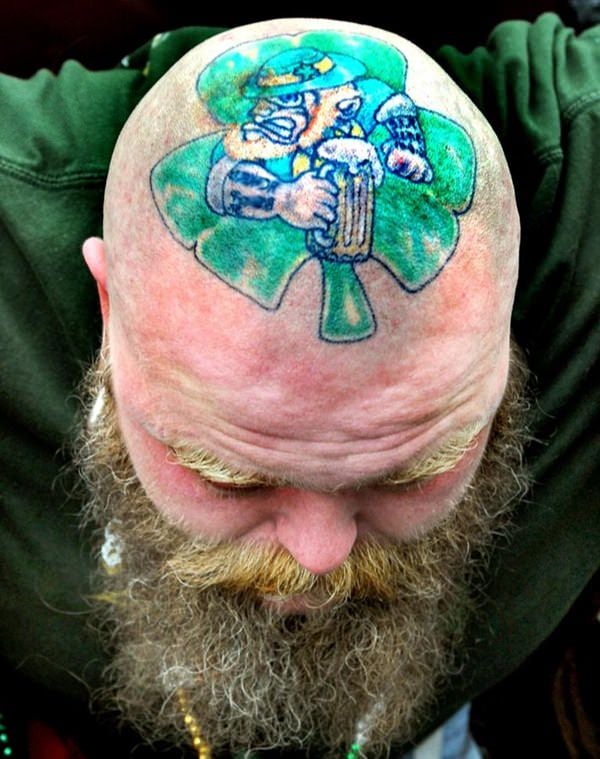 30. Black and White
This black and white shamrock design are truly unique. If you want something non-traditional, then you may fall in love with this design.
31. Pretty Designs
If a soft and feminine look is what you want, then you can't go wrong with this design. The Celtic symbol is in the middle of two pretty roses.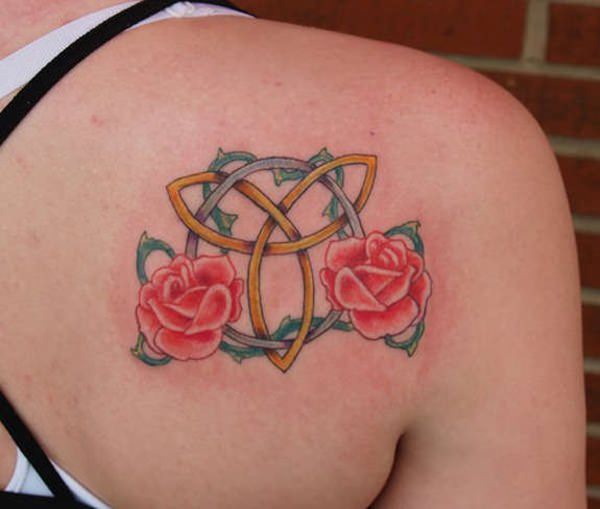 32. Gerber Daisy
Two Gerber Daisies on either side of a Celtic design. It's colorful and beautiful.
33. Stunning Colors
A great design that has some pretty stunning colors involved in it. I love how well the blue and yellow go together.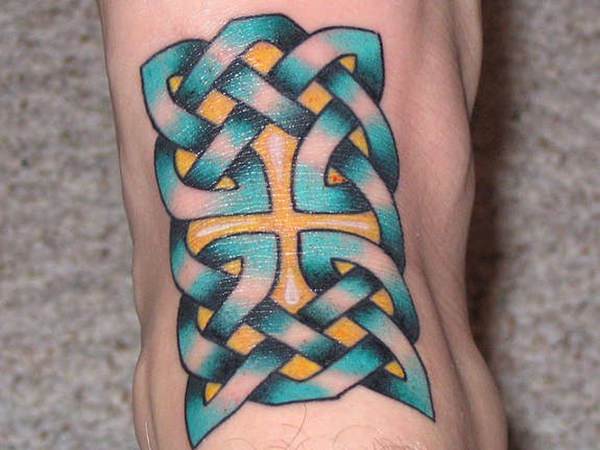 34. Irish Ring
Many people decide to tattoo rings on their fingers instead of getting a traditional wedding band. In this case, the design is very Irish and shows the Celtic heritage.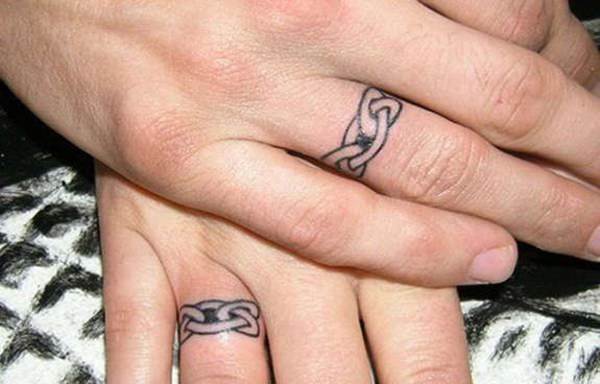 35. Unique Symbols
This unique design is sure to draw the eye. It has great coloring as well as some different elements to bring the whole design together.
36. Irish Map
A different design that is very creative. This Celtic symbol has the map of Ireland in the middle of it. It's a great way to represent your heritage with a little creativity.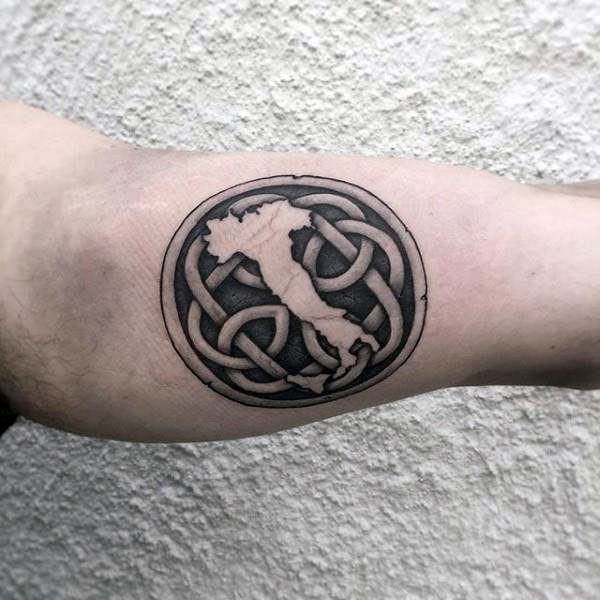 37. Just an Outline
There isn't a lot of detail to this tattoo, but that doesn't mean that it's not a great design.
38. Other Elements 
You can have many different Irish elements to your tattoo to create something that is unique to your own personality.
39. Evil Leprechaun 
This Leprechaun wants to steal all your gold, and he doesn't look like he plans on giving it back. If you want cartoon designs that shows a badass side to it then check this one out.
40. Beer Drinking Irish
The Irish certainly love their beer, they have a whole day to honor it and the role St. Patrick played in bringing Christianity to Ireland.
41. Harp Elements
A great design that features a harp, the red sun, and a red rose. It's a unique design that you are sure to love.
42. Shamrock Designs
This is an unusual tattoo as it appears as if the Shamrock is coming out of the skin. There are a few torn pieces while the rest of the design consists of a large Shamrock.
43. Remembering
This design could be one that is about remembering a loved one whether or not they have passed.
44. Unique Elements
This is a unique design, one that is such to catch the eye. If you are looking for a large tattoo, then this would be a great choice. It certainly is beautiful to look at.
45. The Irish Flag
Another popular design is that of the Irish flag. This design is unique in the sense that it's cartoonish, but it has the flags as well as other elements.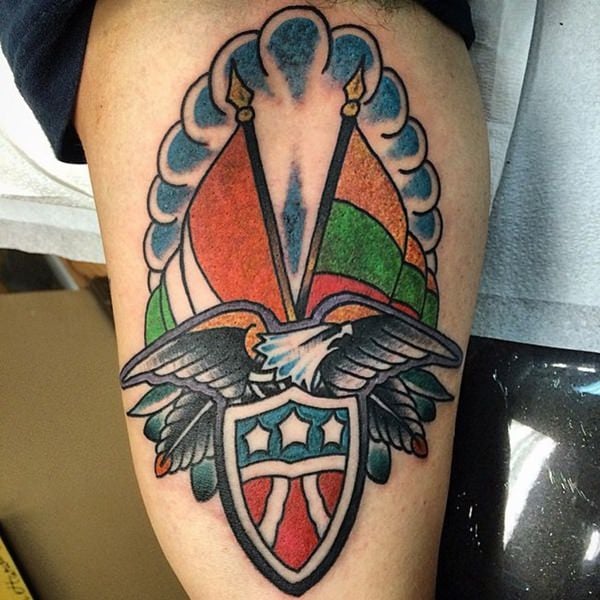 46. Celtic Shamrock
This is another design that has the design of the Shamrock combined with Irish designs. The shape of the tattoo is a shamrock, but the way it was designed was with Celtic meaning. There are the familiar twists and turns of a Celtic symbol. It's a unique way of creating a different shamrock tattoo.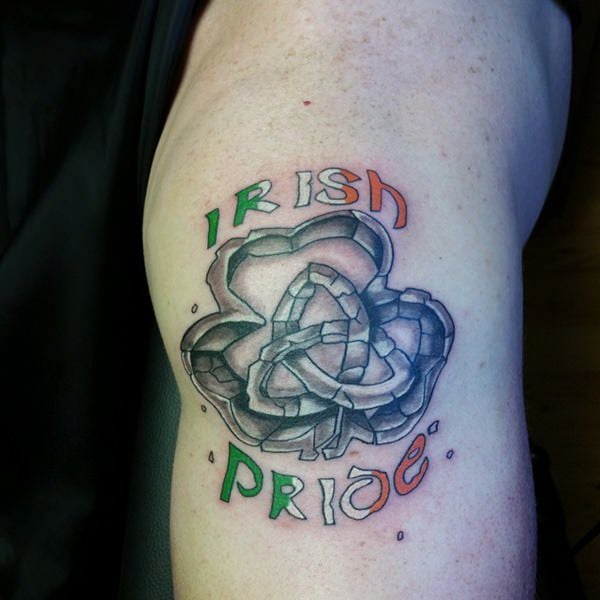 If you are looking for something a little more subtle then why not try out a shamrock design. It can easily be tucked away anywhere like behind the ear. It's something that wouldn't even be noticeable if you had long hair and it was left down.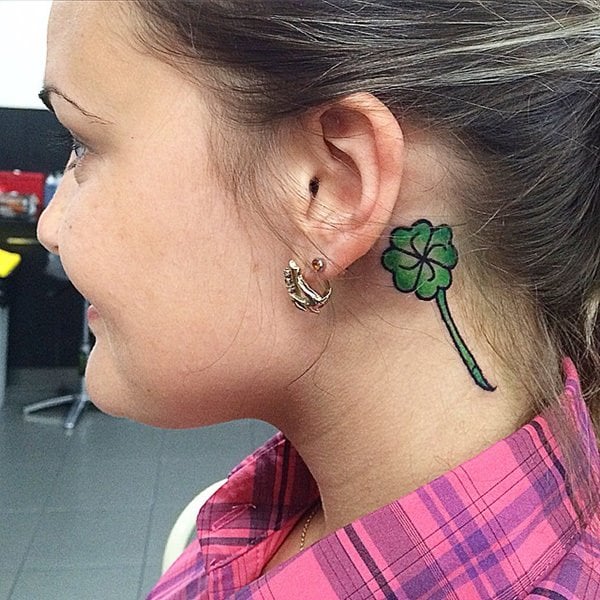 48. Chest Tattoos
If you have always wanted a chest tattoo, then this could be a great way to represent your heritage and family. This the familiar heart with a crown on top symbolizes the respect with your family and culture. The colors used here are very bright and modern, but they could certainly be swapped for the Irish colors on the flag.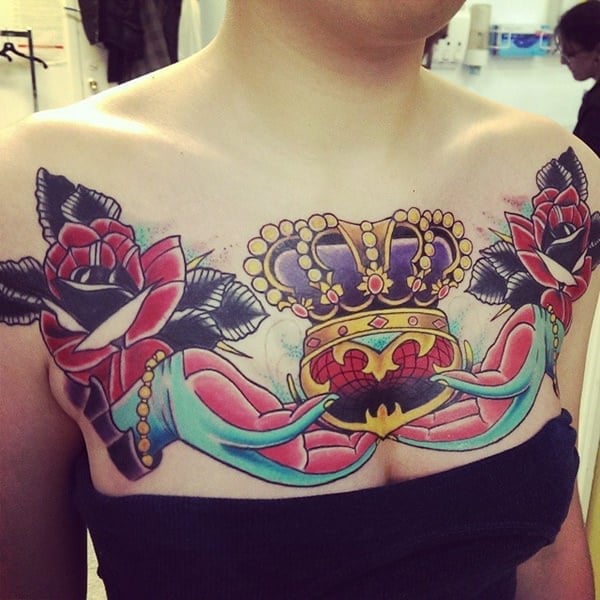 49. An Anchor
There could be a lot of meaning behind the anchor tattoo, it could symbolize a passion for sailing, or maybe it has something to do with your job. In this case, there is a sign that says FISH, so maybe he's a fisherman. Either way, it's a great tattoo, and it has the added elements of the Irish flag to promote his culture.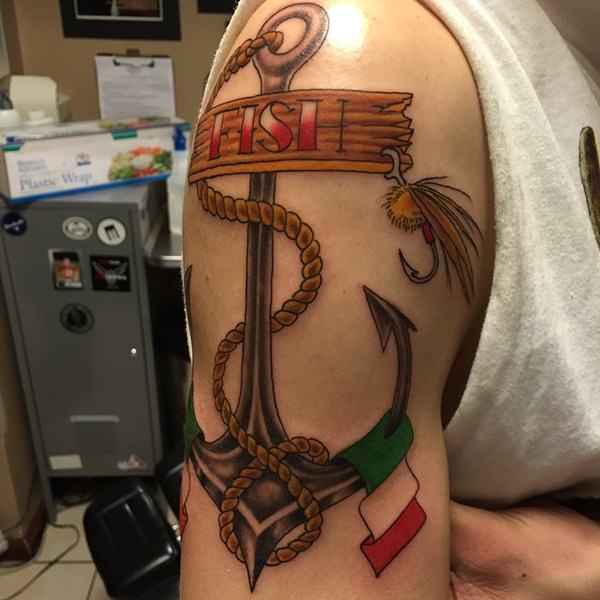 50. Wolf in Sheep's Clothing
If you are looking for a badass design that is unique, then you have come to the right place. At first glance, you think you are looking at a sweet design of a sheep, but that's not it at all. There is a wolf underneath all that.