If you are looking for a new tattoo to symbolize the love you have for your family, then you have come to the right place. There is nothing more heartwarming than to tattoo something on your body that shows the love you feel for the important people in your life. There is nothing stronger than the bond between family members. Families have a deeper bond, a deeper love than any other kind. In fact, there is usually nothing that can stand in the way of that bond. Your family is the greatest blessing that you could ask for. When it comes to family. It's the greatest value that we could have in our life. We should thank God every day for the blessings we have as a family, as some people aren't lucky enough to have that. There are always people in our lives that we are closest to whether that be our parents or siblings. Tattoos can be a wonderful way of expressing the love that we have for these people. If you are looking for a family tattoo with some meaning, then check out the list below.
Here are 43 heartwarming family tattoos that have true meaning for your life:
1. Nautical Symbols
You don't get a tattoo much cooler than this one. It's creative and a little badass as well. I love the coloring involved in the tattoo.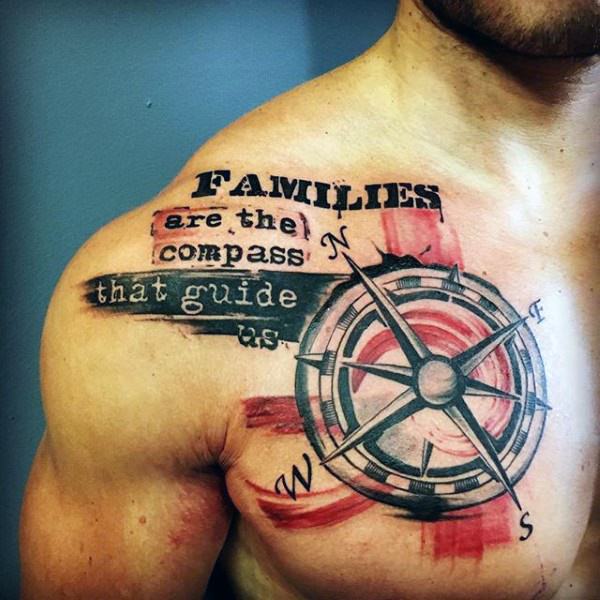 2. Outdoor Family
I love the family that is inside of the leaf. They are all silhouettes inside the leaf. It's definitely a different type of tattoo.
3. Very Detailed
These hands are together entwined, with quite a bit of detail. If you want a tattoo with intense detail, then this is the one for you.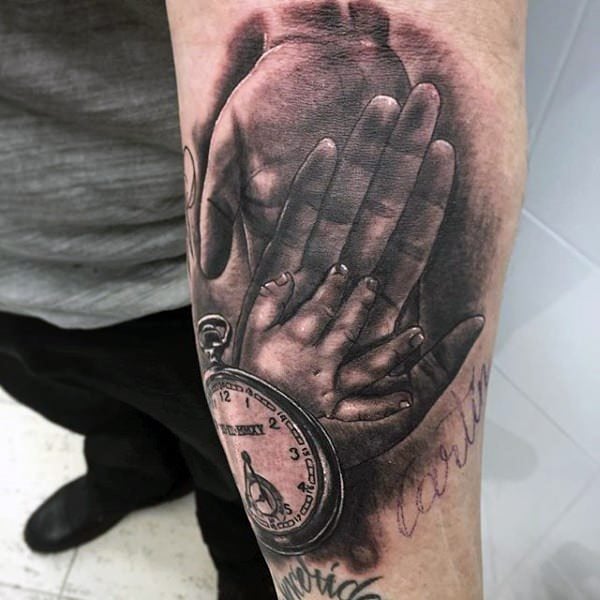 4. Portrait
Portraits are very popular when it comes to a family tattoo, and the detail on these images is incredible. They are beautiful and really show you what you can do with something you love.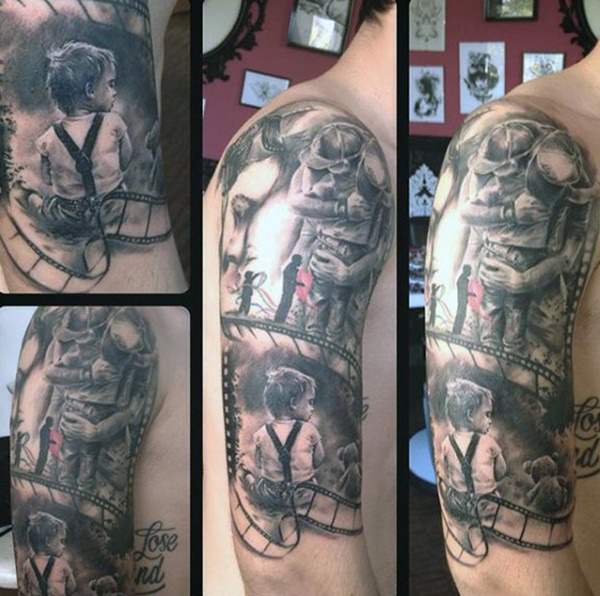 5. Beautiful Flowers
These stunning tattoos are great for a bunch of sisters. I love how the stems smell out the word, it's elegant and really makes for a special tattoo.
6. No Family
This may have less to do about the love of the family then it has to do with some bitterness in the family. Why is the name "family" crossed out? Only the owner knows the answer to that.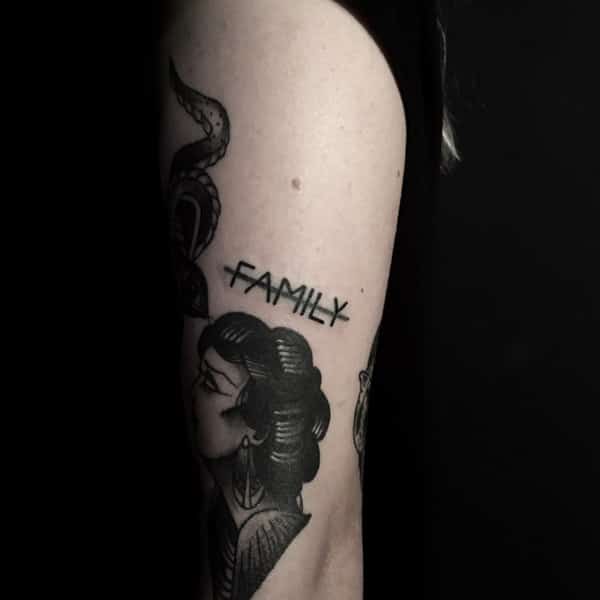 7. Elegant Designs
This elegant tattoo is simple and pretty. A small flower at the end compliments the whole look.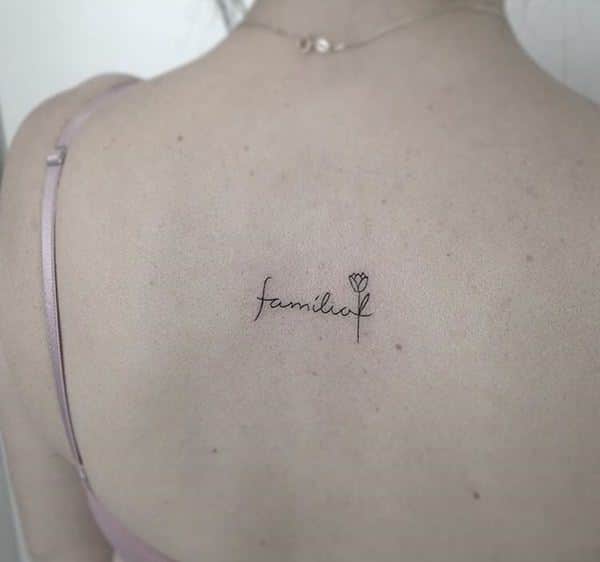 8. Neck Tattoos
The name family tattooed on the back of the neck. It's a simple but beautiful message.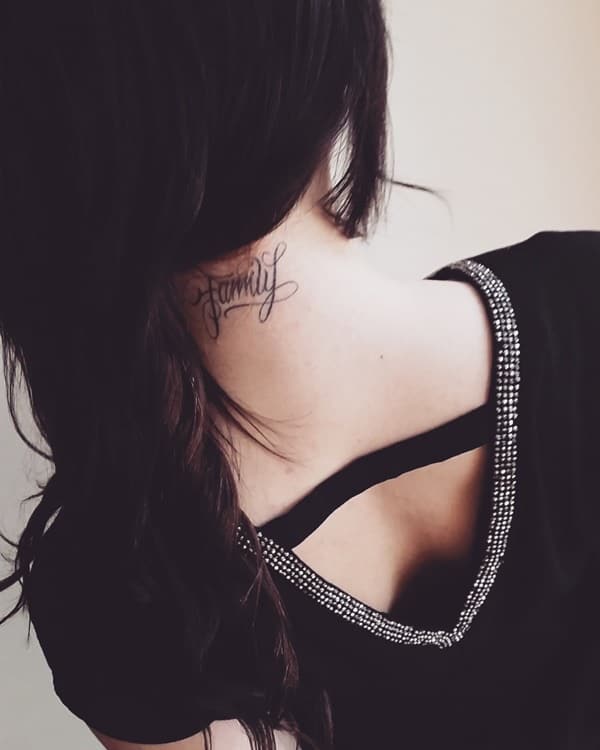 9. Flower Designs
A great tattoo design that is not only beautiful but personal.
10. Share a Message
If you want to share a tattoo with a family member, then pick a special message and get the same tattoo together.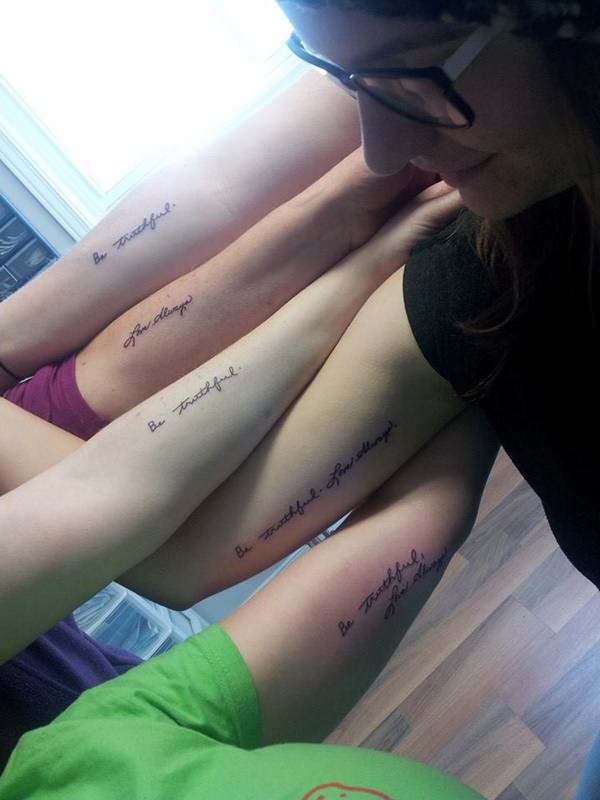 11. Loving Children
Little baby footprints are always popular when it comes to symbolizing the love for your children. These little feet all have names attached to them.
12. Looking at the Stars
This tattoo is so cute because it has the whole family there including the door. They are all little astronauts together out in space. There are a lot of beautiful colors on it as well.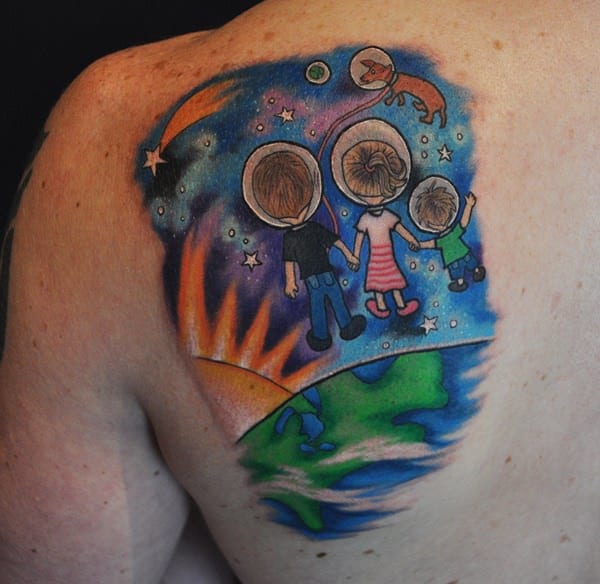 13. A Family Tree
A tree is a simple gesture when it means having a wonderful tattoo to represent your family. The word family is also part of the message.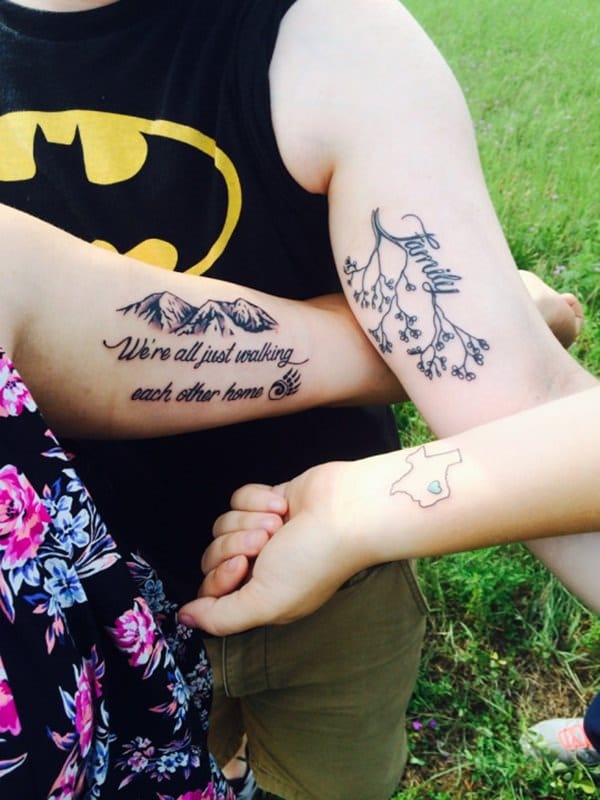 14. A Suit of Cards
It's a great way for you to represent your family by all getting a tattoo with the symbols of the suits from a card deck. It's a cool way to represent love.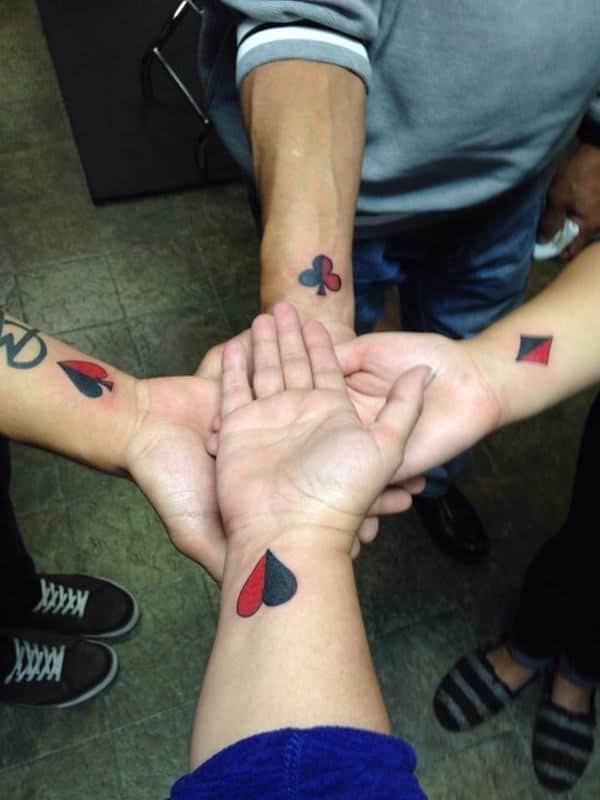 15. Eternity Symbol
A beautiful symbol that means eternity between family. Add some pink to make a signature statement.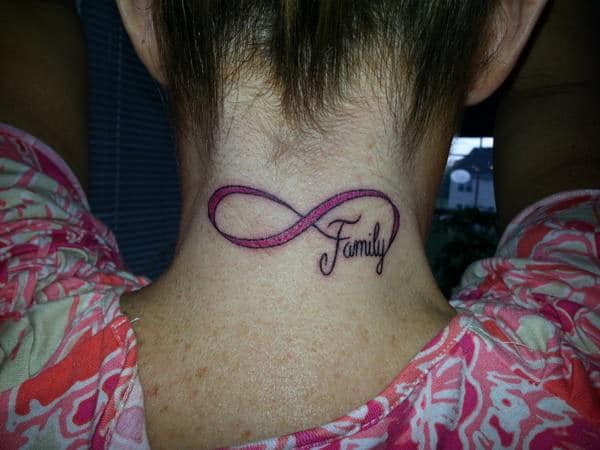 16. Cherry Blossoms
Another example of a family tree and in this case, it has cherry blossoms on it.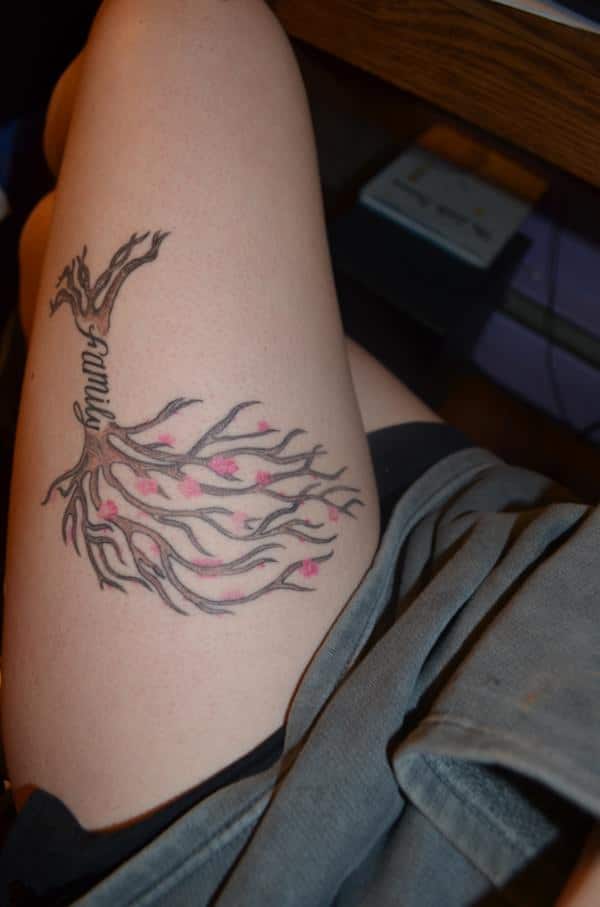 17. Finger Tattoo
Another example of how you can use the family name and tattoo it anywhere. It's a simple yet straightforward message.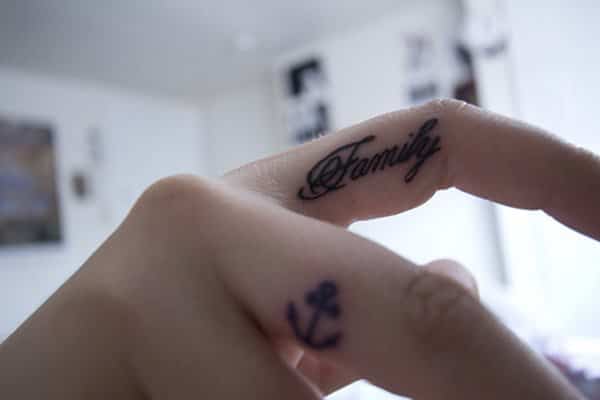 18. Use Names
Tattooing names can be risky because you never know who is going to be in your life forever, but that's generally not a worry when it comes to family.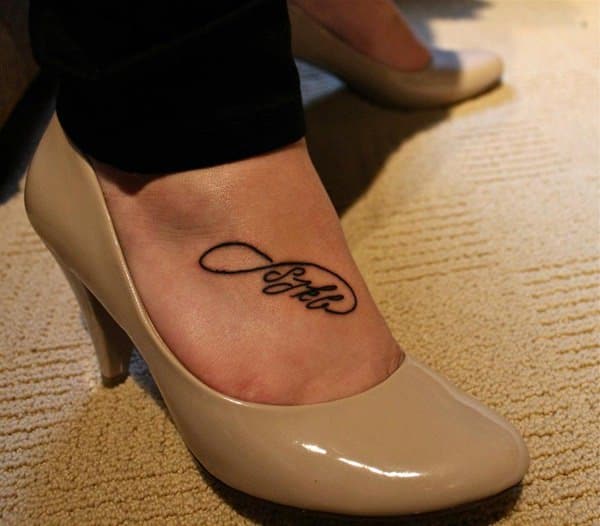 19. Bold Print
Another example if using "Family" as a tattoo. In this case, it's big and bold, and it takes up part of the arm. The F is possibly a gun, but it's hard to tell. You can get as creative as you want with these tattoos.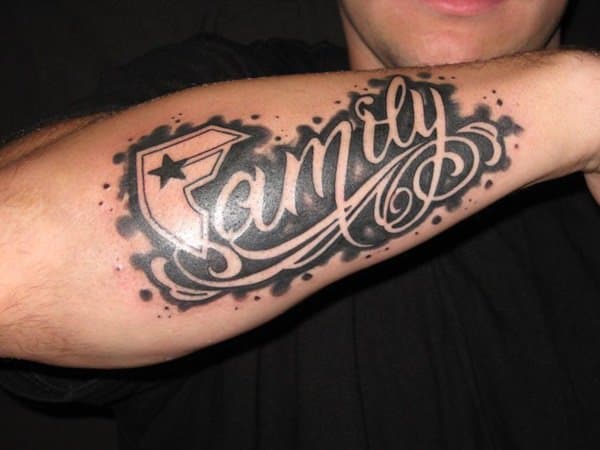 20. The Addams Family
If you are a fan of The Addams Family, then this might be a great way to honor your own family. Do they remind you of some of the characters or are you all just a little weird? Doesn't matter the reason you can't go wrong with a fun tattoo like this one.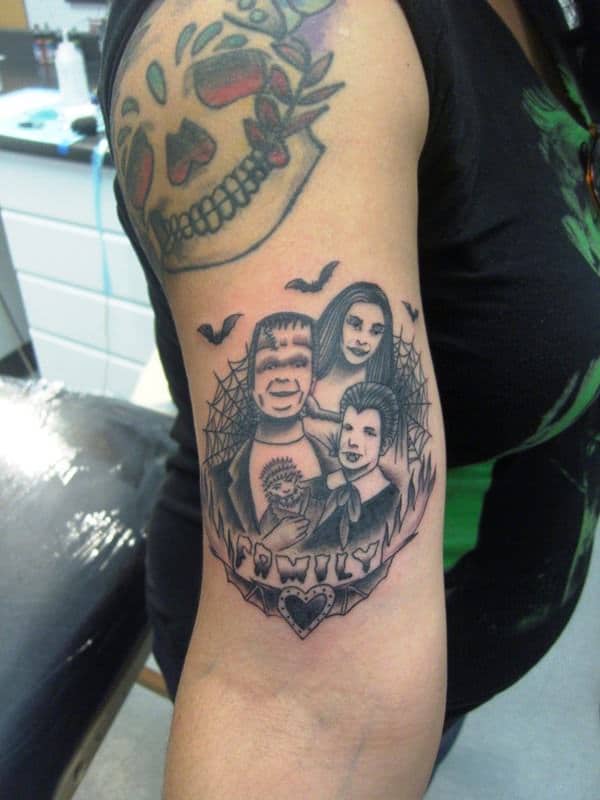 21. Family
Another example of using "Family" as a tattoo.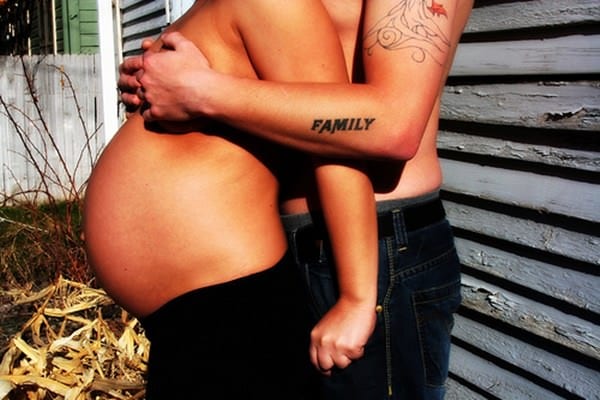 22. Irish Family
With this family symbol, there is a touch of Irish accent to the whole thing. You can't go wrong with this elegant and yet a little badass tattoo.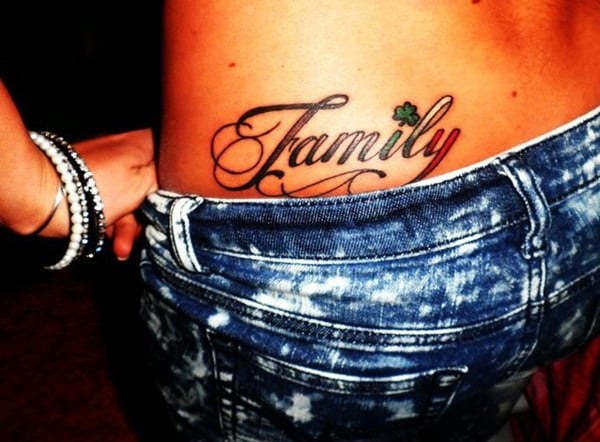 23. Thorny Family
Another version of the family name but in a completely different font. It's all in the kind of style that you're looking for.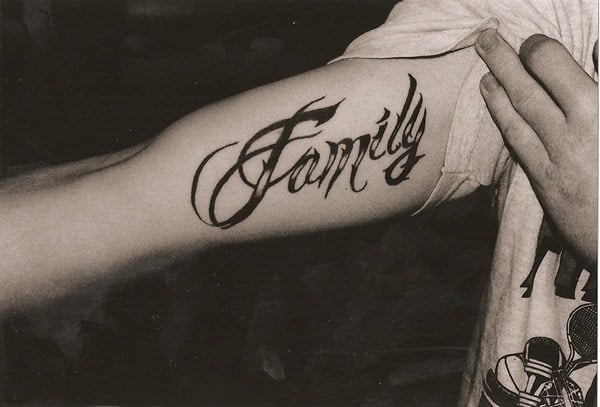 24. Holding Hands
Maybe you have fond memories of being on the beach with your loved ones. This is a great beach tattoo with the sun setting and a walk on the beach.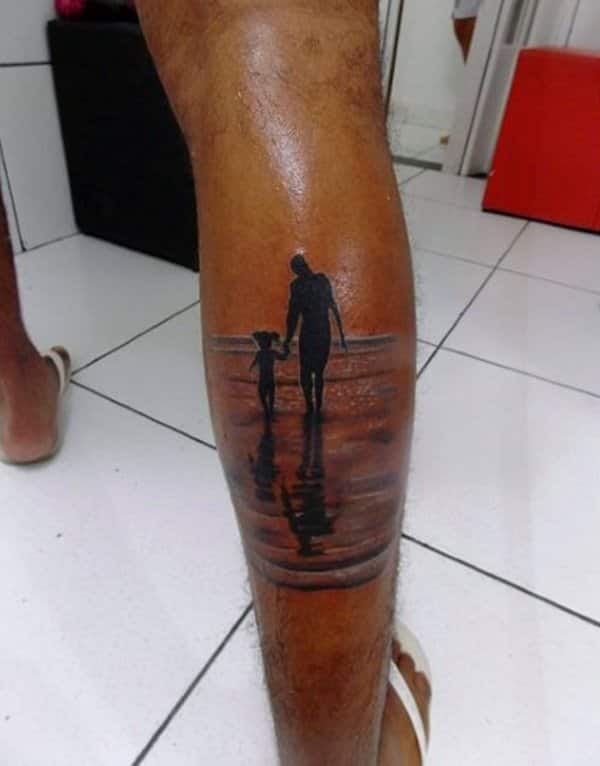 25. A Moment for Lovers
Maybe your family is small, and that's okay because this is a picture of love. It's a great little drawing of a sailor and his family.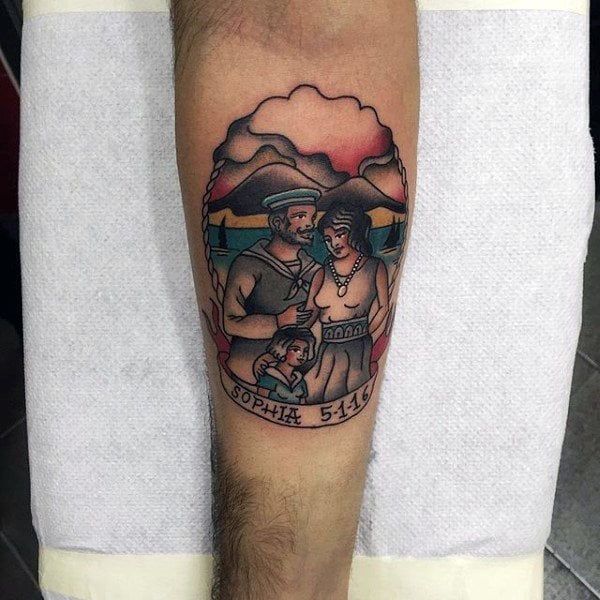 26. A Heartbeat of Colors
A heart design with a family inside of it. I love how there is a sunset inside, and the family is just silhouettes. It's all very beautiful and truly put together.
27. Father and Son
A father and son moment that has the two of them walking through the woods together. The sun is really coming through the trees showing off some great light.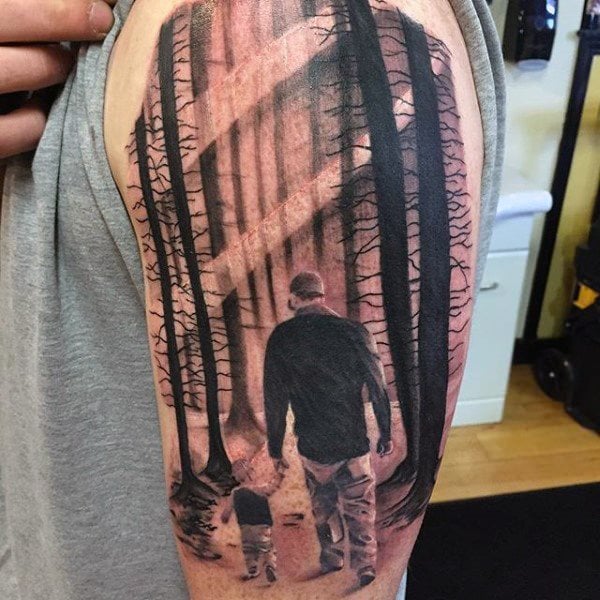 28. Arm Tattoo
Another great example of the "Family" name tattoo. This one is in italics, and you are sure to love it.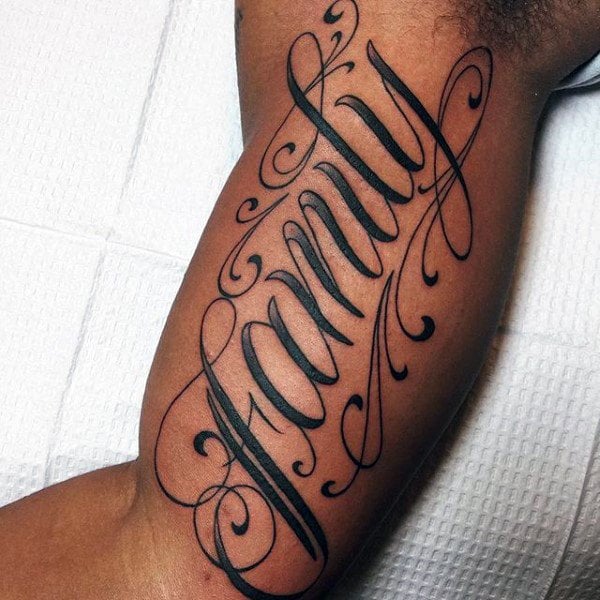 29. Family Names
This family tree is rather large, and it has all the family names attached to it. I love the fact that it's so personal.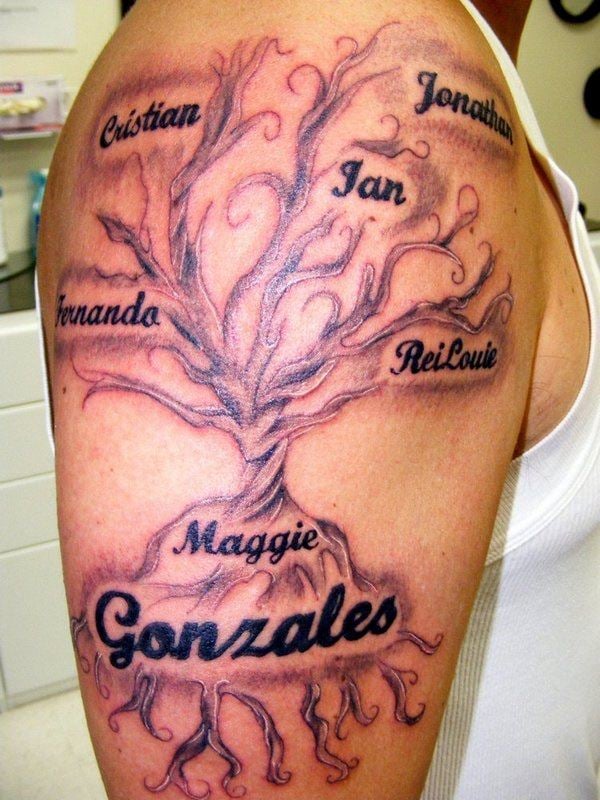 30. Daddy's Girl
The name Daddy is great for new dads. There is a birthdate attached to commemorate the date of the birth of a child. It's a simple tattoo design that is very sweet.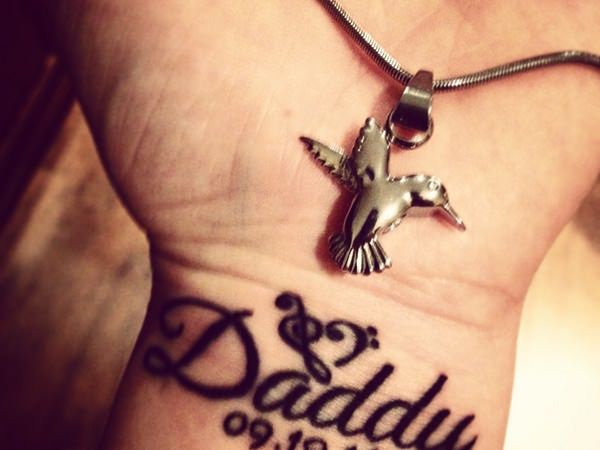 31. Standard Tattoos
This type of tattoo is a little old school but it's a very popular one as well. Using flowers along with a name is pretty standard as well. If you like this traditional style, then you are sure to love this design.
32. Putting Family First
Stating that Family First pretty much explains everything. If this is the message that you want to send then get it tattooed.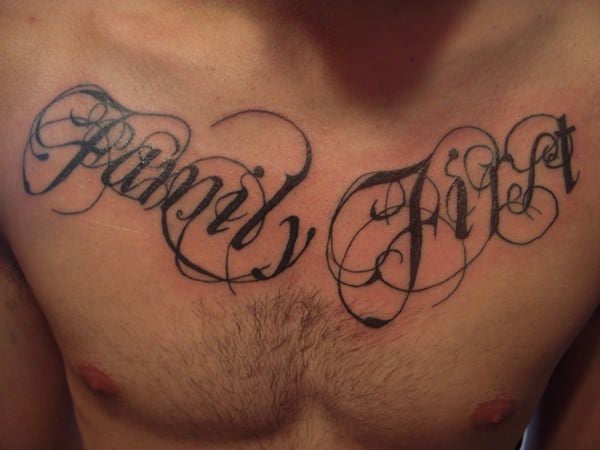 33. Releasing the Balloon
This is a cute tattoo design that has a little girl releasing her balloon into the wind. Put Dad;s name there and remember him with the date of his birth or yours. It all depends on the message that you want to send out. Either way, it's a beautiful design.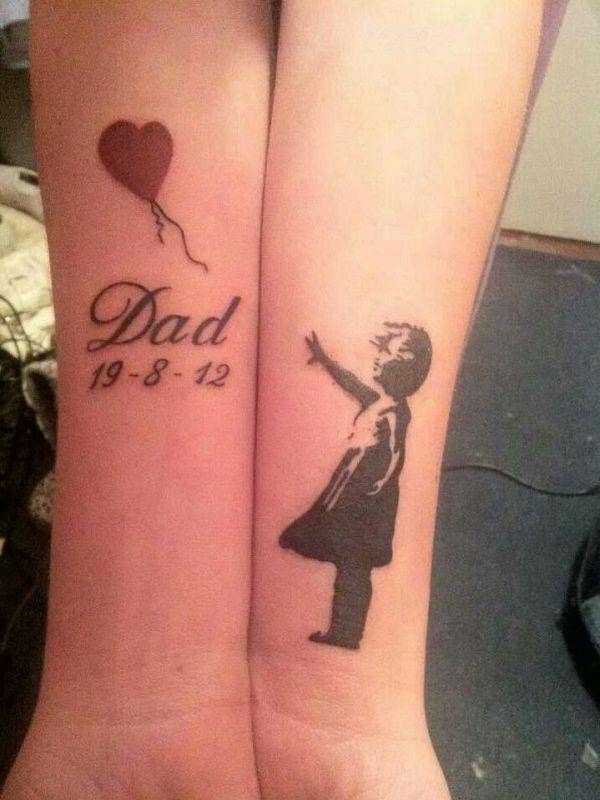 34. Lifeline
This lifeline has a heart on one end and the word "sisters" on the other. It fits perfectly in a small area if you are looking for a smaller design.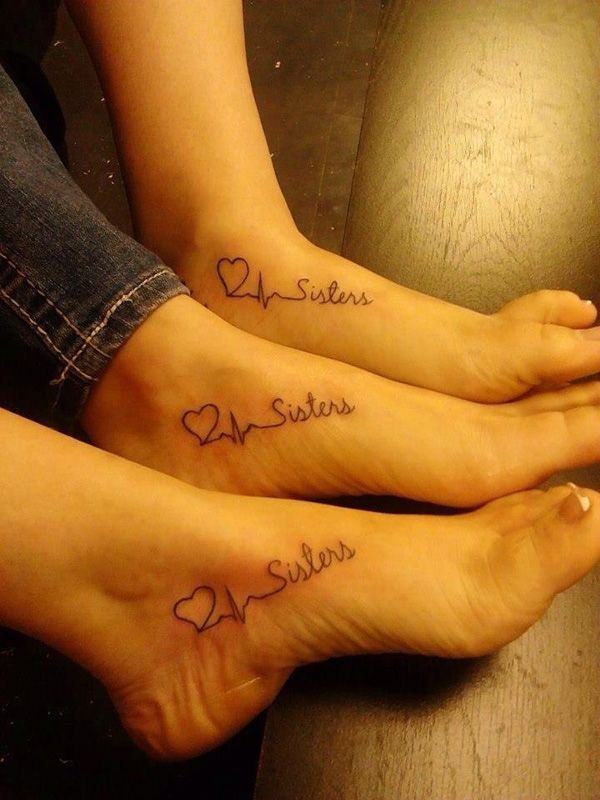 35. A Family Message
A great family tree that has a very ornate style to it as well as some wonderful initials attached to it. There is also a family message at the bottom of it. If you are looking for something beautiful, then this is the tattoo for you.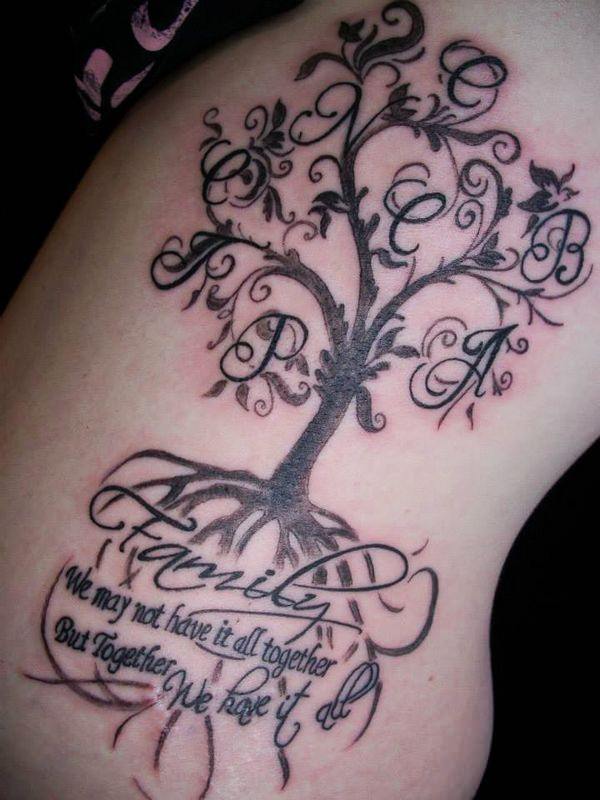 36. Prints All Around
A footprint and a handprint with the name of a loved one. Add on the birth date, and you can't go wrong with this beautiful design.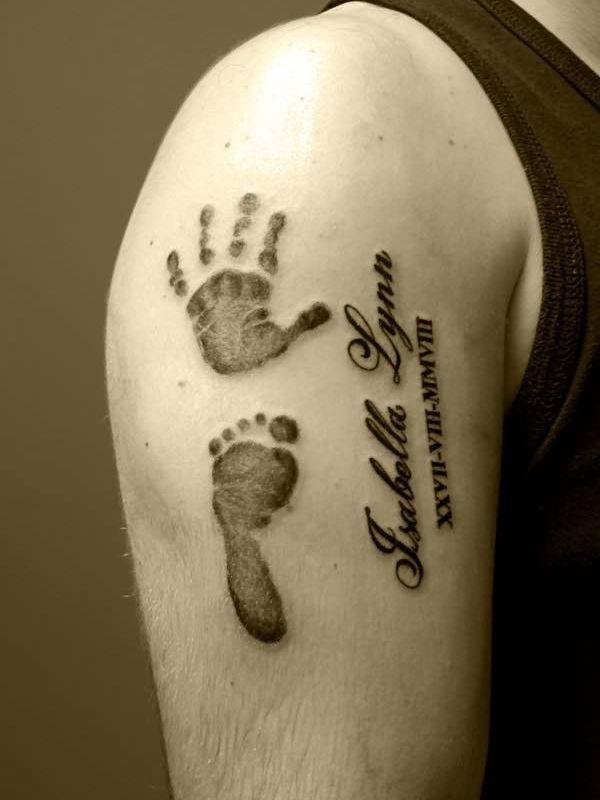 37. A Cross Symbol
This beautiful cross design has some strong symbolism to it. Add it some strong terms like faith, family, and strength.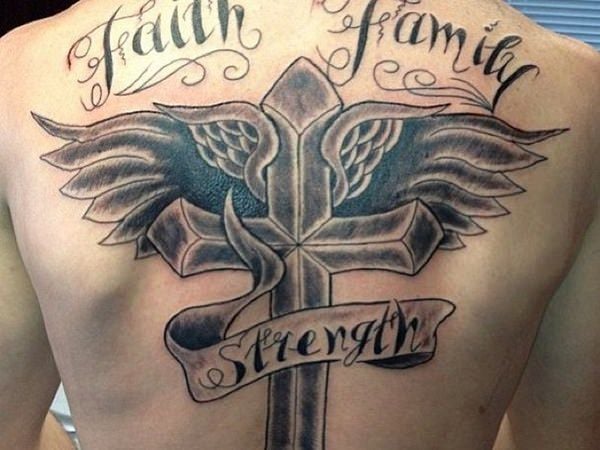 38. Beautiful Bird
A great, beautiful bird with a heart and the word "Mom" that compliments the look. It's a very simple design, one that looks a little cartoonish.
39. Specific Dates
Another example of the family tree except this one is a more realistic version. This one also has all the birth dates of the people in the family. It's a great example of what you can do if you have your heart set on a family tree.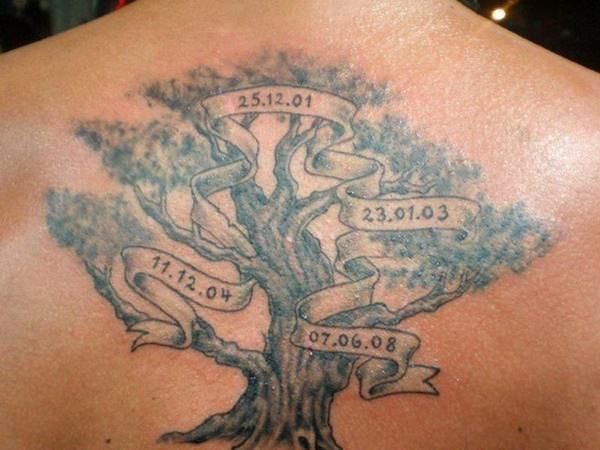 40. Loving Your Mom
A great tattoo for those that love their mom the most. It's a simple gesture and one that you are sure to love. It's a great way to tell your mom just how much you love her.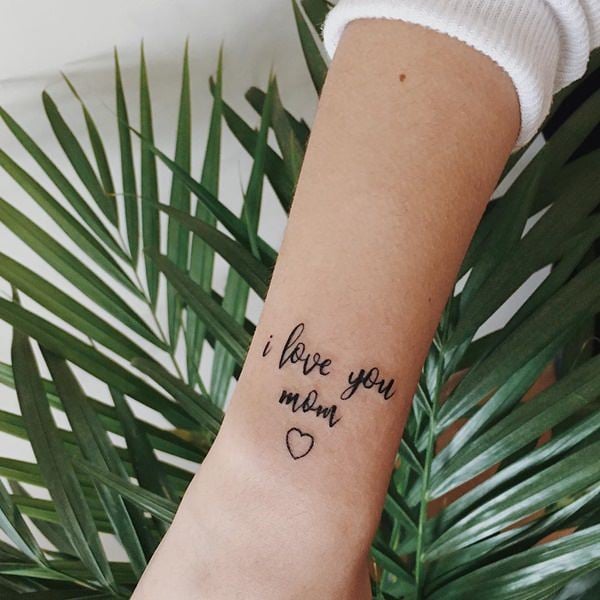 41. The Royal Family
A crown is a great way to represent your own family in a royal way. If you are the King of your family and you take care of them, then this is a great tattoo for you.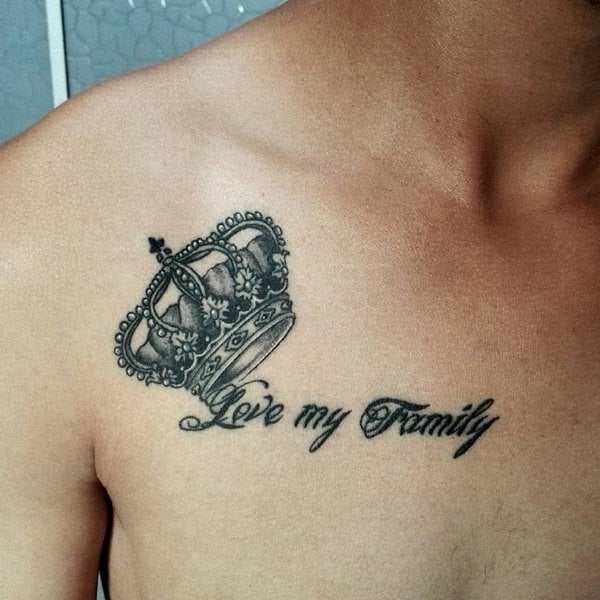 42. Stick Families
How cute is this little stick family tattoo? A father that has some serious love for his little girls. The beating red heart is the best part.
43. Bright Designs
A great design with some serious flare and bright colors.