The Buddhist culture and belief system is one that is practiced and revered around the world. Buddhist philosophy is beautiful, and their ideas about life transcend throughout. For those practicing Buddhists, and for those that simply admire the ideology, a Buddhist tattoo can help to bring about inner peace.
Whether you're a practicing Buddhist or simply have a strong belief in Buddhist philosophy and art, Buddhist tattoo designs offer a wealth of intricate, striking and meaningful options. The beliefs at the heart of Buddhist philosophy call for morality, mindfulness, awareness, wisdom and understanding, so it's understandable that those interested in tattoos and body art feel a kinship with Buddha's teachings. Whether you're looking for a depiction of Buddha, a Buddhist symbol or a Buddhist prayer, these 20 creative Buddhist tattoo designs should inspire you.
Buddha's Face
A classic choice for a tattoo of Buddha, a design of Buddha's face is beautiful and easy to achieve on practically any part of the body. A large Buddha face covering the entire back is truly spectacular, but a smaller design on the arm, leg, stomach or shoulder can be equally as eye-catching.
A Golden Buddha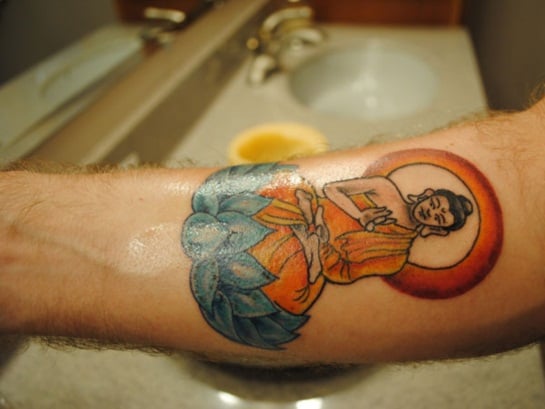 Golden Buddha statues are revered throughout the world as a great symbol of Buddhist teachings, and a tattoo of a golden Buddha makes the most of the wonderful colors. Golden Buddha tattoos can depict either the whole body of a meditating gold Buddha, or just the face. Either way, your tattoo artist can use light and color to their best advantage and make your tattoo glow.
A Meditating Buddha
A meditating Buddha tattoo is a popular design, but it doesn't have to depict a golden Buddha. In fact, these designs look amazing in both simple black and gray or glorious color, and the addition of flowers, trees and other nature symbols will make a great combination a larger design. If you're looking for a tattoo to make a real statement, then why not have a vast, detailed meditating Buddha tattooed on your back?
The Laughing Buddha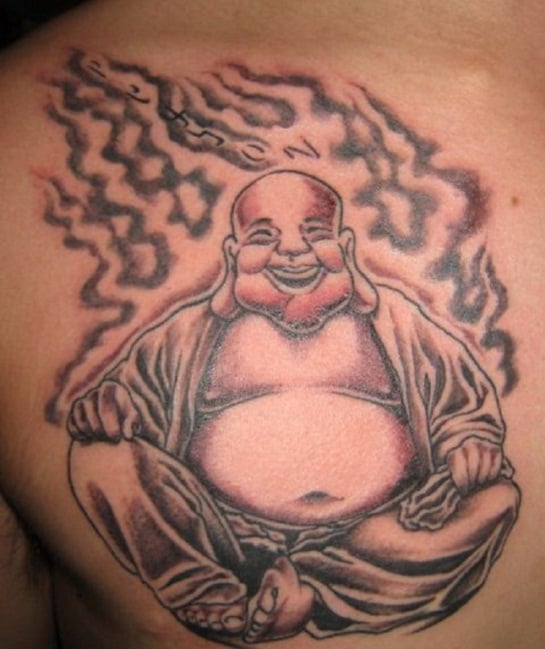 When thinking about Buddha, the image in many people's minds is the fat, jovial laughing Buddha. Based upon ancient Chinese folklore, the laughing Buddha is a recognizable and light-hearted option for a tattoo design, whether it's the whole body of Buddha or just the face. With his big, wobbling belly and cavernous belly-button, the laughing Buddha is also a great piece to have tattooed over someone's stomach, with the person's own belly button sitting in the centre of Buddha's belly.
A Buddhist prayer
Buddhist prayers often consist of certain mantras that are repeated in order to attain enlightenment, so choosing a meaningful piece of prayer to have as a tattoo is a superb option. A popular choice for a Buddhist prayer tattoo is the symbols for the mantra 'Om Mani Padme Hum', which is used during meditation. A Buddhist prayer can be tattooed anywhere on the body, and many people choose to have them on the inner forearm, the chest or down the ribcage. A more unusual location that's becoming more popular is to have a Buddhist prayer tattooed vertically down the back of the neck, and this is an ideal choice for women who want to show off a slender neck!
Mandala Wheel
A Mandala, or Mandala Wheel, represents the wheel of life in Buddhism. The Mandala is an intricate design that depicts the universe, enlightenment and wisdom, so makes a beautiful, interesting and detailed design for a Buddhist tattoo. Although they look striking in black and gray, the use of color in a Mandala tattoo really makes the different pieces of the design stand out.
Dharma Wheel
A Dharma Wheel is an image of a wheel with a central hub and spokes, and is a beautiful choice for a Buddhist tattoo design. Less intricate than a Mandala, the Dharma might be a better choice for someone looking for a less detailed tattoo that won't take as long to work on. Representing the Buddhist religion, it produces a striking and evocative tattoo design.
Lotus Flowers
Lotus flowers are an important symbol in Buddhism, symbolizing rebirth, strength and enlightenment. As well as looking exquisite, a lotus flower tattoo offers different meanings depending on the color, and makes a great addition to a larger tattoo design. They can be done in color or in black and gray, and will suit any part of the body. A cluster of lotus flowers look particularly good as a full- or half-sleeve design.
Bodhi tree
The Bodhi tree is an instrumental motif in the Buddhist religion, as it is the tree under which Buddha was sitting when he gained true enlightenment. A classic black and gray Buddha meditating under the Bodhi tree makes a wonderful large tattoo, either on the back, chest, or thigh, and the tree alone would look perfect tattooed up the side of the ribcage.