Tattoos have always been a fascinating and attractive form of artwork during all times. They sometimes symbolize different things or your personality or depict your thoughts and can even show your feelings for your loved ones. With the new trends of fashion, the craze for different tattoos is increasing among people. That is why we regularly come up to you with different types of tattoo works, and today we are introducing STINGRAY TATTOOS.
The stingray tattoos are basically inked in gray and solid black colors with detail and shading and represent traits and attributes of the stingray. Stingray tattoo always act as a symbol of speed, agility and protection. With the detailing of artistic effects and shading, stingray tattoos can be designed in various sizes, but usually people prefer large sizes on the back.
The best feature of stingray tattoo is that they can be worn by both male and female and can hold the symbolic meaning to the wearer. Although stingray tattoos can be designed in a variety of ways but the leading one is tribal stingray tattoo. Mostly worn by the tribal people of Pacific Islands,  they may represent a person's rank in the tribe or status.
STINGRAY TATTOO MEANINGS
Although the design of a tattoo is the basic thing that attracts and convinces someone to get it inked bu it is very important o understand the meaning of tattoo also. You should not rush for a tattoo until you understand what the design of a tattoo depicts. Stingray tattoo also represent various meanings, both negative as well as positive.  You can choose a tattoo whose meaning represents your personality.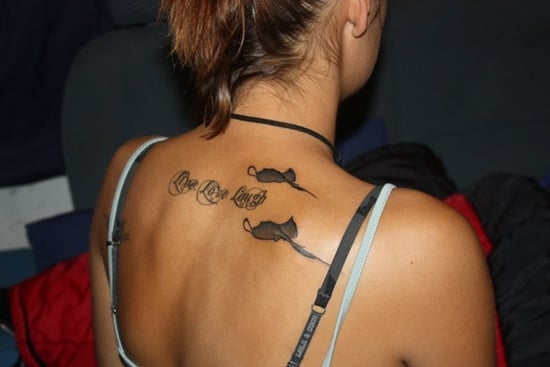 Some of the meanings of stingray tattoos are:-
Adaptation
Graceful
Protection
Peaceful
Emotional
Friendly
Sensitivity
Stealth
Poisonous
Agility
Speed
Danger
VARIATION IN STINGRAY TATTOO
There are several ways to design a stingray tattoo. Although tribal stingray tattoos are the most popular kind but your creativity has no limits. Stingray tattoos can be portrayed in realistic ways also or even as a cartoon. If you love water, the design of stingray tattoo can also portray something related to ocean like water, bubbles, plants and even aquatic creatures like octopus, starfish, dolphins, fish, sharks etc.
Often, stingray tattoos are designed alone in gray and black colours with the detailing of shading to give the stingray dimensions. Most people get it inked on their backs but some daring people can even cross the limits of our imagination and get a design inked that portray the stingray piercing a heart.
We have come up with a variety of designs of stingray tattoos that depict various meanings. You can choose any of these according to your personality and choice or even add some creativity of your own. This fantastic collection of stingray tattoos may inspire you for your next tattoo…
Before one rush to get a tattoo inked, there are a few things that one should keep in mind. Proper research should be done for the tattoo design you want to go for. Know about its meaning and history. Your tattoo should symbolize your personality or your thinking. If you have some second thoughts about the design, take some time to decide so that you do not have to regret later. Tattoos are your lifetime gifts so select them wisely.
We hope that you enjoyed visiting our website and this blog. We assure to keep bringing various tattoo  trends regularly to you and fascinate you with the most interesting and attractive artworks. Keep visiting our website for new updates. And don't forget to post your comments about this post. You can also share your different tattoo experiences with us.