When it comes to tattoo designs one of the most symbolic ones are the ones dedicated to one's father. People of both genders feel the need to express their love, affection and devotion to the paternal influence by having a dad tattoo done. Many women simply go with "daddy's lil girl" or "daddy's lil angel" to show the special bond they have with their fathers. With men dad tattoos are more to do with flaunting their fatherhood.
Some people do go for this tattoo as a symbol of remembrance of their dad. Often this would mean that they lost their father in an epic struggle – either through an accident, or disease or even a war. In such cases the tattoo would have elements that were the favorite of the father like his favorite animal or his hobby or his passion. Tattoos dedicated to dad also go with the ones dedicated to the moms. After all love of ones parents is one of the things that makes us what we are today. If you feel that your parents have had a big role in your life and shaping your destiny you may feel the need for such tattoos.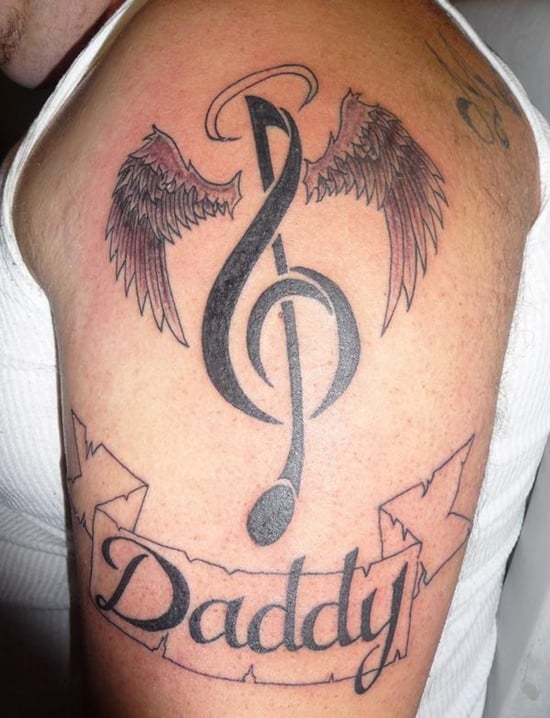 The meanings of dad tattoos: The norm of such tattoos is they normally signify the special bond a child has to their parent. It can mean protection, honoring the contribution of a father, the guiding light, love and bonding, eternal bonds and family ties.
Some ideas for dad tattoos: When you go about looking for ideas you will find that there is no dearth of ideas out there. Each artist will have his or her own take on this theme. They will even incorporate your ideas when they come up with the final design. You can base the theme for the dad tattoo on factors like:
What made him smile?
What was your dad's passion?
What was his inspiration?
What was the special element in his profession that you can include in a tattoo?
What does the word dad really mean to you?
What was his favorite place
Once you think of these things you will be able to come up with a tattoo design that is significant and shows the bond you have with your father. You can also go with tried and tested designs like hearts, stars or a family crest. Some people show a wolf as this signifies family.
Tattoos that are great for memorial of your dad: Many people go in for a dad tattoo because their father is no more. So they feel by having a dad tattoo they are not only honoring his memory but also having a symbol of protection.
Also See: 48 Inspirational Baby Tattoos for Parents
One such tattoo design could have the cross which is also a symbol of faith and devotion. We can also have the heart as a symbol in the dad tattoo, though this is one that women tend to prefer. You can pair a father and mother tattoo together to show the most important people in your life. Some people use flowers, anchors, barbed wire, birds and many other symbols.
We would like to leave you to go through the designs and ponder over what works for you. But as usual we leave you with a caution; do think of all angles before getting a tattoo done. It is something that you have to live with and you need to consider all angles before going for one. By that we mean not just the design aspects but also all the other related pros and cons that go with tattoos.