Sisters are bound together by blood, making it the strongest bond that anyone can come across. And whether you currently love your sister or you currently loathe her, you know that the two of you will forever be together in your heart. What better way to show this bond than through matching tatts?
Sister tattoos are some of the sweetest tattoos around. Nothing spells laughter, fun and good talks like a sister does. Sisters have a special bond that's sentimental and unique. The next 61 designs are heartfelt and endearing as well as funny, entertaining and interesting. Do you have a sister or someone who is like a sister to you? Consider getting one of this unique designs to signify your friendship. Tattoos are a great way to represent how you feel about someone.
Who gets them?
Sisters! But, surprisingly, it's not just limited to blood relatives. Sometimes friends feel closer than blood and easily call one another family. So if you don't have a sister, no worries, these images will still entertain you. Consider one of your best friends and perhaps think about getting a best friend tattoo.
Where do they place the ink?
You'll notice below that typically the tattoo is only complete when the other person is around. Therefore the designs are usually in places that can be connected when the other person is present. For example, forearms, hands and feet are very popular spots. You'll also see the occasional behind the ear or even leg and back art. Where would you choose?
What's the current palette for sister tattoos?
You'll see a variation of colors from bright and showy to small and detailed. You might see stenciled or you may see elaborate images. They are usually tailored to what the sisters (or people who feel like sisters) want in their design. The color is an important part of the tattoo because it is part of the story in why you get one. Bold colors often mean something totally different than subtle pastels. It all just depends on how you define your relationship.
61 Endearing Sister Tattoo Designs
1)This is a cute design that is Halloween themed. They each have cats with the word, "boo" inscribed. It's fun and carefree and probably describes they're relationship very well. The way the art reflects in the sunlight probably means that these are fairly new designs.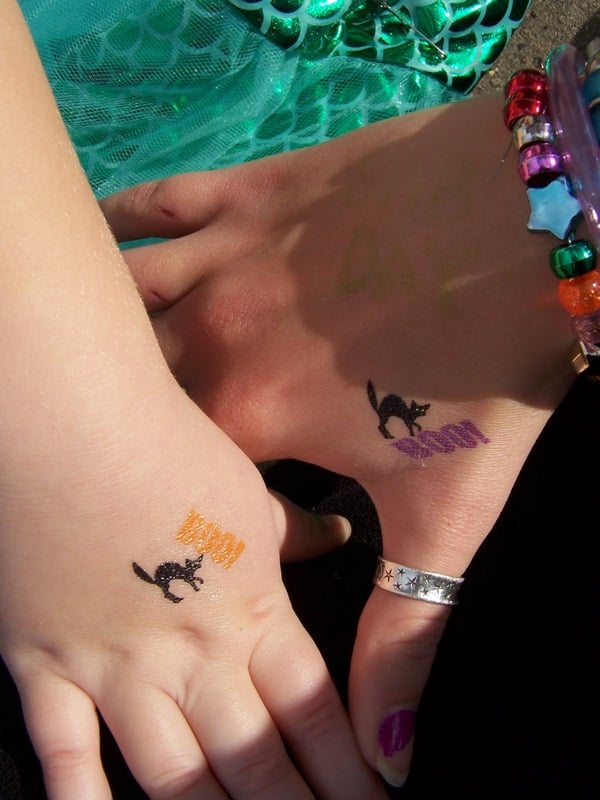 2) These images are really cool because of the contrast between the designs. One has color and one is black and white. This could be symbolic of how each sister approaches life. Check out the detail and the shading. It's very well done and a great conversation piece. You can tell they have a special bond.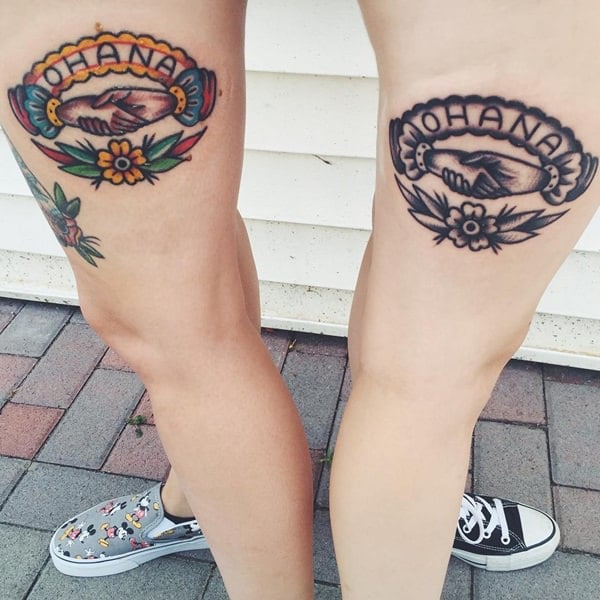 3) These elephants go well by themselves but look even cooler when paired together. It looks like a Thai elephant with the unique design in each animal. Notice how the trunks both extend toward the other elephant? This is a smooth look and a flawless tattoo. We especially like the hint of color on the elephant's saddle.
4) Here's a great example of what sister tattoos look like when they are meant to be paired together. It looks as though they are remembering important dates, perhaps their birthdays with girls on swings. It's simple and yet charming. The hair in a bun on one girl might suggest she's a bit prim and proper whereas the other sister may be a bit more carefree as her hair blows in the wind.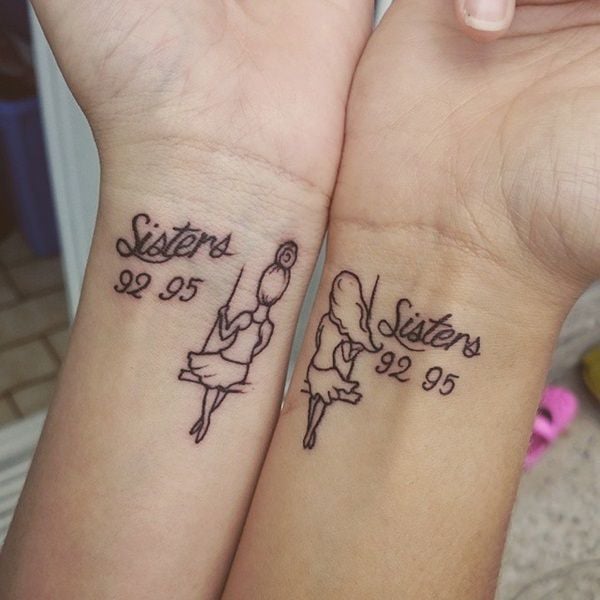 5) This is a really cool image of three sisters with birds and keys. We particularly love the detail in each bird. The artist did a great job so that each one looks exactly the same with little to no variation between birds. Notice the small attention to detail that the artist did by connecting the keys.
6) Behind the ear is a popular ink spot and these sisters decided to get flowers to signify their friendship. The pastel colors are subtle and calming.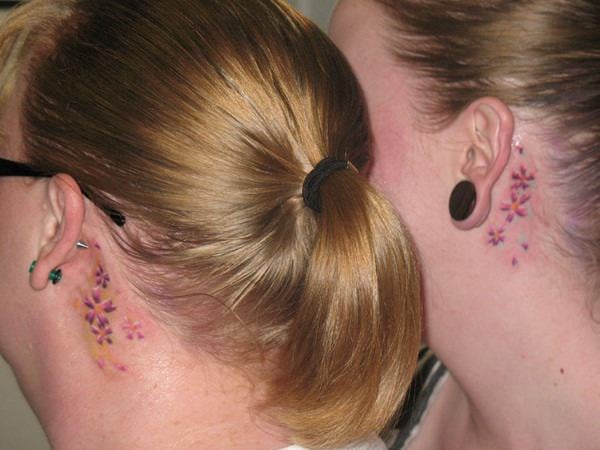 7) These back tattoos are interesting and bold. Though easily covered for places such as work, they are also easy to show off on the weekends with a tank top.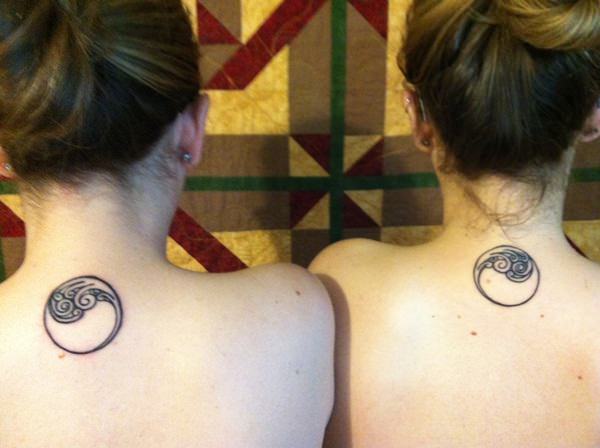 8) Those pineapples look good enough to eat! The line detail is well done and the coloring looks so vibrant. Again, these designs go well by themselves but look really great when paired together.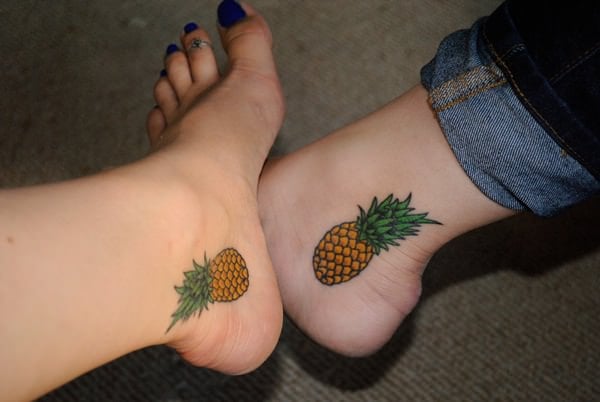 9) These sweet sisters literally inked, "sisters" on the top of their foot. That's a pretty gnarly spot to tattoo because it's so boney. Anyone have some personal experience getting the top of your foot inked? This looks like they wrote out the word sisters and the artist copied it which is another great option if you can't find a font you like.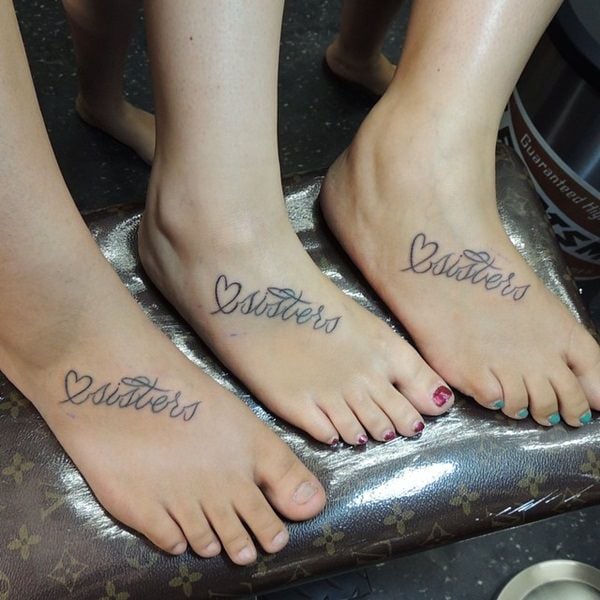 10) Such a cute joined tattoo. The line connects them and is not complete until they are together. It's a simple design that wouldn't take long to complete if your looking for something quick.
11) Feathers are very popular right now and these sisters took it to heart by getting the same design on their forearms. The variation of shapes within the feather makes it unique.
12) This is a fun and witty design that probably represents that they love singing and having fun. We really like the pop of red on their lips. It brings the whole tattoo together and makes it pop.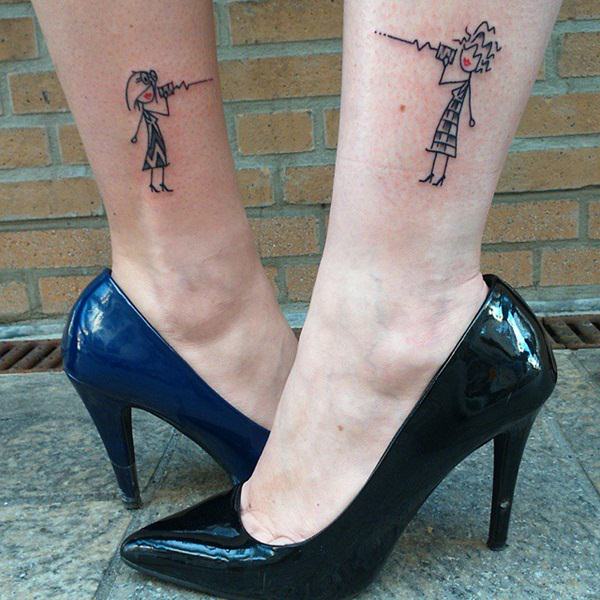 13) Owls are really cool and usually have something symbolic to do with wisdom. This could signify that these girls go to each other for advice. The variation in color in each design is a great way to show that they are from the same family, yet still individuals.
14) Really cool flower tattoos that have the same general theme and yet are completely different. They showcase that each girl is her own woman but that they also love and respect each other a lot. The artist did a great job with the shading and showing contrast through his art.
15) Placing these types of tattoos on different parts of the body is another unique way to symbolize oneness and yet independence. Would you choose a spot for you both to get or would you choose different spots? The coloring looks vibrant and the shading causes a dimensional look that shows talent on the part of the artist.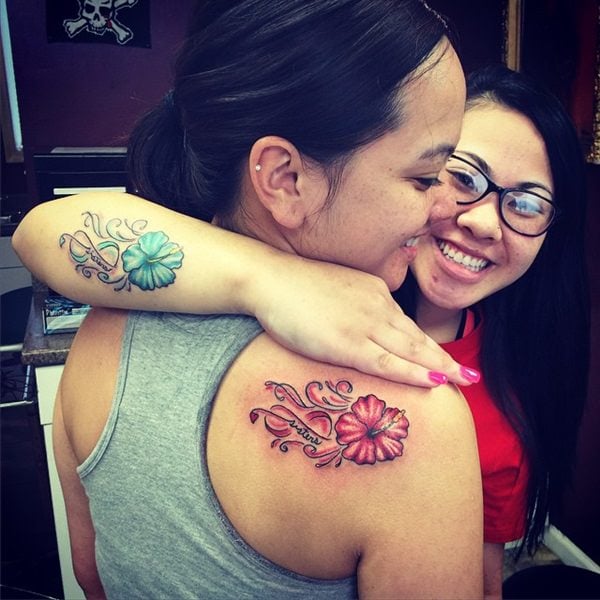 16) Sometimes a simple heart tells it all. The white banner contrasted with the red heart and blue and green flower really go well together. The design may be uncomplicated but the affection these two have for one another is touching.
17) Sometimes people opt to write words into their images like these three did. The light colors and whimsy curves of the heart suggests they are carefree and fun.
18) Here's a large image on their legs that signify their relationship. Though this is a rather bold image, it truly is beautiful. The eyes are so sweet and the detail is exquisite. The artist chose incredible colors that really bring the whole design together beautifully.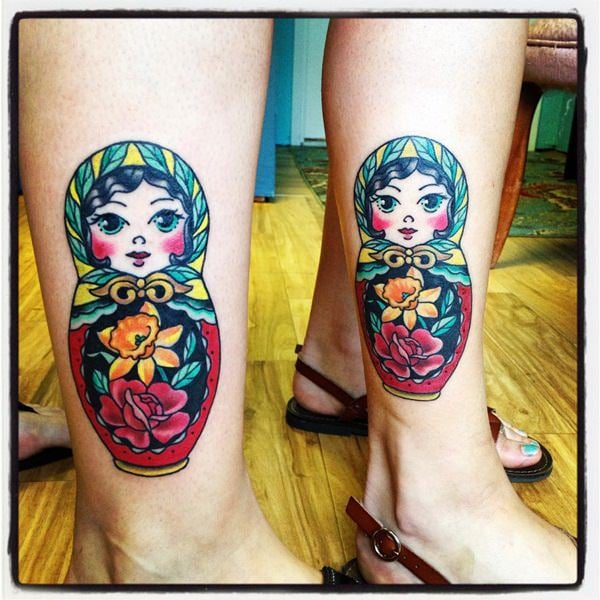 19) This is so sweet, simple and to the point and we totally dig the font. It's such a great way to remember each other and show some love.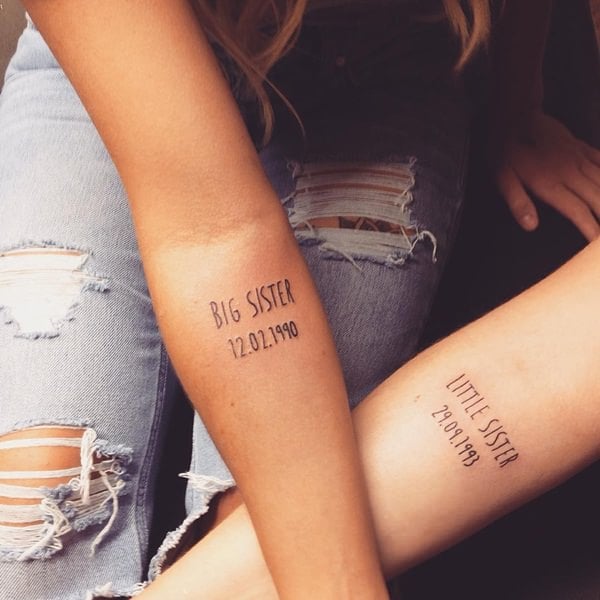 20) These hearts look like they could possibly be apples. What do you think about this image? It's got a lot of different types of green with some yellow infused to offset it. It's bright and bold with great line detail.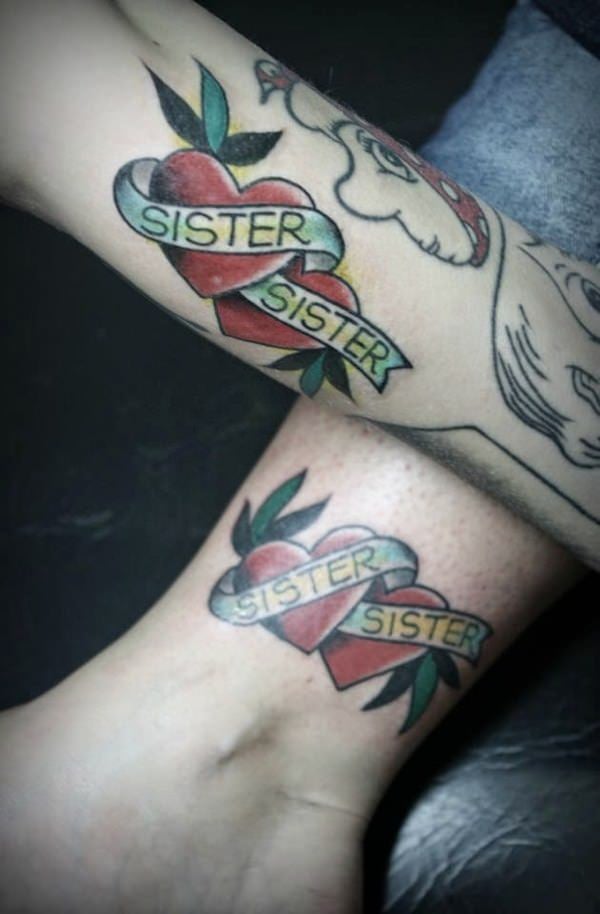 21) These flowers with crescent moons hanging below are simple and endearing because it could mean a variety of things. The way they chose to use their skin as the backdrop for color is a really cool idea which is rising in popularity.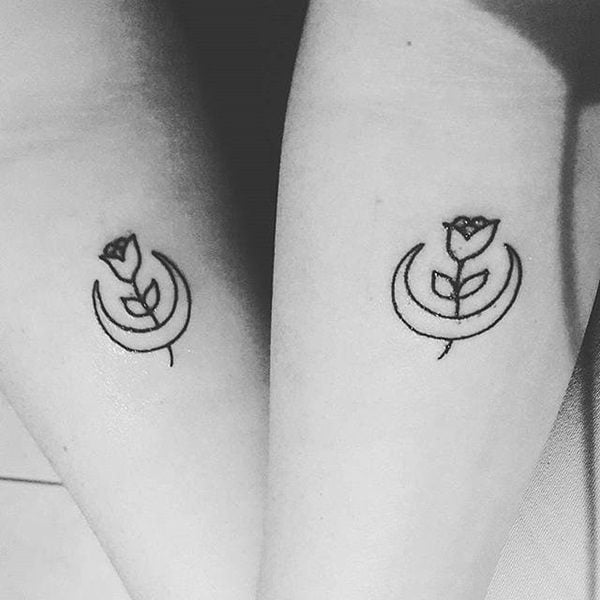 22) You wouldn't necessarily think that they tattoos aren't complete until they are right next to each other. Then you might notice that one owl has it's eye open while the other is still sleeping. Or that one has stars over it's head and the other has a moon. Or that the flowers vary in number on each bird and one branch has a flower while the other has a leaf. These little nuances are creative ways for each girl to express herself individually. It's ingenious and looks really good.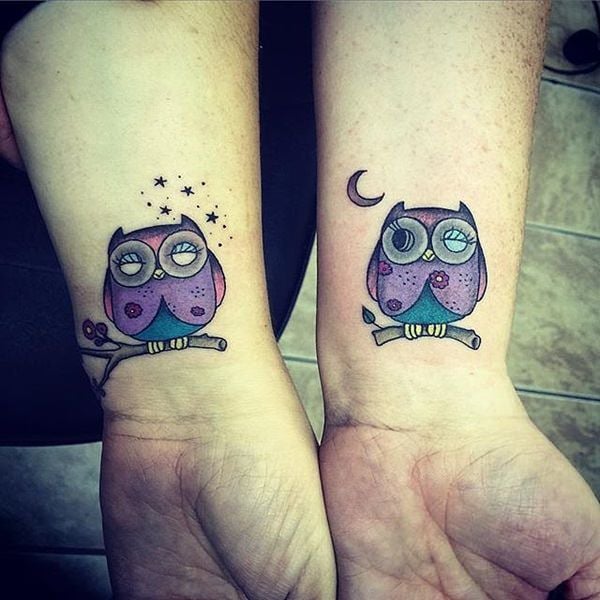 23) Seriously, these cats are too cute! The variation in size and appearance is a great idea to represent each sister and we love the skin as the backdrop color for the images.
24) Upon first look, you might not even notice the small and subtle heart. This is a great idea if you don't want something too flashy but you want something that represents your sisterly bond and love.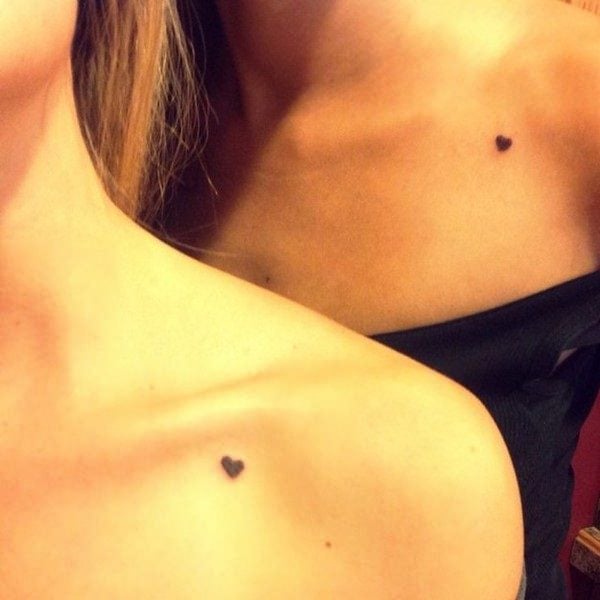 25) This is a really cool finger tattoo with enough variation to be different but when paired together, you can tell their is symbolic meaning. It's pretty hipster and looks really cool.
26) Here's a really interesting helmet tattoo on a puzzle piece. The colors vary and the images could possibly mean that these girls have made it through the storms of life together. Or it could mean a myriad of other things. It's a really creative design that is original to them.
27) Here's an artsy and flowing inscription of the sister tattoo with butterflies flying overhead. The forearm is a popular place to ink and is a great tattoo. It's also a great first tattoo because you can add more if you choose to do a sleeve.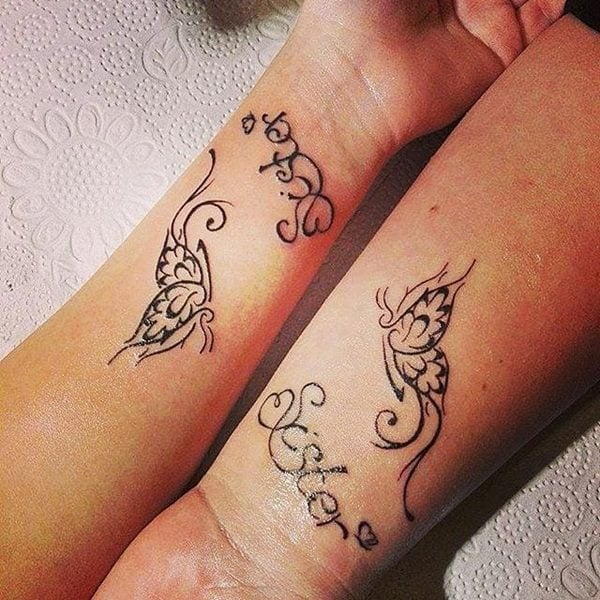 28) Birds flying with hearts just above the ankles shows these sisters carry a common bond and love for one another and their family. The flaming heart suggests passion and as the bird carries the heart perhaps it means they've been their share of heartache together.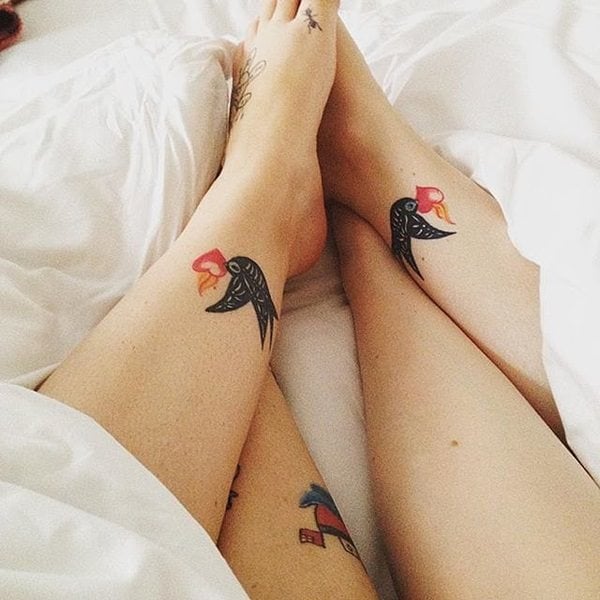 29) This is a great representation of each personality being so different and yet the common bond of sisterhood bringing them together. The different fonts look fantastic and makes for a pretty rad picture.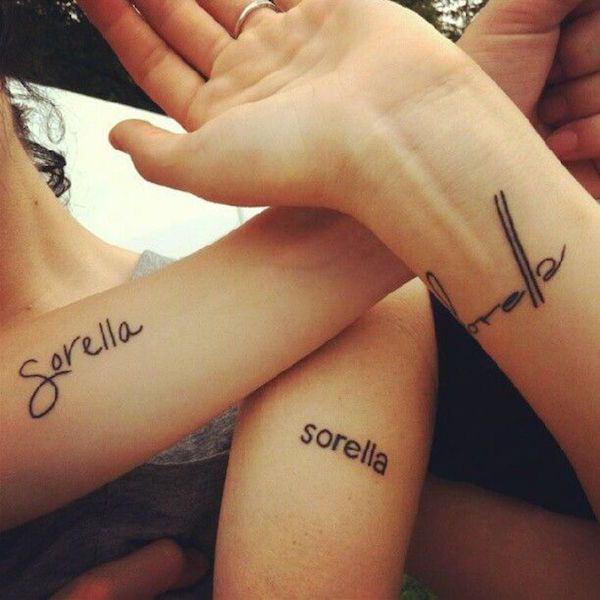 30) A simple horseshoe that might mean that a common love horses solidified their friendship. Maybe they bonded over this sport as friends or maybe their true family with a love for the equestrian life.
31) Flying birds are so popular these days and represent freedom and flying away from the past and onto new adventures in the future. The artist did a great job with these images.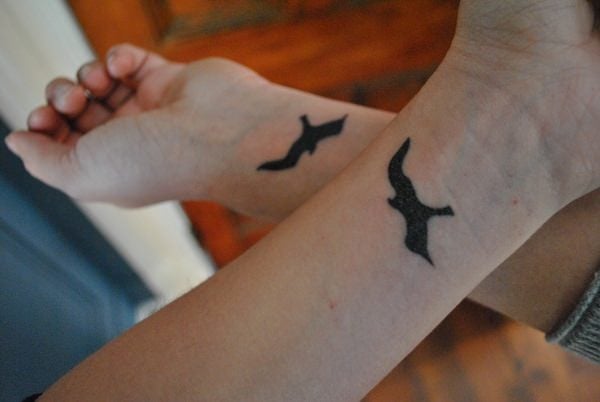 32) The infinity sign with sisters written into it is a unique way to honor each other. They could have drawn it and the artist may have copied it.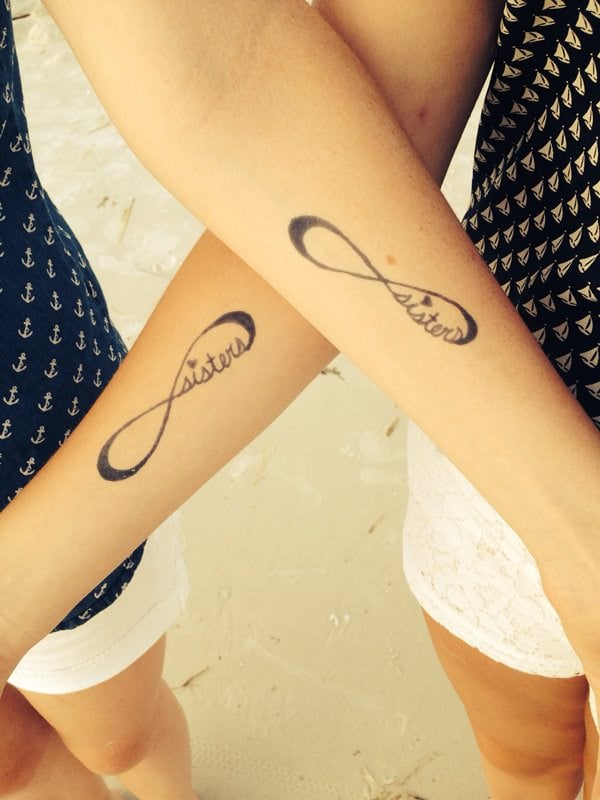 33) These lizards are funky and fun. They are also brand new because you might notice how red they are and how the vaseline reflects in the flash. Keep in mind, it's really important to protect fresh ink from the sun. Keep it covered as much as you can so that the tattoo heals quickly and doesn't fade from direct sun exposure.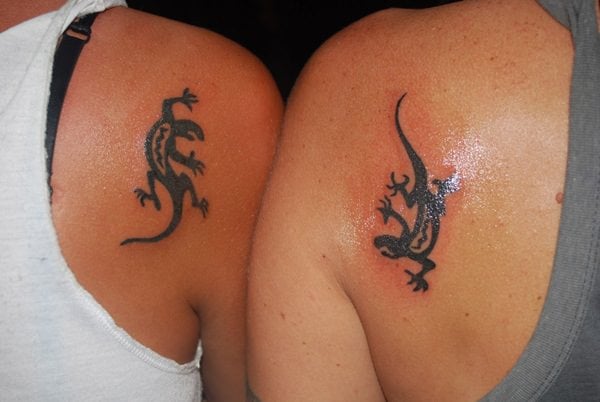 34) These designs might mean these girls have a funny, quirky side to them. The artist did a great job capturing the blank expression in both images.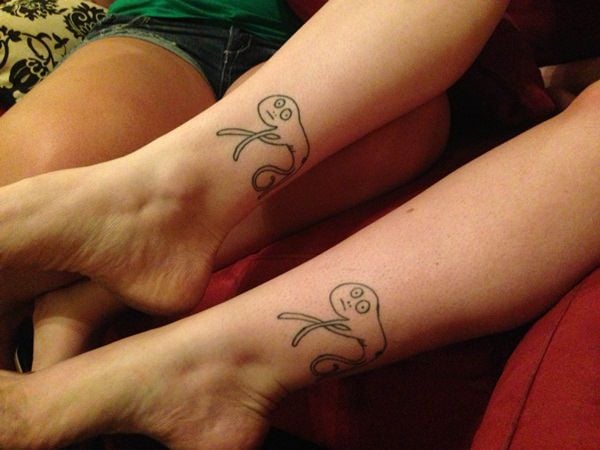 35) This is a really cool tattoo because they girls are playing telephone. It's incomplete until they are all together. It might mean that they all live far apart but they still talk on a regular basis and are very much part of each other's lives. It's super creative and it was probably a really fun memory getting inked together. We really like the subtle colors on each design. The red eyes, the yellow hair and the red balloon all probably have sentimental significance.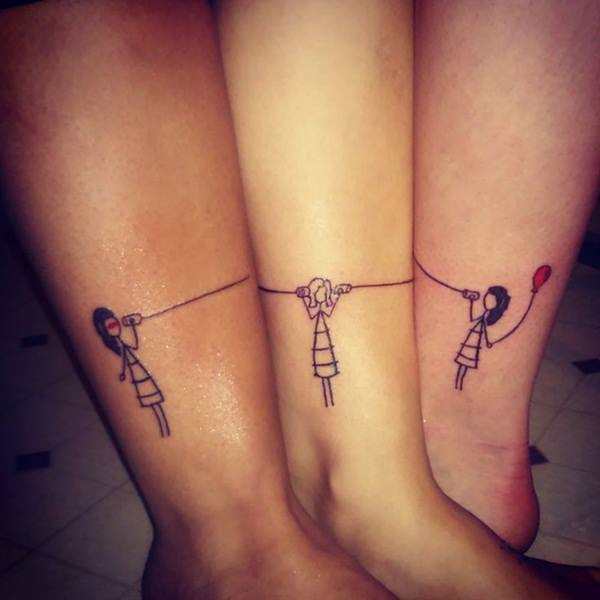 36) These girls probably enjoy having a glass of wine together and catching up. Notice how the artist caused a dimensional look in the glasses. It's simple yet very well done.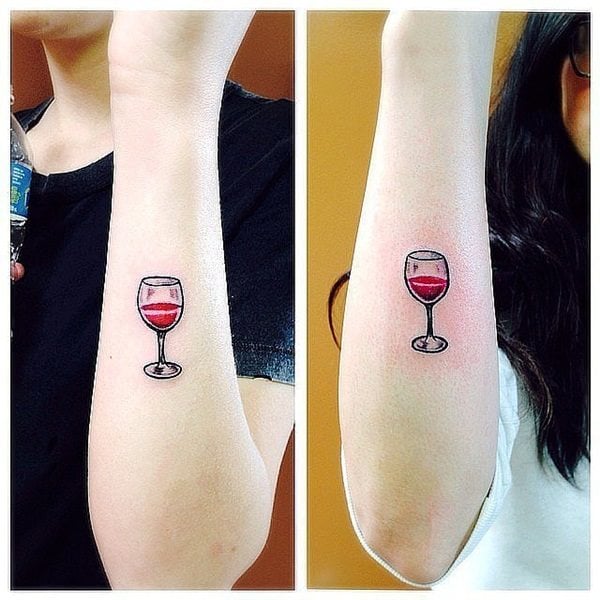 37) These acorns might signify that they both fell from the same tree. They have great line detail as well. The placement is unique to them personally.
38) These small moons are quaint and meaningful to these women.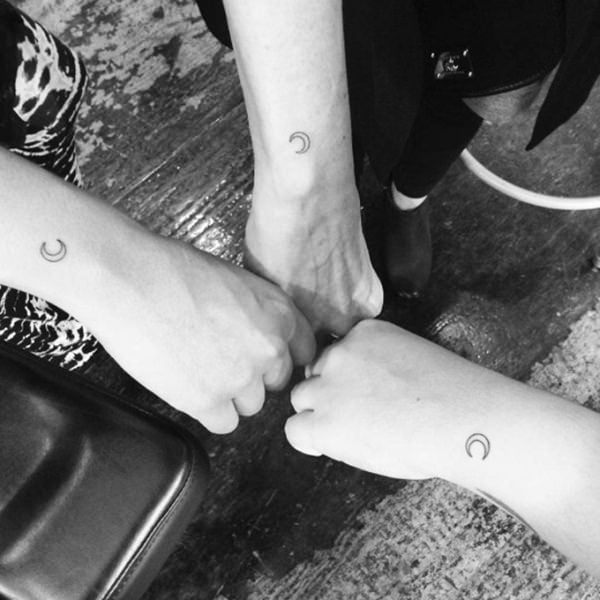 39) These ballerinas are beautifully done. The red and pink tutu's really pop and are the central focus of the design. We like the variation of color because it suggests that though they both love dancing, they are still different people.
40) Here's another moon design. It could mean a variety of things and maybe it signifies the passage of time. Wrist tattoos are really quite popular and are great starter tattoos.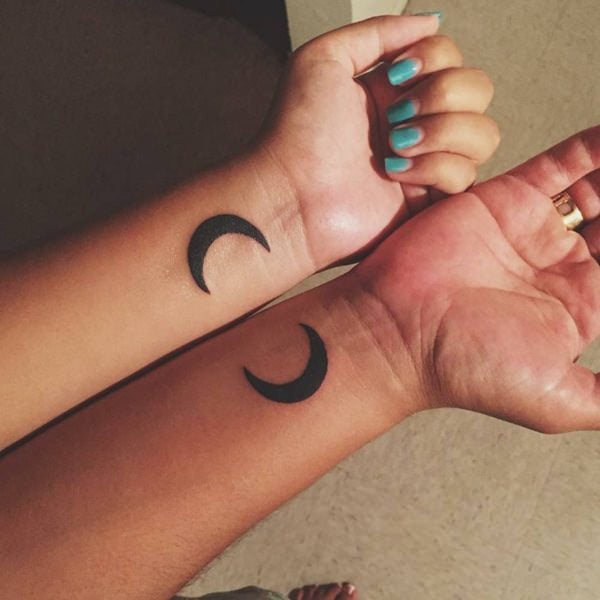 41) These sweet little cats appear to be giving each other high fives. This could possibly mean that these girls are always there for each other, encouraging each other in whatever they are doing in life. It could also mean that they are fun and have a great sense of humor. The detail is really great and the artist did a good job.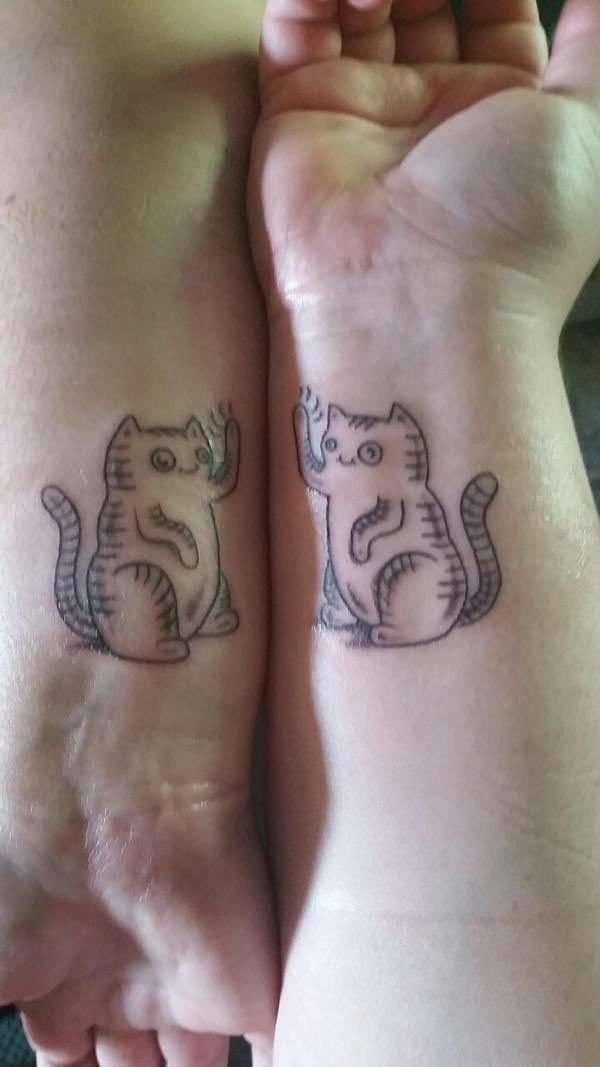 42) Top of the foot tattoos are always pretty sensitive. One of the women got an anchor and flowers on her foot which might mean that she is the one who holds the other sister steady. The other sister has a skeleton of an animal on her foot with the roses which might mean that both girls are doing something in remembrance of something or someone.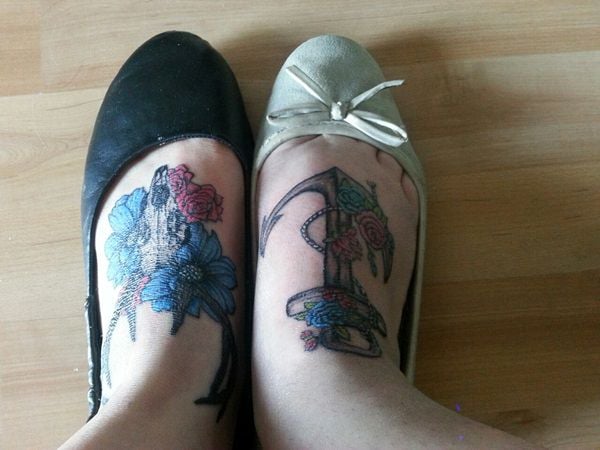 43) Unicorns often mean power and dominance but they can also represent purity and innocence. Maybe the tattoo with added stripes means that she is the older sister and has been through more challenges in life.
44) Geometric shapes are trending right now and these birds look really cool. Both placements are great choices for this look. The designs are hip and edgy and the artist did a great job capturing that look.
45) Quotes are great ways to show love for your sister. This quote says that they will never walk through anything in life alone. That has to be comforting to them when they look down and read this quote.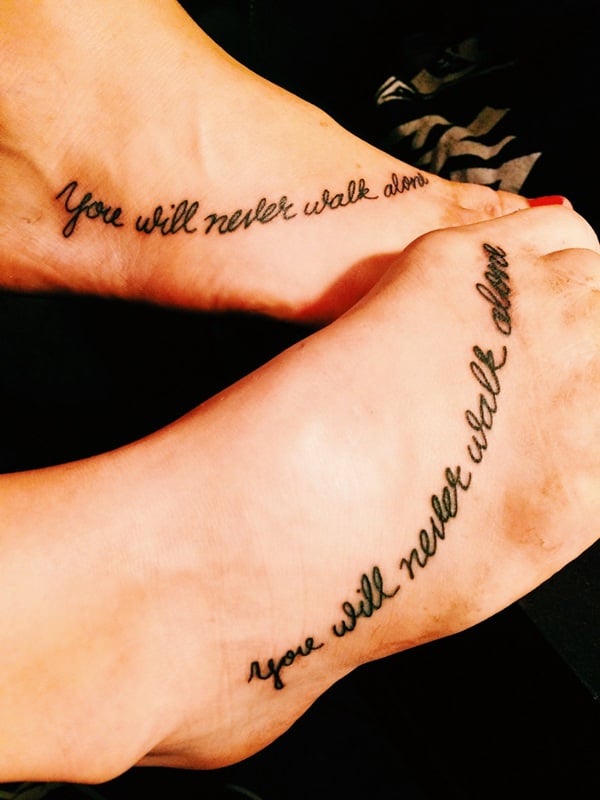 46) You might have noticed that small hearts are a common sister tattoo. The designs aren't flashy, just simply a design that is sweet and loving.
47) This moon and sun design has some great shading and coloring. Both placements are great choices. The designs are easily hidden and when the women want to show them, the designs look fantastic.
48) Drawing any sort of facial expression is really hard to do and takes a very talented artist. This artist did an exceptional job of capturing the essence of these eyes. They are so real and life like and look so intense.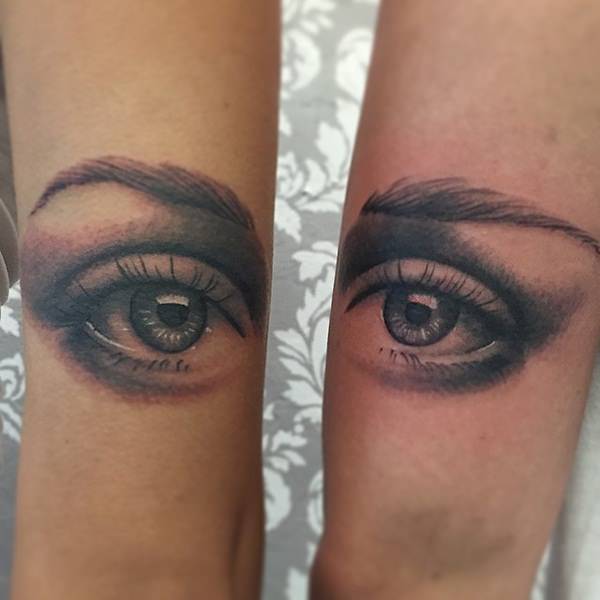 49) Here's a symbolic Roman numeral that is significant to them. It's bold and could mean a variety of things.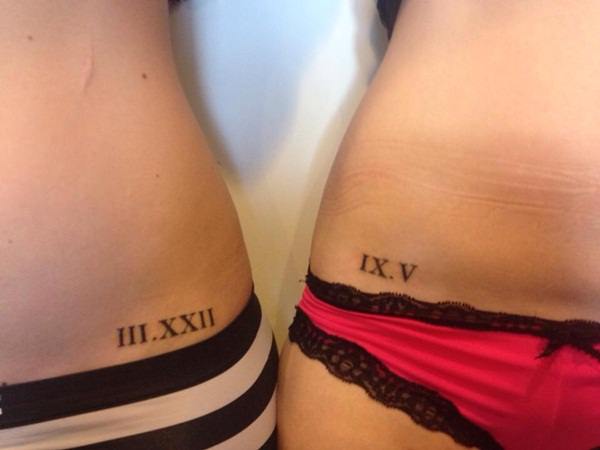 50) This is a great idea that might represent the big sister, middle sister and baby sister. The artist did a great job with the line detail.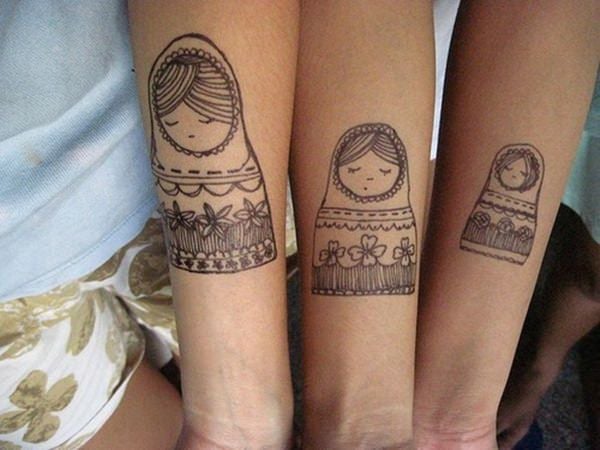 51) These feathers have excellent shading and line detail. The birds flying up and away look really cool and could possibly mean something significant that both women are moving past.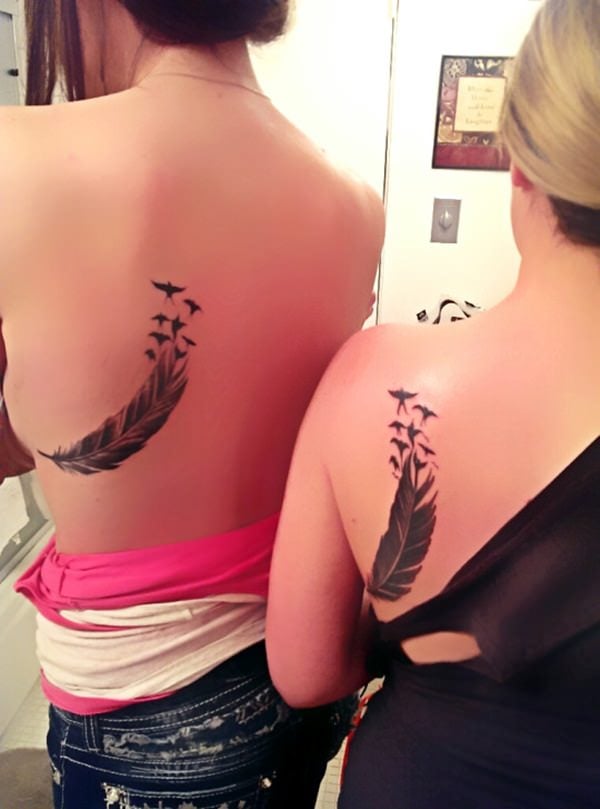 52) Here's another great design of the crescent moon on the wrist. It's so simple yet so meaningful to the sisters.
53) Having a quote that is only complete when your with the other person is a really great idea. They chose a cool font and the artist did a great job.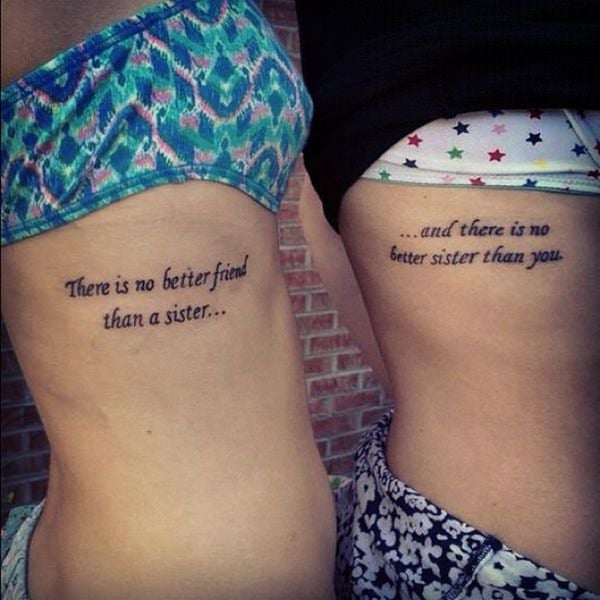 54) These recently inked heart tattoos are complete with the black outline. It makes the design have a really polished overall look.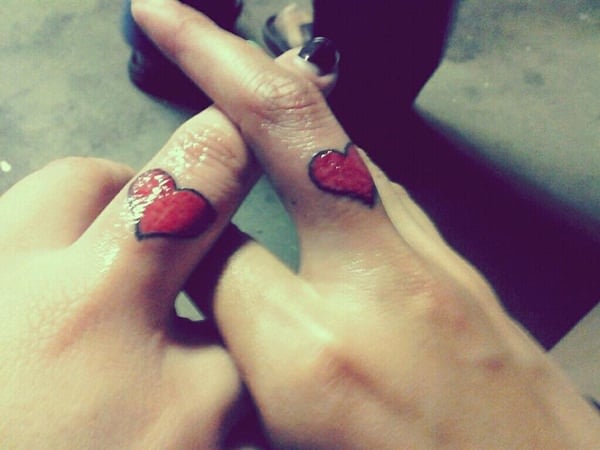 55) A great quote from the movie, Toy Story. Buzz Lightyear's saying is a very popular tattoo and we really love the font they chose. The ribcage is a popular spot and the whole look is well done.
56) Here's a quirky saying that's really cool. The design looks fantastic and has so many vibrant colors that really pop. The artist did a great job weaving in the flowers, the tea cups and the saying.
57) These three got a unique, top of the foot tattoo. The variation in color adds to the overall look and the shading looks great.
58) Take a look and see what's different about each tattoo. You might notice that each woman has a different triangle colored in. Great way to integrate individuality and also signify their spot in the family tree.
59) Flower tattoos are pretty and expressive and these are no different. This is a great choice.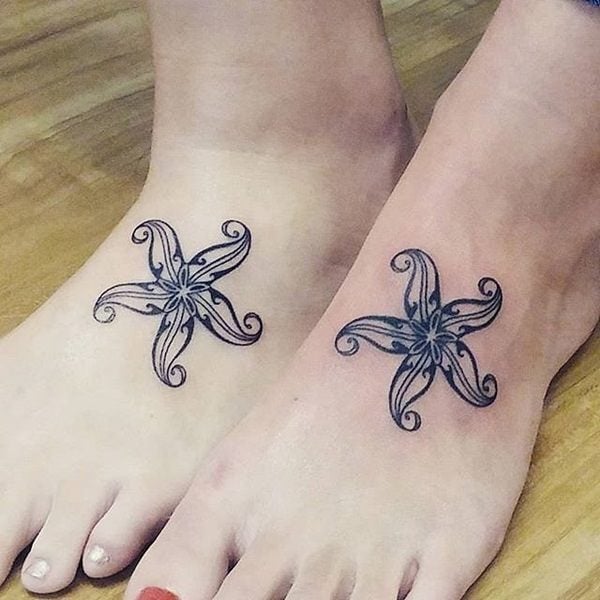 60) It's really cool how both designs go the opposite way. The red and green are great colors that flow really well together.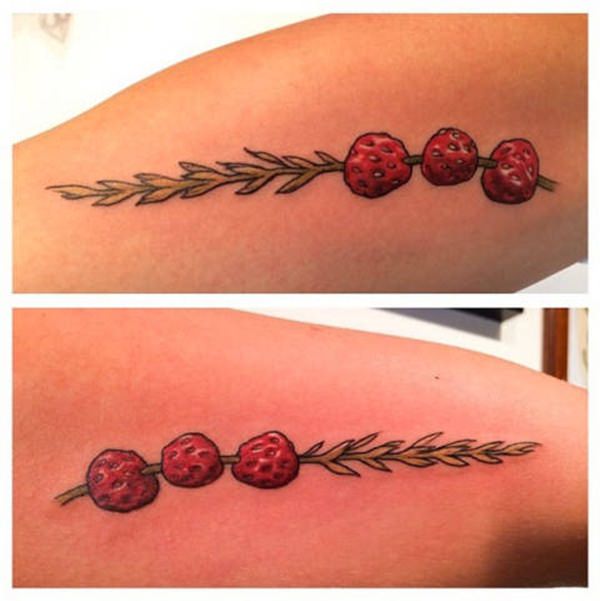 61) Anchor tattoos are a great choice for sisterly love. So often, a sister is the person you call when you've had a bad day, need a shoulder to cry on or just need someone to laugh with. These girls probably got these tattoos to represent how they keep each other level headed and continually growing and moving forward.
Sister tattoos are fun and sentimental. Sisters often share a bond that not many people experience. The cool thing about sisters though is that you don't necessarily have to be family to be sisters. Although most people are related, there is that one in a million friend who you just click with. You're best friends and your bond feels as close as a sister. Whether you have a blood sister or best friend who's like a sister, did one tattoo design in particular stand out among the rest?
Tattoos are such a great way to represent how you feel about someone. They can be so honoring to the other person and it's so cool when you both feel the same way and get tattoos to signify that friendship. When you're trying to decide what type of design you want to get, sometimes it helps to write it out on paper. Write down words that you think of when you think of your sister and that might help spark an idea for a creative image. Decide whether you want a quote, a single word, an image or all of them. Think through color palettes and decide if you want the tattoos to be identical or if you want some variation. Designing tattoos is such a fun and creative process and it's totally ok to take sometime to consider your options. Look at lots of different designs and find one you both love. Talk to your artist and make sure they are comfortable drawing it and then have fun. It'll be a lasting memory you'll both share.
It's always important to take into consideration placement. We shared popular places in the above posts, but be sure to find one that works for you and your lifestyle. If you work and they have body art guidelines, be sure to check if your placement is against the dress code policy. If you like to be original, think of a creative placement. Afterwards, be sure and take care of your newly inked skin