Although many people don't have pleasant feelings about rats, we hope you will find rat tattoo to be a strange thing to be admired. There are also some who would love this creature and even make them their companion as a pet. Mainly these rat lovers find rat tattoos  a very interesting type of artwork.
Whenever we think of a cute rat, the image that comes in our mind is that of the famous cartoon character JERRY. You can use such cartoon figures in your rat tattoo and give it a humorous twist, or you can send out a message about a rat fink. There are some unique designs that are made to say what someone thinks of that.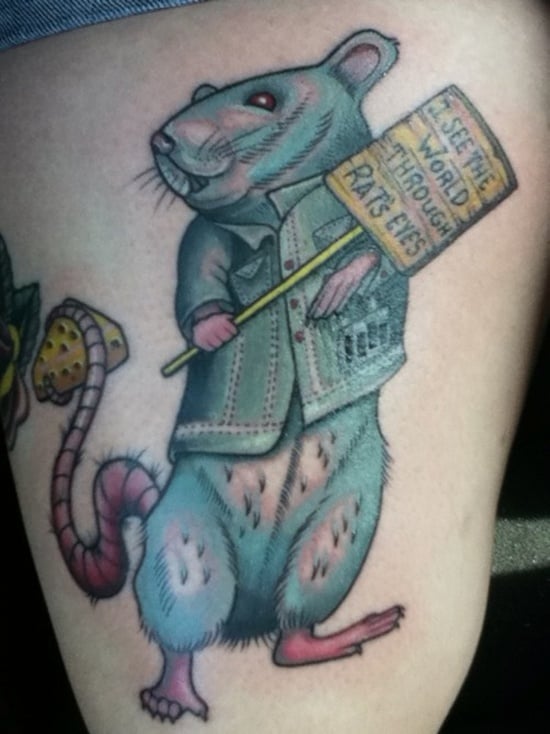 So, today we have brought to you something related to this interesting theme which will definitely fascinate you though you are not the one who loves rats.  Unless you have allergic feeling towards rats, some rat tattoo may appeal your attention towards it. There are various ways in which you can get this special kind of tattoo inked upon your body. Some of the designs are shown below. Just give glance at them.
Rat in Hand Tattoo
This interesting design is really noticeable. The detailed work makes this tattoo look real. As this is a large sized tattoo, you can have it done on a larger part of body such as your arm.
Rat tattoo on Chest
In the rat tattoo on the chest below, I made it a larger size because the uniformity of color made it difficult to see, and you also miss a lot of the details because of that.
This tattoo of rat is blended with floral design to make it attractive. This beautiful piece of creativity has got uniformity in colour which makes it difficult to catch the detailing of the work done by the artist.
Pet Rat Tattoo
Some people have so much love for their pet rat that they get inspired to get the image of their pet rat on their body for the whole life. This beautiful and cute piece of artwork well describes the emotional bond between the wearer and the rat.  The artist can add a real factor by giving a pink colour to the little claws of the cute rat.
Creepy Rat Tattoo on the Shoulder
If you are not so fond of rats and want to get rid of them, whenever you see them in your house, then you may portray the same image of rat as in this tattoo. This piece of artwork is not easy to create and looks pretty real. Getting such a tattoo on your shoulder is out of the box idea but noticeable one.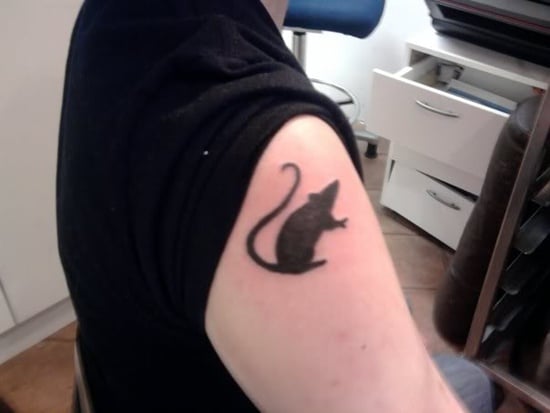 Rat Stuck in Cage Tattoo
You would have surely seen a rat making endless efforts to get out of the cage whenever it gets caught in it. So, this tattoo would surely seem to be close to real picture to you. This pretty intense tattoo has got a fence which itself looks as a design and adds to the look of the tattoo.
Rat on Skull Tattoo
This design is no doubt, a serious one but pretty interesting idea. Although the colour scheme is not very convincing, you have the scope to use your creativity.
Rat Priest Tattoo
This idea of painting a rat as a priest is quite funny and creative. Although, I cannot guess any symbolic meaning behind this tattoo design, but I find this colourful rat very cute.
This is probably a popular idea from somewhere, but I simply don't know where the source is. Either way, the rat with antlers is a pretty cool idea.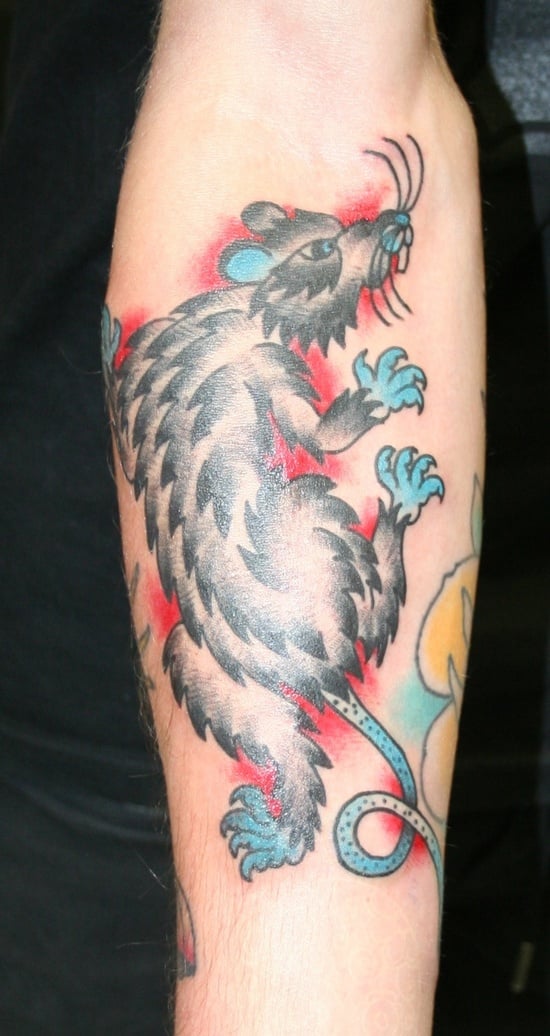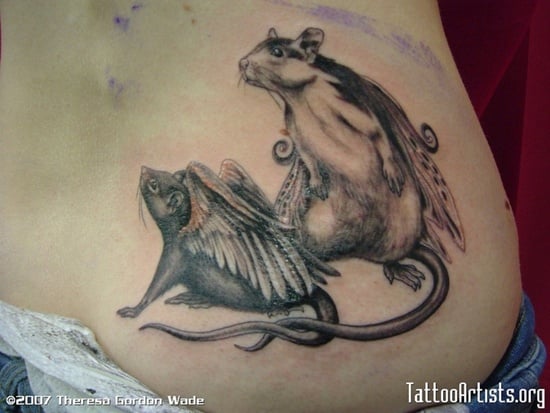 Rat with Antlers Holding a Key
This cool idea of a rat with antlers holding a key is pretty cool. Although the source is unknown,  the idea has gained much popularity.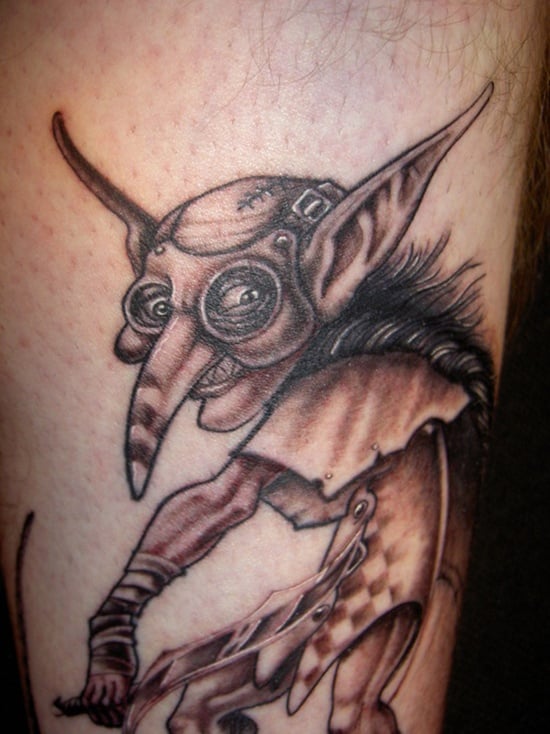 Asian Rat Tattoo
In an Asian theme, a rat is blended with flowers and given a beautiful look. This innovative concept of the artist, no doubt, is a source of amazement. They can just pick anything randomly and blend it with some other strange thing in such a beautiful way that it takes the form of a trend.
This tattoo design is mostly observed among women and clearly shows that not only men, but women also, are fond of rats.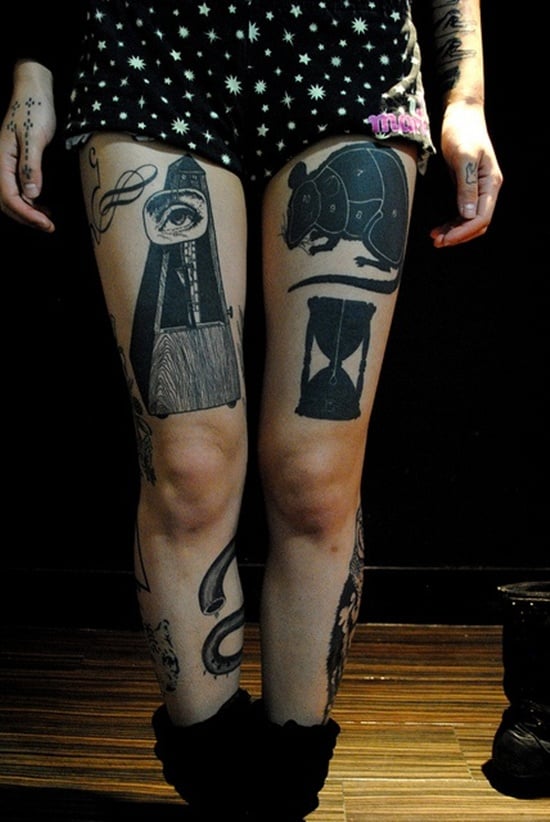 Rat Wearing a Hat
This idea of making a rat wear a hat is humorous in itself. This fun tattoo is very eye-catching.
What a fun cartoon tattoo rat below. I love that old samurai warrior helmet and the band around his waist.
Samurai Rat Tattoo
Although the rat in this tattoo who is dressed as a samurai warrior, is in an angry look and is ready for attack, but still one would find it a fun tattoo only. This colourful tattoo is very interesting.
Rat Tattoo on Foot
This fascinating idea of designing a rat with a paint roller is really funny and appreciable for the creativity.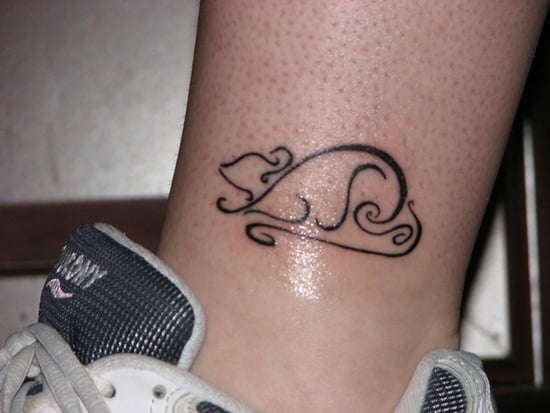 Here are some ideas for rat tattoo: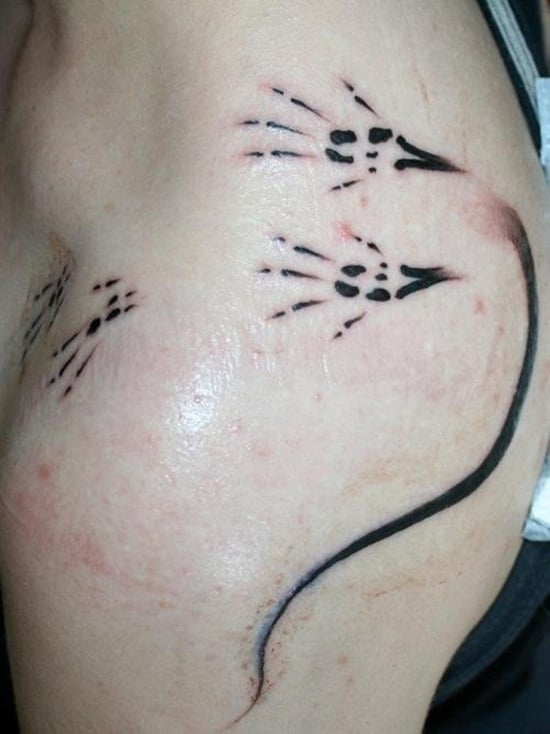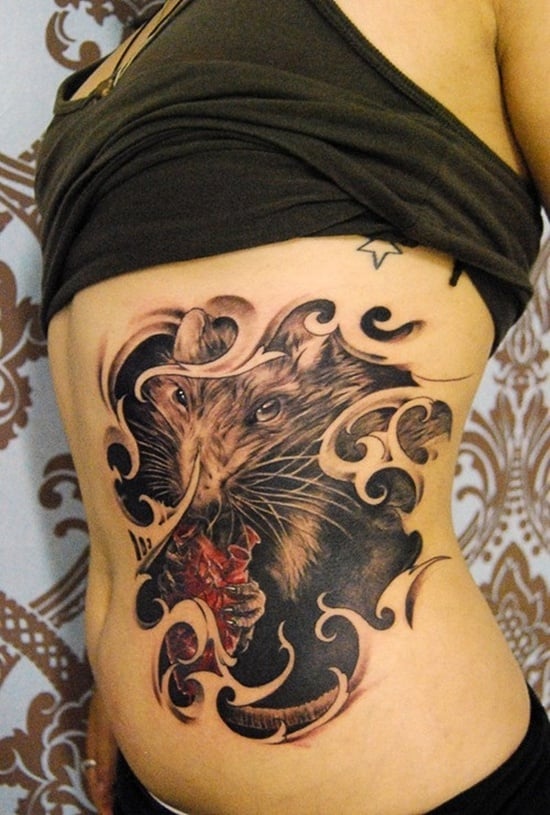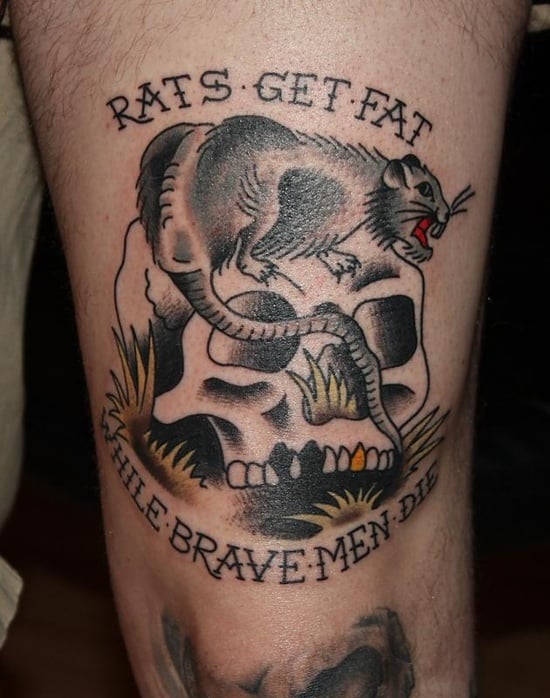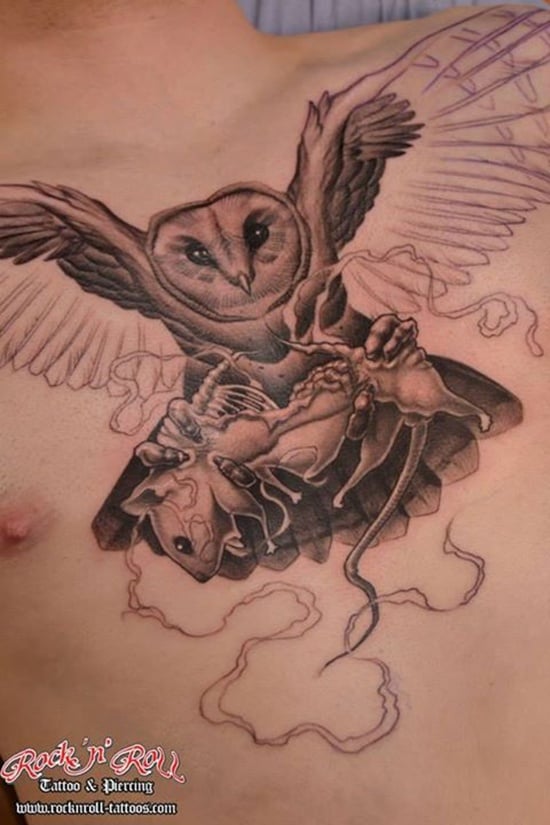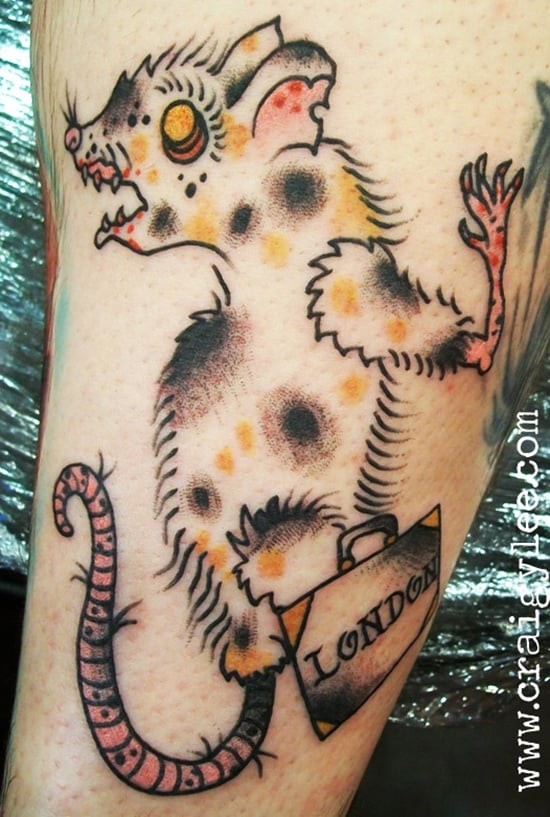 Thanks for visiting this page and our website. Feel free to post your comments.