If you are looking for a new tattoo idea, something that is not only memorable but intriguing as well then why not consider getting a cool looking heartbeat tattoo design. They are truly unique when you want something that means something and also looks pretty amazing.
The heartbeat tattoo is usually a design that someone gets in order to honor someone that they love and it's a great idea for that. Many people will attach a birthday or their name with the heartbeat tattoo.  It's the best possible way to express your love for another person if you are looking for a tattoo to do so. It's a popular idea right now, and it has a special touch to it as well. The great thing about the heartbeat tattoo is that it's unique to the person that you love. Everyone has a different heart rate, and the ink design you choose can represent that person's own heartbeat. Below are some amazing tattoos that show off great ideas. Here are 54 Memorable and Intriguing Heartbeat Tattoo Ideas:
1. Two Lovers
This is a stunning design of two lovers who have attached their names to their heartbeats bringing them together forever. There is no better way to show your love for another than to tattoo it to your body.
2. Heartbeats Together
These two heartbeats look great together. You have your own heartbeat on each wrist and bring them together when your lover is around. It's a great idea for someone looking to get a tattoo with a loved one.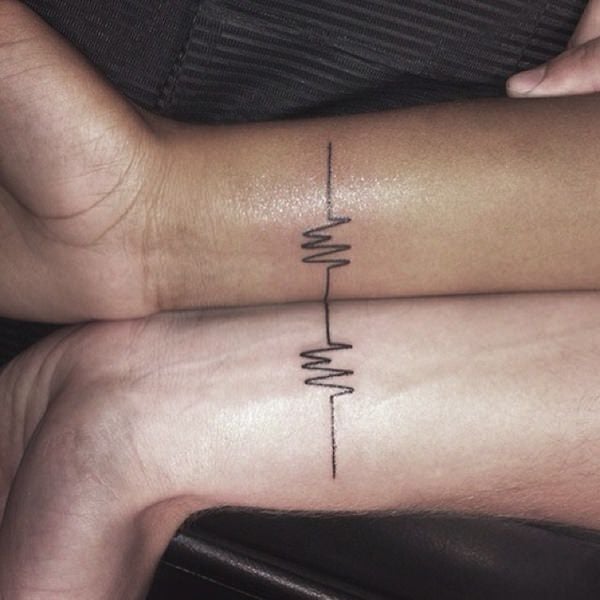 3. Behind the Ear
A great design that is small enough to tuck away anywhere. If you are looking for something small, then this is it. I love that the heart in the middle is a bright red, it really catches the eye.
14. Realistic Heart
This heart tattoo is very realistic, with veins and all. You can see the heartbeat coming right from it as the heart listens to its favorite jam. Tattoos like these are very unique, and they show great work involved. It's the kind of tattoo that people remember; it's original and very eye-catching.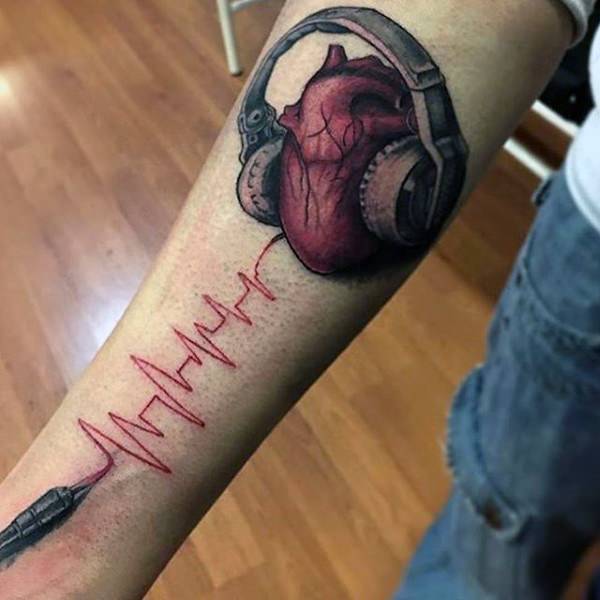 15. Faith and Love
If you want to represent the love you have for your faith, then this is a great idea. It combines the cross with the heartbeat. One is on each side of the heartbeat to create a sweet design.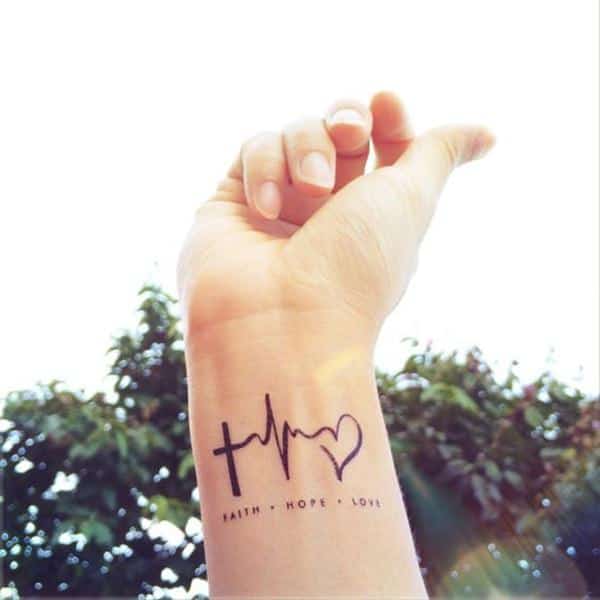 16. Heartbeat Tattoo Ideas
Another example of a standard heartbeat tattoo that can be placed anywhere on the body. In this case, the heartbeat is going straight through the heart. It's a small design if you don't want anything too big.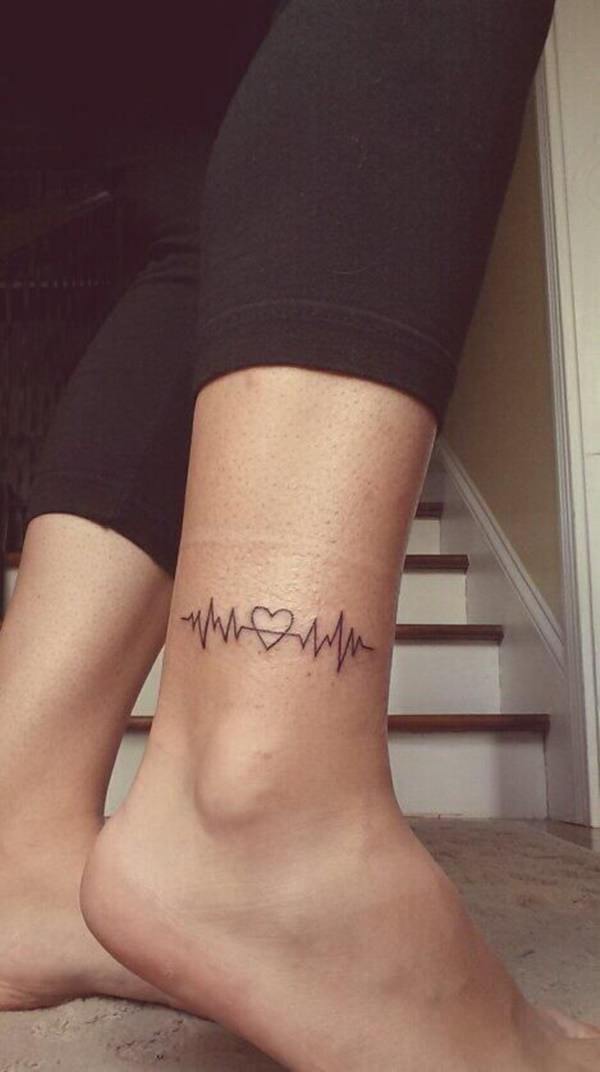 17. The Things You Love
This is a unique heartbeat idea because it looks like it shows all the things the person loves. Pick some places that you love going to and represent them. I love the Ferris Wheel as well as the little palm tree; they are all really great designs.
18. Life
Yes, you need a heartbeat to live, but this tattoo is all about loving your life. The word LIFE is in cursive which makes the tattoo very elegant.
19. Love Your Family
Get a heartbeat tattoo that represents the love that you have for your family. The heartbeat in this tattoo is tall and sharp, making a different design idea.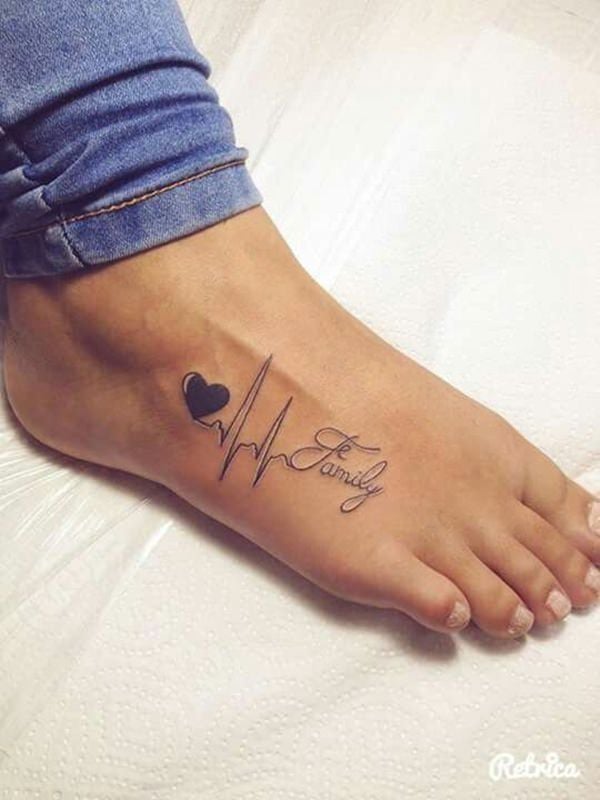 20. Beautiful Doves
This tattoo is beautiful because it has the name within the heartbeat as well as a dove to add a beautiful element to the design. The added blue coloring really softens the whole look creating a wonderful tattoo.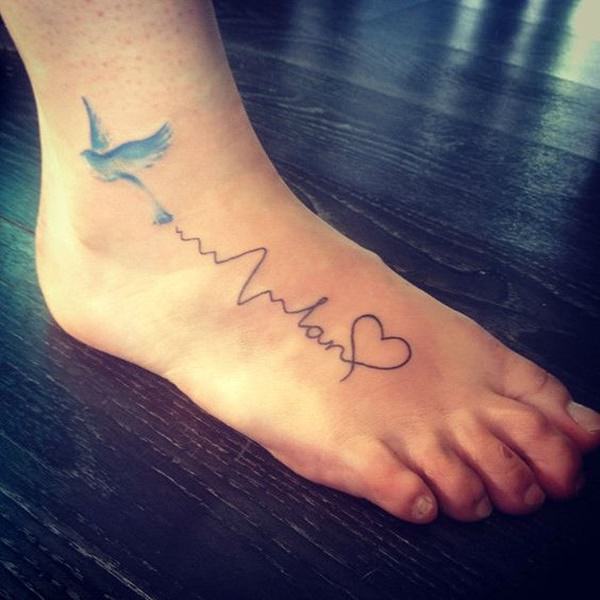 21. Love For Your Pets
If you have a pet close to your heart, then you may want to express that love with a heartbeat tattoo. If you love your pet like family, then you can't go wrong with a tattoo as sweet as this one.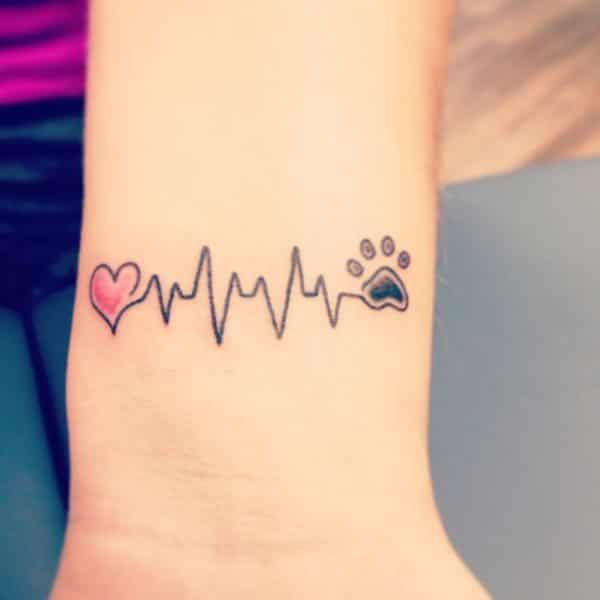 22. Bright Pink
This bright pink matches her sense of style. It's a small tattoo design that can fit anywhere and the bright pink really makes things pop. Stunning!
23. Love to Travel
Her heartbeat is all about her love for traveling. It's a small statement, but maybe that's all you're looking for, something that plainly states your love.
24. White Ink
White ink tattoos are becoming more popular by the day. They are a little more subtle than the traditional ink. If you want something low-key then using white ink may be perfect for you. The tattoo almost resembles a scar, and that might be the memorable look that you desire.
25. Initials
Using initials in a heartbeat tattoo is a great way to represent love. The initials are on either side of each other, and there is an added red heart as well.
26. Thick Lines
Using thick lines for your heartbeat tattoo can give it a very different look, it's all in what you are looking for. The heart is also filled in as well, creating a thickened look overall.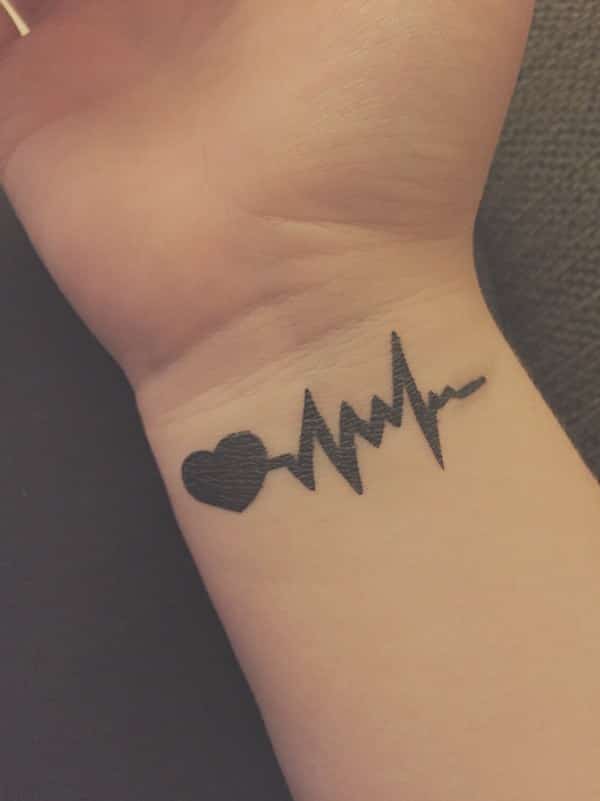 27. Adding Dates
A great idea is to add the dates of the person that you want to represent. It's a person touch that can help you to feel closer to that person. There is a small amount of color to contrast against the black. A great design that you are sure to love.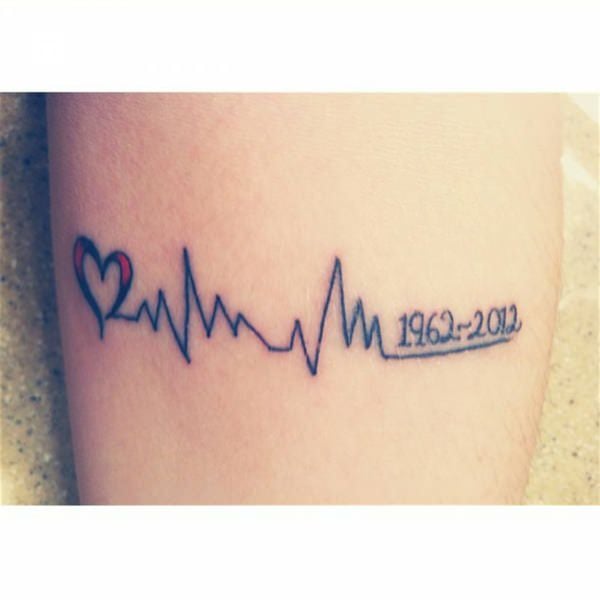 28. City Landscape
Maybe you have a love for the city you are from or a place that you fell in love; it could be a great way to remember it all. It's not the most unique look, but it doesn't have some originality.
29. Personal Message
Your heartbeat doesn't have to represent a person but maybe just an idea. Something that keeps you positive and moving every day. Positive messages are always great tattoo ideas because they are there for you to see every single day.
30. Cow Love
Create your own unique heartbeat so that you have an original design like this one. Maybe it's cows you love or pigs or even cats, whatever the animal you can attach it to your heartbeat to create your own original style.
31. Sisterly Love
A great tattoo design for sisters who want to get matching tattoos. It starts off with a heart that moves into the heartbeat style and then ends with the word Sisters in cursive. It's a fun design that will remind you that you love your sister no matter what.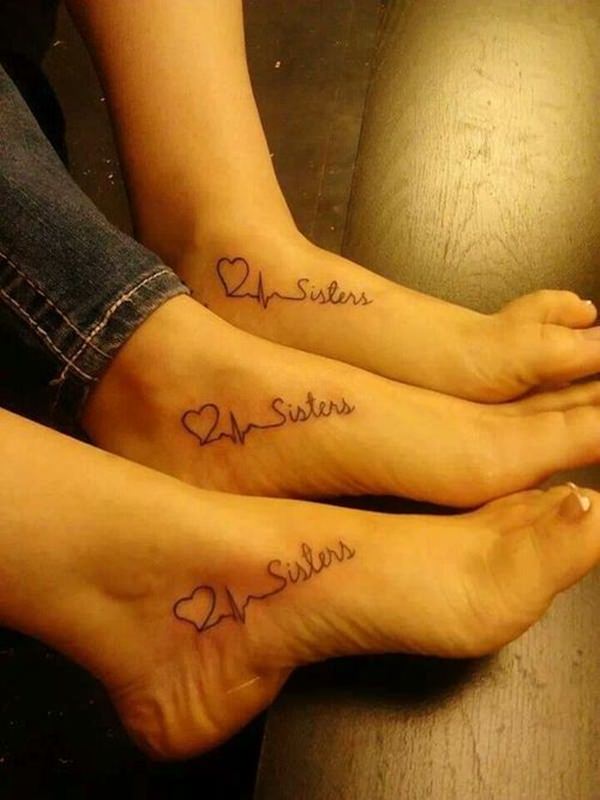 32. 269 Represent
Another great example of a heartbeat tattoo this one has the number 269 and the word Life attached to it.
33. Find Your Passion
This tattoo is a great way to show off your passion. It's small, and it can be placed anywhere. If you want to show your true passion with a heartbeat design, then this is certainly an elegant way of doing it.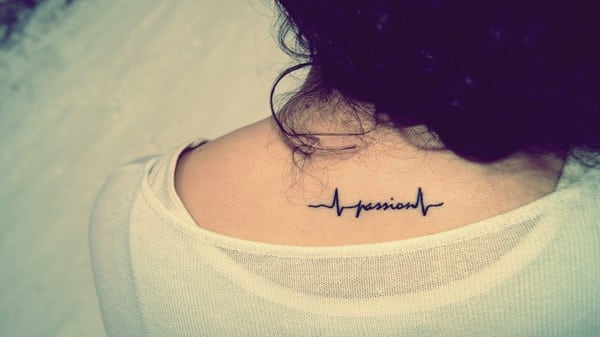 34. Flowers and Heartbeats
If you are looking for a different design and one that is very large then you are sure to love this one. It's brightly colored with some large flowers and the heartbeat goes from the neck all the way down the arm.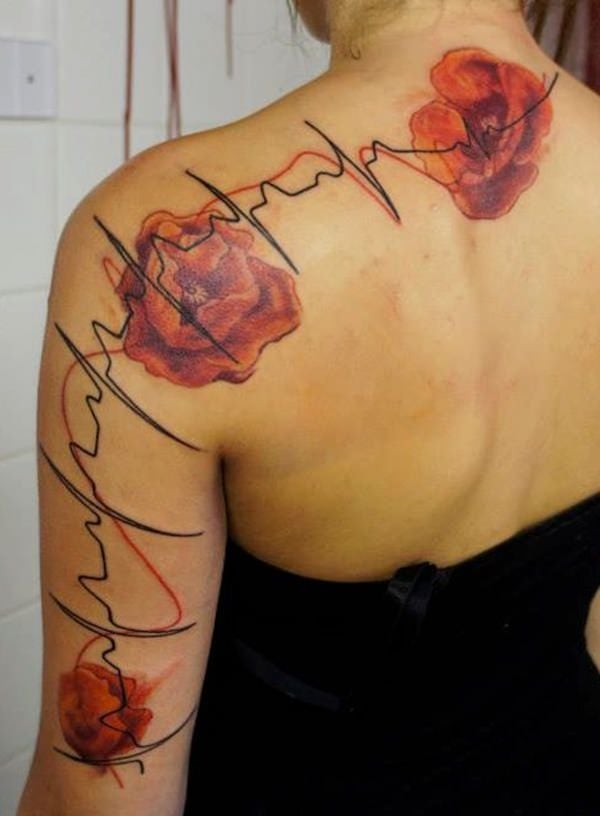 35. Tiny Designs
If you want a small and subtle design then this tattoo idea may be right for you. This sweet design isn't pushy, it's sweet and simple.
36. Across the Back
A simple design that fits on the back nicely. It could be your heartbeat or a loved ones.
37. Thick and Beautiful
Another great example of a heartbeat tattoo done with thick lines. This one has the city inside the heartbeat, probably representing places the owner has been. These designs can be made unique to fit your own life and all the places that you have been.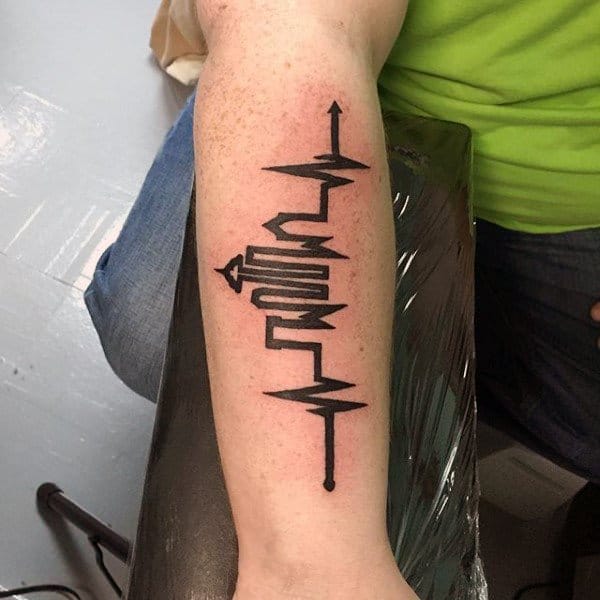 38. Finger Designs
If you are looking for a simple design then you are sure to love this one. It's small and can be tucked nicely right on your finger. I love the long style that goes well with the length of the finger. A stunning design!
39. Unique Heart Design
This scratchy heart design is a little different from all the rest that you have seen. I actually prefer this design because it gives you a non-traditional design.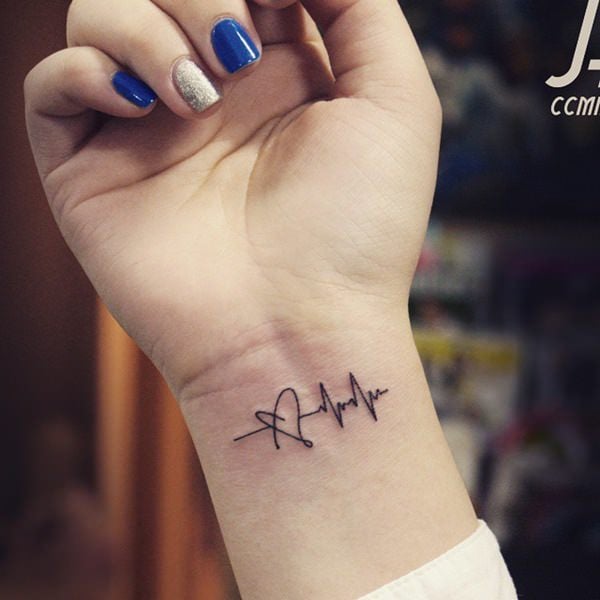 40. Matching Designs
If you are looking for a design that you can share with others than this might be the one for you. It's small and unobtrusive.
41. Love and Religion
Another great example of a tattoo that shows the love that you have for your faith. I love the shape of the heart that easily moves into the heartbeat and then lastly into the cross.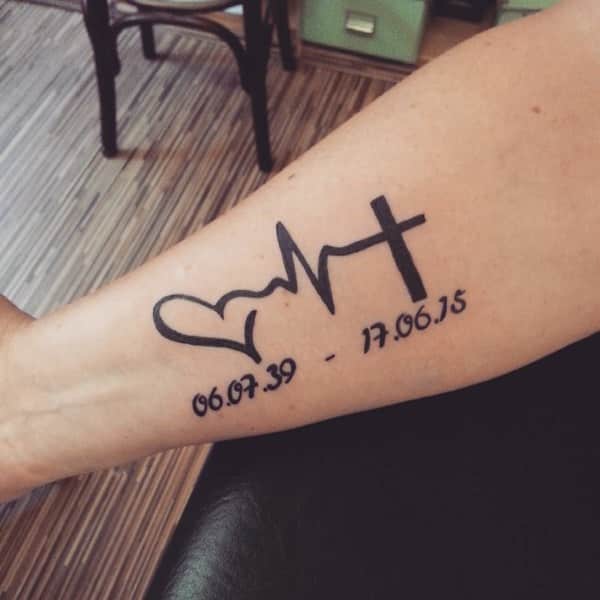 42. The Red Heart
Adding some color to your tattoo is another great way of making your tattoo unique. This burst of red really draws your eye to the tattoo.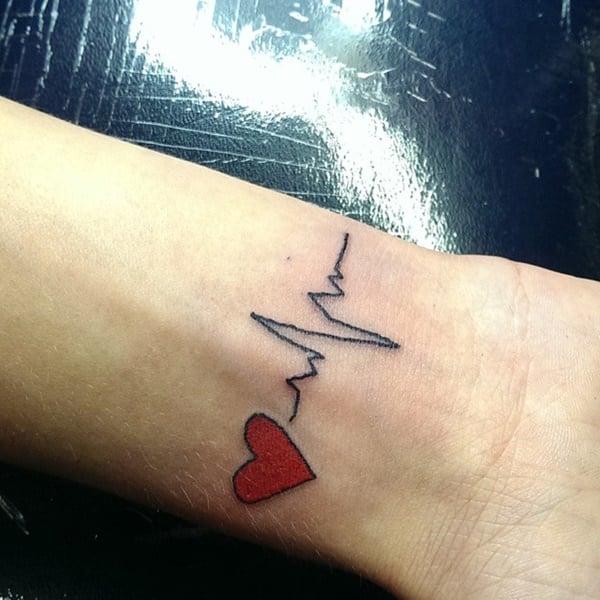 43. Coming Together
I love this design because it comes together when you are your loved one do. It's a unique design that makes you feel connected, to another person.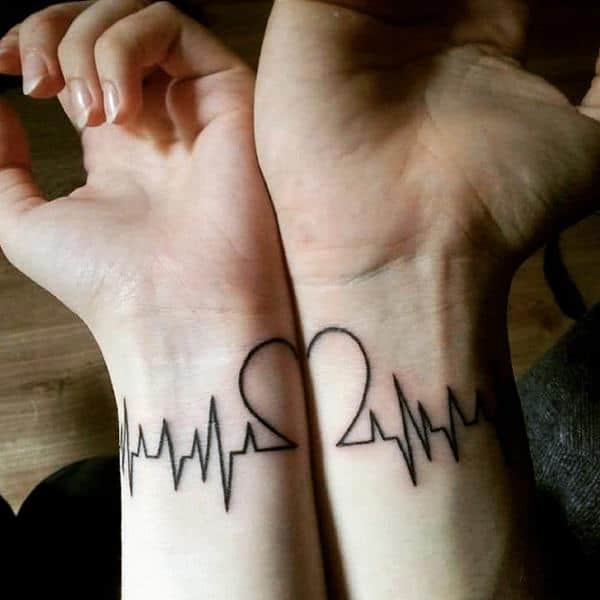 44. Add a Name
A heartbeat tattoo is often used to remember a loved one that passed on. In this case, she has a name and a date attached to her heartbeat tattoo, probably of someone who passed away.
45. Patriotic Love
This heartbeat has an American flag behind it and I believe the symbol is that of a paramedic. This person may love their job and want to symbolize their lifesaving efforts.
46. Faith With Love
Another example of a heartbeat tattoo that can represent the love you have for your faith.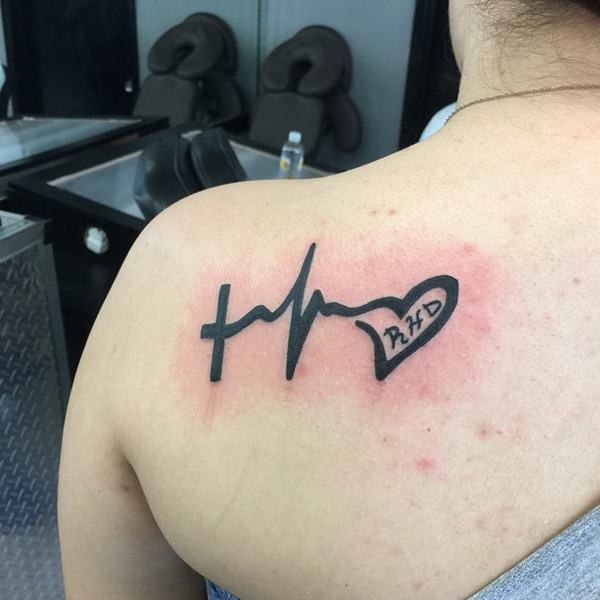 47. Heartbeat With a Message
Another great style is to add a personal message to your heartbeat tattoo, it creates a personal touch.
48. Splash of Color
This heartbeat has a splash of color behind the heart creating a unique look. I love the watercolor paint look that is brought into this tattoo design and the colors are perfect.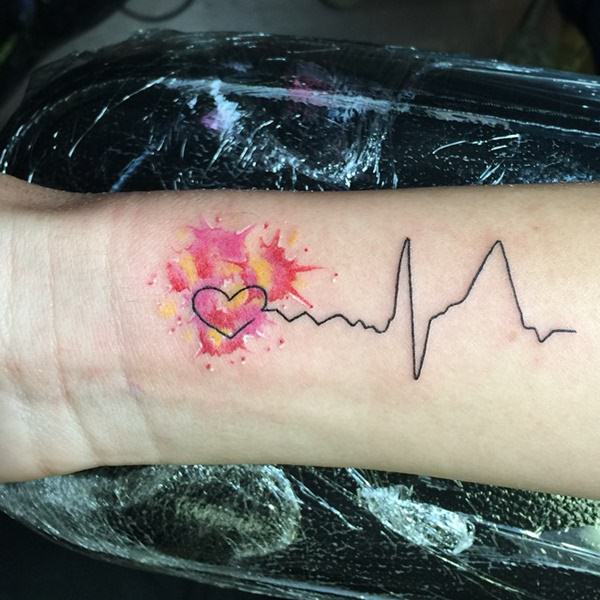 49. Stunning Heart
Just a red heart with the heartbeat inside of it. It's a unique take on the original design.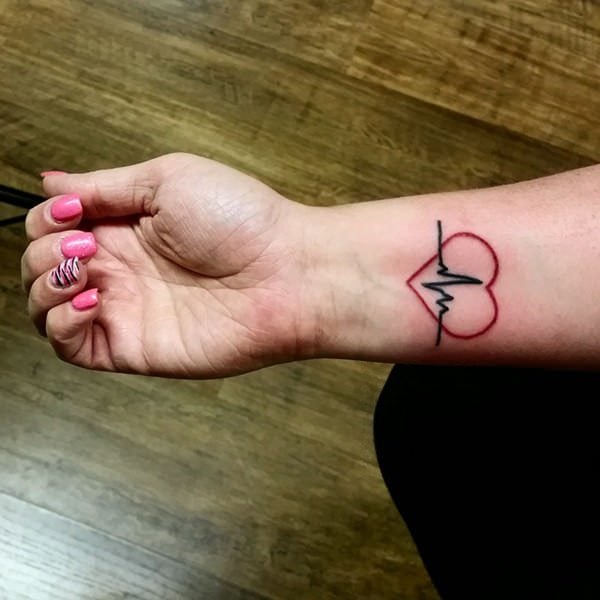 50. For the Love of Family
A great tattoo design that shows the true love of family. If you want to represent your family with a tattoo then a heartbeat design would be perfect.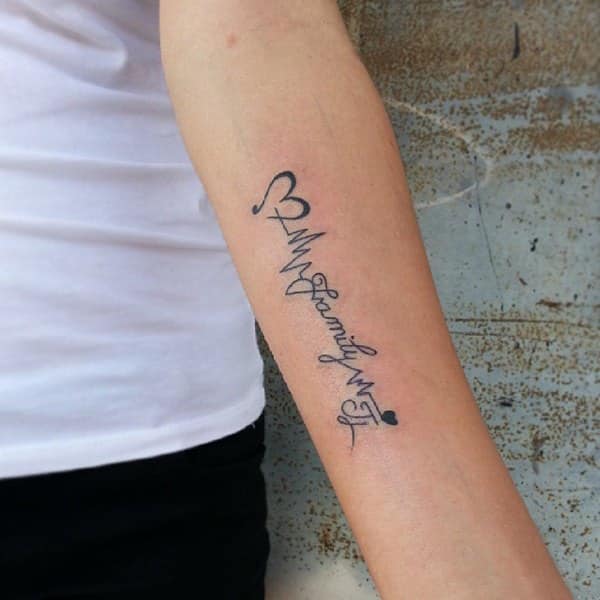 51. Show Me The Way
Another great example of the heartbeat design. It's a large one that goes down the arm and it looks like it has an arrow head on the end of it. There is also a name attached to the design to personalize it.
52. Personal Meaning
Another great tattoo design that has some personal meaning to it. In this case the heartbeat is in red and it goes across the chest. There are other elements to the tattoo that personalize it. If you want something different for a chest tattoo then you are sure to love this design.
53. Faith Designs
This tattoo is another great example of how you can represnt the love you ahve for your faith. The worlds Love, Faith and Hope are all underneath the design as well.
54. Ankle Tattoos
If you are looking for a small tattoo that fits around the ankle then you are sure to love this original design. It looks like a love of water is connected to the heartbeat design.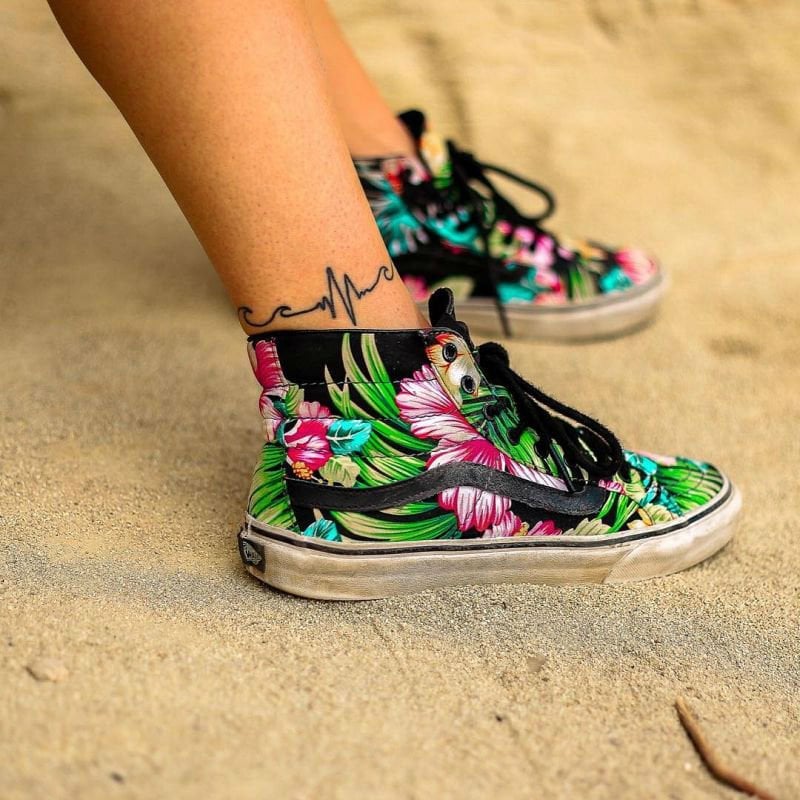 Once you have chosen your tattoo then you have to consider who you are going to hire to be your tattoo artist. When it comes to picking an artist, try to remember to look at the years of experience the person has in the kind of tattoo that you are looking for. Not all tattoos are the same and many require a lot of experience to bring them to life. When it comes to a tattoo artist a professional one should always have a portfolio, if they don't that could be a red flag. They should be able to show you their work in one way or another.
Once you have a tattoo artist you can book your appointment. Depending on where you are getting your tattoo, be prepared for some pain. It's also very important to pay attention to what the artist says about aftercare. It's important to take care of your tattoo while it's healing so that the tattoo will always look nice for years to come.
We hope you enjoyed the article, please comment on your favorite heartbeat tattoo designs!