What is life if one has no faith? This is a question that mankind has pondered over the years and failed to come up with an answer. The fact is that for most people  faith is a very important part of their life and provides them much needed strength during times of crisis. Faith tattoos are a part of this too.
While most people relate the word faith to that of God or of some other divine power, faith is not restricted to just that. It could also mean faith in oneself or in a loved one. But in the most accepted sense, people of different religions put their faith in their respective gods. No matter in what or whom you have faith in, we all have to acknowledge that it is a powerful emotion and is the moving force in our world. Is it then a wonder that it is used in tattoo designs?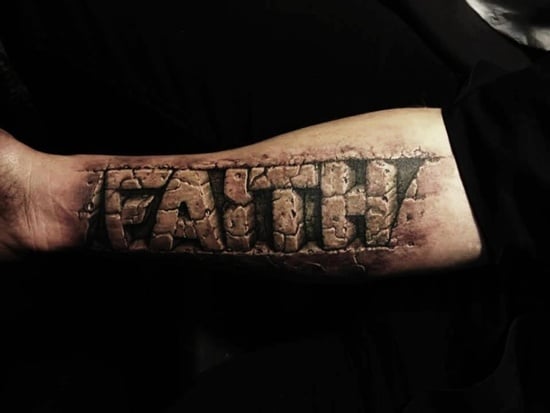 Designs based on Faith
Most tattoos that people dedicate to faith tend to have the actual word "faith" in it. The difference in the design may come due to the actual font that is used to write the word. Some people add other elements that are significant to the faith tattoo to make it more special and more personal.
Here is a look at the variations of the faith tattoos:
On the wrist: If you are thinking of writing the actual word in an attractive font then this is a good location for the tattoo. But make sure that you pick a great font or else the faith tattoos may not quite have the same impact.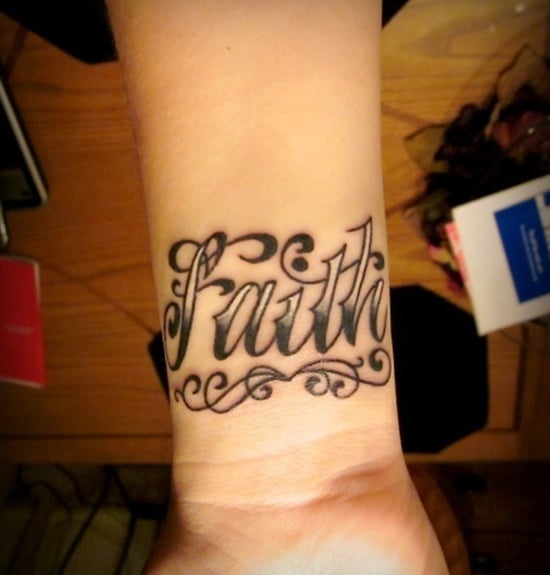 On the bicep: This can also look great as the bicep is a good choice but the thing is that when you show the tattoo to others you will have to put up a pose and this may be irking after a while. You can make the design look interesting by adding other symbols and elements to it. This one is quite personal, as it is the same styling as the Ford logo – some people are quite serious about their cars!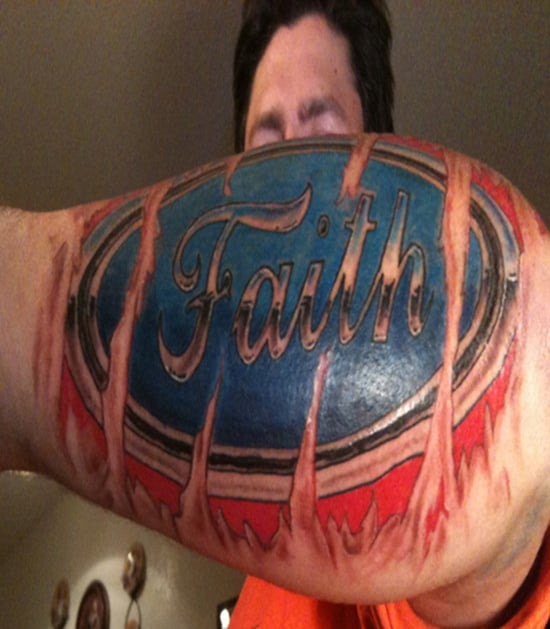 On the rib: The display of faith tattoos on a rib is once again an interesting choice due to the location as well as the design possibilities. Here we have both faith, strength, love and hope – four essential qualities to get yourself through life in one piece.
With scripture from the Hebrews 11: This type of tattoo draws inspiration from the bible and has a reference to a scripture in it along with the word faith. It is almost as if the person having the tattoo wants people to know about the source and inspiration for his or her faith.
On the neck: This can really look good as the nape of the neck looks really vulnerable and the word faith tattooed across can create a powerful impact. But the thing about tattoos on the neck is that they are visible to all and you need to consider this before getting  on there. Of course, if you intend to always have long hair to cover it, a neck tattoo can be easily hidden from inquisitive eyes. This one has the word faith in the inside of the infinity symbol – another popular tattoo.
With a butterfly: This is an instance when the word faith has been combined with an ethereal butterfly. It is a beautiful and interesting combination.
The thing about faith in general is that though we may not realize it, it is indeed one of the forces that keeps us moving and hoping. Thereby the logical progression of this is in the world of faith tattoos is that it carries a lot of symbolism. Many people choose the tattoo they get done as a means of expressing their faith and take inspiration from the tattoo when they feel hope waning away.
So if you are considering getting faith tattoos, please do ensure that it looks good and has all the elements that you believe in. As with any kind of tattoo and body art, we would advise you to think, research and ponder deeply before proceeding with the actual process.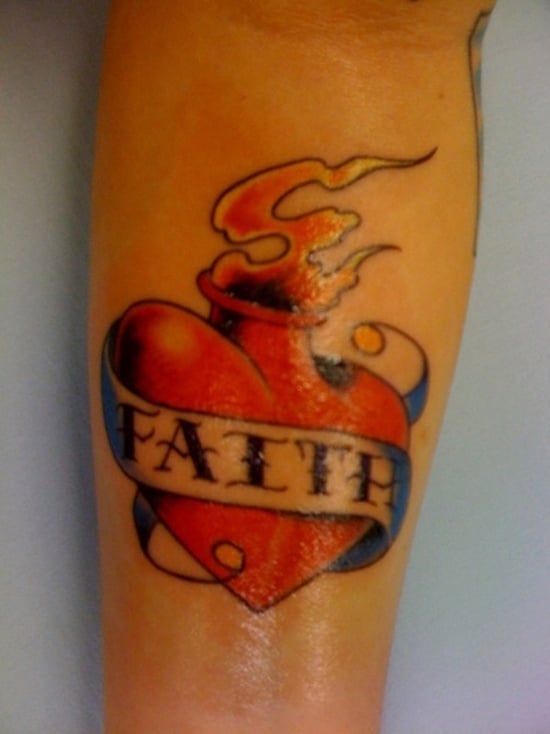 Burning heart faith tattoos
This brilliantly colorful faith tattoo features a burning heart, which is often a symbol used in tattooing. A nice touch.
Faith and birds
The flock of birds crops up quite a lot in modern tattooing, as witnessed here. The birds have been added to the original faith tattoo.
Faith and flowers
A small scripted tattoo, this one looks to be added to a collection of other small cute tattoos – think we spy and anchor down there.
Tiger cross
This tattoo is the result of going to see an inexperienced artist – you will see the wonky lines and the amatuerish cross.
Walk by faith
This is an interesting take on the original footprints faith design. We like that the footprints are on the foot itself!
Have faith
This girl is really rocking her behind the ear tattoo. Making bold choices with your tatts can really pay off!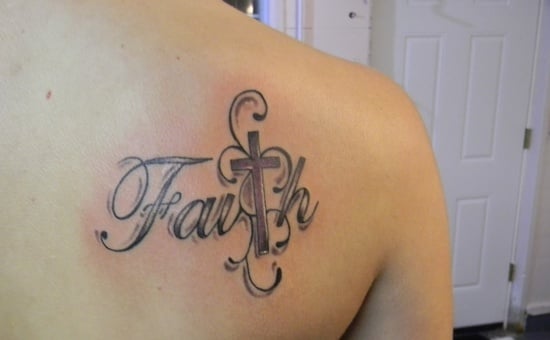 Faith tattoos: Cross for a T
A great take on the faith tattoo with a Christian cross in the place of a T. Perfect for those deep in their religiousness.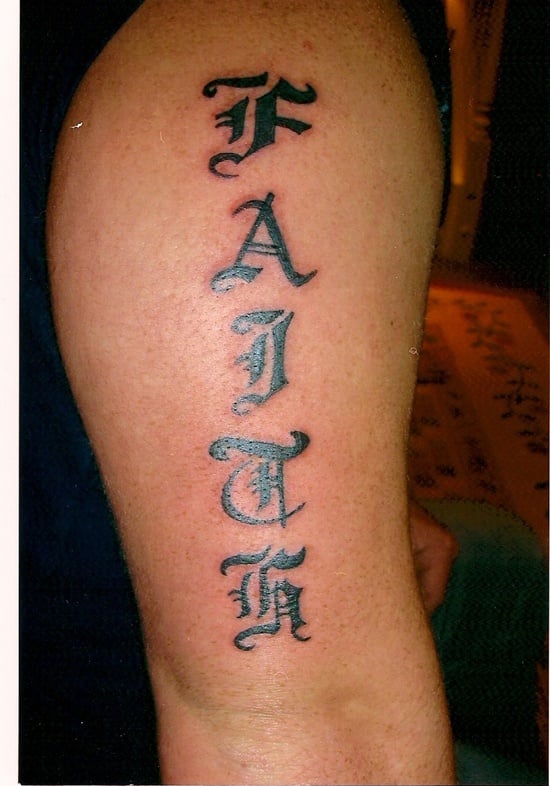 Gothic font
Faith is often great written in big, bold letters. It draws in the eye and stamps how strongly you feel about your religion.
A heartbeat
This person obviously had something quite significant happen to them – you'll notice the blood red (and dripping) heartbeat.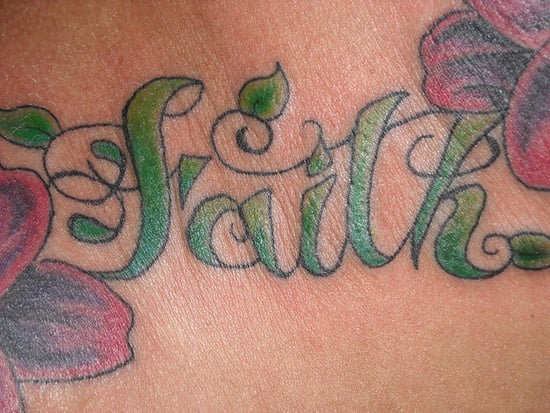 A garden of faith
This is a beautiful rendition of a faith tatt – instead of leaves between the flowers you have faith in the same colors.
With a feather
Incorporating other elements that you really like is a great way to jazz up an otherwise quite plain looking tattoo.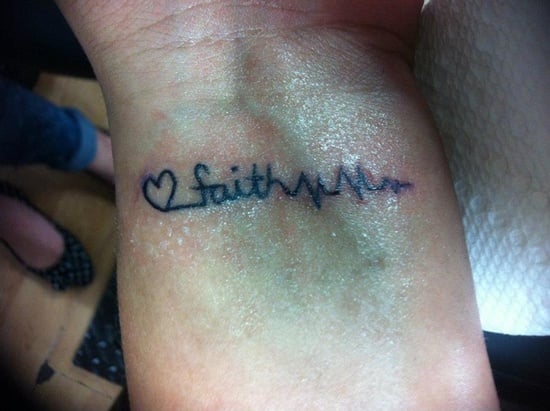 Love in a heartbeat
We love the cute, cartoon styling of this tatt. Along with the love heart, this makes this a very feminine design.
And a rosary
If you so wish, you can add in other religious elements into your faith tattoos, such as the rosary beads pictured here.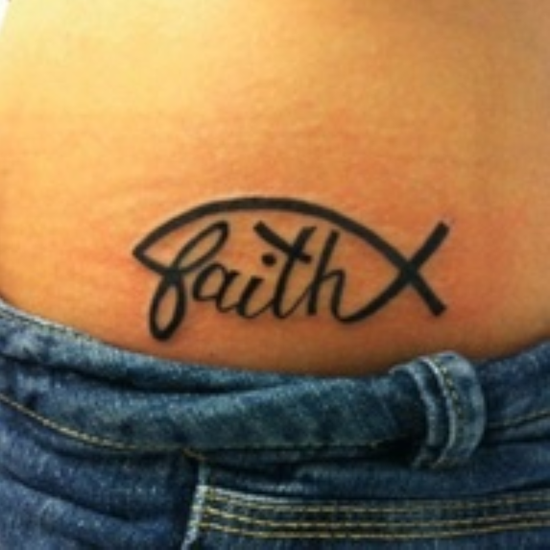 Jesus fish
Even more religious imagery going on here with the word faith inscribed within the instantly recognizable Jesus fish.
Angel wings
Angel wings across the shoulders is a popular tattoo with both men and women – something you might like to put in your design.
A take on the heart and dagger
The heart and dagger is a very common tattoo design. This person has switched it up by replacing the dagger with a cross.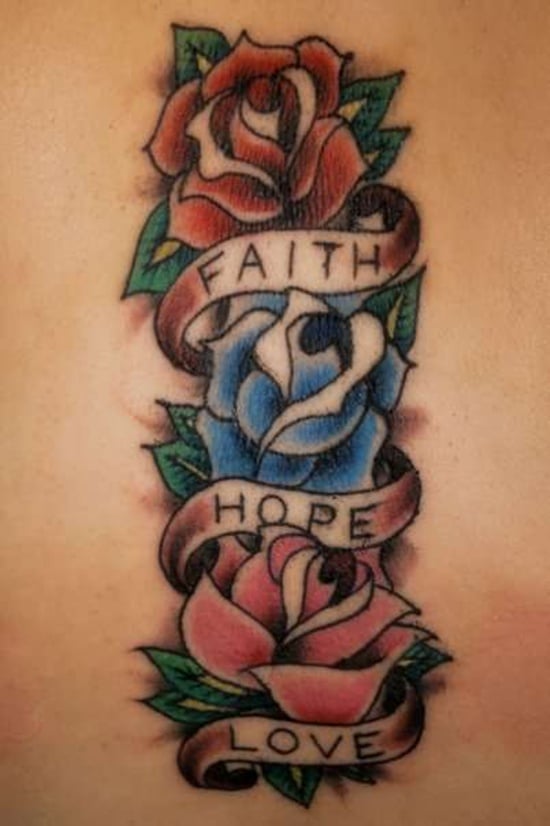 Faith, hope, love
3 of the most essential elements of being have been inscribed right here – faith, hope, and love.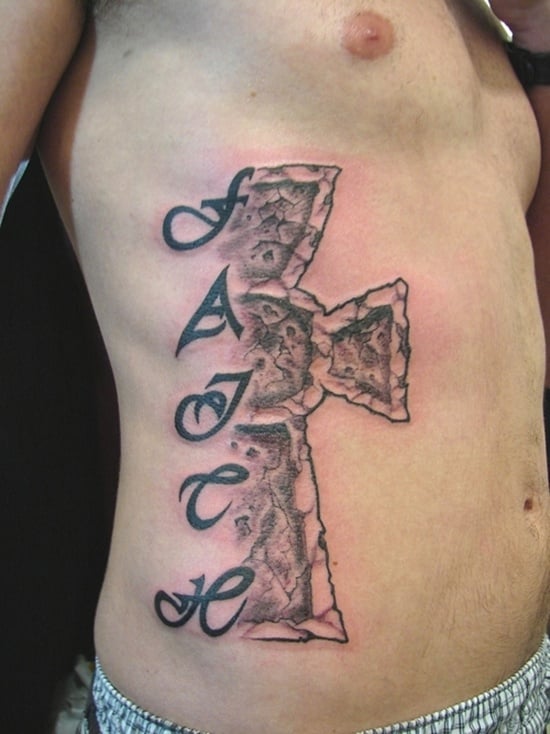 Half cross
We think the fade out on this half cross looks pretty awesome! A bold design going the whole way up the torso.
Faith and cross
An older tattoo, this one has faded a fair bit and also wasn't inked that well in the first place – you can see the wonky lines.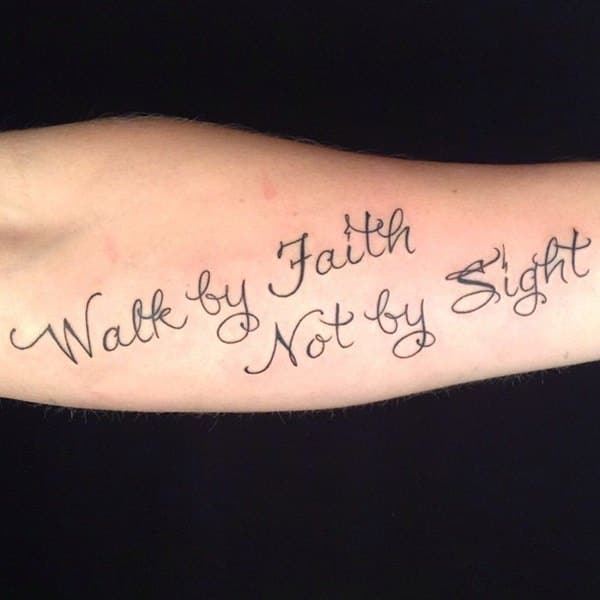 Walk by faith, not by sight
You may like to choose a saying with the word faith in it, rather than just the word alone, like this tatt right here.
In Spanish
You might like to try faith tattoos in your first language, or one that you really like, or has lots of significance to you.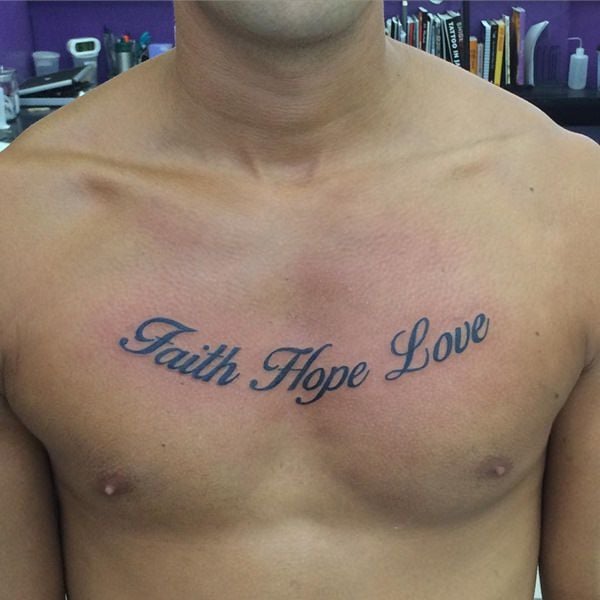 Faith, hope, love chest piece
A new tattoo, this one is nice and clean and the tattooist is obviously quite experienced in script writing.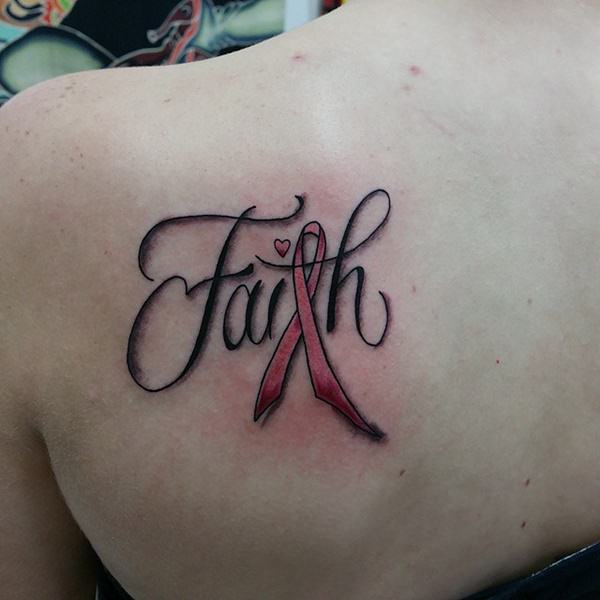 Faith ribbon
This is a beautiful tattoo with the AIDS awareness ribbon pin on it. A great way to raise awareness about important causes.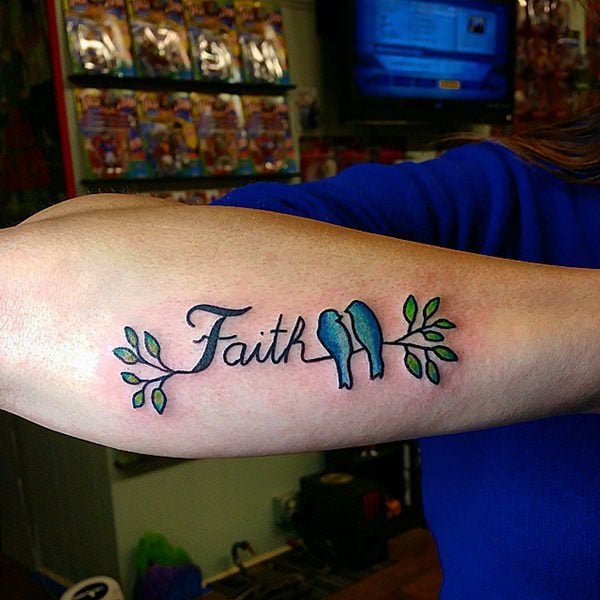 Blue birds
We simply love the coloring on this pretty looking faith tattoo with the pair of blue birds. A great use of shading.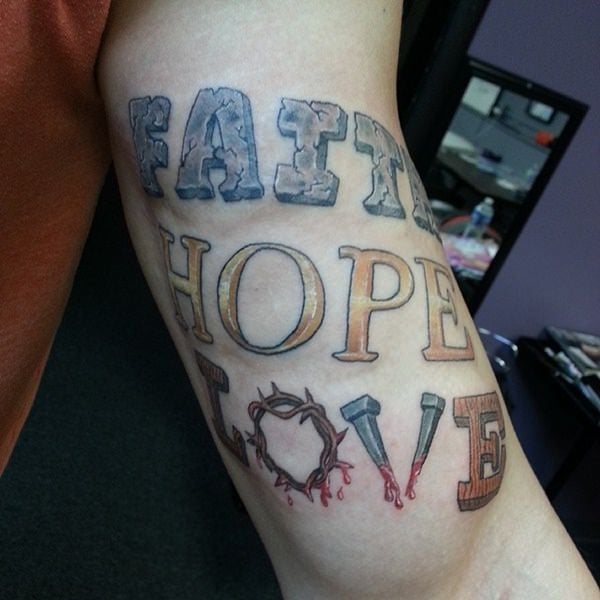 Different materials
A very Christian take on the faith, hope, love tattoo – you'll notice the wood, thorns, and nails at the bottom there.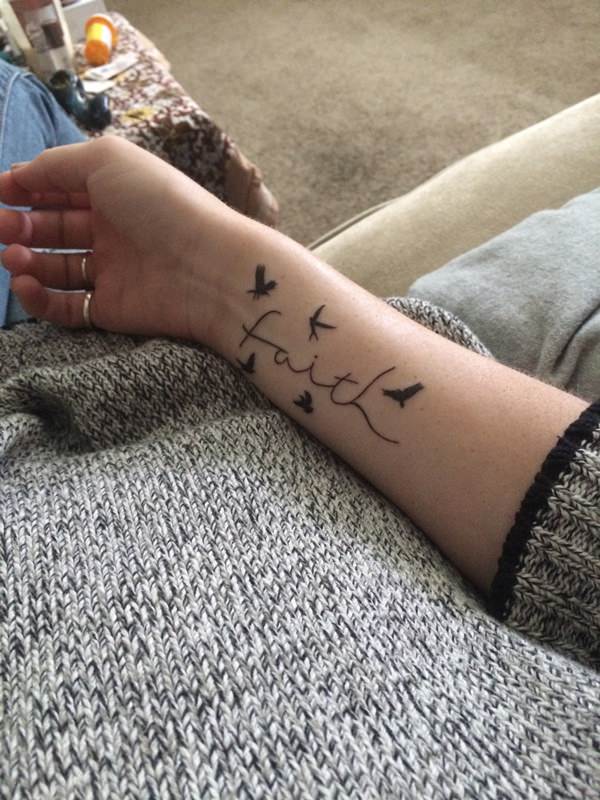 Among the flock
Another tattoo that has made use of the flock of birds symbolism. We like the vertical wrist placement on this one.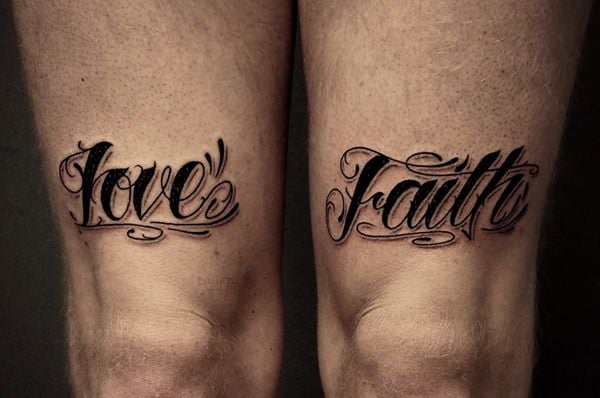 Love & faith
Some people choose to get matching tattoos on either their arms or their legs – like the one that we see here.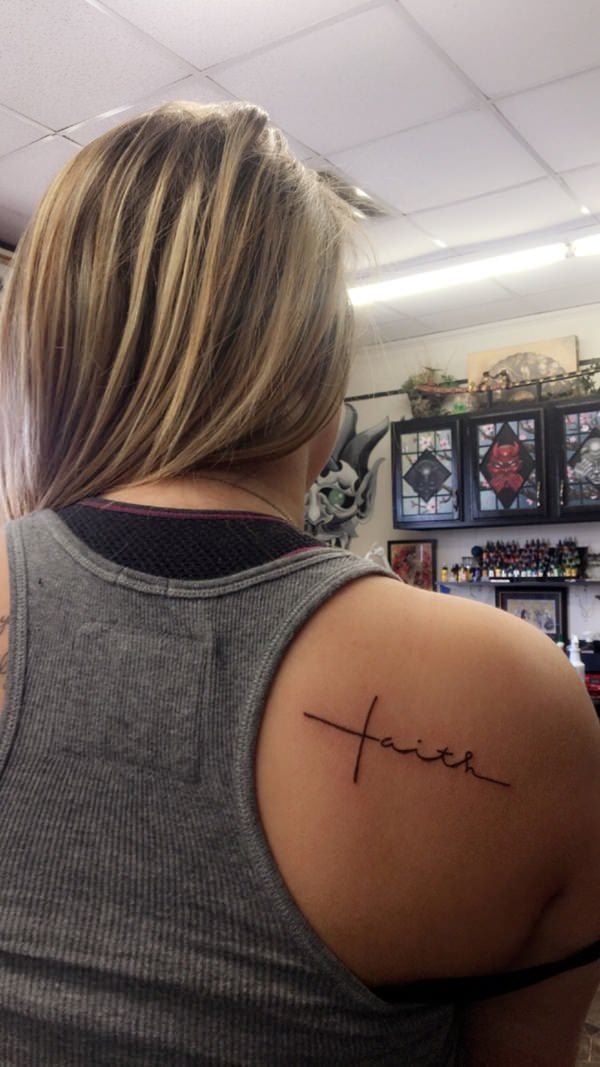 A font makes all the difference
See what a difference a font can make? This one is a lot lighter and more feminine than traditional tattoos, great for a woman.
Scripted
Another example of what a difference choosing your font carefully can make. We really like this one!
Hope
Oftentimes, people like to accessorize their faith tattoos with tatts reading either love, or hope, like this one here.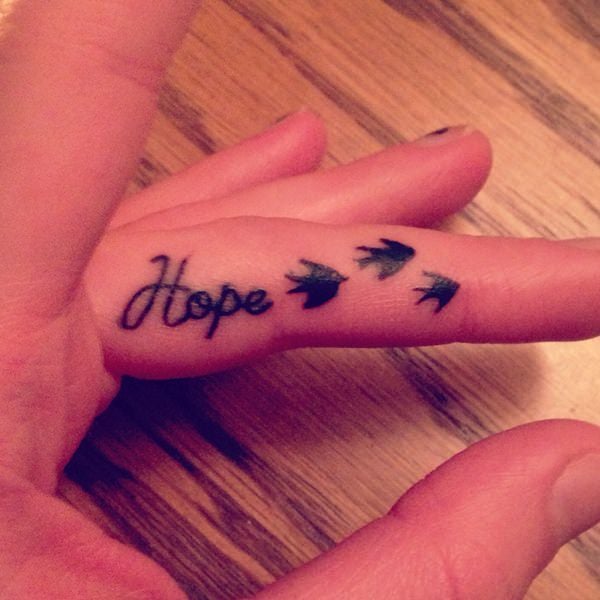 More hope
Another example of a hope tattoo. This inner finger tattoos are good ones to get as they are a small reminder you always see.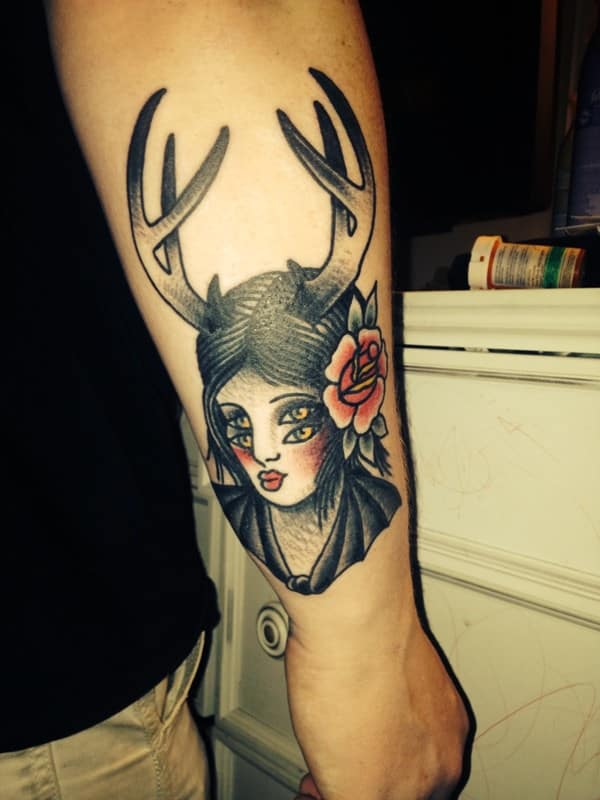 And…?
Ok, we threw this one in just to mix it up a bit!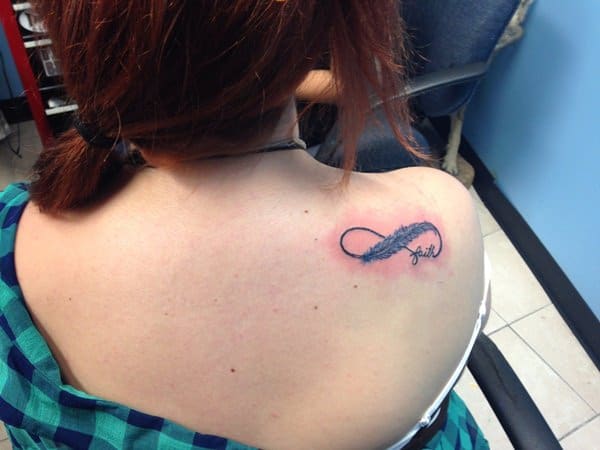 Faith infinity feather
Not one, but three recurring tattoo elements have been placed into this neat tattoo design on the back of the shoulder.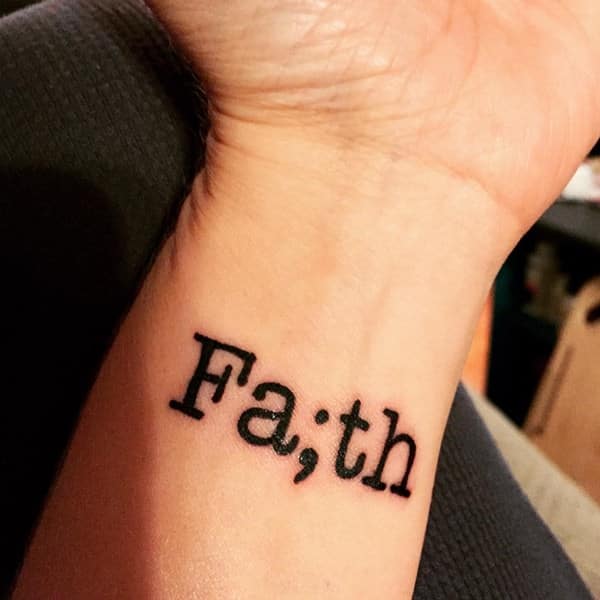 Just a semi colon
This is faith interrupted. It would be interesting to hear the story behind this person's tattoo!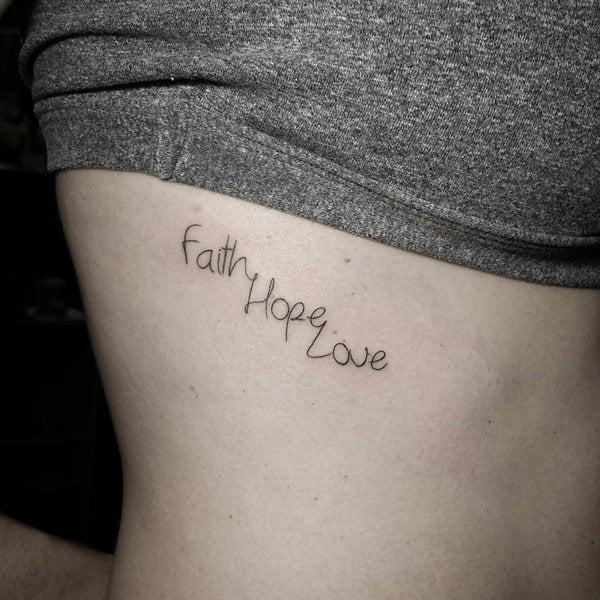 Just drawing
This is either drawn onto the body in pen or a very skilled tattooist to be able to ink so finely!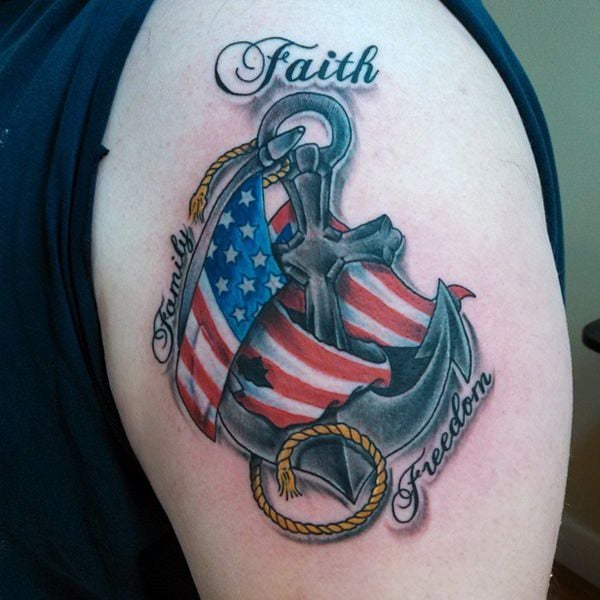 Faith family freedom
This tattoo takes into account all the things that the wearer is passionate about. We're guessing faith, hope, freedom, America, and they're in the navy.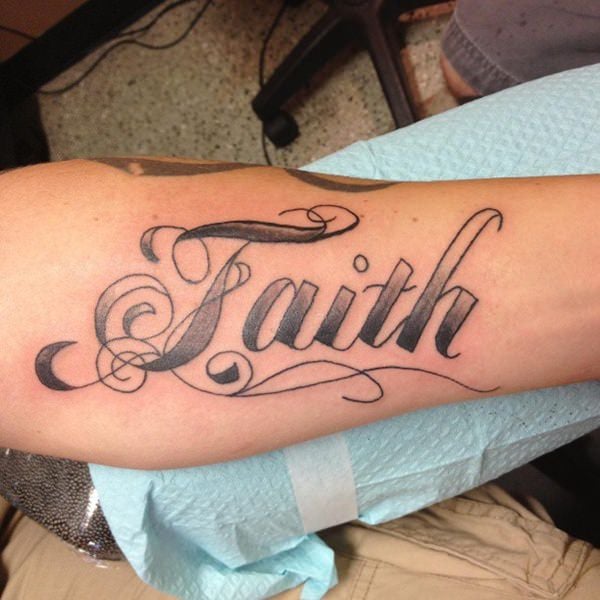 On the arm
Another example of a scripted faith design.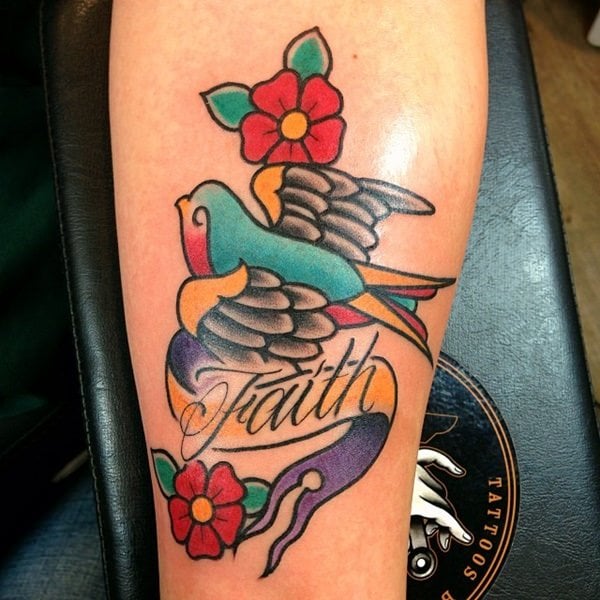 With a brilliant bird
The stylistic components of this tattoo elevate it among some of the other tattoos we've listed here, don't you think? Choose a tattooist with a style you like and ask them to add faith to the design.