Whether you're young and in love, or have been together an entire lifetime – there's no better way to show your commitment to each other and solidarity against the world than by getting inked together. Matching tattoos show the world that no matter what else happens in this life the two of you will remain strong. And what better way to show your strength that with matching King and Queen tattoos? That is what you are after all, right? Check out these wicked tatts for some inspiration for your upcoming tattoos.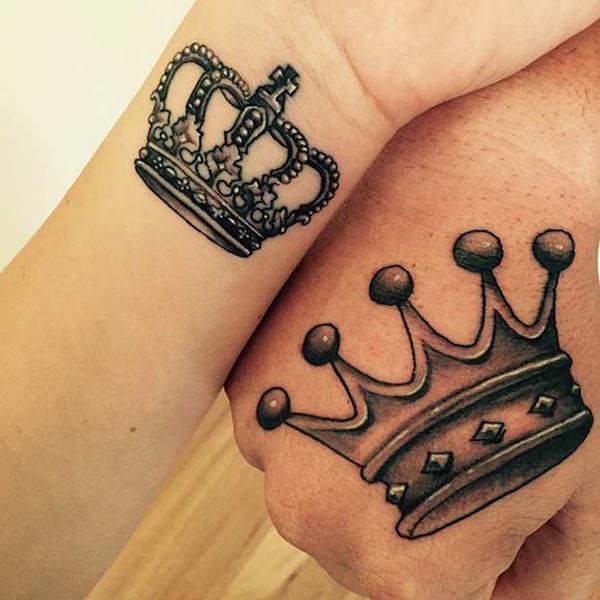 1. His Fist, Her Wrist
Notice how we've got the man's bold crown here in a fierce position on his fist, and the girl's more delicate crown in a ladylike position on her wrist? This couple prove that you don't have to be matchy-matchy with your tattoo choices. Make it yours! The combination of crowns will be a message that no one will be able to miss – no matter how unique each tatt is!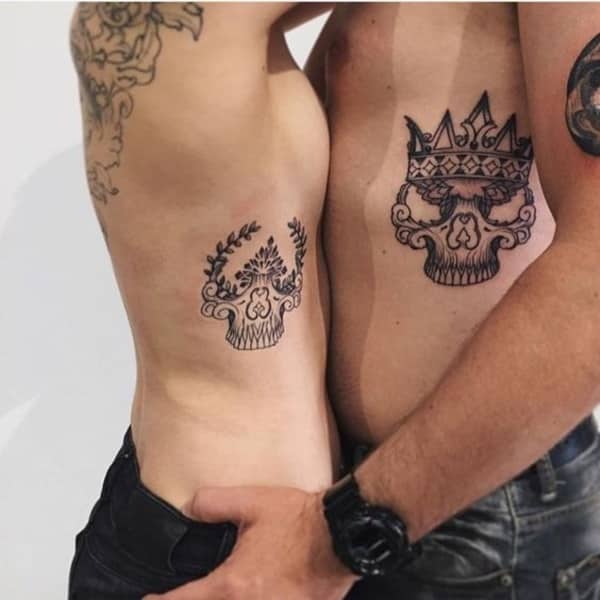 2. Skulls All Round
This is a bit of a more stylized take on the his n hers crowns – the skull wearing a crown. Skulls are very traditional in tattooing, however these ones have been done in the more current style. The placement on the side of the chest is great – these two can remember their special day when they are alone together.
3. Til Death
This colorful pair of skulls have been drawn as though they are direct out of the 1960s. How was it possible to make skulls look so sweet? The words "Til death" from "Til death do us part", a part of marriage vows, are split between the pair.
4. Matching Wrists
You don't necessarily need a partner to get matching king and queen tattoos – why not get them tatted on yourself? This chick has a king's crown on one wrist and a queen's crown on the other. You've also got the signatures of people special to her underneath – cool!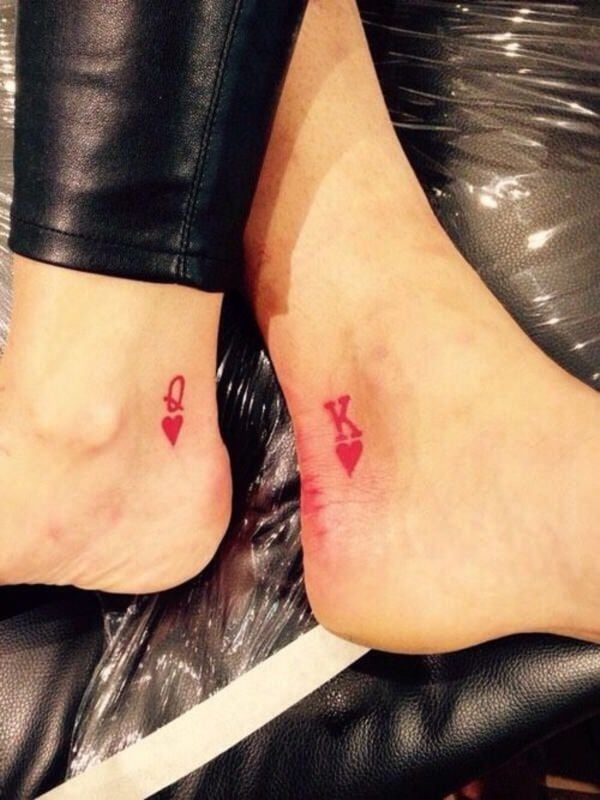 5. Hearts High
How about something a little more subtle for your tattoos? Or maybe you really love playing cards together? These matching king and queen of hearts tattoos all in red on the heel are a very cute small tattoo if you're not in the mood for getting a large piece done.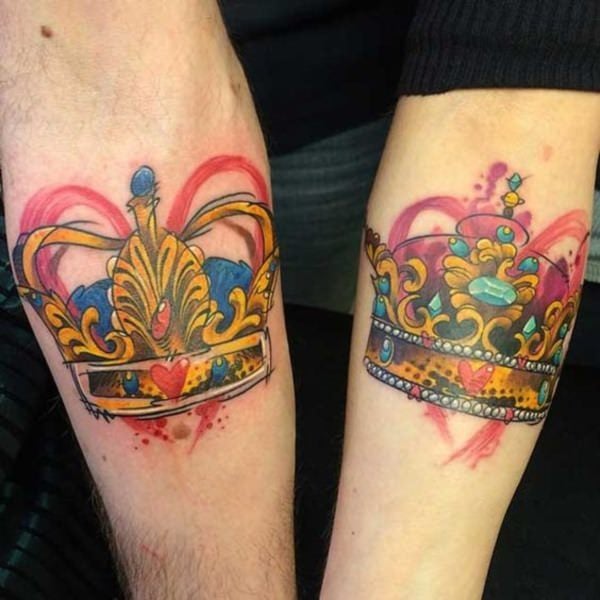 6. Watercolor Crowns
Watercolor tattoos have become more and more popular in recent years. While traditionally, colored ink was always outlined by a thick black border, watercolor doesn't play by these rules. This set of crowns fuses the traditional bordering of tattoos with the watercolor technique for an awesome effect.
7. King and Queen
Maybe you and your partner have the pet names King and Queen for each other – come on, admit it, a lot of us do! If so, tattooing your names – King and Queen – on your bodies might be a great way to express your feelings for one another.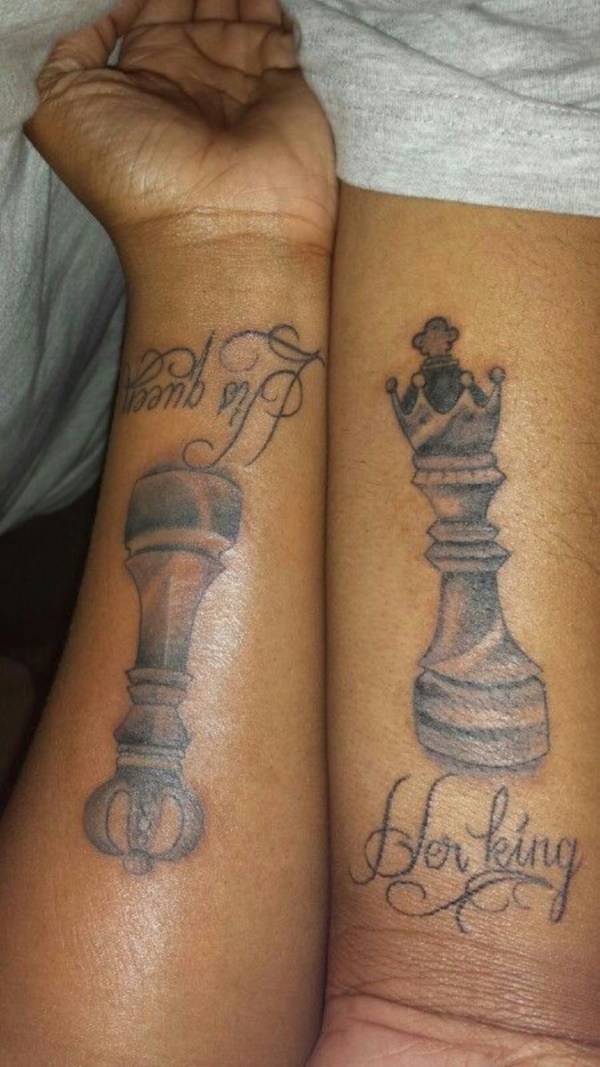 8. Queen and King of the Chess Board
Do you and your partner play a lot of chess? Maybe you're just super competitive? These king and queen chess pieces are a cool addition to the wrist. We really like the added scribe beneath each as it really adds to the theme of the pieces.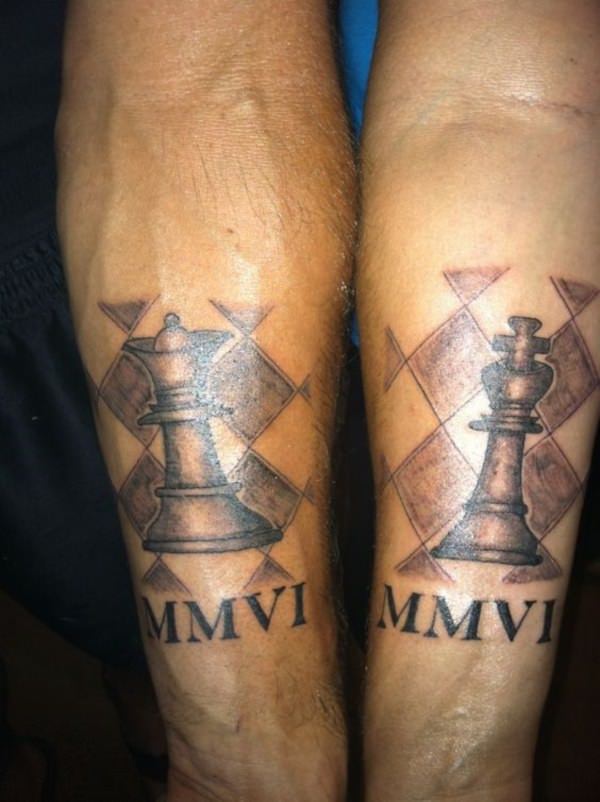 9. 2006: The Year I Beat You in Chess
This duo have inked their special date in Roman numerals underneath some cool chess pieces on a chess board. These large pieces will forever remind the couple of their wedding year – so let's just hope that they rememeber the actual date of it too!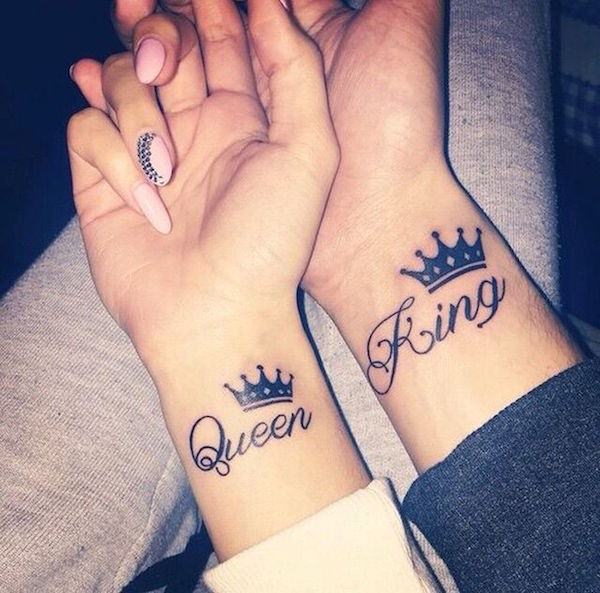 10. Q & K Wrists
The wrist is probably the most popular place for a tattoo right now. If you've still got a wrist free after doing your other tatts then it might be time to use it for matching king and queen tattoos with your partner. These ones are sleek and clean.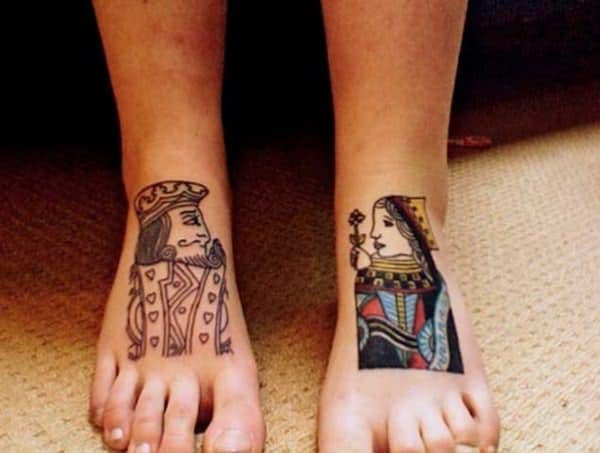 11. Suited
Another example of getting your own damn king and queen tattoos, this one is the king of hearts matched up with the queen of clubs. An unlikely pair? Maybe. But don't they look awesome? The king in this design is yet to be completed.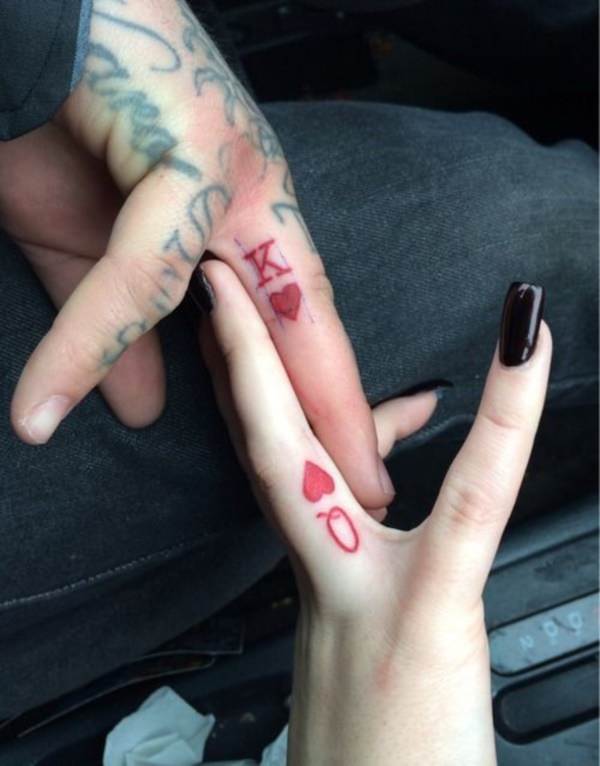 12. Matching Finger Tatts
More king and queen tattoos that feature the king and queen of hearts right here! Finger tattoos are very now and these bold, red choices will ensure this couple always gets a smile when their fingers are locked. Like to hold hands with your partner? This one's for you.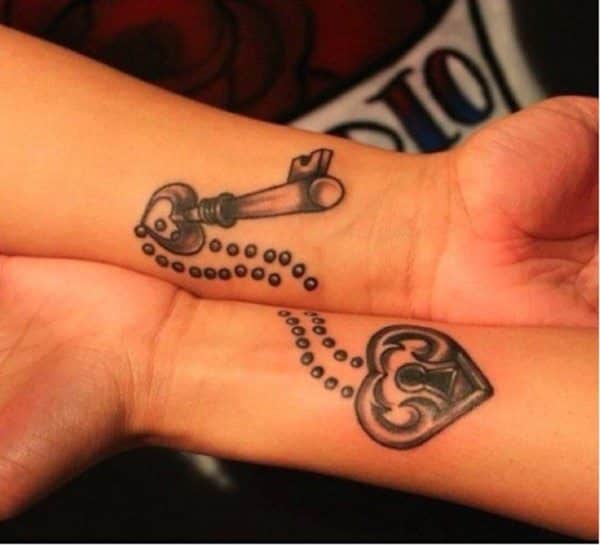 13. The Key to My Lock
Not king and queen tattoos per se, by a gorgeous matching set of tatts fit for any king and his queen. The lock and key combination will ensure that the two of you will always complement one another. We really like the shading and neat design in this one above.
14. A Lion and His Lioness
These finger tattoos are all about the king and queen – the king and queen of the jungle! Mix it up a little and get matching fierce tattoos of the leaders of the animal kingdom. You'll need to visit a skilled tattooist to get work done this fine.
15. Mr and Mrs Skull
Introducing to you… Mr and Mrs Skull! This set of plain skulls is made quite debonaire by each of their matching red accessories. It's amazing how much some little changes to a simple design can really kick it into the strotosphere. Ditto on the exemplary shading!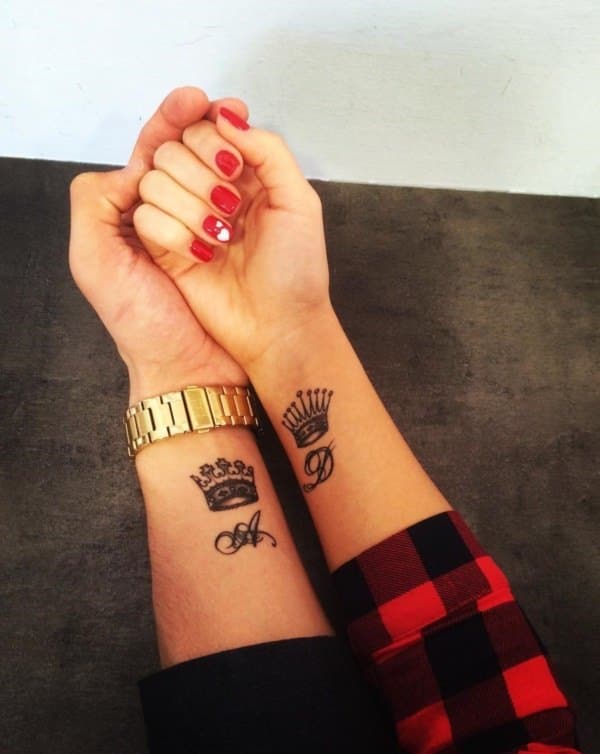 16. Our Initials
If you are thinking about getting a pair of crowns for the two of you, then you might like to think about adding your partners initial somewhere to the design. You can either incorporate it into the main tattoo, or add it above or below, like this pic.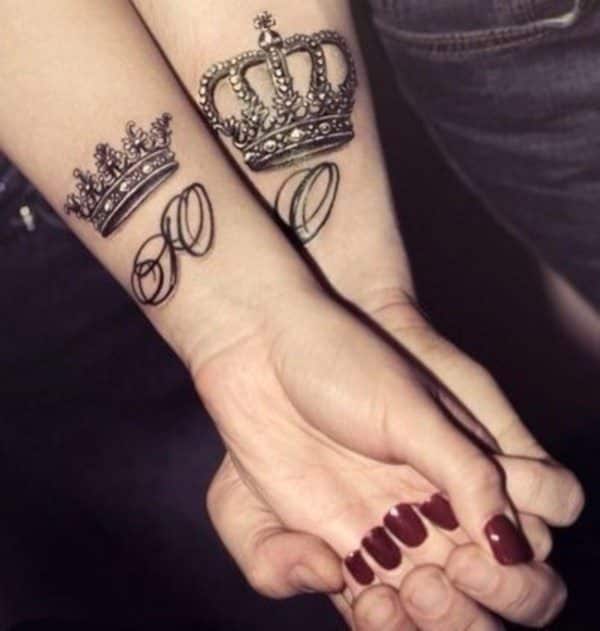 17. Shining Crowns
Another idea if you're going to get matching crown tattoos is adding white ink to parts of the crown to really make it shine. This pic has stand out crowns because of the detailing that has gone into the shine part of each crown.
18. On a Green Chessboard
You can also go wacky with your choice of king and queen tattoos. This cartoon design is warped and curved making it a real eye catcher. Thrown in with a green chessboard, these black king and queen chess pieces really stand out.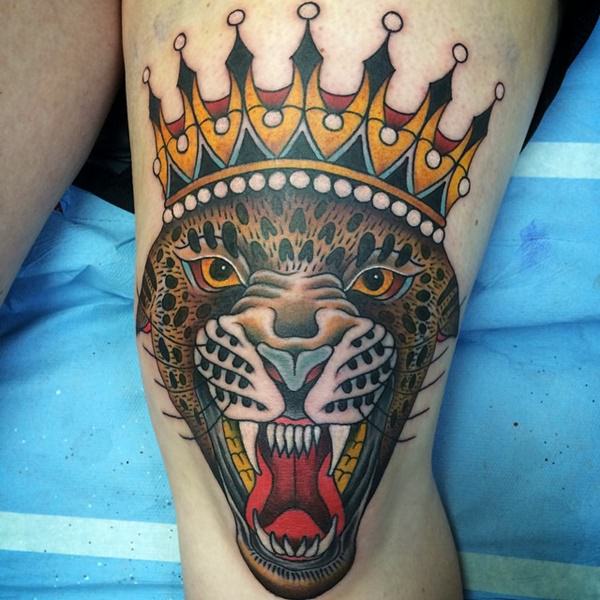 19. King Leopard
Bright colorful leopards are often see in tattooing. An added crown makes this one even cooler!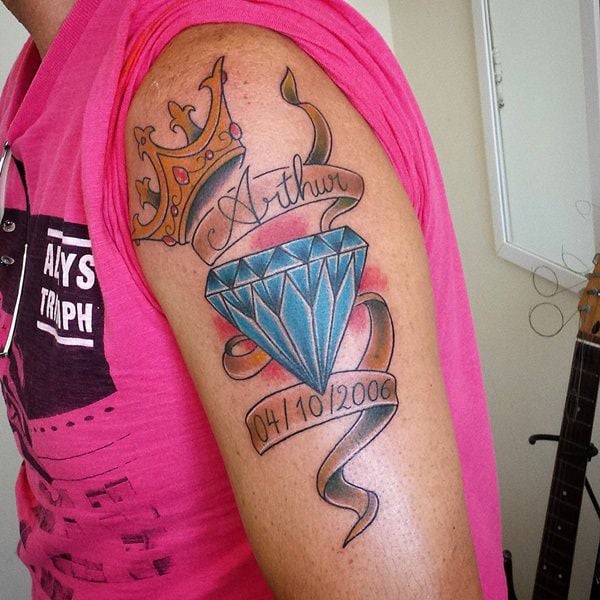 20. King Arthur
Maybe you refer to your little one as a King? A commemorative tattoo of your child's birthday is a popular choice.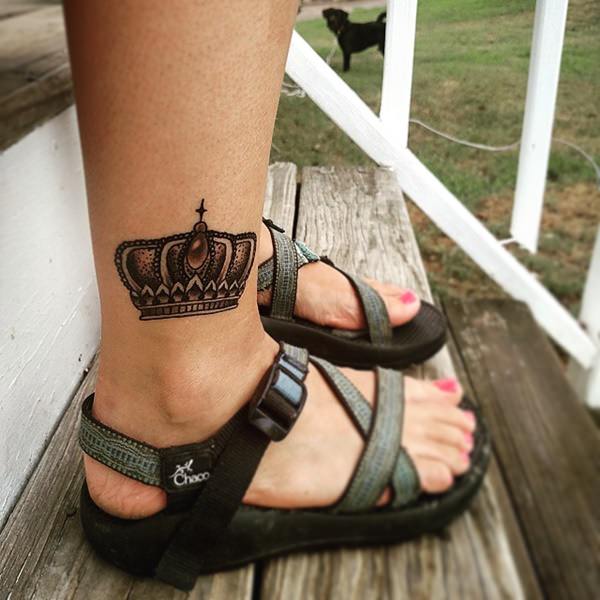 21. She Wears the Crown
Don't forgete that shading can make all the difference. An experienced tattooist will be able to provide excellent shading without bleeding out – like this girl's crown above.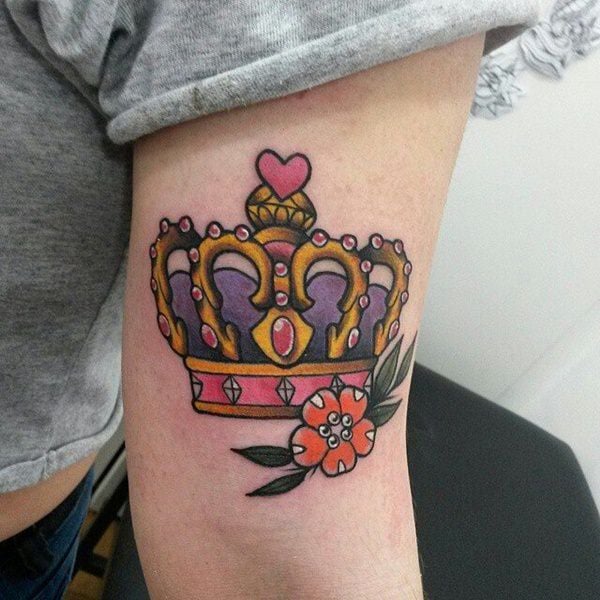 22. Pink n Purple Crown
You don't need to be limited by gold in your crown palette. Sweep daring colors across your crown for maximum effect and to stand out from the crowd. You are limited only by your imagination – and the tattooist's colors, that is!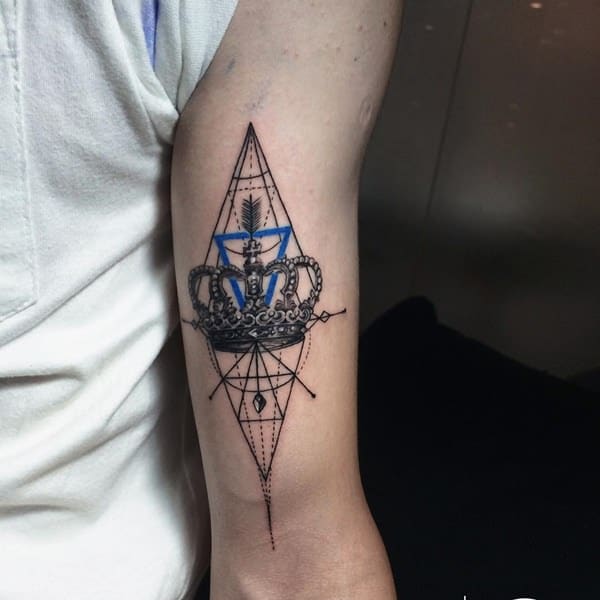 23. A Larger Piece
Lots of people like to add to their tattoos after they've had them done the first time. This may be because they are unsatisfied, or simply because they don't think they're big enough. You can always add cool geometric doodles to your crown design if you wish.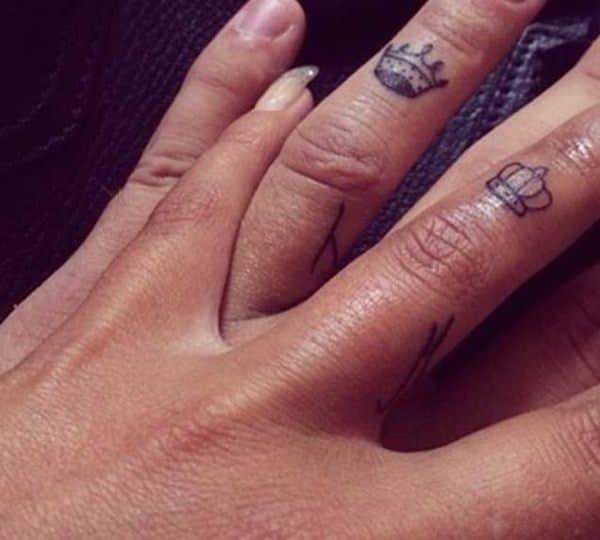 24. Match Me Once, Match Me Twice
This couple are so in love that they've gone ahead and got matching finger tattoos not once but twice! Taking dedication to a whole new level, these crowns are the perfect complement to their hidden inner initial tattoos. Too cute.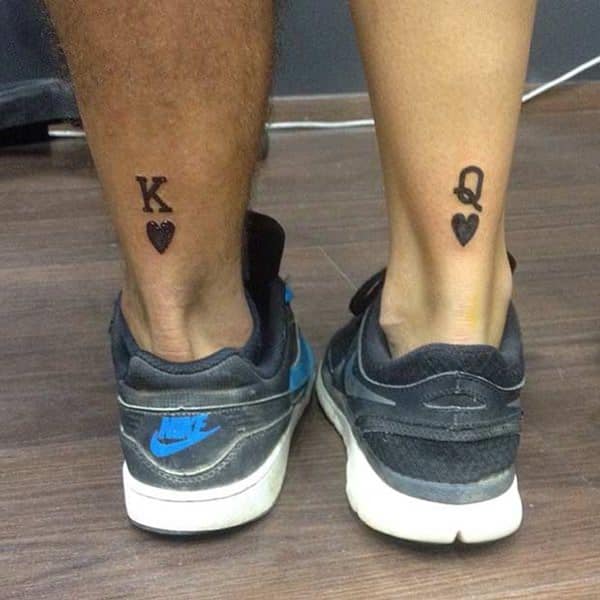 25. King and Queen Runners
Not only does this couple have matching Nike runners on, they've got matching king and queen tattoos, too. The popular king and queen of hearts have a showing here on the upper ankle. This spot can be quite a painful spot to get tattooed so beware!
26. Wearing Your Crown on Your Sleeve
This bold king and queen have got their crowns right where everyone can see them, giving new meaning to the phrase 'Wearing your heart on your shoulder'. The girl's crown appears more feminine due to the little dots surrounding it, giving a lace effect.
27. White Ink King and Queen Tattoos
If you're not mad about tatts, but still want to show your love to one another by getting something permanent, then white ink is a great alternative. Hardly visible, if you get small white ink tattoos then you'll have to point them out before people will notice them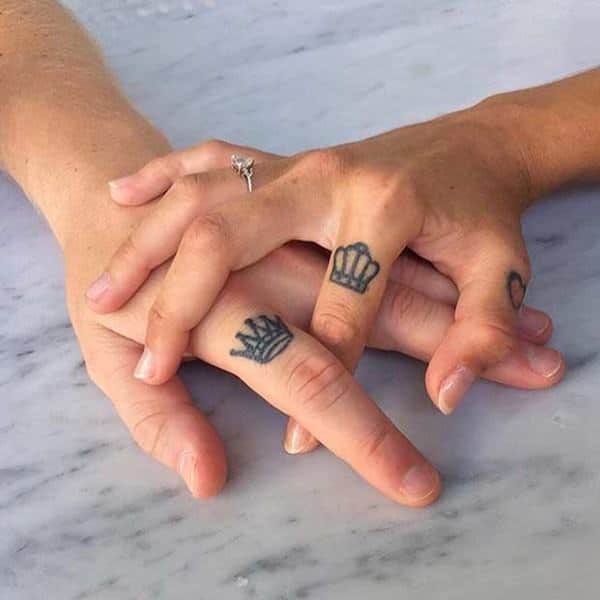 28. Pointing Crowns
Many couples these days choose to get matching tattoos instead of wedding bands for their wedding. After all, you can lose a ring but a tattoo is forever. You might like to think about a matching crown design for you and your partner's wedding.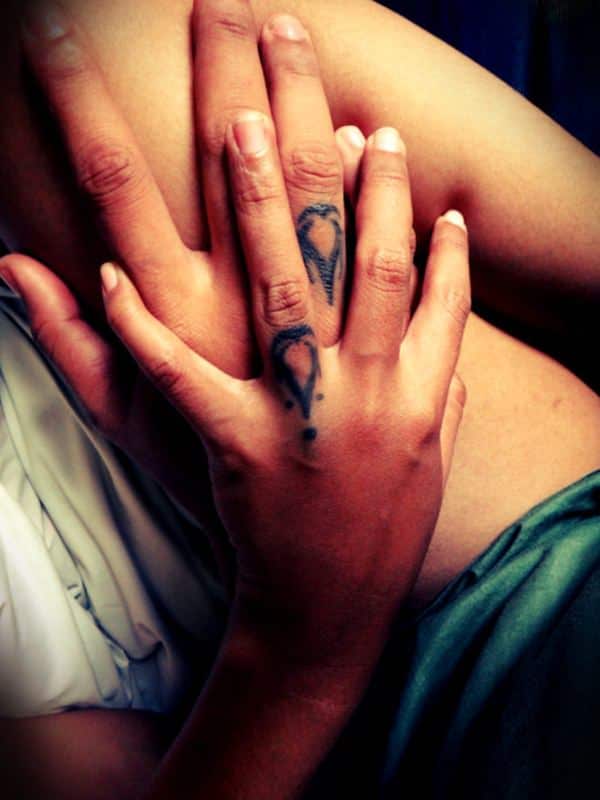 29. The Personal Design
You can even come up with a tattoo of your own design. You and your partner might like to brainstorm ideas one day to get the creative juices flowing. An original design is always that much more personalized than a design you pick off the wall of the studio.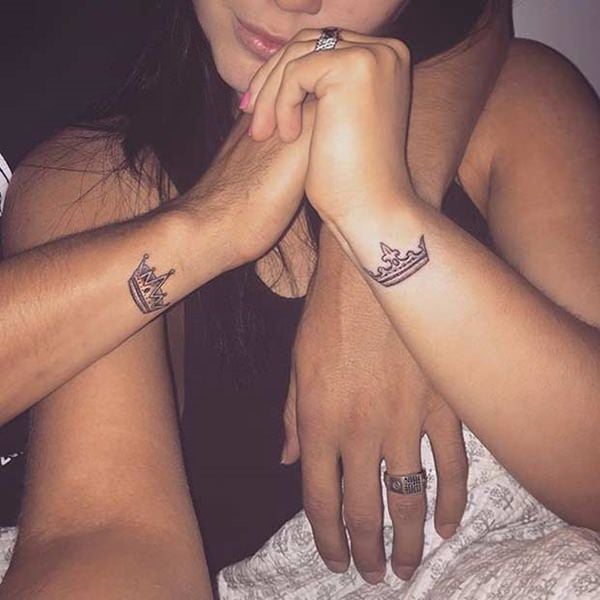 30. Forever Her King
Once you get your matching king and queen tattoos, then it's time for your photo ops! Test out different poses and backdrops so you can show off your new tatts to your friends. Anyone who doesn't like them on Facebook is de-friended!
31. Never Leave You
These two lovers have gone for a matching design in a similar spot but a little bit different. You'll be able to spot both of these designs when the two of them are holding hands – too cute! We like the combo of a feminine wrist and a more masculine hand print – it works well.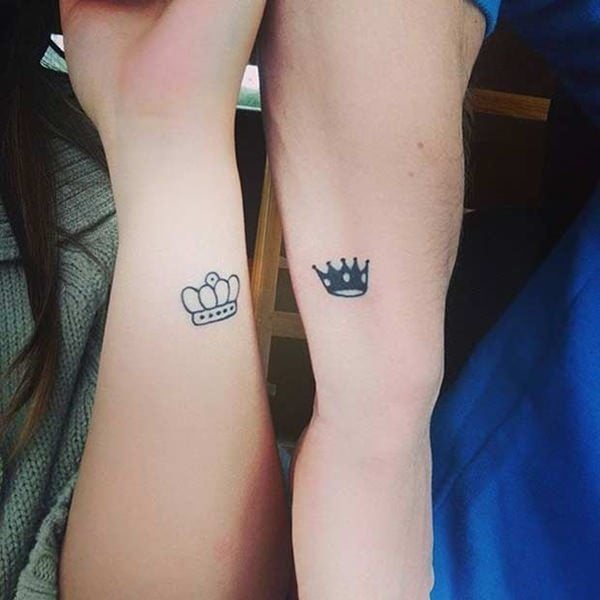 32. Black n White
Matching doesn't have to mean matchy-matchy. Check out these color opposite and yet still matching crown tattoos on this pair. The cute cartoon style lends itself well to an outline and a filled in tattoo. Obviously you couldn't do this with a huge piece but these look awesome!
33. King and Queen Club
How do you get stamped at a nightclub when you have a tattoo on your wrist? These two obviously are throwing caution to the wind – or maybe this king and queen's nightclub days are over. The brilliant colors of these two crowns sure stand out, don't they?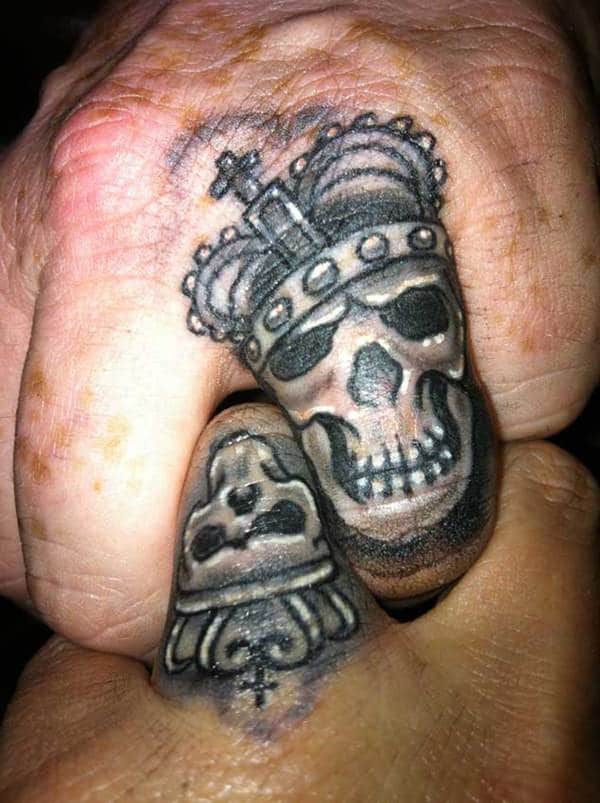 34. Dark King n Queen
I'll hold your hand if you hold mine! Check out these creepy skull king and queen finger tattoos! They sure make an impact! The black outline is perfectly complemented by the white highlights and light and dark gray shading. We both these two are a formidable force!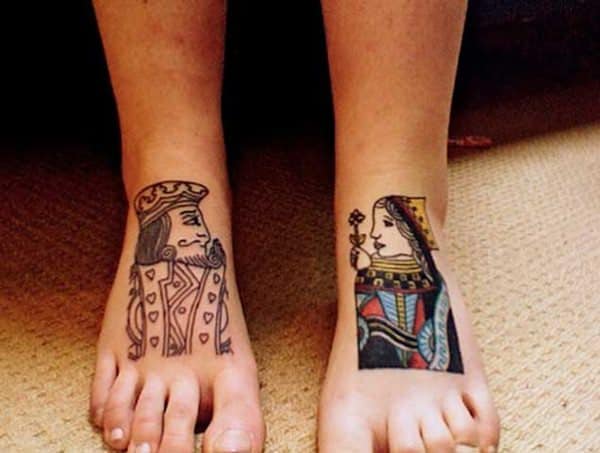 35. Look Out Over His Queen
The king surveys all in the lands, looking out on to his queen. The love shines strong in his eyes as he worships her everything. An unfinished pair, these king and queen tattooos are based off a king and queen of different suits of cards – an unlikely match, but true.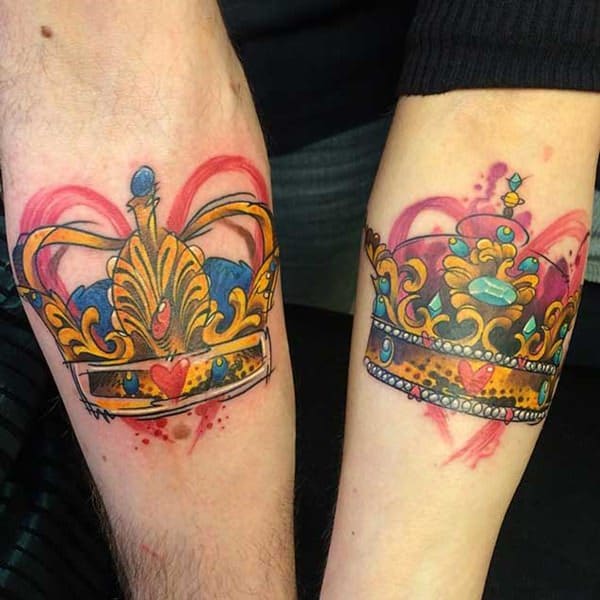 36. The Artist's Crowns
This spectacular sset of tatts have been drawn and colored by a master tattooist. You can tell but the unique, sketchy style of the tattoo that they are not just "some tattoist" by a true artist with their own particular style. The coloring is the icing on the cake, too.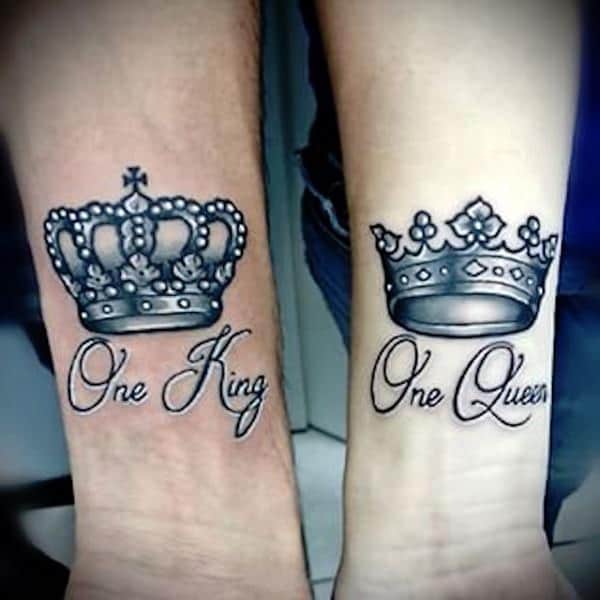 37. One King, One Queen
So many relationships these days get watered down. People date multiple people at a time, cheat on their partners, and divorce is a fact of life. These two have tattooed "One King" and "One Queen" to prove that their love can last despite the odds. It's true love right here!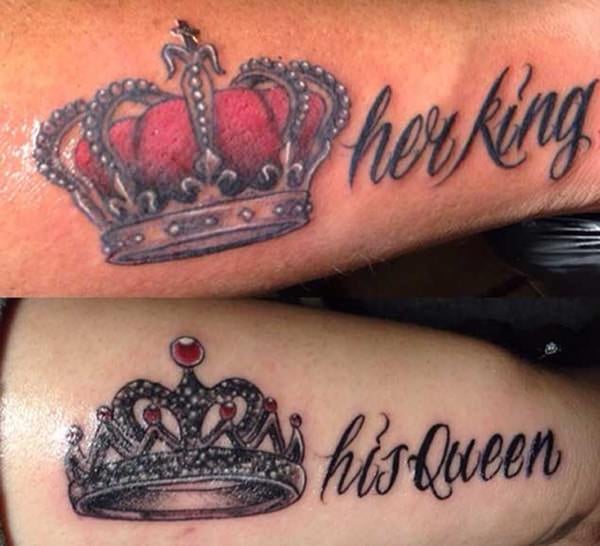 38. Her King, His Queen
Another set of super dedicated king and queen tattoos, this one features the crowns too. If you and your partner truly are the rulers of your castle (and perhaps even each other!) then this might be the matching set of tattoos that really stands out to you. Do you dare?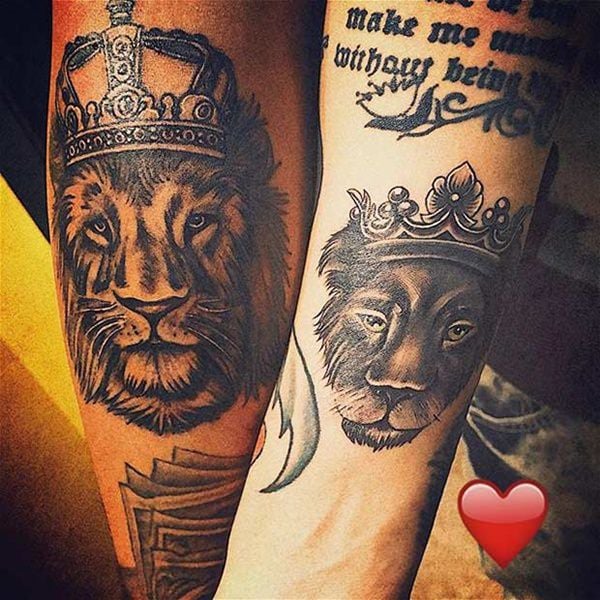 39. You Make Me Roar 
The lion and his lioness. The lioness and her lion. This set of regal felines are the perfect addition for those who are really into their tatts. Thankfully the artist has done a really good job on these two! It looks like this pair of lovers might be running out of space soon!
40. Just a Crown Stamp
These sweet little hands stamps are a perfect pair.