Although our wrists may not be the biggest part of our bodies, they are often one of the most seen areas. For this reason, many people choose to get unique designs inked in this particular area to show them off for the world to see. It's the perfect place to get something small and remarkable, list these designs show.
For the most outstanding wrist tattoos, look no further than these 88 amazing designs. Wrist tattoos are the perfect way to display your personality and are located on a visible area of the body that lets you admire your artwork regularly, unlike somewhere like your back or thigh. They're great conversation starters and you can be sure that lots of people will be asking about the significance and meaning behind your work. Maybe you're deciding if your next art will be on your wrist or perhaps you've decided that you're definitely getting something on your wrist; but either way, here are a few things to consider as you pick out the perfect design for your wrist.
Size and Shape
Wrist work is perfect for smaller designs and wrist tattoos are popular for people of any sex, age and walk of life. Pick something that describes you. It can be fun and flirty or classic or perhaps menacing and ominous. It's up to you and whatever you select will be unique and one of a kind to you. Go over it with your artist to make sure they're comfortable crafting that design and then have fun and watch the masterpiece unfold. One thing to consider when you're thinking of getting a wrist tattoo is that your skin will be exposed to the sunlight a lot of the time, so it's even more essential than usual to wear sunscreen on your tattoo every day to prevent your beautiful ink from fading over time. Once you've decided to go for a wrist tattoo, here are a selection of the finest designs and styles to choose from.
Stars
This is a classic outlining of stars that is crisp and clean cut.
2. This image has some nice line work and shading. You'll notice that the stars fade from lighter to dark and gradually decrease in size as they go higher on the forearm.
3. This is a simplistic representation of some artwork you may have stenciled on your notebook when you were in grade school. It's like a shout out from the past and looks really cool.
4. These stars have added color that make them look cheerful and bright. The dots in between them make them appear like they're in the galaxy.
Stars are a fashionable design for wrist tattoos and you can go for a plain star either in black or a vivid color, or select a more intricate design. A number of different sized 'shooting stars' look stunning tattooed on a wrist, or you could choose to have a matching pair, with one tattooed on each wrist. Stars are a classic look and it's hard to pick a wrong look. There is a lot of flexibility and your able to add on a lot in the future if you so choose. They look good in a sequence as well as when they stand alone on the wrist.
Flowers
5. These two roses have vivid coloring and excellent line work.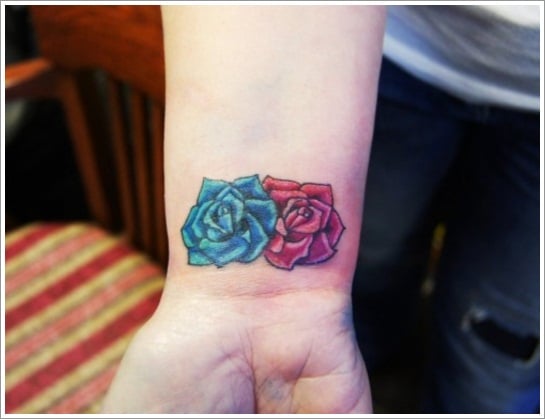 6. This art has white in it, do you see it? It's simple and elegant but the shading causes it be pop off her wrist in a dramatic and elegant way.
7. This has an eastern feel to it that's almost whimsical. Does anyone else feel like the black lining is like a music note?
The range of different flower wrist tattoo designs is huge. A simple daisy looks cute or you could even have a whole daisy chain tattooed around your wrist. From romantic roses and Japanese cherry blossoms, to striking black and gray hibiscus flowers, the choice is endless. As you noticed, the choice in coloring is also vast. There's a lot of room for originality and creativity when creating this type of image.
Old School
8. Birds looking at each other and chirping at one another is a cute and eye catching piece. The coloring and line work here is beautiful and it really makes the tattoo stand out.
For fans of old school tattoos, a colorful anchor or swallows are great options for a wrist tattoo design. A Sailor Jerry style old school heart with a banner looks perfect tattooed on a wrist, and the bright, bold colors will really stand out. There are so many different looks you can go for when choosing an image for this part of the body. Think about what message you're trying to convey through your art as you decide which art is best for you.
Words and Lettering
9. This is a elegantly scribed flower tattoo with pretty script. It's simple and lovely and quite feminine in appearance.
10. Here's a great example of lover's name inscribed together and woven beautifully in a simple image.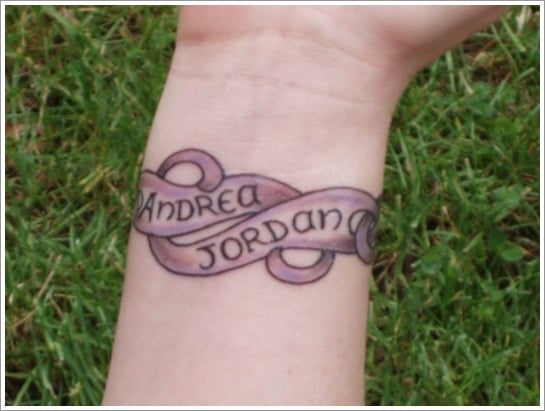 11. There's something about tattoos where it takes two people to make it whole that's just so romantic. Don't you think?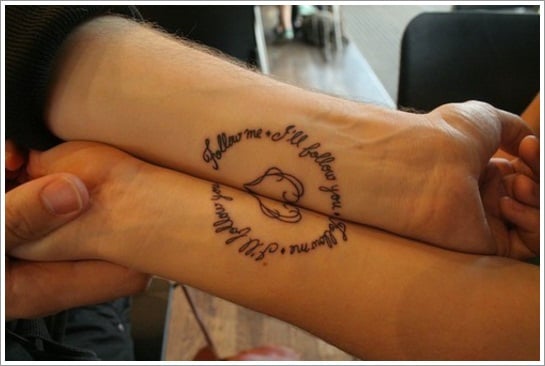 12. You can never go wrong with the swallows. There is so much significance in this imagery and it can mean whatever you want it to mean. In this case, the author is saying, "Let it be," or let it go.
A meaningful word or phrase is perfect tattooed on the inner wrist. Whether it's the name of a loved one, a word that describes you as a person or simply a meaningful phrase that you like, what could be more personal than having it tattooed on your wrist? Often people opt for Latin, Sanskrit or Chinese lettering on their wrists, and the writing can either go around the wrist or vertically up onto the arm.
Music Themed
13. Music themed images are a favorite of many because they represent the inner song of their soul. What song does your heart sing?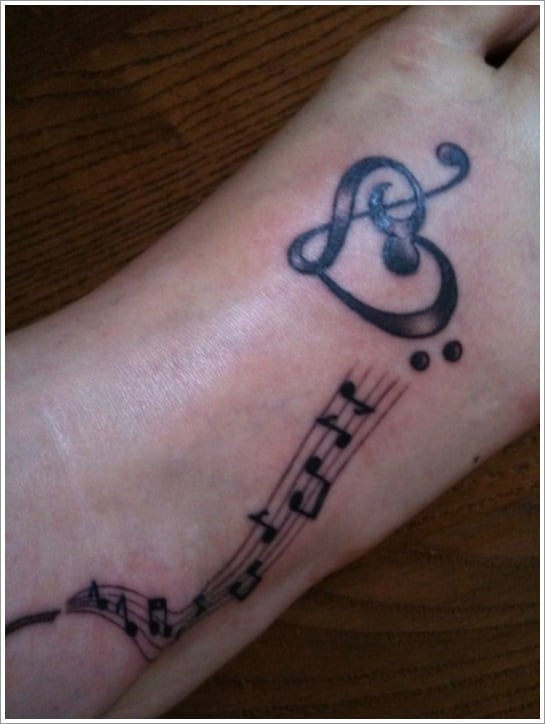 14. Here's simple yet effective example of music plus peace plus love.
15. This kind of reminds us of something a Disney character would have tattooed. It's cute, fun and happy.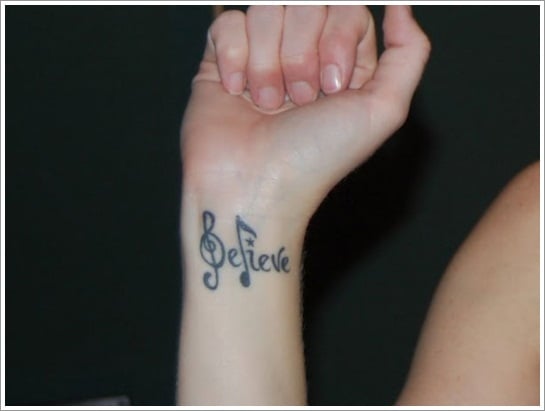 For music-lovers, the wrist is an ideal spot to depict your passion. The small area is the perfect position for a musical note, and a phrase from a favorite song would also be an inspired choice. It's a unique placement that'll definitely start conversations with a variety of people. Music has brought people together for generations and it always sparks topics of conversation among even strangers.
Butterflies
16. Butterflies are a beautiful option for wrist tattoos. They're simple and elegant but also hold a lot of meaning. This is a pretty example of a black tattoo that has special detail in the line work.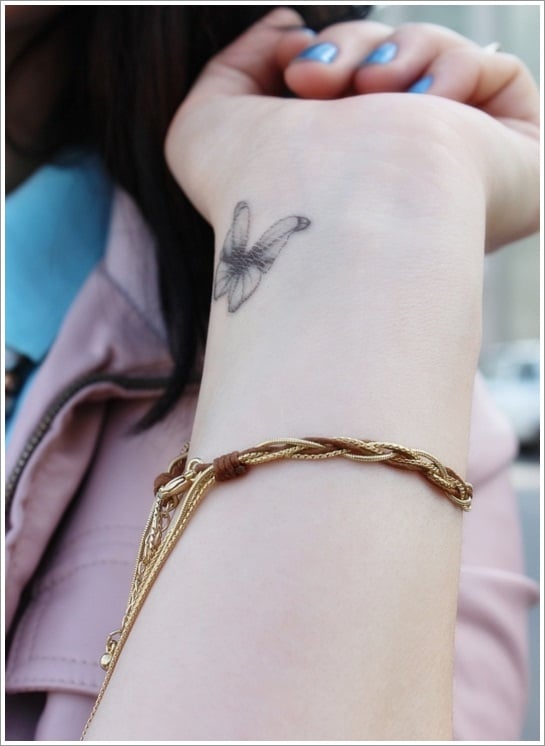 17. Here's another simple yet sweet image. Notice the small hearts in it's wings.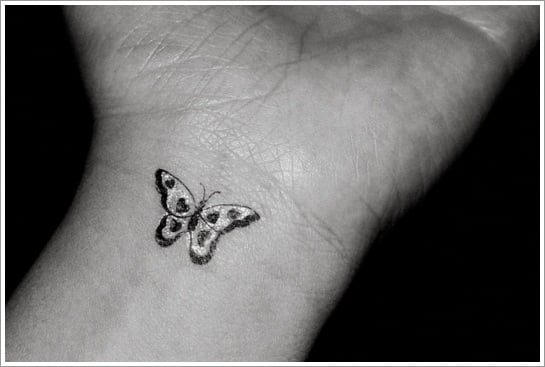 18. The vivid coloring here really makes the image pop. The use of purples and oranges really allows the butterfly to come alive. The artist did an excellent job here.
19. This took time to draw out and create the intricately woven wings. The deepening purple has a special effect on the casual observer that makes one stare a bit longer at this piece of art.
20. Beautiful uses of white and black in this image. Great job by the artist.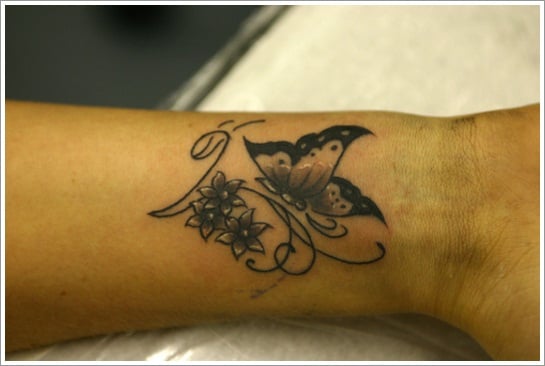 Butterfly wrist tattoo designs can be small and charming, colorful and vibrant or even dark and gothic. A large, intricate butterfly looks fantastic as a wrist tattoo, but a group of smaller, less detailed butterflies also looks great. You can even include other images in your butterfly wrist tattoo design, such as leaves, flowers or stars.
Birds
21. Sweet line detailing the sparrow in flight.
22. Love the hipster look of this swallow taking off from the tree branch.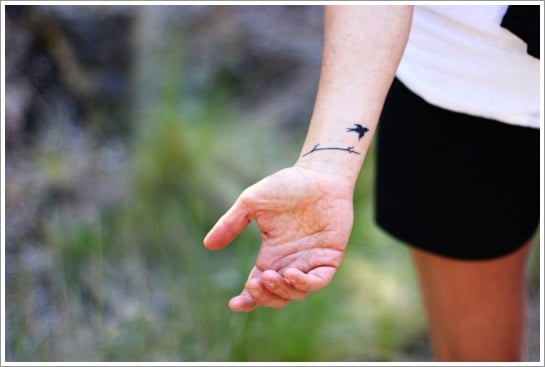 23. This image has great coloring and shading. The wings took time and skill to create the overall look of the bird as he's taking off.
24. Interesting placement of the feather and excellent attention to detail.
25. The farther the birds go down on this canvas's arm, the smaller they appear. Notice the detail in the largest bird's wing.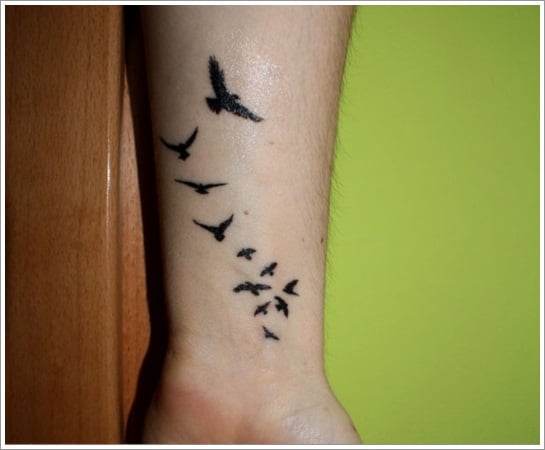 26. This butterfly has initials inscribed behind it but it's done in a beautiful way that makes it seem effortless and flawless.
The image of flying birds in pure black ink is an eye-catching wrist tattoo design that only takes a short time to complete. You can have as little or as many birds as you like with this type of design, and it's truly stunning. If you want a more colorful and detailed bird design, why not opt for a design that shows a bird amid beautiful flowers?
Tribal
27. The tribal look here is dark and threatening.
28. This is a hard image to cover up because of it's size and placement. The detail is great and the red causes it to pop.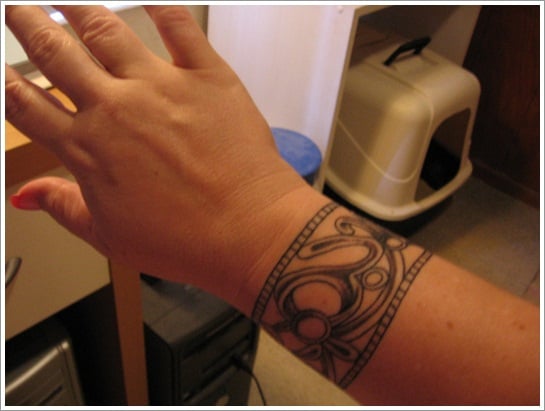 For fans of tribal tattoos, there are countless marvelous designs that are just right for wrist tattoos. From a Celtic wristband to an elaborate Maori symbol on your wrist, tribal wrist tattoos look dramatic and stylish. Perfect for both men and women, a tribal design is a great choice for a black ink tattoo.
Symbols
29. This key hold looks life like. It has a 3D appearance to it that makes us want to stick in the key and turn it to open the door.
30. Here's a unique symbol that is small and easily hidden.
31. No body is complete until they have the Apple, right?!
32. Classic heart and key. Great detail and line work on both images. This is a captivating look and appears to be lovers holding hands as if saying, "He holds the key to her heart." Pretty romantic!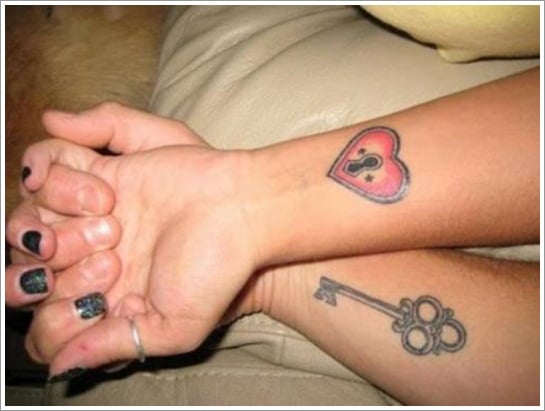 33. Whimsy compass with a feather on the end. We particularly like he stenciled overall appearance. It gives of an edgy look.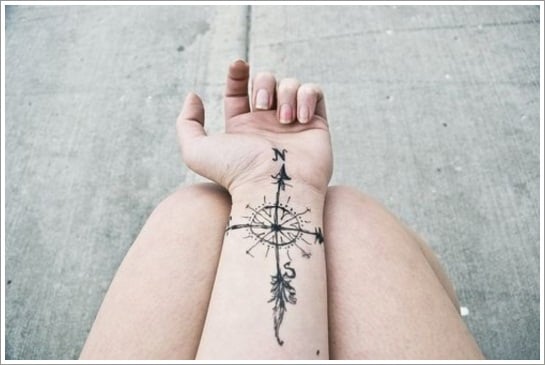 34. Symbolic pieces in bold and dark colors.
35. Almost hidden to the untrained eye. Would you get something that slight? This is a great option if you need to keep your work on minimal display.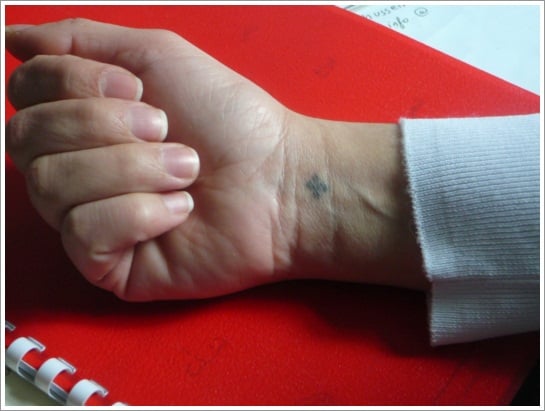 36. Great piece of work! We love this because it looks like it's sitting on the canvas's arm rather than just inked on there.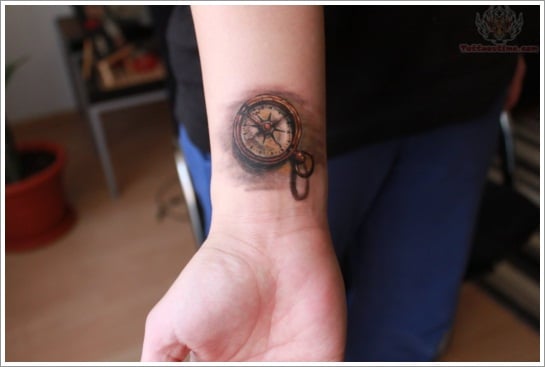 37. Simple, bold, classic.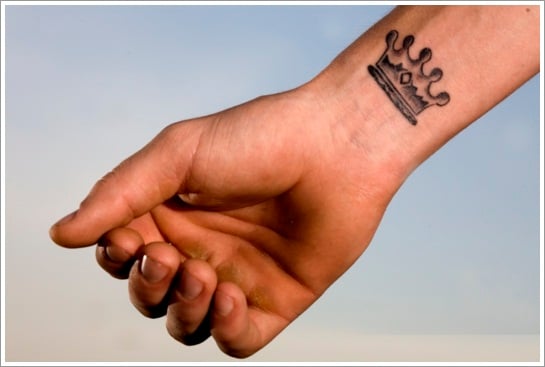 38. Simplicity is often the most descriptive as you'll see from the next few pieces.
39.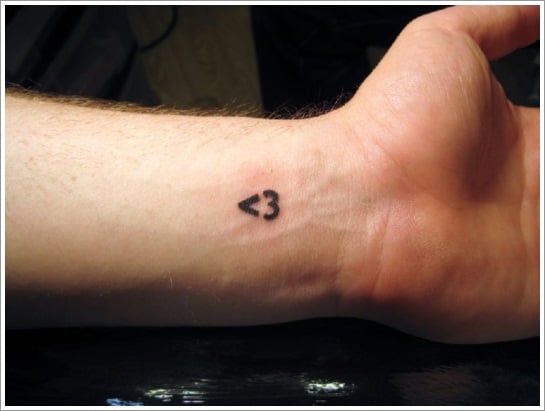 40.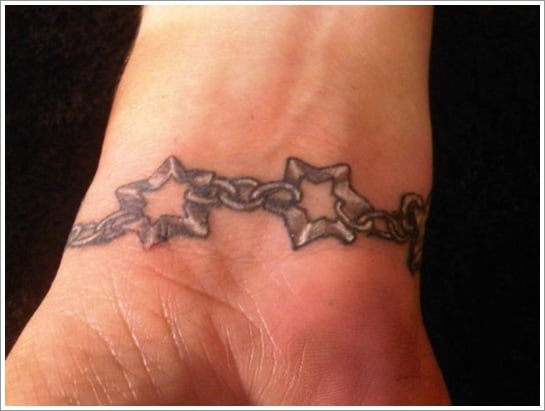 41.
42.
Small symbols such as hearts, the Yin Yang sign, your star sign, the Om icon or the infinity symbol are all really awesome as a wrist tattoo. Simple enough that not too much detail is needed, a small symbol on your wrist is a dazzling choice for a personalized tattoo.
Bracelet
43. This sweet twist of the heart is poignant. You'll see over the next few pictures some great options of classic wrist designs.
44.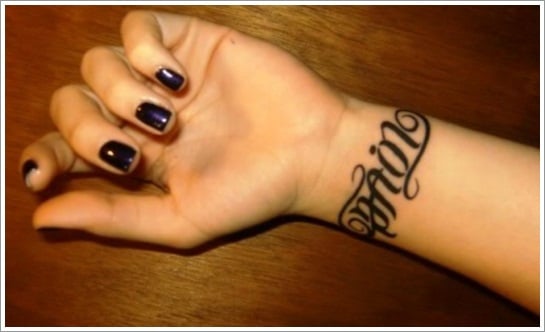 45. Awesome line work and attention to detail.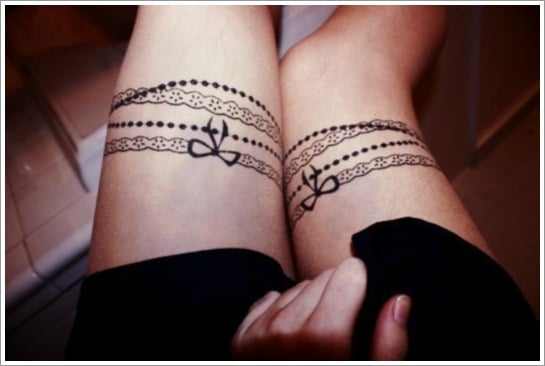 If you're looking for something more than just a simple design on your inner wrist, a bracelet design that encircles your whole wrist is a good choice. The possibilities are countless, so you can pick the style depending on your personal preferences. You could go for a conventional style bracelet with dainty charms tattooed onto it, a tribal style bracelet, a beaded bracelet or even a bracelet of leaves and flowers.
Quirky
For a great conversation starter, why not use your imagination and come up with something quirky and unusual for your wrist tattoo design? Possibilities include a vampire bite, a barcode or a line of stitches in a Frankenstein style.
46.
47. His and her's is always an excellent option.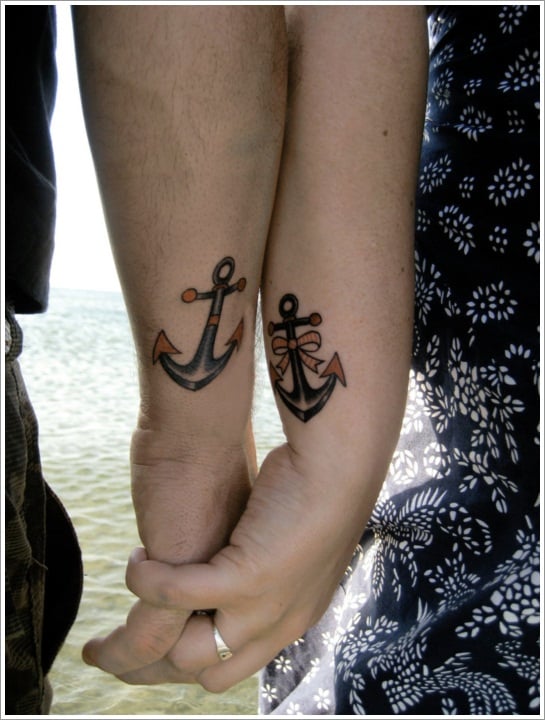 48. Lock and key is another great representation of love.
49. The sparrow looks so elegant and timeless in this art.
50. This looks so realistic and the color makes it truly pop.
51. Song of the heart is often a great symbol of one's love.
52.
53.
These wrist tattoos are a mixture of classic, quirky and adventurous. Which one would you choose as your next piece?