If you love horses and like to spend time on them and with them, then you know how great it can be. Horses are not only magnificent to look at, there is a sense of immense power in them and they embody graceful movement. Even if you are not into horse riding or other equine sports, a horse can be something that fascinates you. Considering the immensely passionate responses that horses bring forth from even those people who do not actively interact with these majestic and beautiful equine creatures, it is hardly a surprise that horses feature in many tattoo designs.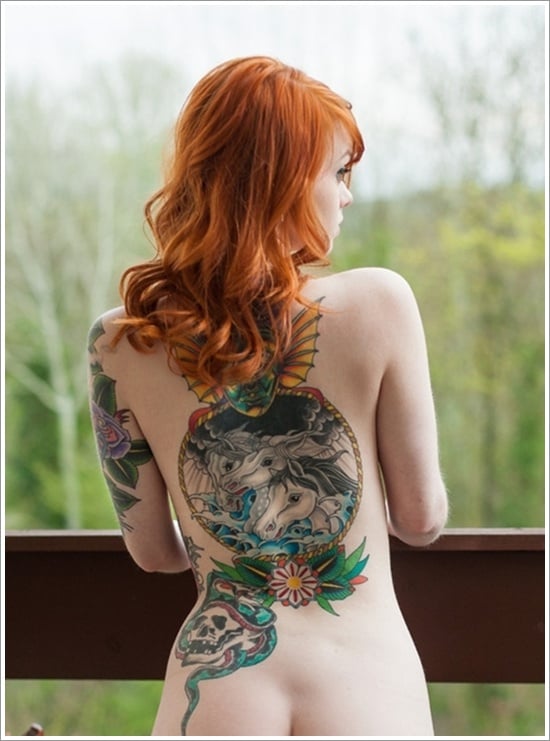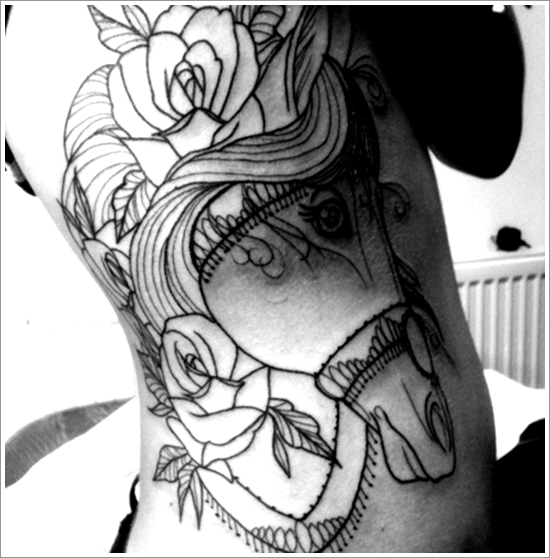 People tend to show their love, fascination and wonder of horses by getting them inked on their body. This way their love and passion for horses is there for all to see and plus it is also a lifetime commitment. It definitely helps that horses are a subject that can easily be adapted to be made as a tattoo design. You can not only go for realistic looking tattoos of horses but you can also pick from fantasy based designs featuring this fabulous equines.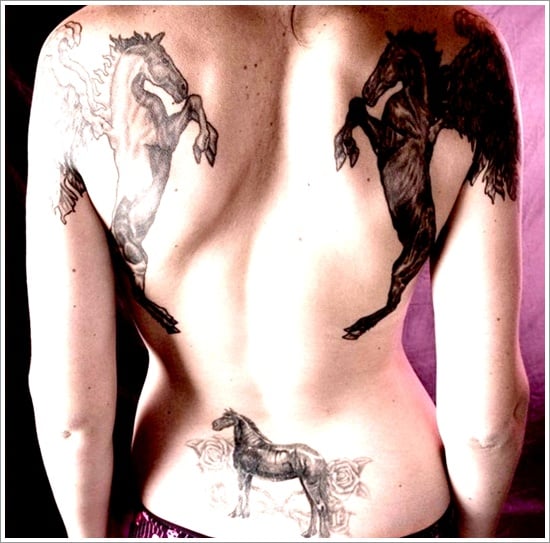 Another thing about a horse based tattoo motif is that they can be used by themselves or can be amalgamated as part of a bigger design. Horses can be drawn in lonely splendor or as part of a group of other horses. They can be shone grazing peacefully on a pasture or racing competitively on the track. This can create a really great visual impact.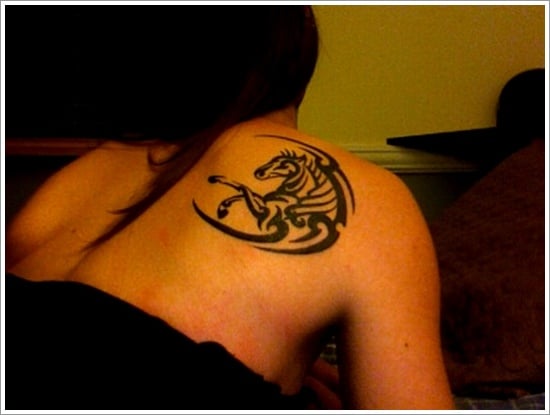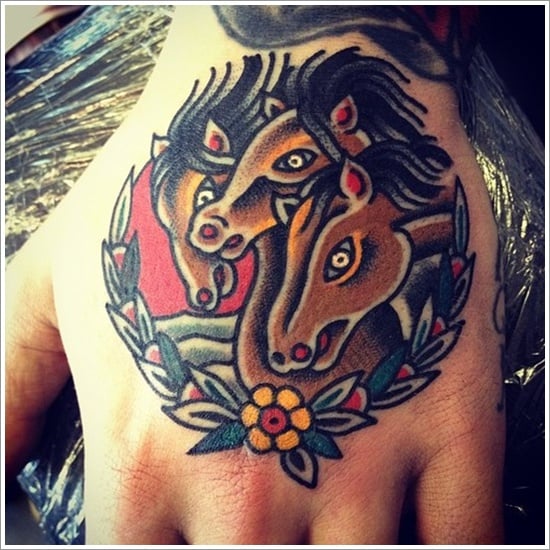 Horse head tattoo motif: The head of a horse can look very attractive with the beautiful mane along with the particularly attractive look eyes. The flair of the nostrils, the movement of the ears along with the mouth complete the total picture. This can look good on the arm where it will be visible most of the time. You can go with the head of a horse that you are particularly fond of.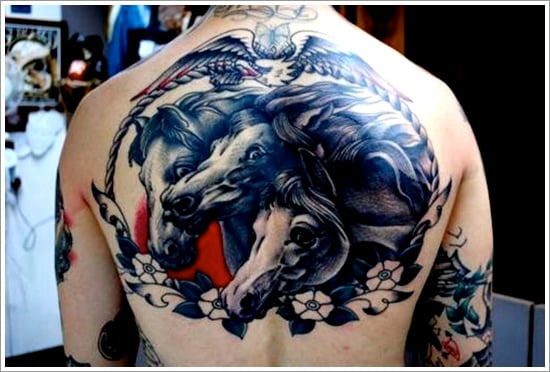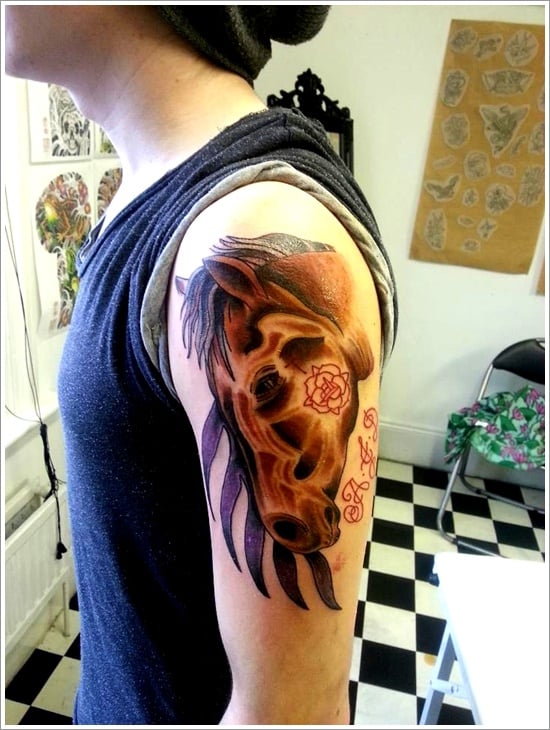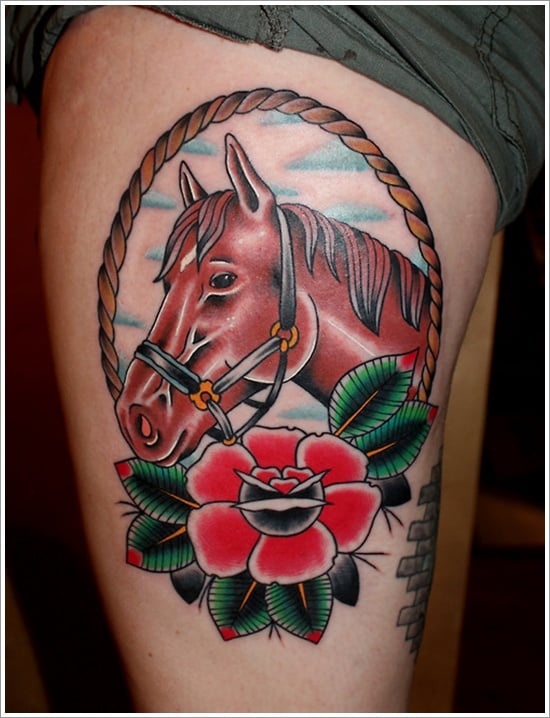 Full body horse design: The horse is a superbly good looking and functional creature that is gifted with a body that looks amazingly poetic while in motion. This can be captured with amazing detail as part of the body art.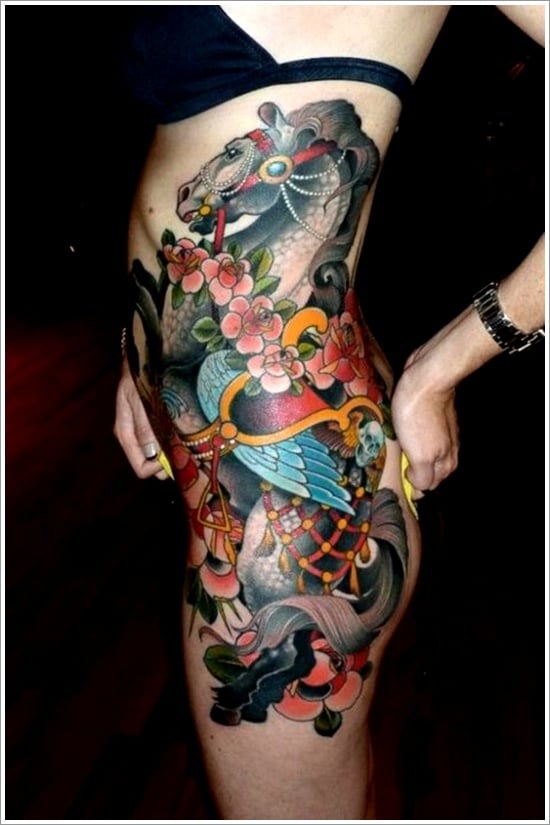 Horses running fast: A horse in motion can make your heart beat faster and will make your breath catch in your throat. The thing that is notable about a horse in motion is that it makes the whole thing looks so easy and effortless. The horse looks as if it is one with the wind itself.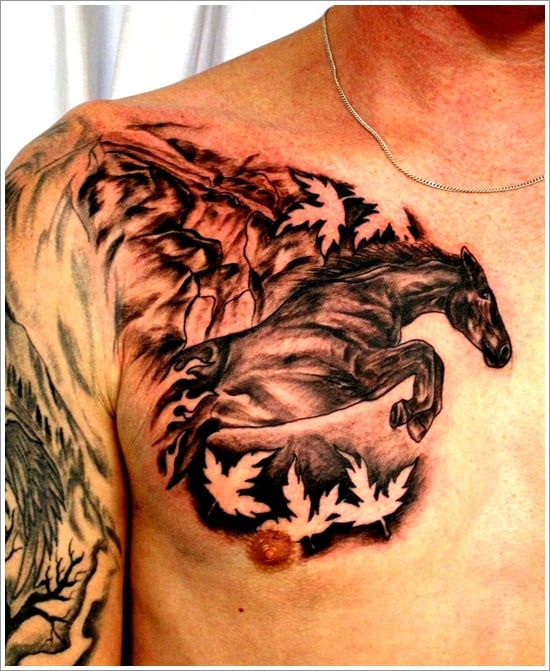 Horse rearing up with front legs in the air: There is a ferocity and anger to this pose when a horse raises up on its hind legs. It is a sign of protest and rebellion that the horse shows in this manner. This can be used very easily as a tattoo design to depict your inner turmoil and need to break free of shackles. This tattoo will be stunning in terms of symbolism and aesthetics.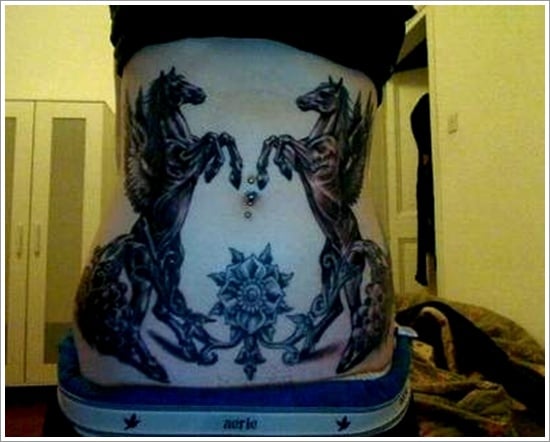 A horse being ridden expertly: When an expert rider gets on a horse and they both take off, then the scene is worth watching. It is almost as if the rider and creature being ridden have become one and the same. This is a magical and wonderful moment that can be captured expertly in a tattoo.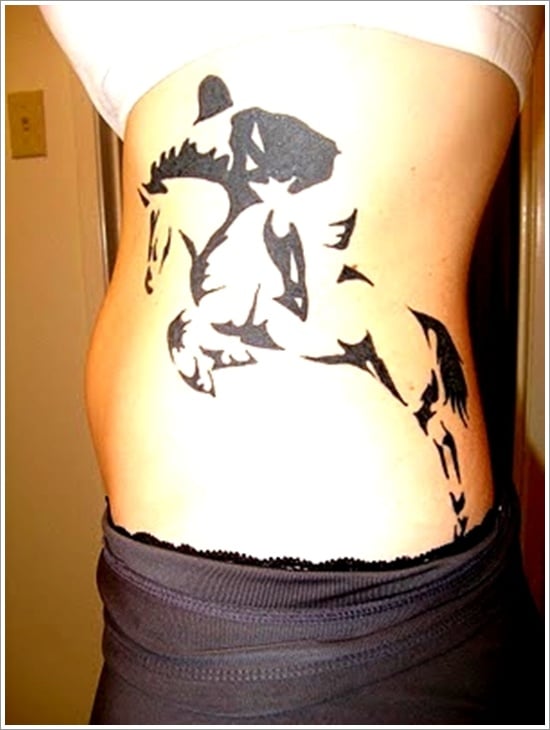 A warrior riding to battle on the horse: This is a familiar and impacting scene that shows the horse helping the warrior rush in to fight and helping him escape in case of danger. A profound and meaningful tattoo design.
Pegasus, the mythical horse like creature: A horse with wings can be considered the most ultimate creature. Getting a tattoo featuring Pegasus who is supposed to be such a creature is the stuff of dreams. The permutations and combinations in which this design can be rendered are endless.
As you move forward, you'll find some other good examples of Best Horse Tattoo Design Ideas: