If you are looking for a rib cage tattoo, then you are going to love this article because it gives you a ton of ideas on what you can do for your next tattoo.
When it comes to getting a new tattoo, location is really important. There has to be a lot of thought involved before you make a decision on your tattoo because it's permanent and you don't want to have any regrets. Placement may seem like an easy task, but really it isn't. The rib cage is a great area for a tattoo especially if you are planning a large one. But the area is very sensitive and can be a painful spot to get a tattoo done if pain bothers you at all. If it does, you may want to consider another spot.
It is a great spot to get a tattoo if you want something that is hidden. It's a great spot if you work in an office and don't want anyone to know that you got a tattoo. You can show it off if you want, but otherwise, it can stay hidden.
The rib cage is one of the sexiest places that a person can get a tattoo. There is just something about that location where a tattoo really looks cool. There is a world of ideas that you can check out for your rib cage tattoo; the sky is the limit for what is available to you. Below are 82 Insanely Cool Rib Cage Tattoos That You Will Love:
1. A Love Note
Your rib cage tattoo doesn't have to be large, in fact, it can be a simple message of love. This one is certainly sweet.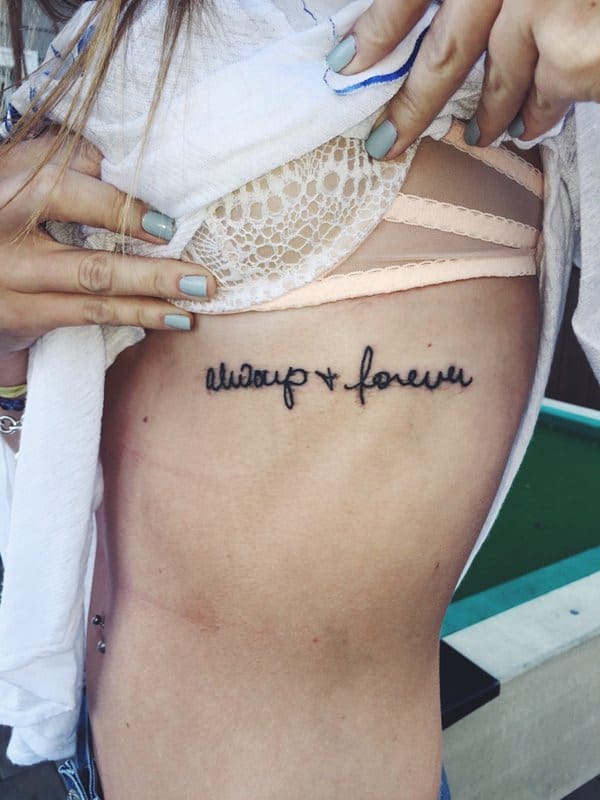 2. Geometric Designs
This is an insanely creative tattoo design of Saturn and the stars around it. The colors, the stars, and the design are all so beautiful. I love how the tattoo is made up of geometric shapes; it's stunning.
3. Ghost Tattoos
This is a cute and funny design for two people who clearly don't want to be apart. I love these two little ghosts.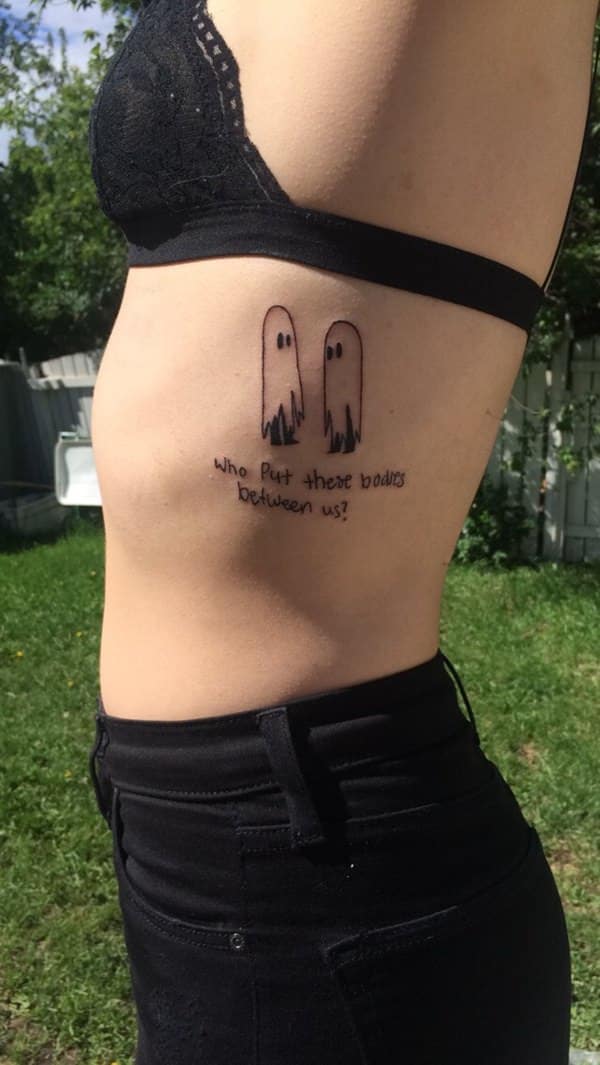 4. Follow the Sun
You Are My Sunshine, is a classic song that has stood the test of time. If you want a song that makes you feel good about life, then use that for your next tattoo design.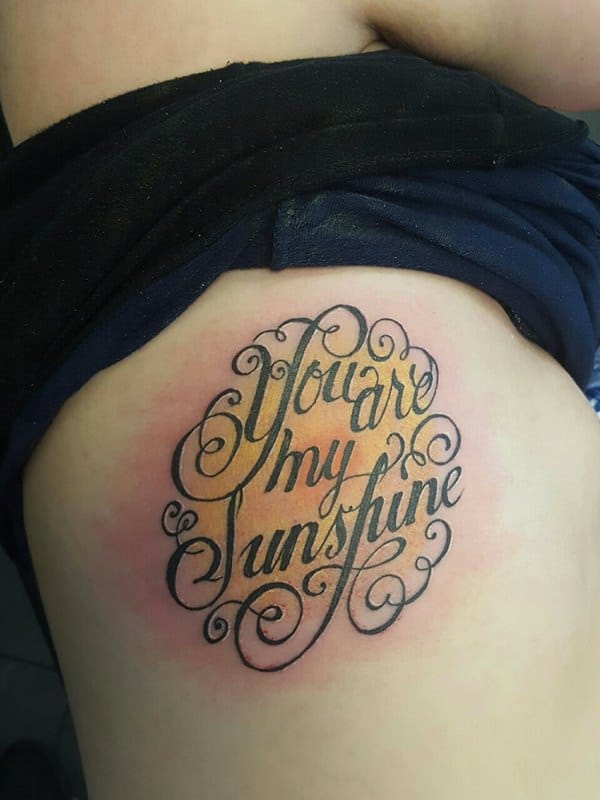 5. Writers Love
A great tattoo to remind you that you have to love the journey as much as you will love the end result.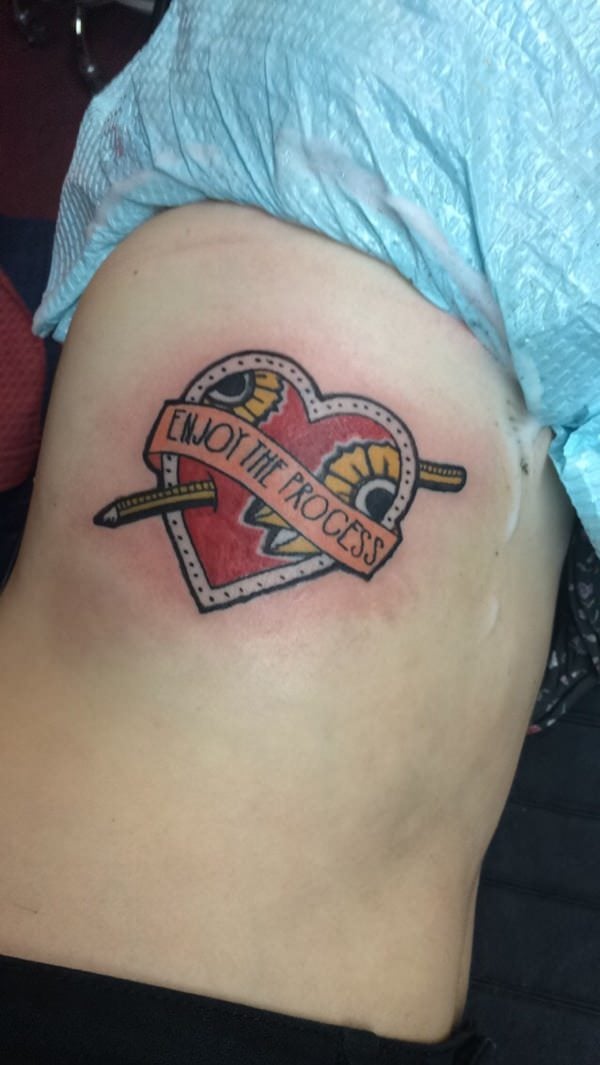 6. Floral Designs
There are virtually thousands of floral designs that you can get as a rib cage tattoo. This is just a peek at one.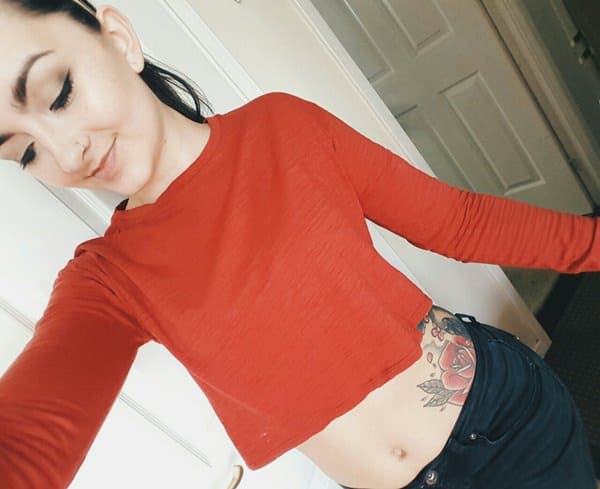 7. Other Languages
Say how you feel in another language. You can have your whole passion written out, and it will be your little secret.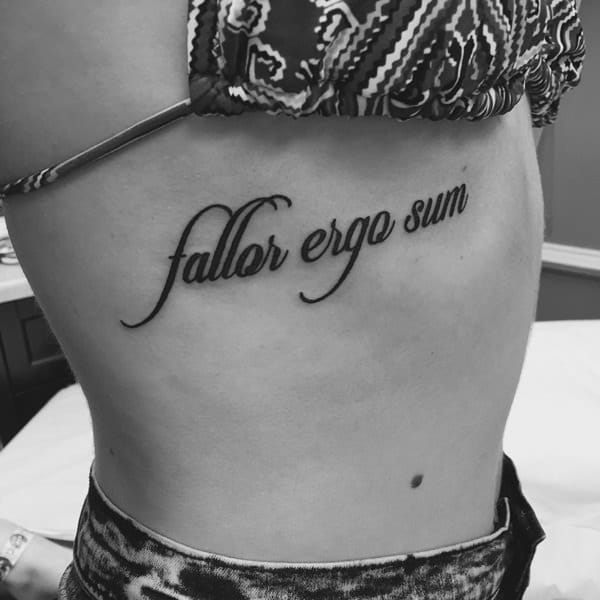 8. Nautical Designs
If you love traveling by the sea, then this would be a great rib cage tattoo for you. You can't go wrong with this stunning tattoo.
9. Lotus Flower
A stunning design for those of you that love lotus flowers, it's a large design that doesn't require any color.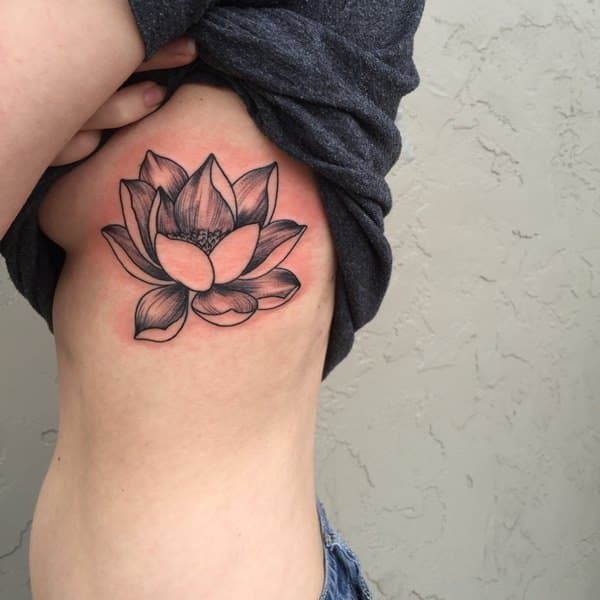 10. A Painting
These colors are great because they are all muted like you would see in a painting. It really does look more like a painting than a tattoo. It's an original design.
11. Bright Red Flowers
The great thing about this rib cage tattoo is the bright red flowers, they are stunning, and they seem to just pop off the skin.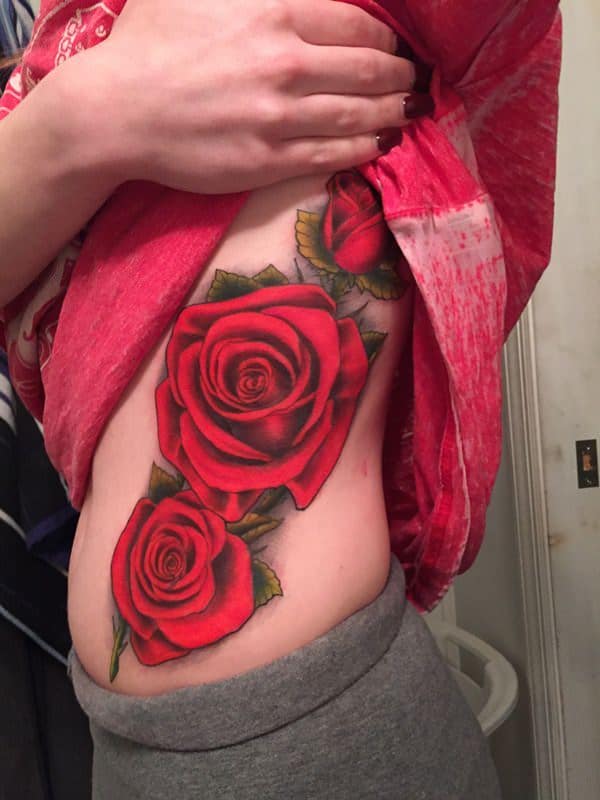 12. Pirate Designs
Is she a pirate or just some captor? She has a snake around her neck and a blade behind her back. Things aren't looking too good for this girl.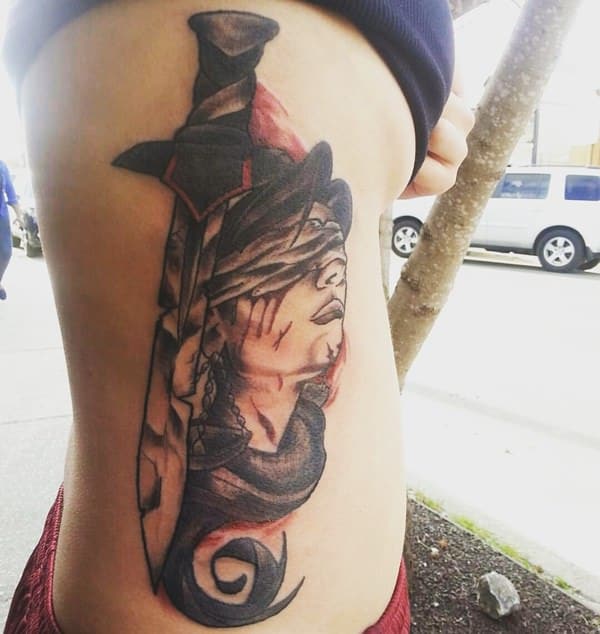 13. A Gift
A great example of a floral design but this one has an ornate hand with it as well.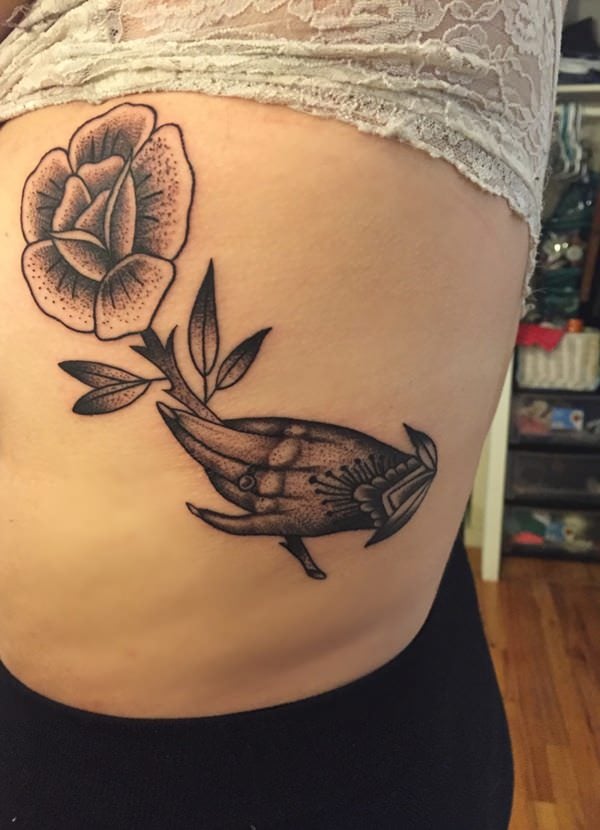 14. Geometric Designs
Another example of the geometric designs available to you. This one is small and doesn't take up a lot of room.
15. Rose Designs
A great tattoo design that consists of a couple of roses. It's a very pretty design, and the tattoo isn't very large.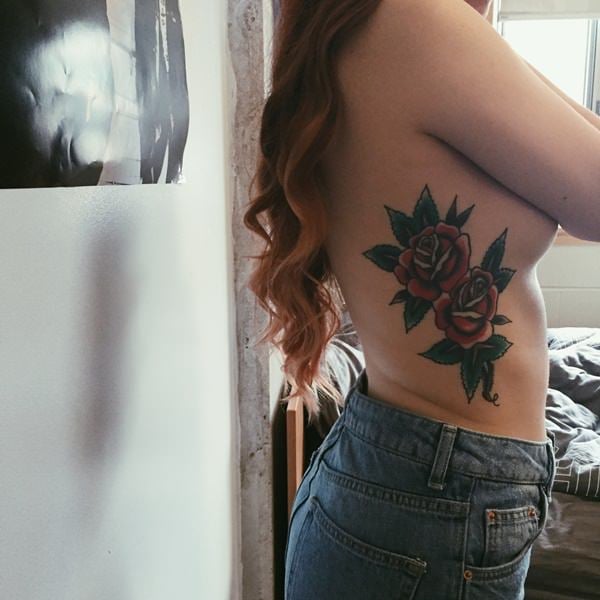 16. Gerber Daisy
A beautiful design for those that love daisies. It's small, so it won't take up the entire rib cage.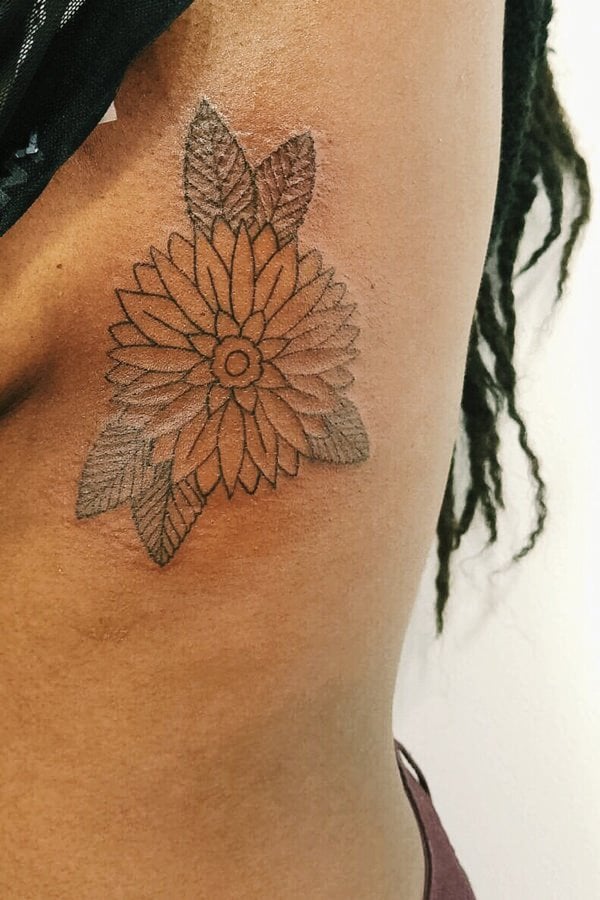 17. Quotes
Quotes are always popular when it comes to rib cage tattoos. This is a great one, or you can choose one that is personal to your own life.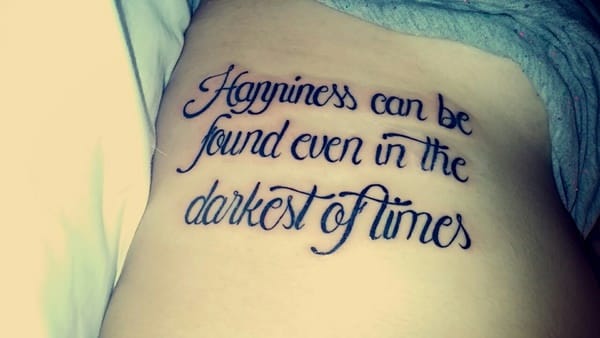 18. A Message
This tattoo has a message and some birds. Bring it together to create a great design.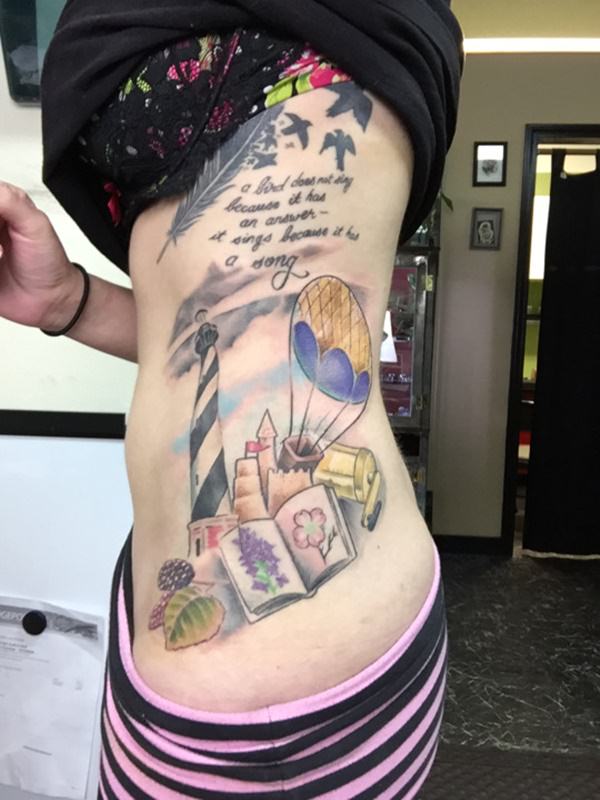 19. Sweet Messages
A sweet message with a touch of pink. You can't go wrong with this great design.
20. Purple Flowers
These stunning purple flowers are a great example of what kind of rib cage designs that you can get.
21. Dreamcatchers
A big beautiful dreamcatcher that has smaller ones dangling from it. The bright blue feathers really make things pop.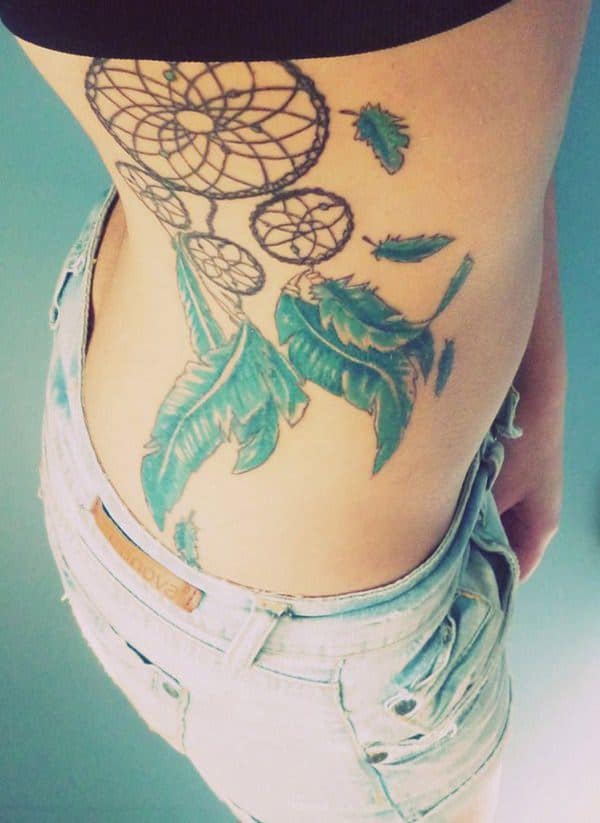 22. Geometric Wonders
This is quite the stunning design when it comes to geometric shapes. The tiger is literally made up of them which makes it look really cool.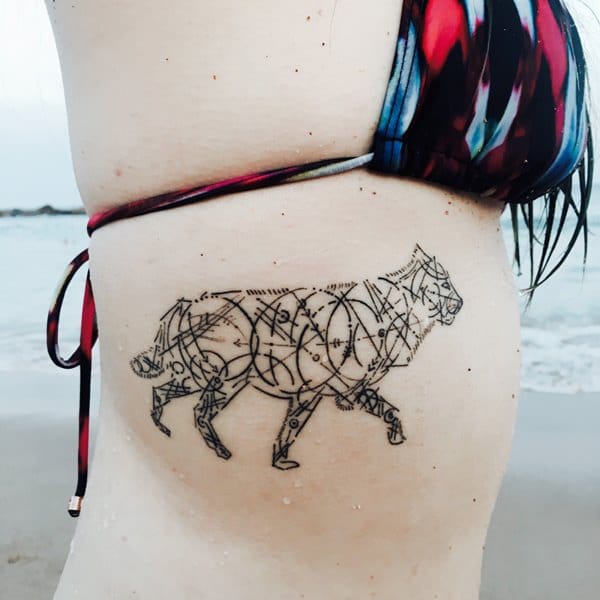 23. Single Design
This is a more detailed design when it comes to the dreamcatcher. There is a lot of detail, especially in the feathers.
24. Sun and Moon
This sun and the moon are molded together to create a unique and beautiful design.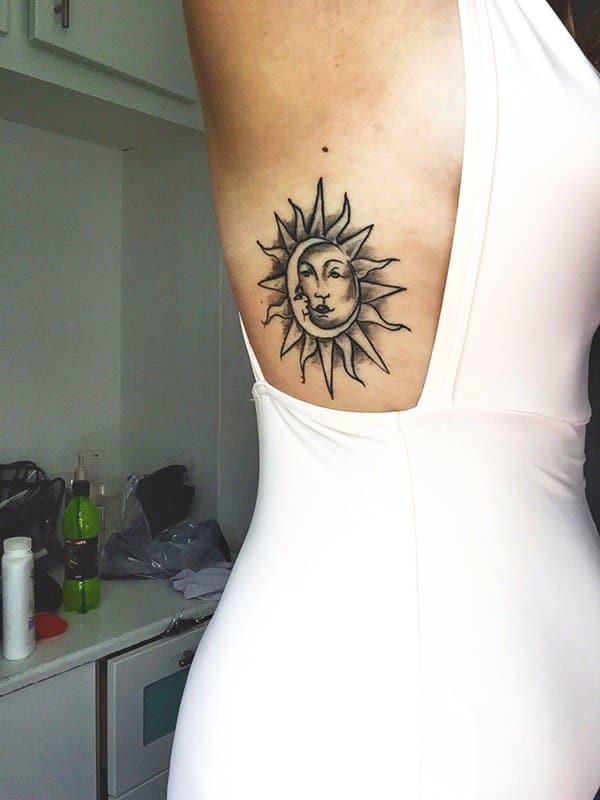 25. Creative Messages
Say your message with some creativity. These types of tattoos are very unique.
26.Blue Moon
I love this tattoo because of the bright blue moon and the writing inside of it. The font is really cool.
27. All Seeing Eye
This cool design is made up of an All Seeing Eye and random designs around it. Overall it's a creative design that looks great.
28. Fish Designs
This bright orange fish really pops off the skin. It's a colorful design that you will love.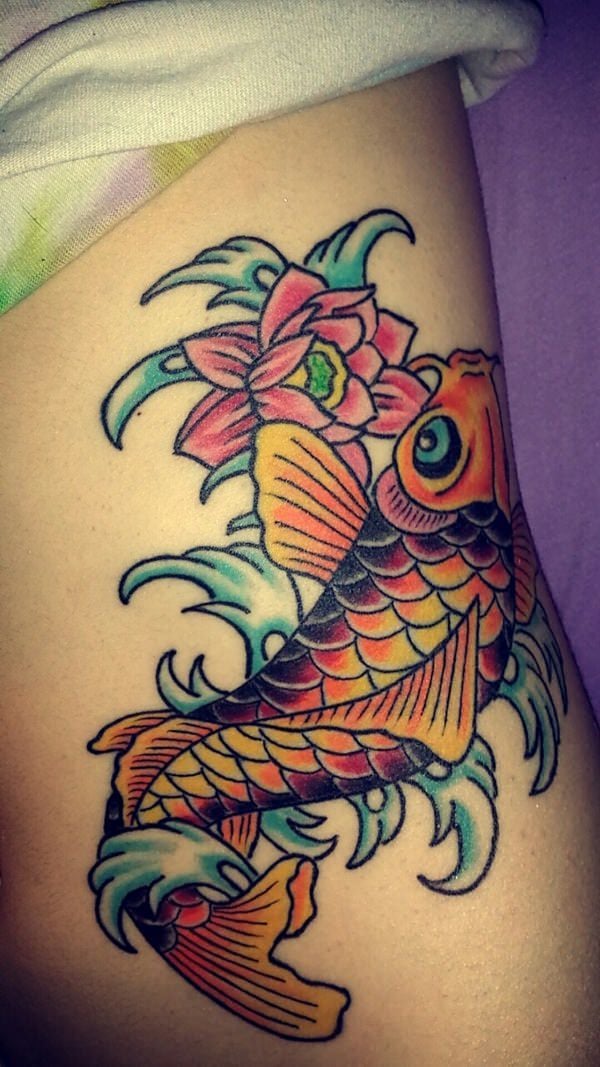 29. Elephant Rib Cage Tattoos
A great elephant tattoo that is truly unique. The colored dots going down his head are all part of a geometric design.
30. Multiple Blossoms
A rib cage full of Lotus flowers, these are some stunning designs, and the colors are brilliant.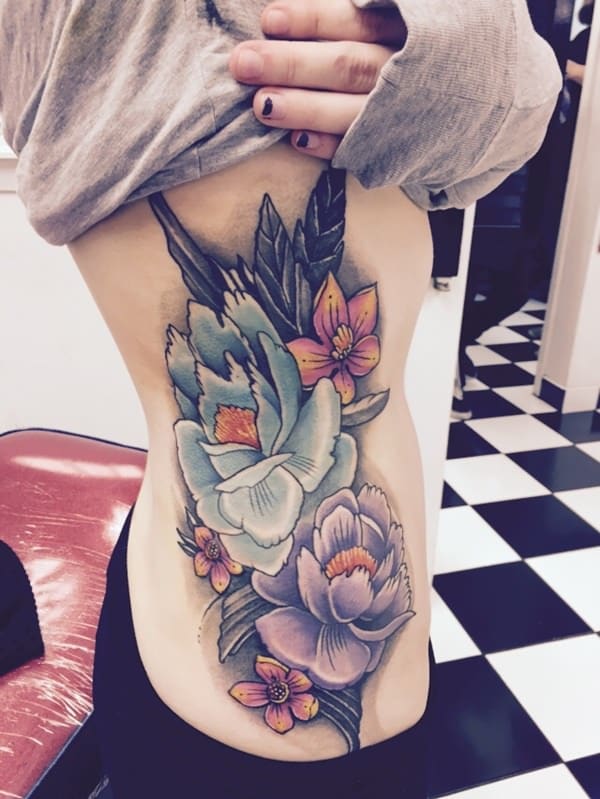 31. Striking Peacock
You probably won't find a more beautiful peacock design than this one. It's a scratchy design that is bright and full of color. I love the design because it's unique and it looks alive.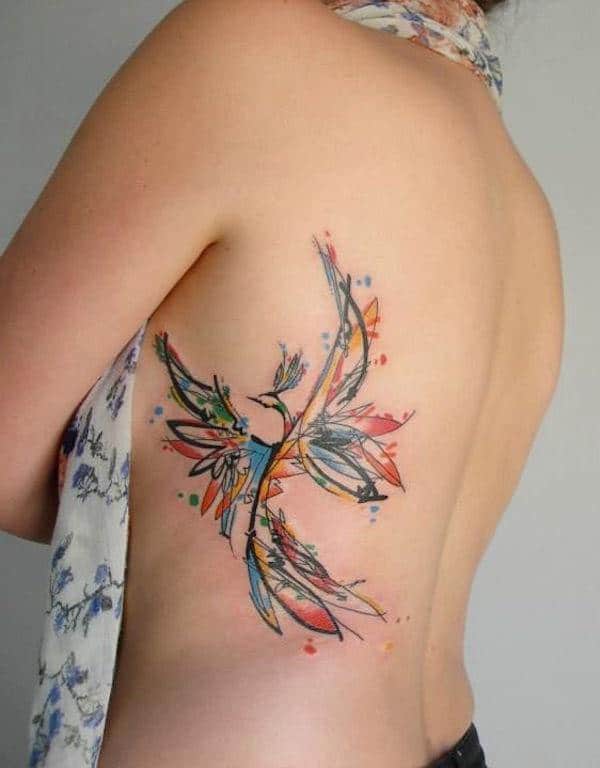 32. Realistic Peacock
This looks like a painting it is so riveting. I love the color and detail involved with this tattoo; it's absolutely beautiful.
33. The White Rabbit
If you love Alice in Wonderland, then you are sure to love this design. There are so many elements from the cartoon and what's here is pretty epic. It's a great tattoo if you love this sort of thing.
34. Splashing Fish
A great fish design that has an enormous fish flying out of the water. It has a lot of bright colors that you are sure to love.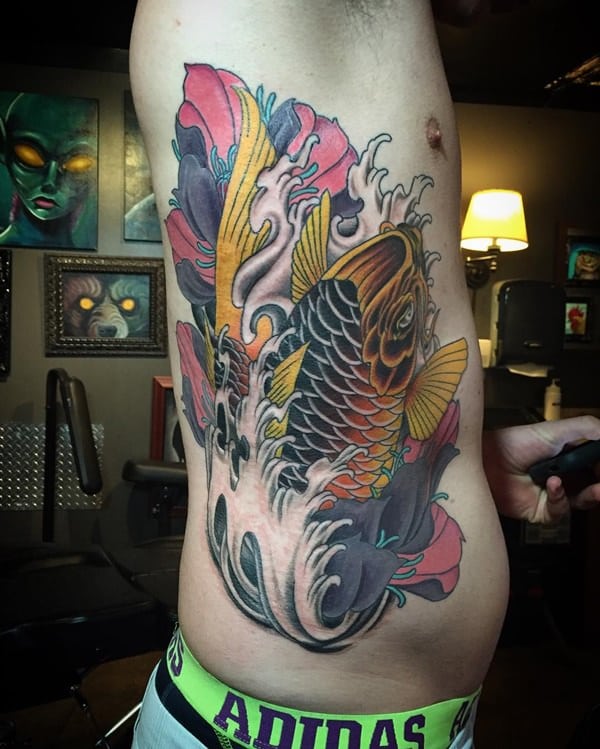 35. The Sun
If you are a sun worshipper like this beach gal, then you can't go wrong with this simple design. It's not a large tattoo either.
36. Hunting the Deer
It looks like this deer can't be brought down so easily. It has taken many arrows, and nothing is going to stop it from surviving. I like the fact that it has the hunters necklace dangling from the antlers.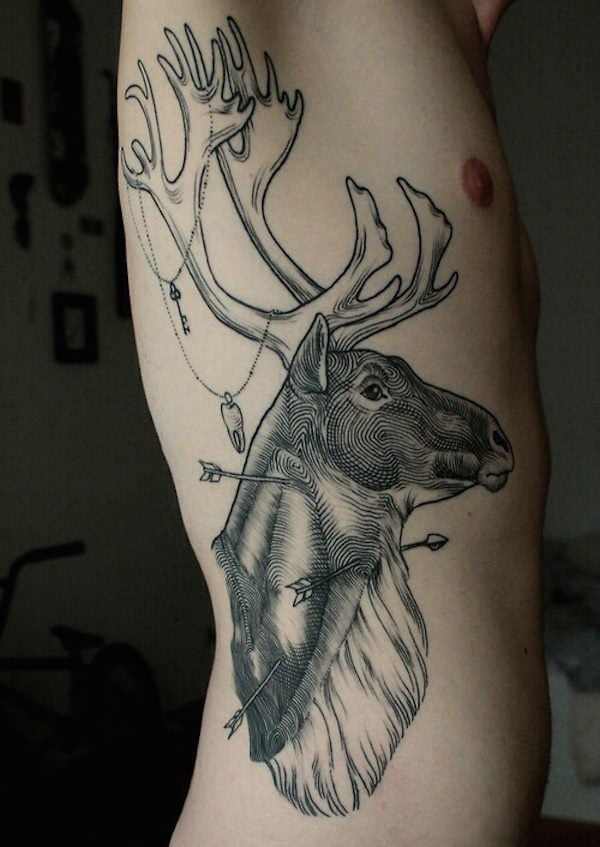 37. Swirling Colors
A scratchy drawing that is truly unique. The bright colors are splashed all over it to give it a unique design.
38. Feather Designs
A great floral design that has a large bird feather in it. It's rather large if you are looking for a full rib cage design.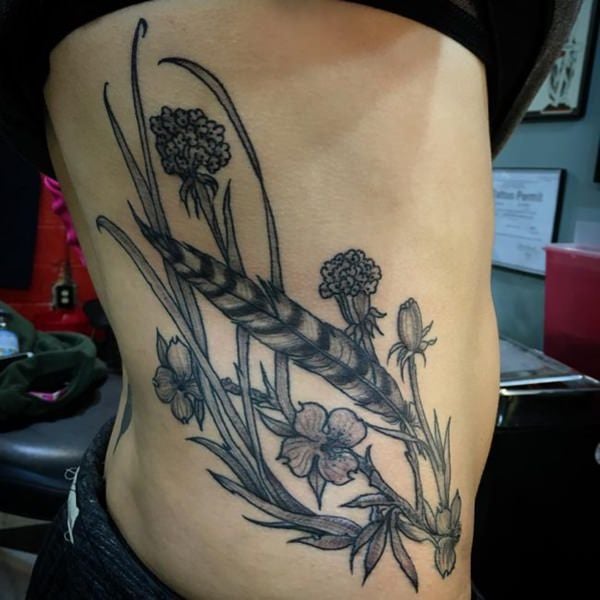 39. Beating Heart
A unique heart design that is realistic, and it's covered with beautiful, colorful flowers.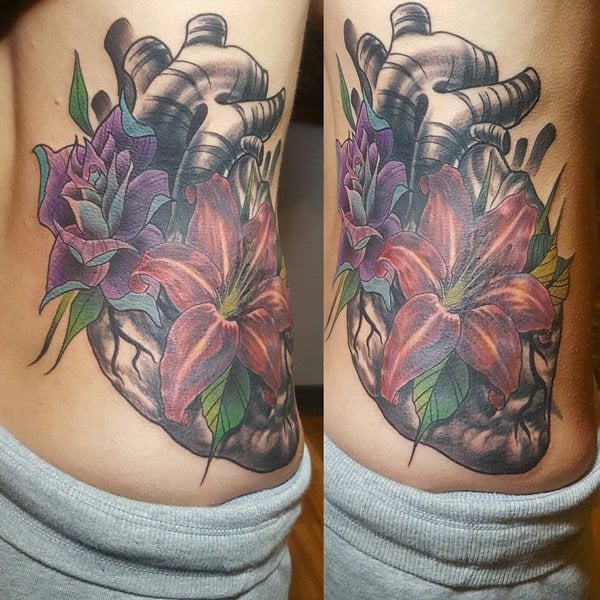 40. Dancing Man
You will sometimes see this guy in tribal tattoos. It's fun and musical and just looking at it puts you in a good mood.
41. Oriental Images
If you are looking for a full-length rib cage design, then this is a wonderful one. It's an oriental image of a geisha girl surrounded by other elements. Beautiful!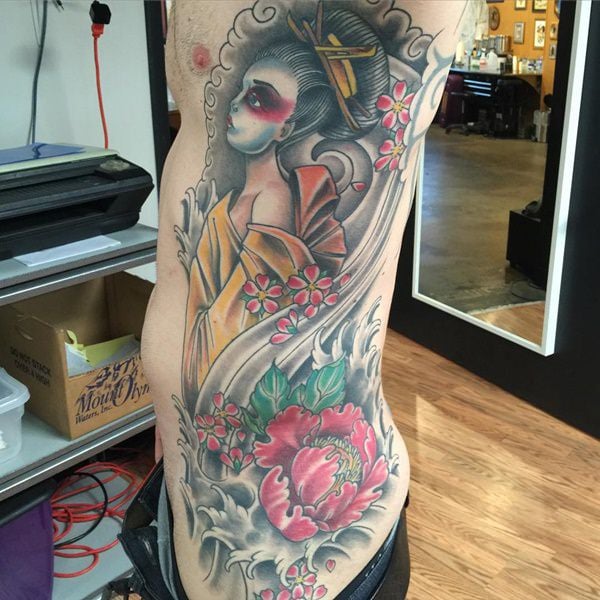 41. Shark Attack
This shark is attacking and drawing blood. It's splashing through the water ready to bite again.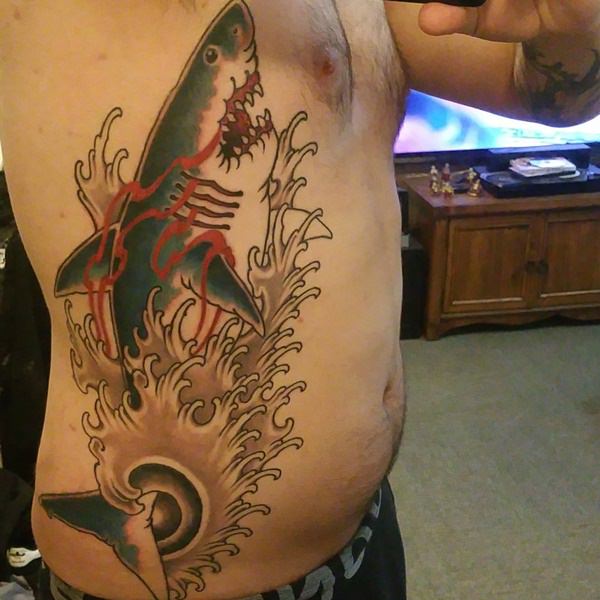 42. Look for Hope
An anchor with a message of hope. It's colorful, and we just love the message behind it.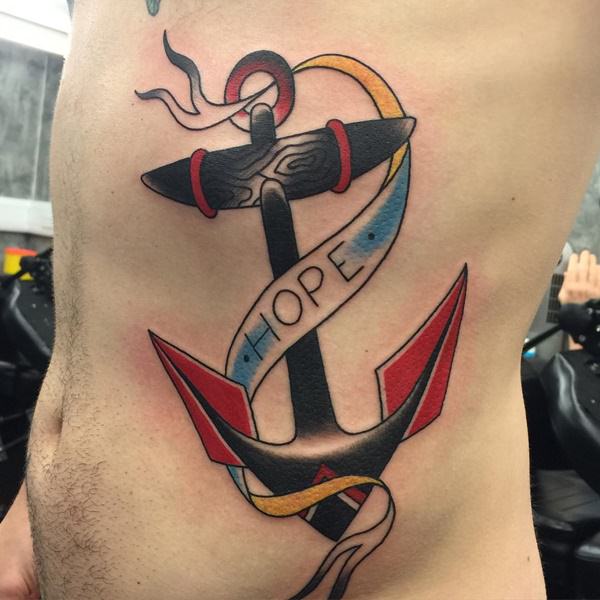 43. Hunting Partridges
A great bird tattoo and it looks like it's in flight. The scenery around it is really beautiful as well.
44. Blue Designs
This All Seeing Eye design is remarkable because of the ornately detailed designs as well as the blue coloring. It provides a great contrast.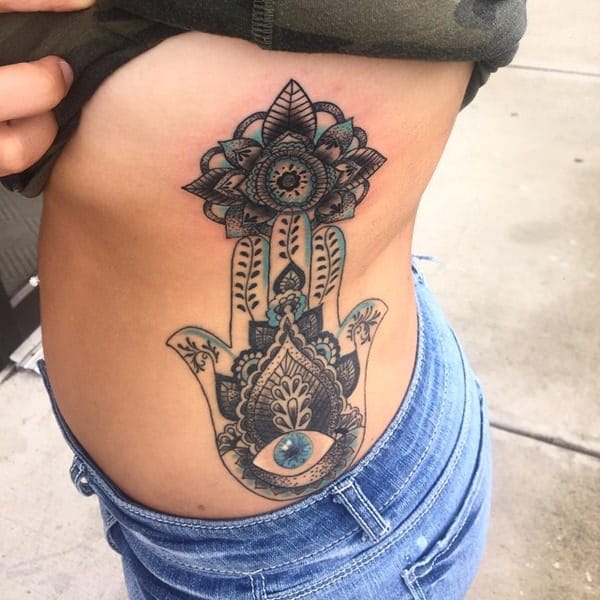 45. Swimming Fish
A huge design of a fish swimming through the waters. If you love sea creatures or you have a love for fishing you will really like this design.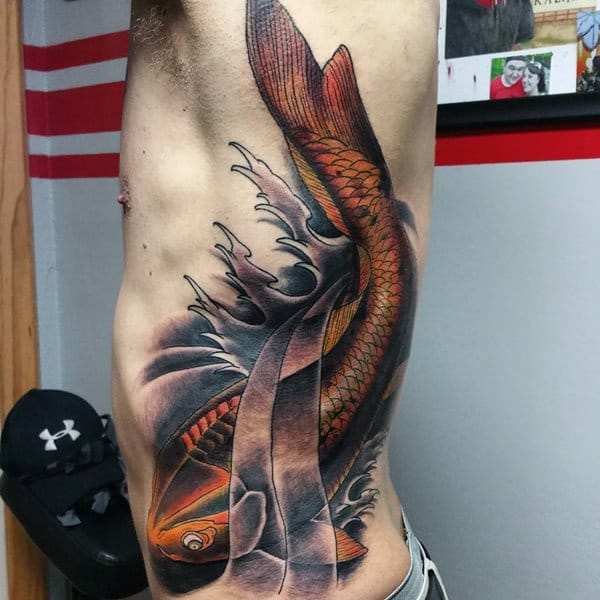 46. Stunning Florals
The colors with this tattoo are gorgeous. It's an amazing design, and the color really pops off the skin.
47. Tree of Life
A large tree design that covers the entire rib cage. It's a beautiful design that you can add other elements to it.
48. Skull Love Rib Cage Tattoo

A very unusual but beautiful skull design with some treasure on the inside. You can see a diamond peeking through the eye.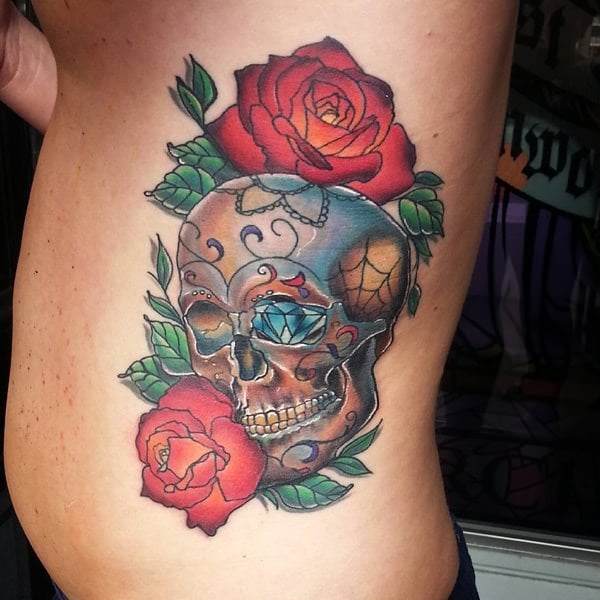 49. Creative Dolls
A great doll design that's ancient in design, and it has a lot of great colors.
50. The Cross
A cross with a scripture message attached to it.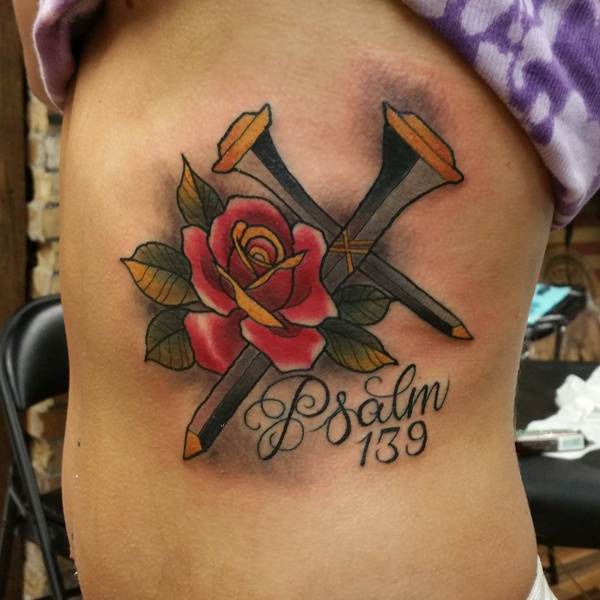 51. Rounded Branches
This tree of life is completed rounded out giving it a unique look. I love this type of tree design because it makes the tattoo look really cool.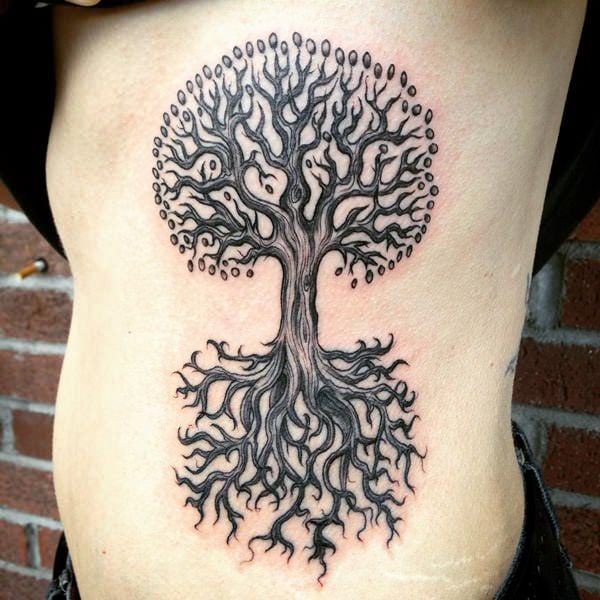 52. Angry Crab
A large blue crab design for those that love those snapping sea creatures.
53. Crowned Heart
This heart has a crown on it, and it's wrapped it thorns, causing it to bleed.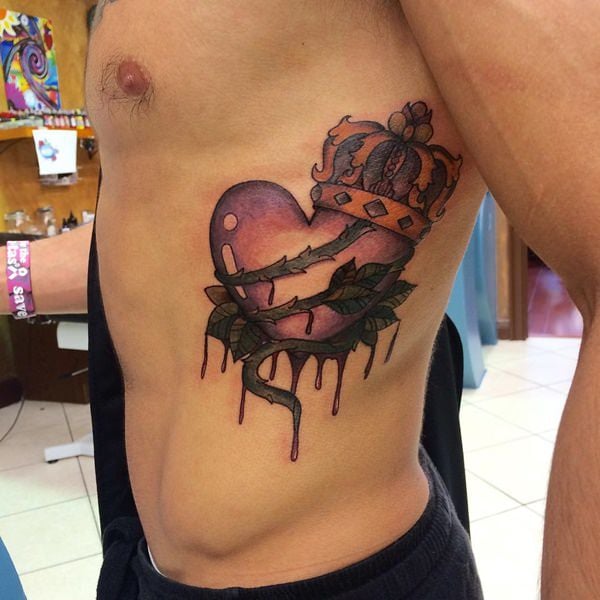 54. Elephant Tattoos
Another great example of an elephant tattoo for the rib cage.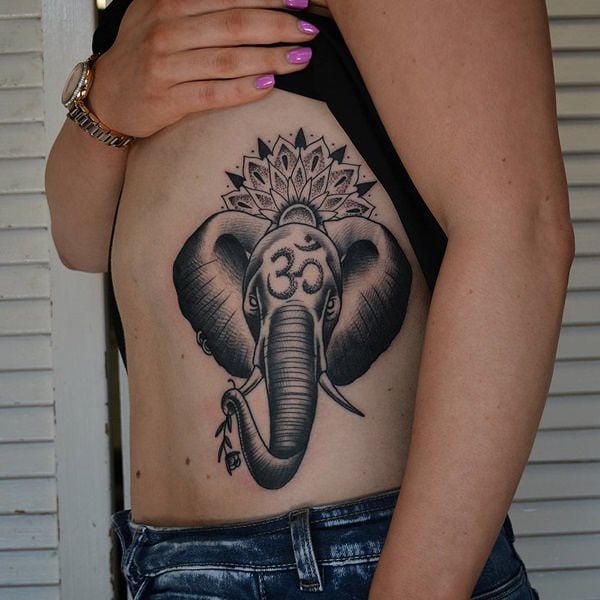 55. An Outline
This outline of flowers takes up the whole rib cage. You could easily fill this in with color as well.
56. Tiger Stripes
If you love tigers, then you are sure to love this design. It makes it look like the tiger is climbing down the rib cage.
57. Watch the Time
A tattoo that warns that we only have so much time left.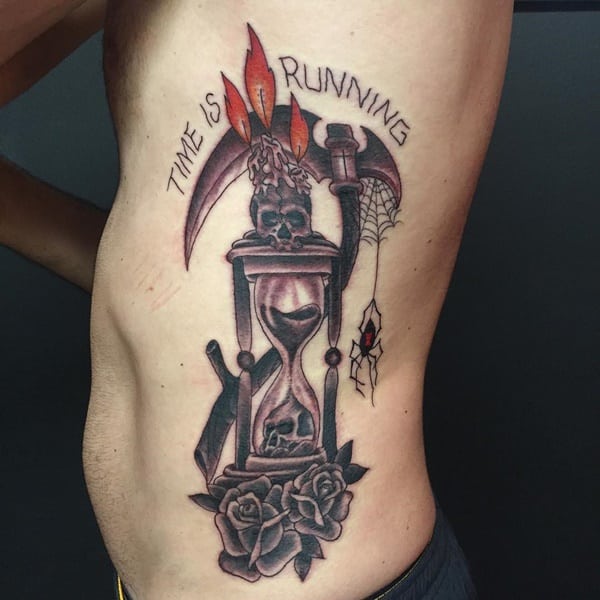 58. Half a Tree
A truly unique tree design that is beautiful.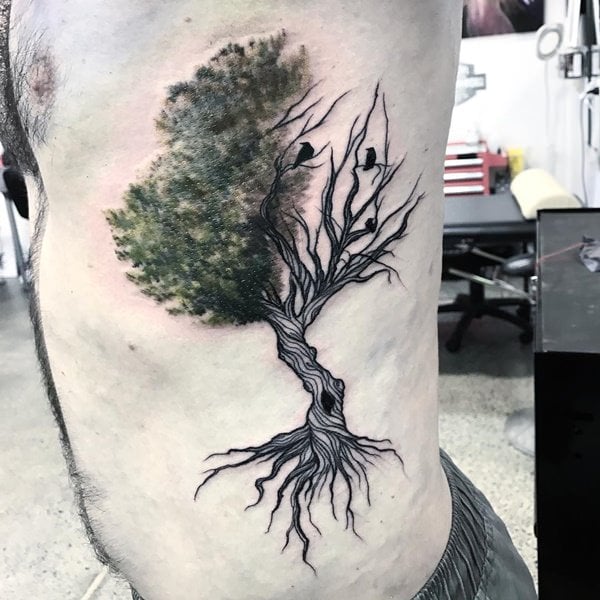 59. Flowers 
Another example of a great elephant design.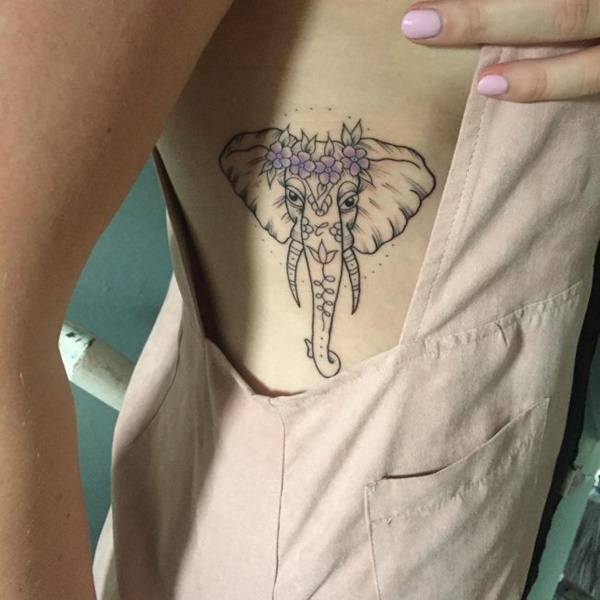 60. Watercolor Paintings
I love these painting designs especially the dripping look.
61. Lots of Love
A great design that is all about love.
62. Greek Letters
A unique design for the rib cage.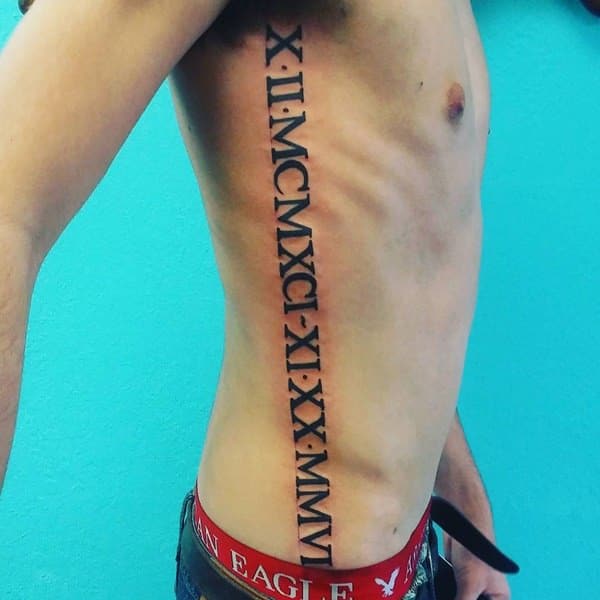 63. Sweet Elephant
This sweet design is a really different sort of elephant tattoo.
64. Anchors and Stars
A great anchor design that has beautiful splashes of color.
65. Religious Designs
A very disturbing and powerful message for those that want to be reminded of a sacrifice.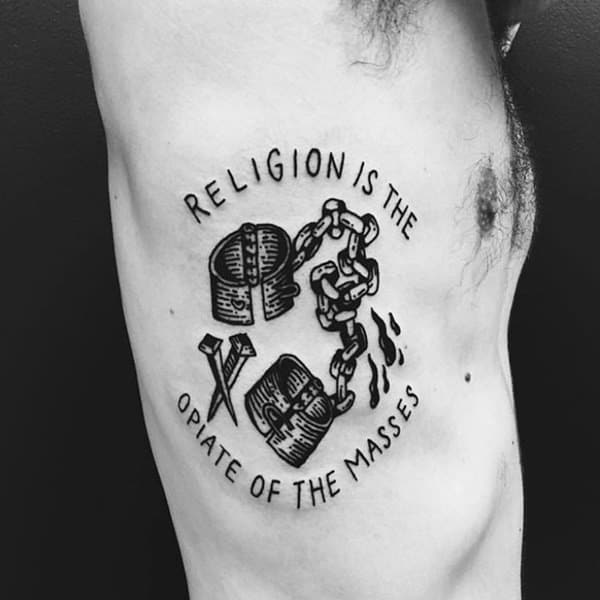 66. Blue Anchor
A large blue anchor that takes up the whole rib cage.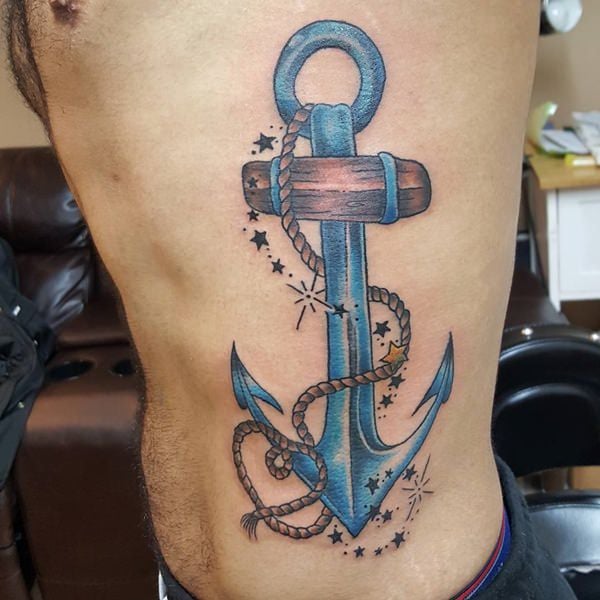 67. Fierce Eagle
A powerful eagle design you are sure to love.
68. Short Message
A very sexy example of a small tattoo.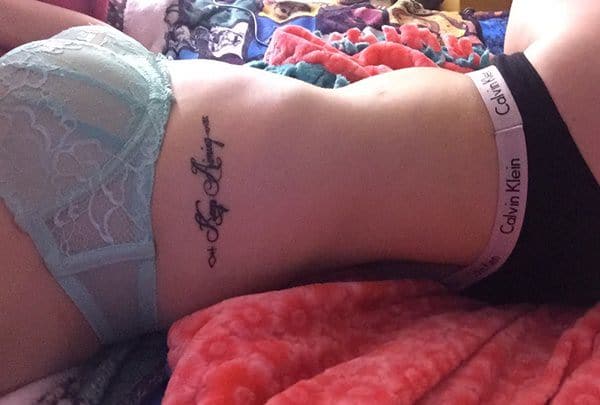 69. Simple Lines
A small message that doesn't take up a lot of room.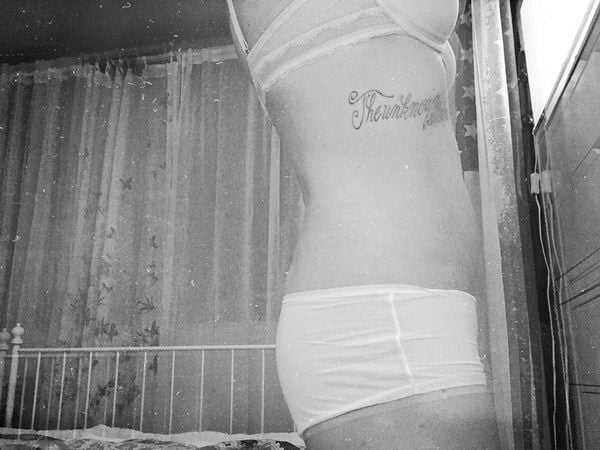 70. Flowers in a Vase
Unique vases for some beautiful flowers.
71. Violent Flower
A flower and a butcher's knife together create an intriguing design.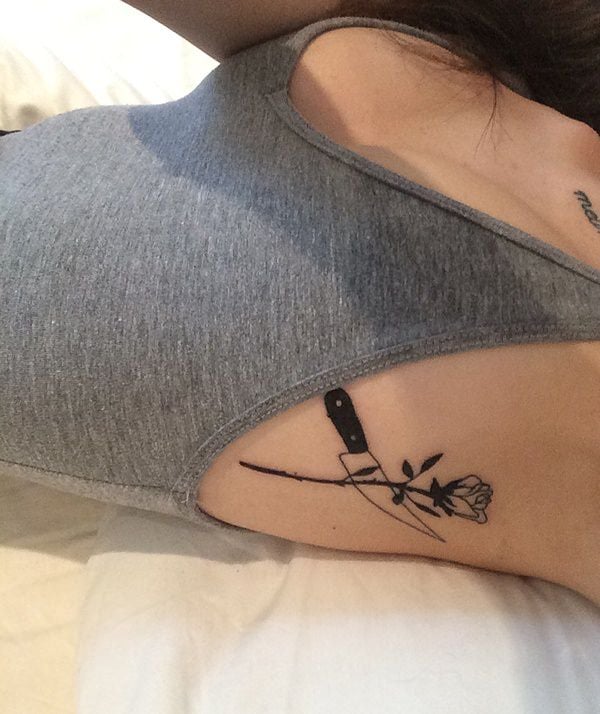 72. Moon
A single moon may be just what you're looking for.
73. Stormy Weather
This small design shows stormy weather.
74. Beautiful Flowers
Another great example of a rib cage tattoo that has floral designs.
75. Black and White
A black and white floral design that is detailed and stunning.
76. Swan Love
A stunning swan design with a circle of flowers around it.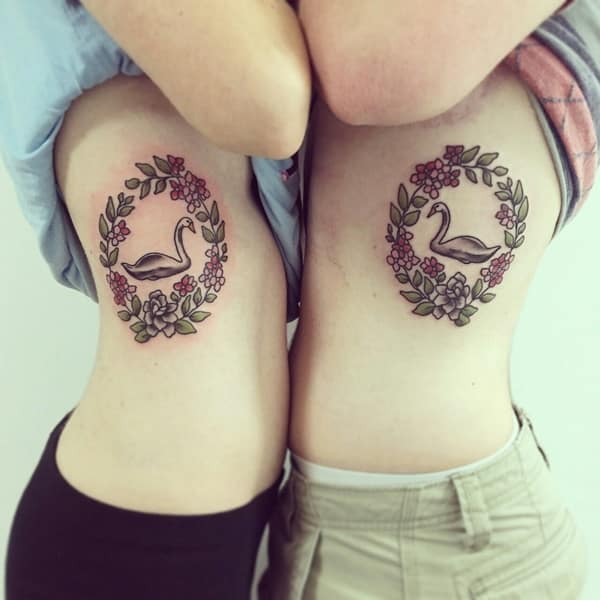 77. Colorful Fish
A small fish design that is full of color.
78. All in Writing
A great message that has some intriguing font, it looks cool.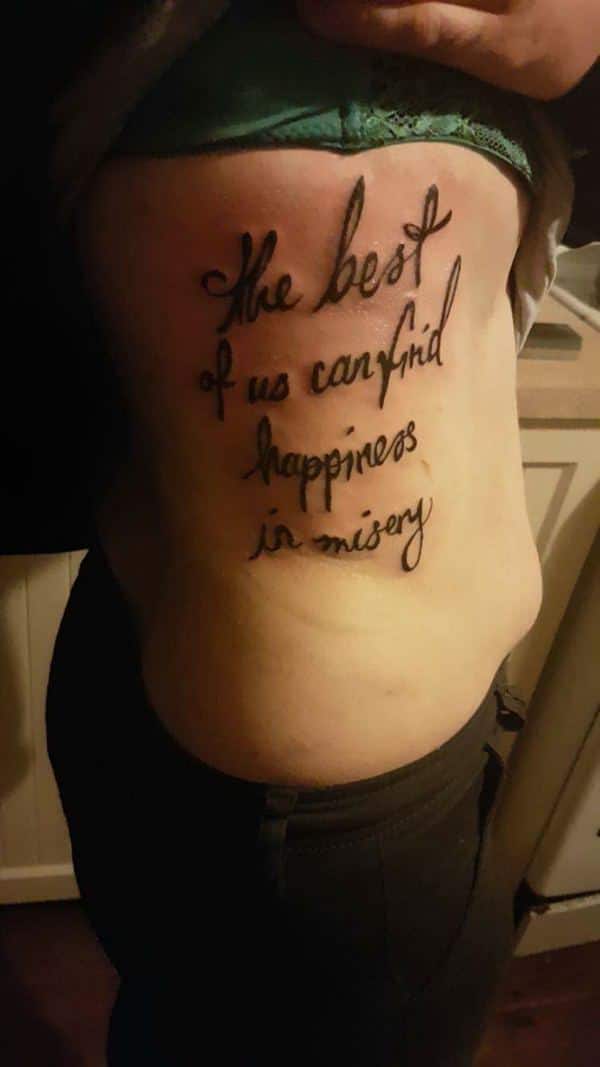 79. Double Flowers
Gorgeous flowers that really pop off the skin.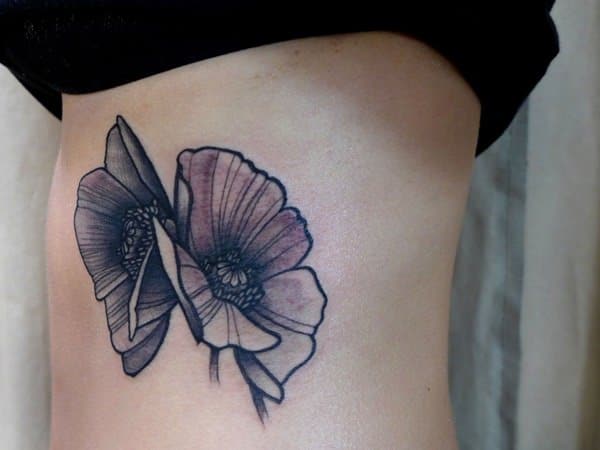 80. A Touch of Blossoms
A branch of apple blossoms that make for a simple and elegant design.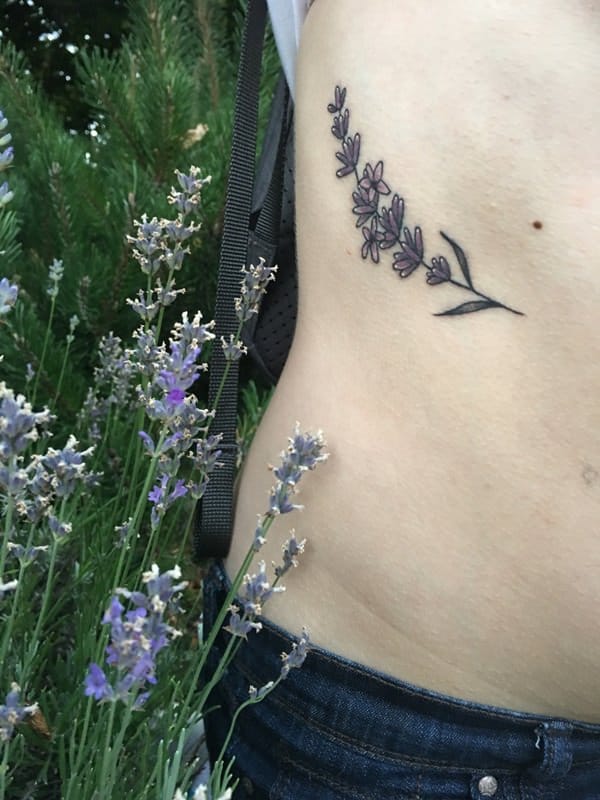 81. A Mountain Scene
A gorgeous mountain scene to remind you of your favorite travels.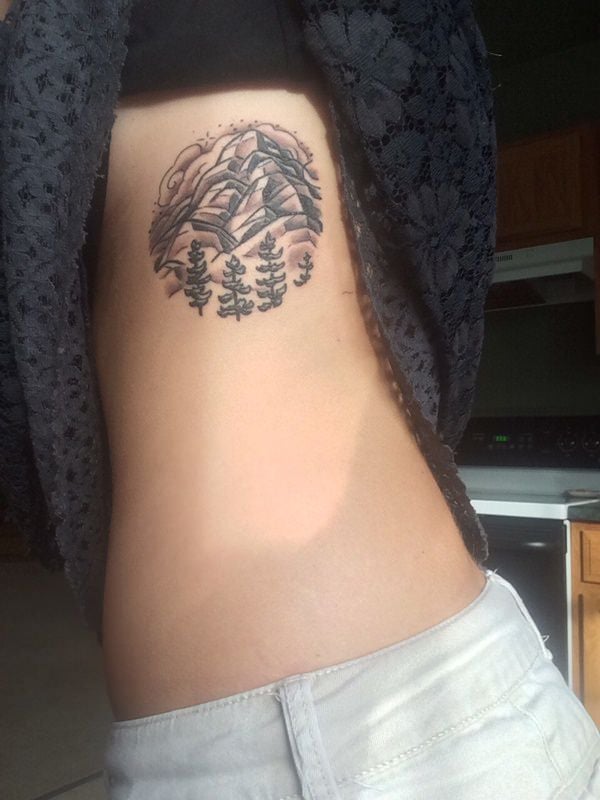 82. Mystical Design
A very mysterious design for someone looking for an unusual design. It's a great tattoo because it's creative and unusual.
We hope you enjoyed the article and have found your next rib cage tattoo design!