If you are looking for a music tattoo that shows off your true passion, then try these designs out. There are many reasons why people choose to get a music tattoo. Maybe you are an artist or in a band and you want to symbolize your love for music. Or you may just love listening to music and have a passion for it, either way getting a musical tattoo is a great idea.
You would have a hard time finding one person out there that didn't love music. Everyone loves it and they should, music is awesome! Music can be a great aspect of your life, after all, it can be a relaxing addition to your life. Many people relate to the world through music and the love of it; music can connect people together. Many people express themselves with music and can bloom something inside you. Personally, when I'm lonely, I find that music can be very soothing and can make you feel less alone. How many times have you relied on music after a breakup? It can be what makes you happy and takes you out of sadness. Sometimes music can help you to express feelings that are hard to express sometimes. Music can not only help you to express yourself but be an inspiration to your life. Everyone loves music and if you feel the same way then getting a music tattoo might be what you're looking for.
Many people have made the decision to get a tattoo on their body of a musical design. It's a symbol of passion for them. Many people can get musical quotes for their tattoos. They choose their instruments in the tattoo as well. Getting a beautiful musical tattoo on your body can be something you can cherish your whole life. If you love music, you are sure to love a musical tattoo. Combine your love of tattoos and music by getting a musical tattoo.
Tattoos all have their own specific meaning; the kind of meanings that bring you joy. They have meanings behind them because they start to express the kind of things that you feel inside. Expressing yourself is a great reason to get a tattoo.
If you are thinking that you love music so much that you want to get a tattoo that represents that love, all you need to do is pick the perfect design. There are plenty of choices, in fact, you will have so many choices that you may have trouble deciding on which one to get. Just make sure that you find a reputable tattoo artist, so you don't regret a tattoo that wasn't completed properly. You want to love your tattoo for the rest of your life, not have regrets that you got it in the first place. The price of a tattoo usually depends on how big the tattoo is. All the tattoos are the same price based off of size.
When it comes to the category of a music design, there are many different types of tattoos. You can get music notes, musical symbols, cross tattoos, guitars or any other instruments, drawing tattoos or even your favorite song lyrics. You can also use your favorite instrument and other elements to creative a very different tattoo design. You can be inspired when it comes to creating a wonderful design that really shows your true personality.
Check out these tattoo designs, and hopefully, you will find the inspiration you need to create the design of your dreams.
Below are 64 Incredibly Musical Tattoos To Show Off Your Passion:
1. Watercolors
Watercolor tattoos are really beautiful. I love the subtle splash of paint in those soft colors. The music note really compliments the whole look. It's a small design that fits nicely on the wrist.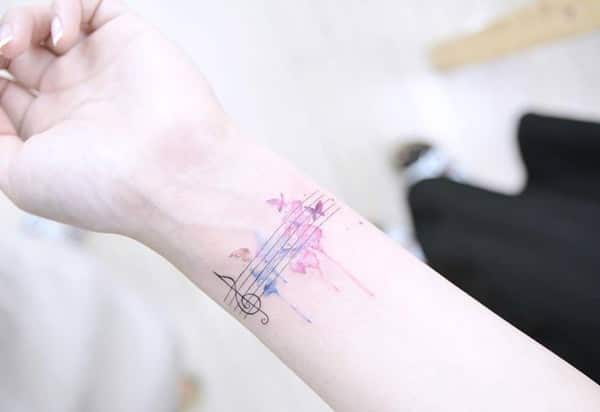 2. The Trumpet
This bicep tattoo is wonderful if you play the trumpet. It has some bold designs and beautiful colors.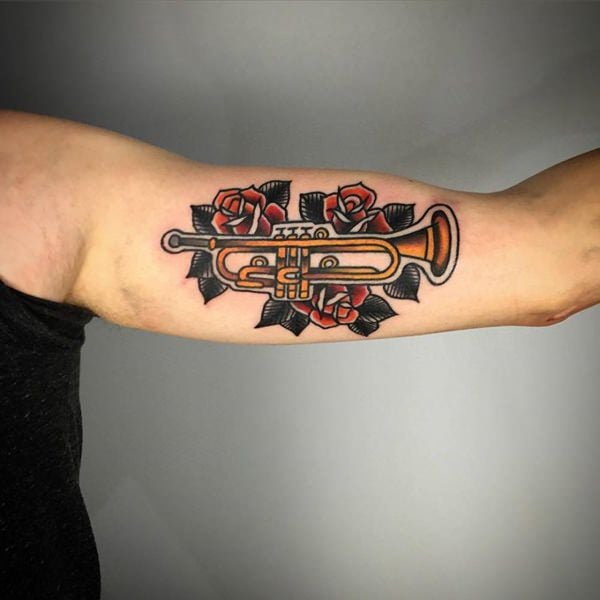 3. The Sound of Music
This tattoo has a lot of creative elements to it. The man floating out of the box is highly unusual, and the bright blue is wonderful.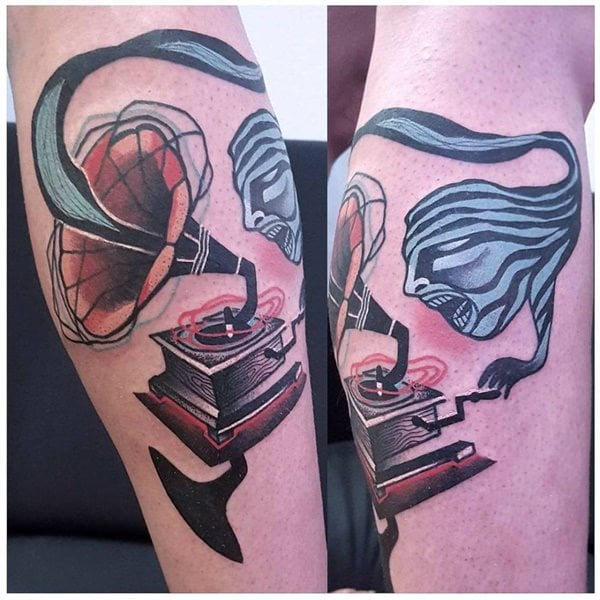 4. Notes Behind the Ear
Music notes as well as the actual music lifeline. It's a sexy tattoo that fits nicely behind the ear. It's a great design.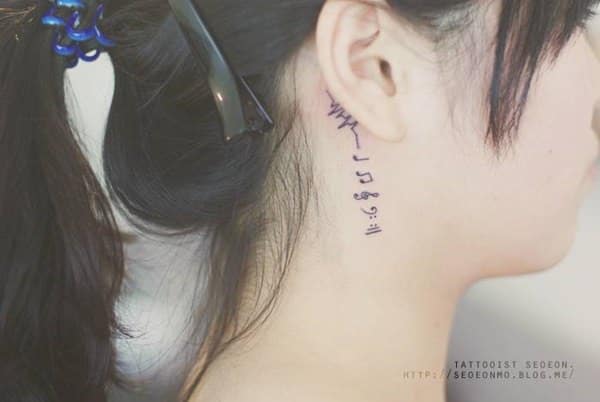 5. One Note
One simple music note on the inside of the ear that is sure to make you feel special. This design is all about you, and it's a great design.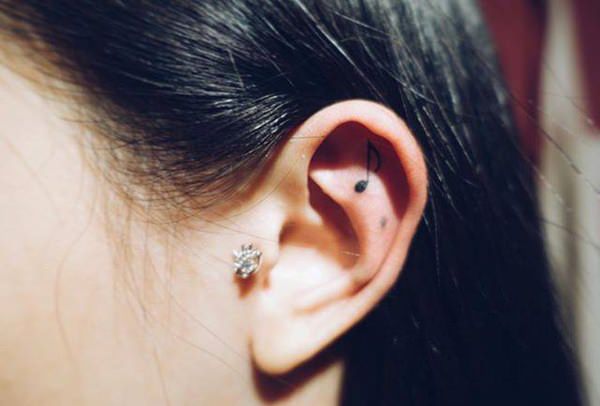 6. Special Designs
A great design that looks incredible on the body. It's an amazing tattoo that is very creative, to show off your originality.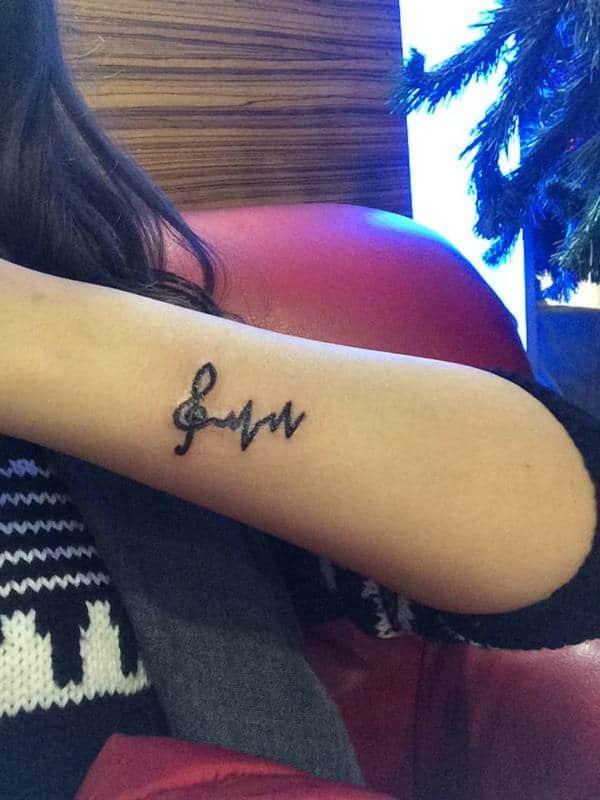 7. Floral Designs
This floral design is wonderful because it moves in the shape of a music note. It's very beautiful. You are sure to love it because it's creative and different from anything else.
8. Wrist Notes
These wrist tattoos are wonderful as a tattoo design. They pop right off the skin and look sweet.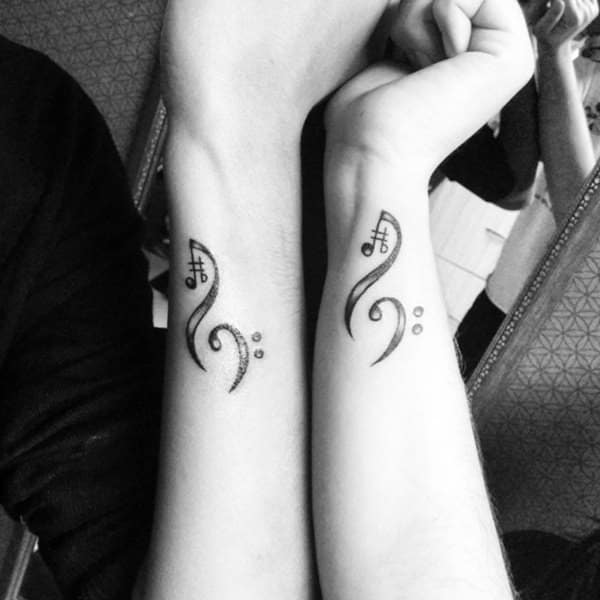 9. For the Love of Music
Music notes that are in the shape of a heart. It's a wonderful design that you will sure to love. It's creative and truly about the heart.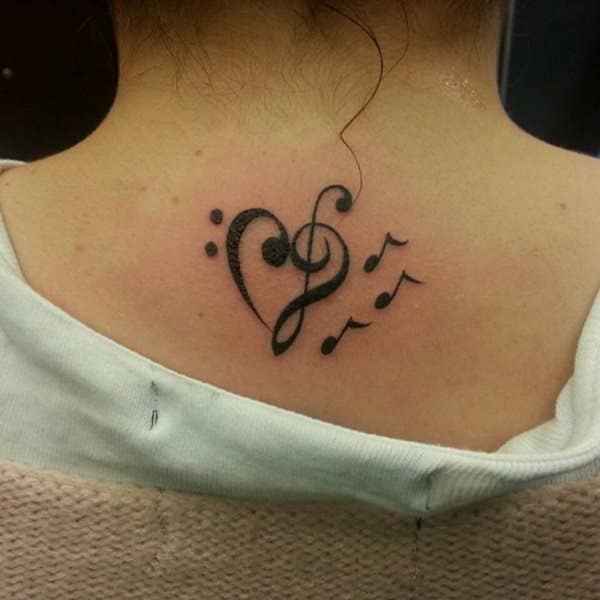 10. Music in a Heartbeat
I love this music note on the inside of a heartbeat symbol. It really shows where your heart lies. It's a great tattoo design that everyone will love.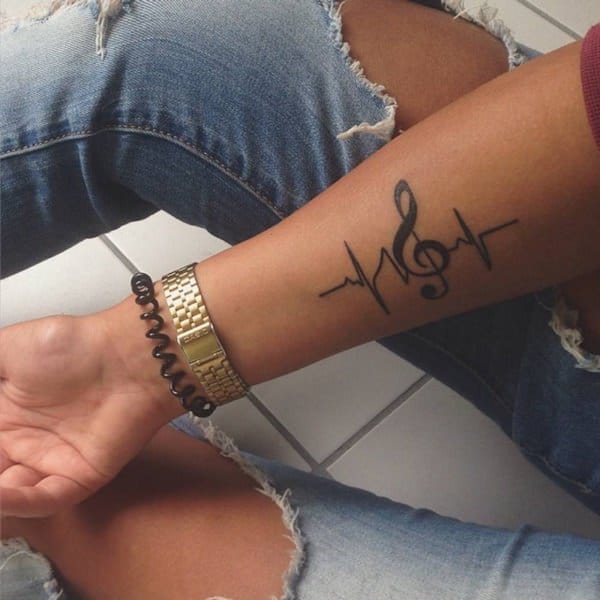 11. Love Notes
This great tattoo design is one that is sure to make you happy. It's small so it can fit anywhere and it shows your love of music.
12. Hearing the Music
This awesome design fits nicely on the shoulder, and it gives you the feeling that you can actually hear the music playing.
13. Colored Heart
This beating heart is a great tattoo to show off your passion. I love the painted look behind the design it really makes for a creative design. Not only that but there's an inspirational message attached to it.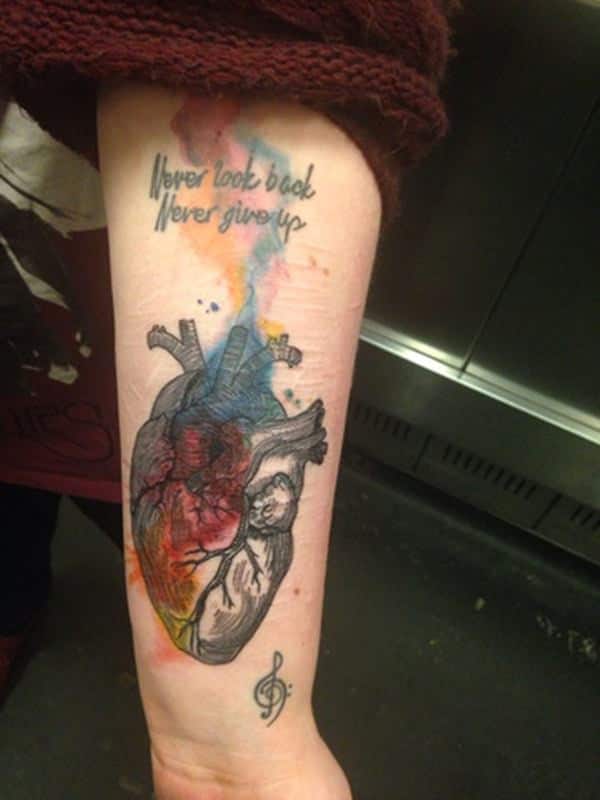 14. Large Note
If you are looking for a large back tattoo, then this one is for you. One simple note but the size of it truly has an impact. Show your love of music with this note.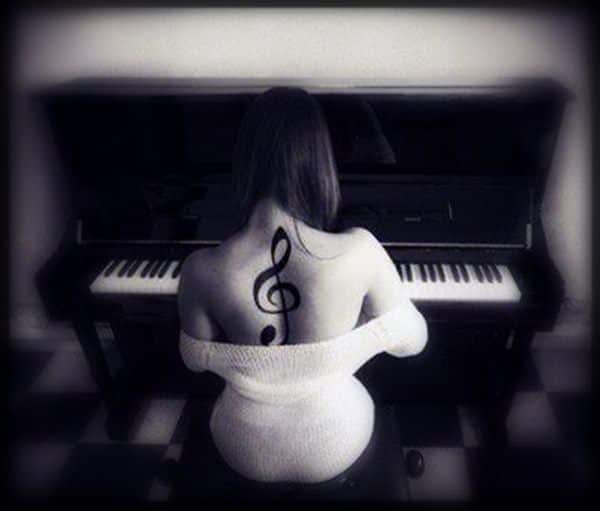 15. Leafy Note
This cool design is made up of a leaf, and it's a wonderful design that is sure to make your creative side sing. I love the other elements that also surround the leafy note.
16. Cool Designs
The great thing about this design is the fact that the music notes trickle down her back. It makes what could be an ordinary design into a sexy one.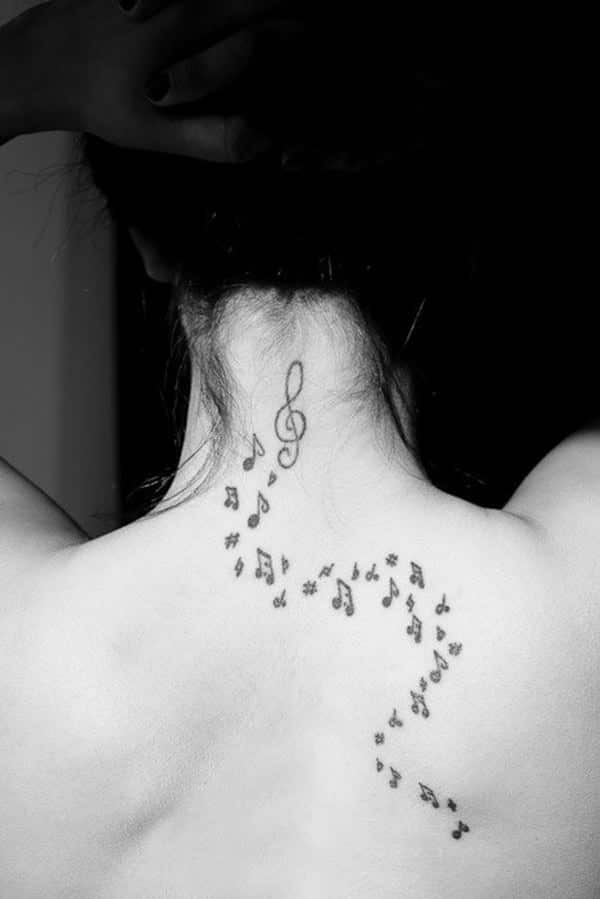 17. Ribcage Tattoo
A great ribcage tattoo if you are looking for a large design. Stars and notes to really create a wonderful look.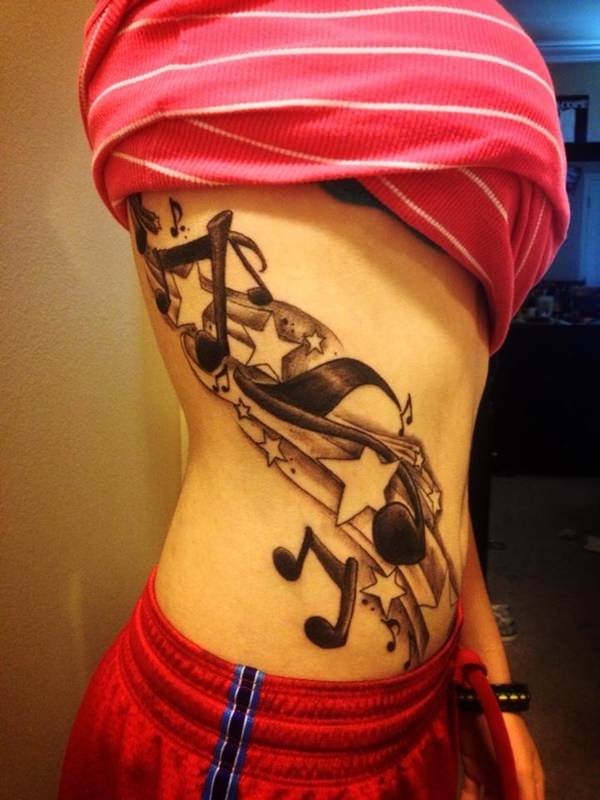 18. Music to the Ears
It looks like the music is going right into the girl's ear. These notes are a cute example of what a small tattoo can do for you. It's wonderfully creative!
19. Musical Inspiration
A small design with some words of inspiration. What more could you want out of a musical tattoo?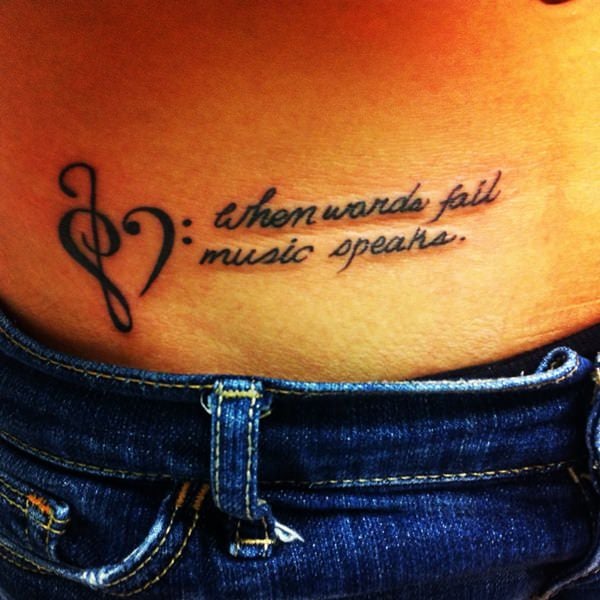 20. Purple Notes
These purple notes are definitely a bold statement for someone looking for a large tattoo. These notes are great!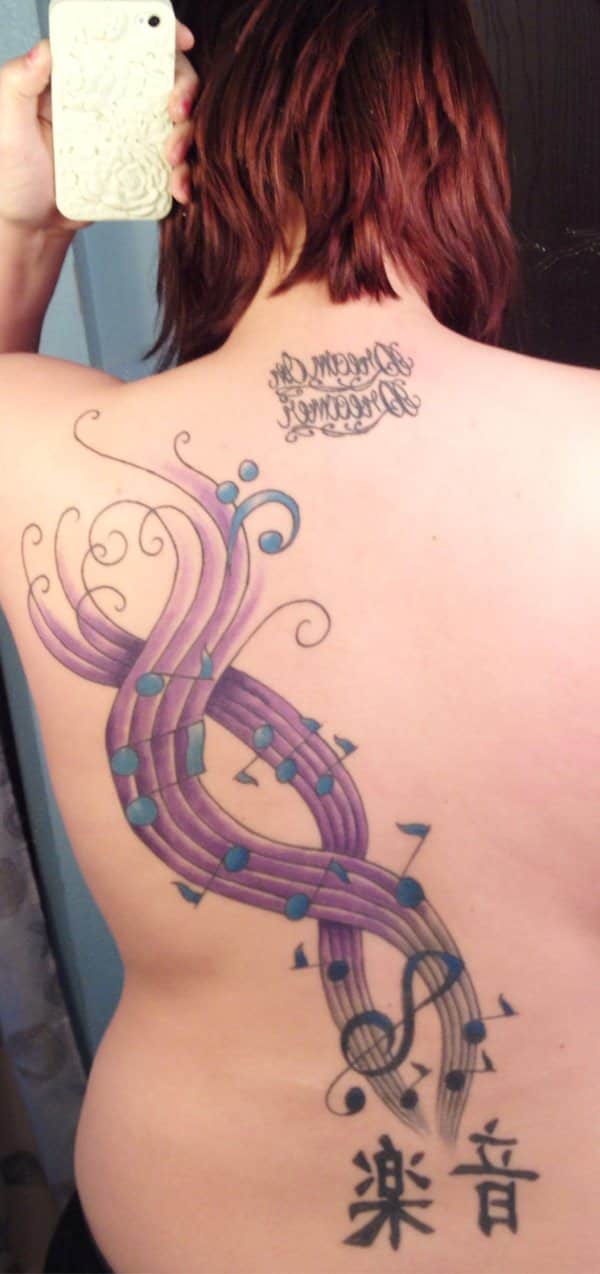 21. Multiple Notes
Intersecting notes that look amazing behind the ear. Small notes with so much meaning behind them.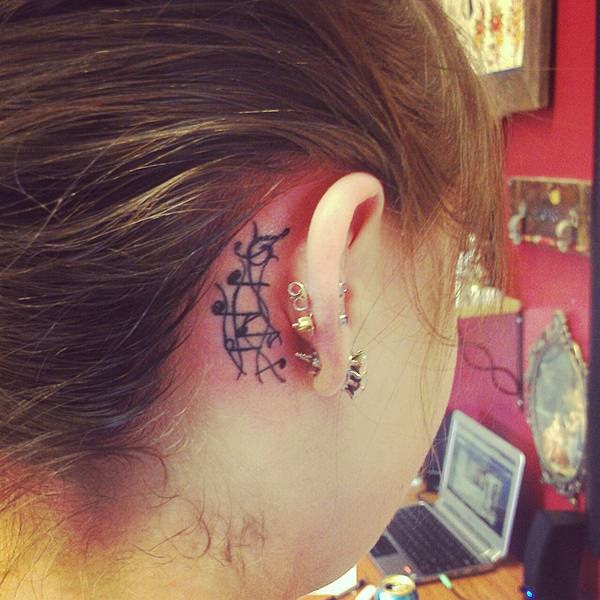 22. Right on the Heart
This music note is right on the heart. It's a small design that sits nicely on the chest to show the world that you have a passion for your art.
23. From One to Another
These notes go from one end of the chest to the other. I love how cute this tattoo is the fact that the notes go small in the middle and grow large again.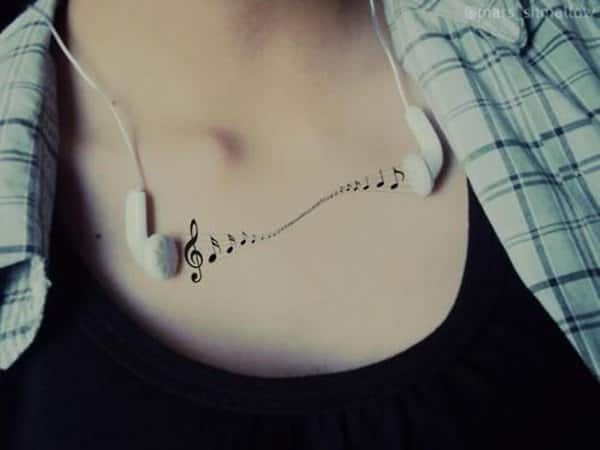 24. Cartoon Designs
If you love guitars or even play them, this design might be what you're looking for. It has a cartoonish look that makes a tattoo fun.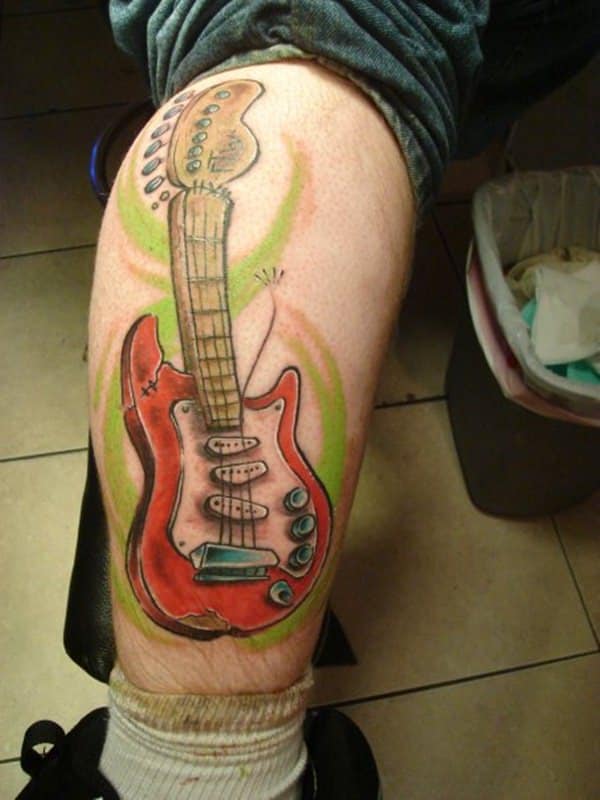 25. Angel Wings
These headphones of angel wings! You must love this look if you are a DJ this might be the look for you. It has a message attached to it, and it looks great in black and white.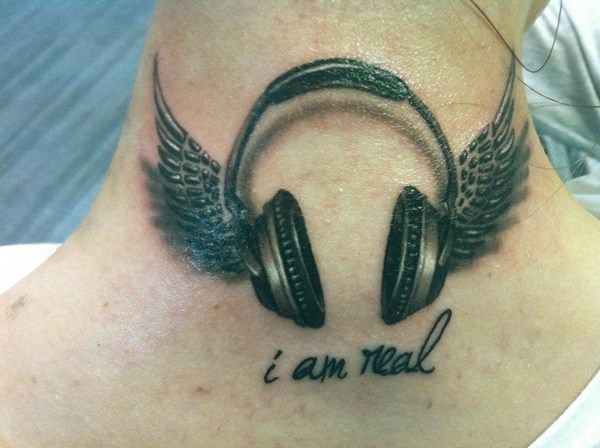 26. A Couple of Notes
Two little notes that sit snugly on your ankle. It's a very cute tattoo that sends it's own message about your love fort music.
27. Microphone
If you are a singer and love to use your vocals, then check out this amazing tattoo design. It covers the entire foot, and it makes for a great tattoo design.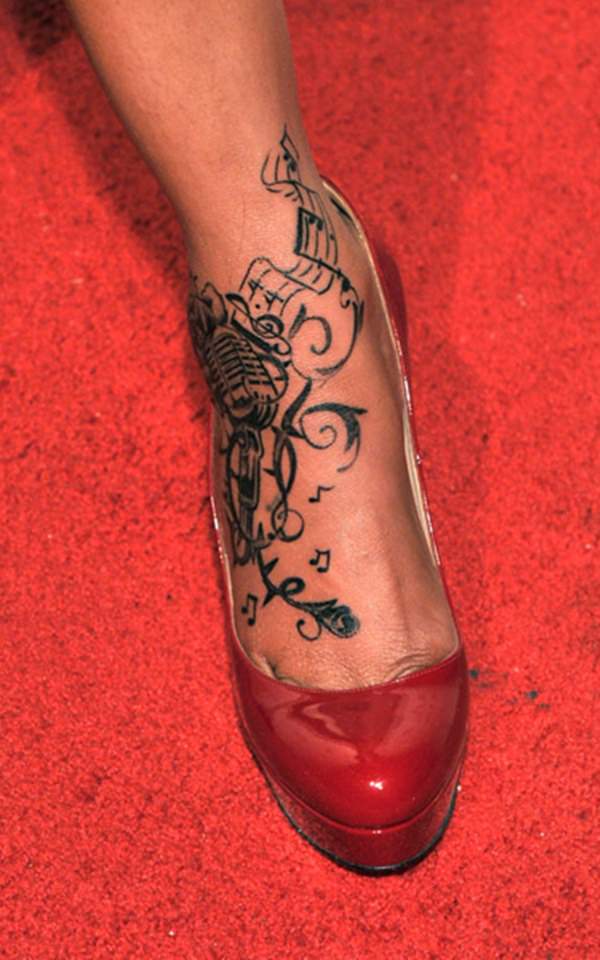 28. A Message of Love
This message trails along the ribcage making for a wonderfully inspired tattoo.
29. Standard Message
Are you a tortured soul? If so then this is a message you might want to send out. It's a wonderful tattoo design that doesn't need all the flash.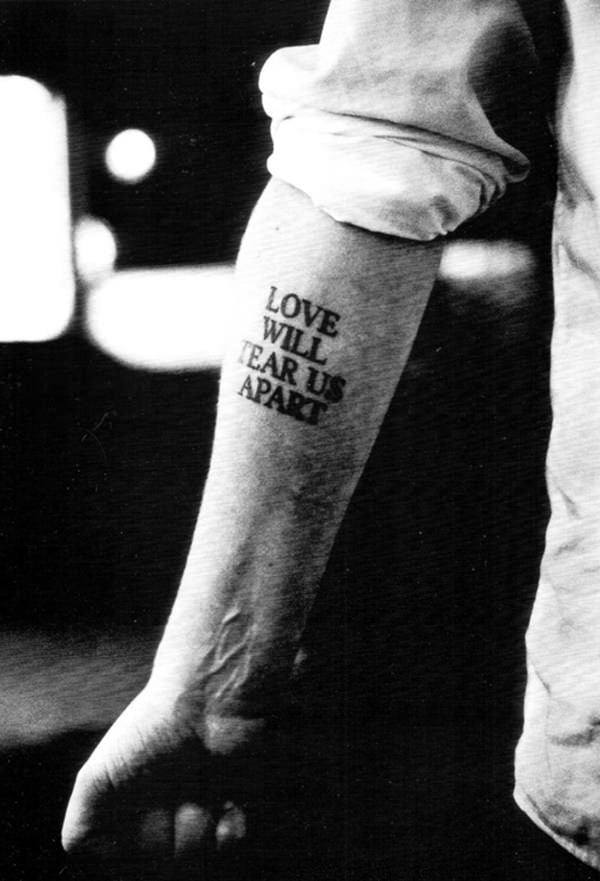 30. Old School Microphone
This microphone is great for the singer out there. If you want something special this is it; it even can be added to a personal message of your choice.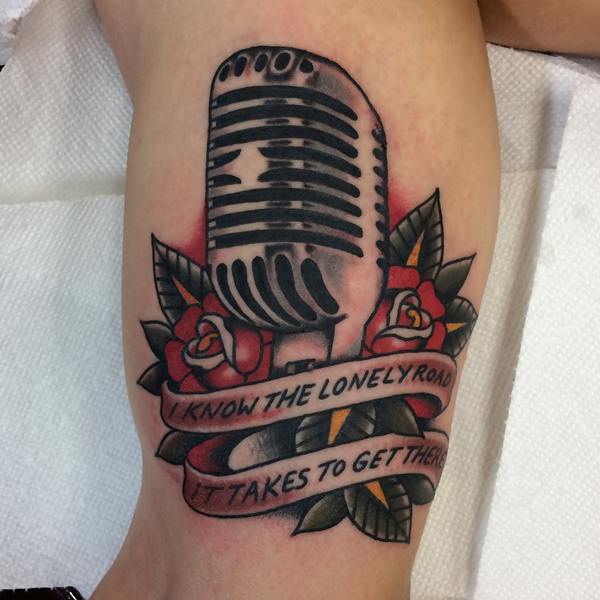 31. Chest Designs
This eagle looks cool with music notes on the inside. If you are looking for a chest tattoo, then you are sure to love this one.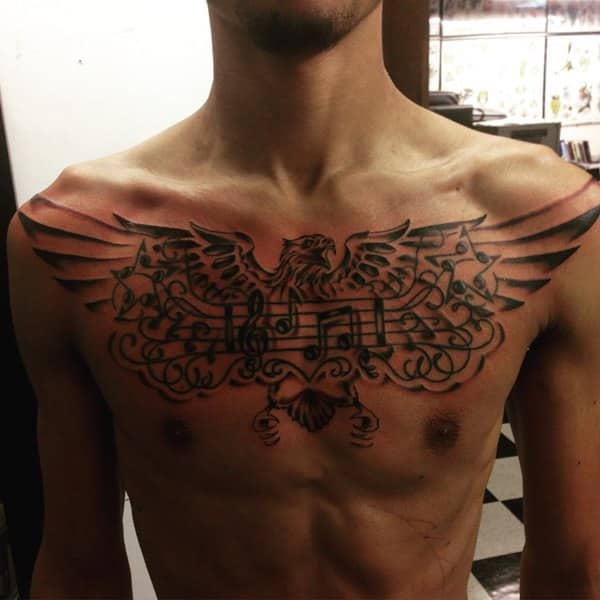 32. Modern Microphone
If you are a singer but you're not into the old school style of microphone then tattoo the microphone that you use for your own sets. It's a great design that will show the world your love for music.
33. Acoustic Love
There's nothing that sounds better than the acoustic blend of a guitar. It just makes you want to sit by a campfire and roast marshmallows. If you are looking for a cool design, then check this one out.
34. Electric Love
This cool electric guitar has a skull on it, and it looks pretty badass. If you want a tattoo that speaks your tough nature, then this might be the one for you. It's very cool, and I love the details with the skull.
35. Sing Me a Tune
This microphone is already singing the tunes that you want to hear.
36. The Drummer
If you are a drummer than you, certainly need a tattoo with some sticks in it. The other elements are a great example of how you can put many pieces together to create a design to fit your personality.
37. Sugar Skulls
If you are a fan of the sugar skull rage, then you are sure to love this tattoo. The colors just brighten everything up.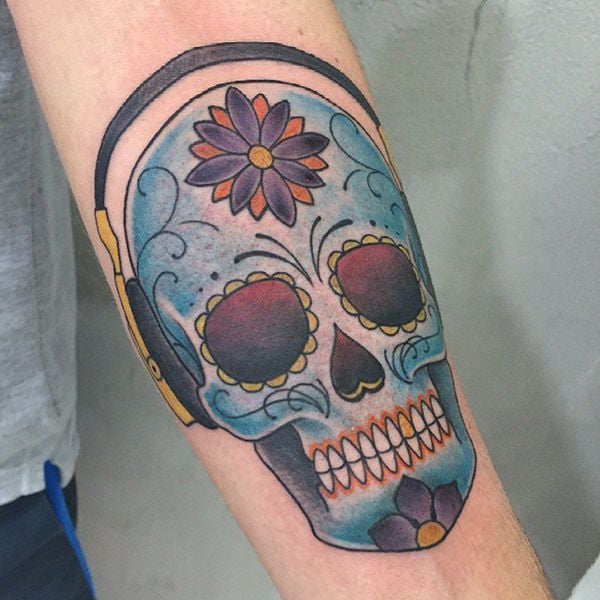 38. Guitar Lion
This great guitar tattoo is amazing because of the lion in the middle. A unique design that is sure to draw attention.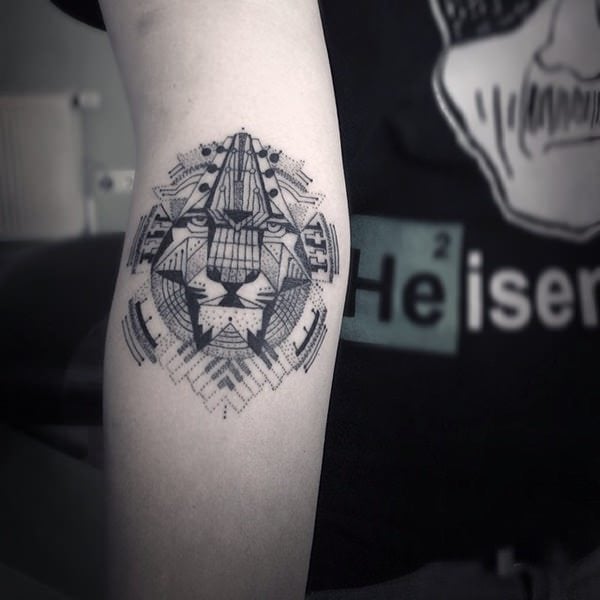 39. Cool Instruments
I love this design because the base of the instrument is a skull. This black and white design is sure to bring a lot of attention.
40. Multiple Guitars
Two very different guitars that bring two different qualities of music. If you love the sound of music, then you are sure to love this creative design.
41. The Record Player
For those DJ's out there that like spinning records this flashy design has headphones and a record player. I love the splashes of red throughout because it looks amazing.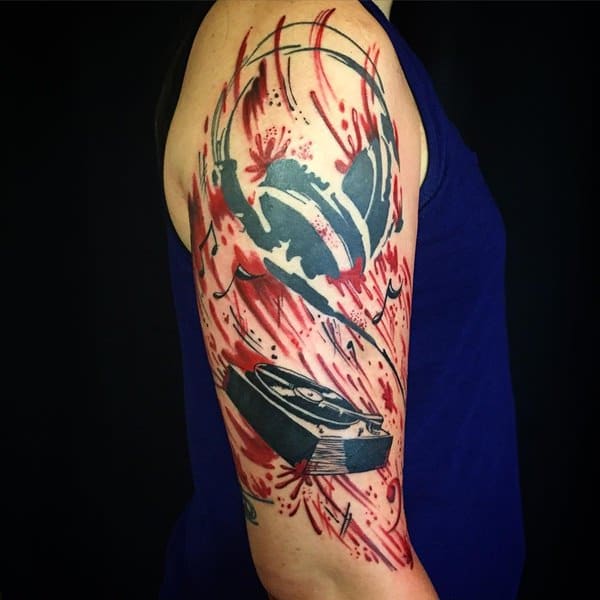 42. Guitar Choices
This guitar looks great, and it has a personal message.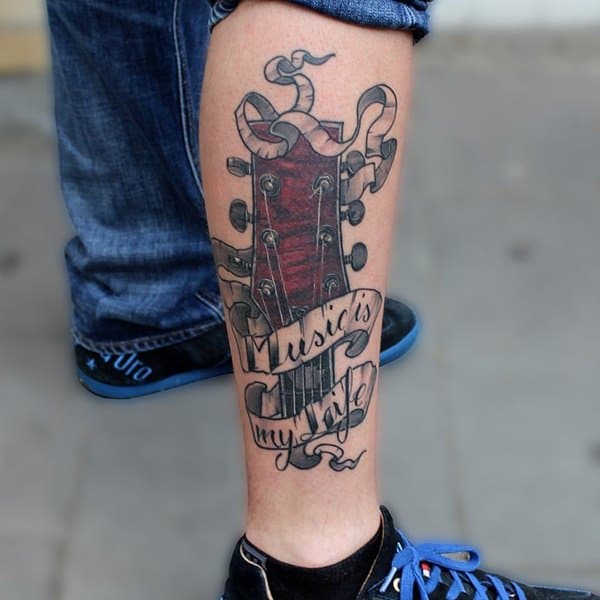 43. Musical Wings
This is a creative design if you love birds and music. I love the fact that the music notes are flying out of the wings, it looks amazing. There is so much creative flow to the tattoo that you can't help but enjoy it, and the purple is amazing.
44. Piano
The ivory keys are a great tattoo design if you have a love for the piano. It's a great black and white design that is sure to make anyone happy.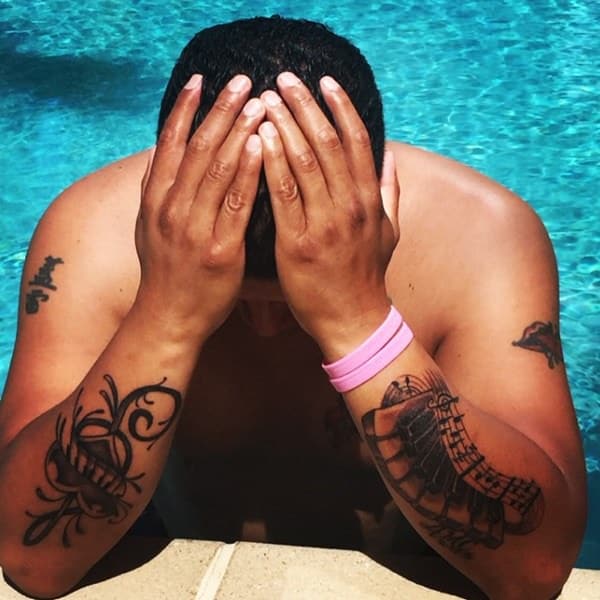 45. A Beanstalk
There is a lot to say about this creative design that starts off as a beanstalk and grows into this beautiful tattoo design. The colors are striking and quite beautiful. The music notes throughout are magical, and the whole design is just amazing.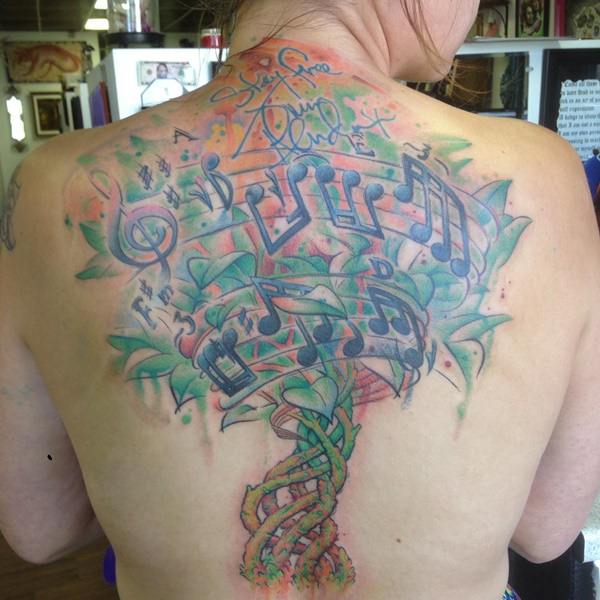 46. A Paint Splash
A paint splatter that is bold and striking. In the end, there is a music note that is left behind from the splatter.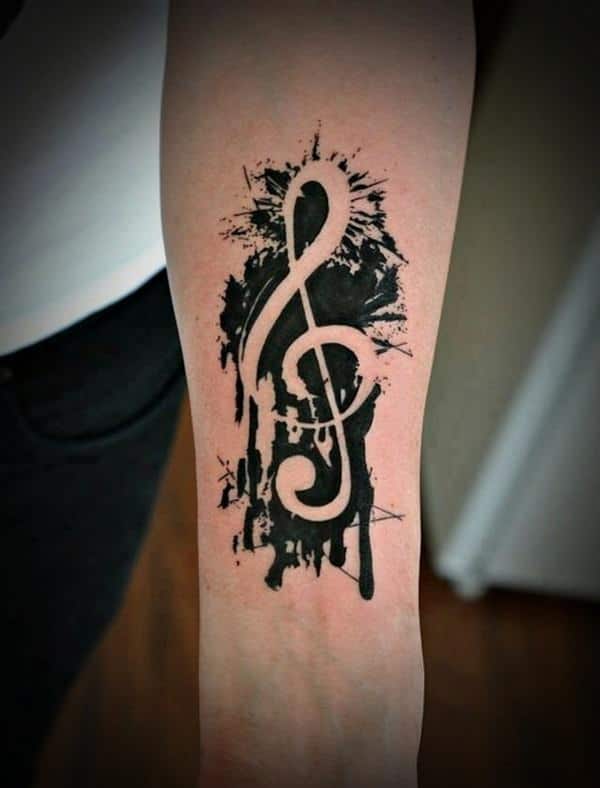 47. Arm Note
One solid note that looks amazing on the arm. It's simple, yet it sends a message.
48. Bold Neons
I love the details behind this old school music, the headphones and microphone are amazing. The neon pinks and greens really make the whole design pop off the skin. It's a beautiful tattoo design that you are sure to love.
49. The Heartbeat
Your heart is all about music, and you can't get enough. Headphones with the heart in the middle and a lifeline that shows your love for music.
50. Music on the Arm
Music notes that trails all around the arm. It's a unique design that is sure to make anyone happy.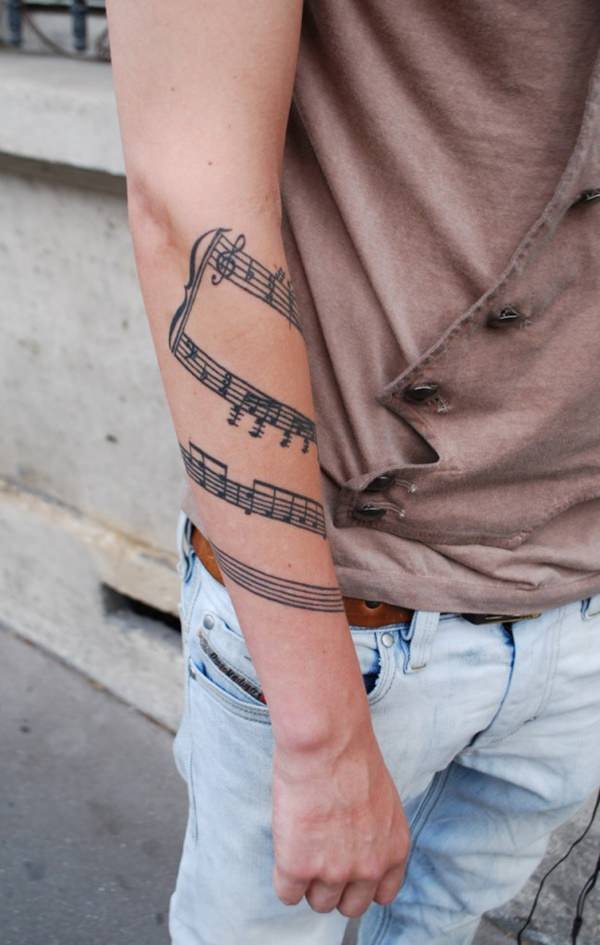 51. Paint Designs
This music note looks like it was painted on the skin with a paintbrush. There are many different brush strokes in many different colors.
52. Ornate Notes
One note on each arm, these ornate designs are truly unique and inspiring. It's an amazing design that is sure to draw attention.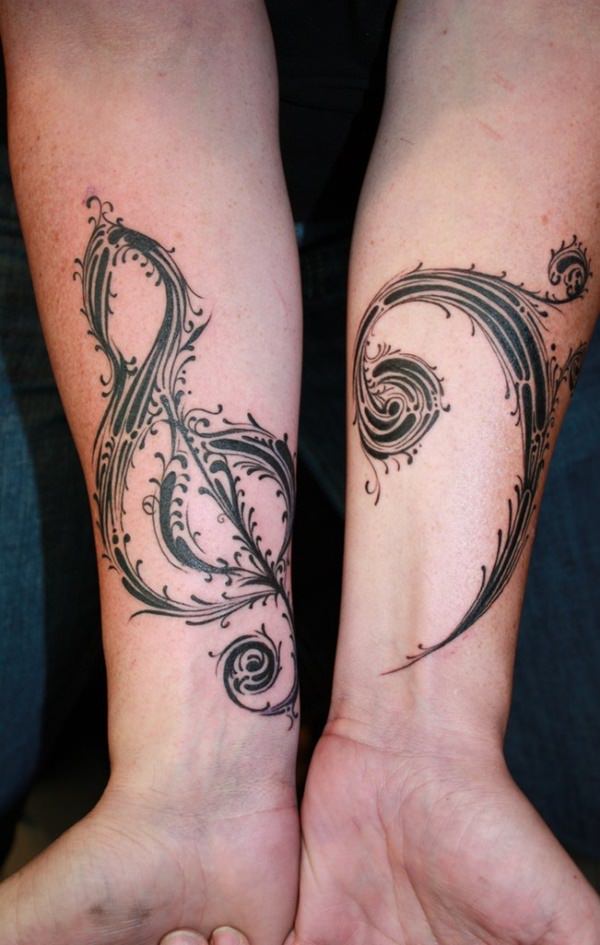 53. Music and Roses
A beautiful red rose with a music note. It's a unique design that has some cute elements to it.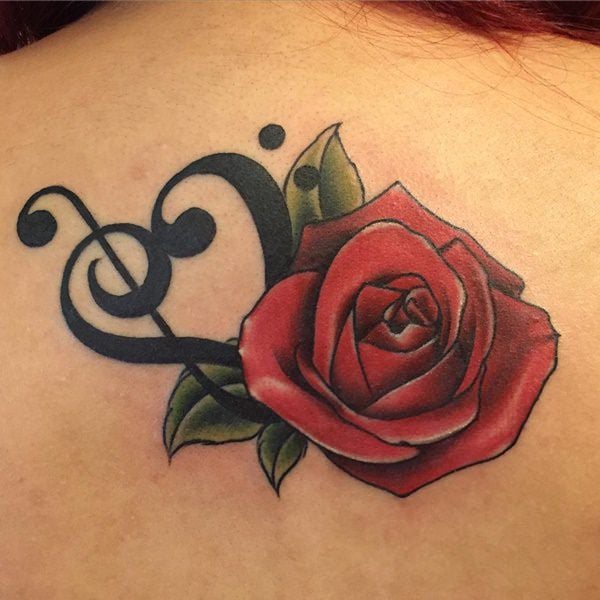 54. Plug Into It
These headphones plug into the arm making you really connected to the music. I love the color of the rhythm that is flowing through the headphones.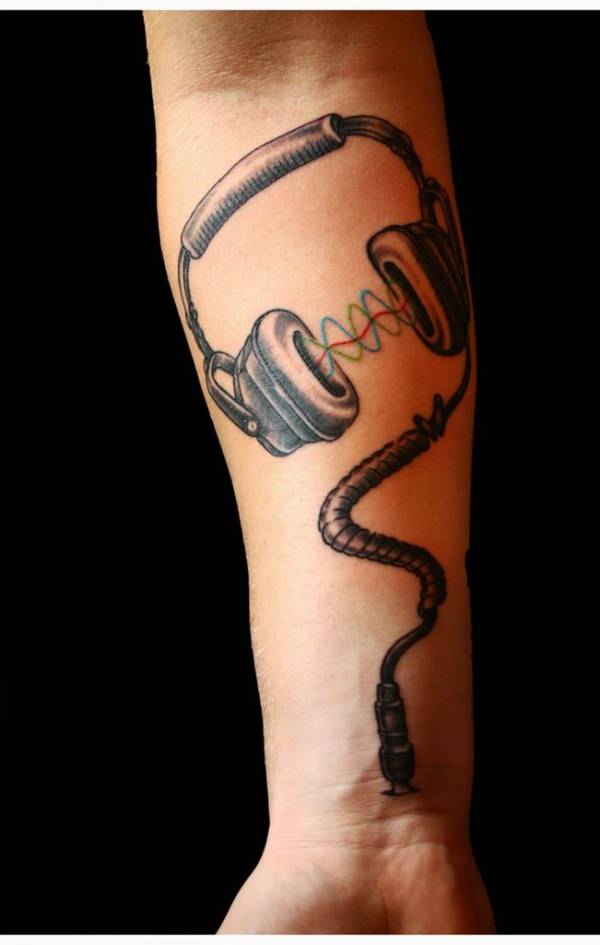 55. Shoulder Tattoos
A great tattoo that really knows how to keep it simple.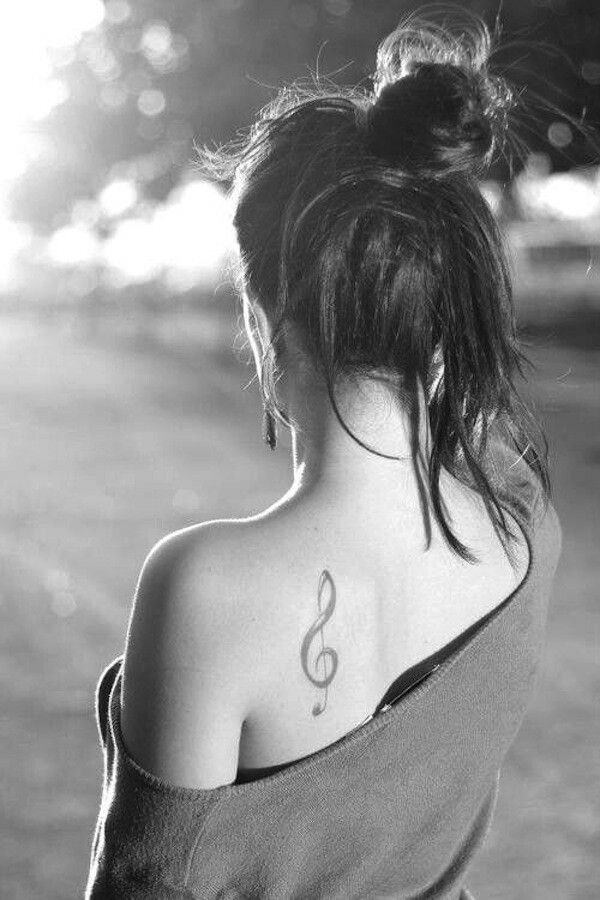 56. Double Notes
These double notes are amazing when it comes to music designs. These scrawled lines really create a unique look.
57. A Drum Set
A great design for all those drummers out there. If this is where you find your passion, then look no further than this.
58. Soft Colors
A great design that has some amazing colors to it. If you want something original, then look no further than this amazing design. It's sure to draw some attention.
59. Tiny Notes
If you are looking for a subtle design, then these three notes are just for you. It's a simple yet sweet design that is perfect for the location.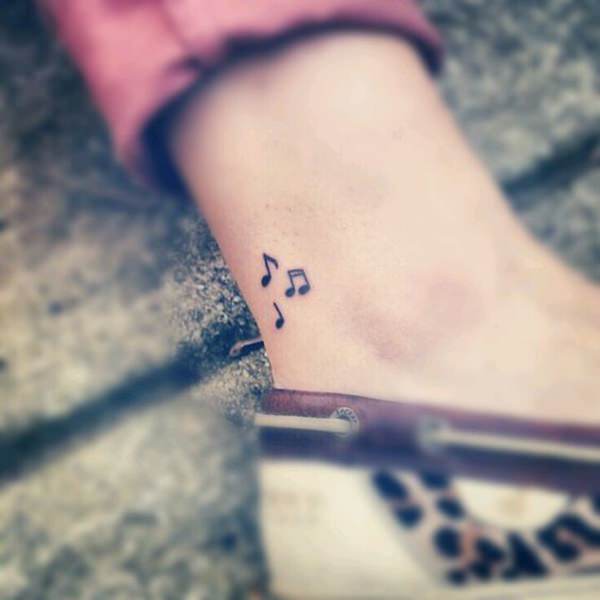 60. Striking Blue
These blue colors are just so incredibly beautiful. I love this bird design because it's really creative because of the notes that are flowing quite literally out of the bird's body. I can't get over how beautiful the colors are, though. That blue is just amazing! If you want a tattoo that is going to have everyone talking, then this is the one for you.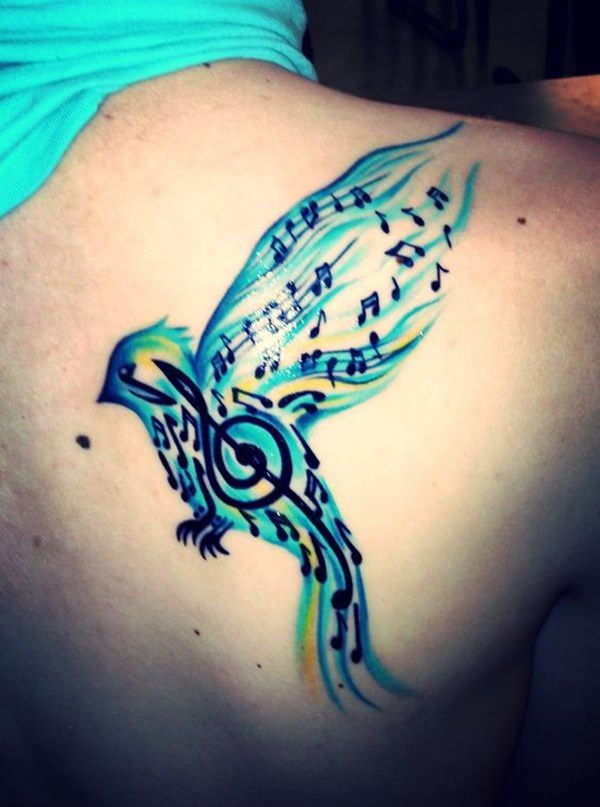 61. Heart Designs
This heart design is created out of different instruments. A trumpet, piano, guitar, drums and microphone are all inside the heart and it's truly an original design. I love the detail, and you can't get a better tattoo than this one.
62. Smiley Designs
I love this angry smiley face that is combined with the guitar. It's an original design that is really creative.
63. Sexy Style
This watercolor painting is not only sexy, but it's breathtaking as well. If you want a ribcage tattoo, then this is the one for you.
64. Bracelet Design
This great design has a microphone that turns into a bracelet. It's gorgeous.