Dove tattoos are not the kind of tattoo that you would consider to be mainstream and yet they are very popular for both men and women. There is just something about them. They are beautiful tattoos and they also have a spiritual element to them as well. There are many types of styles of the dove tattoo. Many people like to use a single dove in their design while many people will add symbols or other designs to the dove as well. Dove tattoos can be created in small or large designs depending on where you are placing it.
Dove designs are widely used because they are symbolic. They are a symbol of Christianity because of the baptism of Jesus. When the dove appeared during the baptism it was seen as a symbolic meaning. There are many pictures and photographs over the years used in this manner, as a symbolic drawing. It was then eventually put in as tattoo design.
There are many different types of dove tattoos to choose from the sky is the limit when it comes to your own creativity. Take a look below at all the different types and let your own ideas flow.
Below are 65 Stunning Dove Tattoos That Will Bring a Smile to Your Face:
1. Neck Tattoos
These great neck designs allow for a little extra room if you want a big design. In this case the dove is the focal point and the rest of it has other elements to it. It's very detailed and beautiful.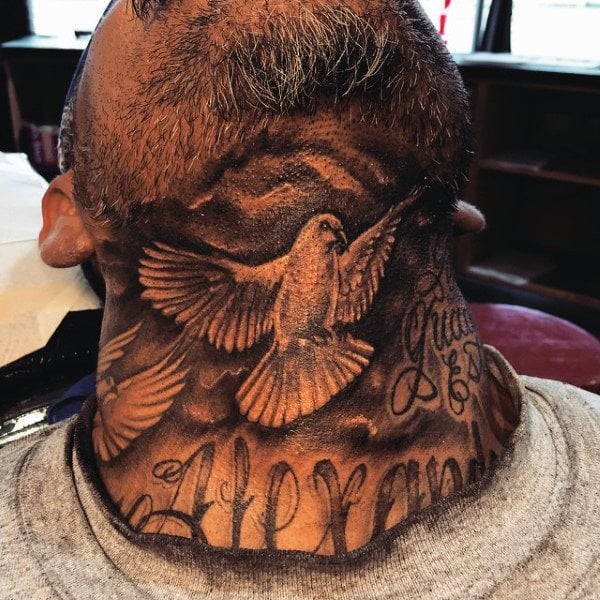 2. Virgin Mary
A stunning depiction of the Virgin Mary, I love the realistic detail to this tattoo. It's stunning in black and white and there lies the dove on her chest. If you want something to symbolize your beliefs this might be the tattoo for you.
3. Hand Tattoos
This dove is spreading her wings on the back of the hand. It's a creative and detailed design that you are sure to love.
4. Sleeve Designs
These beautiful doves are part of a design sleeve with many other elements. It looks as if there is also a cross in the tattoo as well as a rose.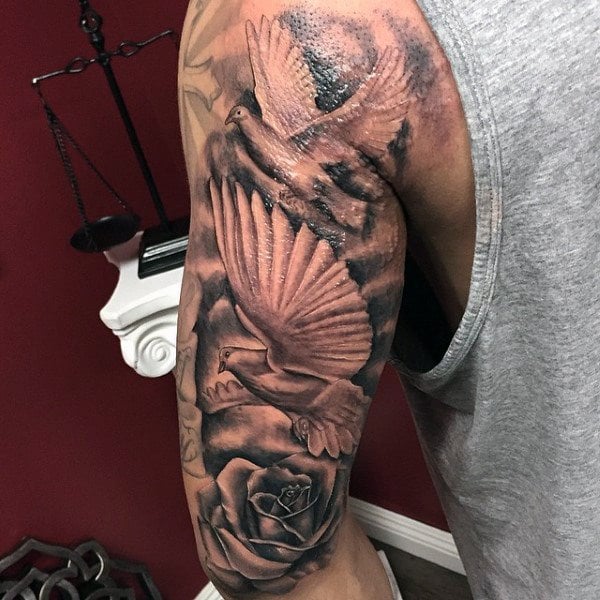 5. Chest Tattoo Designs
Another detailed design of two doves flying through the air with berry branches. It's got a bit of color but nothing that is too overwhelming.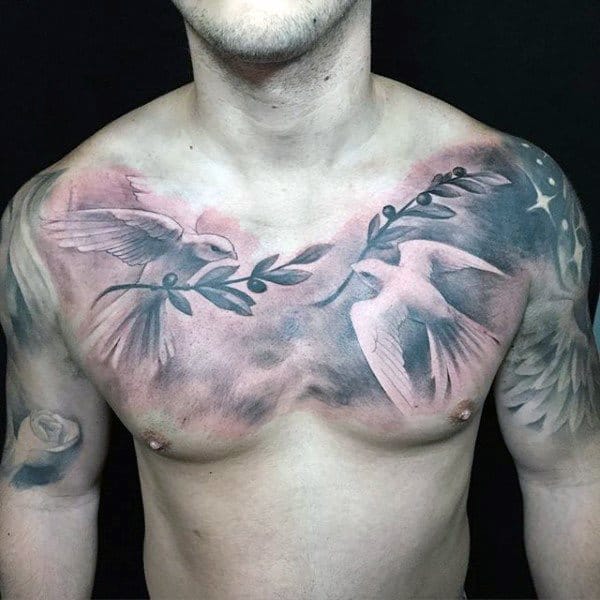 6. Making it Personal
Another example of a sleeve tattoo that has a dove incorporated in it. There is also a watch, flowers, and some names. Those name could be representing the children he has in his life.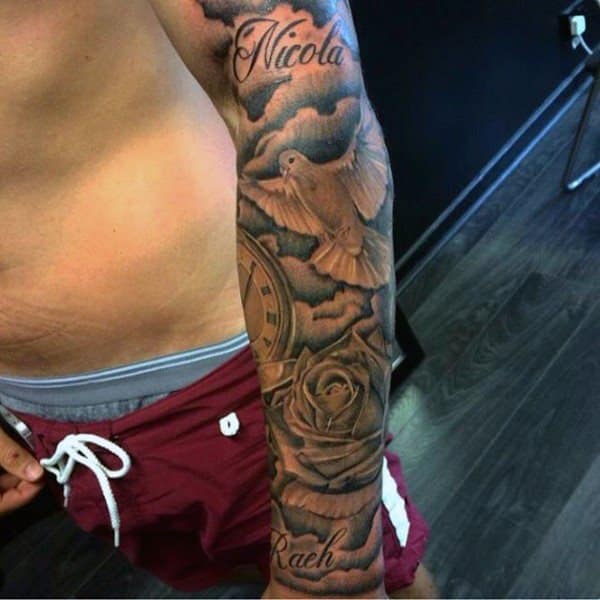 7. Large Dove Tattoo

This stunning picture is one large dove. It's a beautiful design of a dove taking off for flight.
8. An Outline
You don't need a large detailed picture to symbolize your love for the dove. In this simple outline, you can see how an elegant design can have just as much effect as a larger one.
9. Bright Colors
This stunning dove design has bright colors to it. It's certainly not a traditional design but if you want something different it might be perfect for you. I love how bright the oranges and yellows are.
10. Simple Dove Tattoo

This dove tattoo is a great example of how you can choose a simple design that is subtle but beautiful.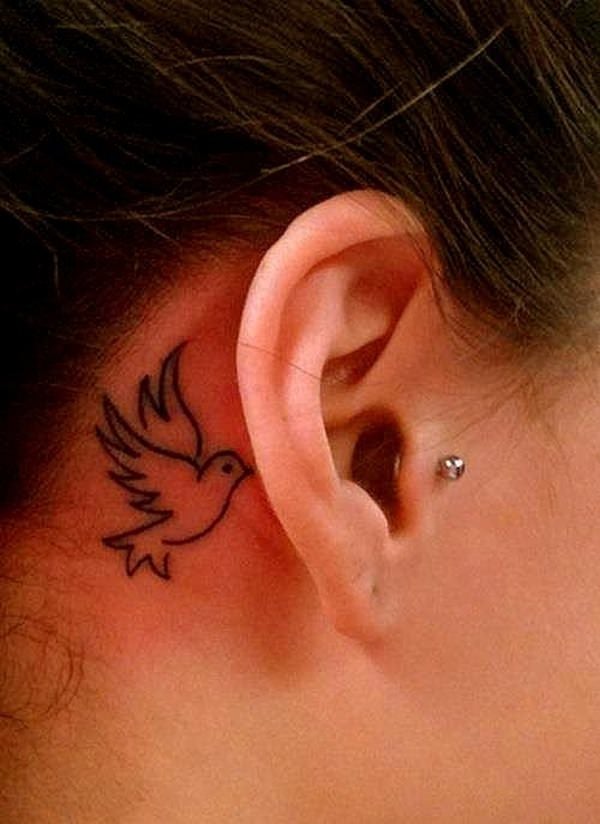 11. Add Some Color
Your dove doesn't have to be plain, incorporate some color into it for a completely different look. This dove is stunning because of all the different colors.
12. Back Tattoos
These large doves are flying up her back. They are in various positions as if they are flying haphazardly. It's a great creative design for someone looking for a back design.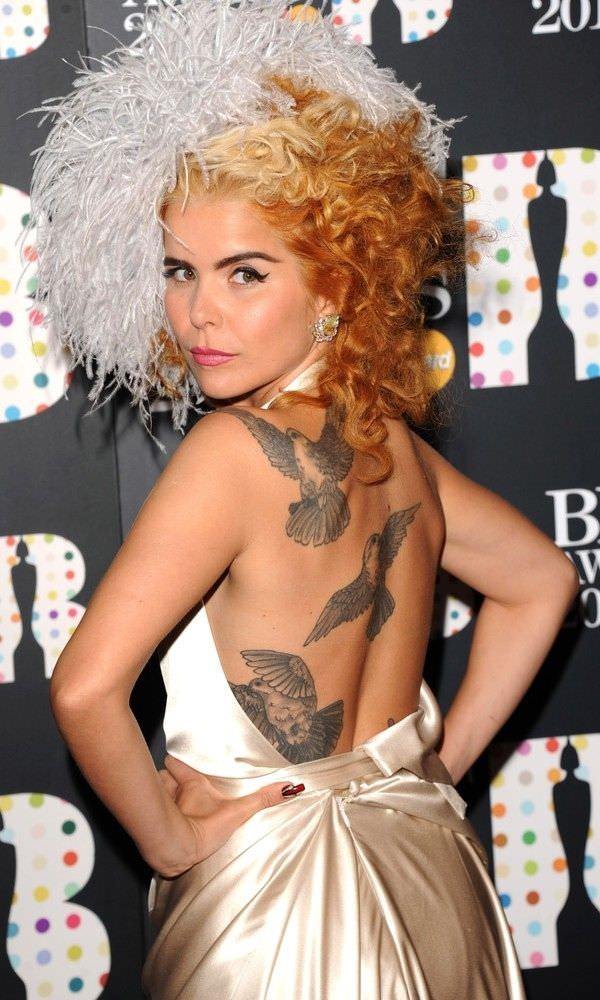 13. Peace and Love
Peace and doves have always been great design choices to have together. The dove symbolizes peace and love and so it's perfect to have it with a peace sign as well. I love the scratchy design look of this tattoo.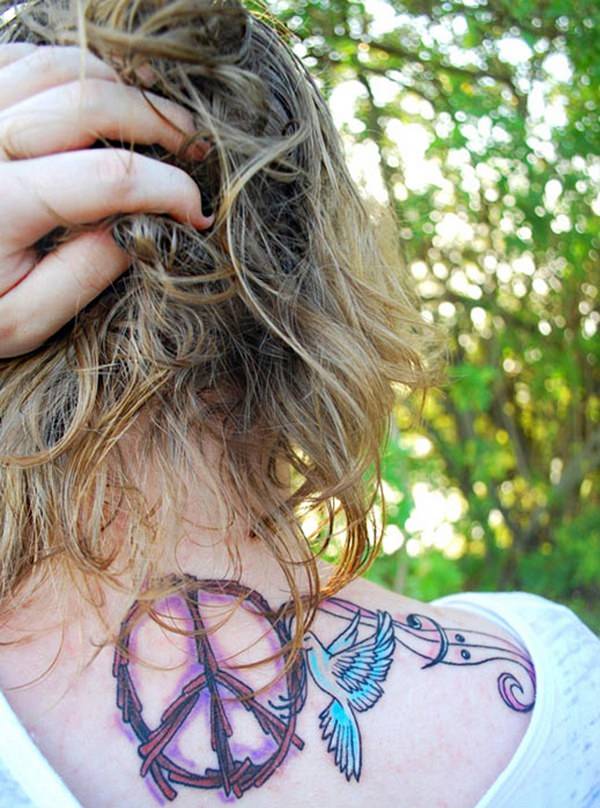 14. Foot Tattoos
This sweet tattoo has a few doves scattered on the top of the foot. It's a great place to add a small design.
15. Loved Ones Passing
Many people will use the dove to depict the feelings of a loved one passing. It's a beautiful and symbolic gesture for the one that you love.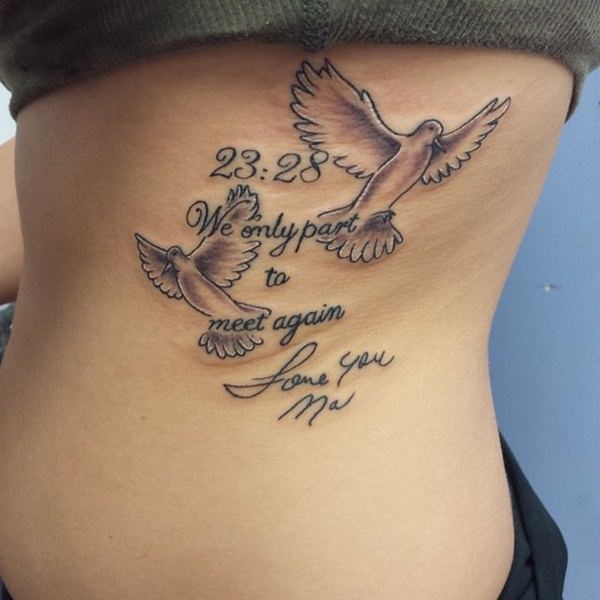 16. Matching Designs
If you are looking for a design choice to share with a friend then you can't go wrong with these small dove designs. They are simple and perfectly placed.
17. Bringing the Keys
This symbolic dove design has a large dove flying with a bunch of keys in it's mouth. The question is where is it going and what are the keys for? It's a creative and wonderful design.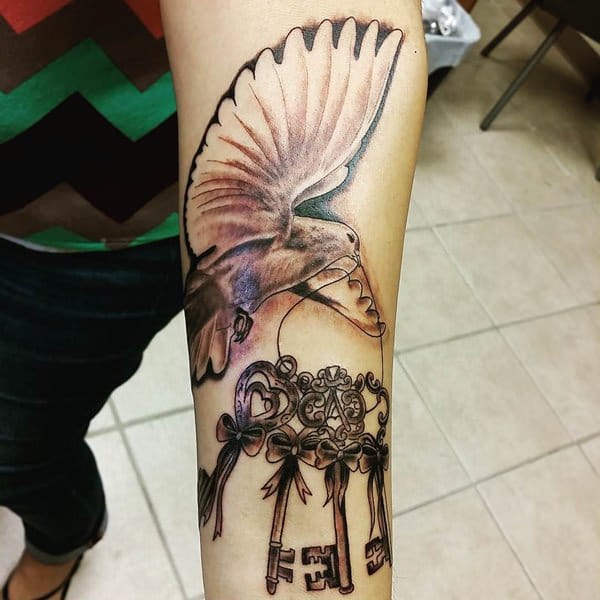 18. Powerful Design
A great design that looks wonderful on the arm. If you want something awesome, then try this one on for size.
19. Dove Love
Another example of a dove on the neck, this one is off to the side this time. If you are looking for something wonderful to place on your neck, you can't go wrong here.
20. The Holy Style
This back tattoo has the sun shining through the dove as it's flying giving it a holy and symbolic look to it. If you want something that is stunning this is it.
21. Ornate Dove
This ornate dove is small and special. If you want something that's different then this creative dove may be just what you're looking for.
22. Fluttering Wings
A simple dove design with the wings looking as if they are fluttering as she flies. It's not a large tattoo, and it doesn't have to be to achieve the look you want.
23. Dove Designs
You often see dove's in pictures in which they are carrying something with them. This dove doesn't have a lot of detail but it's a great design and the sash that it's carrying has a name on it.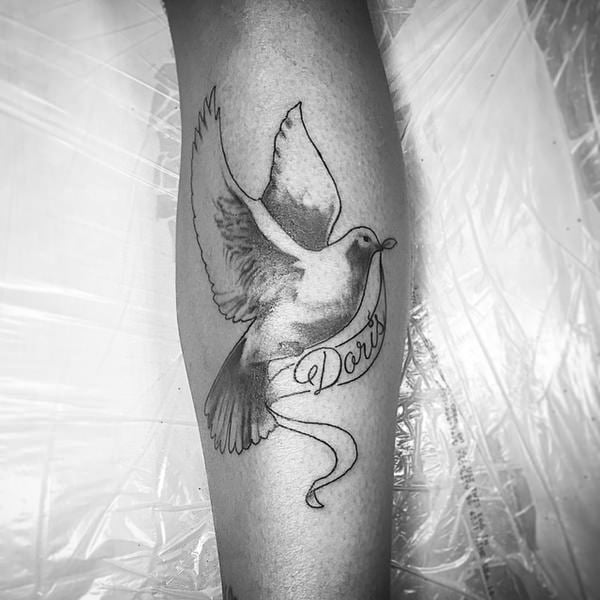 24. Dove Sleeves
Another example of a sleeve design with a dove on it.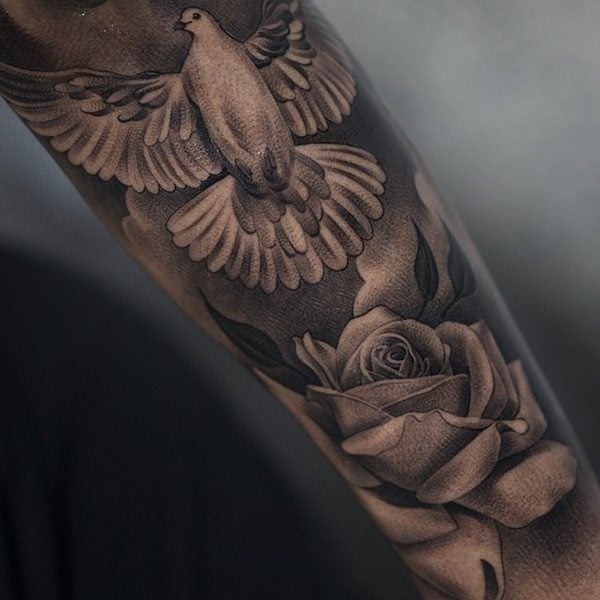 25. Flying Dove
Dove's are at their most beautiful when they are flying around, in this case, the dove is just taking off for flight.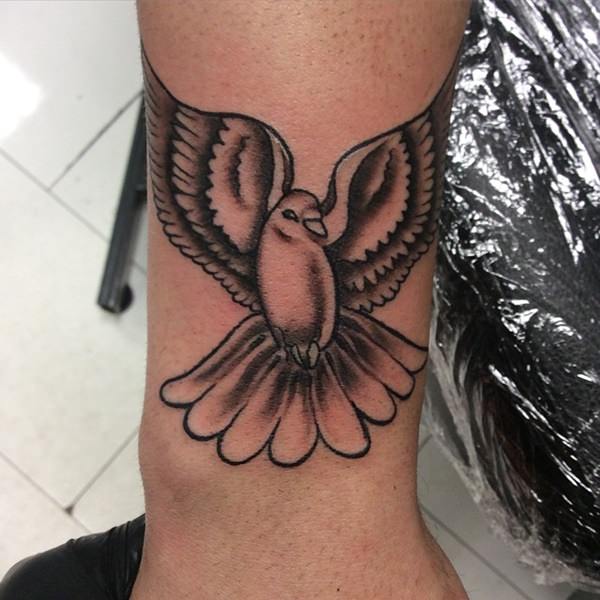 26. Geometric Designs
This is a great example of a beautiful geometric design that has the elements perfectly aligned to each other. I think it's gorgeous together.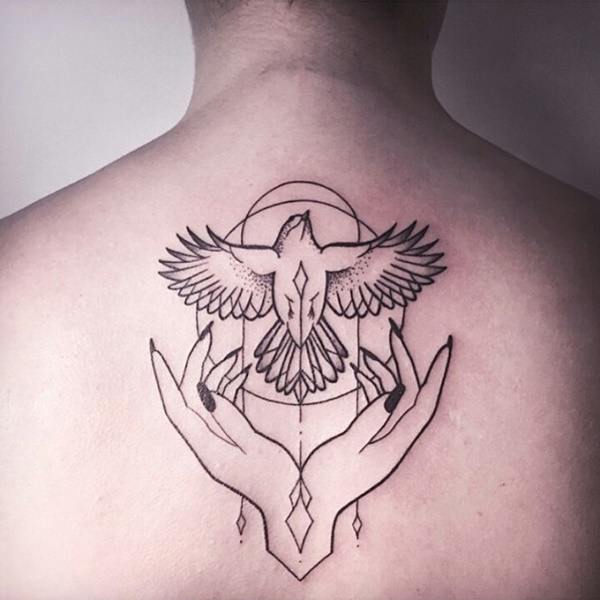 27. Dark Doves
Two dark doves flying along the arm. It's a different design with some dark coloring.
28. Purple Doves
A beautifully bright colored dove is sitting on a mirror. There certainly has to be some symbolism behind the mirror.
29. Detailed Doves
This sleeve design is a beautiful portrait that has the dove flying overhead.
30. Popular Designs
This small dove design is certainly a popular choice, it's seen in a lot of different photos and pictures.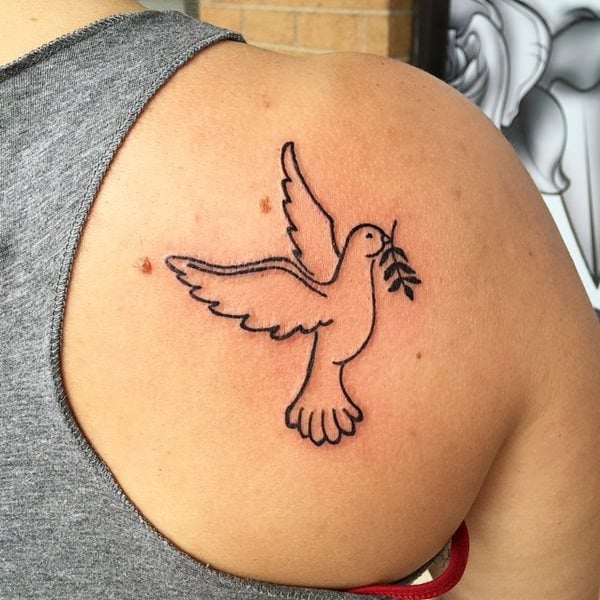 31. Religious Symbolism
There is a lot going on with this tattoo to imply that there is a lot of religious meaning behind it. There is the beauty of the dove combined with the fact that there are crucified heads beneath symbolizing Jesus's sacrifice for us.
32. Pink Designs
Another example of the key carrying dove.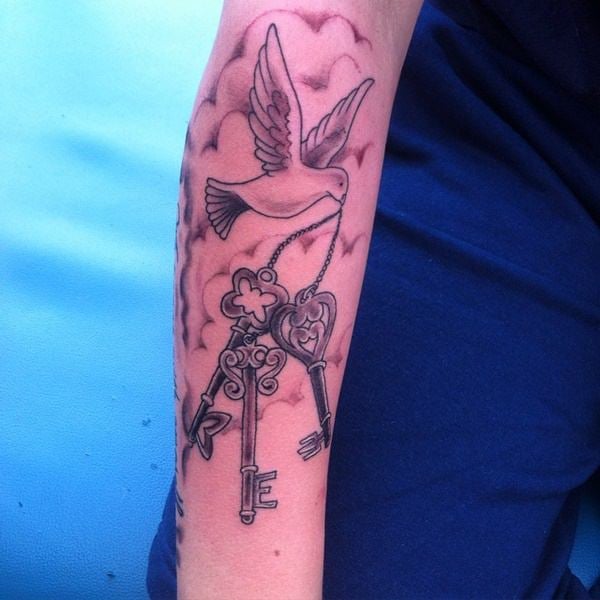 33. Dove Halo
This dove is just ahead, but there seems to be so much wisdom in the eye of the dove. The sun setting behind it gives the appearance that it has a halo.
34. Cartoon Designs
A dove design that has floral elements to it. If you prefer the cartoon look than this design is for you.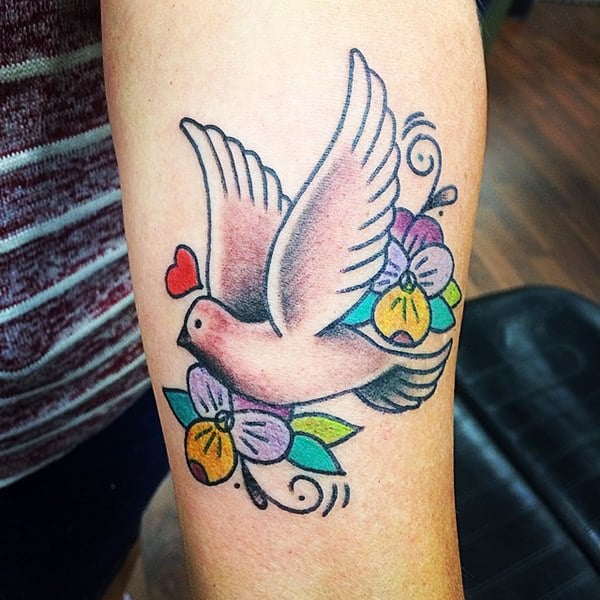 35. Sun Shining
A great detailed picture of a dove with the sun shining through it.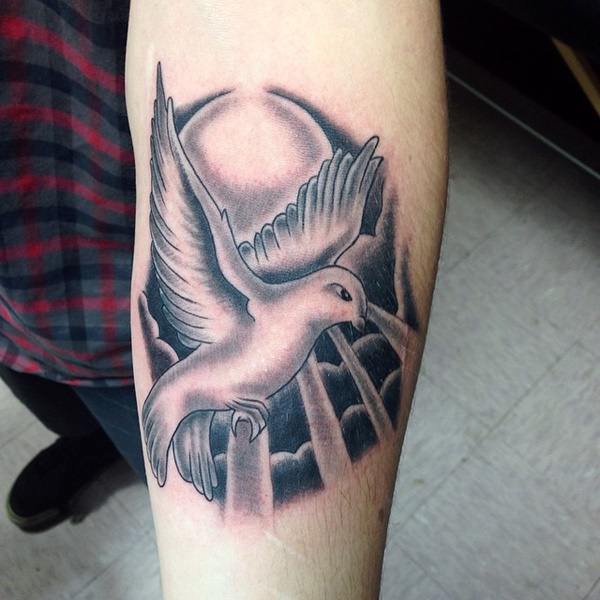 36. Blue Cross
This design looks completely holy because of the sun shining behind the dove. It makes the dove look powerful. I love the cool blue cross that's added to the tattoo.
37. Grey and Blue
A dove design that's pretty and elegant.
38. Rosary Love
This back tattoo is all about religious beliefs. There is a lot of symbolism to it as you see with the rosary beads and the dove.
39. Spreading Those Wings
This is another example of a geometric design where every part of the tattoo is aligned with another piece. It's a striking design that you are sure to love.
40. Following the Arrow
This dove is sitting on an arrow and it might just be in flight. It's hard to tell if the dove is carrying it or not but it's a fun design.
41. Creative Designs
These are my favorite designs, the ones where you have to think outside the box. This dove is literally being written into the face so that the two are one. It's a gorgeous design with a lot of creativity.
42. For the Love of Music
This tattoo design is symbolizing the love of music by using the dove. Again it's a traditional dove with the branch that was brought to Noah's ark but the rest of the design is about loving music.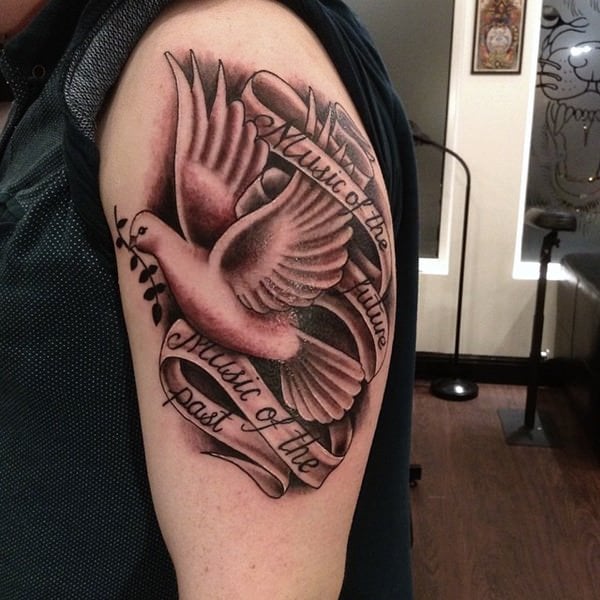 43. Mysterious Dove
This tattoo design is mysterious and dark. I love it.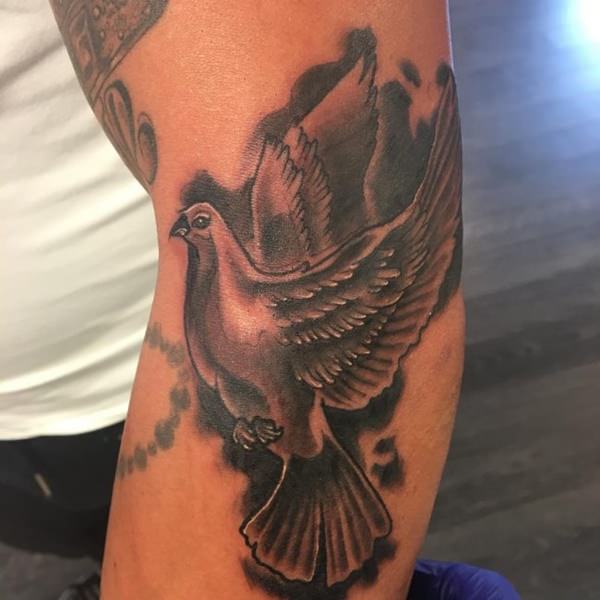 44. Family Symbolism
Doves with family names are great tattoos.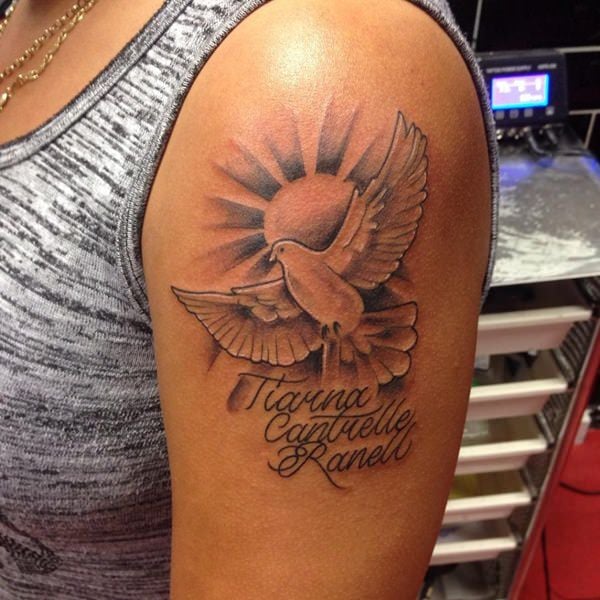 45. Cross and Dove
Detailed designs that combine a cross and a dove together.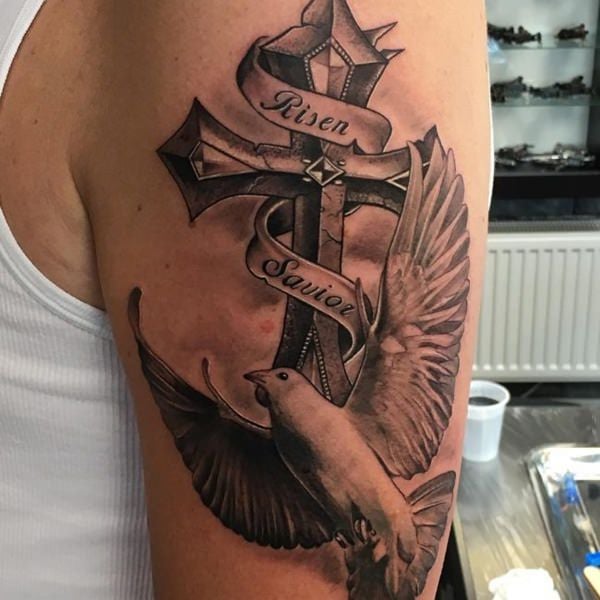 46. Religious Designs
Another example of a religious design with a rosary and a dove.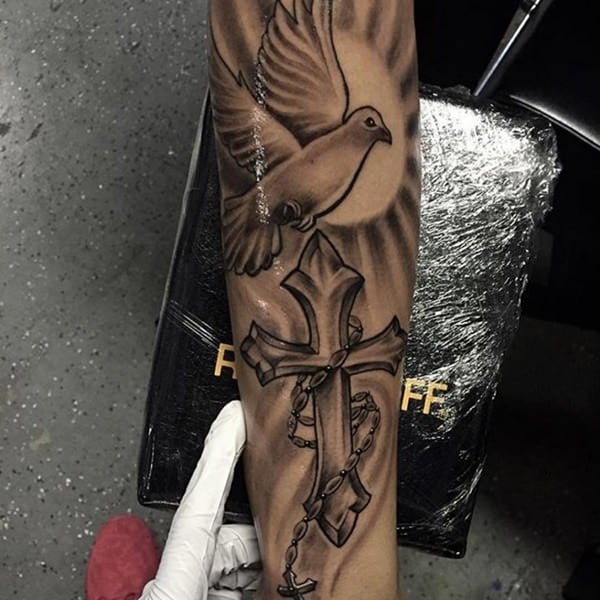 47. Wooden Cross
A very detailed picture of a wooden cross and praying hands. A flying dove completes the look with some rosary.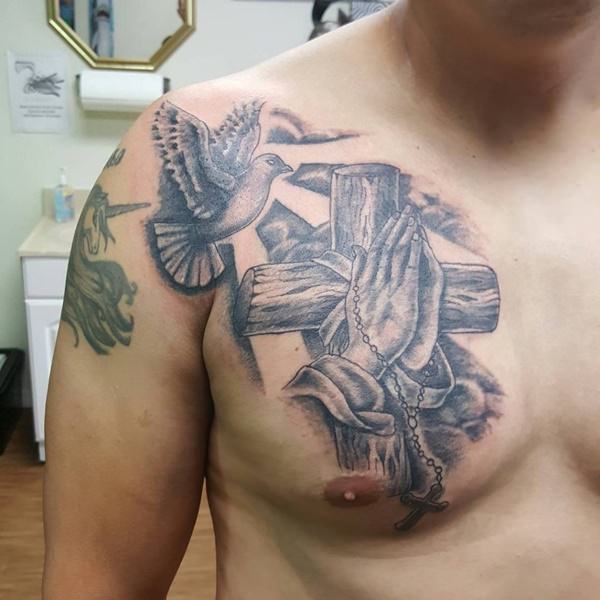 48. Watercolor Designs
This stunning dove design is so beautiful with the bright art colors. These designs are so gorgeous; they don't need an outline, it's just bursting colors everywhere. I love how the paint drips at the bottom of the design.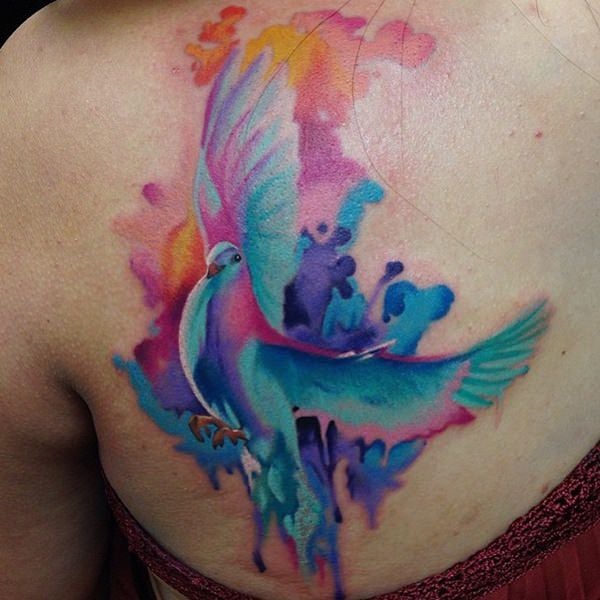 49. Praying Hands
These praying hands have the rosary and the dove. If you want a symbolic design, you will love this one.
50. Head Tattoos
A very detailed design of a dove that fits nicely on the back of the head.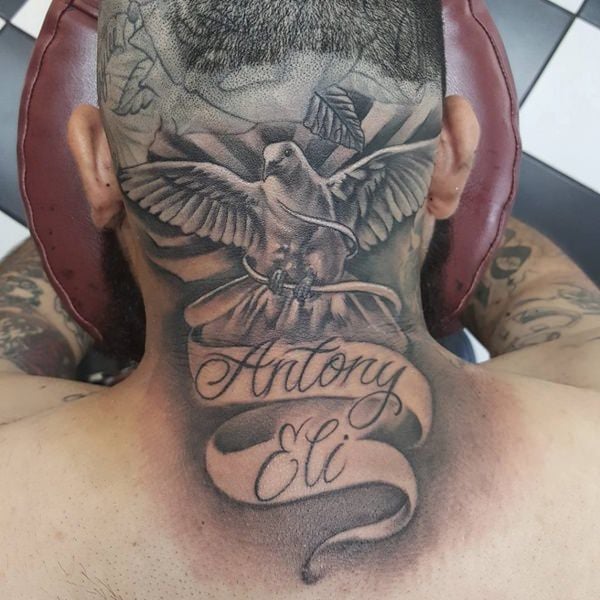 51. Hearts and Doves
A cartoon dove is holding a sash with a name on it over a heart. It's a traditional tattoo design if that's what you're looking for.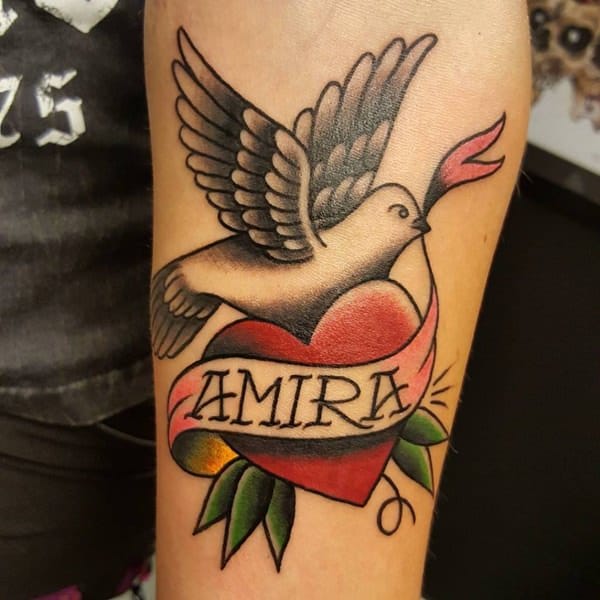 52. White Doves
These detailed doves are beautiful due to the added white ink. It makes the doves feathers really stand out. If you want a large tattoo try this design.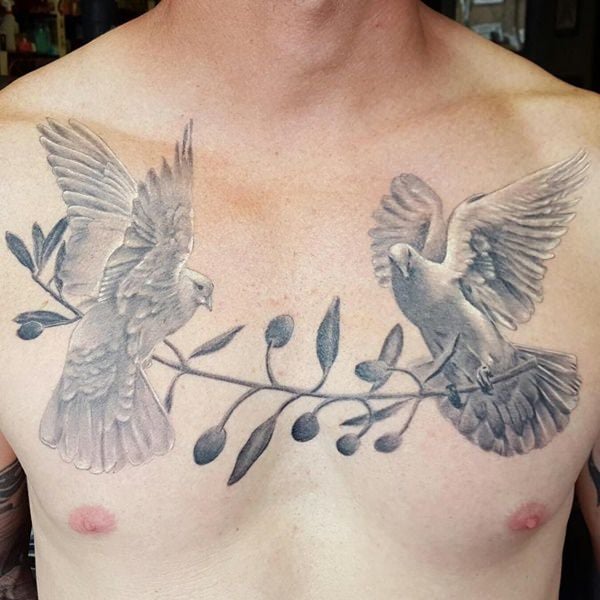 53. Helping Hands
These helping hands make for a large tattoo design. There are roses to the side as well as some beautiful doves.  If you are looking for a chest tattoo with some religious elements, then this is a great design.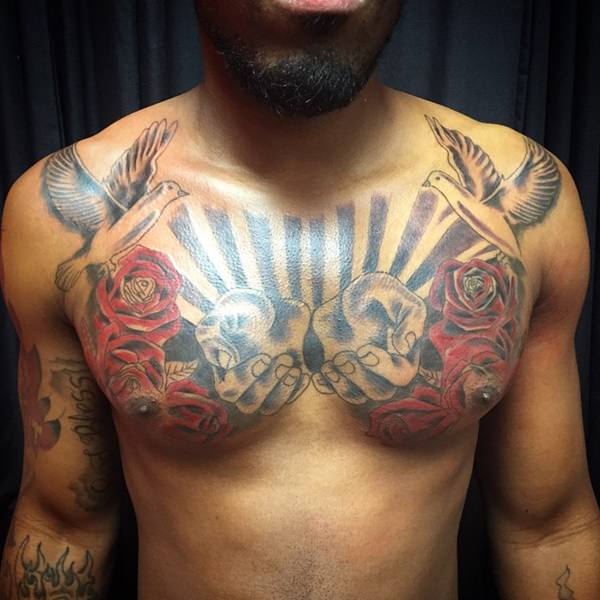 54. Skull Tattoos
If you are looking for a badass design then add a skull to it. It's unusual to see the sacred dove with some skulls but it still looks pretty cool.
55. Black and White
A portrait that takes over the entire sleeve. It's so beautiful it looks like a painting.  If you are looking for a large design, then try this one out.
56. Wing Designs
This dove has some detailed and intricate designs in the wings. This tattoo is one that probably took hours to create. The wings themselves look like art. A stunning design that you are sure to love forever.
57. Rosary Love
Another great example of a tattoo with a rosary and a dove. These tattoos have a lot of religious elements to them.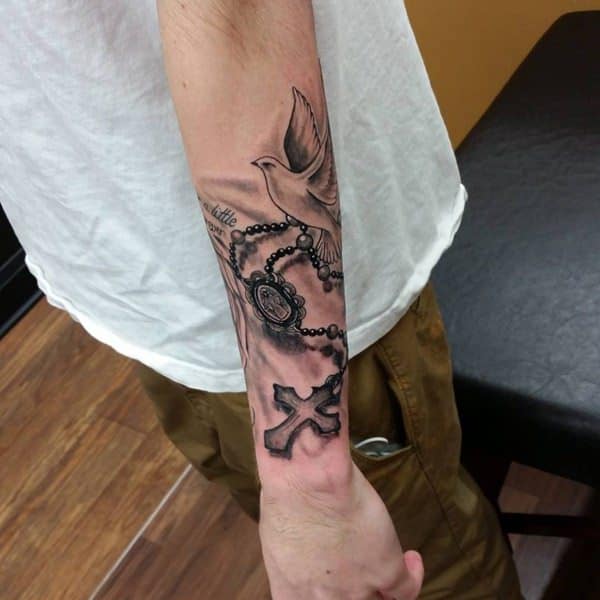 58. Leg Tattoo
One single dove on the leg taking off into the air.
59. No Detail
A large tattoo with a dove in the clouds. There are no details on this design, but it's still a powerful message.
60. Over the World
This design has a dove flying around the world as part of the sleeve design as well.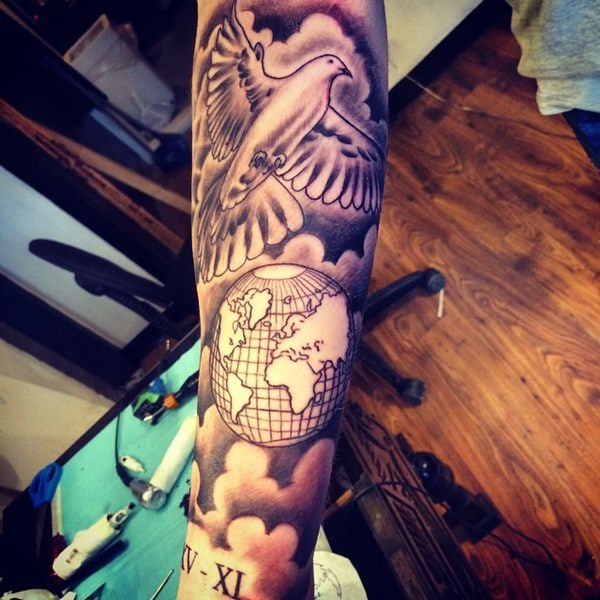 61. All Seeing Eye
This tattoo design is detailed and original. I love the All Seeing Eye design with the dove as one of the elements. There is so much detail to this design that the eye looks very realistic.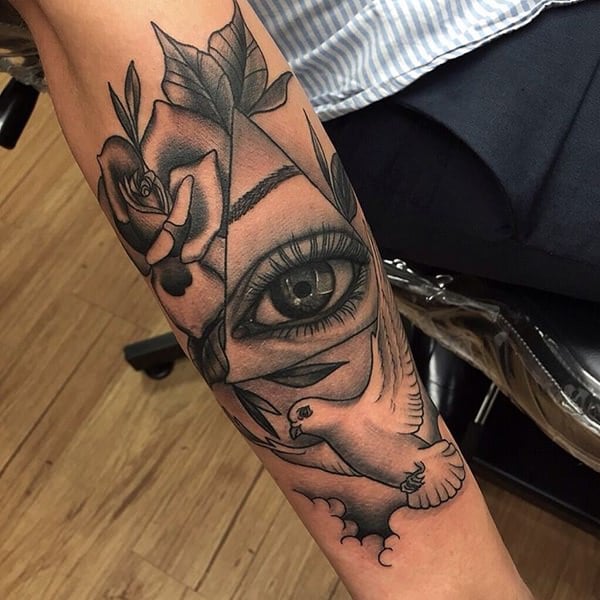 62. Multiple Messages
Tattoos don't have to say one thing; they can have multiple meanings. In this case, there are a lot of different elements that tell their own story.
63. Geometric Dove
A great example of how geometric shapes can be used to create a design within a design. I love these tattoos because they always come out looking so cool.
64. Two Doves
Two doves of different colors, one holding a locket while the other has the key.