Henna rocks! The semi-permanent ink is a great way to try out tattoo designs before you go the whole way and get inked for good. Henna comes in a range of blacks, browns, and reds and can last up to a few weeks on the skin. Whether it's geometric designs, or wild, large pieces, hunt down your nearest Henna artist and have a go yourself!
How Long Henna Tattoo Lasts
When people get Henna tattoos, the obvious question is; how long does it last? Because Henna tattoos are temporary you can get them and expect them to fade very quickly, unlike a regular tattoo! This makes them quite good to get 1) if you're thinking about getting a tattoo but you're not sure yet 2) you don't want a real tattoo but want to get the look of one for a short while or 3) if you've got a special event you want to do something different for.
So, how long does it last? Well, that depends on your body make up, everyone is different. Henna tattoos will generally last between 1 and 3 weeks, with most people's lasting between 10 days and 14 days. The henna will fade over this time, it won't just be there one day and gone the next. So what this means is that when you first get your henna it will be very dark, but will fade to a very light (and then gone) over about a two week period.
This makes henna tattoos great to do over your school or work holidays, if you think they wouldn't be allowed at your school or workplace!
The Dark Spider
A dark spider isn't something that you will usually see, especially in henna. However, here is a henna spider that is pretty kick ass. It's going to have a wonderful shading as soon as the henna is wiped off. It is even reminds you of Spiderman, which I do believe is on purpose. It certainly looks like the Spiderman symbol, but you can never really tell. It was done extremely well, and the artwork is just superb.
Starting a Family Tree
A diamond and circle centric hand design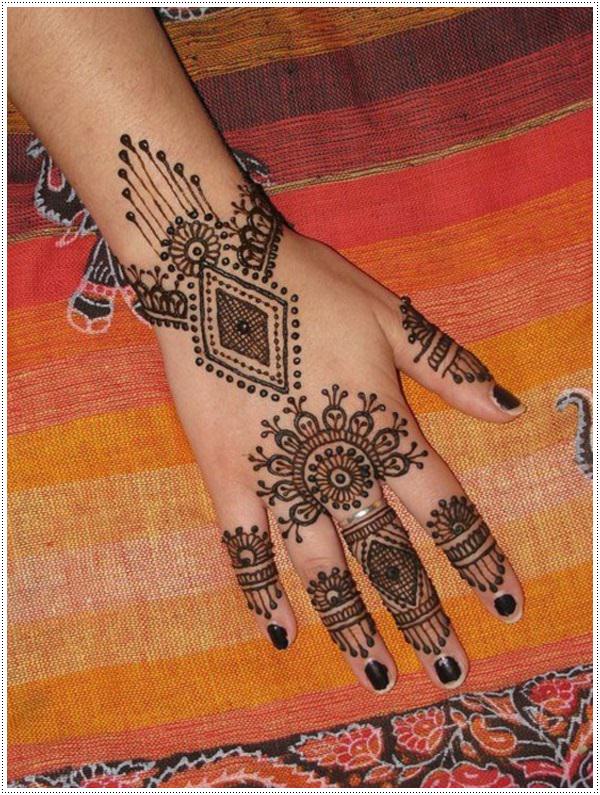 Highly henna'd toes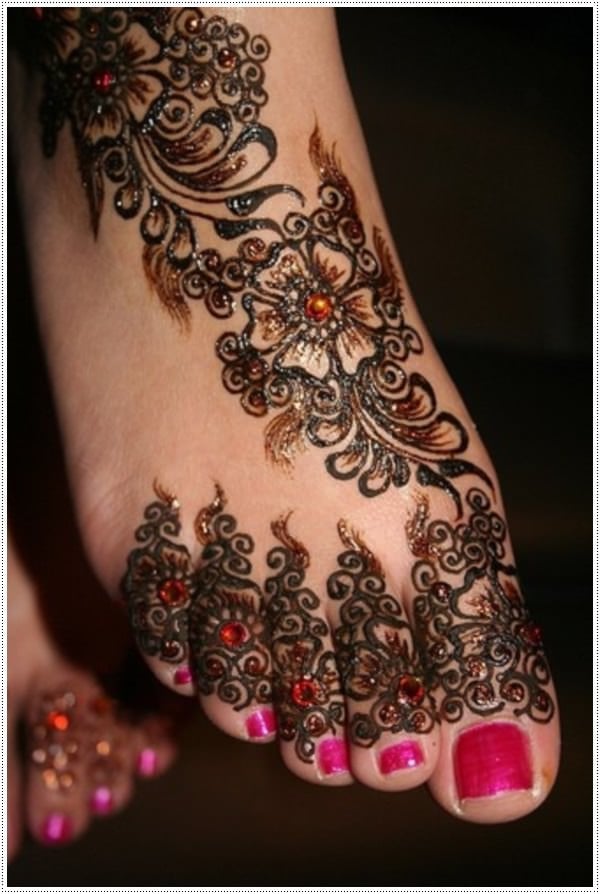 Henna design for a wedding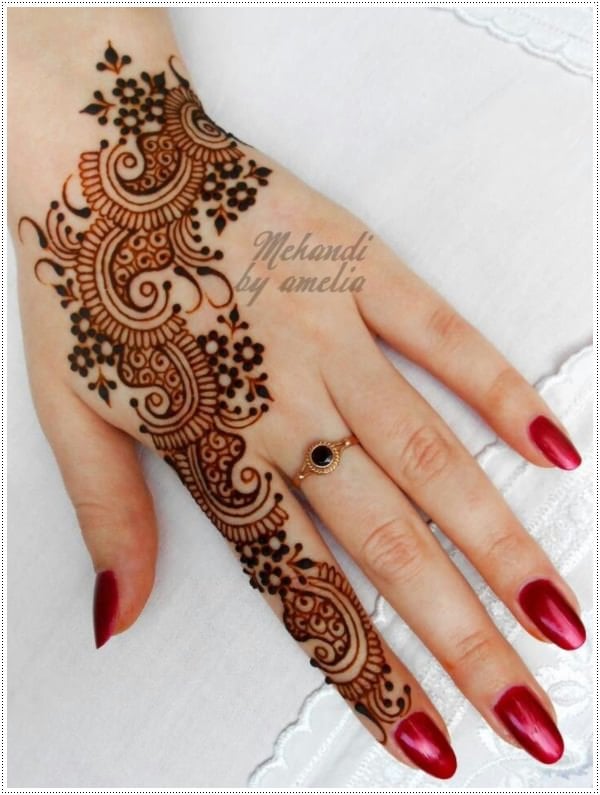 Trailing flowers on both arms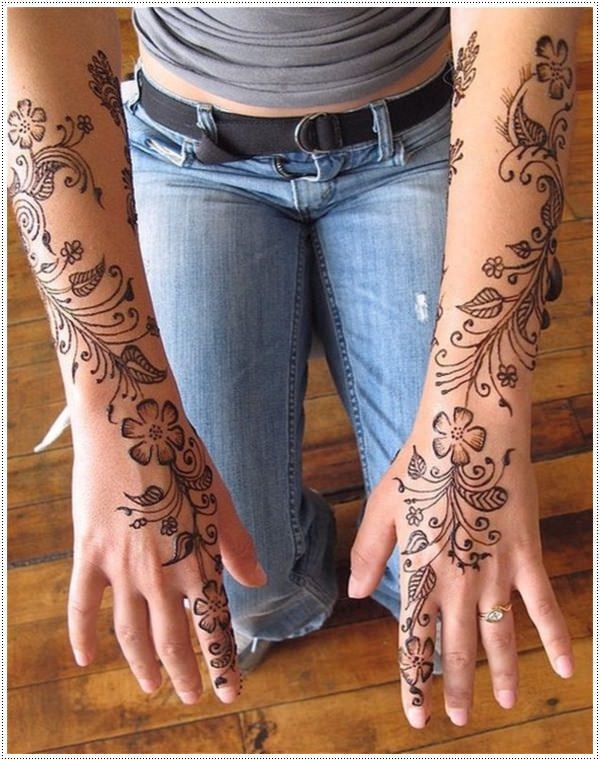 Let the dancing begin!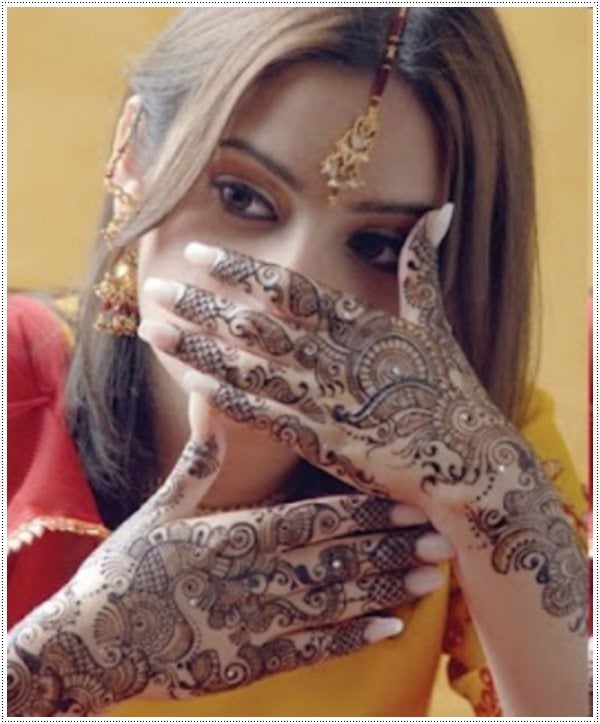 A beautifully intricate arm and hand piece
Gold accent back design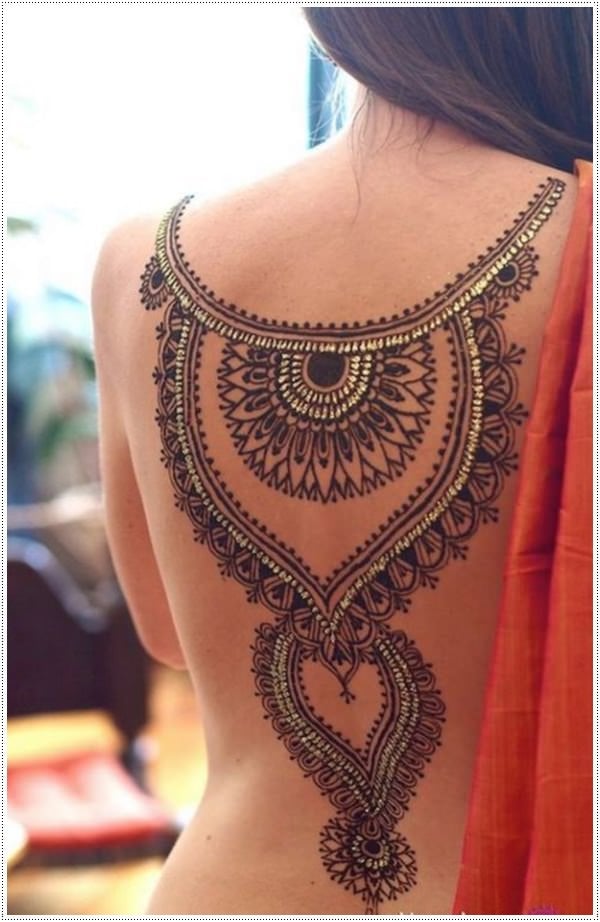 Sun and moon in the palm of your hand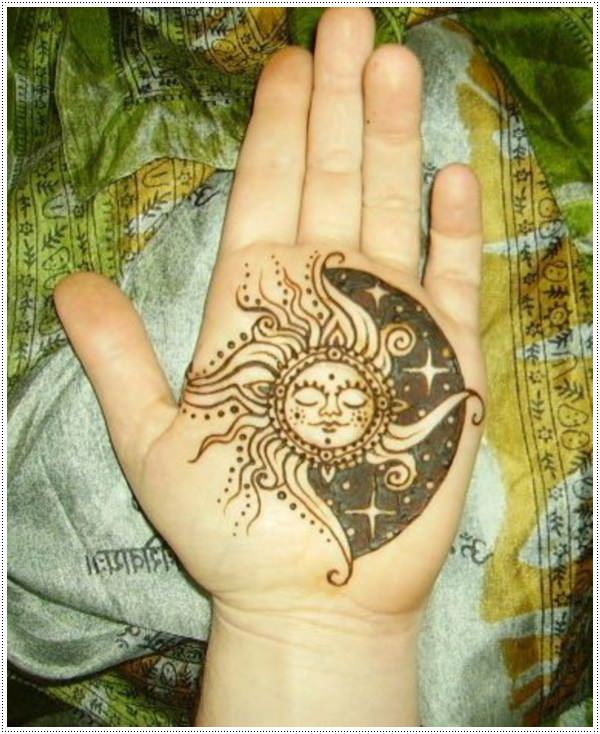 How to Do Henna Tattoo at Home DIY
Henna tattoos can be a great thing to do either to yourself or with your friends with a bit of practice and a bit of time! While you often see henna stands at markets or at festivals (with very experienced people doing the tattooing), you don't often see it being sold in places like your local makeup shop! So how do you do henna tattooing at home?
Well, the first thing you need to do is find yourself a henna tattooing kit that is of reasonably good quality. You henna tattooing kit will contain a bottle as well as applicator tips for applying the henna. The next thing that you need to get your hands on is some high quality henna powder. You mix the henna powder up with water to get the right consistency. Henna comes in a range of different colors from deep browns and reds through to colors like warmer red and even sandstone like colors. Henna should be purchased off a reputable seller.
High quality henna is usually stored in cold storage and has a very fine appearance. Because it only lasts for several months it needs to be fresh. Make sure that it is natural and organic – there are a lot of fake henna products getting about on the market so you should look into what you're getting before you make your purchase!
Once you've got your henna powder and applicators you will want to do a skin test, like you do with a home hair dye kit. In some cases, people are allergic to henna, so it's important to test first! Allergies can cause severe reactions or even long lasting damage on your skin so it always pays to be safe! If you are hennna tattooing on your friends make sure to test first too – everyone is different.
After the test it's time to get started! We recommend reading some online guides on how to henna or checking out some YouTube clips to follow. That way you'll know the right techniques to get started with and be able to start from there.
Feathered hand designs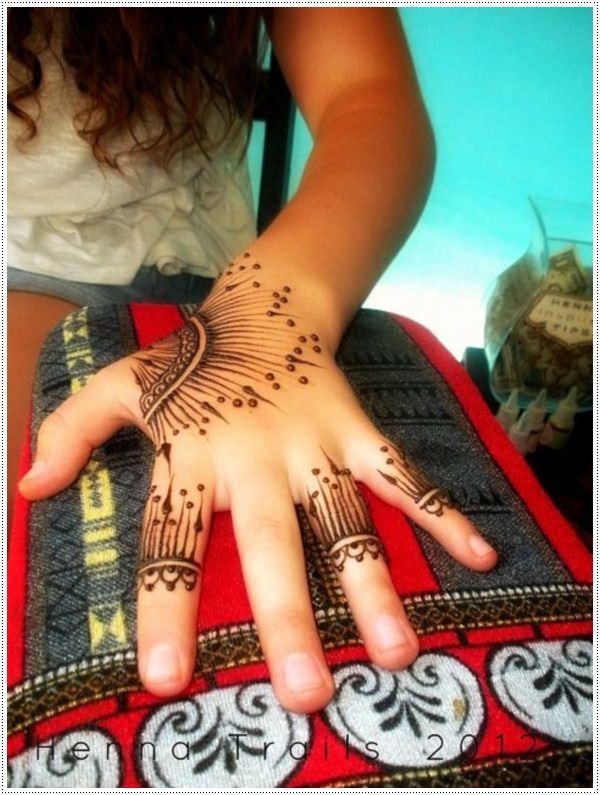 A henna anklet
Heavily colored henna on the feet
Swirling over the hand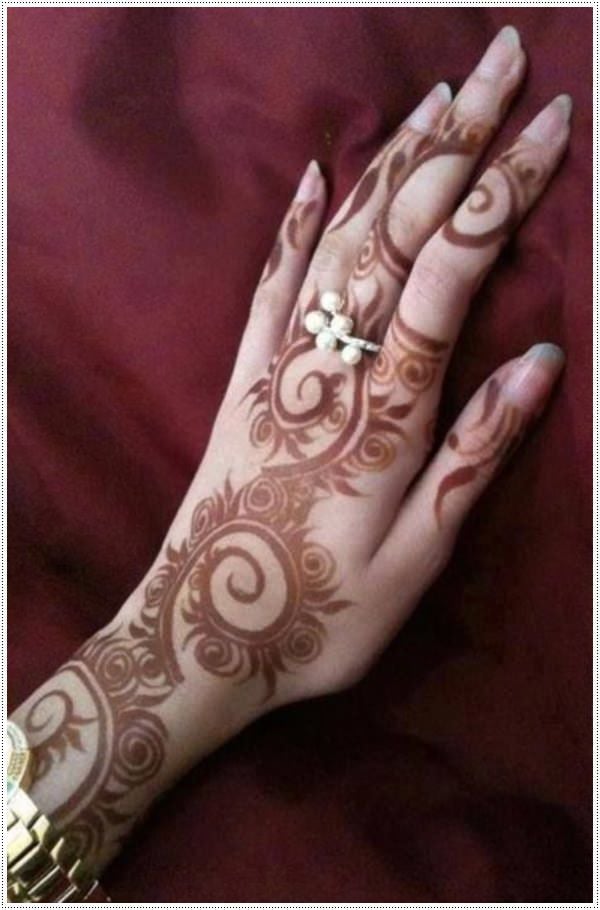 Henna that centers on dots
Covered completely!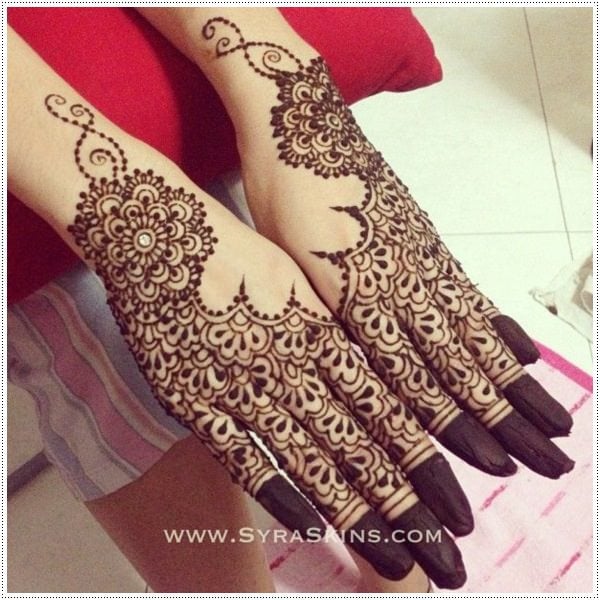 Henna on the chest for an event
A family tree means a lot to a lot of people, but you will find this family tree to be really the start. Not every family tree has a lot of branches, but this one will have one more. This is because it's going to help deliver the baby. It even has beautiful flowers, a bit of shading in the middle, and even a peacock on the side. A lot of work went into this henna tattoo, and it is just perfect.
The Cute Cat
Some henna tattoos are extremely simplistic, and this is one of them. It takes a lot of work to try to do a henna tattoo, and that is because it takes delicate designs. You need to put just the right amount of pressure to make it stain the skin in a perfect way, making the lines seem perfect. The eyes are mysterious and the tail is just beautiful. The vine designs add a little bit more, and the swirls are just cute as can be. It's obviously done for a girl, but it was done extremely well.
A Simple Lotus Blossom
Wedding henna
Designs like this can take many hours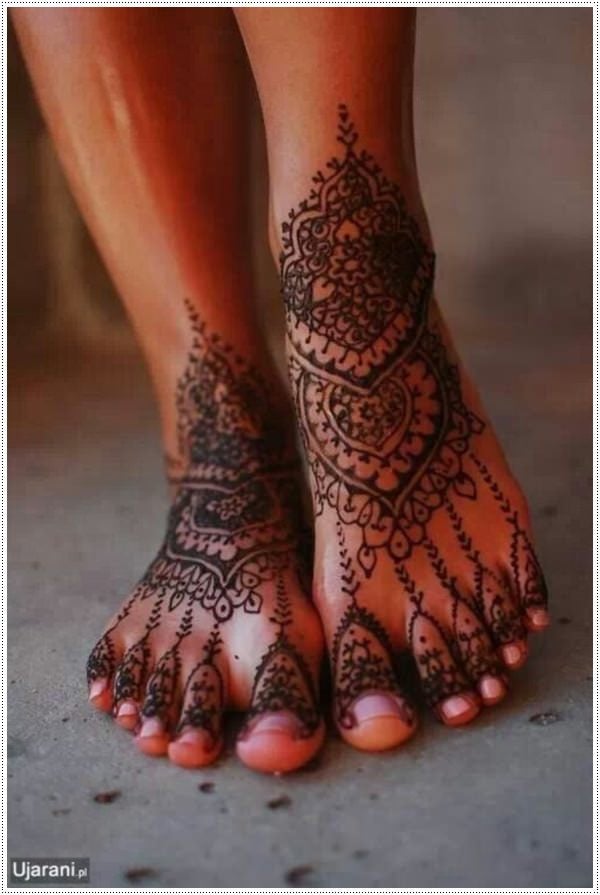 The perfect practice for a real tattoo
Henna often goes on the inside of the palm too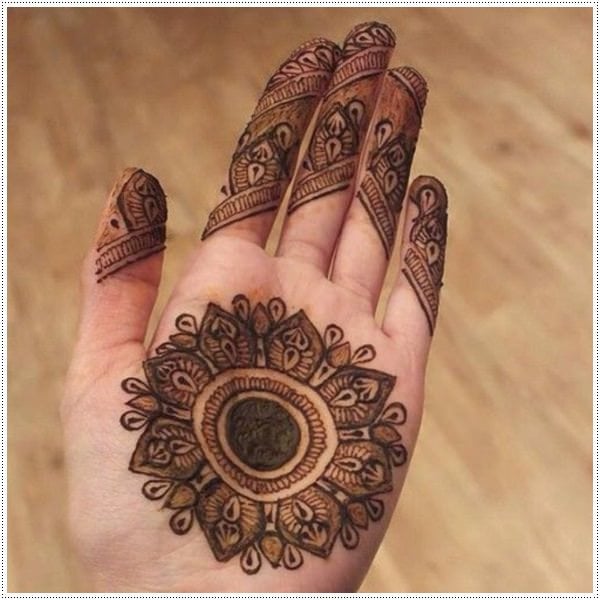 Henna with different colors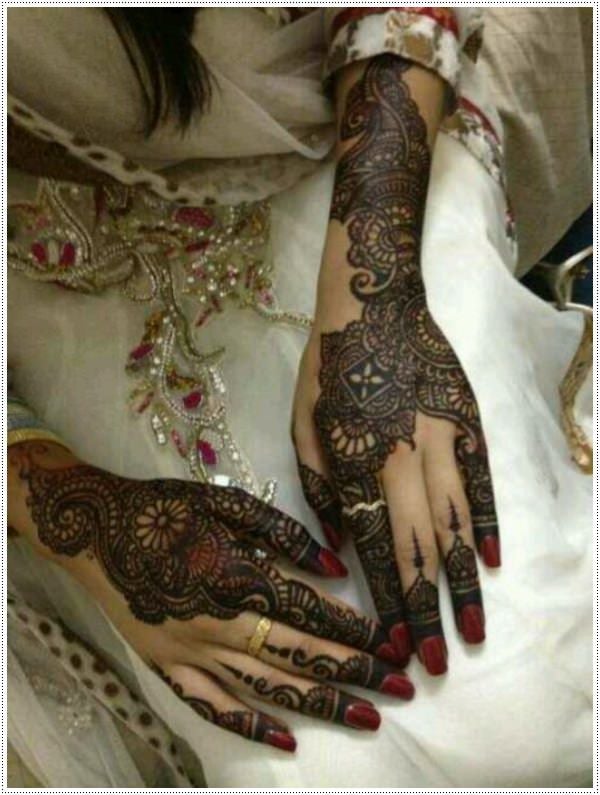 Intricate repeating patterns
A more green shade of henna
Heavily henna'd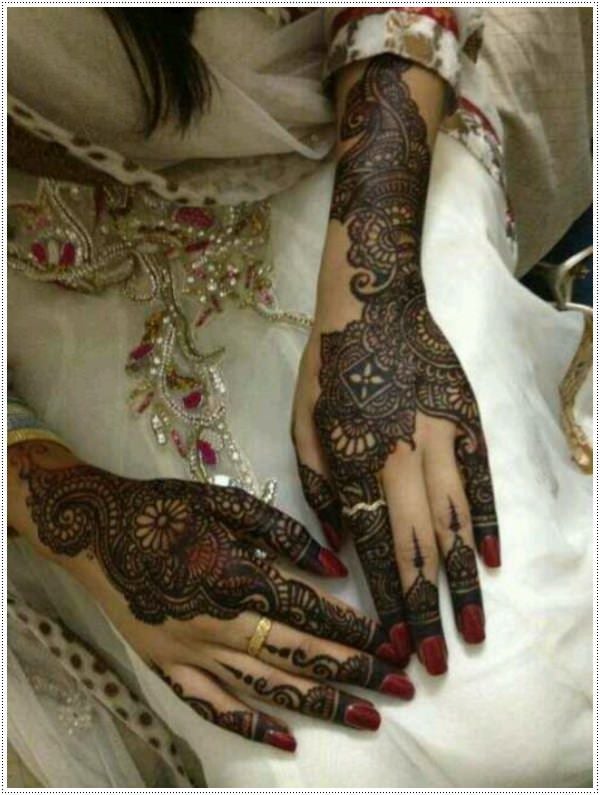 A colorful floral design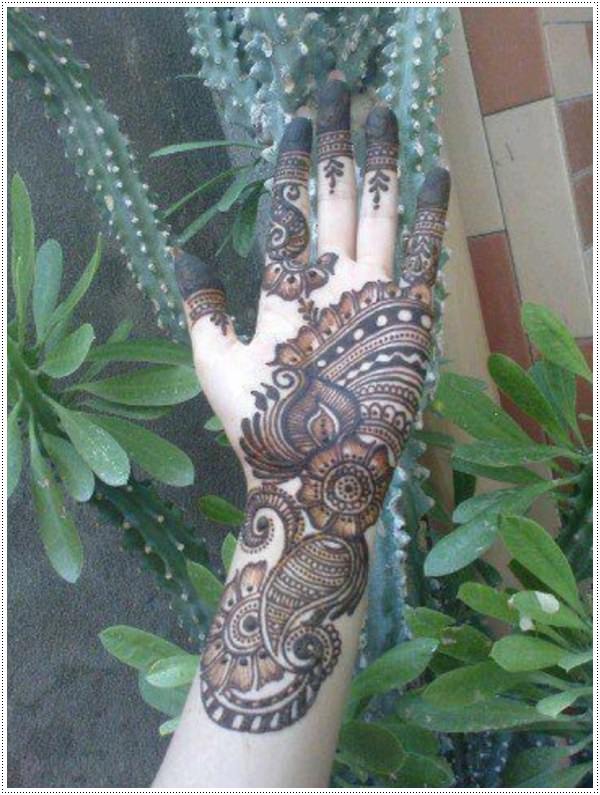 Highlights of green and red
Lotus blossoms are a favorite when it comes to henna tattoos, and this one is no different. This one is beautiful. It is an opening up lotus, and the detail work is great. The best part is that it is extremely delicate, and the swirls and dots give it a traditional henna look about it. There is even a bit of depth in the center, as it has thickened in just the right way to give it an almost 3D affect. The person who got this henna tattoo is extremely lucky, and the artist is very talented.
A Simple Flower
Raised henna applied on the wirst and upper hand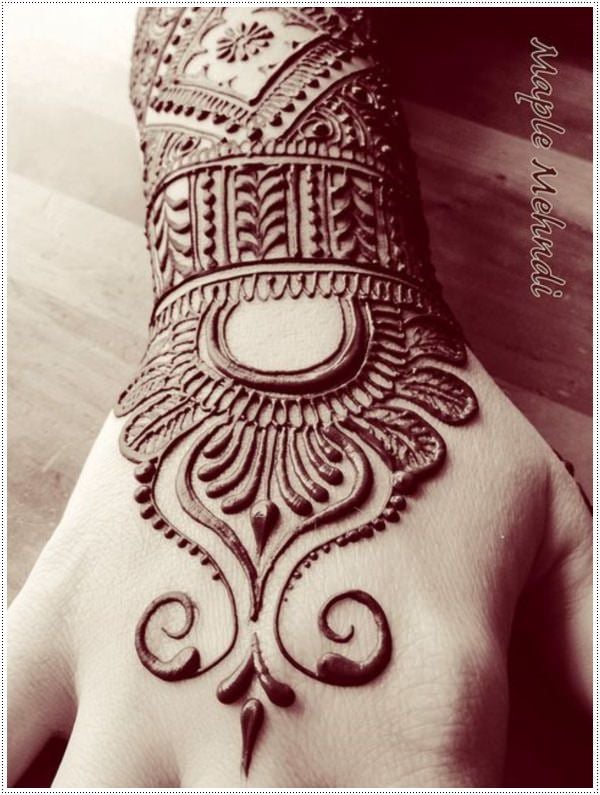 Colored in henna designs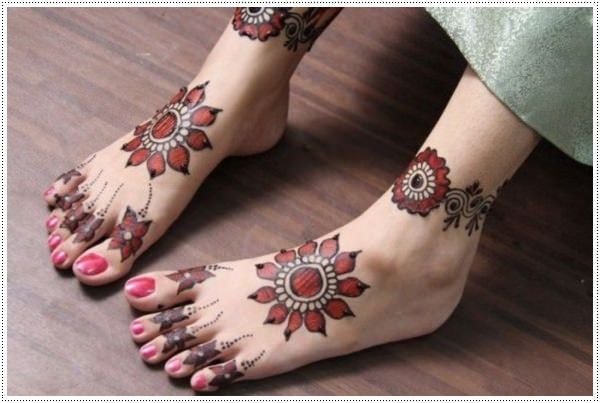 Sandals made from just designs
Let's get creative
A henna inspired tatto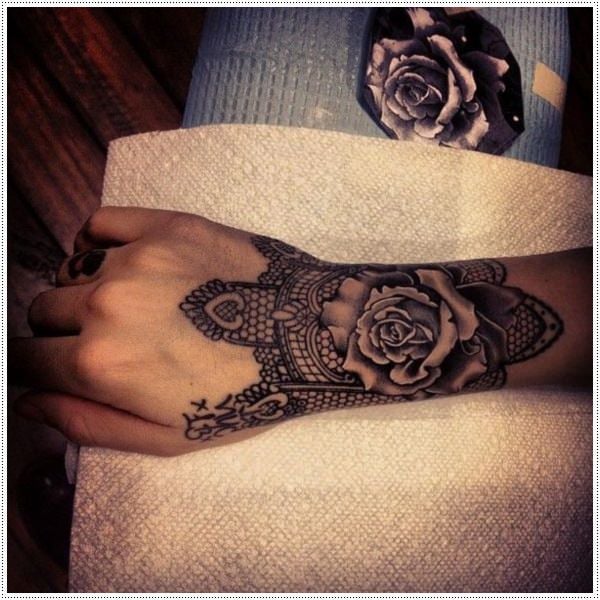 You own personal henna garden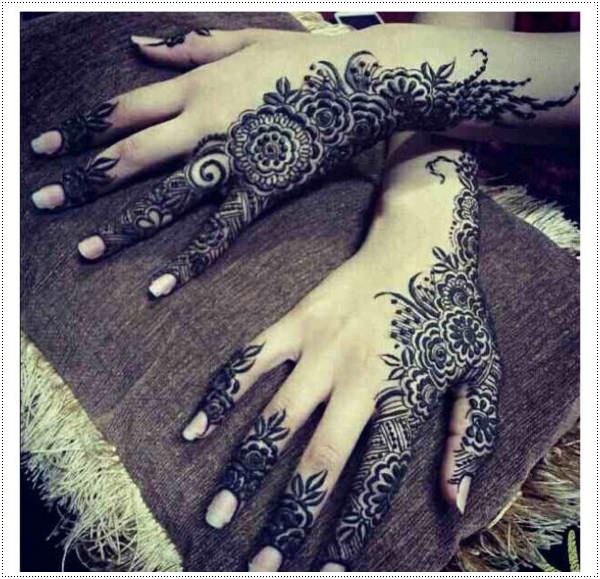 Flowers are extremely common when it comes to henna tattoos. Though, it is actually extremely simple it is still beautiful just like most henna tattoos that grace the hands, it climbs up the wrist in a delicate manner. The other fingers are also decorated with delightful dots. The flower has swirls, and it is layered. There may not be a lot of shadowing, but it doesn't mean that it isn't pretty. It's a basic starter tattoo.
Delicate Swirls & Odd Placement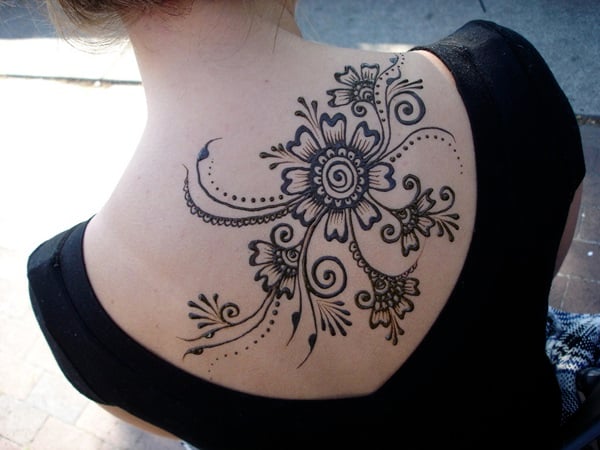 This is certainly an odd placement for a henna tattoo, but it is actually pretty advanced. You will find that the flower is both thick and thin, and there are dots in the middle of the swirls that get smaller. You can tell that this henna tattoo was put on by a professional hand, and when the paste peels off the tattoo below it is going to be extremely dark, just like it should be. The darker it is the longer it'll last, and the swirls are going to be beautiful when it is dyed on. Though, it does leave you to wonder if the smaller dots will fade first.
Practice with your friends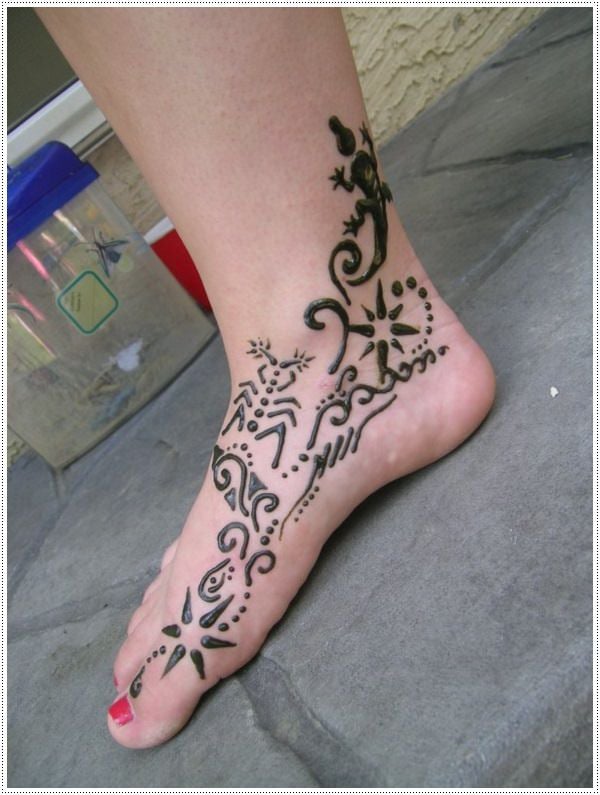 Brilliant shading to make henna pop
Another anklet design
Stars n henna
Vibrant greens in henna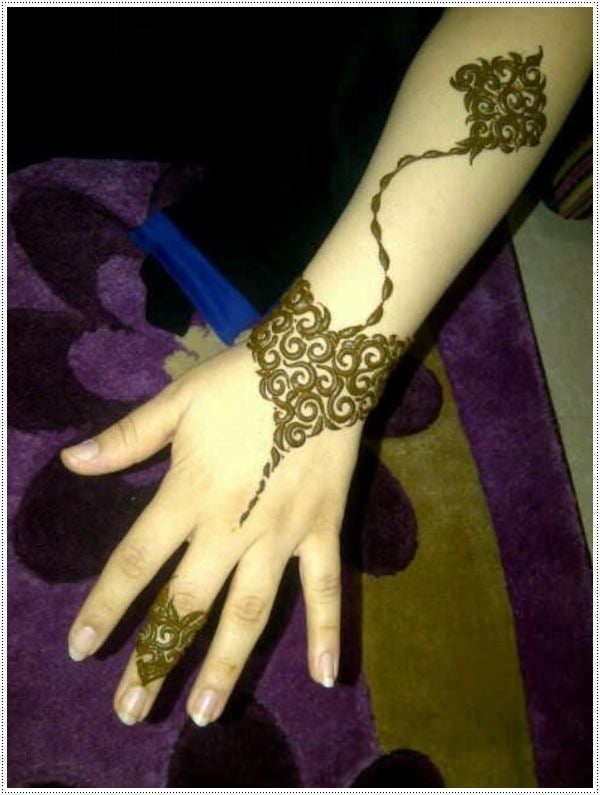 Intricate finger designs
A Rising Lotus
This is yet another lotus, but it is incredibly beautiful. You can see hearts hidden throughout the design, and it is delicate. It was definitely put on by a professional hand. It looks like it is rising up and out of the vines, but the vines are holding it steady as well. It is a perfect henna tattoo, and it even has shadowing so that you can tell the difference between the lotus petals and the leaves that hold it. The vines are put on delicately, and not one will actually bleed into the others. Everything is connected, and that is something in itself.
The Moon & Stars
This is more of a cutesy henna tattoo, but it is gorgeous. The way that the stars twinkle is amazing, and the moon seems to go from crescent to full in those beautiful swirls that seem to representing the blowing of the wind on a cold and magical night. The line underneath that swirls with stars and dots also seems like the wind, and this henna tattoo is beautiful in its simplicity, when so many seem to be full of swirls and details. Some people just prefer simple.
Blossoming Yin & Yang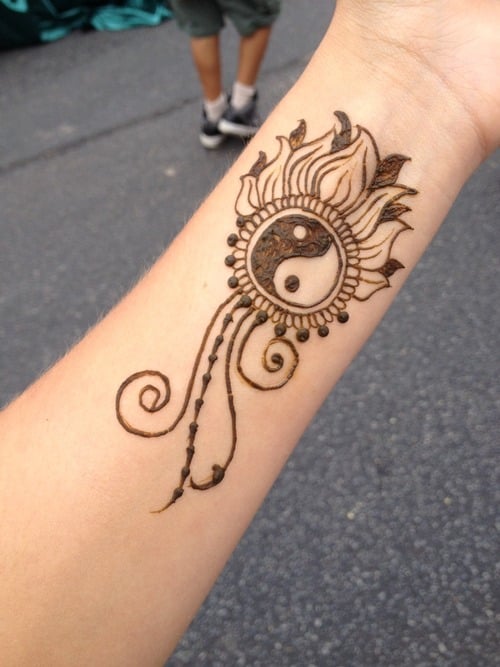 There seems to be petals on this yin and yang symbol, and you can't really tell if it is meant to be a flower or not. All you can really tell is that it is beautiful and even unique. Most henna tattoos are overdone, but this one is special. The swirls are delicate, the dots are profound, and the yin and yang is done perfectly. The dark part is certainly going to be dark, and the petals even have a bit of shadowing.
The Tree of Love
The tree of life is clearly on this henna tattoo, and you will find that the leaves are all heart shaped there is even a heart in the center. The swirls are delicate and beautiful, and a dragonfly shoots onto the finger and away from the wrist. It had to be done with a careful and steady hand, but it is gorgeous in a way that many simple henna tattoos are not.
A Spine Chilling Vine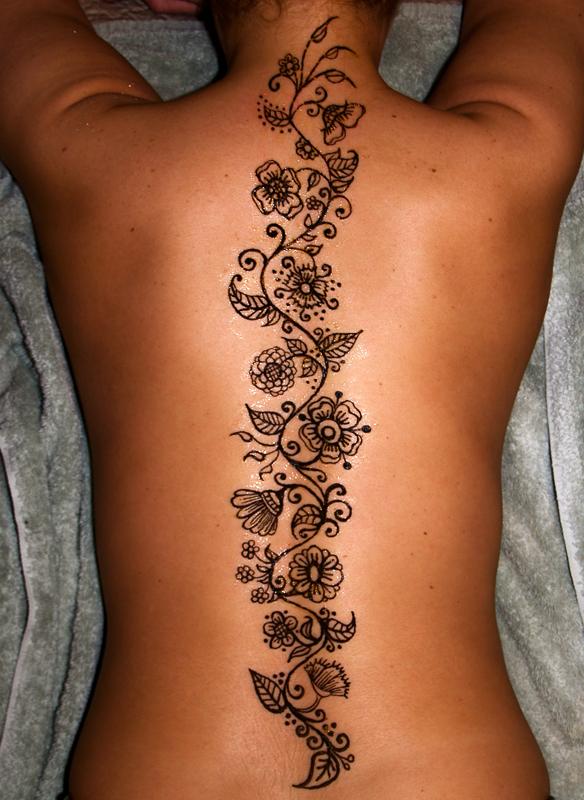 What is chilling about this henna tattoo is the beauty in where it was placed. Though, no amateur could have made this tattoo with as many details as you will find. There are multiple different flowers, and there are beautiful leaves that are both delicate and swirl. The vine stays consistent all the way through, which is a perfect mark of craftsmanship.
A Manly Design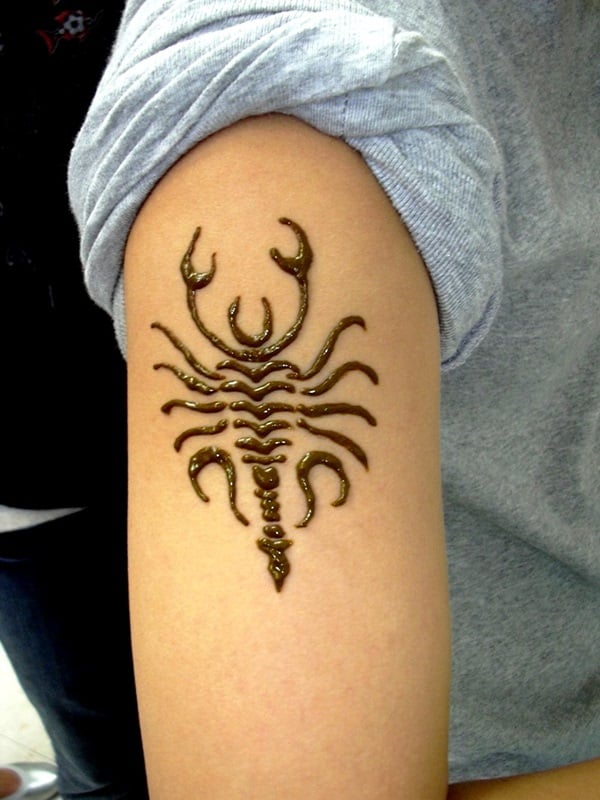 You don't find many manly tattoos. However, you will find that this one is great. There are so many simple tattoos that many people overlook. The claws are great, and the thickness is just where it needs to be. You can even see the stinger plainly, and it has all the legs that it should have, but maybe a little more as well. Either way, it is a wonderful design.
Remembering the Faeries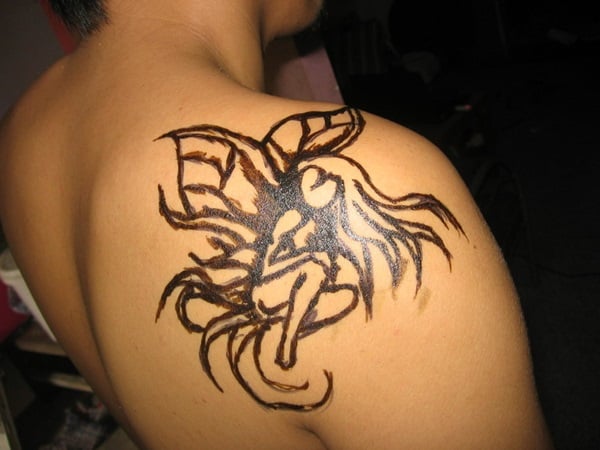 Faeries are often forgotten, but this one is wondrous. It shows a faery crouching down, and it even shows the wings that seem almost to be made out of leaves. It is unique in what it doesn't show you, but the glory of the faery is easily seen. The hair seems wind tossed, and you can only imagine the look on her face, and yet you will never see it. The mystery is where its beauty lies.
Mother Earth
Mother earth is something that is important to many people, and this one is portrayed greatly. You will find that the details are delicate, the meaning is clear, and it is like no other henna tattoo. It has strength just lying under the surface.
Henna in painting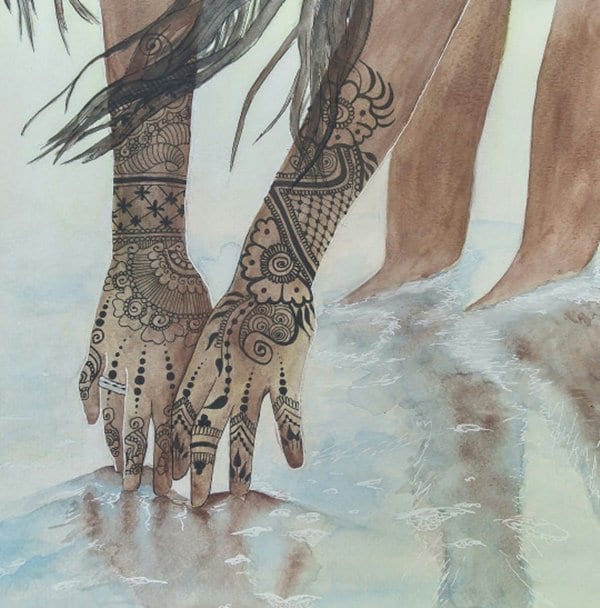 Simple effective feathering
For those who don't want to commit to a real tattoo
Henna designs can be tiny too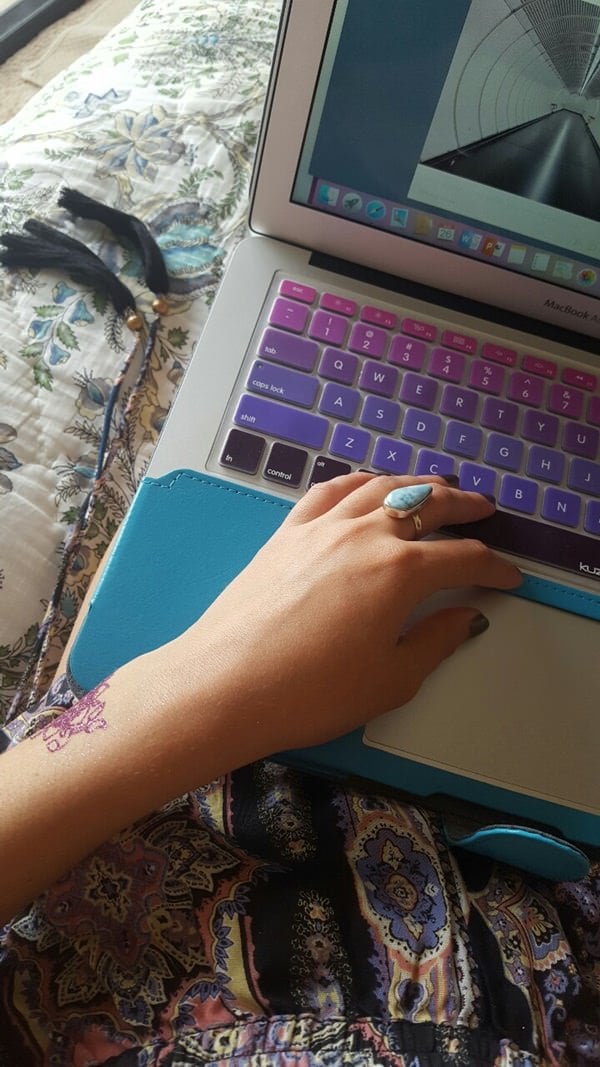 Practice makes perfect
All ready for a festival
Your palm is the easiest place to practice
Try doing your friends hands for a fun afternoon activity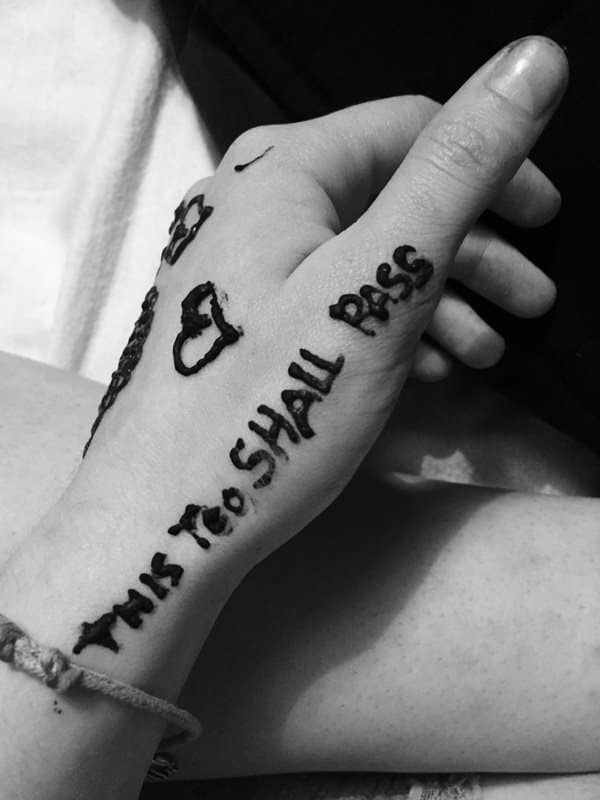 Henna that's been slowly worn off
Henna fades slowly over a week or two
Show off your designs in the sun
Try different designs on different fingers
Matching henna tatts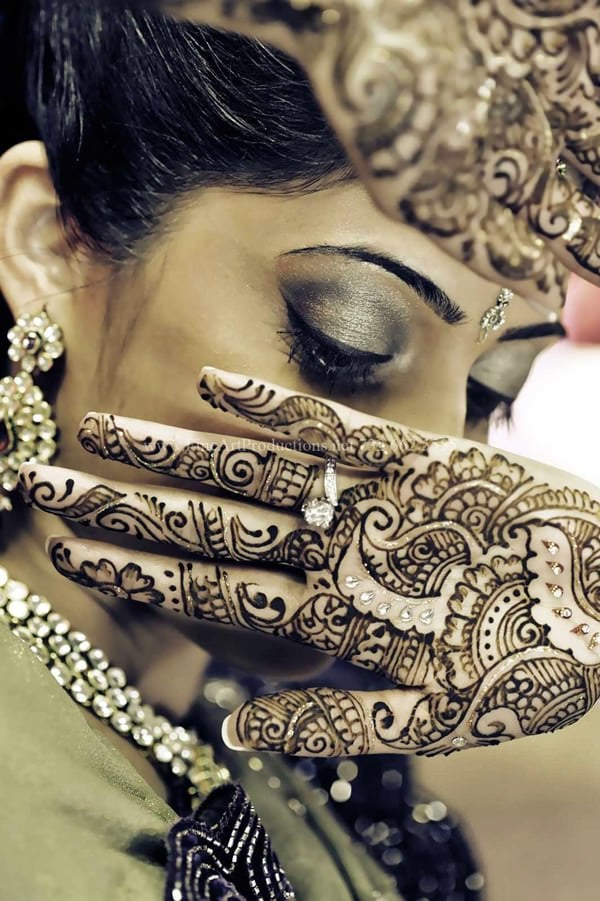 Match your nails to your henna
Choose bold designs to go across body regions
Tribal designs look fierce
A beautiful pair of flowers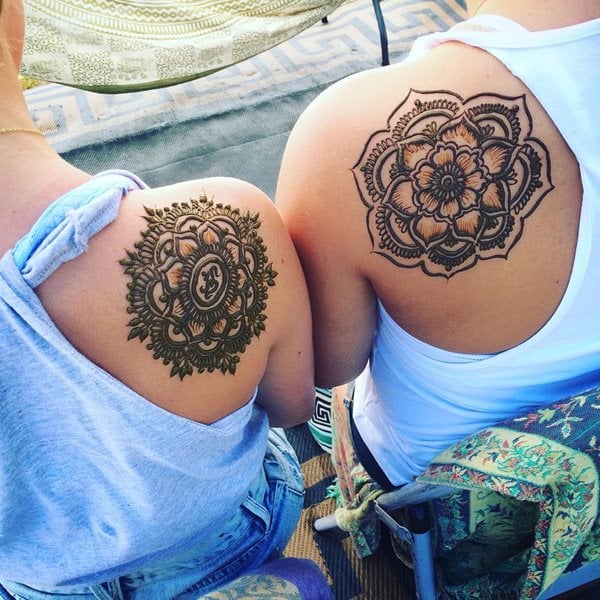 Colored in fingertips!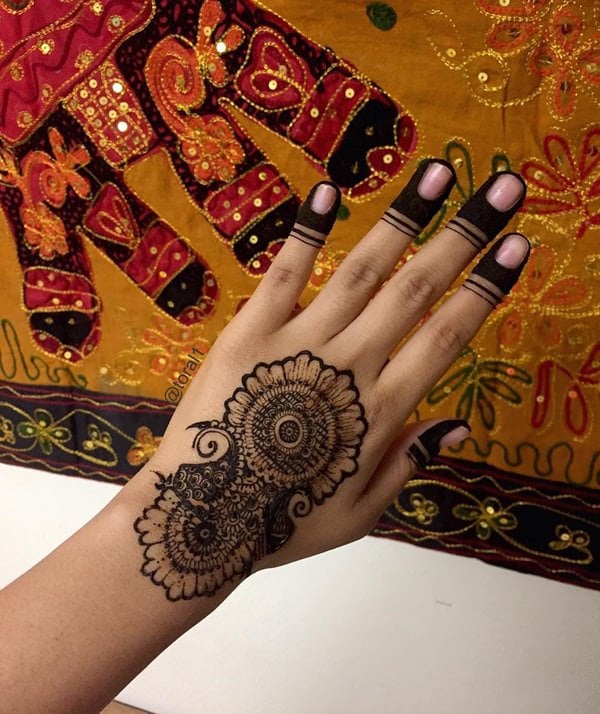 Mix n matching when practicing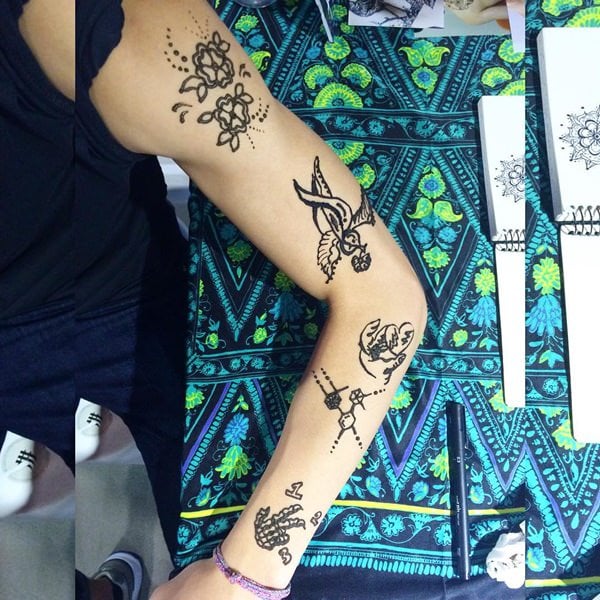 Henna wristlet designs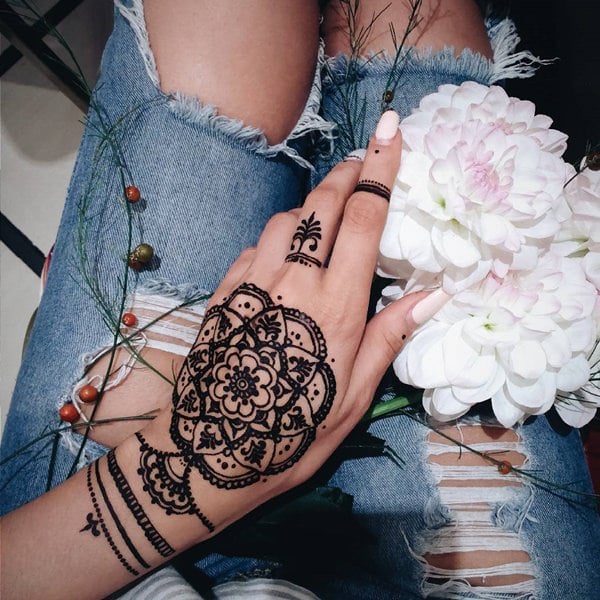 Some temporary tattoos are designed to look like henna
Choosing a feature finger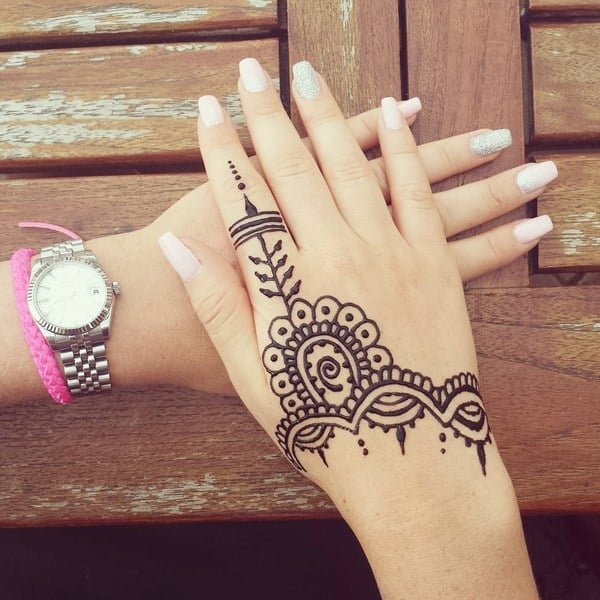 Make your look unique
The experts get it right
A large back design
Black henna is often the most bold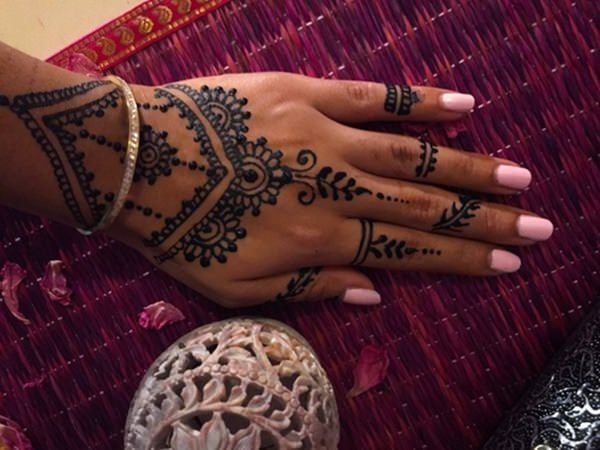 White henna is made from a different material
We hope you've enjoyed this awesome collection of henna designs and hopefully got you some inspiration for your next design! If you're interested in doing henna yourself, there are plenty of kits available online that you can get your hot little hands on to start practicing. Henna is perfect not only for festival season but for special occasions too. Make sure to look into henna if you're not sure whether you're ready for a real tattoo but want to try out something cool and see how it looks. Because henna only lasts for a couple of weeks you're free to do whatever you please safe in the knowledge that it won't last forever!