Tribal tattoo designs have always been associated with men. However women today wear tribal tattoos to prove their strength and pain endurance levels.
Differences Between Tribal Tattoos for Women and Men
Tribal tattoos have existed since the start of culture as they were used as a part of a ceremony depicting landmarks in a person's life or their status in the tribe. It was also used to mark acts of bravery, fertility, sexual lure and as a pledge of affection.
Today tribal tattoos for women are worn for its style, and to depict a woman's mood. While tribal tattoos are generally bold and thick in design on a man's body, they are made to look feminine by adding a few design touches.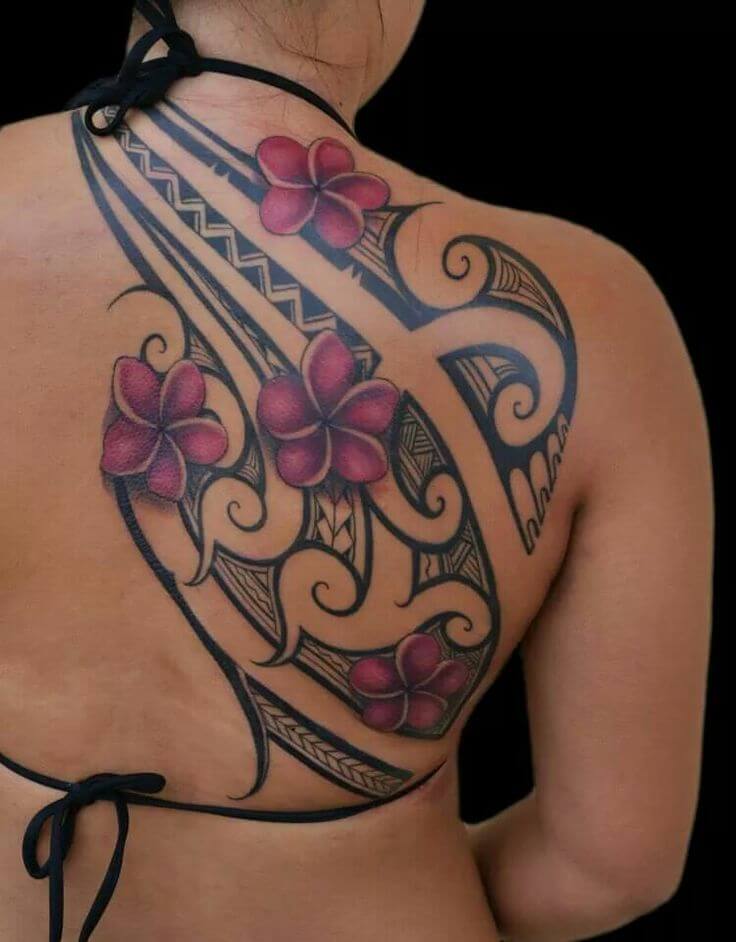 Some women blend in elements of other tattoo designs with a basic tribal design or have the tattoo lines drawn thinner to look more feminine while maintaining the tribal tattoo design's concept.
While male tribal tattoos are more abstract, the female versions may include heart shapes, stars, butterflies, a cute animal or bird and other similar feminine touches for a feminine look. Besides, the female tribal tattoos are generally more flowery and curvy in design while the male versions carry a crusty look.
The tattoo's placement too decides if it's a feminine or masculine tattoo. Women tend to wear their tribal tattoos on their lower back or waists, as a full back tattoo, on the side of their body or behind the ear. Bands are drawn to look more feminine, and placed on the ankle or wrist.
Popular Tribal Tattoo Picks for Women
Floral tribal tattoos look lovely on a woman's back while representing feminine beauty and purity. Tribal flowers are trendy and fascinating to look at.
As it is the colors of butterflies help create beautiful tattoos; but they look even more attractive when inscribed in a tribal design. Butterfly tribal tattoos make the wearer look like a warrior, as if they belong to a particular tribe.
Hawaiian tribal tattoos look different and appealing as they are unique and carry the rich Hawaiian culture with it. Women love wearing them on their back as they add beauty and a feminine touch to their backs.
A star tattoo with some tribal embroidery and patterns makes a captivating tribal tattoo design for women when worn on the side of the body.
A floral wave tattoo with intricate tribal patterns makes a beautiful feminine design on the side of the body, especially in black or maroon.
A tribal leaf tattoo design looks beautiful and fashionable on the side of the foot. It can be enhanced with some small floral, wave or bird designs, and is easy to carry around as it's small.
Tribal bird tattoo designs are fascinating to look at, especially the customized phoenix. They can be designed to make an attractive female trivial tattoo for the back or arms.
There basically are no limits to the number and types of tribal tattoos for women. You just have to choose a tribal tattoo you connect or relate strongly with, and add a feminine twist to it and you end up with a unique tattoo others envy!
Captivating Examples of Tribal Tattoos for Women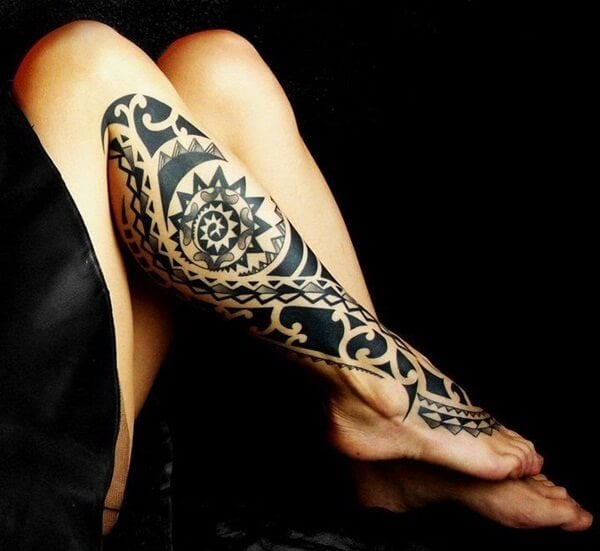 This tribal tattoo combines intricate designs with sensuous twists and spirals. The images are bold and thick, which help to distinguish the ink from the skin. It's the kind of tattoo that's ideal for women who like their tattoos subtle but simple.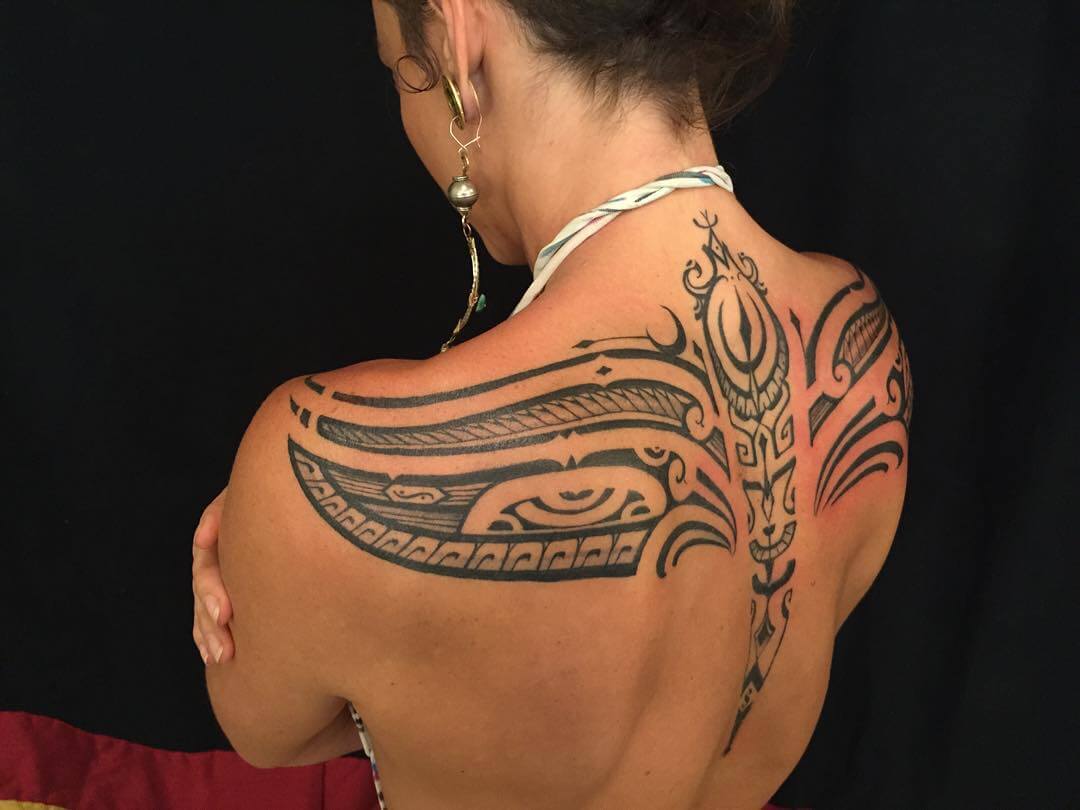 This particular tribal tattoo features a dragonfly design that's meant for the upper back area. The tattoo's dragonfly outline is both beautiful and subtle. The wings look like intricate leaves, while the body helps to accentuate the shape of a woman's spine.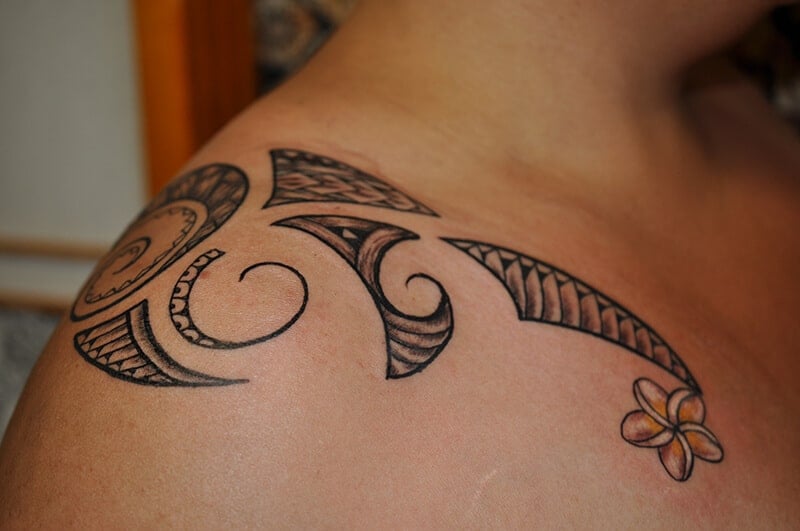 This minimalist tribal tattoo is designed to make your shoulders look sexy and artistic. Its design uses sharp curves and simple spirals that make the skin look like sand on a beach. Ideal for women who want to try subtle tattoo designs.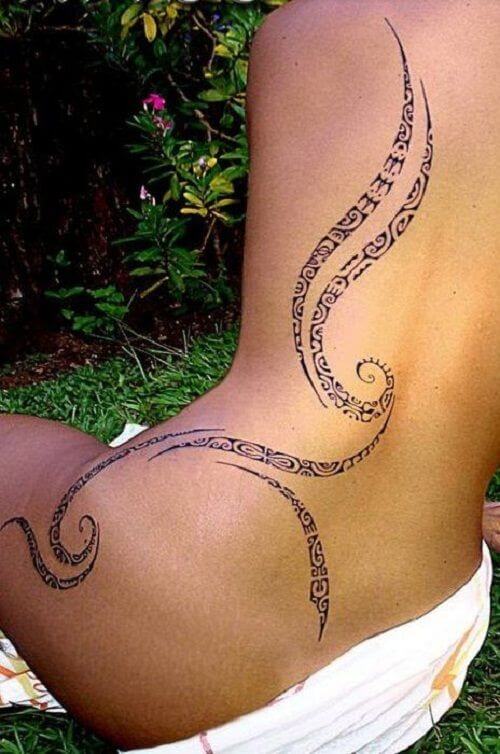 This tribal tattoo is made up of thin strips that spiral like wisps of smoke. Compared to other tribal tattoo ideas, it's very subtle, and looks great on the legs, the waist and the back. It's also compliments most types of bikinis.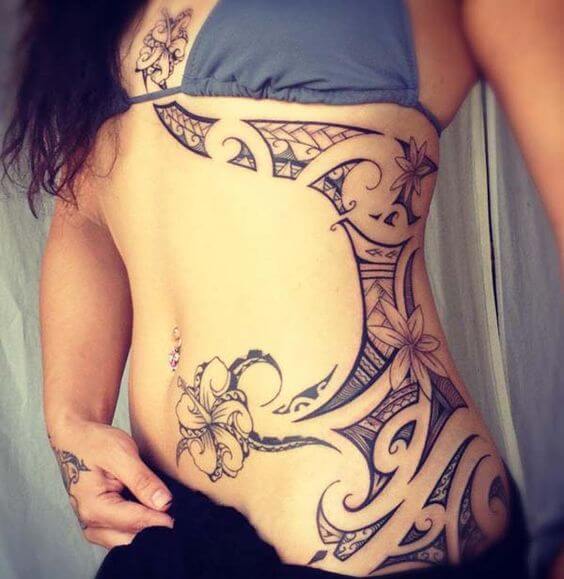 This tribal tattoos idea emphasizes the waist and the belly button. The belly button tattoo has a floral design, while the rest cover one side of the waist with sharp and elegant curves. Because of its design, this tattoo works best with midriff attires.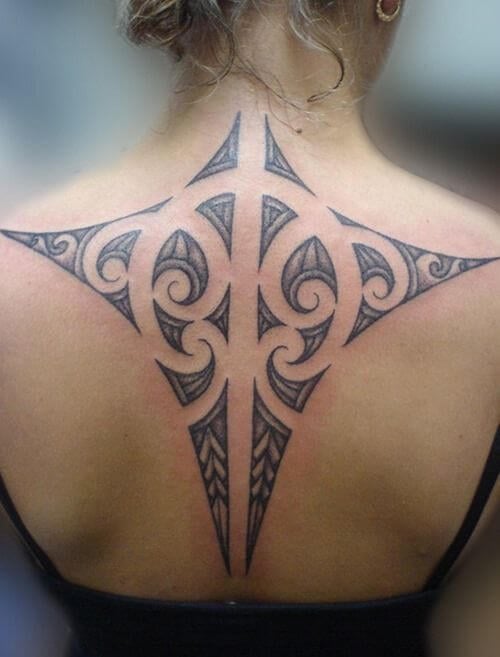 Intricate yet simple, this tattoo design follows the contours of the upper back and looks like an ink mantle. Its symmetrical design is also attractive, and looks great on women who prefer tattoos who prefer a more majestic look.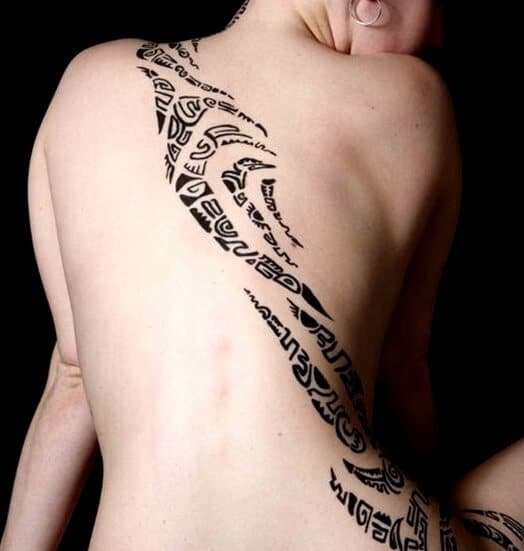 This tattoo uses complex symbols and a sash-like outline to give the back a more beautiful appearance. Compared to other tribal tattoos, this tattoo has a very organic look, and is ideal for women who want to make their backs and torsos look more appealing.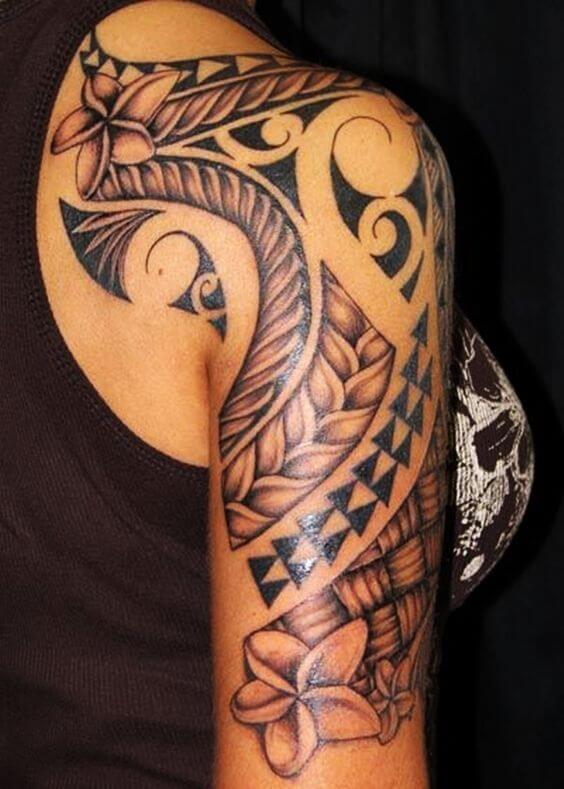 This mosaic tattoo offers diversity and beauty in one elegant package. It features different types of images, from leaves to sharp spirals, to create a complex image that will make any arm more beautiful. The best part, though, is that it looks good whether you're wearing a simple top or your hottest bikini.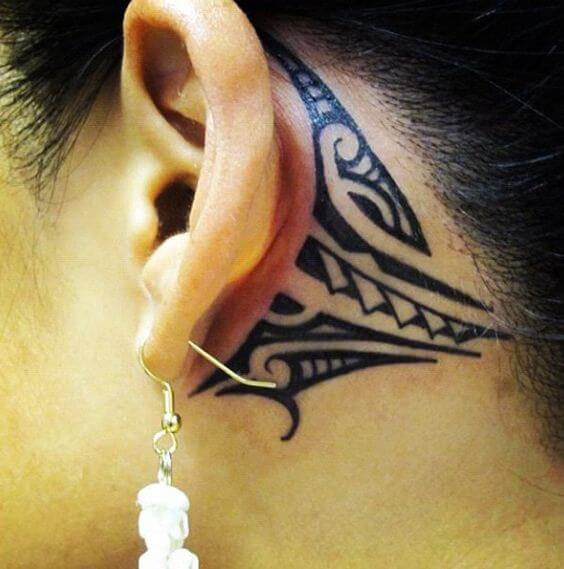 Most tribal tattoos for girls are featured on the limbs or torso, so this one is an exception. Featured behind the ear, this particular tattoo will make your ears and neck more interesting to look at. The design is simple, but the effect is undeniably beautiful.
If you like floral designs then this tattoo will look great on your back. Although it features several leaf floral designs, the tattoo also stretches out like a pair of wings, making it ideal for women who want beautiful tribal tattoos.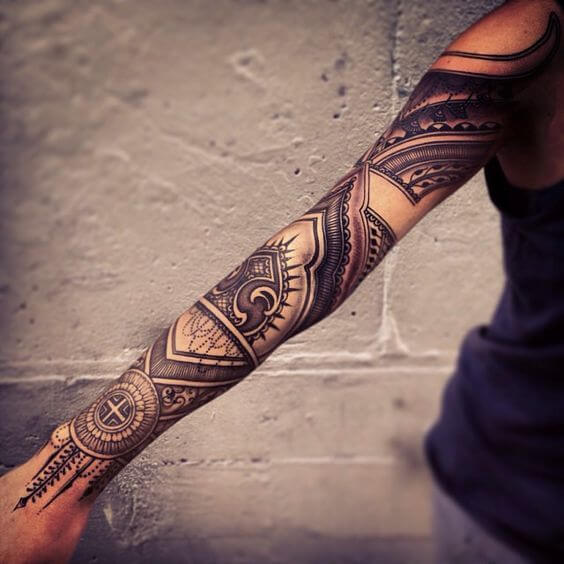 If you're looking for tattoos ideas that were inspired by Indian or Middle Eastern cultures then you'll like this one. It features a very traditional design that is similar to many Indian and Arab tattoos. Looks great on anyone who wants to show off their arms.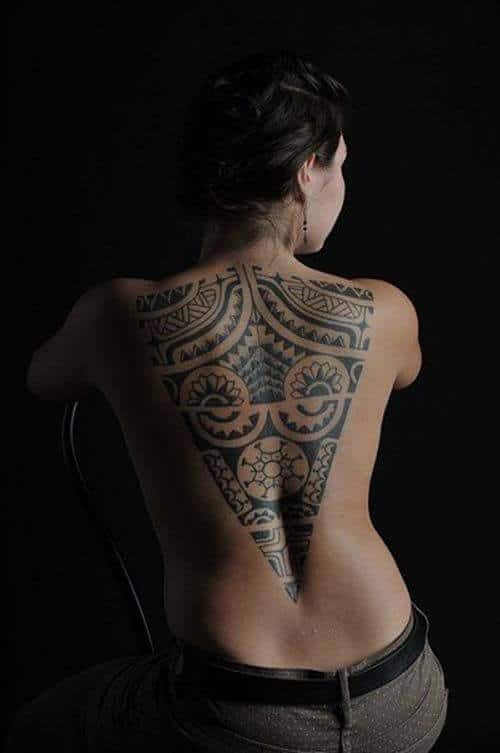 This large tattoo design features an inverted triangle made up of symmetrical tribal images. Despite its sharp edges, this tattoo helps show off the curves of the back, particularly the shoulder and the waist. It's a great tattoo for those occasions where you want to show off your back.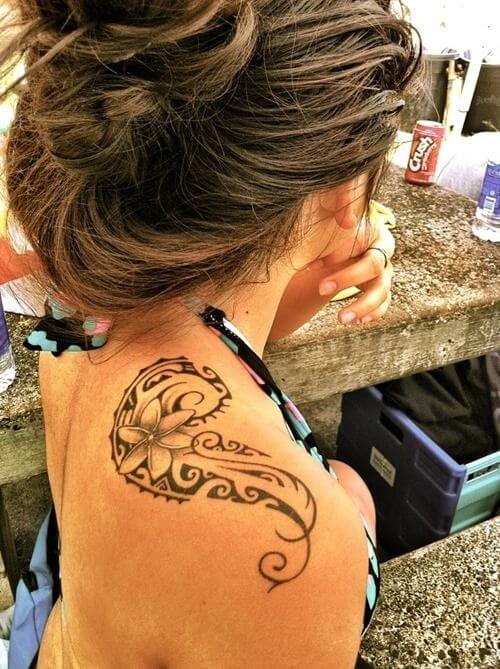 This shoulder tribal tattoo offers a gentle floral design that will make any shoulder more beautiful. Despite its small appearance, it does have elegant curves that help to emphasize the beauty of the flower at its center. Looks great on any outfit.
This tribal tattoo design was designed to follow the shape of a woman's waist and give it a more sensual look. The tattoo design features curving tribal images as well as knife-like images, which look great when paired with midriff type clothes.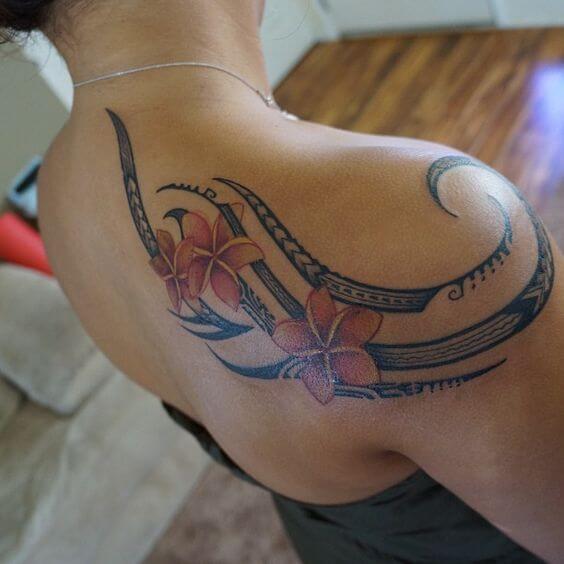 This beautiful floral tribal tattoo features flowers and curves. However, what really makes it stand out is the red and black color combination, which gives the tattoo a more passionate look. Looks great on casual outfits and most bikinis.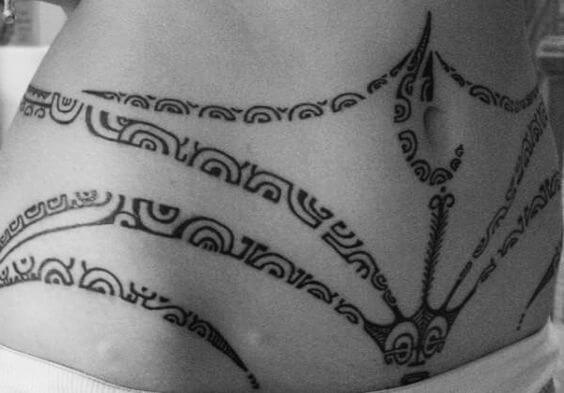 This particular tattoo's g-string like appearance gives it a very sexy look. The thin, repeating symbols that make up most of tattoo are also quite interesting to look at. This tattoo covers most of the lower belly, including the belly button, and looks great when combined with a bikini or lingerie.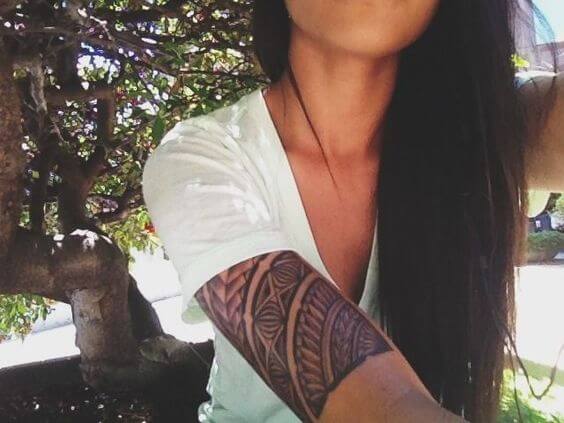 If you are looking for a intricate tribal tattoo for your arms then this is a good candidate. It features several layers of intricate designs that spiral around your arms. The effect is quite subtle, and compliments most types of clothes.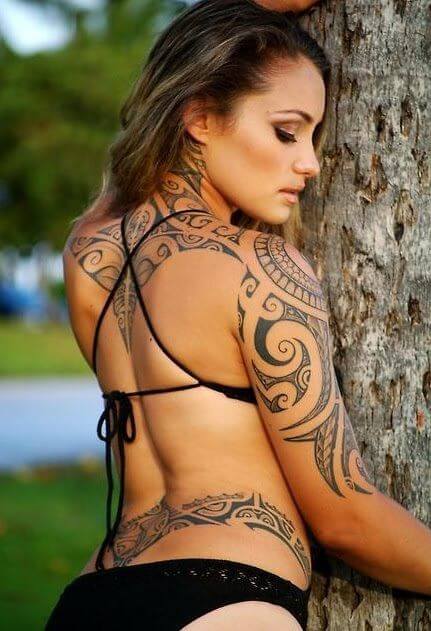 Most tribal tattoos for women usually focus on only one part of the body. This is not the case with this particular design. It covers the arms, the necks and most of the lower torso. So if you want a tribal tattoo that covers multiple parts of your body, this is a good choice.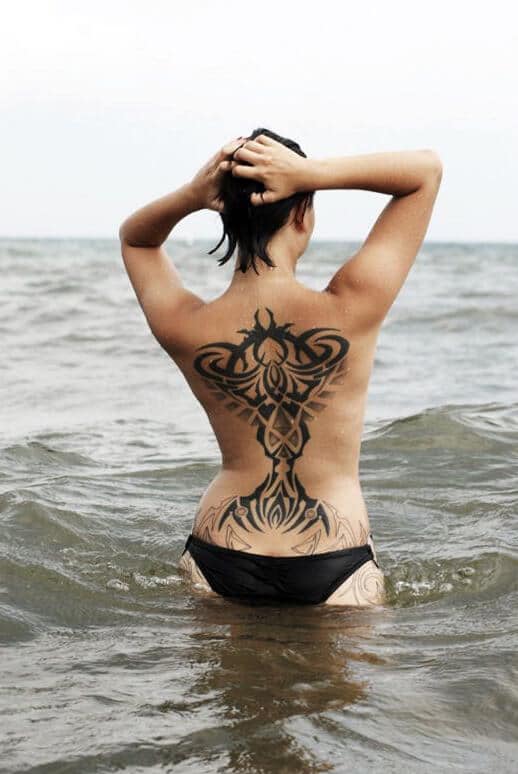 If you're looking for special tattoo ideas for women then this may be the one you're looking for. It features sharp edges as well as an intense black color. The design also looks very daring, and will compliment any bikini.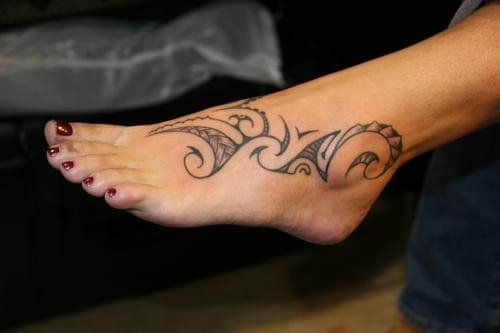 If you want a tribal tattoo for your feet then you should give this a try. This tribal tattoo design features curve and spiral images that help to compliment a woman's feet. They create an impression of grace and soft beauty that make the feet more beautiful.
This colorful tribal tattoo design features a lotus blossom that's covered elegant vines, and its contrasting colors of green, violet and pink are also quite beautiful. It's a great choice for women who want to try a simple but elegant tribal tattoo design for their back.
These tribal tattoos are designed to cover the lefts. They are made up intricate images with sharp edges and angles that help to emphasize the curves of the legs. They are also a great tribal tattoo for casual wear and other similar attires.
This particular tribal tattoo design covers both the arms and legs. Although the designs are simple, they still make a good impression. The curves and sharp edges look very good, and the design itself looks good whether you're wearing casual wear or your latest bikini.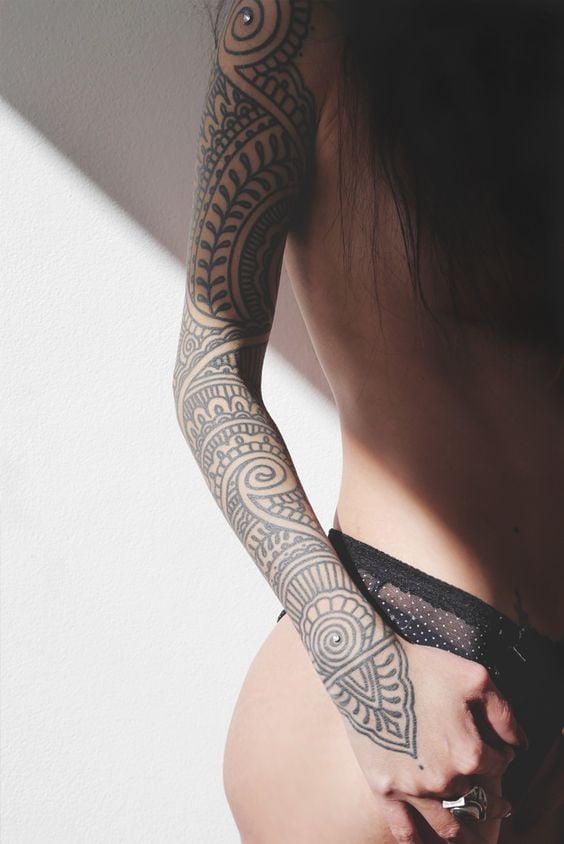 If you're looking for a complex tribal tattoo design then this is the ideal choice for you. This particular design covers the entire arms, and feature very complex images. It's also ideal for people who prefer more traditional types of tattoos.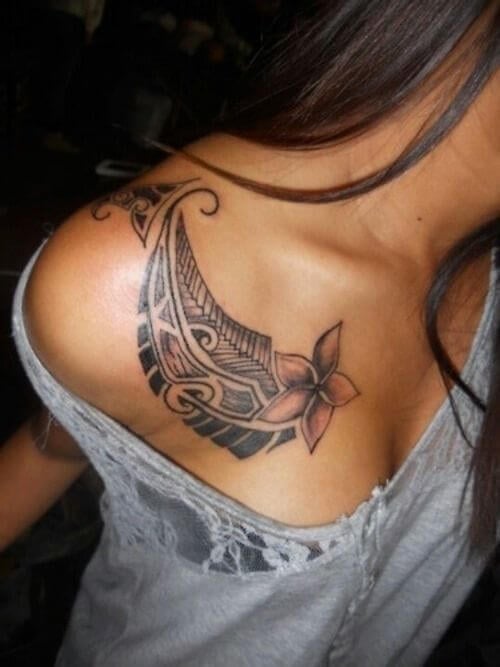 This elegant tribal tattoo design features a floral image covered in various intricate images. Although it looks rather small, the design has a lot of details, and works really well at making the shoulder more attractive.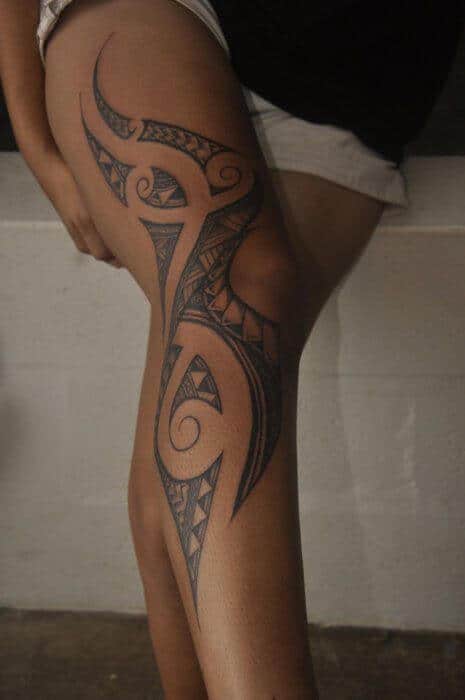 The mid-thigh to mid-calf tribal tattoo is a classic and is one of the best placement ideas for girls. Curvy patterns and waves complement the lower limb contours making the tattoo look even more awesome. In addition to looking really good, it happens to be one of the least painful areas to get widespread tribal ink.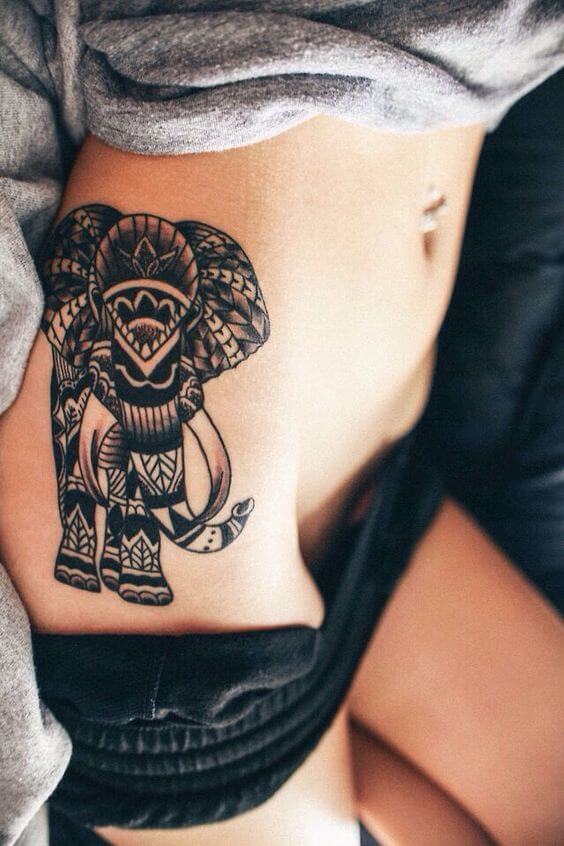 The elephant inspired tribal theme is new on the block and it is not so difficult to see why people are so crazy about it. It combines the best of boho chic and tribal artistry for a tattoo masterpiece like no other. You can choose to have it anywhere but there is no denying how good it looks on the hip area.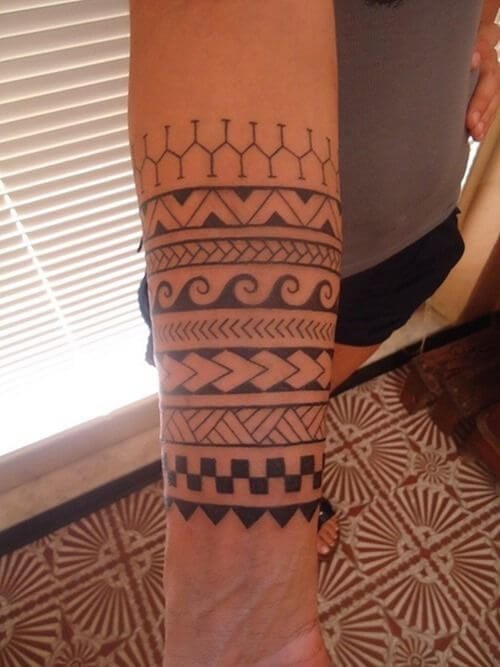 If you are going for tribal tattoo ideas that have a simpler and traditional tone, then you should probably try the line and pattern forearm cuff design. The best part about this tribal tattoo for women is the fact that you can play around with different line styles and textures for a piece that is both simple and artistic.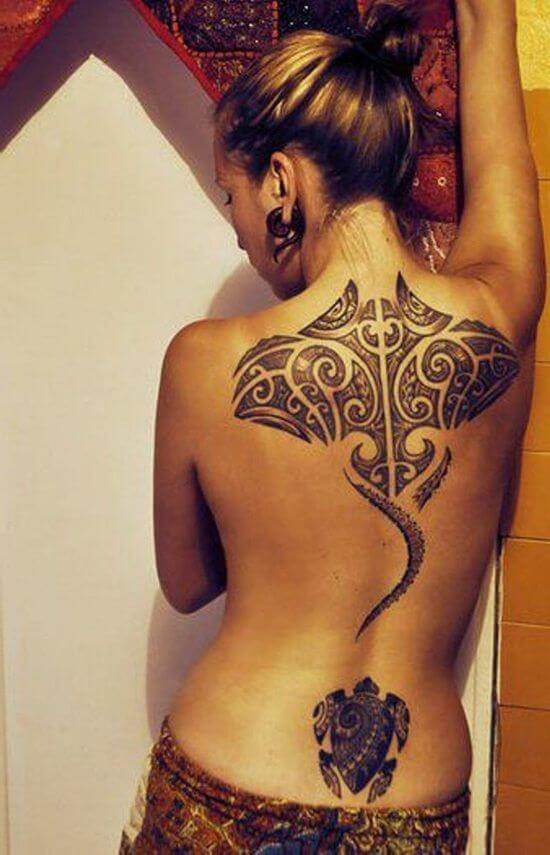 If you have watched the Disney film Moana then you understand just how awesome and badass the stingray tribal tattoo is. To appreciate the true uninhibited majesty of this design, the upper back region is the best location allowing you to use your entire back as the canvas for this undeniably awesome piece of art.
This is one of those tribal tattoos for girls that has been around for decades but whose popularity doesn't seem to be waning. Whether you have it on your back, on the nape of your neck or even on your finger, the fiery sun tattoo is a classic that you can never go wrong with.
The wavy tribal pattern on the outer calf is another one of the best tattoo ideas for women. This piece also takes advantage of the shape of your legs to make the details pop out more. In spite of the fact that it is a wildly popular tattoo idea, you can put your own personal touch onto the piece by making it colorful.
There are only 2 words to describe this tribal ink design; super awesome. There is something about the way the lines coil around your arm that animates the art and makes it feel life-like. The best part for this design is around your upper arm but it could also work around other parts of your limbs including the calf and the forearm areas.
Tribal tattoos ideas are considered masculine and with all the sharp lines and dark shades, it is not so hard to see why. This style allows you to enjoy the best of tribal art without losing touch with your girly girl side.
This tattoo screams badass from a mile away and if you are looking for an eye-catching and expressive piece I guarantee you will love it. Spanning the entire length of one side of your body from your chest to your calf, you can rest assured that you will have to go through several excruciating hours to get to tattoo paradise. But considering how amazing it looks, it is safe to say that it is worth every teardrop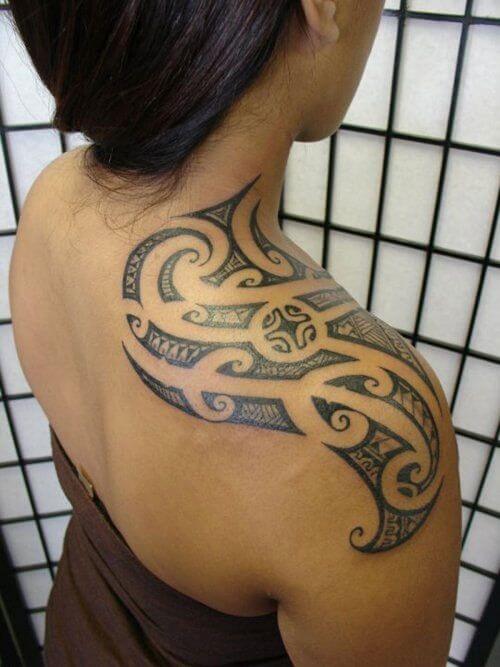 The shoulder tribal piece is a common choice for both girls and boys but it definitely has its charm. It is a great piece to have if you want to show off your tattoo without showing off too much skin.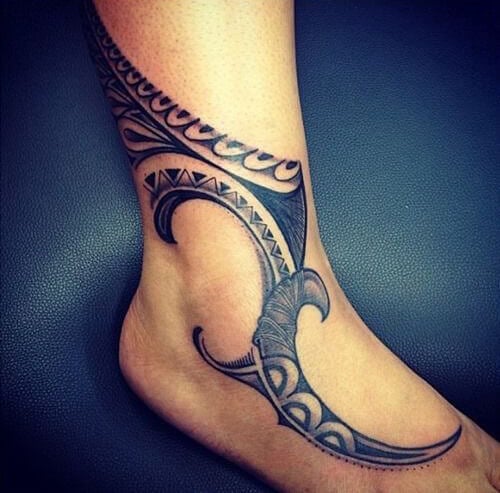 There is nothing extraordinary about this particular piece. However, it is the location that makes all the difference giving a basic tribal design more spunk. It is a great tribal tattoo for girls and will work not only as a form of expression but also as a sort of accessory for whatever season or occasion.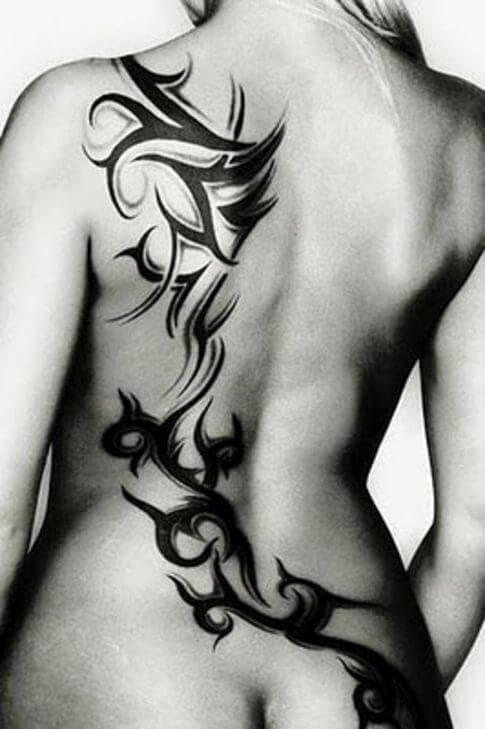 This tribal tattoo for girls is simple yet totally sophisticated. The curvy lines kind of make it look like a thorny vine winding its way up your back which makes the tattoo even more interesting.
Tribal tattoos are awesome but they are not exactly known for their personal nature. With this design however, you get to add your own personal touch by including a name or some script that means something special to you.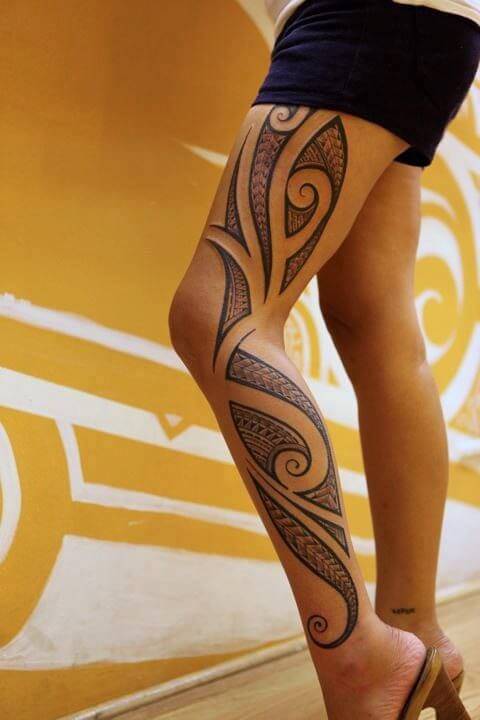 What makes this piece unique is the fact that the units are spaced out giving it a clean and neat look. It's kind of like different individual tattoos coming together to make one wavy mosaic. It is simple yet undeniably gorgeous.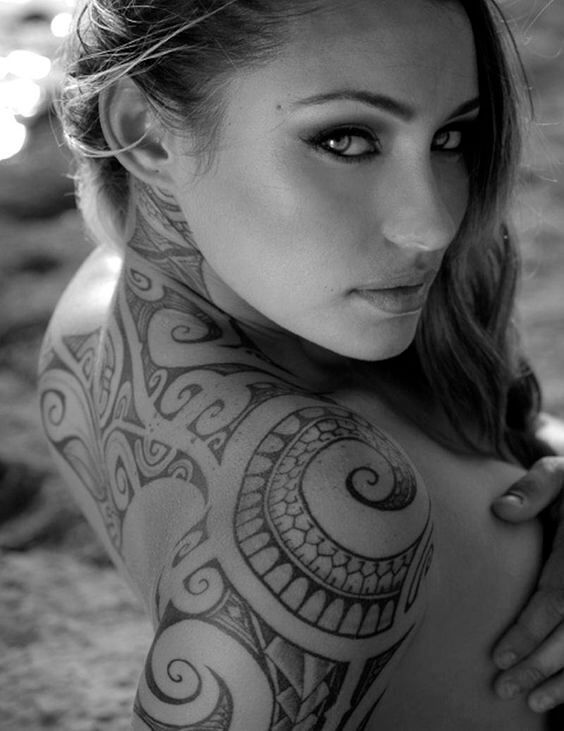 This is a modification of the shoulder tribal piece and extends all the way to the upper back, the side of the neck and to the mid-arm regions. As with most other tribal pieces around limbs, the circles and wavy lines are accentuated by the body's natural curves.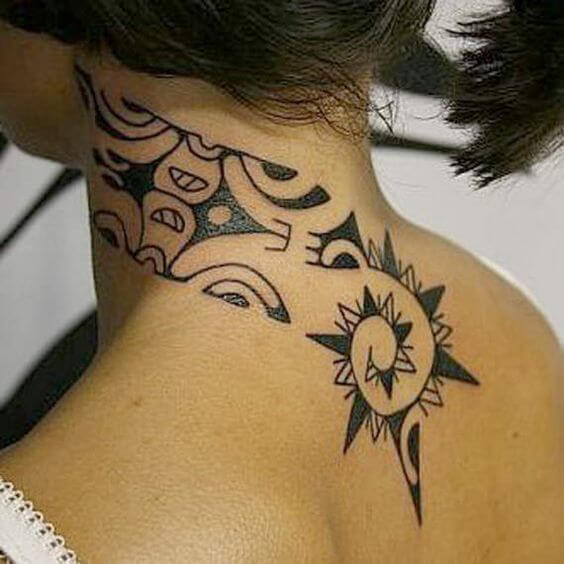 The simple and minimalistic theme with this tribal piece is what makes it such a great tribal tattoo for girls. Combining this simplicity with the neck to nape location makes it a great tattoo.
The fiery sun can be pretty boring if you are not a minimalist enthusiast. If you wish to give it more life, you can have different patterns added to the center circle. The best way to share your creativity in this case is by having it placed behind your neck for that sassy yet sophisticated look.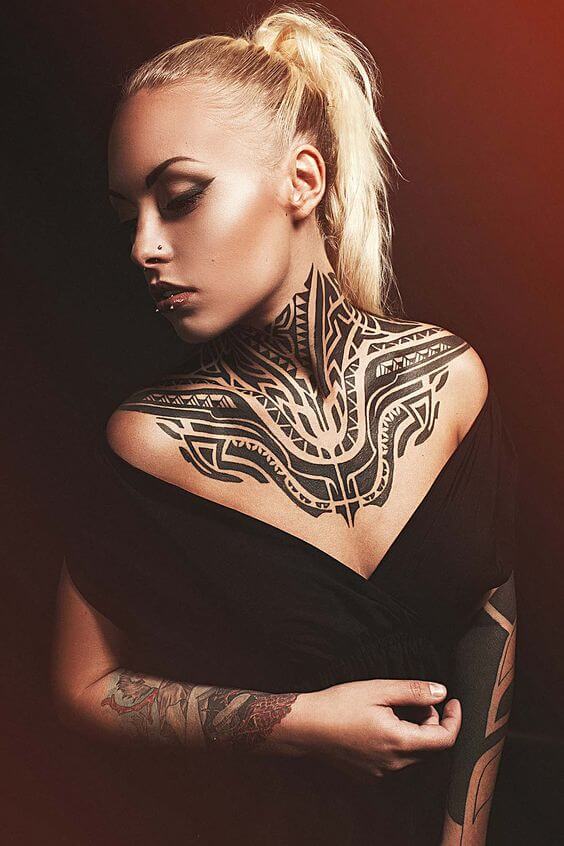 You would need some next level type of guts to try this tattoo idea out but clearly it will pay off. Covering your entire chest and the front of your neck, the intricate patterns and lines make this design the ultimate tribal piece for girls who are not afraid to show off their ink.
More often than not, the tribal piece on the outer abdomen is considered a guy thing meant to show off their abs. But this piece is proof enough that girls can also pull off the look with amazing results.
This is yet another great tribal tattoo for girls who have a 'no inch left untouched policy'. Covering the entire back, this design is nothing short of tattoo perfection and is a great for to appreciate and utilize your curves.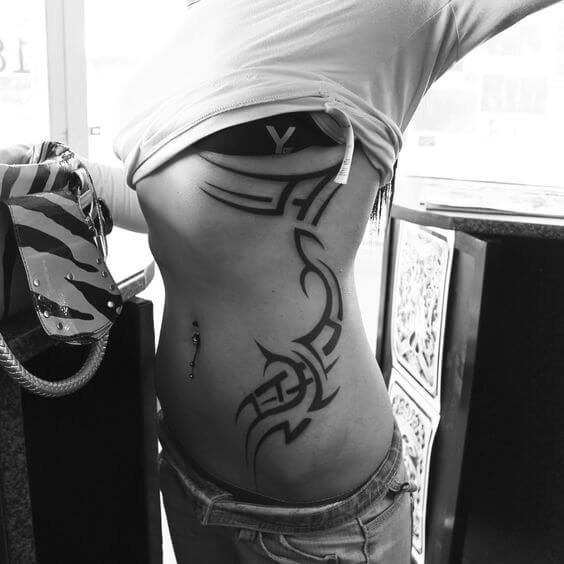 This is kind of like the simple barb piece on the back; only that you have it done on one side of your abdomen. It is a little masculine but having it start from under the chest area is a great way of putting a feminine twist to it.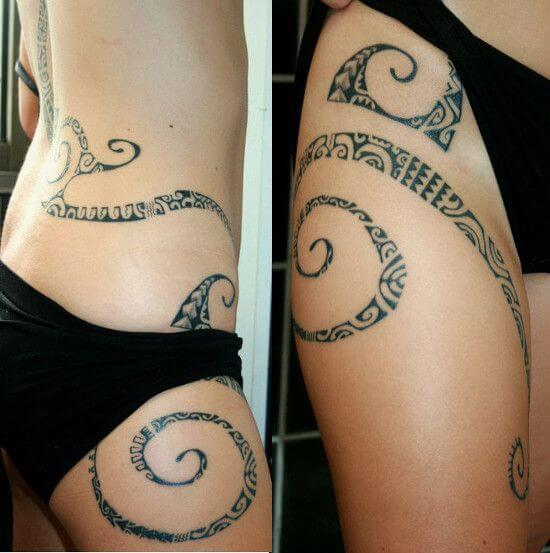 This is what you get when you merge the limb cuff patterns with wavy spiral designs. With the basic wavy template in place, you can play around with as many patterns as you want to create the final piece.
With tattoos, full limb coverage shows that you mean business. With this tribal tattoo design, the cuff doesn't have to span the entire length of your limb. In fact, clear cut edge around the midway point give it a more dramatic flair and make the tattoo look a lot cleaner and cooler.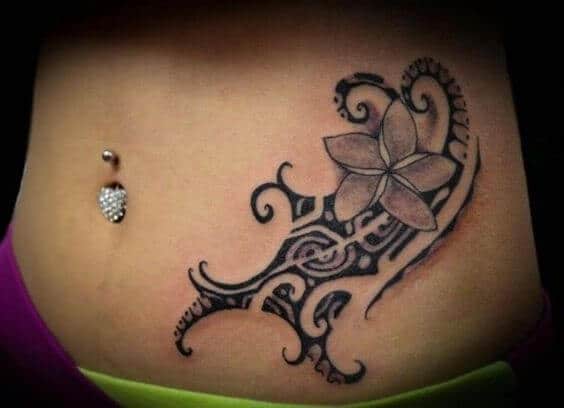 The lower abdomen area is a pretty risky place to have your tattoo done but tribal ink pretty much eliminates the negative notions associated with the location. The flower on this particular piece also helps add a feminine touch to an otherwise masculine piece.
This is one of those tribal tattoos idea that really tests people's perception. Is it a horse fish? Is it a snail shell? It is a beautiful abstract piece and although people might disagree in terms of what they see, they will always be on the same page about how beautiful it looks.