Art is the ability to look at reality through the lens of either a beautiful dream or a horrendous nightmare. It is extremely diverse and innovative and it keeps evolving into directions we wouldn't expect it to.
In this regard, flower tattoos for women express femininity in all of its intricate forms and colors and their complexity and immense variety only stands proof of how complex, mysterious and intriguing female spirit is.
With so many cultures offering so many different values and perspectives on the human nature, it was only natural that variety would also become part of tattoos' meaning.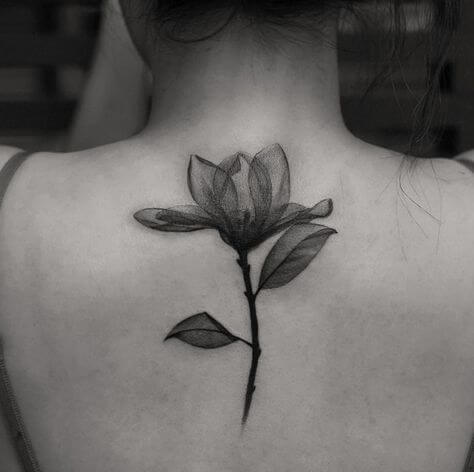 Flower Tattoo Meanings
Flowers carry something profoundly sensitive within their nature, something that has always baffled and intrigued both artists and regular people alike. This has grown more obvious over time, as they started to be turned into art and imbued with deeper meanings than meets the eye.
Depending on the geographical region a certain belief resides in, and the type of the flower itself, a floral tattoo could express a wide variety of different values, encompassing most of the palette of human emotion.
Popular Flower Tattoos for Women
Here are the most common types of flower tattoos that women tend to get:
The Rose
Depending on its color, it can stand for: passionate love (red), excitement and enthusiasm (orange), genuine friendship (peach), fascination (blue), joy, familiar love and devotion (yellow) or even evil and death (black).
There are also other interpretations, as sailors would use rose tattoos to honor their girlfriends and wives, while far on the seas and, in Greek culture, it is considered a symbol of Aphrodite, the goddess of eternal love, transcending space and time.
The Lotus
The lotus is also a popular flower tattoo and that is because aside from its gorgeous visuals, it is also dripping with meaning. Mostly famous throughout Eastern countries and all over Asia, the lotus represents the triumph in the face of life's vicissitudes and symbolizes spiritual rebirth as, in Hinduism and Buddhism, it is thought to stand for human spiritual growth.
The Orchid
Being an exotic and breathtakingly looking floral specimen, the orchid is also highly treasured among different cultures. Japan sees it as an embodiment of the samurai spirit, associated with bravery and honor over anything else. The ancient Aztecs saw it representing strength, while for Chinese it was all about fertility and a prosperous and fulfilling life.
These are just 3 examples out of countless others, comprising in hundreds upon hundreds of different flowers, with an equal number of interpretations.
Is a Flower Tattoo for You?
That is up for you to decide. But if you make the decision to go for one, you need to know that the sky is the limit. Flower tattoos for women come in an immense palette of options to cover all tastes. Intricacy, color, design, size, signification, everything can vary hugely from one person to another.
All you need to know is what defines you as a person and find that relatable piece that will end up sticking with you for the rest of your life. The fact that flower tattoos have grown so popular that they have even been adopted by men shows how intimately we resonate with these jewels of nature, regardless of our gender.
Your skin is a virgin canvas and there is no better way to spoil it than carving a priceless and eternal floral gem on it.
Beautiful Examples of Flower Tattoos for Women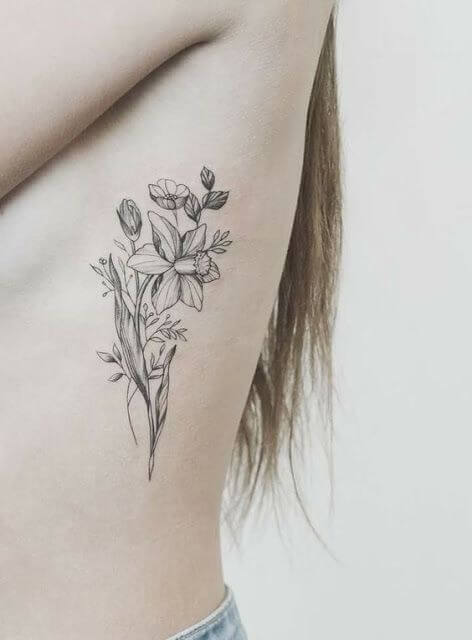 This simple black and white flower design gives off a classic, clean vibe. The hand drawn aesthetic provides an artistic, intelligent feel, and the placement on the model's body allows this delicate, yet highly detailed, flower tattoo to really bloom.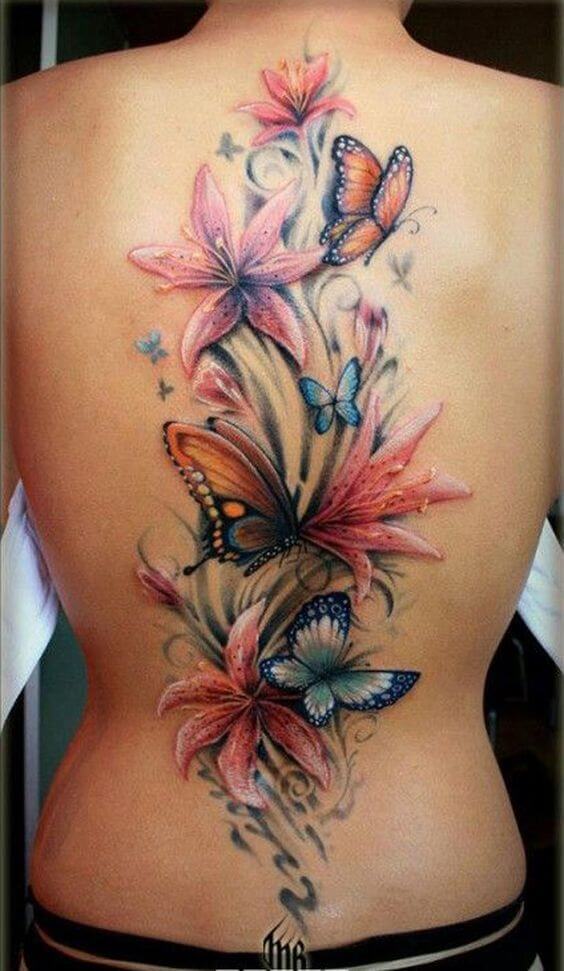 This immense and colorful back piece incorporates a wide variety of design and color. The almost animated, yet intricate, detail of the butterflies and flower petals give this tattoo a energetic, positive aura. Subtle shading is used to make this piece really pop.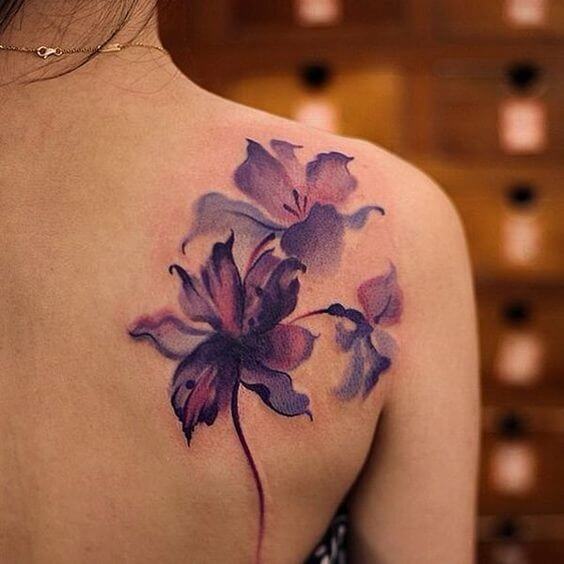 These simple purple orchids instill a sense of power and dignity. Designed in a watercolor like style, this piece echoes traditional oriental flower tattoos. Inked in deep blacks and soft delicate purples, this tattoo is at once feminine and strong.
These ashen roses are an elegant and sultry tattoo idea. Done in hard black and grays, with detail on the hard lines of the piece, this tattoo speaks of rebellion, sophistication, and sex appeal, all at once.
A small, yet highly detailed, flower bouquet, this tattoo pops with bright color and intricate design. An small crest-like overall aesthetic, this bright bouquet would work as a solo ankle, or arm, piece, or a part of a larger work.
A classic take on floral tattooing, this sprig of bright flower ink gives of a vibe of sophistication and sexiness. The perfect tattoo to accentuate hips, breasts, or thighs, this tattoo is for the elegant woman with a free spirit.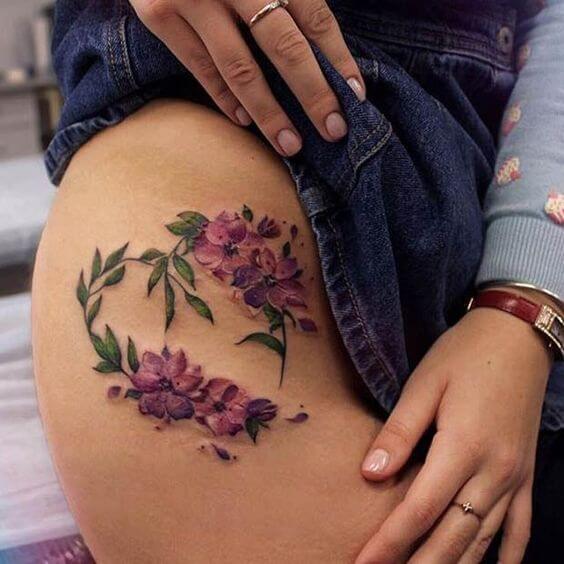 An example of a different style of purple orchids, these classic tattoo designed flowers circle and curl to bring out the most of your natural curves. Deep and pronounced shading is used to bring out the softer purples and greens.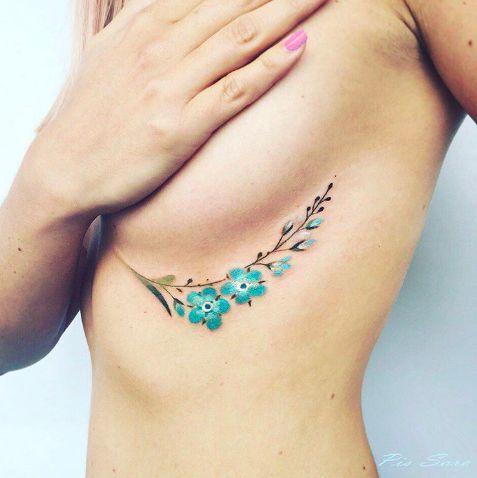 If you're considering simpler flower tattoo ideas, these colorful sky blue orchids may be for you. This subtle design is almost void of dark colors which allow the bright turquoise and neon greens to really take focus.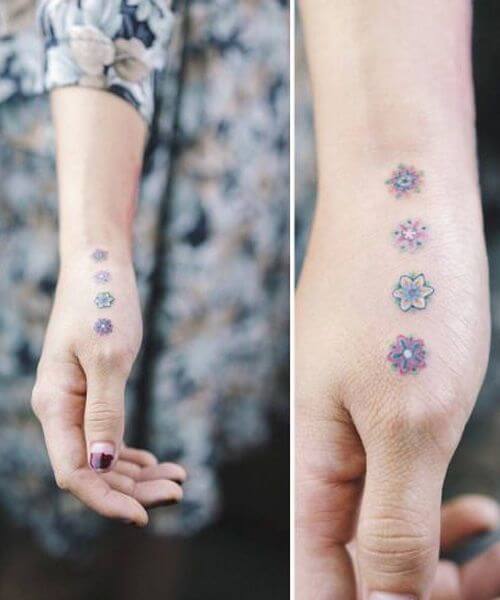 Another great piece if you're looking for a subtle flower tattoos idea. This set of four, lotus inspired, designs, are a small reminder of your inner peace. The acrylic like coloring and bright ink provides huge personality to this small tattoo.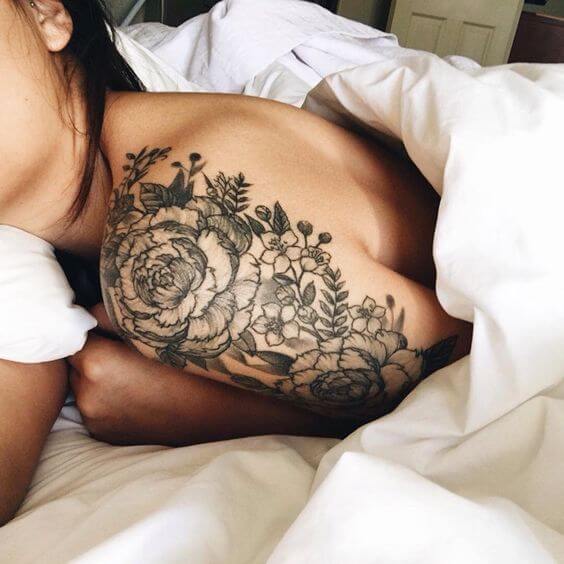 These highly detailed ashen gray roses make a flattering piece for shoulders or hips. With focus on the exterior lines, the black and gray inks, and use of negative space, give this tattoo its entire attitude, and will do the same for you!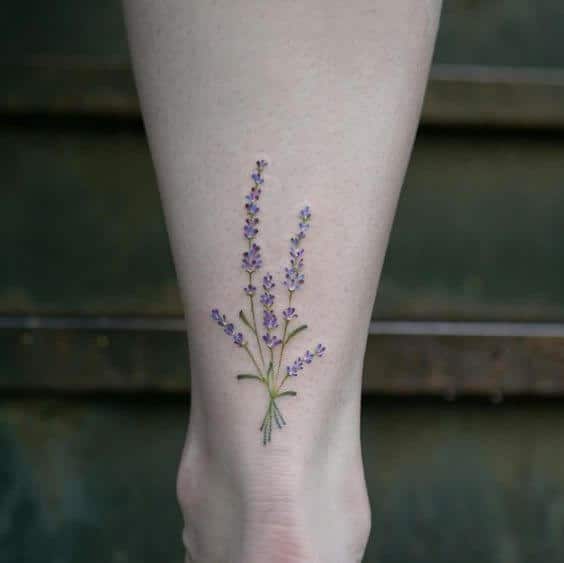 This simple orchid design gives a down south feel in its subtle green sprigs and violet blossoms. The delicate purple petals are perfectly scaled for this small piece and provide extraordinary detail and intricacy – the perfect tattoo for wrists or ankles.
A superbly designed lotus flower situated inside an immaculately inked background, this flower tattoo design speaks of inner peace and enlightenment. Soft, yet brilliant, yellows, pinks, and blues, are offset by the deep black inks of the shading and background.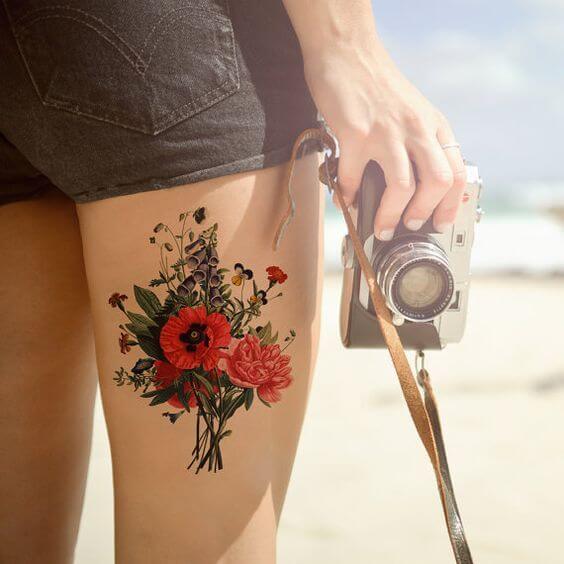 Red is all the focus in this flower bouquet tattoo. With deep and dark greens being used to shadow and shade this piece, the bright colors of the flower petals really pop – a consistently flowing tattoo for sides and thighs.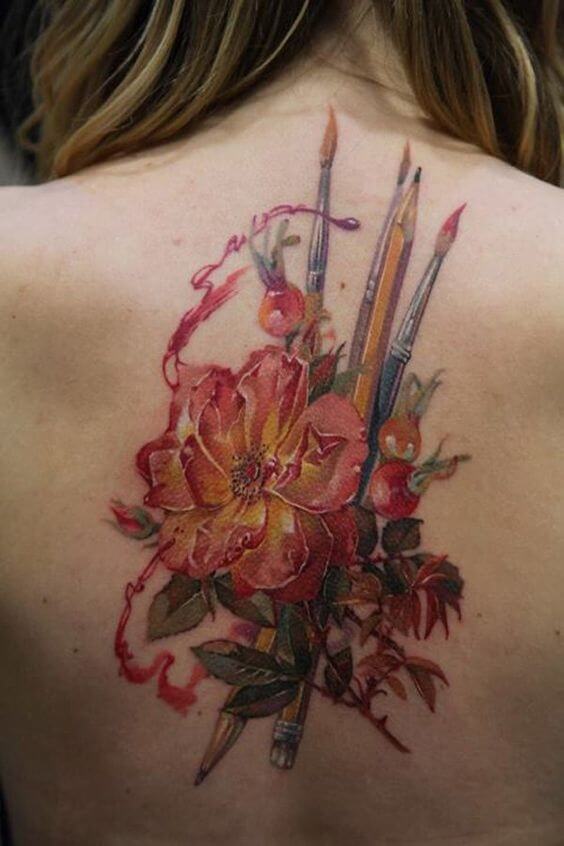 This art inspired floral design makes use of its subject matter with pastel acrylic looking inks. The natural pinks, yellows, and greens, contrast perfectly with the silver and tans of the pencils and brushes, for an added layer of artistic flare.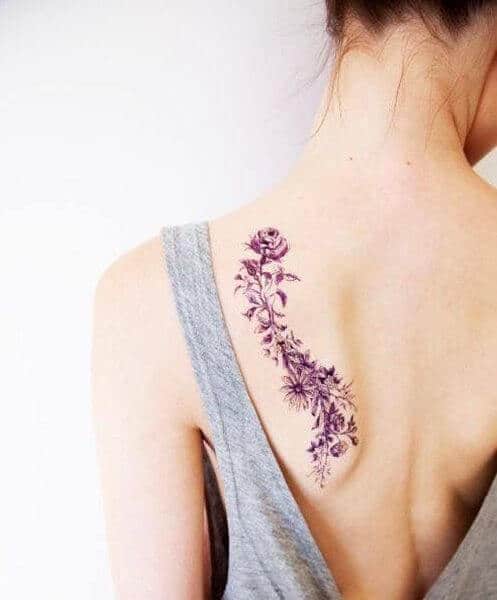 This almost entirely violet inked tattoo is the epitome of flower tattoos for girls. Giving off an aura of female mystique, deep and light purples cascade into black definition lines and shading to provide a sultry, majestic design.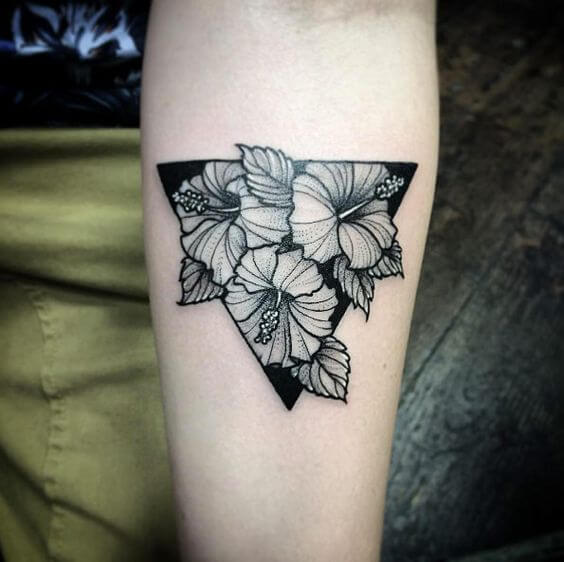 This sophisticated and geometric design provides a frame and shape for the detailed, black and gray flowers at its center. Shading takes precedence in this piece to fill out and define the focal orchids, and the black background serves to bring the flowers to the eye.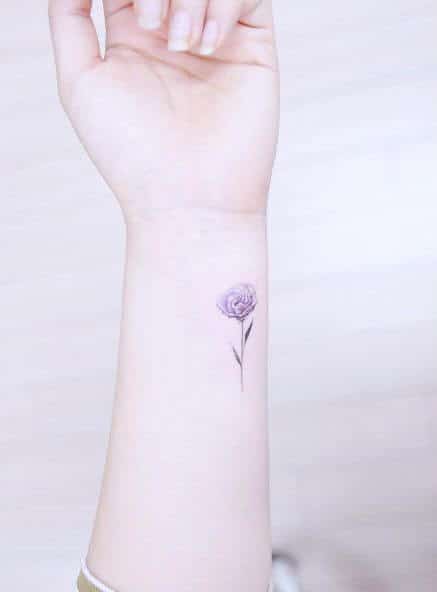 This simple purple rose tattoo is an excellent small piece for wrists and ankles. The soft purple petals contrast perfectly with the black stem and roses. An almost anime like design, this piece echoes daintiness and femininity.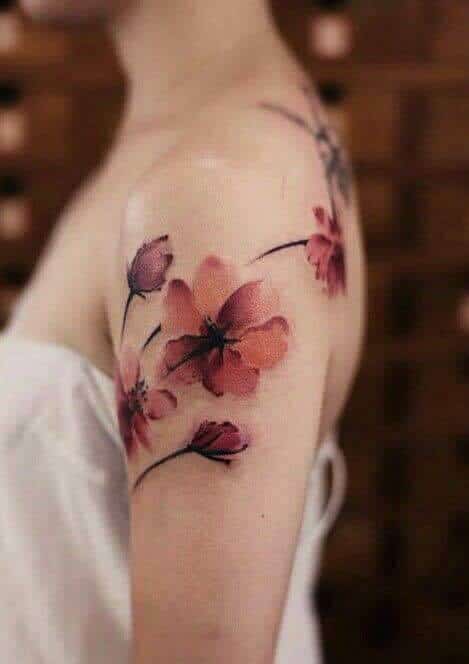 An encompassing tattoo, this piece gives the feeling of nature's bounty springing up on the model's body. Done in pastel pinks, reds, and oranges, black stems root these roses to the skin. The open blossoms, and closed blooms, speak of growth and development.
A beautiful full back piece, this tattoo sparkles and glistens with color. Bright greens, blues, whites, yellows, pinks, and greens are offset by the black ink underlay. This immersive piece is an excellent larger option when deciding on flower tattoos for women.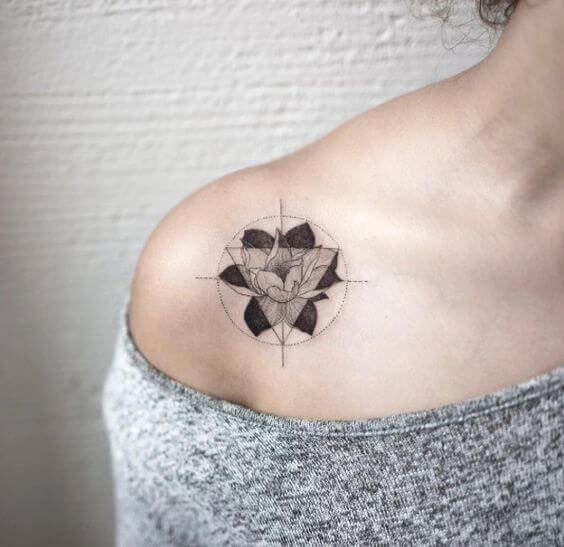 A zen like black, white, and gray design, this geometric tattoo uses the framing shapes to make its lotus centerpiece the focus. An excellent piece for ankles, wrists, and shoulders, this tattoo reminds us to put our own enlightenment at the center of our lives.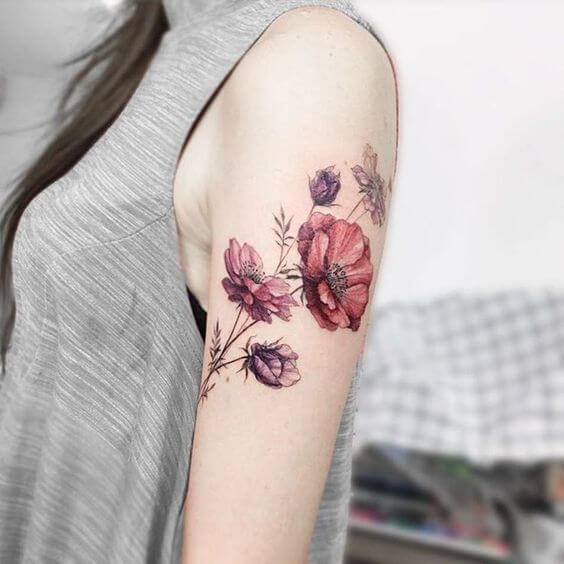 Capturing the blooms of spring in pastel inks, this tattoo is a artistic expression of woman's communing with nature. Soft pinks, purples, and reds, are offset by a subtle hand drawn background of stems, sprigs, and leaves.
If you're in search of more subtle, classic, tattoos ideas, this hand drawn bouquet sprig of orchids is an excellent option for chest, side, or thigh tattoos. Inked simply in black and gray, this tattoo is a humble expression of your inner wild flower.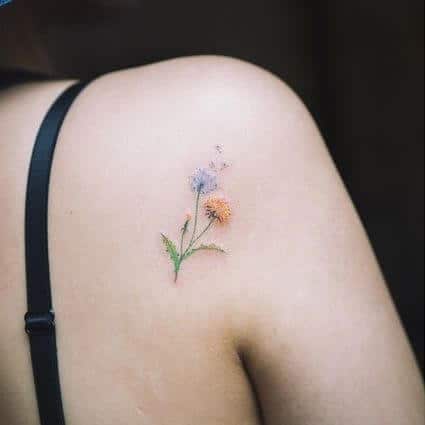 A tiny, but highly detailed and colored, tattoo, this piece is perfect for ankles, wrists, and foot pieces. Done in bright colors, and with little darks, this tattoo has a positive, happy, spring vibe.
This bright, red, and pink lotus tattoo speaks of the enlightened woman. Done in subtle defining lines to let the focal flower draw the eye, this piece achieves perfect balance on the darkly defined, black inked, rooting and stem.
If you're more interested in bigger tattoo ideas for women, this piece's curling design can accentuate the natural curves of the shoulders, hips, and chest. Done in darker colors, this tattoo is a perfect example of classic sophistication to bring out your favorite features.
This colorful floral, hand tattoo is ideal for women who want people to notice their hands. It's not the most subtle tattoo, but it is colorful and attractive. Also, its garden-like appearance will compliment most hand or wrist accessories as well as summer dresses.
This pink flower tattoo is a good design for women who want to tattoo their forearms with something beautiful and attractive. The floral design appears large, but also colorful and soft. The tattoo also looks great with various hand accessories, particularly floral ones.
These flower tattoos feature colorful pink lilies. They are large, detailed and quite colorful. The lilies look very vivid, and their size and appearance makes them a subtle back or shoulder tattoo. They are also a good choice for women who like sharp, but colorful floral tattoos.
This artistic flower tattoos idea features colorful white and violet flowers. The color contrast between white and violet is the tattoo's most notable feature, but it also has a simple and elegant design. The lithe appearance of the flowers also makes this a good forearm tattoo.
This seemingly simple floral tattoo design features a single branch of flowers. The flowers' orange color contrasts quite well with the green color of the leaves. However, due to its small size, it's worth remembering that this tattoo design has a very minimalist appearance.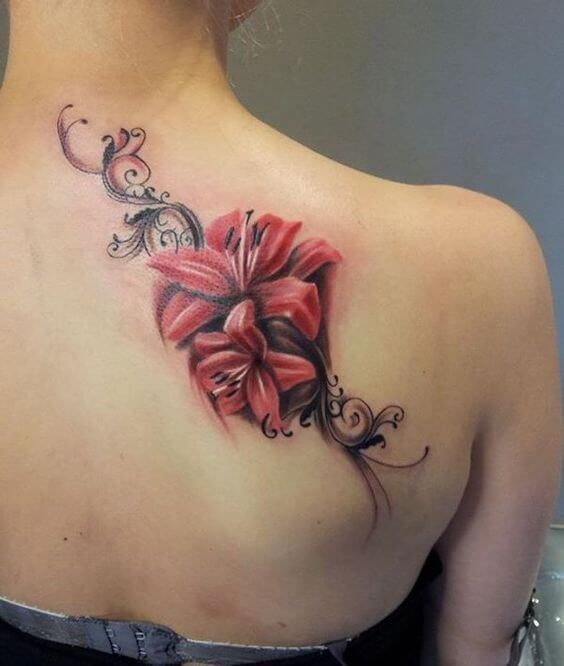 For those of you who are looking for flower tattoo ideas that feature a lot of curls then this is a good choice. This particular design features a lily-like red flower with curling stems. It's also quite large, which makes it a good choice for a back tattoo.
This particular design features an artistic rendering of a simple flower with bright, red petals. The petals have a very modern look, as does the stem and leaves. This particular tattoo's appearance is subtle and very toned down; great for arms and limbs.
This rather large tattoo features a bright pink flower surrounded by toned down green leaves, and it has a very romantic aesthetic. It's also quite large and wide, which means that it can only be applied on the hip or back.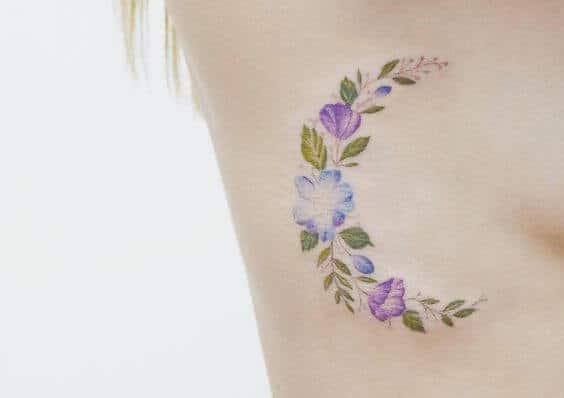 This cool, but colorful flower tattoo design features blue and violet flowers in the shape of a crescent. Although very simple, this design has a very simple but subtle appeal. And because of the green color of the leaves, the flowers look very charming.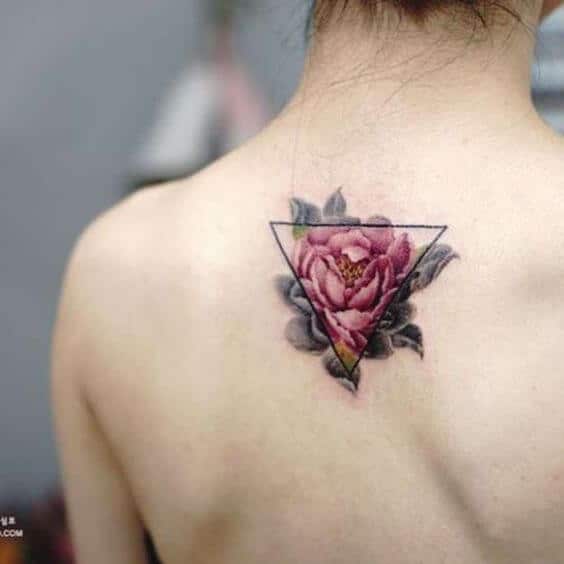 For those of you who are looking for flower tattoo ideas with esoteric symbolism, this is a good choice. It features an elegant pink colored flower inside an upside-down triangle. Although the image is very simple, the addition of the triangle gives it an air of mystery.
Most flower tattoos for girls feature designs that don't take up a lot of space. This one is the exception. This particular design features several Hibiscus flowers, but due to the size of each flower, this particular design can only fit on a woman's back.
Most tattoos ideas have simple, but elegant aesthetics and this one is no exception. Despite its simplicity, it's also quite versatile, and looks good on the ankles, the wrists or the limbs. The only downside is that due to its black and white appearance, this particular tattoo works best on pale skin.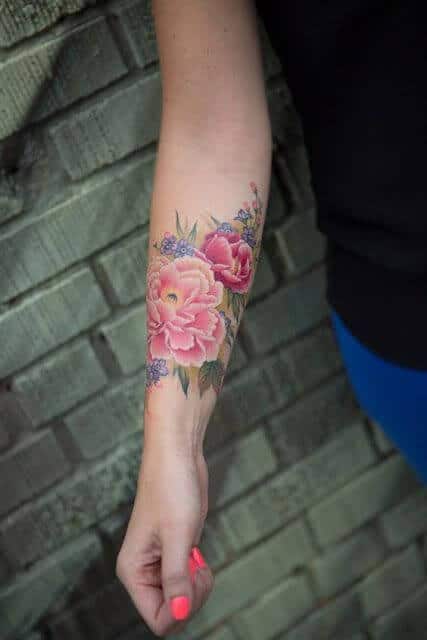 This colorful tattoo features a large pink flower surrounded by green leaves and small violet flowers. The tattoo is also neither big nor small, and can fit well into almost any part of the body; a good choice for those who prefer versatile tattoo designs.
This colorful tattoo features a series of multi-colored flowers along a vertical column. There are red, yellow, blue and violet flowers of different shapes and sizes. However, due to this particular tattoo's shape and size, it only fits on the back.
This simple dual rose tattoo features two bright red roses. The roses' petals are quite attractive, while the tattoo's overall design is subtle. Although it works well on any part of the body, this particular tattoo looks best on the side of the arms.
This simple wrist tattoo is a good choice for those who want a small but elegant tattoo for their wrists. The tattoo itself looks like a colorful bracelet, and the flower and leaves are designed to appear very realistic. It also looks good on the ankles.
This full-sleeve arm tattoo features an orchid-like plant runs from the shoulder all the way to the wrist. The flower itself looks very warm and attractive, which is perfect for women who like to show off their shoulders.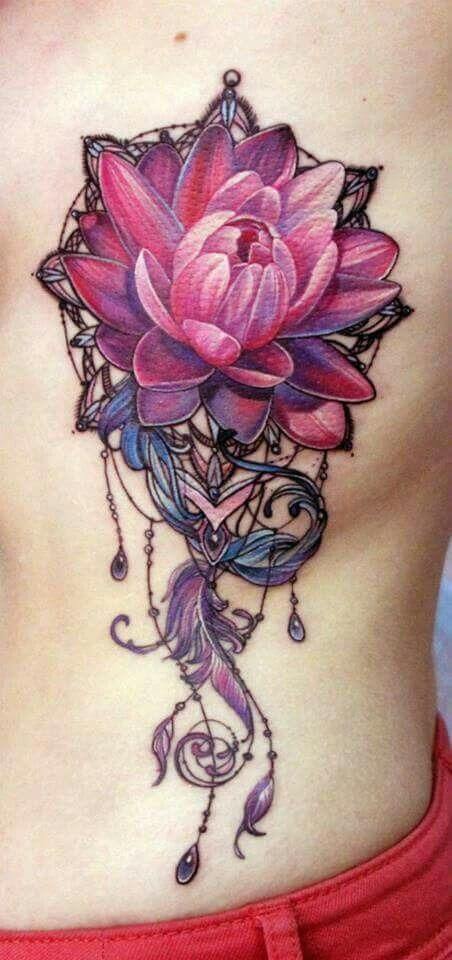 This beautiful flower tattoo for women features a very magical aesthetic that is reminiscent of the rose in Beauty and the Beast. The tattoo's elegant design also gives the flower a very jewelry-like appearance, while the pink and violet color gives it a very romantic feel.
This dark, red floral tattoo is ideal for women who like femme fatale tattoos. Although the design is very simple, the tattoo's dark red color makes it a great choice for women who want a tattoo that is great for romantic evenings.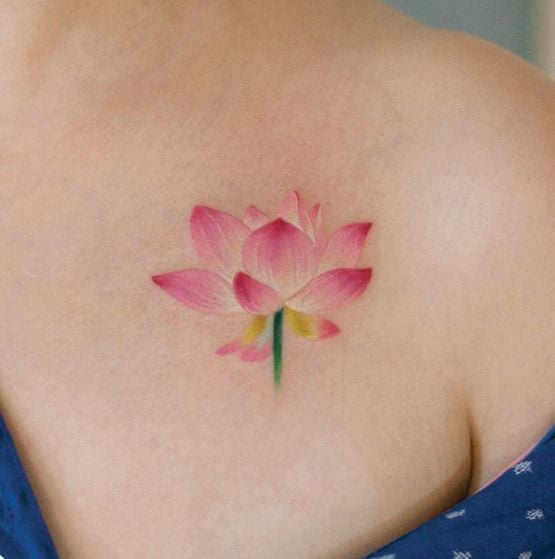 It's easy to describe this particular tattoo as "cute" but it also has a very subtle appearance. The tattoo features a lotus with light, pink petals that almost seems to be fading into the skin. This tattoo is a good choice for those who want a design that is both small and subtle.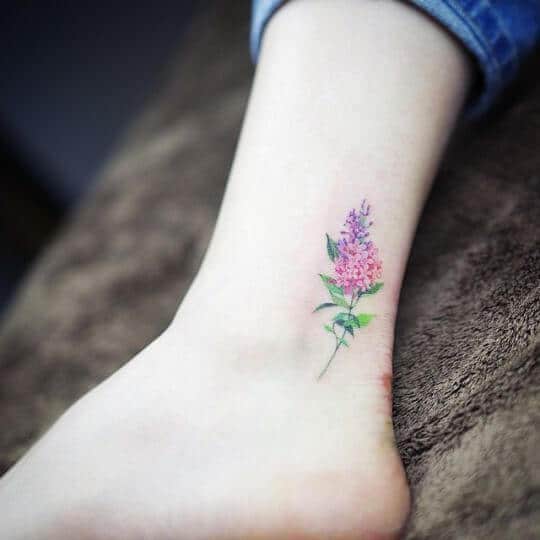 For those who are looking for small tattoo ideas, this is a good choice. This violet, pink and green floral tattoo is both attractive and subtle. Also, due to its small size, it fits well on any part of the body.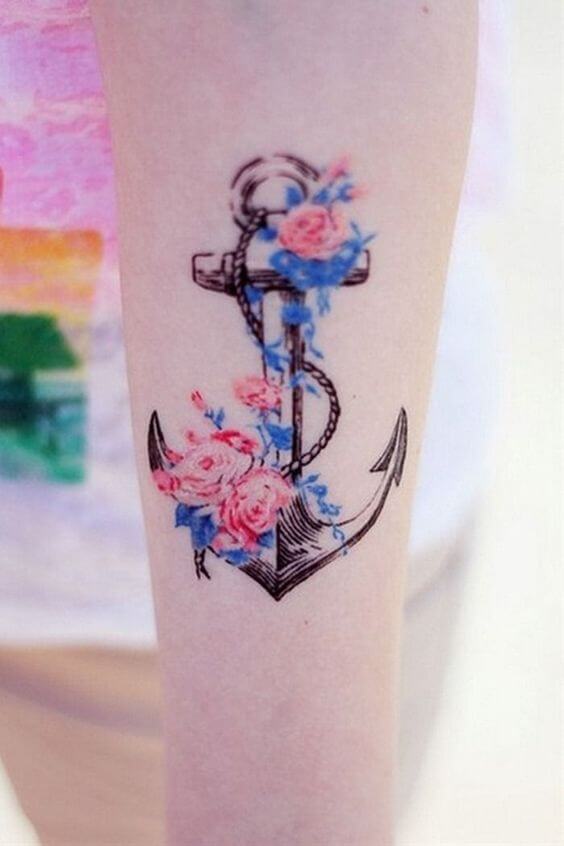 This is a good choice for those who are looking for unique tattoo ideas for women. Unlike other floral tattoo designs that feature nothing but flowers, this one features an anchor covered with pink flowers and blue leaves, perfect for people who want an ocean themed tattoo..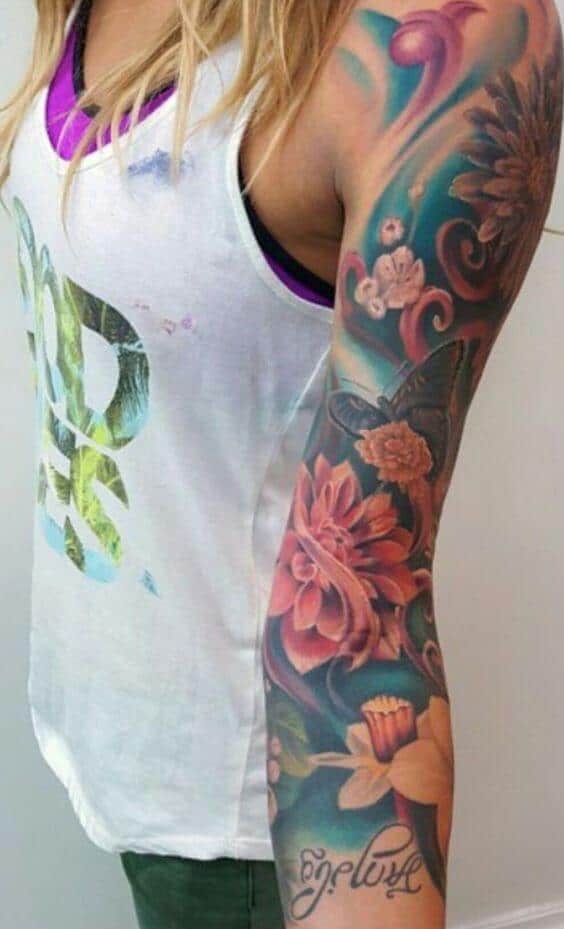 This arm-length floral tattoo covers the entire arm with blues, greens and pinks. The colors are quite intense but also rather dark. They also work well for people who prefer tattoos that have an artistic appearance, or those that cover large sections of the body.
This tattoo mixes simplicity, elegance and subtlety. The image appears very simple with its two simple looking flowers on long, thin stems. However, due to the tattoo's detail and artistry, it looks quite beautiful when examined carefully; ideal for women who like subtle tattoos.
This simple lotus tattoo looks small and simple, but it is also well-proportioned and charming. It features soft pink colors that seem to be fading into the skin. It's a good choice for an arm, shoulder, wrist or ankle tattoo.