One of the most eccentric characters in history and a major megalomaniac to boot was none other than Salvador Dali. Being a master marketer of himself, his strange and odd behaviour was taken as a context for the show.
Most of the paintings out of 1500 accredited by Dali were surrealist. Dali also used other mediums to express himself such as sculpture, fashion and photography. So, many fans of Dali decided to express their love for him by getting his works as well as his own image inked on their body. Some of the designs of these tattoos are presented in this article. We hope you will enjoy viewing this unique artwork.
The Eccentric Salvador Dali Tattoo
Many tattoos portray Dali with an expression of holding surprise and shock in his eyes. This was one expression widely used by Dali as a tactic to garner attention. Also his moustache is eye-catching. Some people choose this tattoo to be inked in black colour while many others choose a colourful tattoo of the above design. Although both look nice, the one in colour, gives a surrealist looks to the tattoo.
Another eccentric Salvador Dali Tattoo
Some tattoos portray Salvador Dali with wide open eyes and curled moustache in an expression of pain. The detailing of the tattoo does not let you overlook this attractive tattoo.
Salvador Dali Portrait Tattoo with Hat
In this nice tattoo, the hat has given a superb touch. Also, the presence of bird was eminent. Still you cannot ignore the expression of the consummate showman with his wide-opened eyes.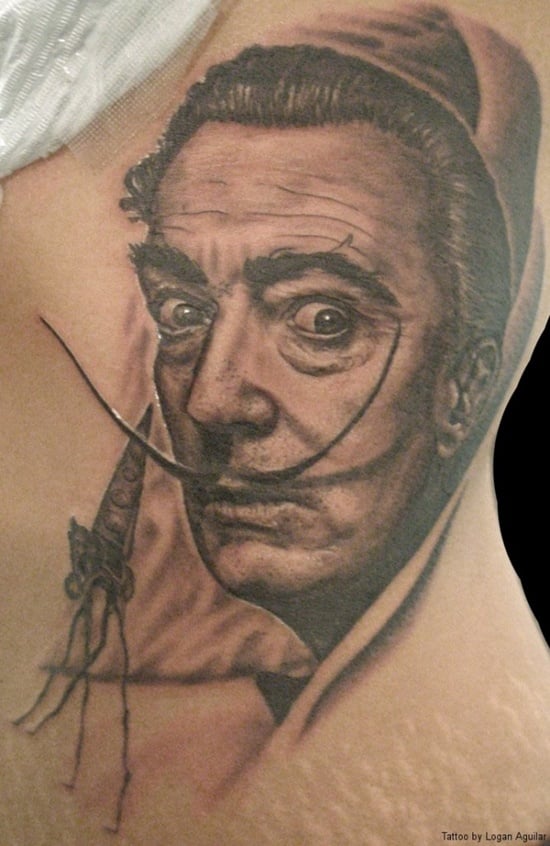 Salvador Dali Tattoos based on his paintings
Another nice option to choose is the famous artworks of this great showman. The pictures shown below shows different tattoos designed in the paintings of Salvador Dali and they are as fascinating today as they were so many years back.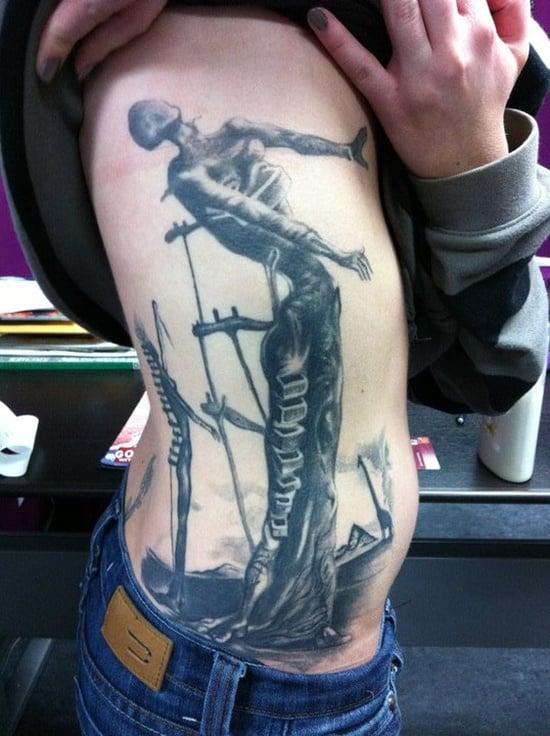 Music Note with Eye Salvador Dali Tattoo
This interesting and unique tattoo portrays a music note with an eye which is none other than Salvador Dali. A simple yet unique design possesses a strong effect of surrealism which is very nice and effective.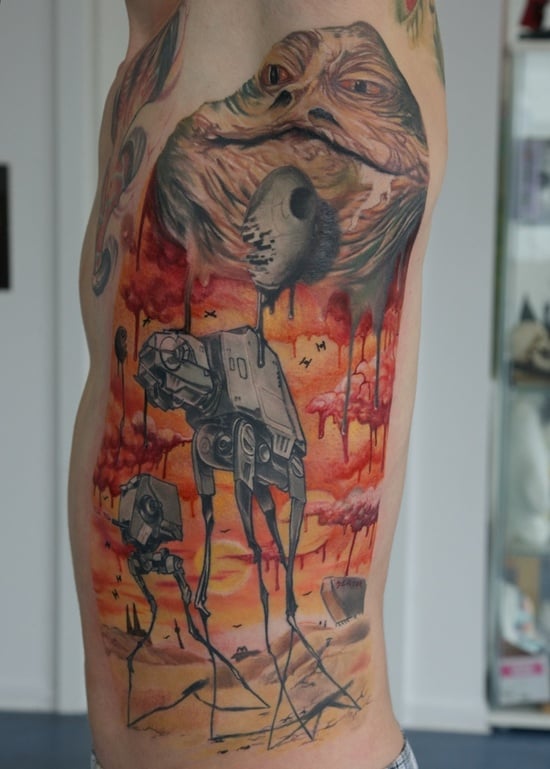 Dali Style Clock Tattoo
A very famous article that was associated with many paintings of Salvador Dali was clock. So, some of the Salvador Dali tattoos also celebrate this fact and show a great influence of Dali. Although it seems easy at first glance, but in fact this tattoo is much harder to design.

Great back tattoo influenced by Salvador Dali
This unique but beautiful design influenced by Salvador Dali is loved by all and it portrays an 'out of the box' thinking through the drawers coming out of the clothes. Due to its large size, the best option to get this tattoo inked is back.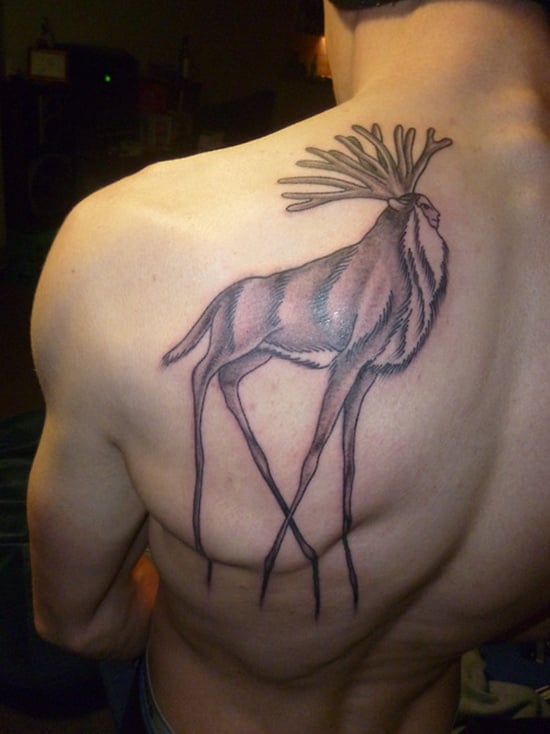 Nice Salvador Dali Arm Tattoo
This one is very impressive and seems to be powerful. The best part of body for this tattoo is the arm as its name suggests.Yet any wider part of the body can provide space as a canvas for this tattoo.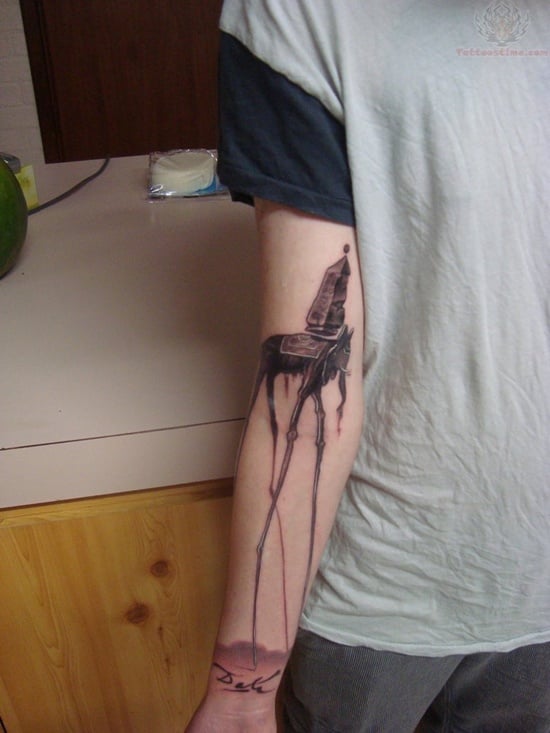 Another Salvador Dali Figure
This neat and nice figure seems to be very appealing. Although the lines seem to be similar  yet they are different and more eye catching.
Fish Eating Tigers Tattoo
This out of the box painting portrays a fish eating a tiger which is a great  and unique piece of thought. This innovative tattoo design is very uncommon to be seen on anyone's body.
So, there are as many designs available that one can think of. Including the 1500 painting works of Salvador Dali, you can also portray something creative. You can have a glance on the various designs shown in this post and can find an inspiration or idea for your next tattoo.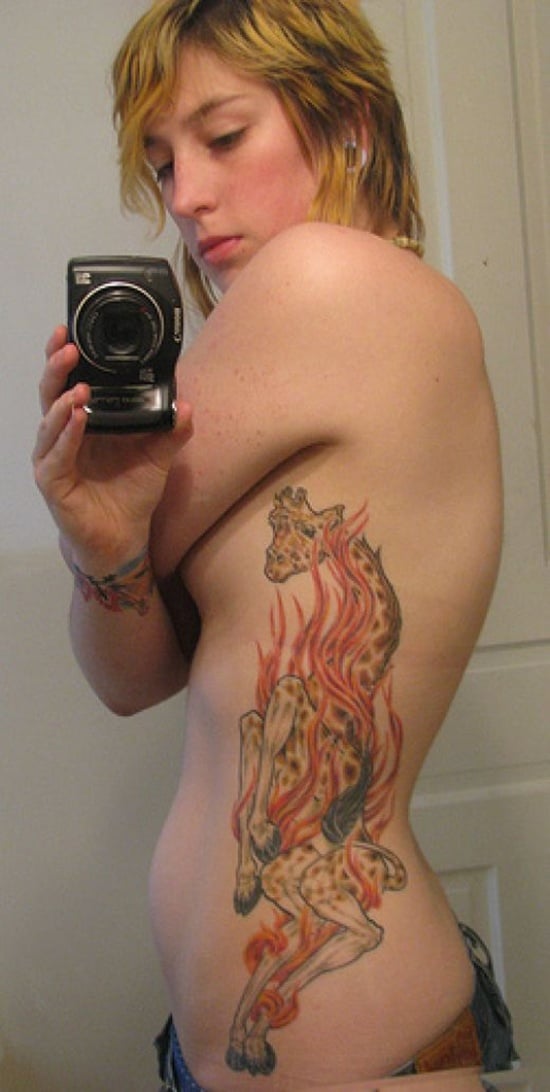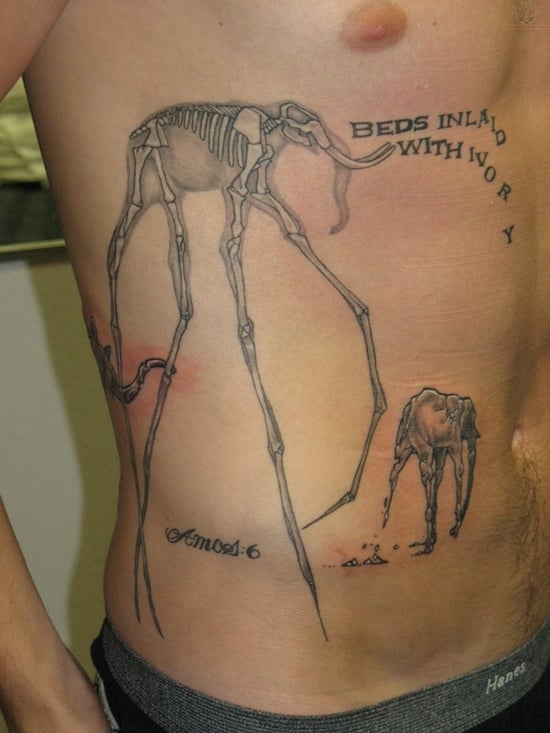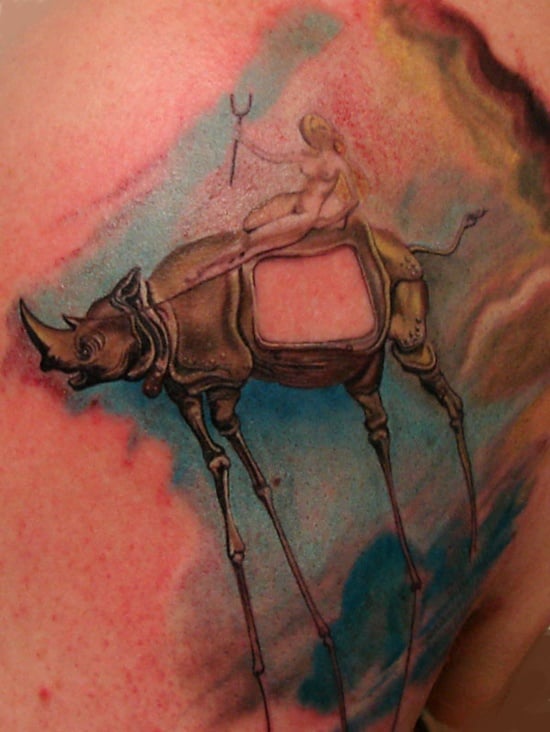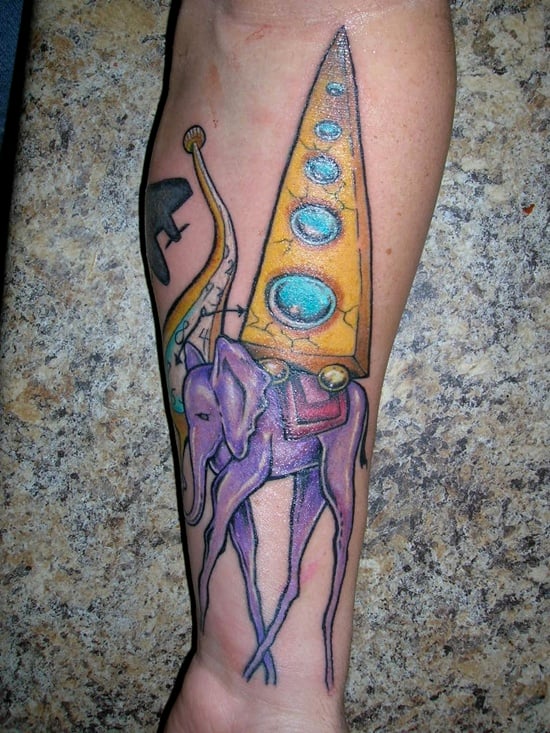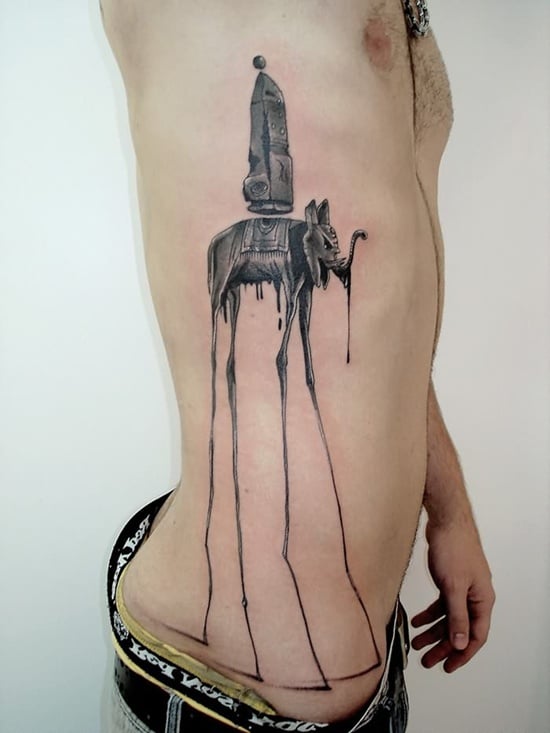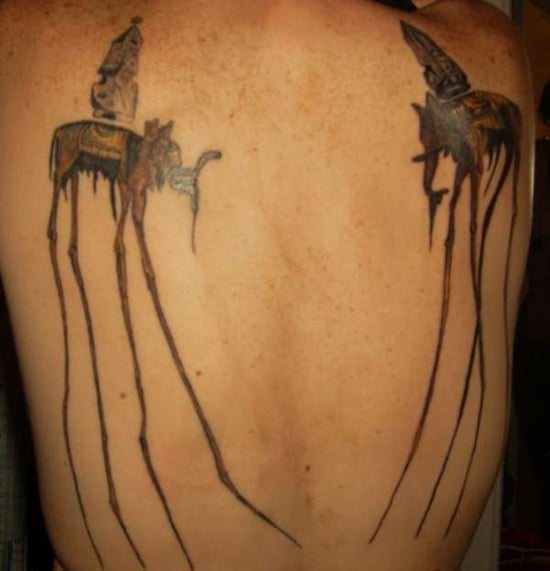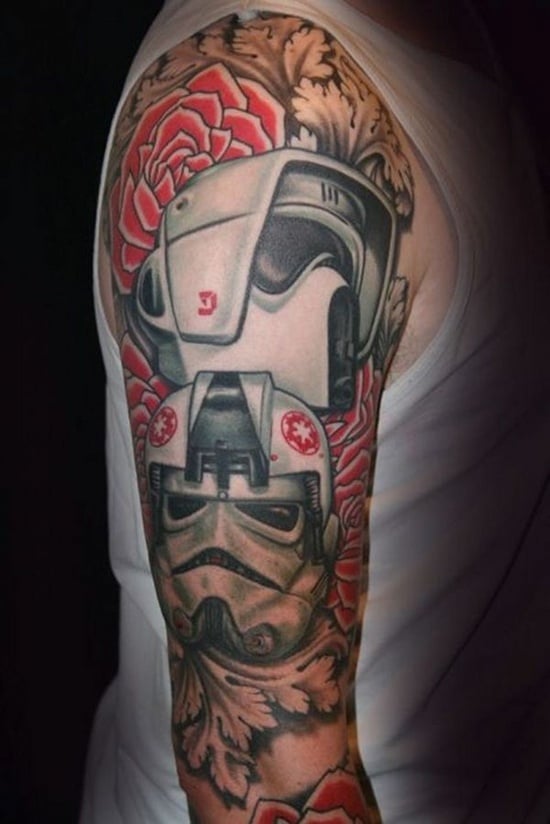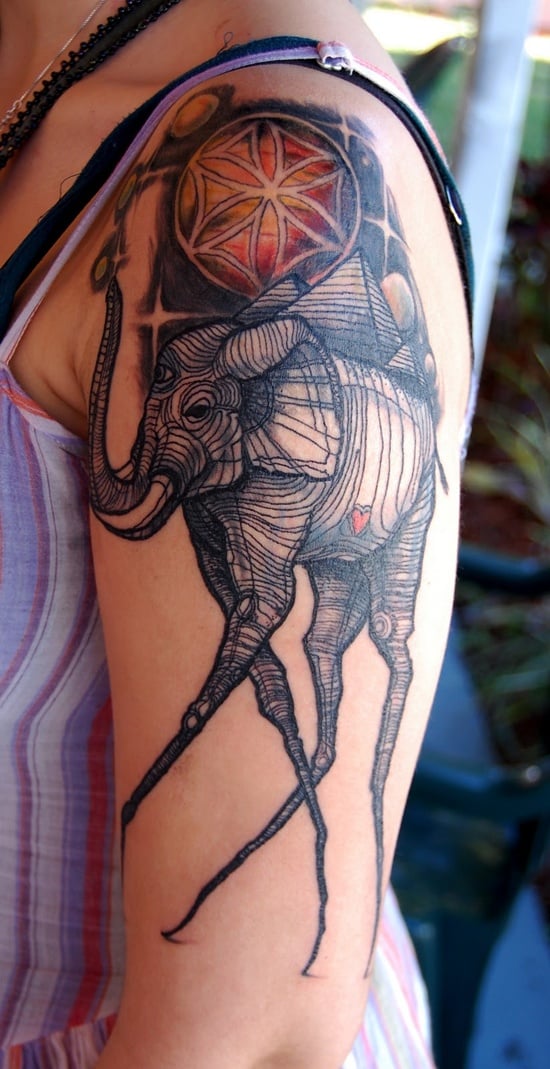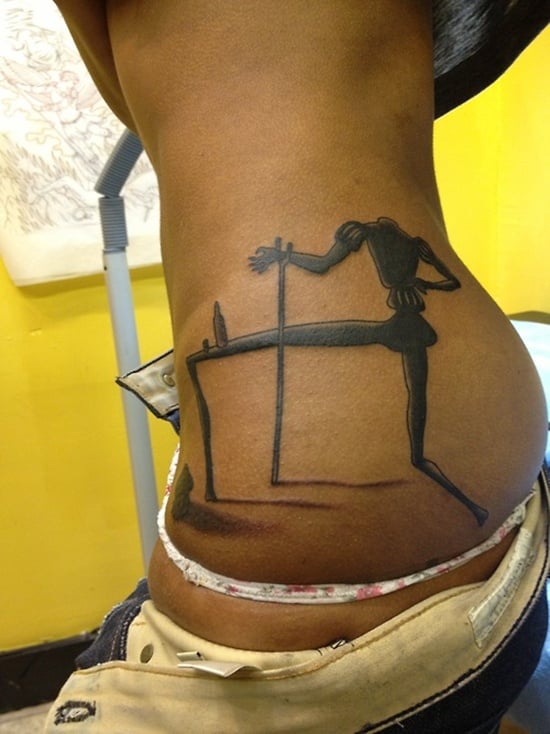 We hope that you enjoyed visiting our blog and website. Keep visiting us for more updates about various tattoo designs. You can also share your views about our article and also your own tattoo experiences in our comment box. Thanks for your visit.