When it comes to tattoo Parlors, Philadelphia is never in shortage as the art of tattooing is a practice that's common in this city. Philadelphia's past is filled with cultures, personalities and influential artists that have produced some of the notable tattoo designs in the American history especially the traditional tattoos. Below are some of the best tattoo Parlors in Philadelphia that you can visit for some unique and customized designs amongst others.  While browsing this blog, you can notice the array of different techniques used combining old methods with more recent ones.  One needs to keep in my mind that designs will, at the end of the day reflect the both the owner's wishes and also the artist's talent.  Some people prefer traditional tattoos, at times one which they might have been contemplating for many years. A memory that they want to embrace forever or an art which will reflect their story.  Others look for more innovative works; using techniques elicited from the general discovery of new art methods.  True artists are constantly exploring new ways to divulge their art.  In this day and age, a tattooist cannot simply halt time and never update oneself. Although a studio might particularly specialize in traditional tattoos, new methods of application still need to be explored and used as this will broaden the horizon of what one can achieve.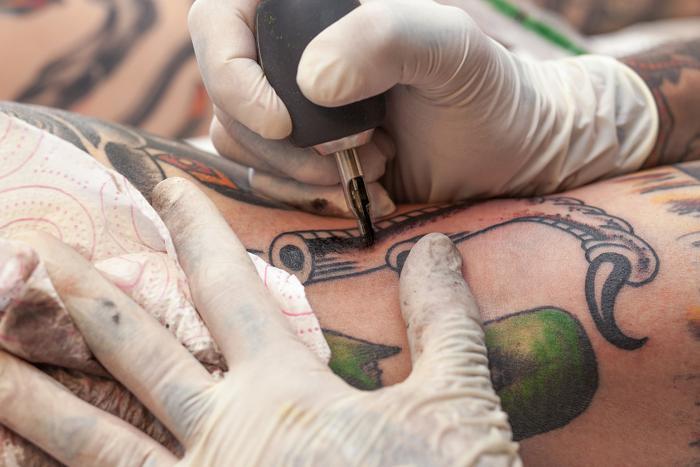 1. Art Machines Productions
The tattoo parlor was established in 2010 by Tim Pangburn who is also a renowned tattoo artist. The tattoo parlor is located at Frankford Avenue, Arts Corridor and is home to some of the experienced tattoo artists like Andy Robinson, Bobby Lockhart, John Tarrao amongst others. The tattoo is in quite a serene location and very clean making it ideal for the customers.
2. Frequency Tattoo Co.
This is a custom tattoo that is operated by Jon Howie and David McCall. The tattoo parlor does not provide any portfolio or templates that clients can refer to, instead clients are allowed to express their design ideas and the artists work to achieve an aesthetic tattoo that appeals to the customers design needs. Frequency tattoo Co. is committed to the highest of the possible standards both in terms of cleanliness and customer service.
3. Olde City Tattoo
This tattoo shop is home to a wide range of talented artists who are available to work on any kind of tattoo design and bring out that unique quality that meets the client's need. Olde city tattoo is home to some of the professional artists like Jason Goldberg who is also the owner and Johnny Gues, Scott Smith amongst other artists.
4. Black Vulture Gallery
This tattoo parlor was opened in 2010 and has some of the award winning artists. With a great team of highly qualified artists like Dave Moyer, Hoode, Bird Reynolds amongst others, the tattoo parlor provides a wide range of versatile designs that makes it one of the best tattoo shops in Philadelphia. Black Vulture Gallery is located at 208 E Girard Avenue, Philadelphia.
5. Nothern Liberty Tattoo
This tattoo shop prides itself in providing quite a serene and calm atmosphere that is clean and ideal for tattoo work. Nothern Liberty tattoo is home to some of the talented tattoo artists with great artistic ability. It is one of the studios to visit in Philadelphia given its welcoming ambience and quality work ethic. The shop is located at 823 N 2nd St. Philadelphia.
6. Philadelphia Eddies China Town Tattoo
This tattoo parlor is known for focusing mainly on the traditional tattoo designs. The shop is quite unique with a great gallery of designs which is displayed right at the entrance giving clients such a welcoming and exciting ambience. The tattoo parlor is home to some of the skilled tattoo artists like Braden Kendall, Sean Barry, Ozzie Perez and Troy Souders.
7. Cosmic Primate Tattoo
The tattoo shop is operated by Ray Petty and Ryan Lebiedzinski who are also highly experienced in providing custom tattoo designs that surpasses the client's expectations. The tattoo parlor is located at 136 S. York Rd, Hatboro. Cosmic Primate Tattoo is open to walk in clients as well as booking of appointments are welcome.
8. Bone daddy's Tattoo
This tattoo Parlor is home to award winning artists with capability of handling a wide range of diverse styles whether it is a customized designs, the tribal, Japanese designs, traditional, you will definitely get a tattoo artwork that meets your design needs. Bone Daddy's tattoo is home to some of the cool artists like Jay Cunliffe, Nate Cook and John Pohl with a passion to deliver artistic designs that surpasses client's expectations.
9. Grace Tattoo
This tattoo Parlor is known for providing its customers with a comfortable and most sterile environment for their tattoo's artwork. The safety of the clients is vital in this tattoo shop as they ensure health best practices are adhered to. All the Grace Tattoo artists are certified in blood borne pathogens and infection control, a fact that makes clients more relaxed as they get their tattoos done in this shop.
10. Deep Six Tattoo Parlor
This tattoo shop is known as one of the Premier custom tattoo shops with award winning artists that have great passion for their work and unique artistic ability. Deep Six Tattoo Parlor is located in North East Philadelphia and provides clients with a serene environment as they explore their design ideas.
11. Under the Gun Tattoo Parlor
This tattoo Parlor is home to professional artists that are focused on giving their customers the best designs by turning their ideas to great pieces of artwork. The artists are outstanding for their attention to detail and provide a clean and sterile environment that customers find relaxing and comfortable.
12. High Rollers Tattoo Studio
The kind of decoration used as you walk into the tattoo parlor is quite welcoming and exciting. High Rollers Tattoo Studio has a collection of beautiful portfolio that range from the traditional designs to the modern custom designs giving clients a wide range of options to choose from.
13. Raw Power Tattoo
Raw Power Tattoo Parlor is located at 930 Bustleton Pike, Feasterville Trevosse and is home to some of the experienced tattoo artists. The tattoo parlor has a collection of portfolio that one can choose from. The environment within the studio has decorations that make it look quite beautiful and exciting to be in.
14. Local Color Tattoos
This is one of the top tattoo parlors in Philadelphia and is known for the warm environment that is relaxing environment. Local Color tattoos provide a clean and sterile environment that artists and clients find quite comfortable to be in. Quality customer care is a priority and the artists are certified and adhere to best health practices.
15. Tru Blu Tatu
This tattoo parlor is located at the historic Bristol, PA and is home to some of the renowned tattoo artists like Matt Jedlinski, Kamala Smith, Jerome Taylor amongst others. Tru Blu Tatu parlor provides a full spectrum artistic designs that makes it one of the best tattoo shops.
16. Into the Sun Living Arts.
This tattoo parlor has great customer care service and has a way of making their clients feel relaxed and comfortable. The shop is clean and has a team of professional artists that delivers on the clients tattoo design.
17. Mean Street Tattoo and Piercings
Located at 2272 street Rd, Bensalem, PA, Mean Street Tattoo and Piercings is outstanding in terms of cleanliness, professionalism, friendliness and affordability.
18. Integrity Tattoo
Stands out as the best shop in Philadelphia region with professional artists that understand customer care and treats their clients quite well. Integrity Tattoo is located at 65 S Lewis Rd, Royersford Philadelphia.
19. Liberty Tattoo
The tattoo Parlor is quite welcoming, from the clean and bright inviting interior to the highly professional team of artists, Liberty Tattoo is the ideal place for varied tattoo works. The tattoo parlor has an environment that is quite welcoming, clean and comfortable to be in.
20. Seven Stars Tattoo
This tattoo Parlor is that place where you walk in with your idea in mind and the artists flesh it out like they can actually see what you are thinking. Seven Stars Tattoo Parlor is clean and ensures best health practices are adhered to for customers comfort.
As we have seen above, Philadelphia is quite a place for tattoo lovers!  Parlours are common here, and new ones are opening up, extending the already vast choice of tattoo artists.  Whether you are looking for a traditional piece, a modern design or even a mixture of both, you will not be disappointed with the choice here.  We suggest you read the above and decide what is it you really appreciate most; customer care, clean environment, new artists?  A visit to the parlour will also help yu decide whether you like the place or not!  Remember to do your research well, as you would want your permanent art and also your experience to be an excellent combination.