If you are looking for a new tattoo design with some astrological symbolism, them try out one of these designs.
Anyone looking for an astrological tattoo knows how awesome the designs can be. It shows an original personality as well as laid back personality. These tattoos can be used for both men and women and are usually attributed to people born between late January and early February. It's also connected to the sign as a cusp, moon or ascendant. You don't need to have your birthday during that time in order to have an Aquarius tattoo; many people get them because they love the Age of Aquarius references and believe in the sign's symbolism.
There are many references to the Aquarius, and one of them is due to their intense intuition. They also believe strongly in humanitarian causes. They typically are selfless people who naturally gravitate towards body art. The most popular body art options out there for you are masterpieces that show a combination of two zig-zagging lines that are parallel to one another. There are many symbols that are associated with the earth, and the symbol of air is associated with the Aquarius. You could also add both the wind and the waves to the design for an added effect.
Below are 45 of The Best Aquarius Tattoos for Your Body:
1. Surf These Waves
Waves are a great earth symbol that many Aquarius lovers use. It's effective to show a desire to be near the water. This tattoo just looks like exactly what you would imagine a surfer to have. It's simple yet organic and really speaks to the passion of the waves. The coloring is also quite nice; I love having blue in a tattoo design.
2. Zig Zag Aquarius Tattoo Designs
Zig-zagged designs that run parallel to each other are popular Aquarius designs. It's a unique looking tattoo design that you are sure to love. If you are looking for a simple design for the ribcage, then you can't go wrong with this one.
3. Astrological Tattoos
If you like looking up at the stars, then this might be the design for you. This astrological symbol is nothing short of charming. It's an elegant design that you can outline with your finger. It's a true astrological design that will put a smile on your face every time that you see it.
4. Greek Symbols
These waves are the same parallel lines that are symbolic with the Aquarius tattoo design. It's a small tattoo that can sit nicely on the wrist. If you are looking for a small design then this is the one for you.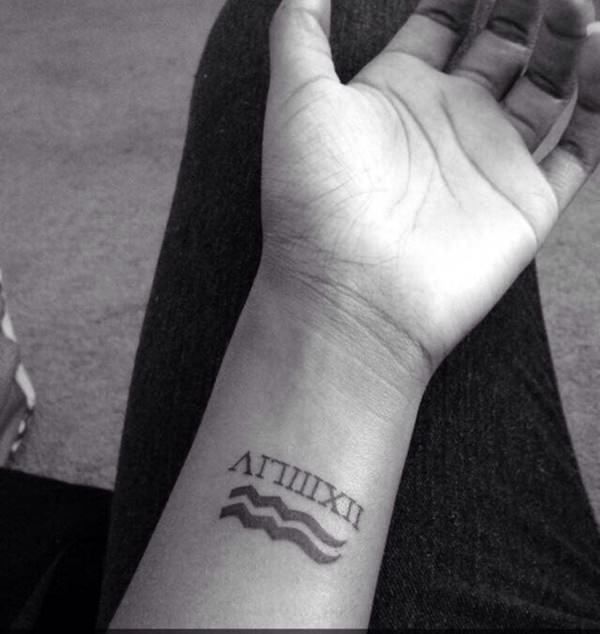 5. More Waves Aquarius Tattoo

Another example of a Aquarius tattoo design that has waves swimming across the wrists. It's a great design that is sure to please you.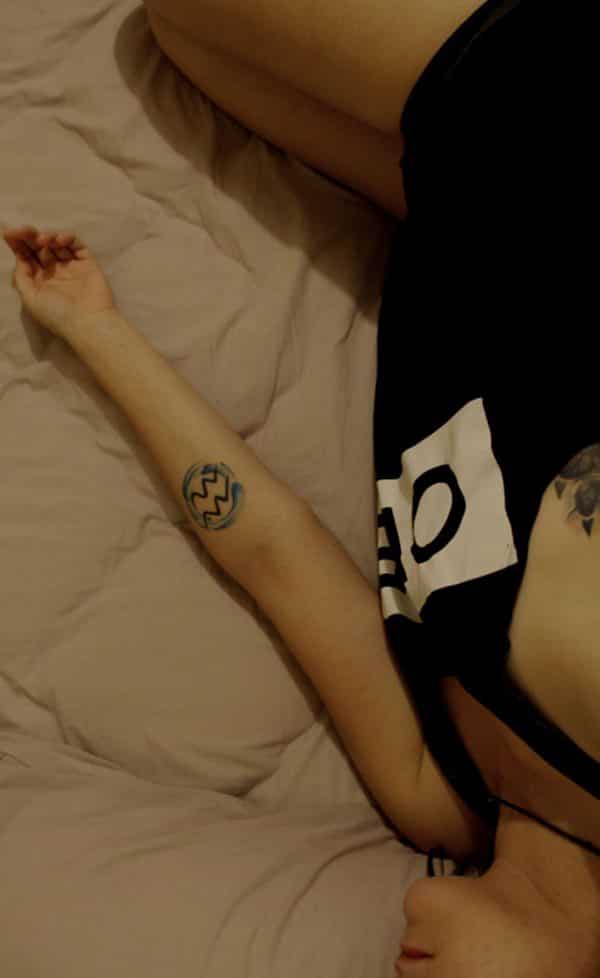 6. Behind the Ear Aquarius Tattoo

If you are looking for a subtle tattoo that you can tuck right behind your ears, then try these waves on for size. It's a simple design that you will love for years.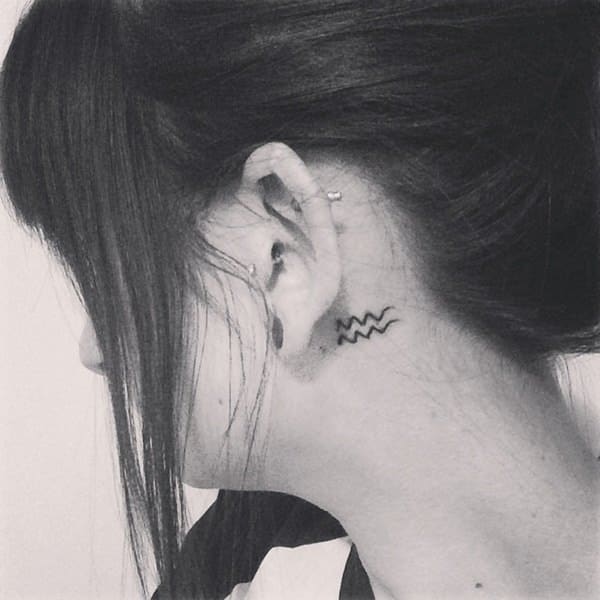 7. Arm Aquarius Tattoo
If you are looking for an arm tattoo, then there is nothing more enticing than these zig zag lines.
8. Neck Tattoos
This is a great tattoo design that you can show or have it remain hidden when your hair is down. It's a simple design of waves that are really cute.
9. Aquarius Symbols
If you are into astronomical tattoos, then this is a very pretty design. It's simple, and it sits behind the ear perfectly. This black and white tattoo is beautiful.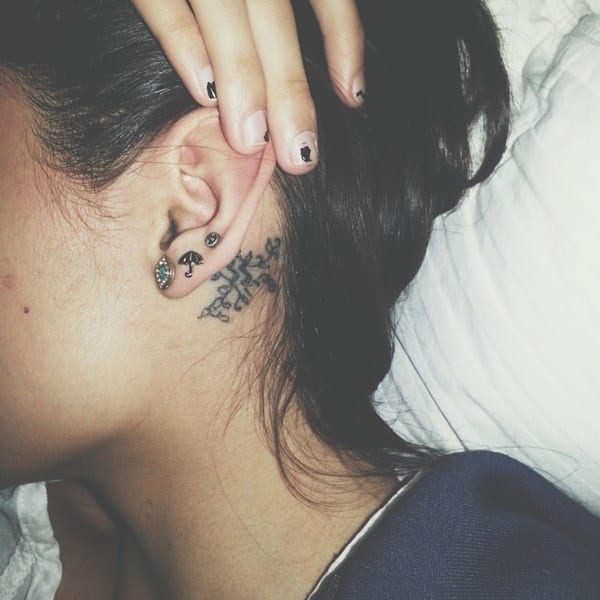 10. Striking Waves
Another great example of the wave tattoo that can fit just about anywhere on your body. It looks charming on the neck, however, so this is a great design.
11. Some Space
These zig zags have some space between them which offers a completely different look. If you want the lines but want them a little more original then try this one for size.
12. Wavy Lines
This sexy design on the collar bones allows for another variation of the look. It's a great spot for the tattoo as well as it affords some creativity when it comes to the waves.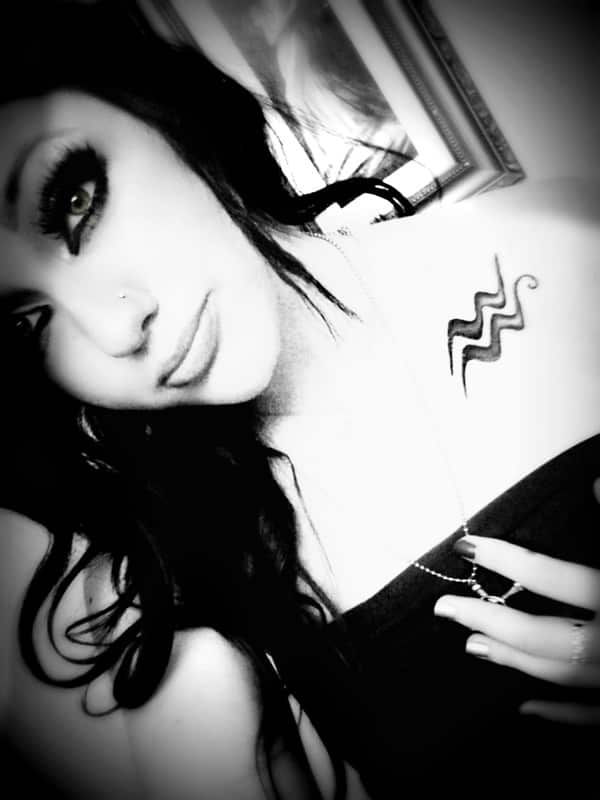 13. The Lovers
This Aquarius tattoo design has the zig-zagged lines on either side of a design that has two lovers embracing. It's a great look that you are sure to enjoy for many years.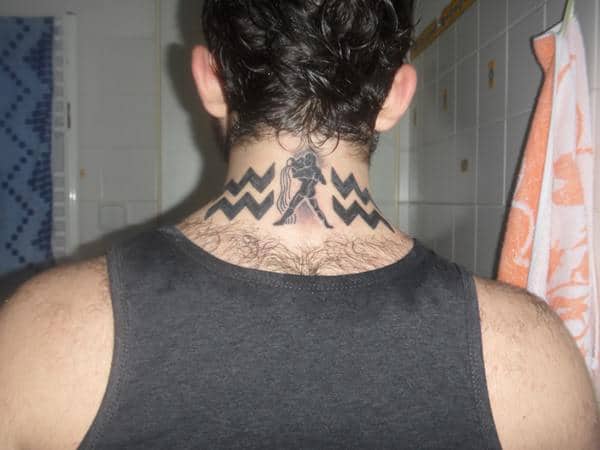 14. Full-Color Tattoo
If you are looking for a large tattoo design that has plenty of detail and bright colors, then look no further than this one. It's stunning especially the colors! This Aquarius symbol has everything you could ever want in a tattoo. It's a big commitment, however, so you have to love it really and have space on your body for it as well.
15. Pouring Out the Water
A colorful Aquarius tattoo of a woman pouring water out of a vase. It's a larger tattoo design and the colors really jump out at you.
16. Tiny Tattoos
If you are looking for something subtle and tiny, then try out these little waves on the foot. You don't get much smaller than this design.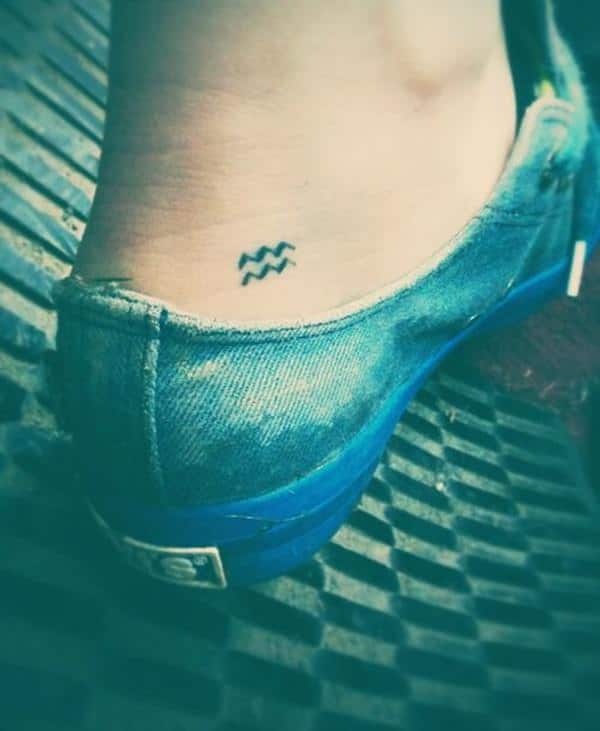 17. Elemental Designs
If you are interested in waves then why not add it to different designs such as these stars with the heart surrounding the waves.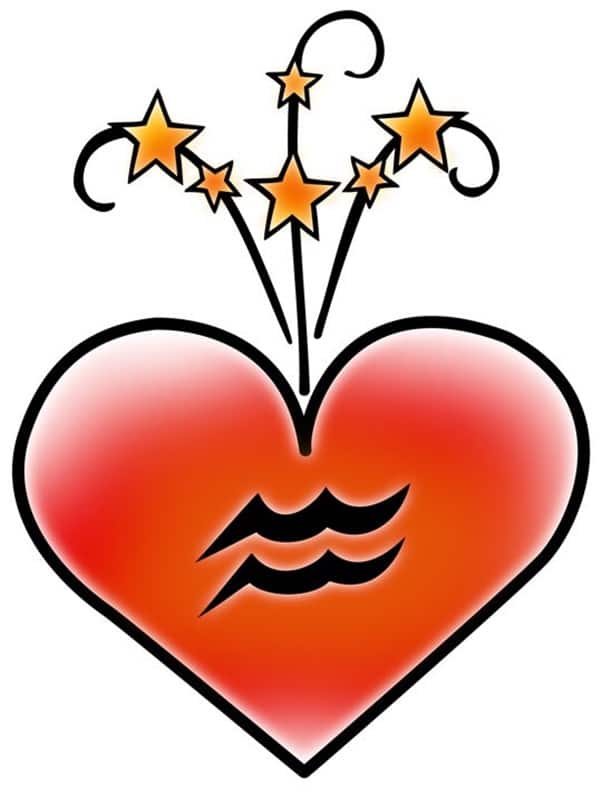 18. The Water Holder
The water container is pouring liquids out while it swirls around uncontrollably. The waves are on the water container. It's a unique design.
19. Original Designs
This design looks as if it was just drawn on and it's that subtly that makes it charming.
20. Woman Pouring
Another example of the woman pouring water from the jug. This one has a little more detail, and it's more realistic than the others.
21. The Rising Sun
In this design, the man is pouring from the jug, and there is a celestial sun above. It's a gorgeous design if you are looking for a large arm tattoo.
22. Beautiful Coloring
I love the green and blue coloring of the tattoos; it's very attractive. It's a cartoon depiction of a unclothed woman filling her jug with water.
23. Lightning Bolts 
Another creative designs full of color. This jug has lightning bolts that look very similar to the zig zag lines that are popular in the Aquarius world.
24. Zig Zag Waves
A combination of both designs, the zig zags turn into waves creating a unique tattoo. I like the addition of purple to the design. The Aquarius title is added as well.
25. Flowing Black Hair
The woman with the jug is a popular design for Aquarius lovers. This woman has flowing black hair that is very appealing. It's a large tattoo with lots of colors that really pop off the arm.
26. Bright Red Designs
These women look strong as they hold up the jugs. The colors on this tattoo are striking, the reds are really quite nice. There is a certain symbolism to the duplication of the women. Add in the flower at the bottom, and it completes the whole design. It's a great looking design if you want something creative and different on your arm.
27. Small Designs
This ribcage design is very unique. I'm not sure if it's a name of someone or a statement but the scratchy words are rather striking. There is a bold statement that runs the length of the ribcage. Then there is the added benefit of the jug that is pouring out water. It's an original design if that's what you're looking for.
28. Write it Out
The great thing about this tattoo is the colors, the deep purples as well as the bright yellows. The jug is vibrant with the colors, and the water is pouring out. The green and blues are swirling around. The words are written out in an elegant way that really draws the eye. A stunning design if you like the look of the jug.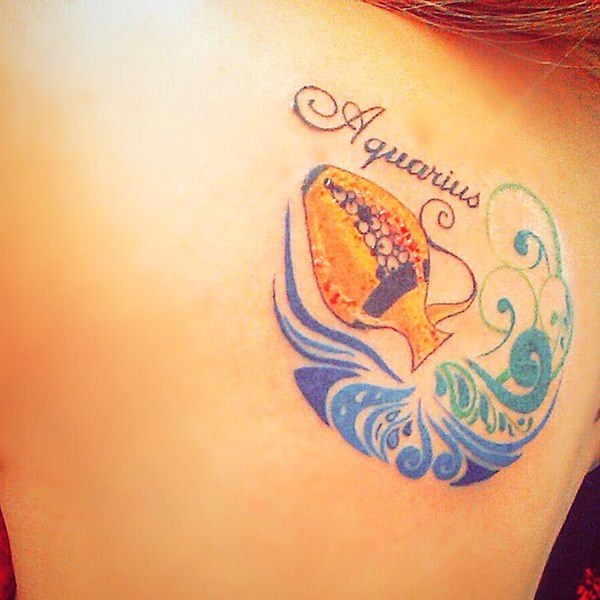 29. Greek Waves
The Greek lettering is something that has grown in popularity over the years. It's a unique design that is a little badass. Add in the waves that turn into zig zags to complete the overall design.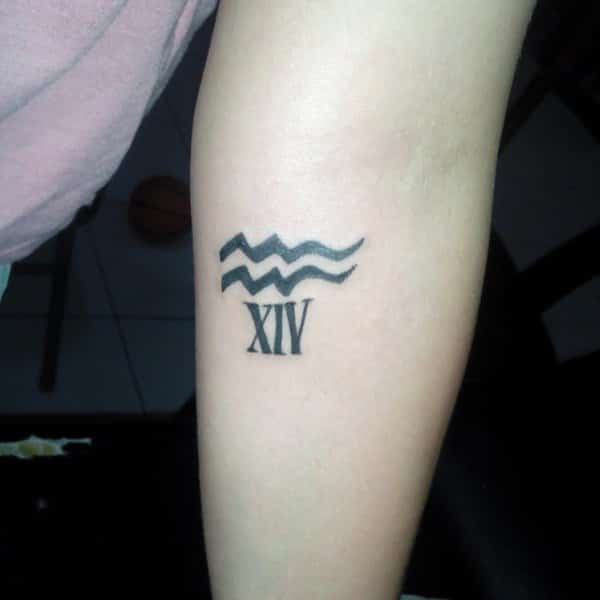 30. Floral Elements
If you are looking for a sleeve design, then this is certainly a gorgeous one. I love the colors that just seem to brighten up at the bottom of the tattoo. I like the leaves on the trees; it just seems to jump out at you. A gorgeous design that has a woman pulling in the waves over her shoulder. If you are looking for a tattoo design that is large then this is the one for you.
31. A Beautiful Woman
The jug, the woman, and the waves are all together again in the most stunning tattoo. The colors are bright and moving; they go well with the design. She's looking off into the distance as if she has something on her mind. It's a great example of an Aquarius design.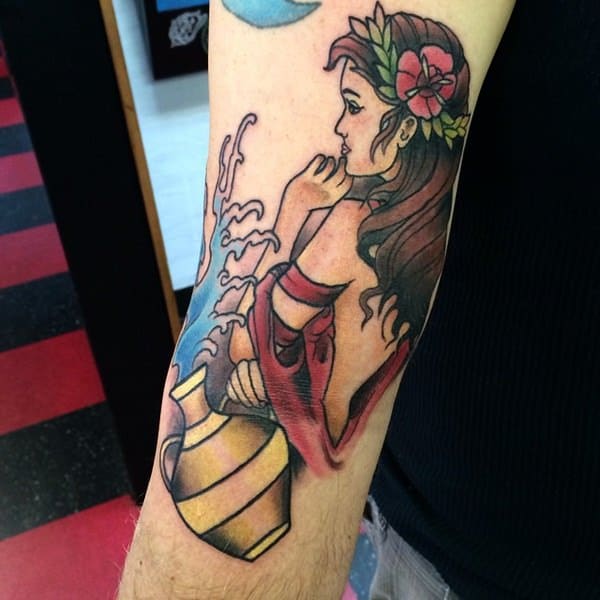 32. Bold Purples
This shoulder tattoo is great when it comes to colors. The jug is pouring water down the shoulder in splashing waves. I love the purple flowers that are scattered around the jug. The bold colors are what makes the tattoo pop off the skin. If you are looking for a large Aquarius design, then this is the one for you.
33. Silhouette Design 
A great design for anyone that loves the black and white tattoo. It's elegant and can be placed anywhere on the body. It's a silhouette design that has a naked man pouring water from the jug. If you want something different, then try out this design. There is no need for color with this amazing tattoo.
34. Striking Tattoo
This is a full body design that has the tattoo going the length of the ribcage. The colors are amazing on the tattoo and the woman in the design is quite stunning with her hair falling across her face. She appears to be naked in the water pouring water from the jug with the moon hanging over her. This nighttime tattoo design is truly original.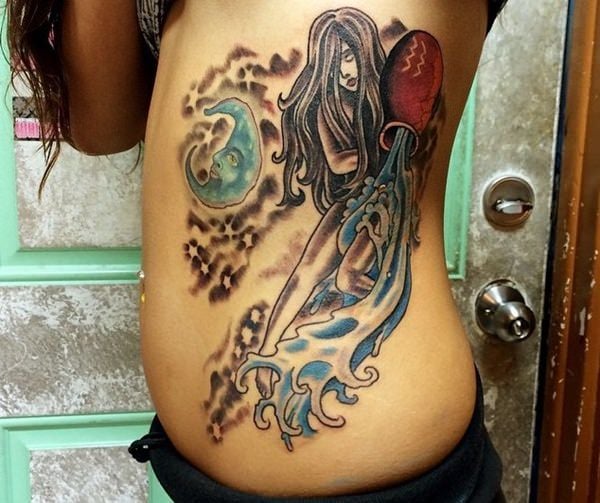 35. The Hawaiian Flower
There is something that is so hopeful about the Hawaiin flower. It looks nice with any design. This particular tattoo has the floral design as a backdrop with very little color. The waves are on top of the design as black lines. It's a unique design if you want something that stands out as this design certainly does.
36. The Golden Jug
The water that is being poured out of the jug is swirling around what appears to be a coin. It's a different design with some symbolism to it. The waves are attached to the coin this time instead of the jug. You get the striking colors from the jug, which just seems to glow.
37. The Symbol of Strength
There is something very strong about this tattoo design. The whole design is created from symbols and even the water being poured from the jug looks like lightning bolts. It's truly unique and what I enjoy most is that you can see the strength in the man by his flexed arm. It's a great tattoo design that is sure to catch the eye.
Now that you have chosen your tattoo design, the hard part is over. It's just a matter of looking for a skilled tattoo artist to create the design for you. Many people do not do research when it comes to hiring an artist and end up with someone with very little experience, and that can lead to a tattoo that you regret. Tattoos are permanent and when you get one you want to be able to enjoy it for years and years to come. The last thing you want is to have to worry about how you are going to cover up a bad tattoo. So do some research and hire someone that has skill and experience. Once you have that, you just have to show up for your appointment. Then enjoy your Aquarius tattoo and watch the compliments pour in.
We hope that you enjoyed the article, please comment on the tattoo that you liked the most!