Choosing a tattoo that is appropriate for you can be very daunting. There are so many options, and no one wants to regret a tattoo afterwards.
More and more women across the world are getting them with butterfly tattoos being the most consistently popular. Read on to learn about the best butterfly tattoos for women and be surprised at what you will learn.
Types of Butterfly Tattoos for Women
First off, there are hundreds of species of butterflies. Some are only found in certain parts of the world and others can be found in your backyard. Going with a butterfly tattoo can be an excellent choice for a woman. This is because of all the things it represents.
It demonstrates the beauty, grace, and the simplicity of nature. Who can hate that? Everyone woman would like to be seen as full of grace and very in tune with nature. So getting this image placed on your skin is a very natural choice.
Now, there are a few particular butterflies that may strike your fancy. One of those is the Eastern Tiger Swallowtail Butterfly. It has gorgeous wings. The colors are black and yellow. They mesh together so well that it seems like you are staring at a painting. This imagery could go perfectly anywhere on your body, and once you have it there is little worry of ever regretting it.
Another one of the best butterfly tattoos for women is the Laviana White-Skipper. It may not be the biggest butterfly in the world, but it has its unique take. Any women would feel fabulous wearing this on their shoulder blade or any other place. It is mainly white-winged and has a black outline around it. It is a simple beauty but worth taking your time to look at closely.
The Meaning Behind a Butterfly Tattoo
Butterfly tattoos look amazing on a woman's rib cage especially if they are inked in such a way that they are symmetrical to the curves of the body. While this can be a painful procedure, the potential for amazing body art is reason enough for one to endure through it. It can signify beauty in strength.
Butterflies have always been a favorite among women as a tattoo design because of its natural beauty and symbolical meaning. A woman can still relate to what a butterfly has been through, from a tiny cocoon to a gorgeous and colorful creature that's free to roam the world. It's like a female emerging from her womanhood and ready to face whatever challenge can come her way. It can also mean a rebirth for them, a new life or a new beginning.
If they have been through a tough time and ready to start facing the world again in full swing, the butterfly can also be symbolical of this. With all these meanings attached to them, it's not a wonder that butterflies have always been a preferred tattoo design among women.
Making Your Butterfly Tattoo Unique
Butterfly tattoos can be tattooed on a woman in a multitude of ways depending on her style and preference. This is a design that has broad applicability and flexibility regarding colors, size, and appearance.
They can be executed in different colors and sizes as if they are flying in a group. They can also be combined with other elements that can best enhance the design such as flowers and vines. They can be inked colored or merely plain black accented with some tribal or Celtic art.
The possibilities are endless, it's all up to one's imagination to best suit her personality.
Conclusion
It is clear that butterfly tattoos are very popular because many women can relate and identify with them. They represent the many aspects and dimensions of being a woman and the feminine nature.
The tattoo is a symbol of traits like uniqueness, great potential, determination, and variety. These are the same traits that butterflies are known for. Surprisingly enough these are also the attributes that are common among women.
Magnificent Examples of Butterfly Tattoos for Women
If you are looking for a tattoo that stands out, this butterfly design literally looks like it's coming off the skin ready to fly away. The black and white inking is detailed yet intricate for a beautiful style that would suit a number of women.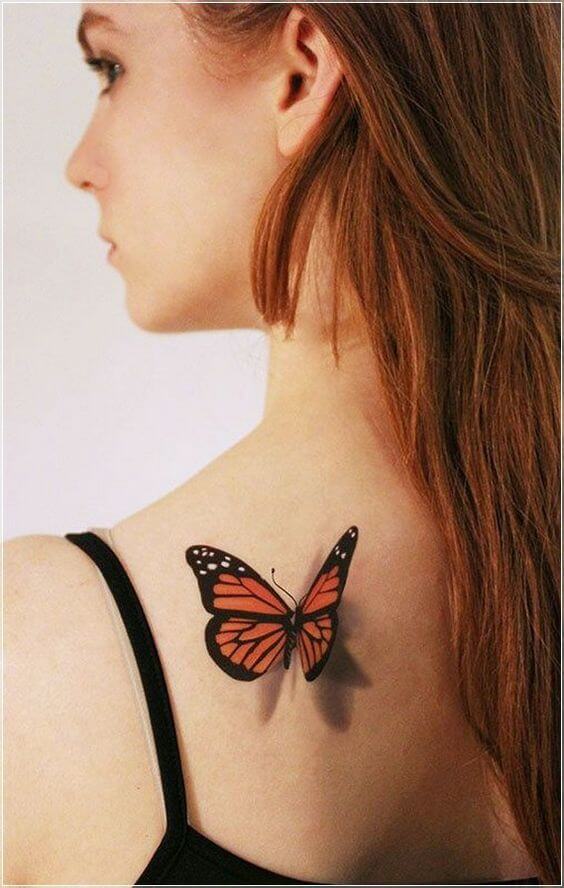 This butterfly tattoo is a design that is placed on the back; it is 3D and uses some brilliant detail which brings the creature to life. The orange butterfly is inked in a way that catches him midflight as he lands with precision and it's done very well.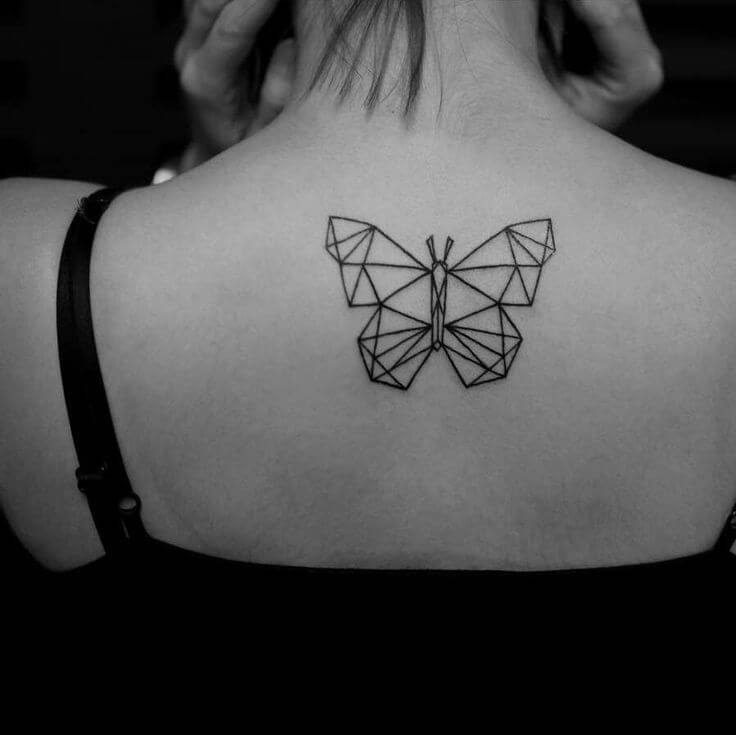 If you are looking for a butterfly tattoo design with a difference, this geometric style piece definitely stands out. The simple black tattoo which is located on the top of the back is a strong piece which is a welcome change from overly feminine tattoos of butterflies.
This bright butterfly tattoos idea uses colors and shapes to create a unique inking. Cubes of varying rainbow shades are joined together to make the beautiful creature, which is etched boldly into the skin. This definitely stands out from most generic tattoo ideas.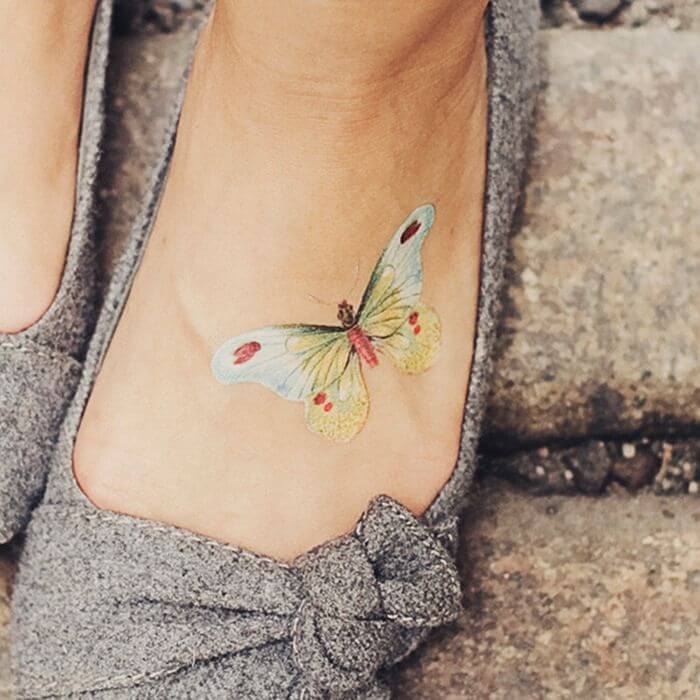 This delicate but detailed butterfly which is tattooed onto the foot is different to other tattoos of butterflies. The colors used are unique which helps to create an individual tattoo that looks subtle and appealing.
Forget small and discreet tattoos of butterflies, this piece is big and bold. Using a range of colors, it features a butterfly landing on a flower for a beautiful piece that is more like a canvas artwork rather than a tattoo.
If you are looking for girly tattoo ideas for women, this 3D pink butterfly is perfect. The use of detailing on the wings is amazingly done and the black shading makes the creature look like it's coming off your skin. If you want a feminine tattoo that's done well, this piece is perfect.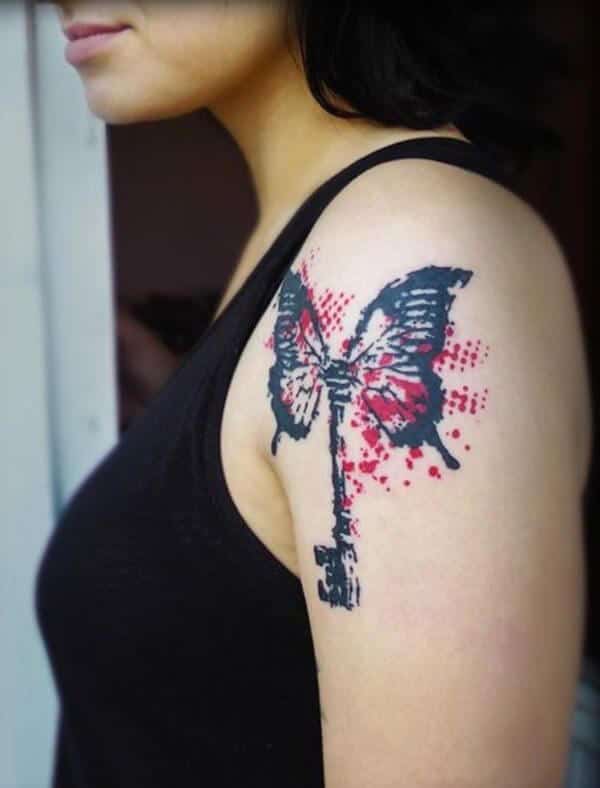 This darker style tattoo of a butterfly uses black and red in the design to create something quite unique. The stand-out tattoo is located on the arm although it could be adapted to any area of the body.
This sophisticated tattoo uses rich red and black to create a modern looking butterfly. The creature is surrounded by a pattern of swirls to give something extra special.
This small butterfly is located on the top and side of the back. A mixture of grey, green and red is used in this design to create a detailed tattoo that is not like every other generic tattoo of a butterfly.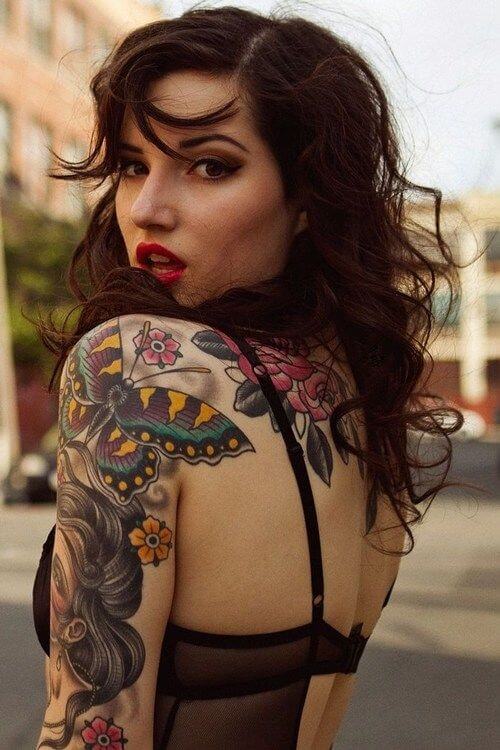 If you are looking for bold butterfly tattoos, this inking is perfect. The creature is spreading his wings wide to show off an array of blue, purple and yellow. This would look great on its own or as part of a sleeve, as seen in the photo.
This is a feminine tattoo of a butterfly, using pink and purple in a pretty design. The stencil styled creature is posed on a blossom tree and the inking looks really good etched onto the stomach area.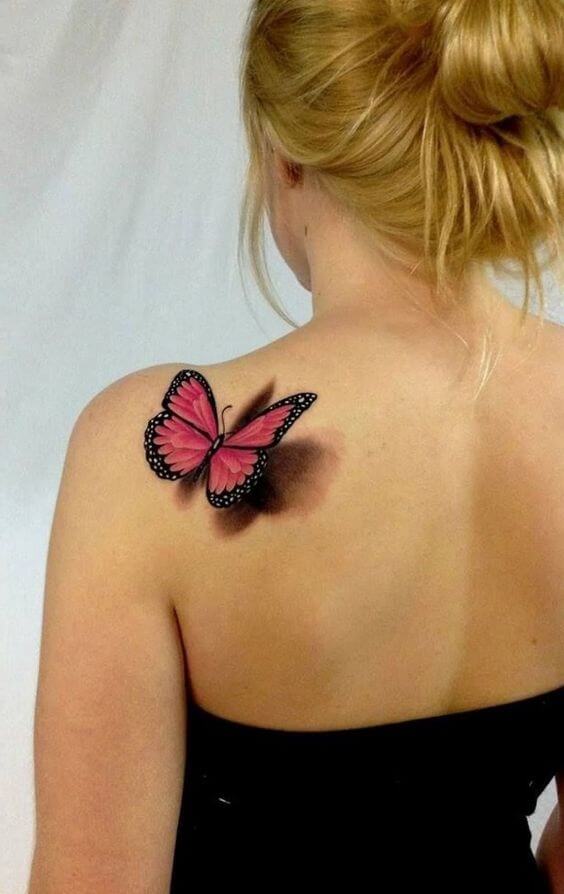 For butterfly tattoo ideas that come to life on the skin, this pink design is ideal. The detailed tattoo is positioned on the shoulder at an angle which makes the butterfly appear like its about to take flight.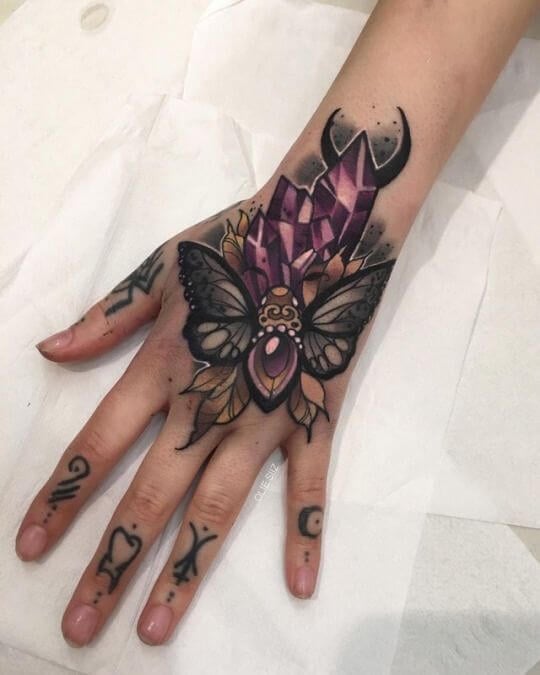 The style of this tattoo is creative and the design itself is pretty out of this world. The perfectly symmetrical butterfly is colored in lots of dark shades and being surrounded by geometric shapes for an innovative finish.
Subtle and cute, this is a great idea for a butterfly inking if those are the criteria you want to meet. It has some black shading around the wings to finish off the design perfectly.
If you are looking for butterfly tattoos for women, this piece is definitely worth considering. The use of color is amazing and the shading makes the creature looks like its folding its wings inwards, ready to take off.
This beautiful tattoo is a blue inking of a butterfly. Great detailing is used on the wings and a 3D effect is used to make the creature look as if it's coming to life.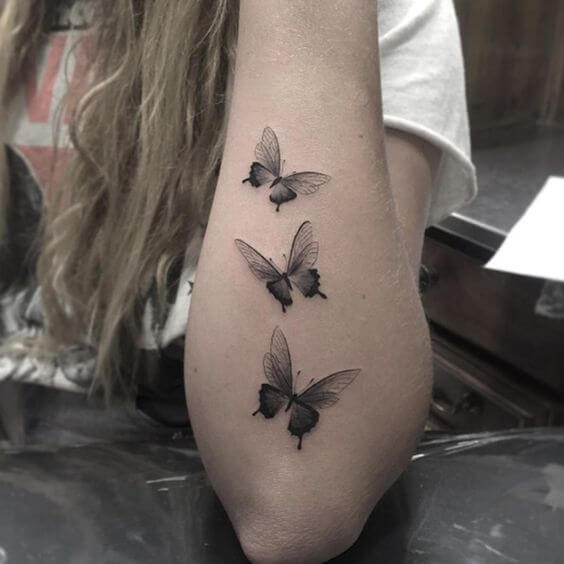 Who needs one tattoo of a butterfly, when you could have three? Black and grey is used in this design to create a unique piece. The bottom butterfly is larger and they get smaller as the inking progresses upwards.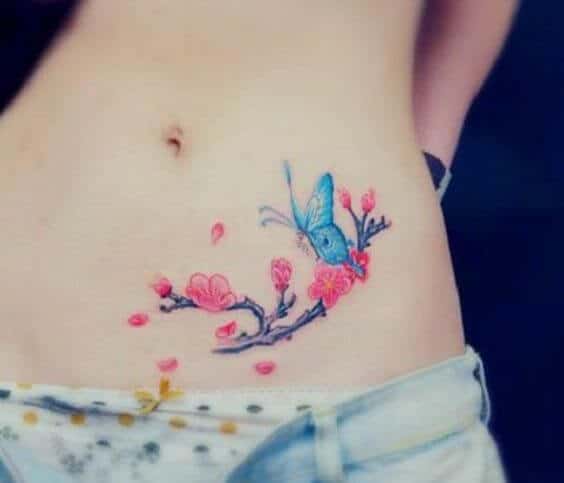 If you are looking for butterfly tattoos for girls, this feminine piece really stands out from the crowd. The butterfly itself is colored in blue, with surrounding pink flowers for a girly touch.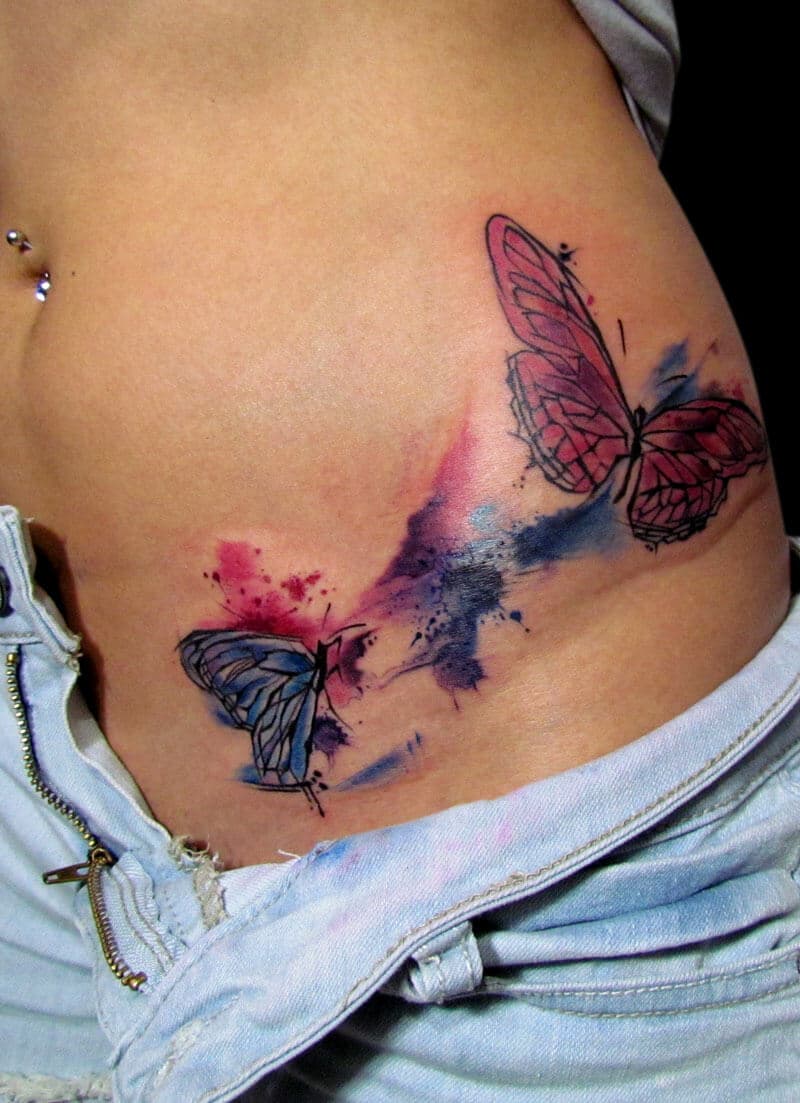 This bold and beautiful tattoo features a large butterfly and a smaller one. The small butterfly is colored in blue, before it transitions into the bigger version of the creature which is pink.
This simple tattoo design of a butterfly is not colored in but it's still created very well and is a beautiful piece that would suit many women. The tattoo uses geometric shapes to create the butterfly in a unique way.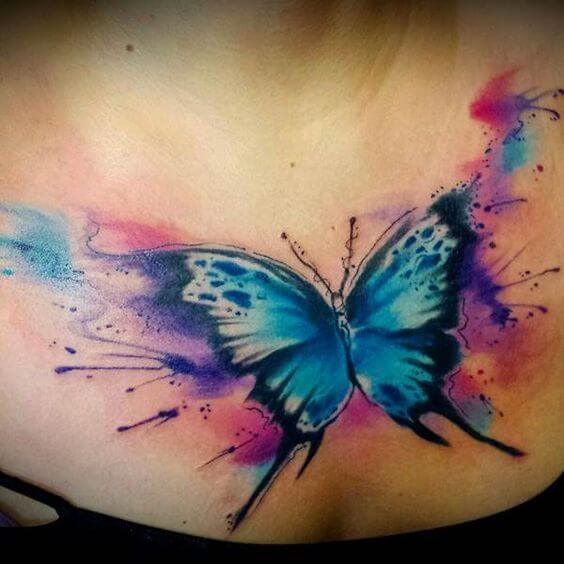 If you are looking for tattoos ideas and want something bright, this butterfly is perfect. The creature itself is quite big and colored in different shades of blue. An ink splash type design is added behind the butterfly, with an array of beautiful pastel colors, creating a tattoo that really stands out.
This tattoo is made up of three butterflies, all decreasing in size as they go up the back but staying identical in their design. They have great detailing on the wings and are colored in orange for a warming effect.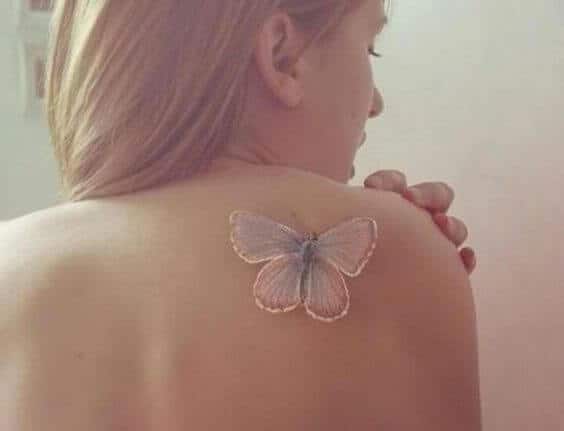 If you want a tattoo of a butterfly that really stands out, this design fits the criteria because it's done in white ink. Both the coloring and the design itself add to the femininity of the creature. The tattoo is located on the back but would look good on other areas of the body too.
Make your butterfly part of a sleeve with this stand-out design. This large, classic butterfly is colored in blue and it's surrounded by netting, pearls and flowers all the way up the arm for a unique inking that lets you display your femininity.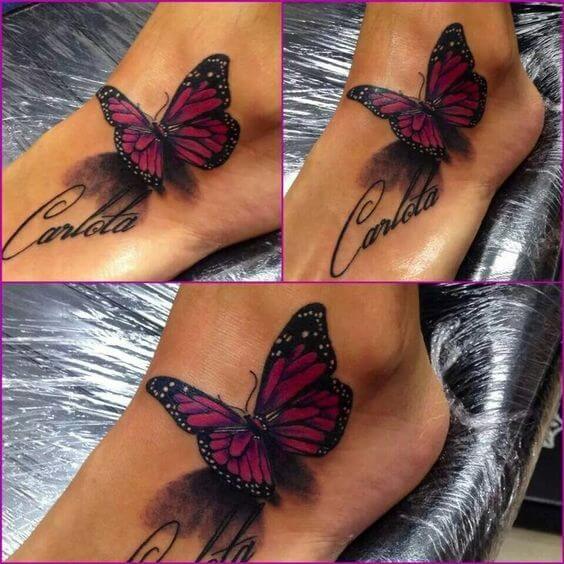 This gorgeous purple tattoo of a butterfly on the foot has incredible detailing and appears very three dimensional. A name has been added at the bottom of this inking but you can choose to just have the beautiful winged creature printed on its own.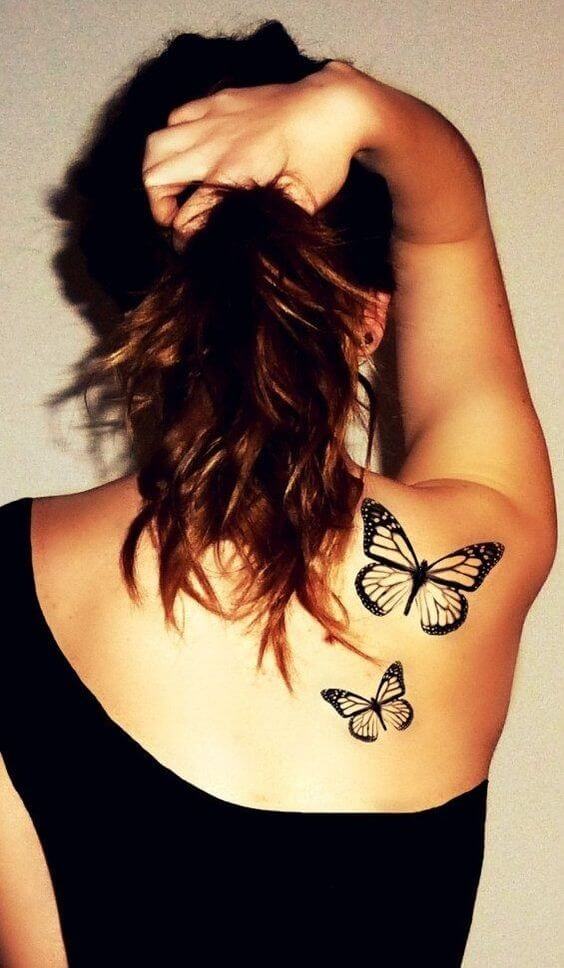 This tattoo features two black and white butterflies on the back. Although identical, the top butterfly is bigger than the smaller one. This could very well have a sentimental meaning like for mother and child, sisters and so on.
If you are looking for a butterfly tattoo for women, this one is ideal. It features four butterflies going down the spine, all are in a different positions for an amazingly accurate design. Although the coloring on this piece is basic, the detail is very thorough.
This design stands out as a very bright and colorful butterfly tattoo. An array of feminine pastel colors are used in the inking, the creature is mid-flight and is actually pictured on the ribs which is a very unique placement for a tattoo of this kind.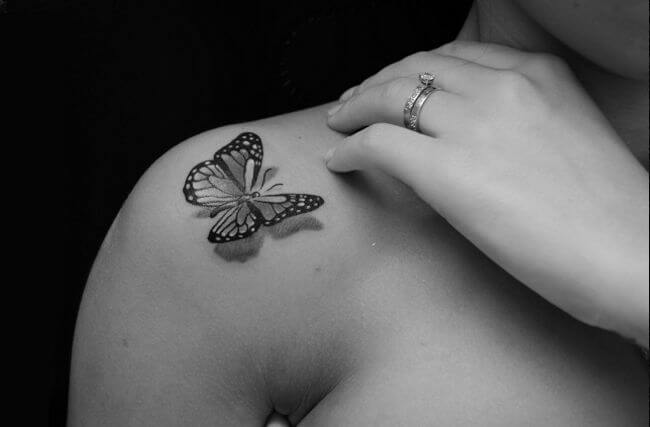 This black and white design of a butterfly is placed on the shoulder. It has a shadow effect while literally makes the creature look like it's hovering above the skin. It's quite a simple piece but definitely stands out as something unique.
This blue butterfly tattoo design looks more like a work of art, rather than an inking. It is a rather large piece that has been tattooed onto the lower leg. An array of different blues is used, along with clever shading which results in a beautiful outcome.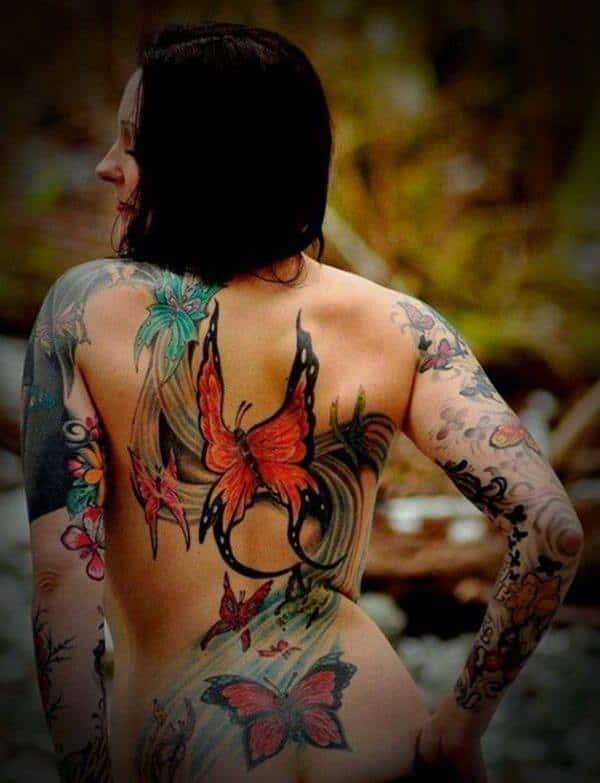 This huge back piece of a butterfly is a must have for any fan of the creatures. The main butterfly taking up the center of the back is orange but there is an array of other, smaller butterflies of varying colors surrounding him. This impressive inking is guaranteed to be a talking point.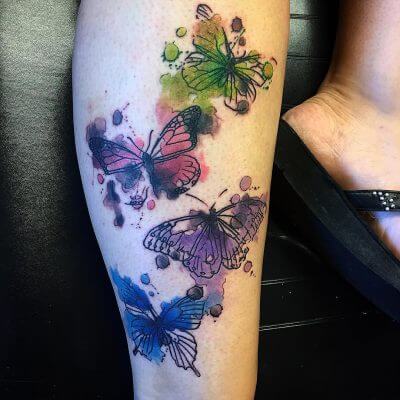 The 'watercolor' type style of this butterfly tattoos idea is very stand out. Four butterflies are inked on the leg, all are in different colors in a smudgy design that looks like some cool and edgy graffiti. This is more modern than your more generic tattoos of butterflies.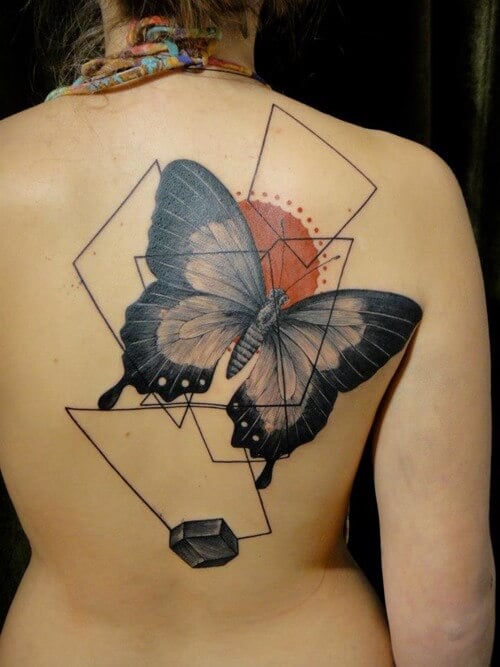 This huge black/grey butterfly takes up almost the entire back and it's a very interesting tattoo. Great shading is used to bring the creature to life and an array of shapes is used around the butterfly to make it look even more unique.
If you want butterfly tattoos for girls that are classic and colorful, this design is perfect. It features three butterflies coming down the back and decreasing in size. They all look different, both in design and color.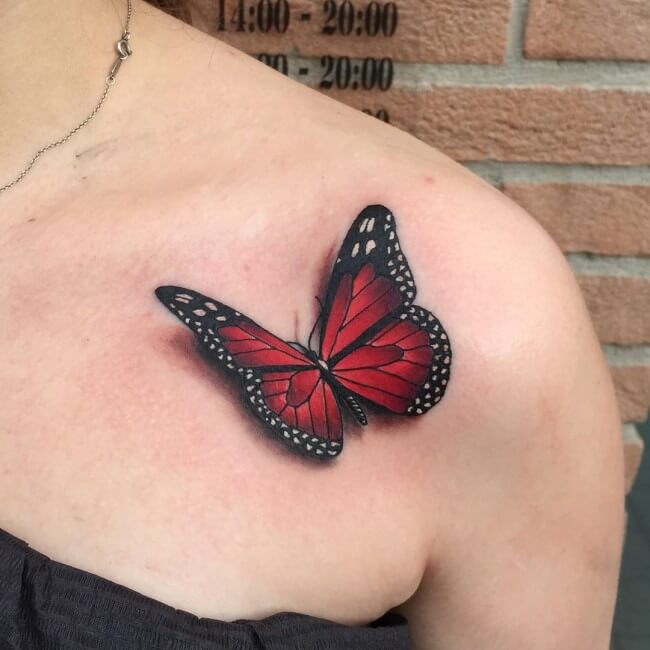 This simple but attractive butterfly looks good and would suit many women out there. The red butterfly, with black detailing at the end of his wings is sat on the front of the shoulder for a very delicate look.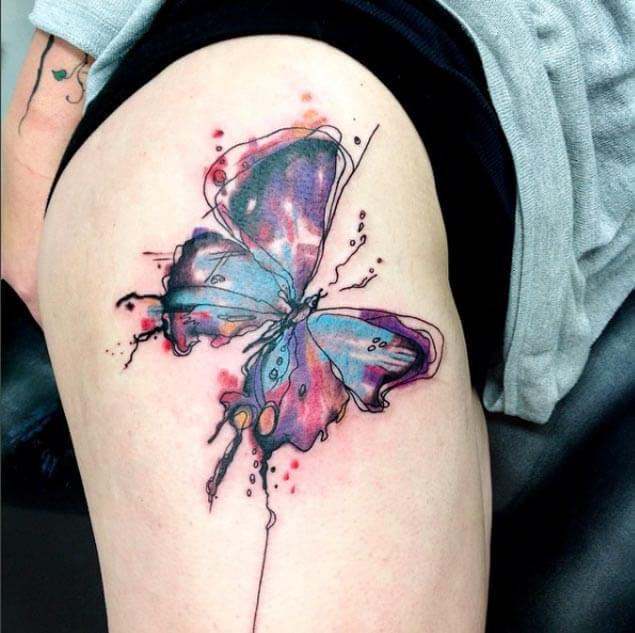 If you want your tattoo of a butterfly to be different and stand out from the crowd, this is a great idea for you. The creature looks quite messy in its design, with an array of colors blending together in a crazy way. This is a very modern looking inking.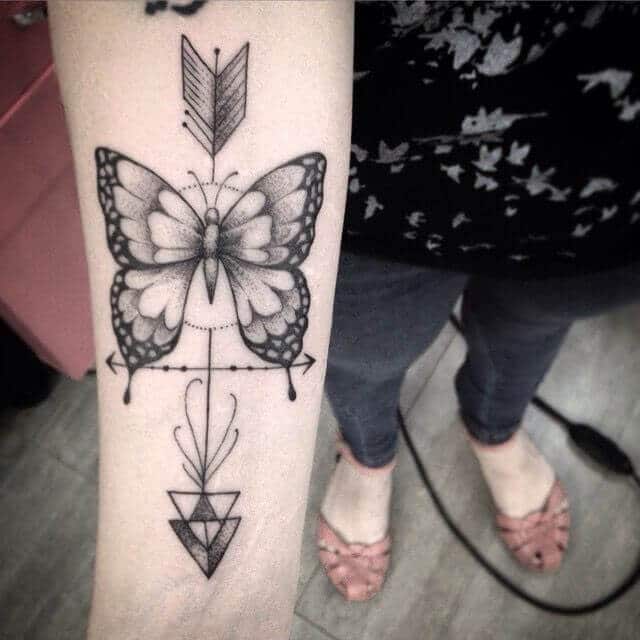 If you are looking for butterfly tattoos that have something special about them, this design is perfect. The black/grey/white design is very symmetrical and even has an arrow going through it for a style that stands out from the crowd.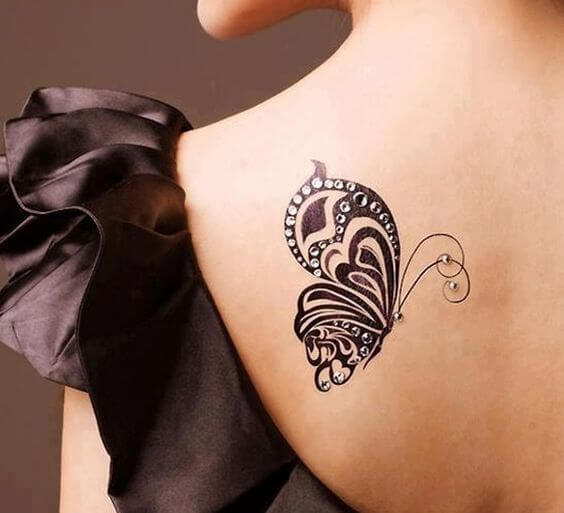 This simple black tattoo is a butterfly that appears to have been folded in half. The shapes used in this design are amazing and although not as complex as some styles, it's a very delicate and feminine piece.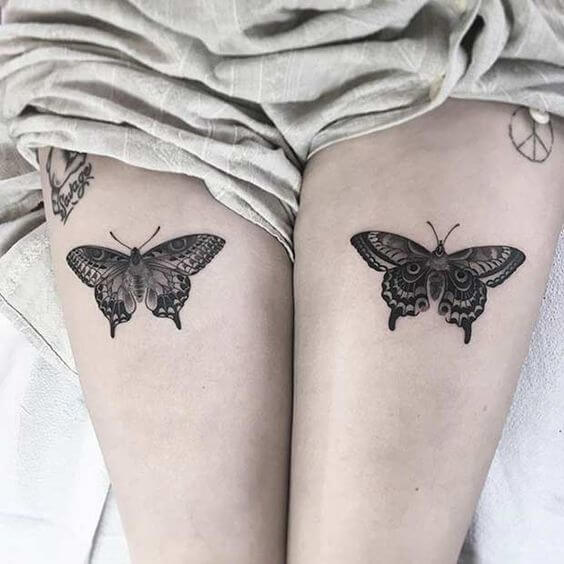 When looking for tattoo ideas for women, why not go for a black butterfly on each thigh? Although they are in a similar style, the butterflies look quite different if you look closely at the detailing.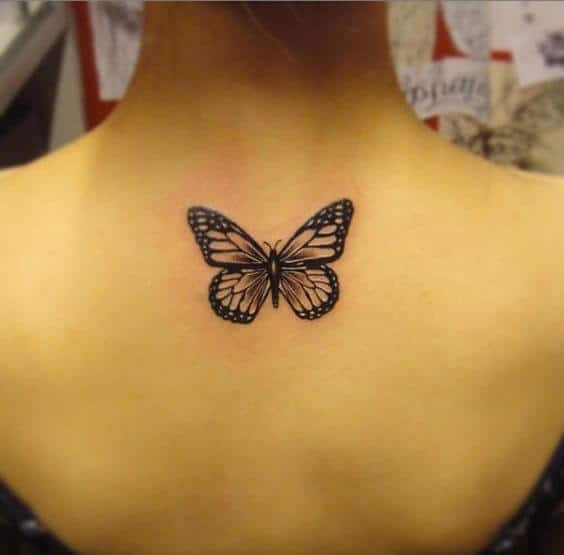 You can't beat a classic butterfly and this is what this is. The winged creature is located at the top, center of the back. There is no color in the design which makes it a more even more interesting inking that is going to get noticed.
This inking is very detailed and it features a blue butterfly landing gracefully on the lower leg. There is a shadow on the tattoo, which makes the creature look very three dimensional as if it is coming to life.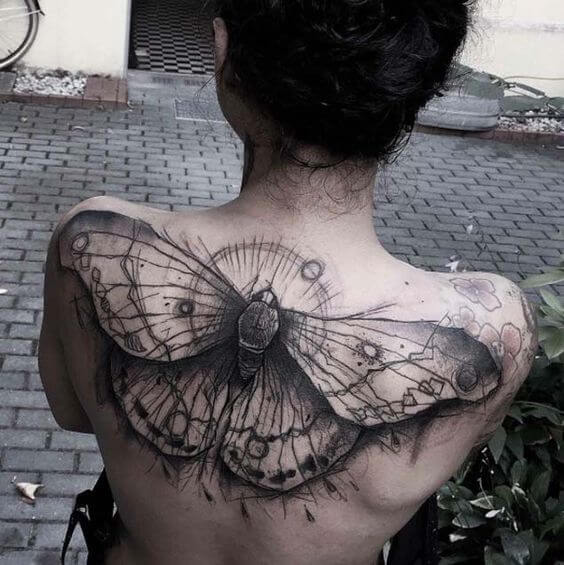 This is a darker butterfly tattoo ideas, with the creature take up the entirety of the back. The black and grey design looks very basic in its design but this just adds to the eerie vibe of the inking.
This is a really gorgeous design of butterflies on the feet. The top butterfly is in orange, the middle one is in red and the bottom one in blue. Although in a similar style, all butterflies are in different positions for a tattoo that really stands out.
If you want a completely perfect looking tattoo of a butterfly using geometric shapes in the design, this could be the right piece for you. Simple blacks and greys are used to creature this detailed inking.
If you are looking for tattoos ideas, this is a gorgeous stand out piece. The shading on this black and white butterfly is really amazing, and circular shapes are used inside the butterfly to give some unique definition.
This is a really dainty tattoo, featuring a butterfly colored in blue and pink. The creature appears as if he is landing on the foot, with some cool shading underneath for extra detail.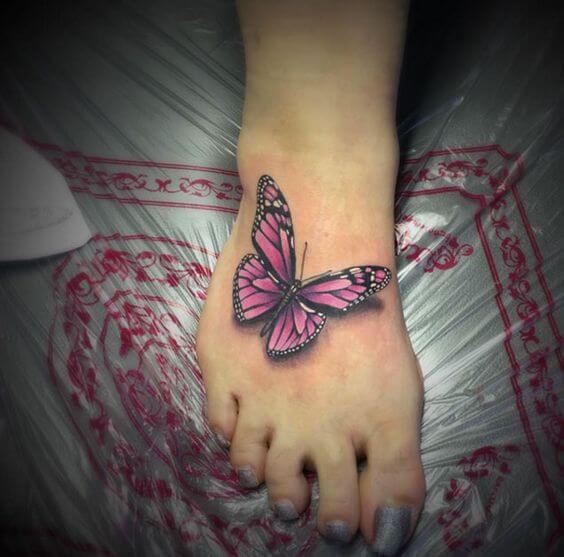 If you want to get a tattoo of a butterfly that really shows off your feminine side, this piece is perfect. The pretty butterfly is colored all in pink, with great detailing to the wings for an inking that is really well done.
This tattoo looks almost glass-like in its appearance. There are a variety of colors used in the wings of this tattoo including greens, purples and pinks. This piece would suit a variety of women looking for something stand out.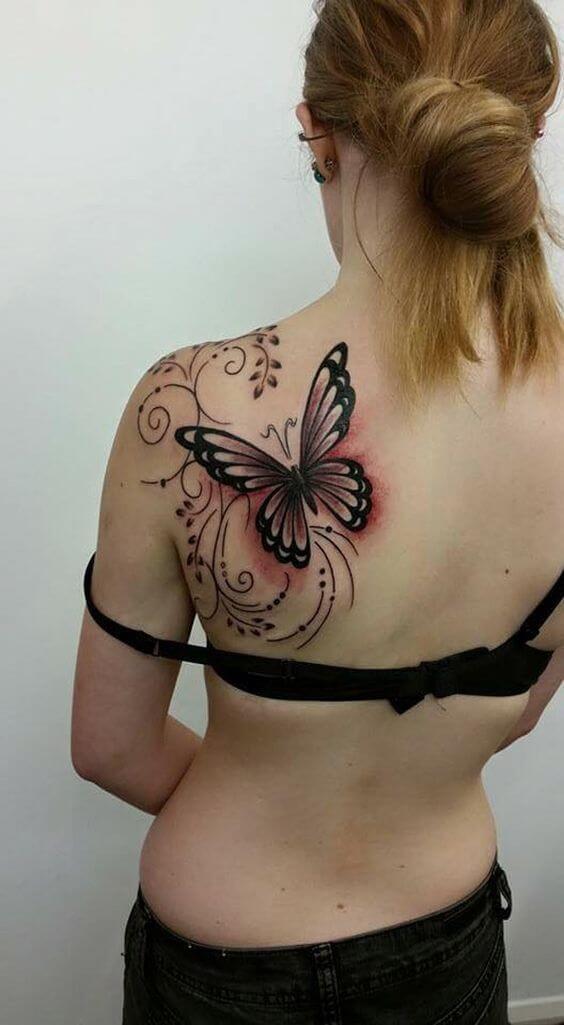 This black and white inking of a butterfly takes up a large portion of the back! It's quite a simple style but features some patterns all around the creature itself for an extra special touch.