If you are looking for an animal tattoo, then you can't go wrong with getting a penguin design. They are pretty fun and creative animals to get tattooed to your body. Everyone loves animal tattoos, how can you not and there are so many different varieties. If you are interested in getting a penguin tattoo there are a lot of different options available to you in both small and large. They are not a mainstream design and aren't overly popular so the chances of you getting an original design that you won't see again is pretty high. The penguin tattoo is not new to the industry however; it has been around for awhile. Though they are becoming more and more popular.
If you look back on the history of the penguin tattoo it seems as if they originate from explorers and seafarers. During certain voyages seamen would often come across many different sea animals, one of which was the penguin. Many people get the penguin tattoo for decoration because they're fun while others get them because they hold some symbolic meaning to their life.
1. Love Birds
The boy penguin is clearly smitten by the girl penguin, the love in his eyes are clear. If you want a fun tattoo to express your love then use a penguin design. These cartoon designs never go out of style.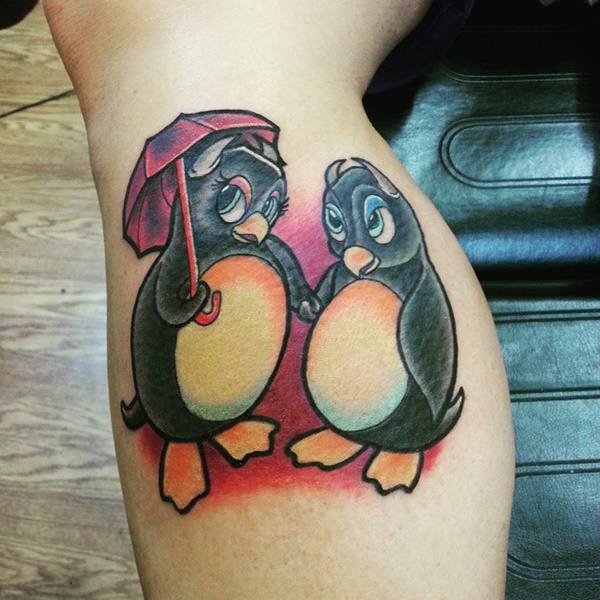 2. It's Cold Outside
This penguin is bursting out of the ice and he's ready for winter with his toque on. He knows how to keep warm during winter, just look at that serious expression.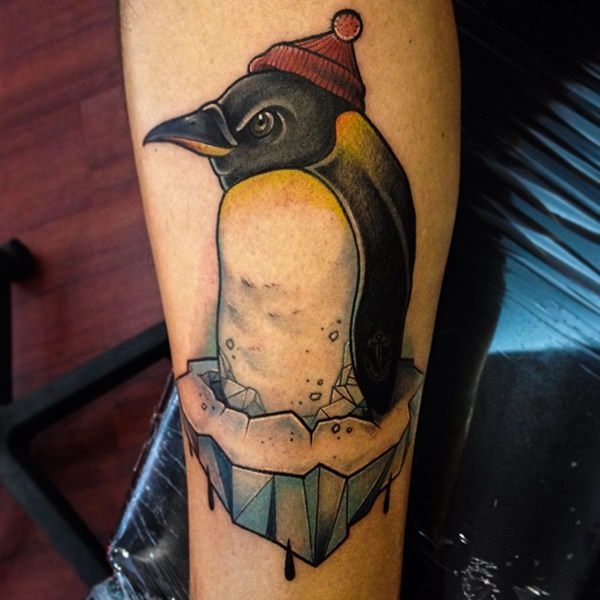 3. Ready for the Elements
This cute penguin has a lot of detail to it. He's bundled up and ready to go out and play. We can see his igloo home in the background, where he nestles in warm at night to get out from the cold.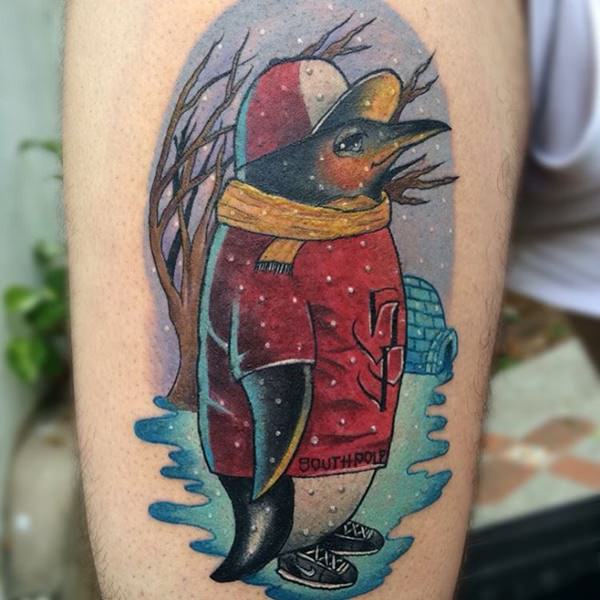 4. Colorful Penguins
A colorful design that anyone is sure to love, if you want something bright then here it is. The coloring of the sky is just amazing, they are bright and beautiful making the whole design come to life.
5. One-legged Penguin
This odd looking penguin only has one leg. He's unusual but he certainly makes for an original design. If you want something special that people are sure to notice then this is the tattoo design for you.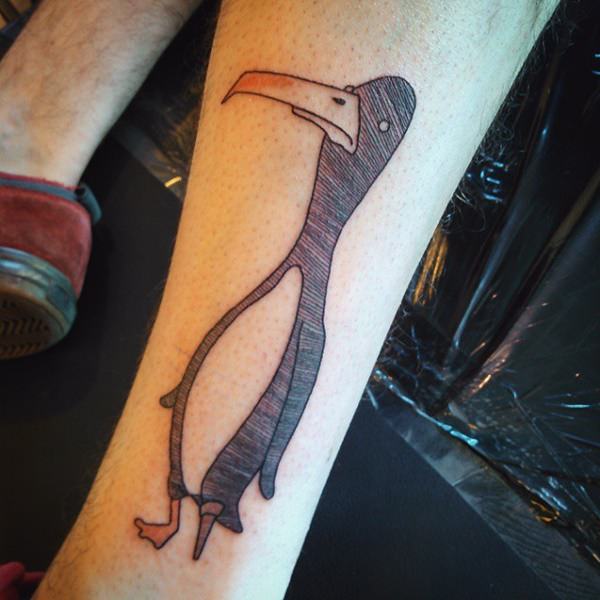 6. Penguins Nodding
These penguins are together as a family, loving each other. If you are looking for a design to represent your own family bond then you really can't go wrong with this one. It's stunning.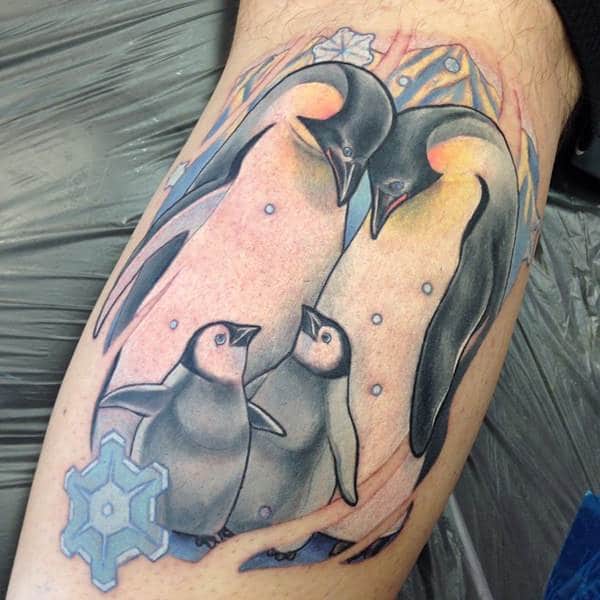 7. Elegant Penguins
These cartoon penguins are looking elegant and ready for a night out on the town. They are wearing accessories and jewelry and the man has a fine hat on, it's a very cute idea.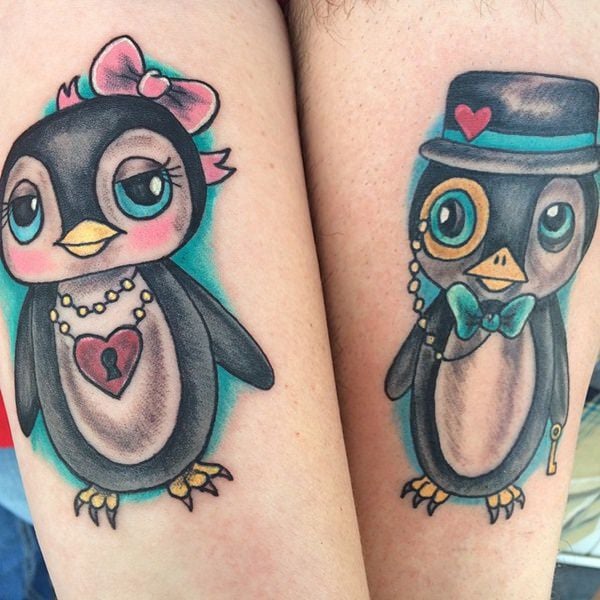 8. Single Penguin Tattoo

This penguin is all alone. If you are into the cartoon look then you might enjoy this design.He may very well be calling to his mother, a simple design but still a great one.
9. Hawaiian Penguin Tattoo
This penguin looks like he's retired and ready to relax. if you love the beach add that the your penguin tattoo. If you dream of retiring on the beach then you might really like this design as well. You can't go wrong with a day in the sun.
10. Lovers for Life
These two penguins can't keep their eyes off each other. We have a blue moon and some snowflakes falling in the background. Another simple design that you are sure to love.
11. Penguin Rocket
We're not sure where this penguin is going with a rocket on it's back but maybe it's shooting for the moon. This penguin looks serious about his adventures so don't try to stop him.
12. Freddy Kruger
If you are a fan of The Nightmare on Elm Street then you are sure to love this original take on the character. It's truly unique. If you are a lover of horror movies then this is sure to ring you some joy.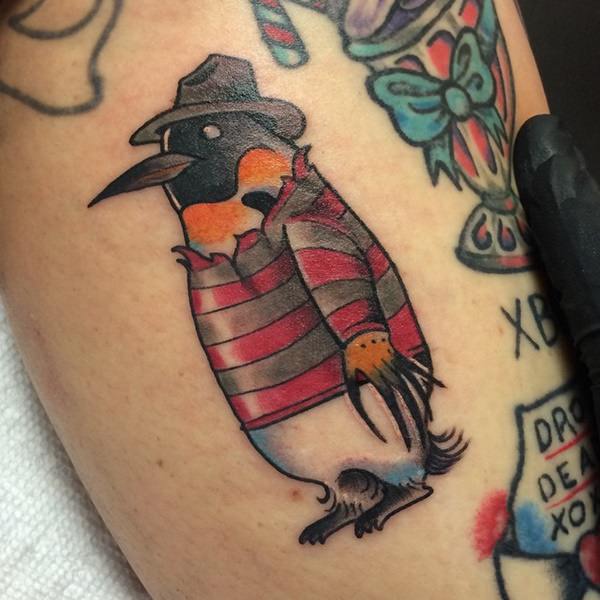 13. Detailed Art
A great penguin tattoo design that is very detail with some added flower designs. If you want a more realistic design then you are sure to love this one. The orange really goes well with the black creating a nice contrast.
14. The Warrior King
This King penguin is ready for battle. He's got a pretty badass machine gun in his hand so watch out. We're no sure why this penguin is behaving so violently but maybe he is trying to protect his fortune.
15. Whale Designs
This penguin has a whale design going across its stomach. It's a unique design if you want something different. I love the coloring involved with the tattoo and the fact that it's two images in one.
16. Watercolor Art
A great cartoon penguin that has the feeling of music being portrayed by watercolor paint designs. The colors are stunning. These water color designs are so great because the colors are bright and they seem to stand out even without the black outline.
17. The Wise Penguin
Combining other elements to the penguin such as a rose gives the tattoo a different style. The bright red rose really makes the whole design pop out. If you want a different type of penguin this design is certainly that.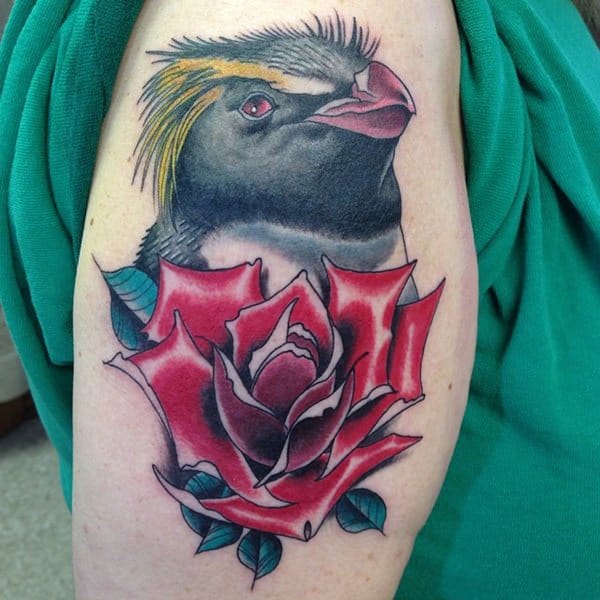 18. Origami Penguin
A cute origami design of a penguin holding a kite. It's definitely original and a fun idea as well. These designs always look so great because of the fact hat it looks like it was made from paper. It's a design that will always look cool and never go out of style.
19. Watching Carefully
This penguin is looking up hopefully at something. It's a sweet design that has an added flower as well. Is she searching for her mother or just taking a look around, it's really up to you how you want your design to be created.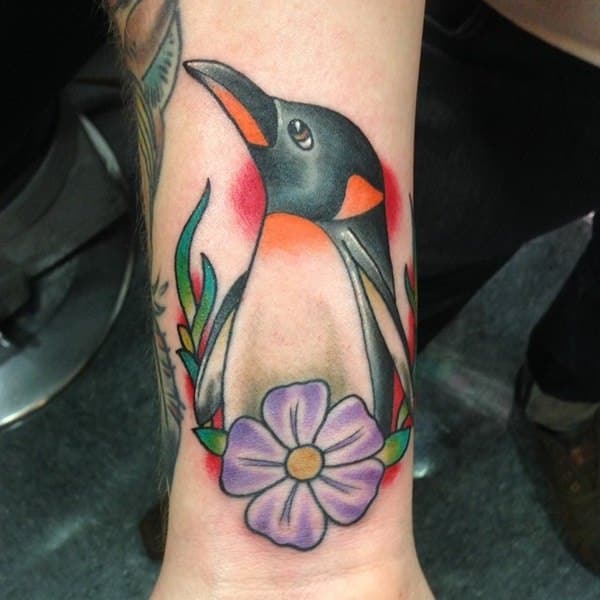 20. Looking in the Mirror
This cute little girl penguin is looking at herself in the mirror. It's a cute design for someone looking for something small. The bright colors really help the whole design stand out.
21. The Top Hat
This penguin is all about the upper class. He knows what he's made of and he won't be taking anything less. I love the top hat look when it comes to the penguin. It reminds me of the Penguin from the Batman movies. This might be exactly the look they are going for.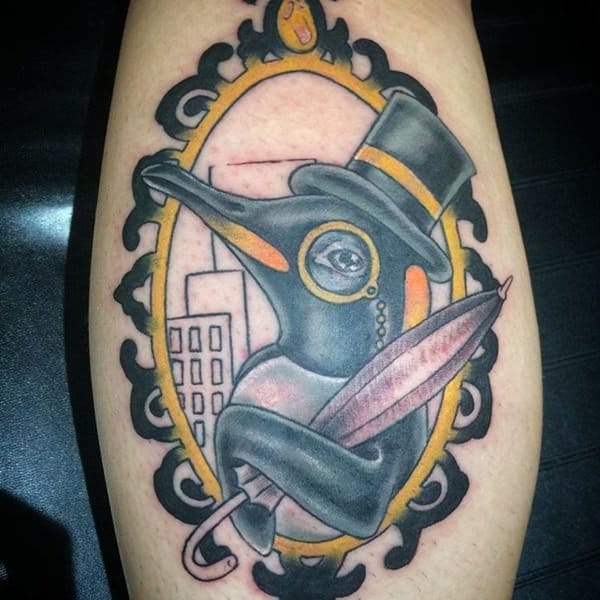 22. Frozen Staircase
This penguin has the image of a frozen staircase on the inside. Maybe it's what he's dreaming of. Either way the colors are amazing and it's a very creative design. If you want something different than this is it.
23. The Constellations 
If you like looking at the stars then you are sure to love this penguin design, it's truly original. I love watching the stars and this tattoo really makes you appreciate all that is out there. A whole universe just waiting to be explored.
24. Mom and Baby
If you are looking for a cool design to represent the love you have for your child then you might just love this one. I love the snowflakes in the background, they are truly amazing and wonderful to look at. When it comes to blue and white, that coloring can never go wrong.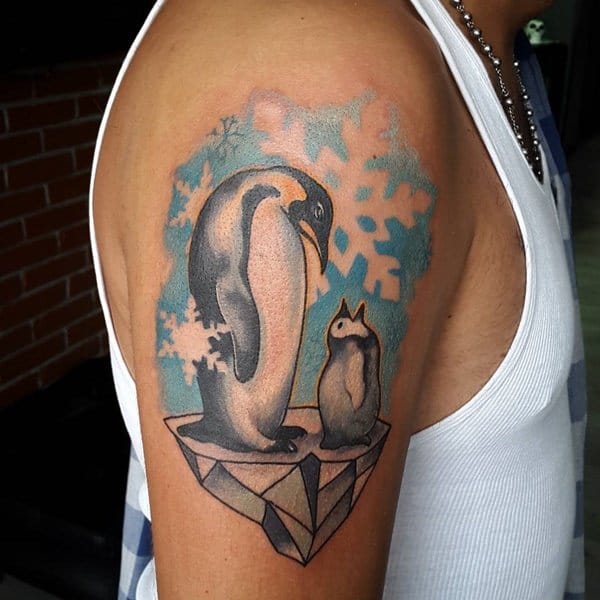 25. Flying Away
This penguin looks like her is off on an adventure with his red balloon. I love the shades that the penguin is wearing, he looks like a cool guy ready to start a new life.  A great design that you are sure to love.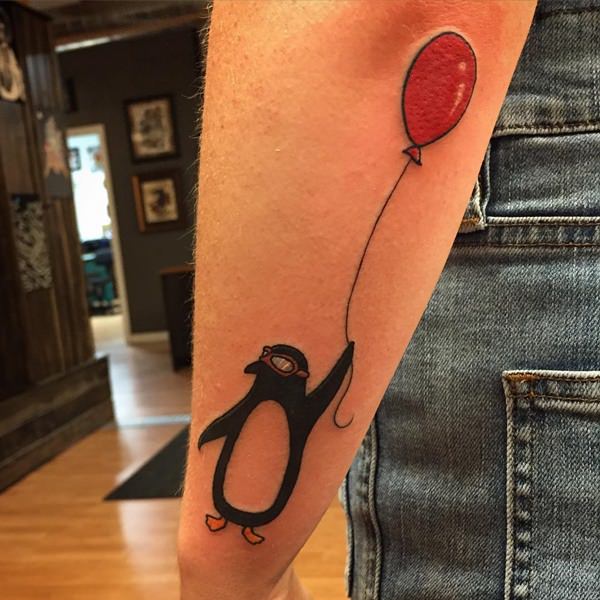 26. Sugar Skulls
If you want to combine your love for sugar skulls and penguins then this would be a great way to do it. It's a sweet design of a boy and a girl. It's a style that never gets old and you can make it your own because they are penguins.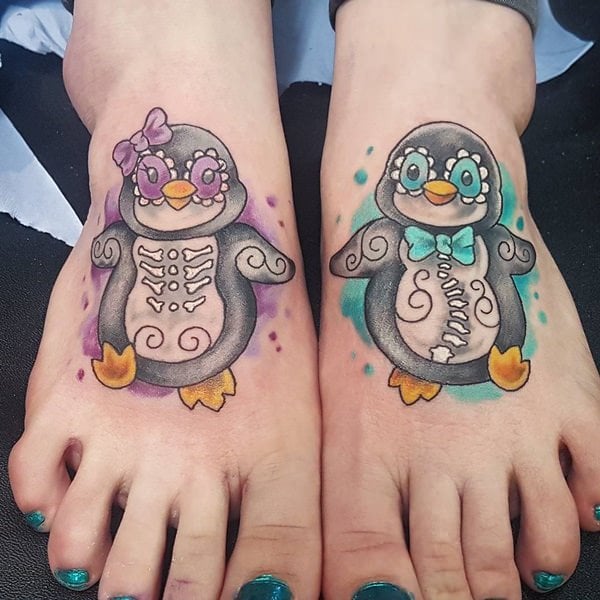 27. Dreaming of the Sun
This penguin is a traveler and has big dreams of being on the beach. I love how the penguin is just thinking about the beach while it is going through it's travels.
28. Sweet Penguin
The cute little face on this penguin is just darling and she has a yellow flower with her as well. A cute design that anyone is sure to love.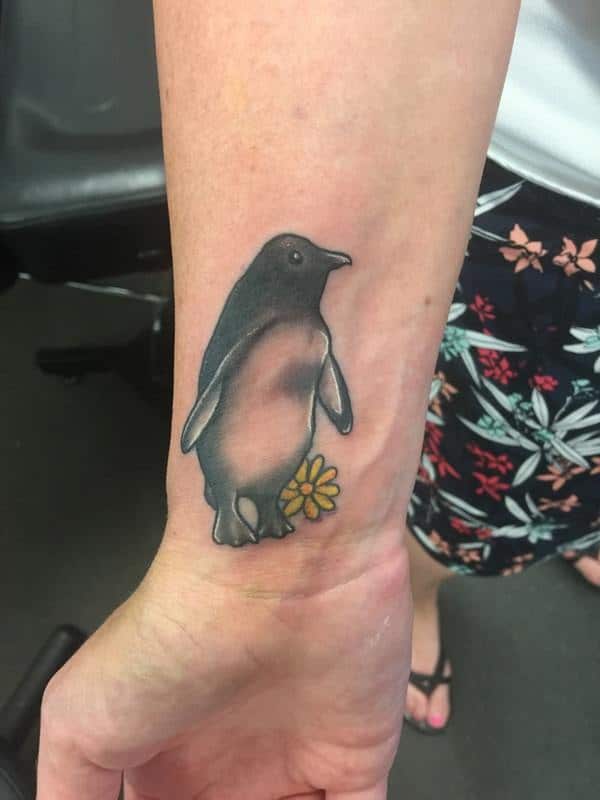 29. Making a Point
This cute penguin has something to say. A short and stout penguin that exclaims what he wants. If you are looking for something small then try out this cute design.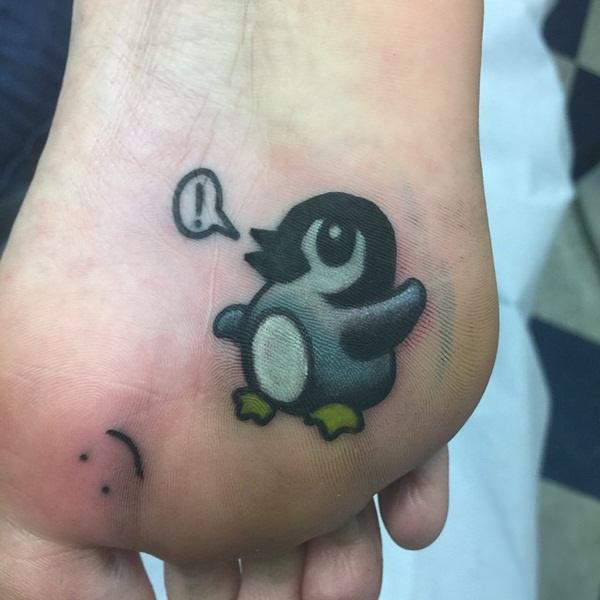 30. Kissing Penguins
These two penguins are so in love that they can't help kissing each other. If kissing is your favorite pastime then you might just adore this tattoo.
31. Realistic Design
If you are more interested in a realistic tattoo then you might like a scenery one like this tattoo. It's a whole family of penguins up on the glaciers. The detail and coloring on this design is very remarkable.
32. Abstract Designs
If you are looking for a unique design then this one is just beautiful. It has abstract coloring of the night sky and it couldn't be more stunning. The way the colors blend in together makes for a striking tattoo, it's unusual and exciting. You will love it.
33. Outline Designs
This outline of the penguin is made in a very creative way. The form of the penguin is made through a series of lines. If you want something sweet than here it is.
34. Surfing Penguin
If you love surfing then check out this small penguin tattoo design. Let this penguin share your passion with you. it's a small enough design that it can go virtually anywhere. It's also super cool to look at.
35. Matching Designs
These two took their love of penguins and found their own designs to share their passion. One is a scratchy art design while the other is made from a watercolor design. Both are very creative and amazing designs. This could be a friendship tattoo or one that is between two lovers, either way they are sharing their interests together.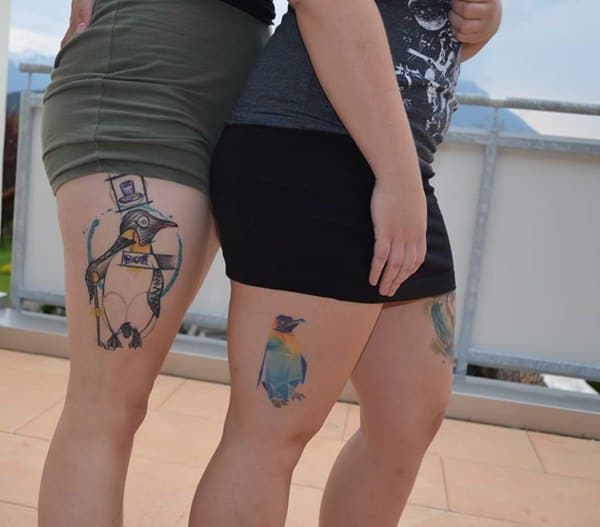 36. Stunning Colors
A great tattoo design that has many different beautiful colors that compliment each other. I love the design on the penguin as well, it's creative and gives it a different look from other tattoos.
37. Bright Blue Eyes
A pretty picture of a penguin looking happy to be alive. Her blue eyes are so pretty and excited.
38. Tuxedo Penguin
This penguin is all dressed up and has nowhere to go. We love this penguin design because it's small and can be placed anywhere.
39. Family of Penguins
Three in a row marching to somewhere important. This trio looks powerful and purposeful. The last one seems to making a call to others or just chatting with the family.
40. On Top of the World
This penguin is literally on top of the world. He's not only got his head in the clouds but he also has them in the universe looking at the planets. Is it a dream or is this a traveling penguin?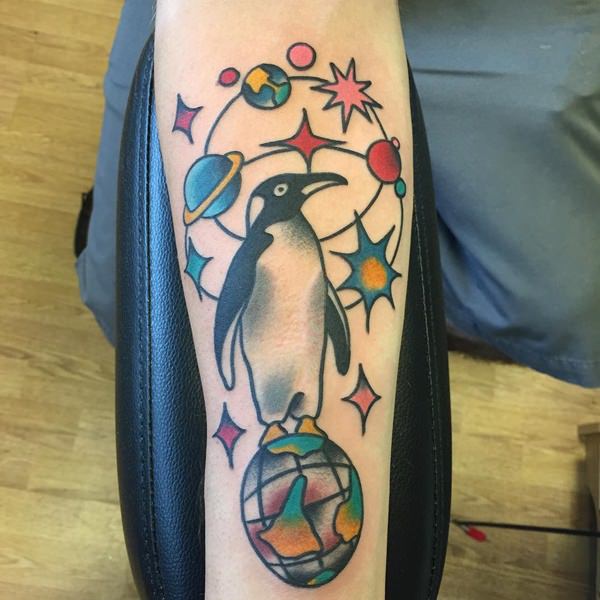 41. A Balloon Ride
This penguin wants to leave and look for adventures and he is doing it with a blue balloon. A different mode of transportation but it's effective.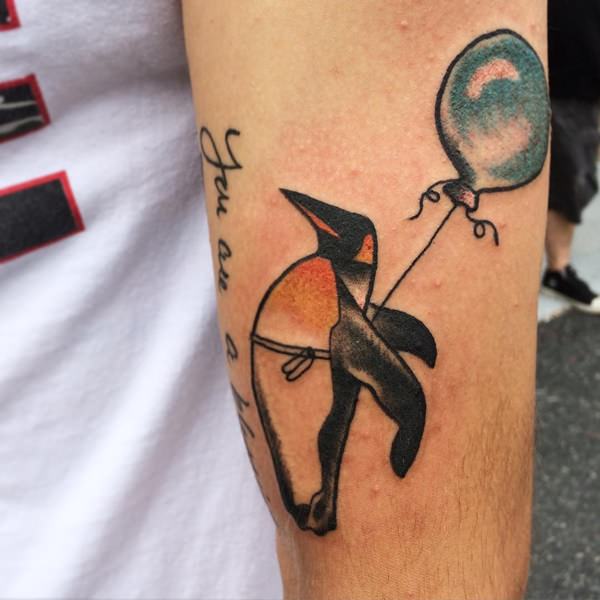 42. Penguin Head
A simple design of a penguins head looking sharp and interested. If you want a subtle touch then you might like this design.
43. Together Forever
These two love birds are staying close together, they don't want to leave each others sides. If you want a design that features love then you will love this one.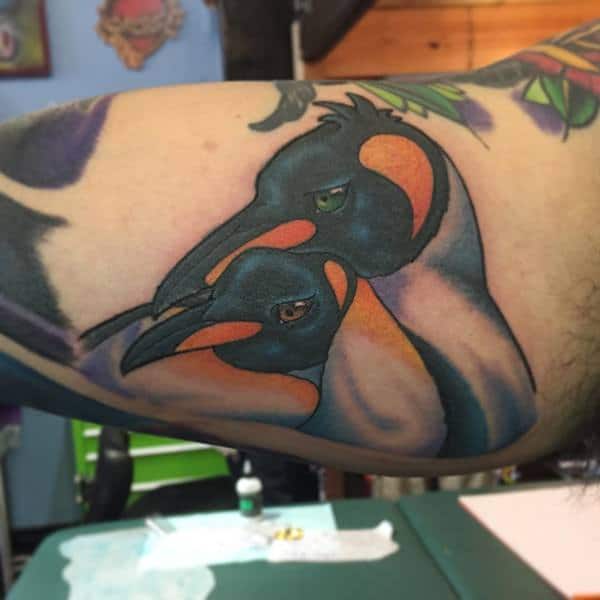 Once you have your tattoo design picked out then you are going to want to research a great tattoo artist. Make sure they have a portfolio and some serious experience. The last thing you want is a shoddy artist that's going to leave you with a tattoo that you are going to forever regret. You want to love your tattoo always so don't let anyone ruin that for you. Tattoos are permanent so make sure your artist knows what they are doing.
We hope you enjoyed the article, please comment on your favorite design!